Fisher Peak Loop Trail: A Blue Ridge Parkway Hike in Galax, Virginia
There are a lot of fantastic Blue Ridge Parkway hikes in Virginia, including Humpback Rocks at milepost 5.8 and Bluff Mountain at milepost 51.7.
You'll find easy leg-stretcher hikes along the scenic byway too, like the Farm Museum Trail at milepost 5.9 and the Trail of Trees Loop at milepost 63.6.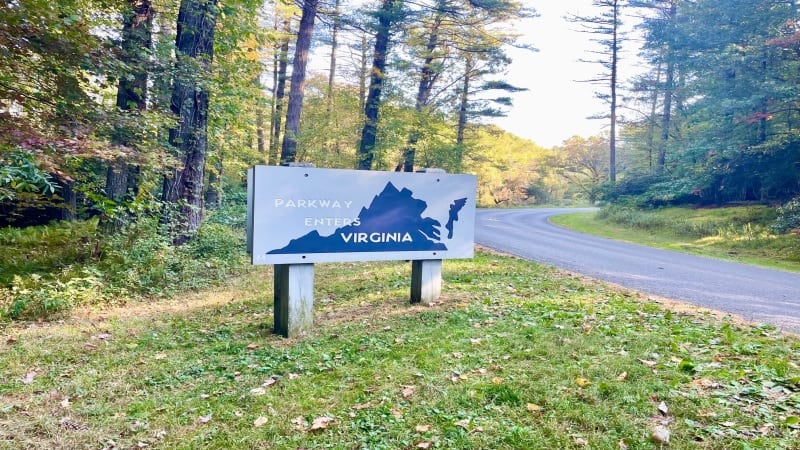 At milepost 213.0, look for the Blue Ridge Music Center, a museum and music venue that celebrates the old-time music of the Blue Ridge Mountains.
There are also two forested hiking trails, including the Fisher Peak Loop Trail and the High Meadow Trail. Together, they form a 3.1-mile lollipop hike.
| Trail Stats | |
| --- | --- |
| Length | 3.1 miles |
| Difficulty | Moderate |
| Trail Type | Lollipop |
| Elevation Gain | 545 feet |
| Duration | 2-3 hours |
| Terrain | Mostly dirt trails |
| Dog-Friendly | Yes |
| Fee | Free |
| Driving Directions | Click Here |
Blue Ridge Music Center
But first, it's a must to step inside the Blue Ridge Music Center in Galax, which is open from May through October.
The Blue Ridge Music Center is run by the National Park Service. There is a museum, an outdoor concert venue and a Blue Ridge Parkway visitor center.
Nearly every afternoon, musicians play fiddles, guitars and banjos, much to the delight of local residents and passing motorists.
Wander the Roots of American Music exhibit, which educates visitors on the region's rich musical heritage. There are also restrooms and water fountains.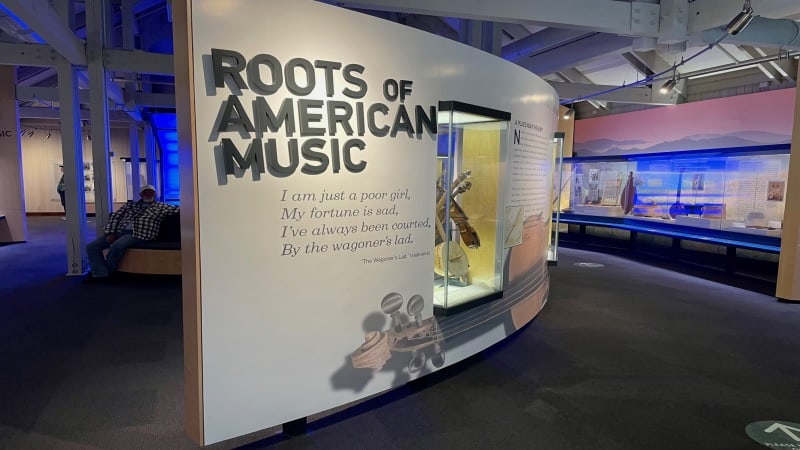 You may want to pick up some souvenirs, too. The visitor center has plenty of t-shirts, guidebooks, patches, stickers and holiday ornaments for sale.
Hiking Trails
There are two shaded hiking trails just south of the Blue Ridge Music Center, including the High Meadow Trail and Fisher Peak Loop Trail.
The trails can be accessed from a side trail behind the Blue Ridge Music Center or from a separate parking lot on State Route 612 (a three-minute drive).
The hike is roughly the same distance whether you begin at the music center or from the off-site parking lot. There is no fee to access the hiking trails.
Note that the music center gate closes at 5 pm. This means you need to be off the trails before then if you park at the music center.
The road to the parking lot on State Route 612 (Foothills Road) is open all-day every day. From here, you will always have access to the hiking trails.
TRACK Trails
The High Meadow Trail is one of many easy hikes listed on the Kids in Parks website as a TRACK Trail.
As a TRACK Trail, there are four kid-friendly adventures designed to engage children while hiking along this forested trail.
Adventure brochures can be downloaded from the Kids in Parks website, or you may find print brochures at either end of the High Meadow Trail.
Pint-size adventures make it fun for children to identify local birds, learn about trees found on the trail and get to know musical instruments made from wood.
Parents can also go to the Kids in Parks website to log each adventure that their child completes. There are more than 250 adventures across the country.
Kids in Parks is a creation of the Blue Ridge Parkway Foundation, which is based in Asheville, North Carolina.
That noted, the bulk of the adventures are in the Mid-Atlantic and Southeast, including in Virginia, West Virginia, North Carolina and Maryland.
Blue Ridge Music Center Hike
I began this lollipop hike from the parking lot on State Route 612. You can access the lot from the Blue Ridge Parkway or the Blue Ridge Music Center.
It's a large open parking area with room for at least two dozen cars. However, when I arrived on a holiday Monday morning, I saw just one other vehicle.
You'll see the trailhead just across the state route from the southwest corner of the parking lot. There's also a TRACK Trails display for kids and parents.
You can pick up a map of the hiking trails at the visitor center or you can take a photo of the map at the trailhead. There is also a description of the trails.
Starting at the trailhead, it's a 0.4-mile walk on the red-blazed High Meadow Trail to a trail junction and the start of the hiking loop.
From the junction, I turned right for the blue-blazed Fisher Peak Loop Trail, which technically includes the High Meadow Trail as a part of the loop.
Fisher Peak Loop Trail
The Fisher Peak Trail has some elevation, and it's definitely a moderate hike. Over the course of this hike, the elevation gain exceeds 500 feet.
This trail ascends from the get-go, following along several wooded ridgelines before coming back down to meet the High Meadow Trail.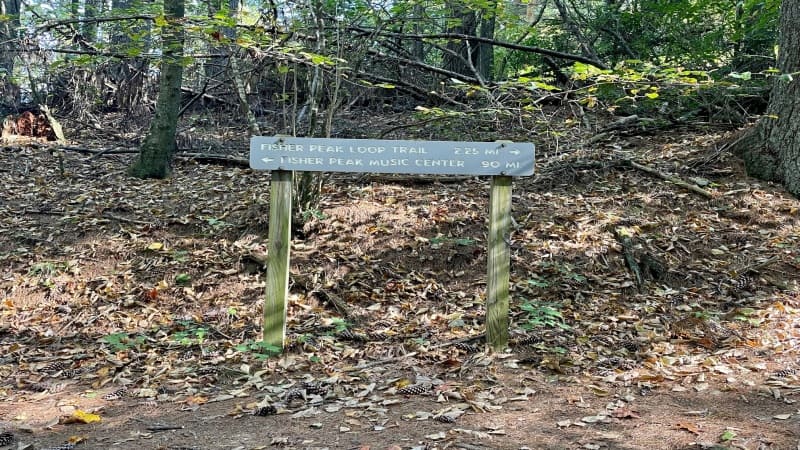 There are no real views on this trail, but depending on the season, keep your eyes open for colorful Catawba rhododendron and mountain laurel.
Look low for groundcover that includes galax (a flowering plant), ferns and ground cedar, a unique evergreen plant that is related to ferns.
You may also see wildlife, such as white-tailed deer, squirrels and a number of species of birds, including wild turkeys and eastern meadowlarks.
Near the 2.0-mile mark, a side trail leads to the Blue Ridge Music Center. From here, it's a short distance to the music center, less than a quarter mile.
At this point, the blazes change back from blue to red, serving as an indicator that you are back on the High Meadow Trail.
High Meadow Trail
At the 2.2-mile mark, there are three wooden benches. This is a good place to take a few minutes to rest on this hike.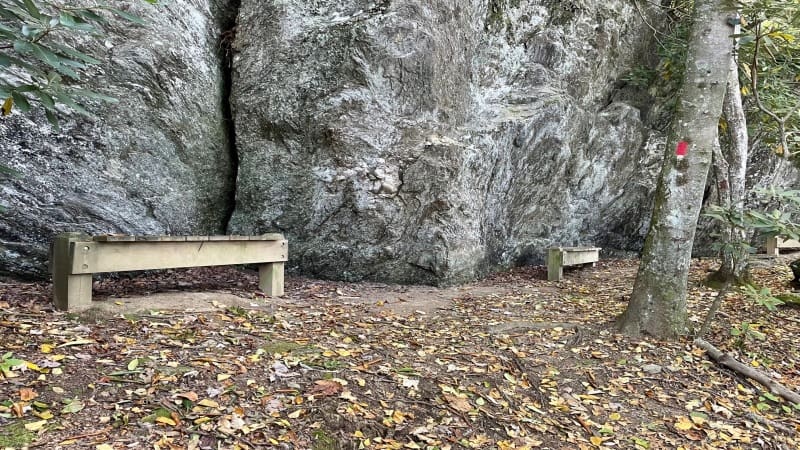 As you continue on, the trail exits the forest and enters a delightful meadow that is frequented by butterflies. In season, you may also see wildflowers.
Prepare to go in and out of the forest a few times before returning to the hardwood forest to end the hike.
In spring, look for an abundance of wildflowers, like rhododendron, mountain laurels and blooms of azaleas.
Year-round, it's easy to keep cool and well-shaded thanks to towering hardwood trees and fragrant evergreens.
You may also note that this section of the hike has fewer elevation changes, which is true and this trail is considered an easy trail.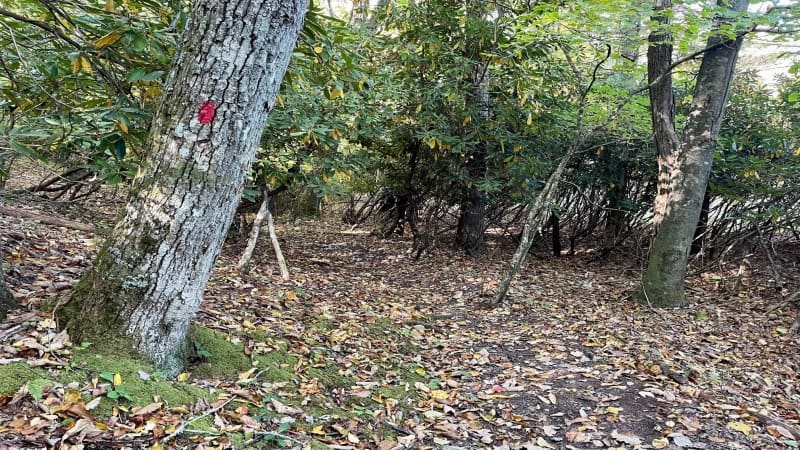 At the 2.7-mile mark, you will close the loop when you return to the trail sign you encounter at the 0.4-mile mark. Turn right to return to the parking lot.
Your hike is complete at the 3.1-mile mark. Celebrate and revel in all the nature that you were able to take in while on the Blue Ridge Parkway.
Wrap-Up Notes
From the trail head, this short loop hike took me around 75 minutes, including time to stop to examine the hardwoods and plant life all around me.
After your hike, continue on the Blue Ridge Parkway. If you go south, it's 4.5 miles to Cumberland Knob, which has picnic tables and restroom facilities.
Going north on the Blue Ridge Parkway, it's nearly 37 miles to Mabry Mill, which has a sit-down restaurant and a gift shop. A picnic area is also nearby.
You can also exit the Blue Ridge Parkway and drive 15 minutes to Galax, which has boutique shops and restaurants, as well as access to the New River Trail.