Twin Pinnacles: Hike to Two of Virginia's Tallest Peaks at Grayson Highlands State Park
It's safe to say that the free-roaming wild ponies are the main attraction at Grayson Highlands State Park. Many who go only see the ponies, but there's so much more.
I spent the day at this state park in Southwest Virginia last month. I hiked to Wilburn Ridge to see the wild ponies, of course, but the Twin Pinnacles were on my list, too.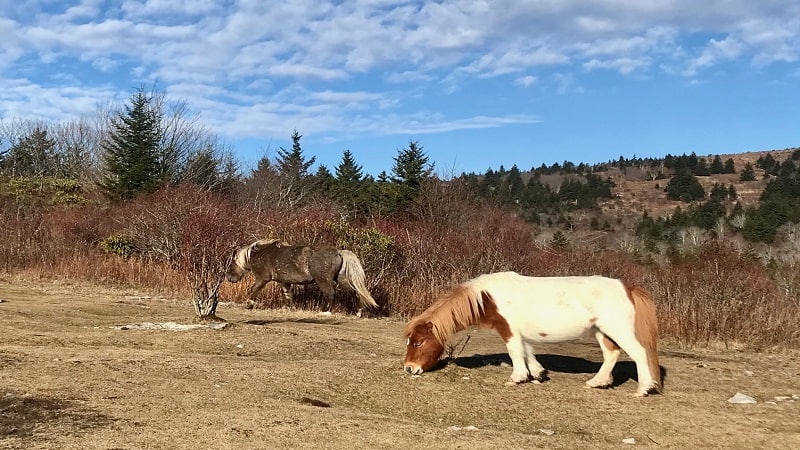 If you take a look at the park map, you'll see that more than a dozen hiking trails criss-cross Grayson Highlands State Park. There are also two campgrounds.
For those who are short on time, but want to see more of the park, hiking to see Big Pinnacle and Little Pinnacle is a great option.
Even better, you won't need to park twice since the trailhead is located across Grayson Highland Lane from the hiking trails that lead to Wilburn Ridge.
| Trail Stats | |
| --- | --- |
| Length | 2.1 miles |
| Difficulty | Moderate |
| Trail Type | Loop |
| Elevation Gain | 547 feet |
| Duration | 1.5-2 hours |
| Terrain | Mostly dirt & rock trails, some rock scramble |
| Dog-Friendly | Yes |
| Fee | $7 per vehicle weekdays ($10 per vehicle weekends, Apr-Oct) |
| Driving Directions | Click Here |
Arriving at the Trailhead
When you arrive at Grayson Highlands State Park, proceed to the Massie Gap parking area. It's a large section of parking that runs parallel to Grayson Highland Lane.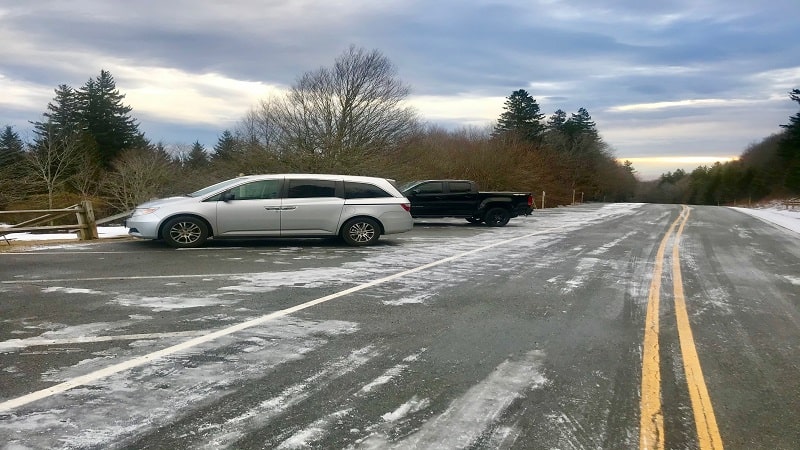 There are a lot of spaces, but they can fill up quickly since this is by far the most-visited section of Grayson Highlands. It's the only area in the park where you can see wild ponies.
Even in the off-season, spaces get snapped up in a flash. Keep this in mind as you plan out your visit to Grayson Highlands State Park.
The First Steps
Honestly, I didn't realize at first that you can hike to the Twin Pinnacles from a trailhead at Massie Gap. I planned to begin at the Visitor Center. Then, disaster.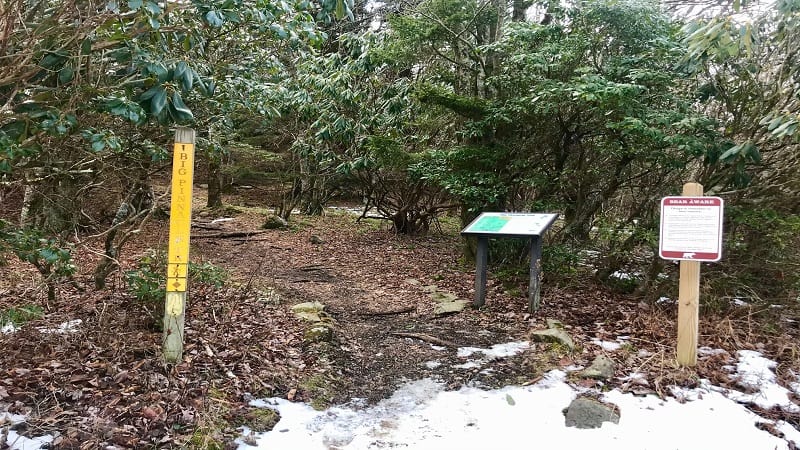 The Visitor Center – and the road leading to the Visitor Center – is closed in the off-season. It won't re-open until late-April or May. Yikes.
Then, I spied the trailhead for the Big Pinnacle Trail. It was literally steps from my car at Massie Gap. I was off and running. Well, hiking, trying not to slip on packed snow.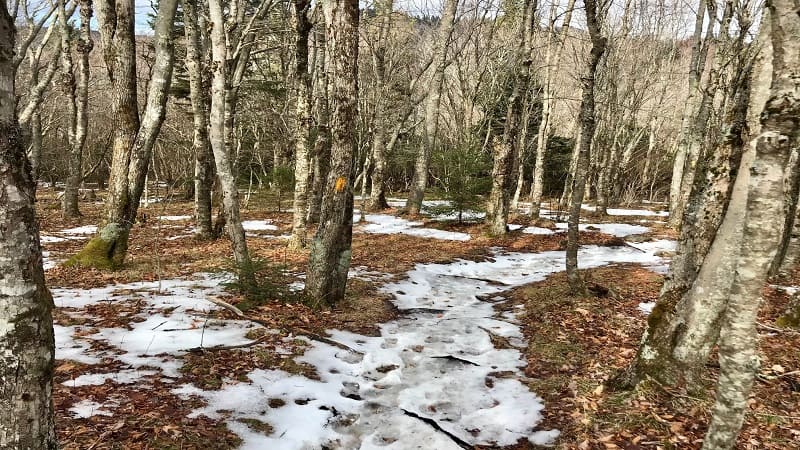 The Big Pinnacle Trail is a short, forested trail that leads to – yes – Big Pinnacle. At the .35-mile mark you'll see a spur trail on the right for Big Pinnacle (5,068 feet).
It's a fairly rocky hike on the spur trail to the summit and requires some scrambling skills. When you get to the top, however, you'll be blown away by the views. Oh my gosh.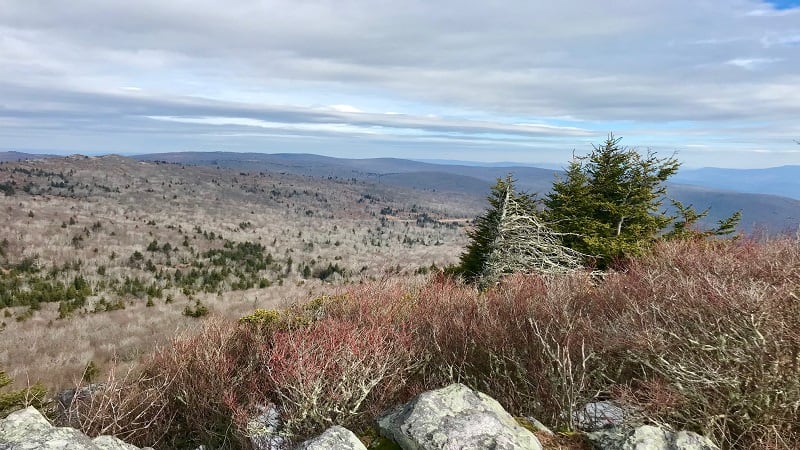 At the top, you'll enjoy full 360-degree views from Big Pinnacle, which is the peak of Haw Orchard Mountain. Settle in for a snack. You won't want to leave this peak.
When you do decide to leave, re-trace your steps along the spur trail. Then, turn right onto the red-blazed Twin Pinnacles Trail (a sign may point to the Visitor Center).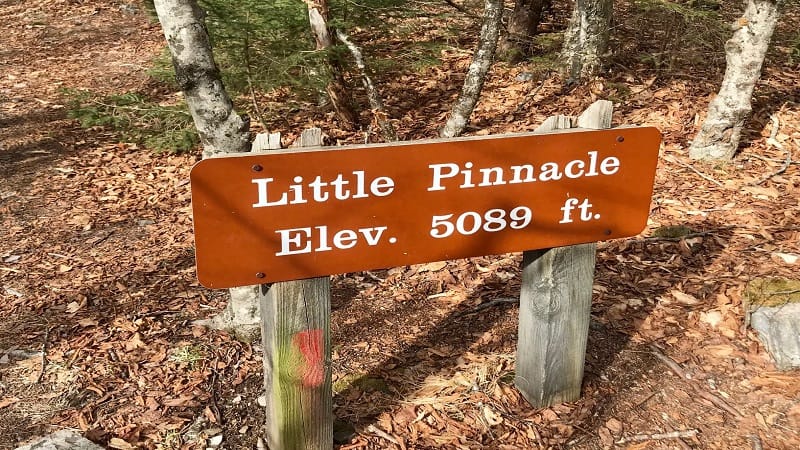 Near the .9-mile mark, you will reach Little Pinnacle. Interestingly, Little Pinnacle has an elevation of 5,089 feet. That's 21 feet taller than Big Pinnacle. Go figure.
There is a small rocky outcrop at Little Pinnacle, but no rock scramble is required. If you're hesitant to scramble Big Pinnacle, you'll find plenty of wow-worthy views here.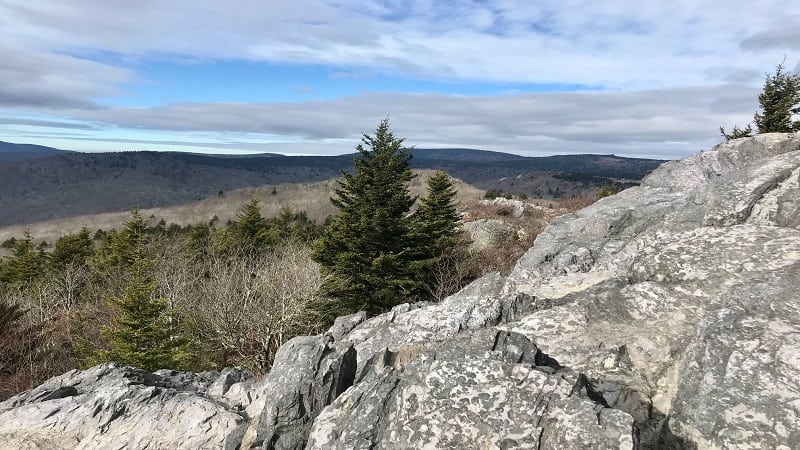 At the 1.2-mile mark, you'll reach the Visitor Center. When open, spend a few moments exploring the Visitor Center, then back-track on the Twin Pinnacles Trail.
In .1-mile, you'll reach a split in the trail. If you stay left (the way you came in), you'll pass Little Pinnacle. Stay to the right for a more forested hike on the return.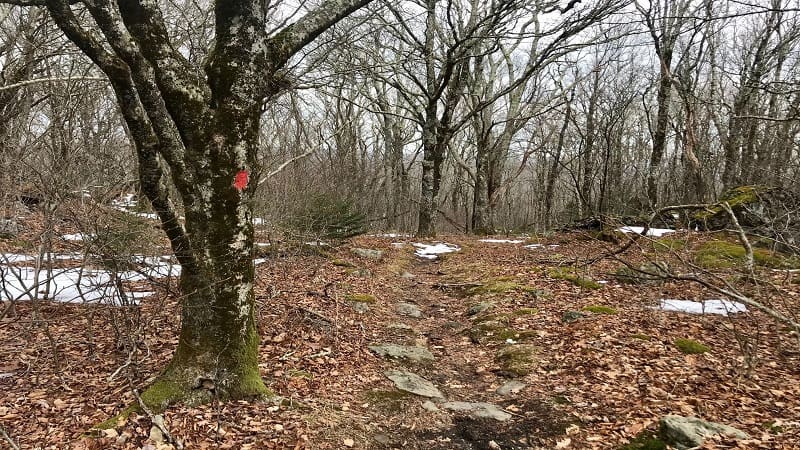 You'll approach the spur trail for Big Pinnacle a second time at the 1.7-mile mark. Instead, stay right to return to the Massie Gap parking area on the Big Pinnacle Trail.
Hike Options
If you want to add on an extra 1.4 miles, cross the parking lot in front of the Visitor Center to reach the trailhead for the scenic Listening Rock Trail.
I did this, but then my phone died. Boo. I've since upgraded to an iPhone 12, so I'll be ready the next time with a phone with decent battery life. Geesh.
This is a gorgeous, quiet trail with two booming vistas. The first is Listening Rock. The second is Buzzard Rock Overlook. I wish I had photos. Both were amazing.
Buzzard Rock Overlook is at the end of the hike. There's a nice walk-out viewpoint, as well as an array of picnic tables. It's the perfect spot to stop for lunch.
Wrap-Up Notes
From the parking area, this hike likely took me around 90 minutes to complete, including time spent ogling the views from Big Pinnacle and Little Pinnacle.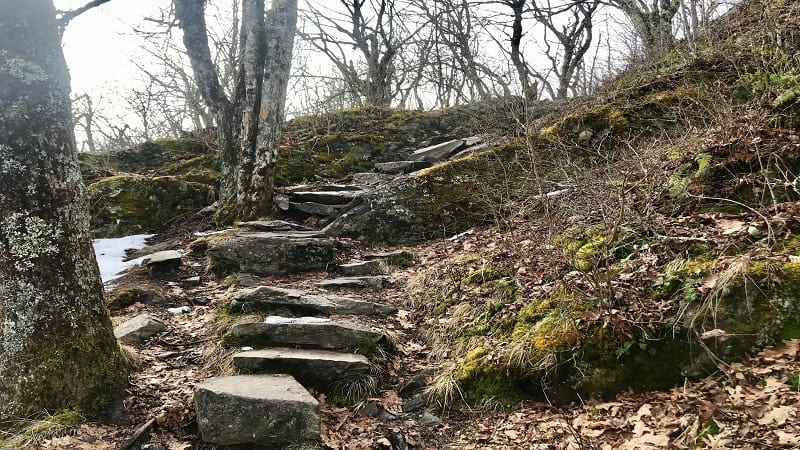 Honestly, I'm not entirely sure how long it took since both my phone and the watch I was using to track the minutes died during the hike. Not cool.
This is a gorgeous hike. I'd do it again in a second. I can't recommend this more, especially if you're already parked at Massie Gap and have seen the wild ponies.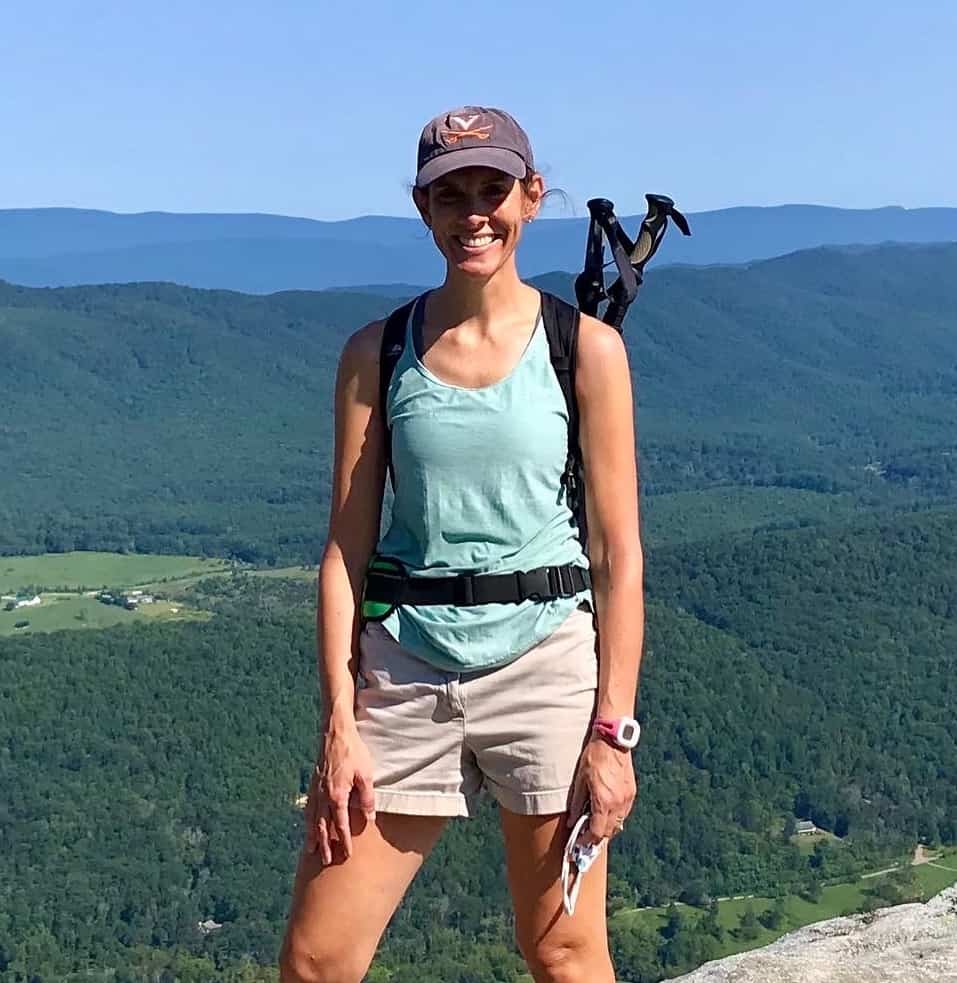 Erin Gifford is the editor of Go Hike Virginia. She has completed more than 300 hikes in Virginia. She is also the author of three hiking guidebooks from Falcon Guides. Need help finding a hike? Check out the Trail Finder feature or send Erin a message.