Buzzard Rock Trail: A 6-Mile Hike with Commanding Views Near Front Royal, Virginia
Not long ago, I hiked to Buzzard Rock near Front Royal. It was a beautiful 2.9-mile out-and-back hike on the aptly named Buzzard Rock Trail.
The views were gorgeous. I had no idea at the time, however, that even more breathtaking views were only a few more steps ahead on the trail.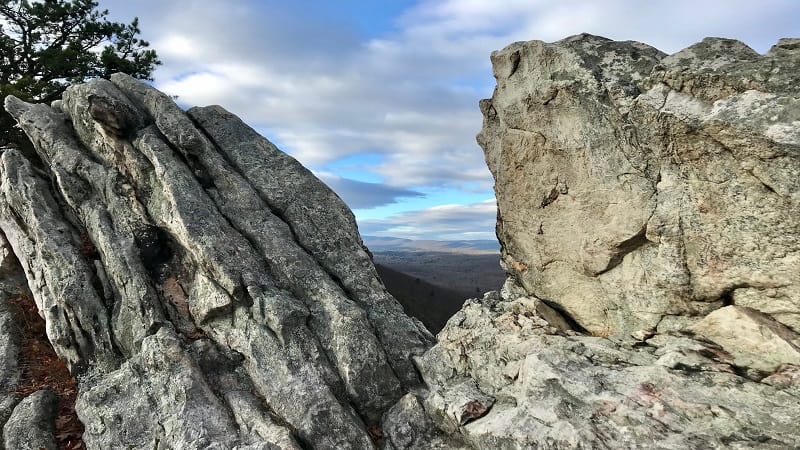 AllTrails lists a longer hike, which continues past the overlook, as 6.2 miles round trip. I didn't have time for a hike of this length and elevation gain.
I was able to return on a great day in early-December for this Shenandoah Valley hike. However, it was not as "hard" as AllTrails rated this short hike.
I definitely felt like this was more of a "moderate" hike in the George Washington National Forest, and I have done some very hard Virginia hikes.
| Trail Stats | |
| --- | --- |
| Length | 6.2 miles |
| Difficulty | Moderate |
| Trail Type | Out-and-Back |
| Elevation Gain | 1,391 feet |
| Duration | 3.5-4.5 hours |
| Terrain | Mostly dirt & rock trails, some rock scramble |
| Dog-Friendly | Yes |
| Fee | Free |
| Driving Directions | Click Here |
Buzzard Rock Parking Area
A series of two-lane country roads lead you to the trailhead parking lot for the Buzzard Rock Trail. Here, there's enough space for no more than 15 vehicles.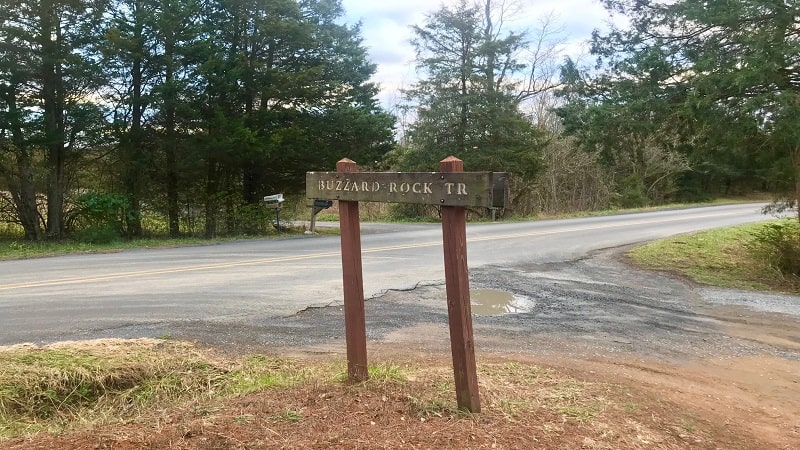 I arrived at 8 am on a Sunday, just as another hiker was pulling into the lot. He was wearing camo. I was a bit concerned at first, but then he revealed trekking poles.
The small parking lot on Mountain Road can fill quickly given the popularity of the two hikes, so keep this in mind, especially on fair-weather days.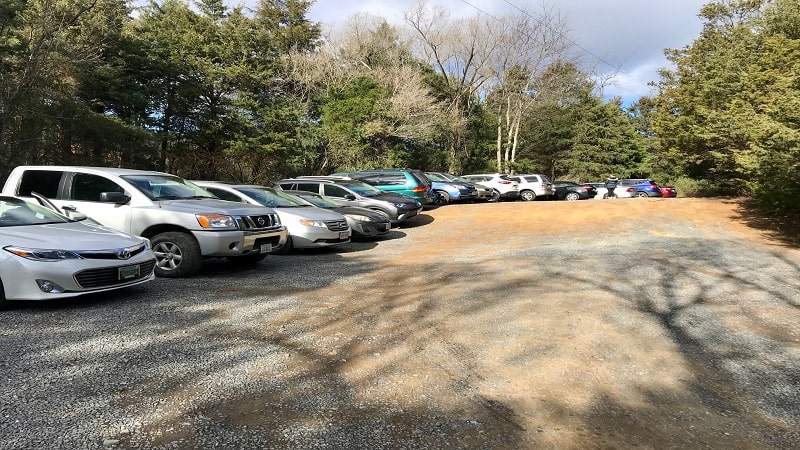 Buzzard Rock Hike
The trailhead is easy to find, at the south end of the small parking area. From here, begin walking along the forested white-blazed Buzzard Rock Trail.
Within the first .5-mile, there are two small stream crossings. Both are easy-peasy. You may not even get your hiking boots wet, even in early spring.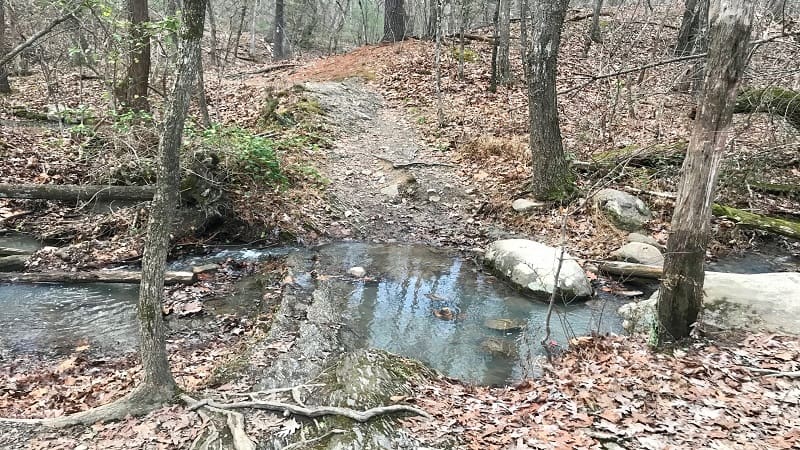 You'll reach an area with large rocks ideal for a break at the .5-mile mark. I was pleased to see that the rock cairns had been dismantled since my first visit.
Cross over another small creek at the .6-mile mark. At the 1.0-mile mark you'll see fire pits and a small campsite. Veer right to follow the white trail blazes.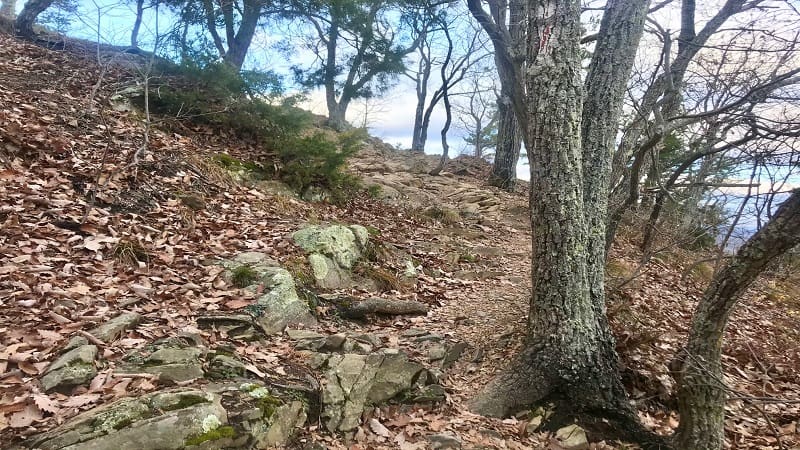 Over the next .5-mile, you'll make the final ascent of Buzzard Rock. Prepare to be awed by spectacular views extending out to the Shenandoah River.
Buzzard Rock Overlook
The north-facing overlook is mostly flat, though there are some rocks to sit down on. The overlook makes a great place to relax with a snack or lunch.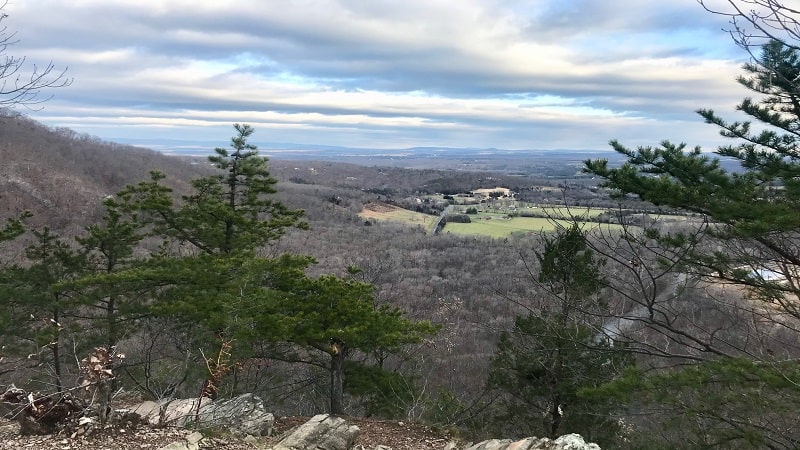 The hike to this overlook is called simply Buzzard Rock in AllTrails. Yet, the actual Buzzard Rock Overlook is due west, with views of this overlook.
Ouch, my head hurts. Buzzard Rock Overlook is located on the Signal Knob Loop (or shorter Meneka Peak Loop), on the orange-blazed Massanutten Trail.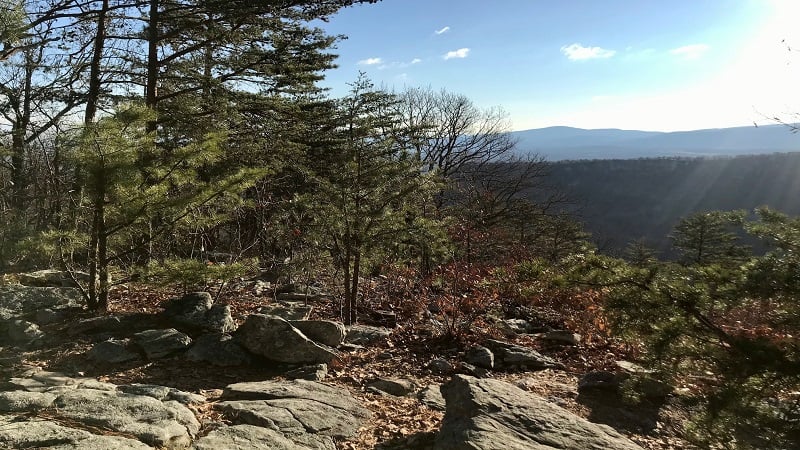 I completed the Signal Knob Loop a few days earlier, so my head is spinning as this is all coming together in real-time. Oh, mon dieu.
The Buzzard Rock Overlook on this hike is atop Buzzard Rock. The Buzzard Rock Overlook on the Signal Knob Loop is facing Buzzard Rock.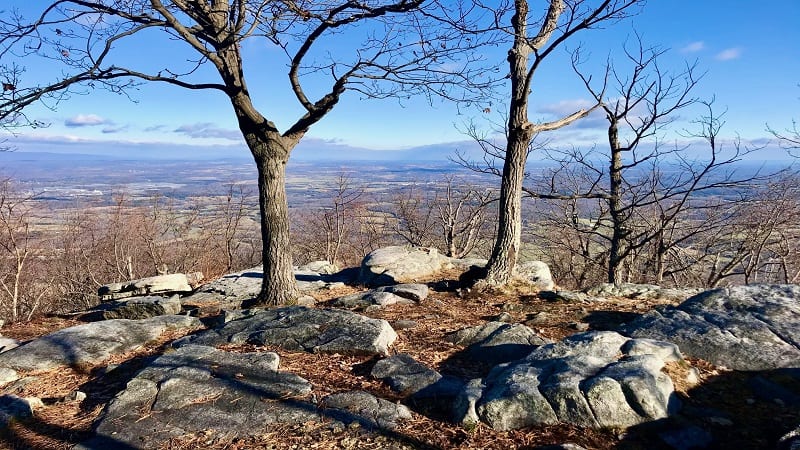 Oof, I'm so glad that that's all cleared up. I'm moving on with this popular hike. From here, continue on the white-blazed trail.
It's a fairly rocky, steep climb. Fortunately, it levels off after about .15-mile as you begin to follow the white blazes along the top of the ridge.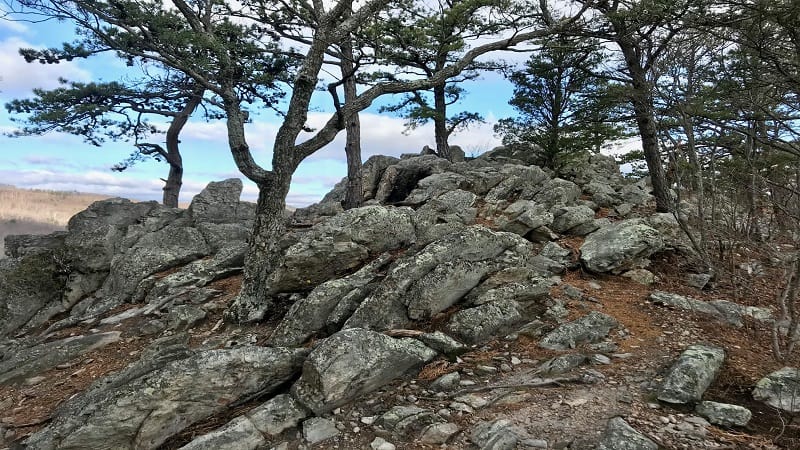 Rock Scrambles
You'll encounter small rock scrambles here and there as you make your way along the ridge. The west-facing views toward Green Mountain are especially scenic.
There are gentle slopes and rock outcrops to settle in on for the views. You'll also see stone fire pits and cleared tent camping areas along the trail.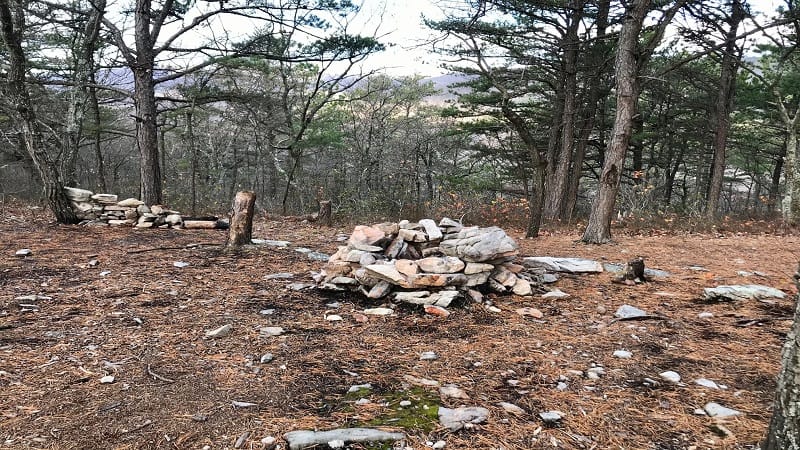 At the 3.1-mile mark, look for a short spur trail on the left. This leads out to an east-facing outcrop for nice views across nearby Front Royal.
Re-trace your steps for the return trip to the parking lot. Check out the alternative Buzzard Rock Overlook on your way to Signal Knob another day.
Wrap-Up Notes
From the small lot, this day hike near Northern Virginia took me three hours, including time spent ogling natural features, native plants and amazing views.
From Mountain Rd., downtown Front Royal is less than a 20-minute drive. Re-fuel at a Main Street fave, like Vibrissa Beer or L'Dees Pancake House.
Stroll historic downtown or sit in the gazebo in the town square. From Front Royal, you're a short drive to Skyline Drive and Shenandoah National Park.