Breaks Interstate Park: Hiking the Grand Canyon of the South
I'd long wanted to explore Breaks Interstate Park, a 4,500-acre state park that neatly straddles Virginia and Kentucky.
Home to the "Grand Canyon of the South," a five-mile gorge that's more than 1,650 feet deep, it's not hard to comprehend why this stately park is a must-go.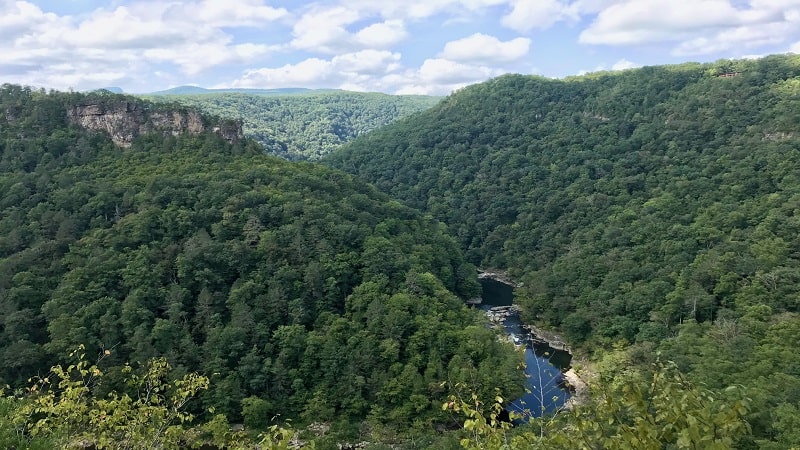 Unfortunately, I live in Northern Virginia, which means it's a 6.5-hour drive to reach this idyllic state park, which is located in Dickenson County, in the far western section of the state.
So, that's been a blocker for some time. It's not exactly a day or even a weekend getaway from my part of the state.
Still, I kept this dream alive and began to research what else was in Southwest Virginia.
If I'm going to drive more than six hours, I want to see it all. Breaks Interstate Park was just the start of a six-day adventure to see and hike it all in this gorgeous part of my home state. And I saw elk (!).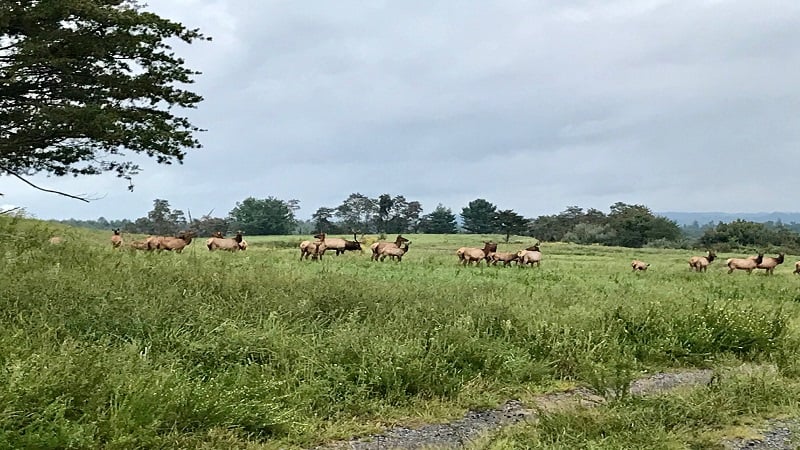 There are more than a dozen hiking trails at Breaks Park, which is situated in the Jefferson National Forest.
None are more than 1.5 miles in length. So, I knew I needed to create my own park trail by linking together several trails into a loop of the best of the best trails at this idyllic state park.
What I present is the 3.6-mile Breaks Interstate Loop. It's filled with scenic overlooks, rock scrambles, cliff overhangs, hidden springs, small caves, majestic forest, even a 40-foot mini-canyon. In a word, this loop trail was a winner.
| Trail Stats | |
| --- | --- |
| Length | 3.6 miles |
| Difficulty | Moderate |
| Trail Type | Loop |
| Elevation Gain | 679 feet |
| Duration | 3-3.5 hours |
| Terrain | Dirt trails, rock scrambles, leafy forest |
| Dog-Friendly | Yes |
| Fee | $2 per vehicle |
| Driving Directions | Click Here |
Arriving at the Trailhead
This trail begins just behind Picnic Shelter #2. Here you'll also find a children's playground and restrooms. There is an adjacent parking area in front of Picnic Shelter #7.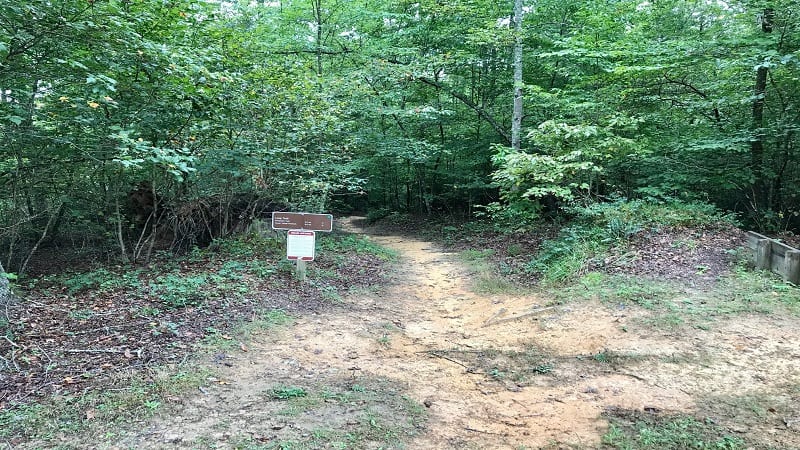 There is an easy to spot brown trail sign for the green-blazed Loop Trail. This is not the Breaks Interstate Loop that I have adroitly cobbled together.
Instead, this is the first of four trails to hike that will make up the Breaks Interstate Loop. The other three hiking trails are the Prospectors Trail, Geological Trail and Overlook Trail.
The First Steps
The Loop Trail begins with a gentle descent on a mostly dirt path through the leafy forest.
You'll see downed trees from destructive storms, as well as plenty of moss-covered stones and logs, even tree trunks.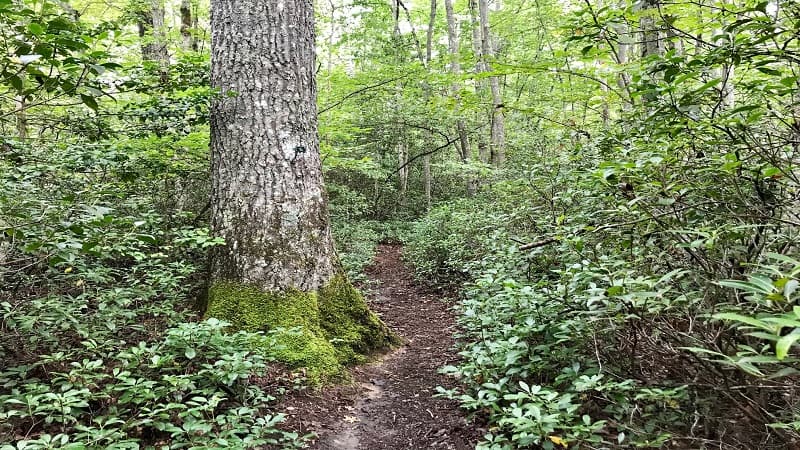 At the .3-mile mark, you'll reach a T-junction. Turn left. In a few more steps, you'll approach a fork in the trail.
From here, veer left for a yellow-blazed spur trail that leads to the Tower Tunnel Overlook. Continue on for 200 yards until you reach the majestic overlook. You can see the train tunnel below that goes right through the tower (mountain).
Once you've savored all the views, re-trace your steps to the fork in the trail. This time, choose the orange-blazed Prospectors Trail, which is marked by no fewer than five "warning" or "caution" signs.
The signs warn hikers about poisonous snakes, insects, switchbacks and rocky terrain. Honestly, it was a bit much. Press on, friends.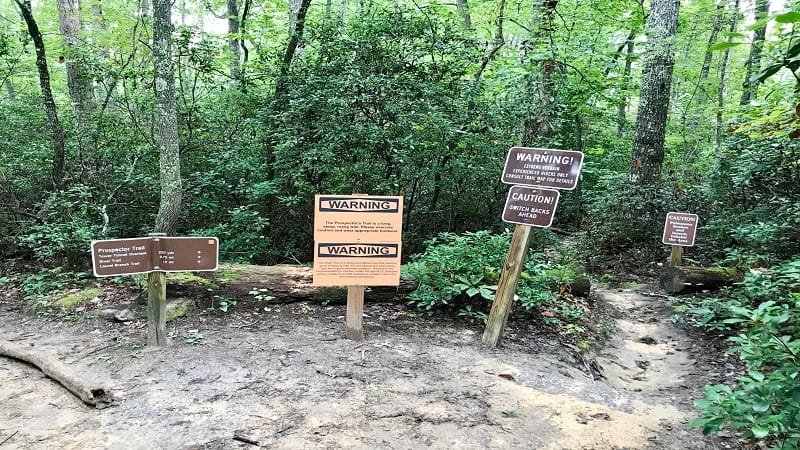 At the .7-mile mark, you will reach a fantastic rock overhang with a jagged rock scramble underneath.
In a few more steps, you'll reach a sign for the Rock Climbing Access Trail adjacent to quite a nice rock face for rock climbing up 30 feet or so.
Turn right here to bypass this trail and you'll see a massive downed tree you've got to duck under.
In a few more steps, you'll approach a very cool walk-through boulder. Just past the 1-mile mark there's a gigantic boulder on the right.
You can actually climb up into the boulder, but I swear I saw a face inside and there was no way I was climbing inside.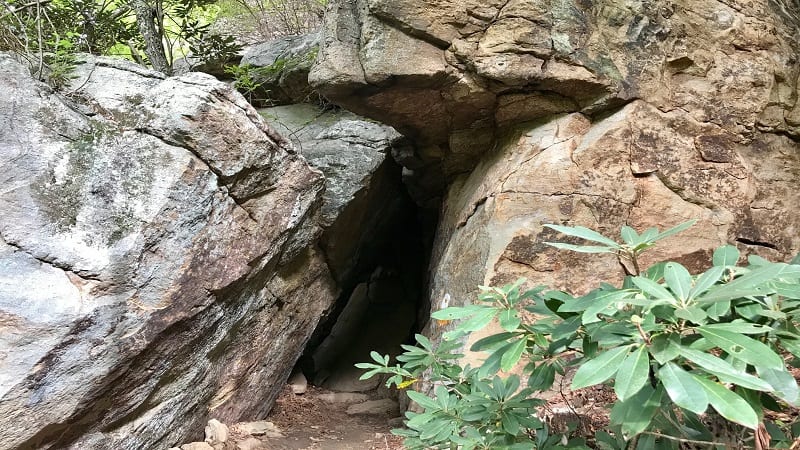 Over the next quarter-mile you'll encounter a few more mild scrambles. Then, at the 1.45-mile mark, the trail connects with the River Trail on the left.
From here, it's .7-mile to the Russell Fork River, but it's very steep and not at all recommended by the park. There's also a less-challenging way to reach the river, which is by way of the Camp Branch Trail.
At the 1.5 mile mark, you'll see a very cool jagged rock face. There's even a little opening to climb into that would make for a fun photo op.
As you continue on you'll encounter more rocky overhangs, rock faces and scrambles. Some scrambles are fairly mossy, so mind your footing.
At the 1.9-mile mark, you'll ascend a mini canyon. Continue straight when you see a sign for the Geological Trail.
Near the 2-mile mark, you'll reach a hidden spring. You can hear it flowing under the rocks, but may not see it (only in spring does it overflow and become visible to hikers).
To stay on the trail, proceed up and over the rocks and hidden spring. However, you may want to first investigate a small overlook and what appears to be a two-story cave on the left. The opening for the cave is on the second level.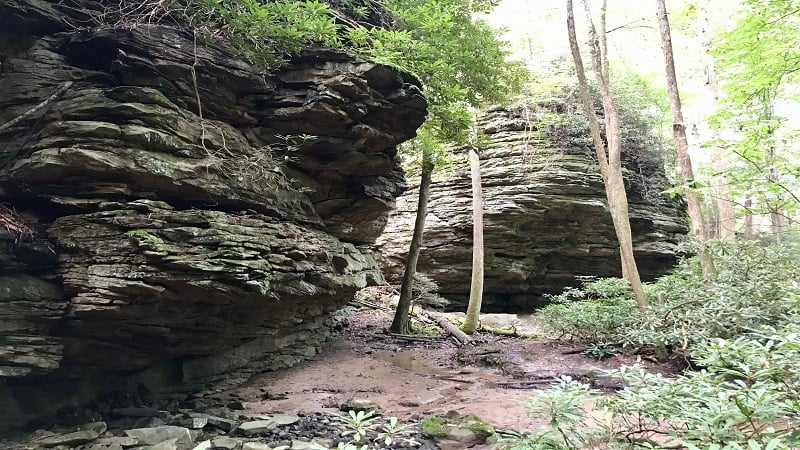 At the 2.1-mile mark, you will reach an intersection. Go straight on the red-blazed trail to see The Notches, a group of sandstone formations along a sandy stream.
I walked out over two bridges to the #15 marker, then returned to the intersection. From here, turn left onto the white-blazed Geological Trail.
In less than one-third mile, you will reach a very cool slot canyon to walk through before approaching a set of stairs that lead up to the breathtaking Stateline Overlook.
Here you have northwest views and can see both Virginia and Kentucky, including Pine Mountain, Potters Flats and the Russell Fork River.
Once you take in the Stateline Overlook views, the trail leads you back into a parking lot. From here, continue down the road that leads away from the parking area.
You'll quickly see a sign for the green-blazed Overlook Trail on the right. You'll shortly be walking atop the ridge. There are lots of spots for good views or a snack break.
At the 3.1-mile mark, you'll reach a fenced overlook. This may be Pinnacle Rock, but it also was not marked. Still, it was quite a beautiful view.
You'll then do a quick zig and zag along the road before re-entering the trail and ascending a set of stairs.
At the 3.35-mile mark, you will reach a sign for Clinchfield Overlook. From here, there are 112 steps to reach the overlook, so you've really got to commit to the view.
You can again see the train tunnel and read up on how transportation was made easier thanks to the natural breach in Pine Mountain. In fact, the best route for carrying goods and natural resources was right through Breaks Canyon.
Re-trace your steps from Clinchfield Overlook and turn right once you reach the parking lot for this overlook.
You'll see a dirt and gravel path that guides you back to your starting point, but you will first cut across the dedicated parking area for the Tower Tunnel Overlook.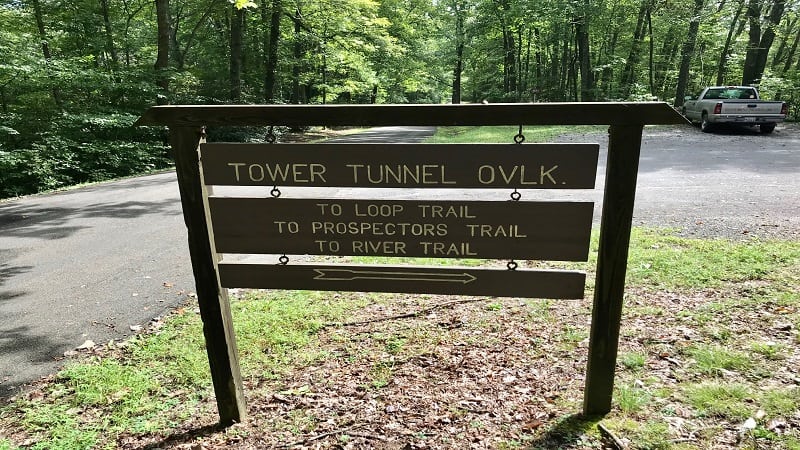 Hike Options
Whether you want a shorter hike or a longer hike, there are so many options. If you simply want to be awed by scenic overlooks, there are a couple of short overlook trails, including Towers Trail (.15-mile, round-trip), Tower Tunnel Trail (.4-mile, round-trip).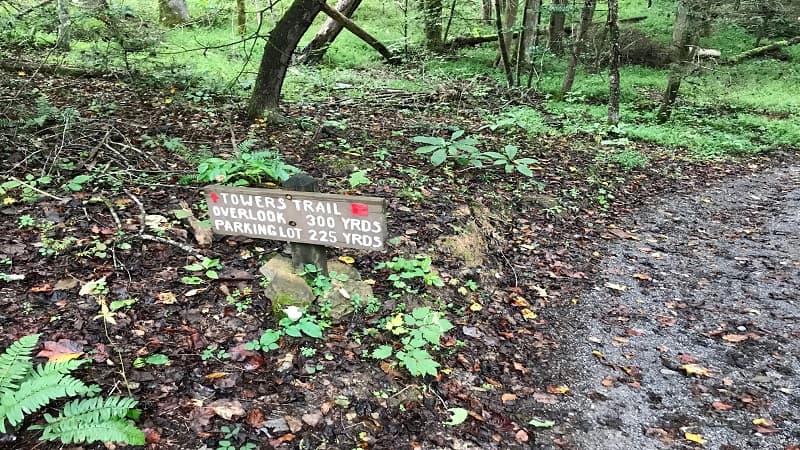 Several other overlooks, including Mill Rock, Lovers Leap and Stateline Overlook can be reached by way of a dedicated parking area and a short walk (less than 50 yards).
One hike that is not listed on the Breaks Interstate Park map that you can pick up in the visitor center is the one-mile Chestnut Ridge Trail.
This loop hike connects the Ridge Trail with the Geological Trail. A self-guided walking map with 30 points of interest is also available in the visitor center.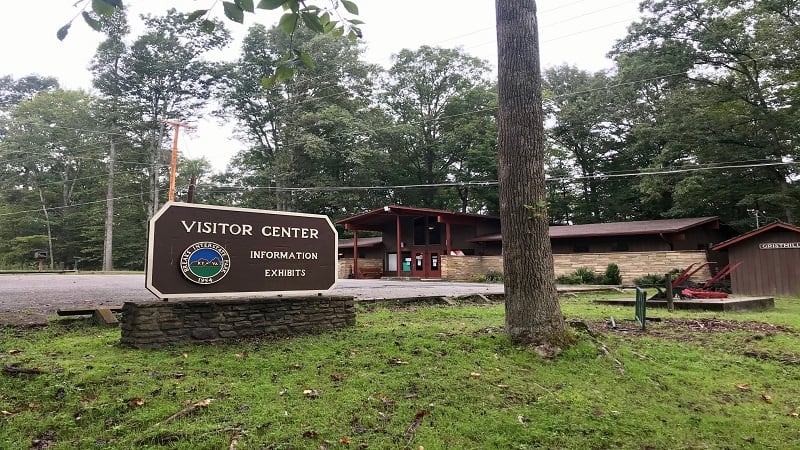 For a longer hike, tack on any one of the other short hikes of varying difficulty across Breaks Interstate Park, like Grassy Creek Trail or Beaver Pond Trail.
Wrap-Up Notes
From Picnic Shelter #2, this hike took me nearly 2.5 hours, which seems surprising to me given it was less than four miles. There's not a ton of elevation gain, but there are a lot of overlooks, rocky outcrops and cliff overhangs that are worth a break in the hike.
You can buy snacks and drinks at both the visitor center and the gift shop. There is also a restaurant inside the Rhododendron Lodge.
If you wish to stay overnight, there is a campground for tent and RV camping, as well as cabins, cottages and several other lodging options at this Virginia State Park.
There is even one yurt at Breaks Park. Thankfully, Breaks Interstate Park has wifi access at all of its various lodging options (since there is no or limited AT&T cell service).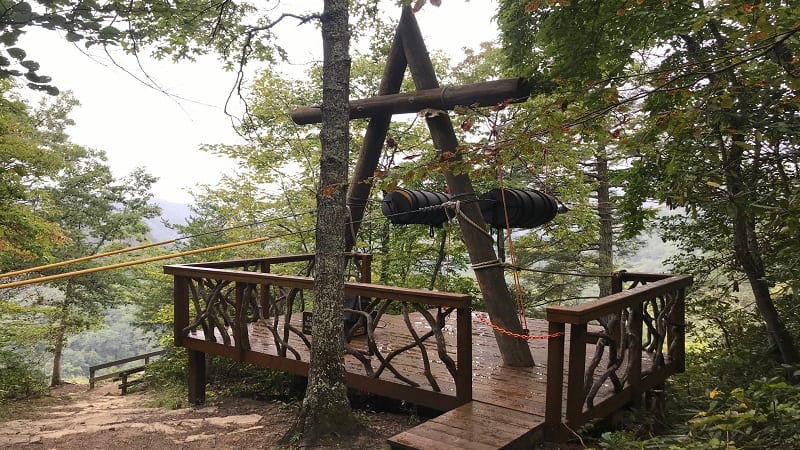 Beyond hiking, there are plenty of other things to do at Breaks Interstate Park, including outdoor activities, like ziplines, biking, geocaching, fishing, horseback riding, a water park and pedal boats on Laurel Lake.
While the Breaks Park ziplines were closed in 2020 due to the COVID pandemic, when they open back up next year the price will be $50 per person (all ages) for an experience that runs 60 to 90 minutes on the Canyon Run Zipline.