Waller Mill Park: An Easy Hike with Sweeping Lake Views in Williamsburg
I was recently in Williamsburg and made time to explore Waller Mill Park. This town park has a dog park, boat rentals, disc golf, and of course, hiking trails.
The park is adjacent to the 360-acre Waller Mill Reservoir, which is just right for fishing from one of several wooden piers or from a flat-bottom jon boat.
There are several short trails at Waller Mill Park, including the Lookout Tower Trail and Bayberry Nature Trail. Both are peaceful and relaxing. Perfect for family hikes.
I hiked the 2.7-mile Lookout Tower Trail, which meandered along a forested peninsula. As you can imagine, there were loads of refreshing water views.
| Trail Stats | |
| --- | --- |
| Length | 2.7 miles |
| Difficulty | Easy |
| Trail Type | Lollipop |
| Elevation Gain | 148 feet |
| Duration | 1.5-2 hours |
| Terrain | Mostly dirt & sand trails |
| Dog-Friendly | Yes |
| Fee | $2 per vehicle |
| Driving Directions | Click Here |
Waller Mill Park
When you first arrive at Waller Mill Park, you'll need to take a parking ticket at the automated gate. The fee is $2. Pay in the Boathouse before you leave the park.
There's plenty of parking at Waller Mill Park, but this scenic lakeside park is quite popular and the lot does fill up on fair-weather days. Plan to arrive early if you can.
The trailhead is easy to find, just steps from the parking area. You'll see a large sign marking the Lookout Tower Trail. No bikes allowed. Dogs must be on a leash.
Lookout Tower Trail
Within the first few steps you will see a large picnic shelter on the right, as well as a small playground with swings. Then, an open area with one wooden picnic table.
At the .1-mile, turn left onto the paved Waller Mill Bike Path. This 3.7-mile bike trail runs from Mooretown Road to E. Rochambeau Drive.
From here, you'll walk a short .2-mile section alongside Airport Road, over the reservoir, before turning left to re-connect with the Lookout Tower Trail.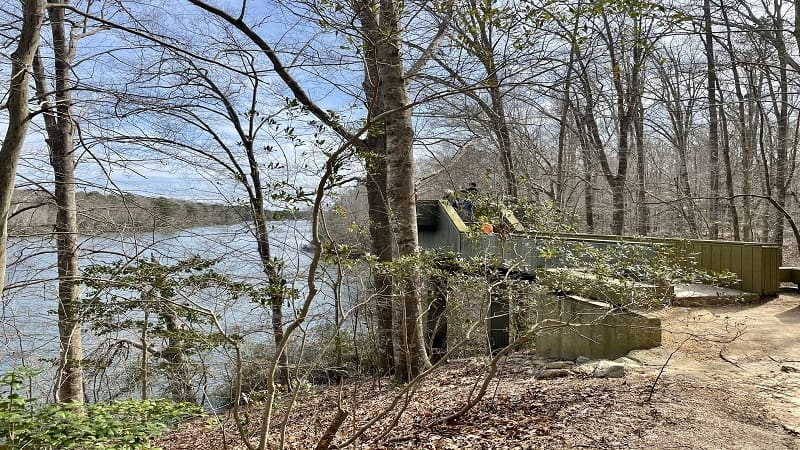 You'll then walk up a few steps and pass a second lonely picnic table before reaching an overlook with sweeping south-facing views across the reservoir.
In a few more steps, you'll reach a fork in the trail. This is a loop, so I chose to turn right to savor more of the water views near the end of the hike.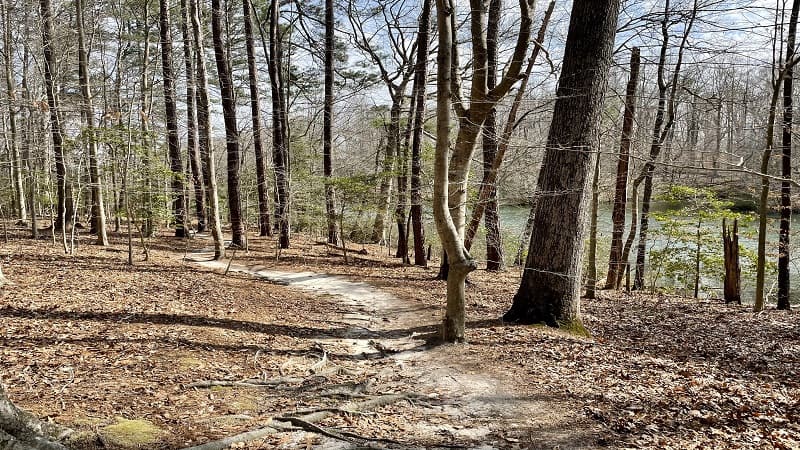 With each step, you'll enjoy a mix of coastal pines and mature hardwoods as you walk along the mostly dirt and sand trails (watch out for tree roots).
Near the half-way point, at the 1.4-mile mark, you will reach a wooden bench that's just right for taking in the spectacular views across the Waller Mill Reservoir.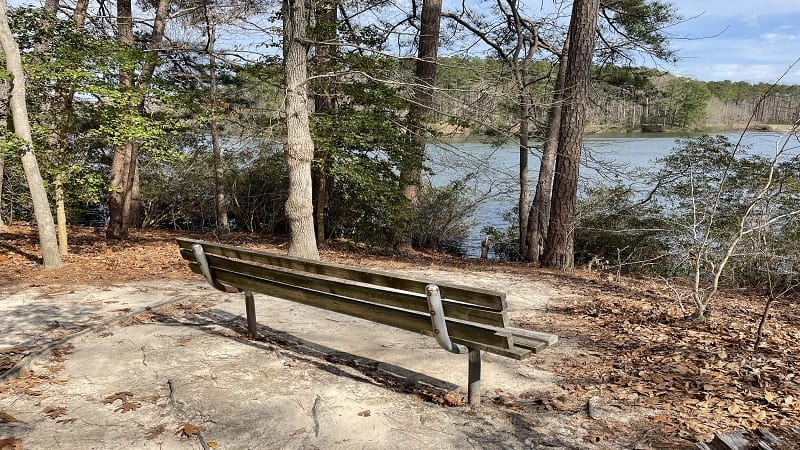 Now you're walking alongside the reservoir – on your right – until you close the loop and reach the overlook again at the 2.4-mile mark.
From here, simply re-trace your steps until you reach the parking area. Your hike is complete. Celebrate.
Wrap-Up Notes
From the parking area, this day hike took me one hour, including time spent at the overlook and taking photos along the way.
If you have time for more outdoor activities, rent a pedalboat to get out onto the reservoir ($8/hour) or snap a photo with the LOVE sign behind the Boathouse.
If you plan to bring your pup, bring a copy of an up-to-date dog license and rabies vaccination certificate (not just a tag). The dog park fee is $2/day.
Eager for more Coastal Virginia day hikes? Check out my favorite hikes near Williamsburg, Virginia.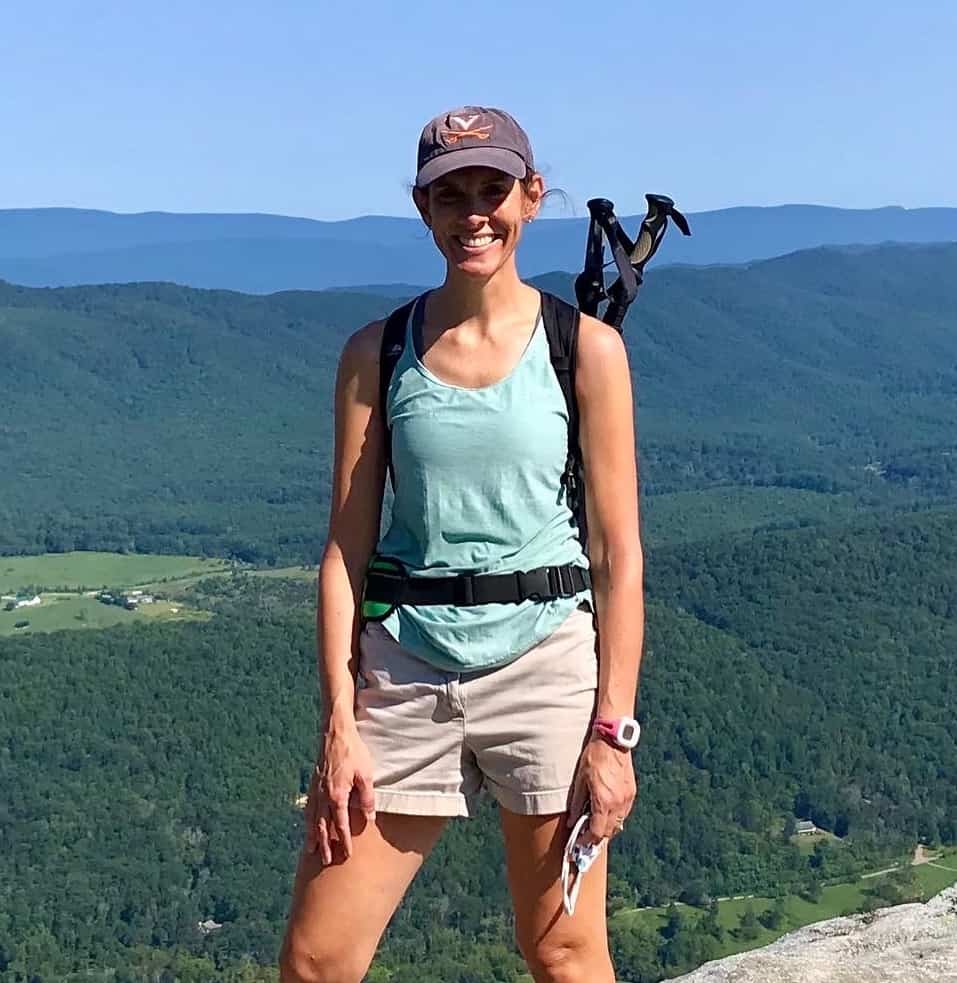 Erin Gifford is the editor of Go Hike Virginia. She has completed more than 300 hikes in Virginia. She is also the author of three hiking guidebooks from Falcon Guides. Need help finding a hike? Check out the Trail Finder feature or send Erin a message.