16 Best Hikes In and Near Charlottesville, Virginia
There are so many fantastic hikes near Charlottesville. If only I had even a remote interest in hiking when I was a student at the University of Virginia.
Whether you're looking for hikes in Charlottesville, like at Ivy Creek Natural Area, or nearby hikes, like Humpback Rocks, this area is a real treat for hikers.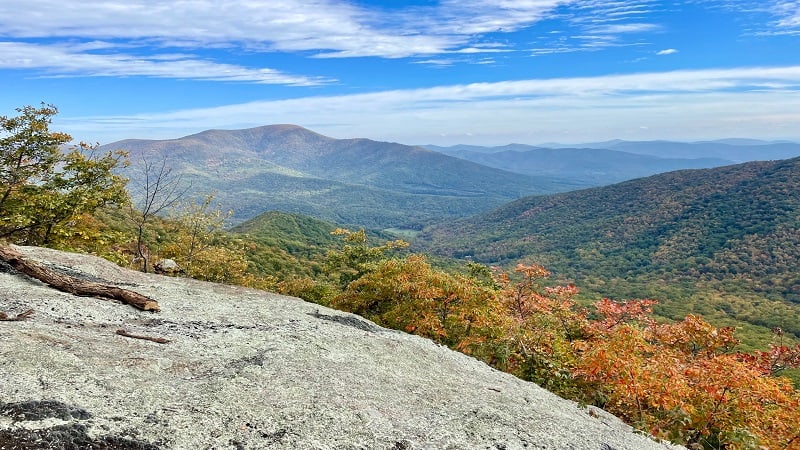 As an Amazon Associate I earn from qualifying purchases. If you click and purchase, I receive a commission at no cost to you.
Charlottesville area hikes wow with scenic views, waterfalls, rock scrambles and mountain vistas. You really can't go wrong with Charlottesville's trails.
Charlottesville Hikes
To make it easy for you to navigate, I've grouped hikes by difficulty level so you have a good idea what you're getting into before stepping foot on the trails.
For each of the hikes below, I also share what's to love and how far they are from Charlottesville (from UVA, to be precise). Get ready for some incredible hiking.
Easy Hikes
For a relaxing walk in the woods, these hikes in and around Charlottesville are perfect. Enjoy shade trees, water views, woodlands and a touch of history.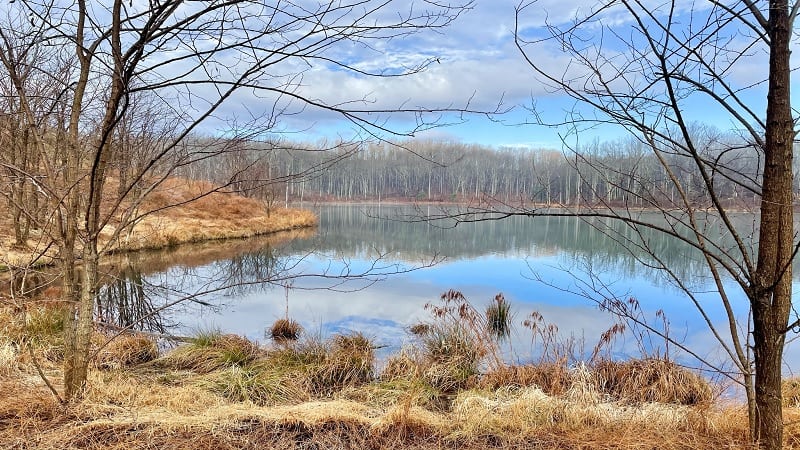 The centerpiece of Ragged Mountain Natural Area is Ragged Mountain Reservoir. The 7.0-mile Lake Front Trail encircles the 170-acre reservoir.
As you walk along the Lake Front Trail, stop to savor the views at Rocky Peninsula. Prepare for a few surprises as you continue along the scenic loop.
Specifically, look for whimsical wood carvings, including two owls, an eagle, two bears and a turtle. There's even a wooden Davy Crockett-style pioneer.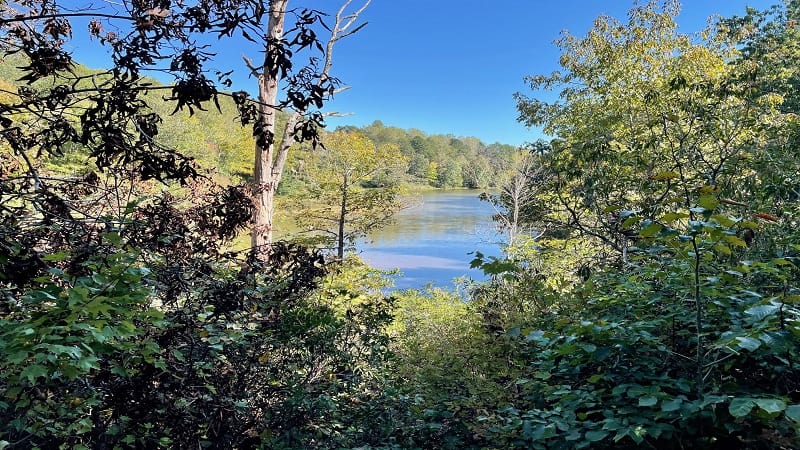 More than seven miles of hiking trails criss-cross the 219-acre Ivy Creek Natural Area, which sits alongside the South Fork Rivanna River Reservoir.
Along the natural area's 11 short trails, visitors encounter shoreline, streams, fields, pines and upland woods. The longest trail is the 1.7-mile Red Trail.
Cobble together several trails, like the Red, Blue, Brown, Orange and Peninsula Trails for a loop that skirts along the park's two peninsulas.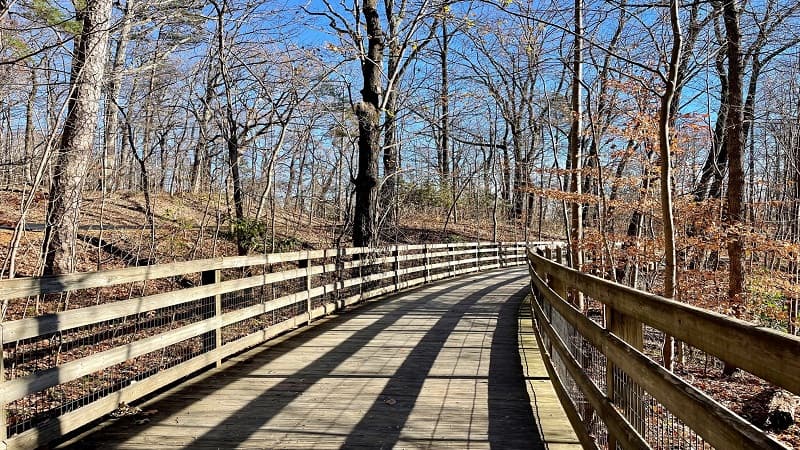 The well-maintained Saunders-Monticello Trail is a 4.3-mile out-and-back trail that winds along Carter Mountain to Thomas Jefferson's Monticello.
Along this stroller-friendly trail, visitors take in views of native plants and a small pond. Gently curving boardwalks elegantly guide hikers into the forest canopy.
Savor scenic vistas as you traverse this free trail that is open to hikers, bikers and wheelchairs. As a bonus, it's just eight minutes from the Downtown Mall.
The 525-acre Walnut Creek Park in North Garden has more than 12 miles of hiking trails, including The Blue Wheel (2.3 miles) and Wilkins Way (3.7 miles).
Some of the hiking trails skirt alongside 45-acre Walnut Creek Lake. Nearly all of the trails have fun names, including Wahoo Way and Bike Factory Trail.
Post-hike, make time for disc golf, fishing or a picnic at Walnut Creek Park, which was voted "Best of the Best" by C-VILLE Weekly.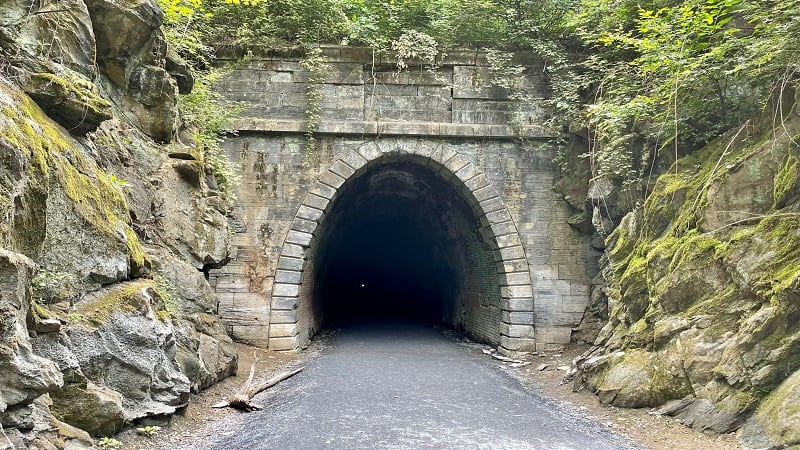 A 4.6-mile out-and-back hike leads visitors through a historic railroad tunnel from the 1850s. Bring a headlamp. It gets very dark in the Blue Ridge Tunnel.
Your best bet is to map to the East Trailhead in Afton, which has a large parking area. This is the starting point for most hikers.
This popular trail located under Rockfish Gap opened up in November 2020 and has been seeing record numbers of visitors ever since.
Moderate Hikes
These hikes near Charlottesville are between three and six miles in length. There's more elevation, but also waterfalls, rock scrambles and far-reaching vistas.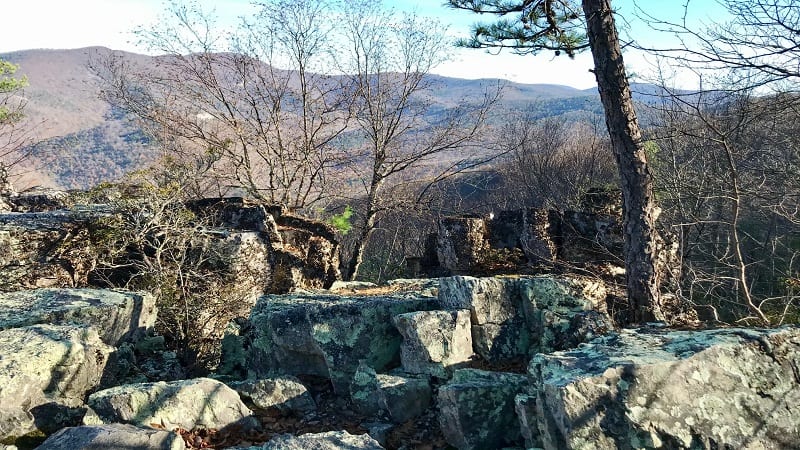 The Rockfish Gap entrance to Shenandoah National Park is an easy drive west of Charlottesville. There are scenic Skyline Drive hikes nearby, too.
The Calvary and Chimney Rocks hike at milepost 90 is a favorite. Chimney Rock, in particular, wows with a scenic overlook replete with flat top rocks.
At milepost 93.5, the Turk Mountain hike awes with dramatic mountain views, rock scrambles and forested trails. Listen for the nearby train whistle.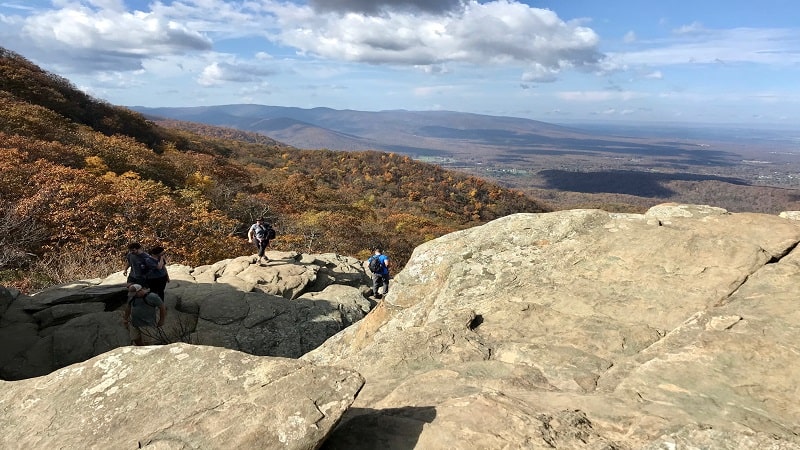 Whether you complete Humpback Rocks as a 4.3-mile loop or a 2.0-mile out-and-back hike, you're guaranteed to be stunned by 360-degree views.
The ascent is not for the faint of heart. Thankfully, a handful of benches and a wooden staircase ease the trek to the summit where vistas are plentiful.
On the way down, re-trace your steps or follow along a leafy stretch of the Appalachian Trail for the return to the Humpback Gap Overlook parking area.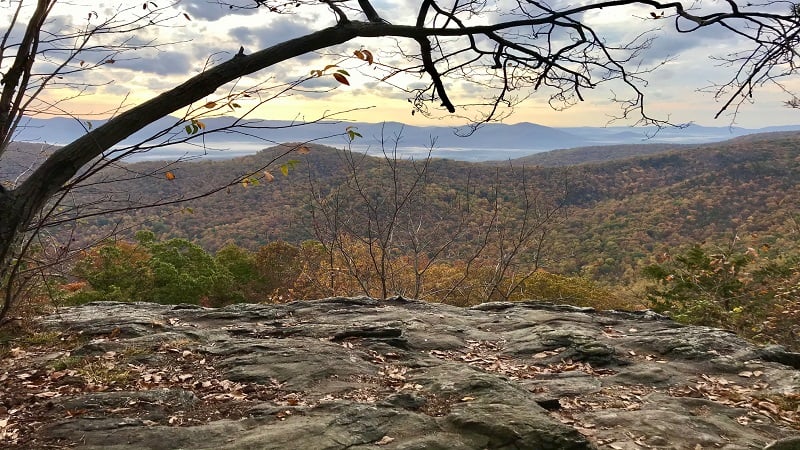 The 3.8-mile hike on the Jack Albright Loop (aka Dobie Mountain) shares a parking lot with the Humpback Rocks hike. This means you should plan to arrive early.
The Glass Hollow Overlook at the 1.0-mile mark (counter-clockwise route) is a must for overwhelmingly beautiful panoramas of the Rockfish Valley.
Along the trail are remains of a 1960s plane crash – a Beechcraft Bonanza. What's left of the wreckage is up an unmarked spur trail at the 2.5-mile mark.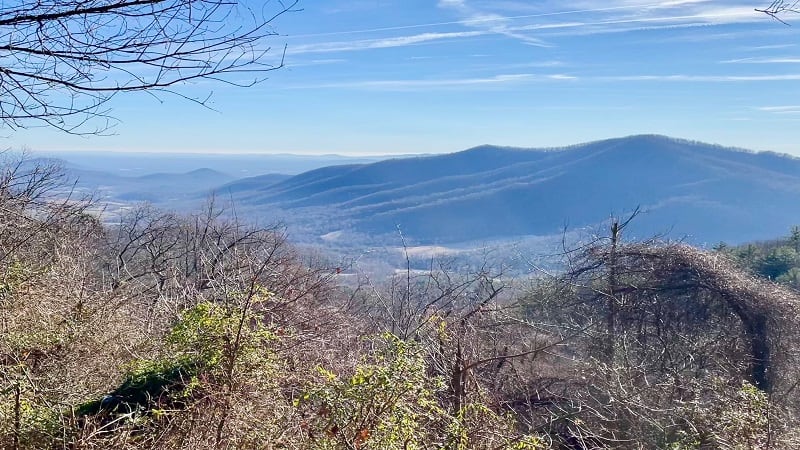 Patricia Ann Byrom Forest Preserve Park in Crozet is a hidden gem. This underrated 600-acre park wows with five hiking trails and scenic overlooks.
Even the parking area boasts huge mountain views. A 4.5-mile loop around this wooded park rewards with vistas, a gently-flowing stream and benches.
It's easy to create your own hike around Little Flat Mountain, too. This park is quiet and the trails are well-maintained. It's a win in all seasons.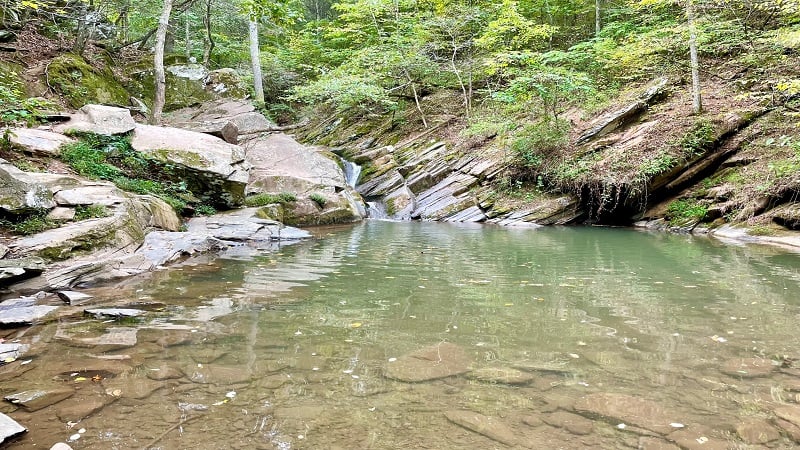 The 47-acre Sugar Hollow Reservoir on the Moormans River is the starting point for the hike to the Blue Hole, an idyllic and much-loved swimming hole.
In fact, two hikes set off from the Sugar Hollow Reservoir. The first is a 3.0-mile out-and-back hike to the Blue Hole that starts on the east side of the lot.
The second is a 4.6-mile out-and-back hike that leads to Big Branch Falls. This shady, forested hike begins on the west side of the parking area.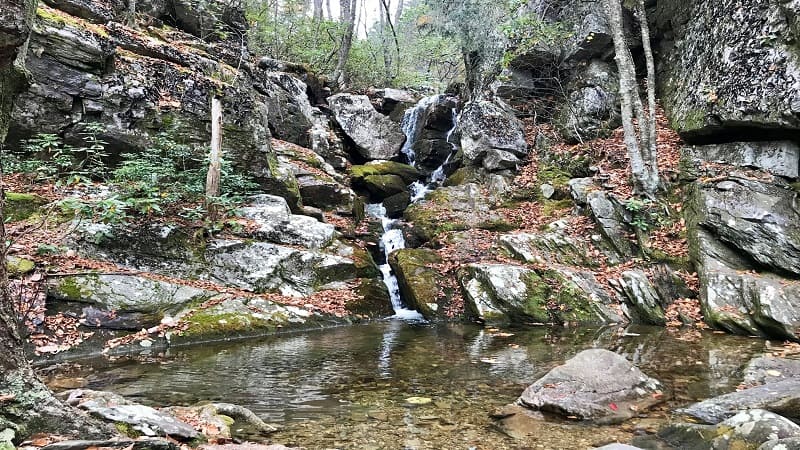 A 4.4-mile loop hike guides visitors to and beyond White Rock Falls. There are creek crossings, rock scrambles, a waterfall and scenic overlooks.
Get up close to the 30-foot-tall tumbling falls, then take your shoes off to revel in the refreshing waterfall basin. Ah, delightful.
Less than .5 miles past the falls, settle in at a rocky overlook with panoramic views. Soon, the Slacks Overlook awes with far-reaching vistas and a picnic table.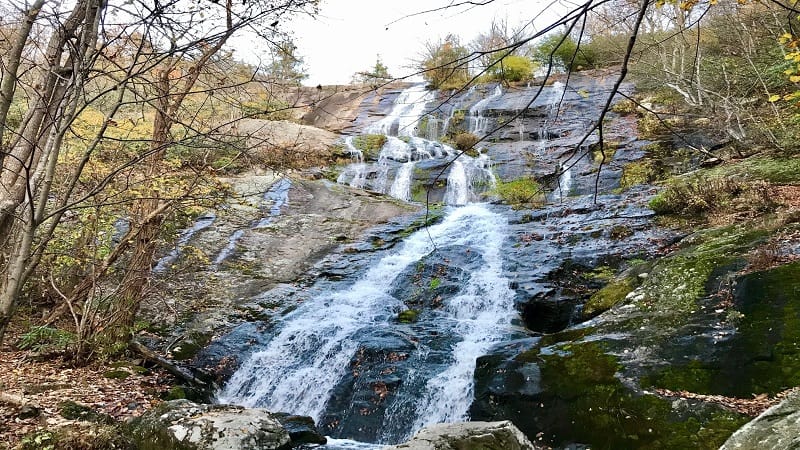 Crabtree Falls is a stunner for its dramatic cascades and rewarding views across the Blue Ridge Mountains from the top of the 1,214-foot-tall falls.
Crabtree Falls is the "highest vertical drop cascading waterfall east of the Mississippi River." It's taller than the Eiffel Tower (984 feet).
This show-stopping waterfall wows with five tumbling cascades that are within view all the way to the top along Crabtree Creek.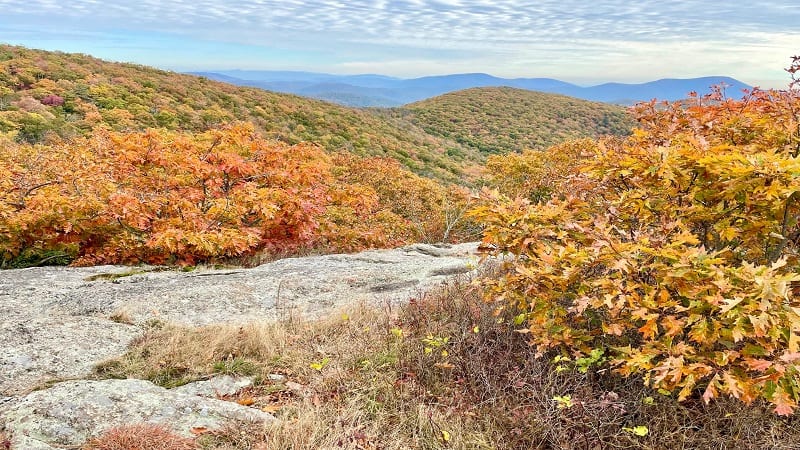 This hike is a little bit farther and a little bit tougher, but it's worth all of your time and effort for postcard-perfect 360-degree views from atop Spy Rock.
This hike begins on an old gravel fire road that leads to a southbound stretch of the white-blazed Appalachian Trail. A short rock scramble leads to the top.
From the summit of Spy Rock, you can see in all directions. In the fall, the colorful foliage that drapes the Blue Ridge Mountains is beyond spectacular.
Strenuous Hikes
For a real challenge, as well as seriously big views, these Appalachian Trail hikes near Charlottesville are in order. Don't forget to bring plenty of water.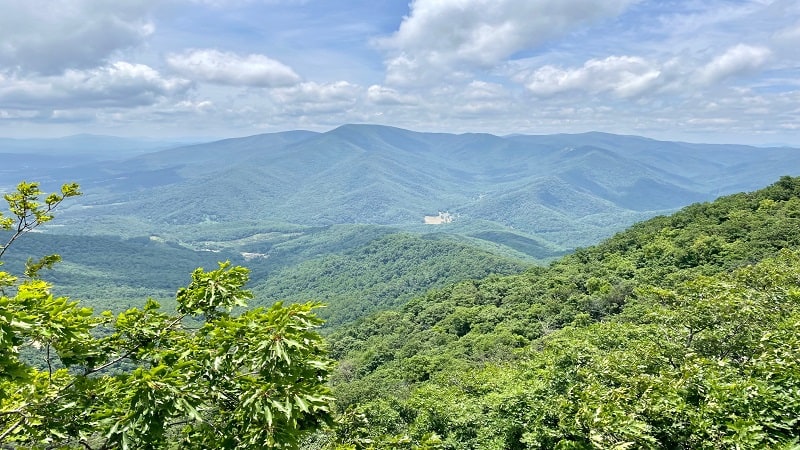 The 15.0-mile loop hike across Three Ridges Wilderness is both extraordinary, and at times, extraordinarily challenging.
Thanks to an elevation gain of nearly 4,000 feet, there's no question that you've got to dig deep to finish the Three Ridges hike.
Along the way, you will delight in cascading streams, mountain vistas, overnight shelters and many steps along the iconic Appalachian Trail.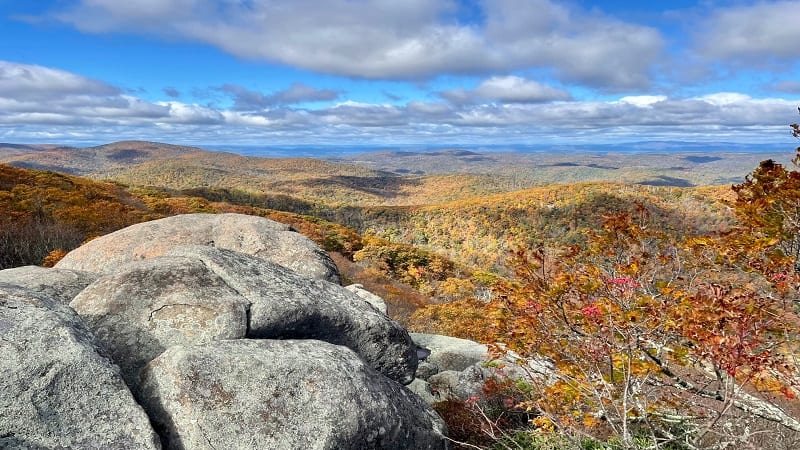 With an elevation of 4,063 feet, The Priest is the highest point in Nelson County, Virginia. It also requires that hikers climb more than 3,000 feet to reach the top.
The entire 9.0-mile hike is along a southbound stretch of the Appalachian Trail. At some points, you will feel the trail is unrelenting, but you will be rewarded.
To reach the top, you'll encounter more than 30 switchbacks. Thankfully, the far-reaching views from the summit are beyond your wildest imagination.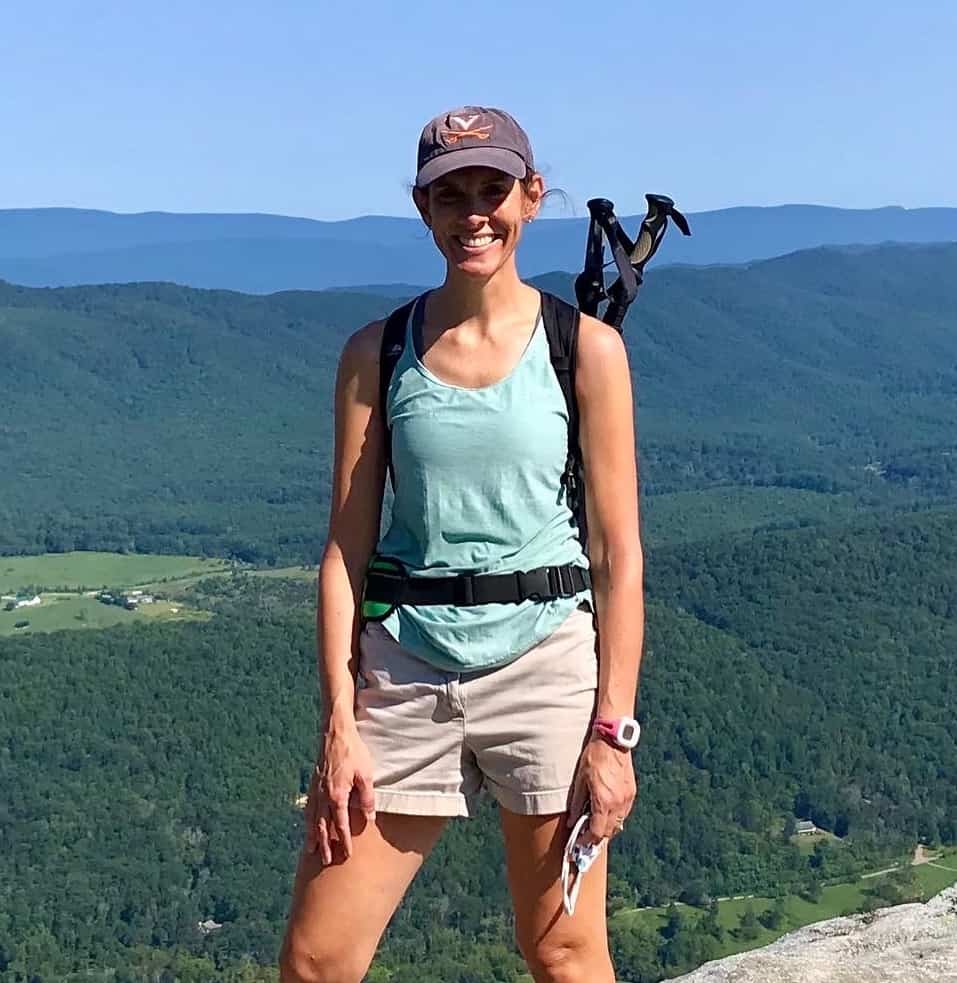 Erin Gifford is the editor of Go Hike Virginia. She has completed more than 300 hikes in Virginia. She is also the author of three hiking guidebooks from Falcon Guides. Need help finding a hike? Check out the Trail Finder feature or send Erin a message.