12 Best Day Hikes in Central Virginia
I'll be honest, I haven't done as many day hikes in Central Virginia as I'd like, but I've completed more than a few first-rate hikes in the middle of my home state.
As you're getting your hiking plans in order for spring and summer, I've pulled together my favorite day hikes in Central Virginia. Trust me, you can't lose with any of these.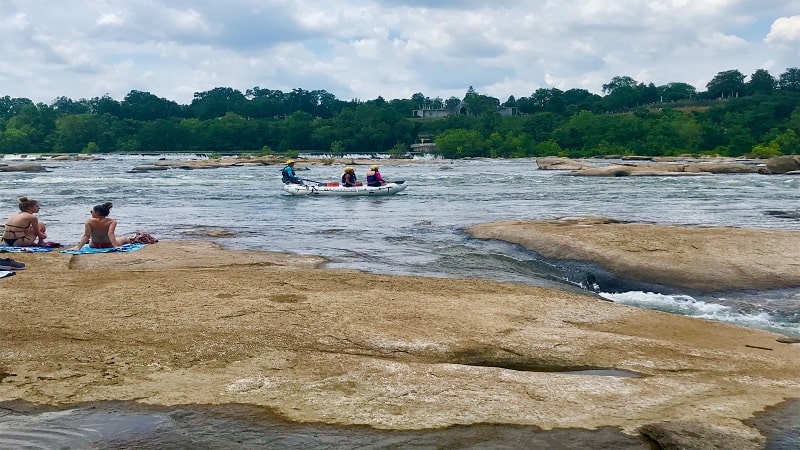 Whether you're looking for waterfalls, rock scrambles, scenic views or rocky beaches, I've got you covered. Yes, you can find all of these hikes in Central Virginia.
Central Virginia Day Hikes
Each one of these hikes falls into the easy to moderate range, and most are five miles or less. Get ready for warm, sunny days ahead on Central Virginia's best hiking trails
This leafy urban hike begins at the North Bank Entrance of James River Park, casually guiding hikers to and along the flowing James River.
But first, get ready to be wowed by the colorful Texas Beach Murals that first appeared in 2014 as a way to cover up graffiti in the stairwell that crosses over the train tracks.
Nature- and wildlife-themed murals delight day hikers. Continue on for footbridges and dam-created waterfalls before reaching the sandy path alongside the James River.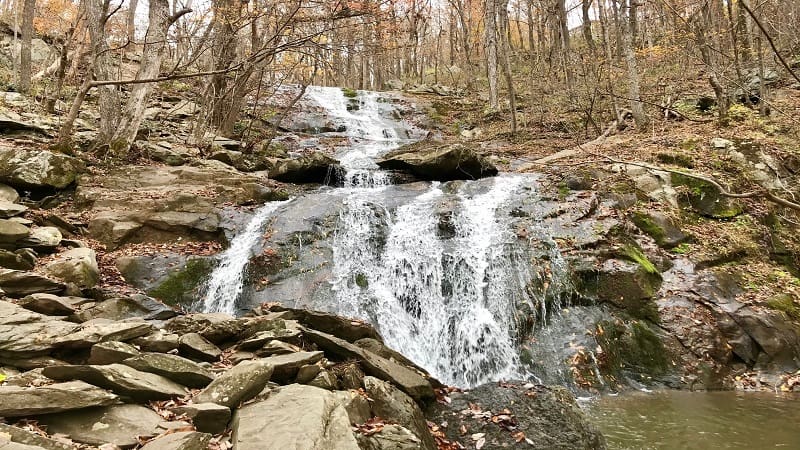 Located within the four-season Wintergreen Resort, a moderate 2.9-mile out-and-back hike delights thanks to cascading Upper Shamokin Falls.
There are plenty of rocks to scramble at the base of the falls and on either side of Stoney Creek as it tumbles along to Lower Shamokin Falls.
This hike is located within the Shamokin Springs Nature Preserve, a 13-acre section of protected hardwood forest. This is a small slice of the 6,000 acres preserved as open space.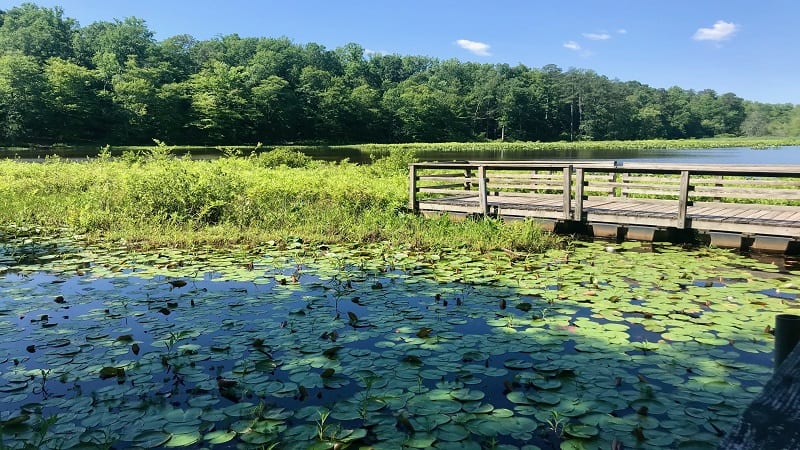 The walk around Beaver Lake at Pocahontas State Park is a largely secluded loop with mild terrain and evolving scenery, like wooden boardwalks and bridges.
The views across lily pad-strewn Beaver Lake are especially delightful. Even better, wooden benches crop up every .5-mile along this shady hiking trail.
Late in the hike, look for a dam that gracefully cascades water onto a scenic spillway. This is an exceptionally popular spot to stop for a snack break or to re-hydrate.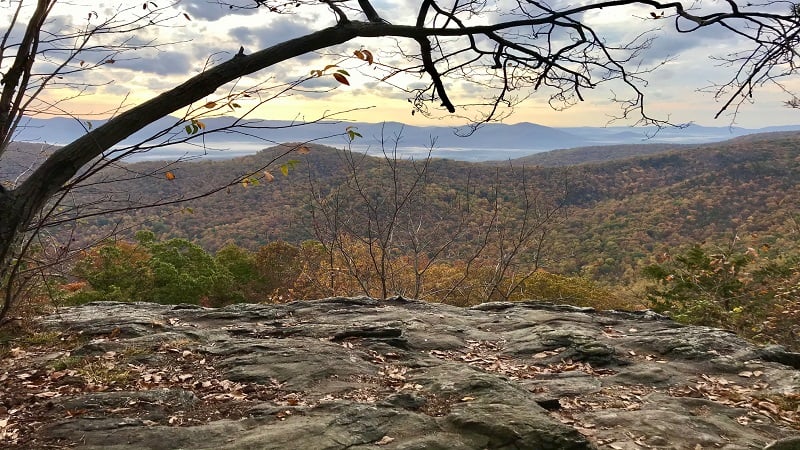 The 3.8-mile hike on the Jack Albright Loop (also known as Dobie Mountain) shares a parking lot with the Humpback Rocks hike. This means plan to arrive early.
The Glass Hollow Overlook at the 1.0-mile mark (counter-clockwise route) is not to be missed for overwhelmingly beautiful panoramas of the Rockfish Valley.
Keep your eyes open for the remains of a 1960's plane crash – a Beechcraft Bonanza. You'll find what's left of the wreckage up an unmarked spur trail at the 2.5-mile mark.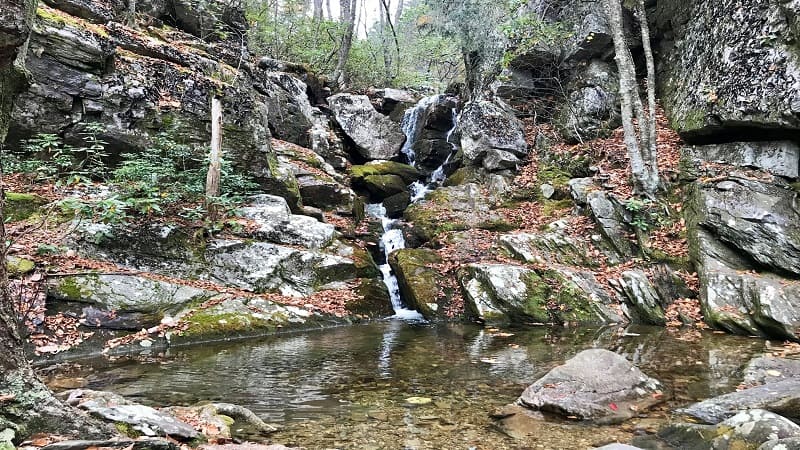 There's a lot to love about this 4.4-mile loop hike to and beyond White Rock Falls, including creek crossings, rock scrambles, a waterfall and scenic overlooks.
Get up close to the 30-foot-tall tumbling falls, then take your shoes off to revel in the refreshing waterfall basin. Ah, delightful.
Less than .5-mile past the falls, settle in at a rocky overlook with panoramic views. At the 2.7-mile mark, the Slacks Overlook awaits with far-reaching vistas and a picnic table.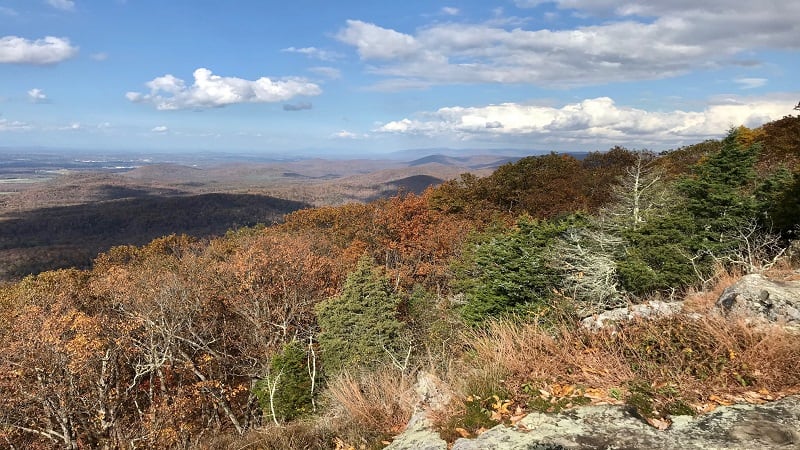 The short and sweet Dripping Rock South hike originates across the Blue Ridge Parkway from the Dripping Rock parking area (more a pull-out than a parking lot).
The 2.8-mile out-and-back hike guides hikers along a forested southbound section of the Appalachian Trail. Along the way, plan to be wowed by two scenic overlooks.
The first overlook appears at the .5-mile mark, while the second overlook arrives at the 1.4-mile mark and serves as the turn-around point for this hike.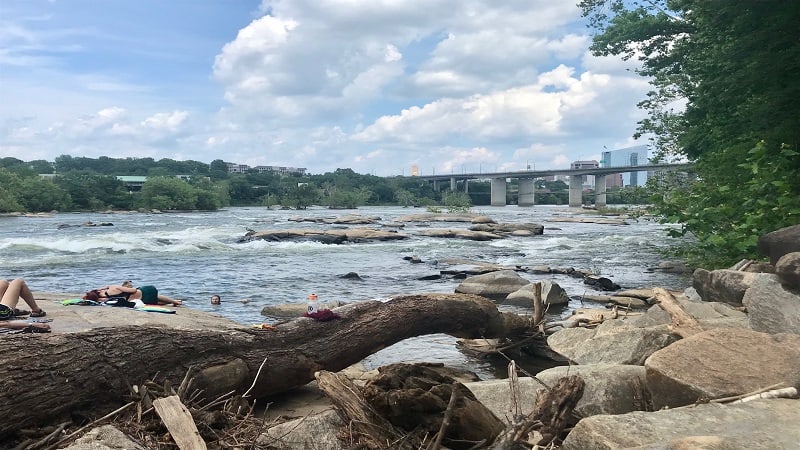 It can be a challenge to find a satisfying hike in an urban setting, but the Belle Isle Trail in Richmond's James River Park goes the extra mile for visitors big and small.
This mostly shaded gravel loop trail clocks in at 1.8 miles and engages visitors with historical buildings, rock scrambles, a suspension bridge and a beach of river rocks.
In summer, take your shoes off to wade and splash in the James River. Keep your eyes open for helmet-clad groups in large inflatable rafts navigating the river rapids.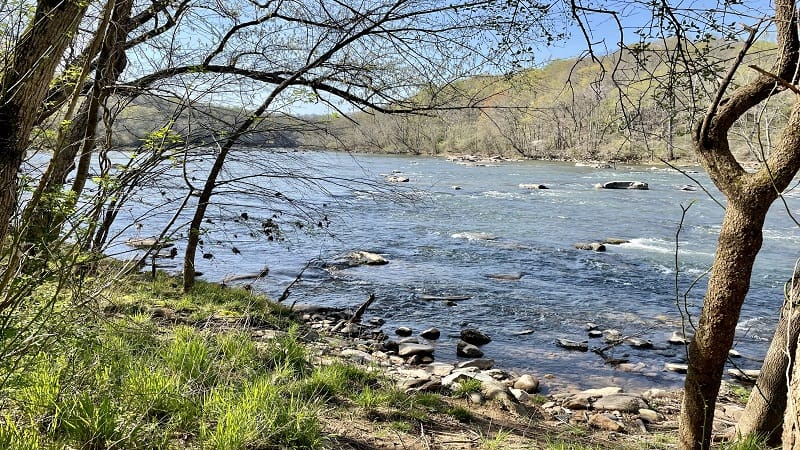 The Fredericksburg Quarry Trail System includes both mountain biking trails and hiking trails, including the Scout Trail and Beach Trail along the Rappahannock River.
This easy-going walk rewards with river views, as well as ruins of an old lock. Even a comfy bench. You may see colorful wildflowers along the hiking trail, too.
A good turn-around point is at the 3.3-mile mark. Here the trail is right up against the water. It would be the perfect spot to lay down a blanket for a picnic.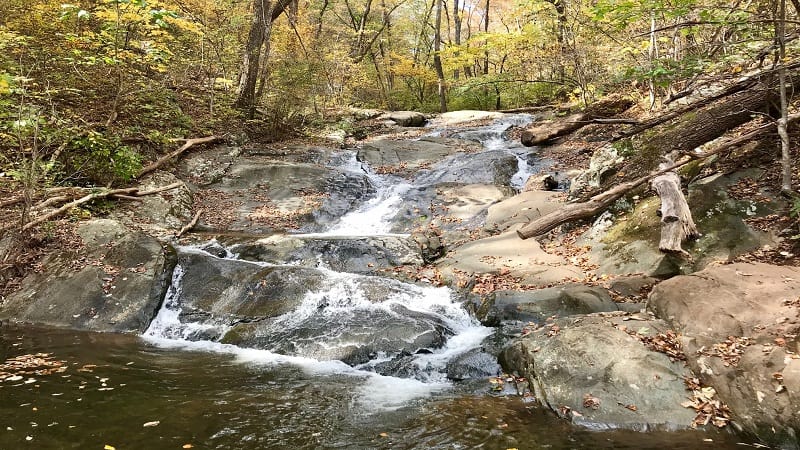 The Paul's Creek Trail is a stone's throw from Wintergreen Resort. It's quiet, peaceful and you may feel like you're the only one who knows about this 1.2-mile hike.
It's a delightful walk through the trees before you need to hopscotch across rocks over a burbling creek. Then, a refreshing waterfall. Ah, serenity.
As a side note, The Nature Foundation at Wintergreen maintains the hiking trails at Wintergreen Resort. The trails are open to the public, not just property owners and guests.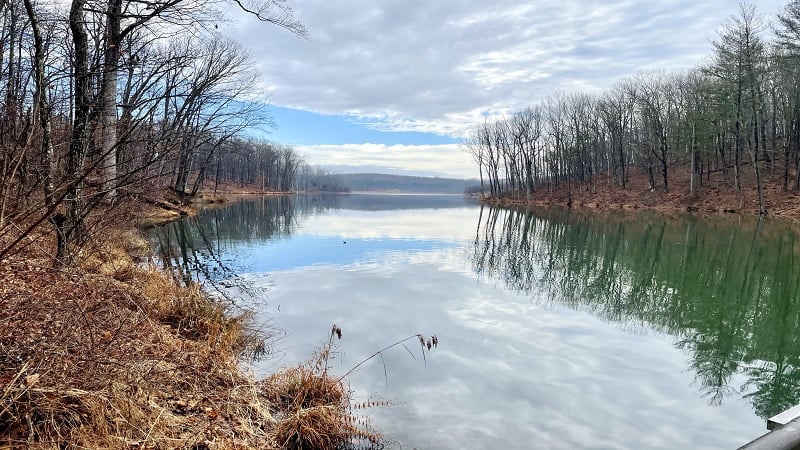 The centerpiece of Ragged Mountain Natural Area is Ragged Mountain Reservoir. The 7.0-mile Lake Front Trail circumnavigates the 170-acre reservoir.
Walk along the Lake Front Trail, making sure to stop to savor the views at Rocky Peninsula. Then, prepare for a few surprises as you continue along the loop.
As in, wood carvings, including two owls, an eagle, two bears and a turtle, even a Davy Crockett-style pioneer. They are truly whimsical and such a delight.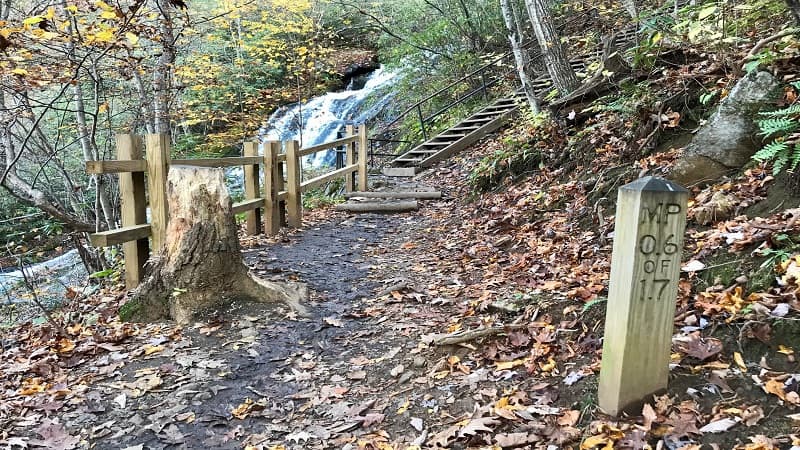 In Montebello, Crabtree Falls is a stunner for its dramatic cascades and rewarding views across the Blue Ridge Mountains from the top of the 1,214-foot-tall falls.
Crabtree Falls is the "highest vertical drop cascading waterfall east of the Mississippi River." It's taller than the Statue of Liberty (305 feet) and the Eiffel Tower (984 feet).
This show-stopping waterfall wows with five tumbling cascades that are within view all the way to the top along Crabtree Creek. For more steps, tack on Spy Rock.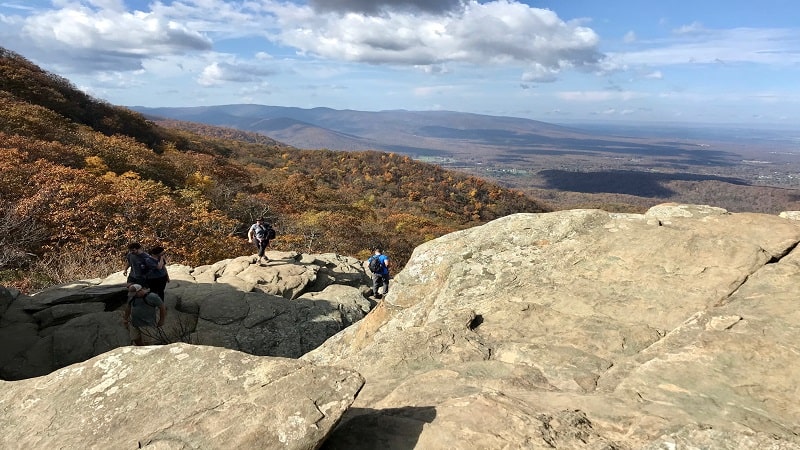 Whether you take on Humpback Rocks as a 4.3-mile loop or a 2.0-mile out-and-back hike, you're guaranteed to be stunned by 360-degree views at the jagged summit.
The ascent to the top is not for the faint of heart, but thankfully a handful of benches and a wooden staircase ease the trek to the very top where vistas are plentiful.
On the way down, re-trace your steps or follow along a leafy stretch of white-blazed Appalachian Trail to make your return to the Humpback Gap Overlook parking area.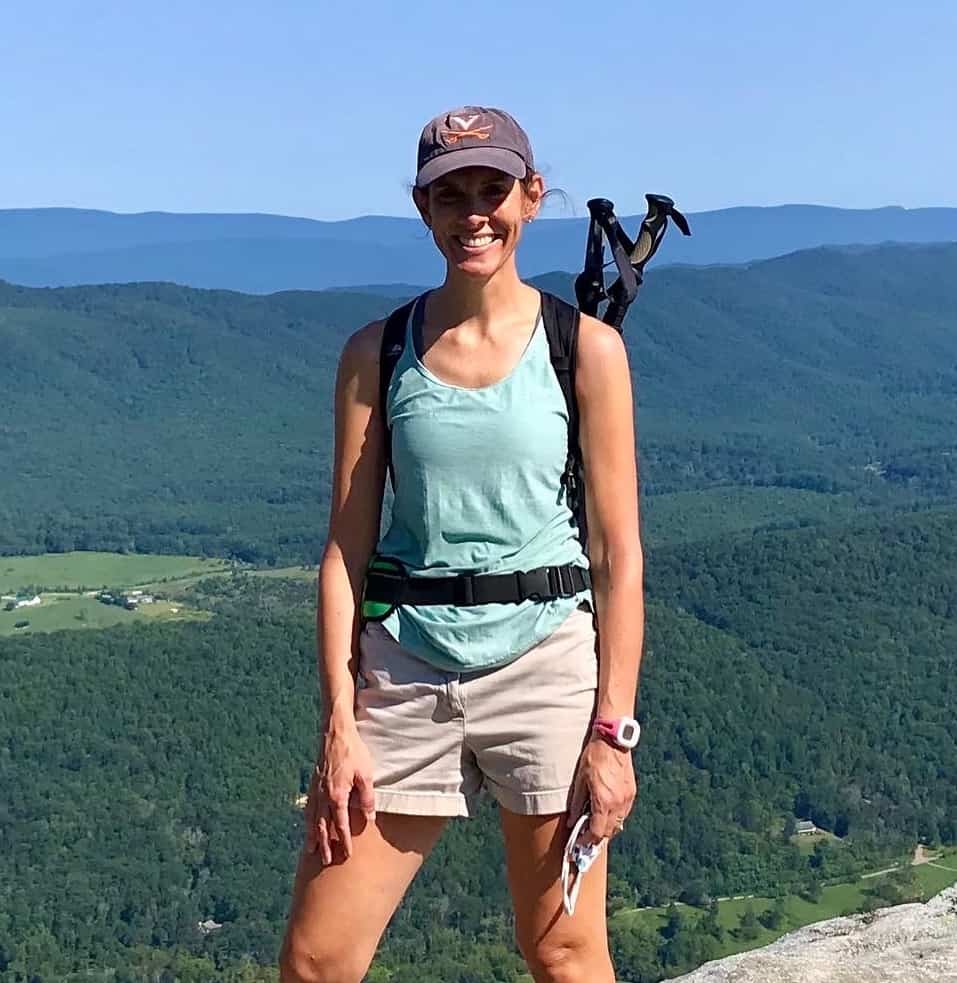 Erin Gifford is the editor of Go Hike Virginia. She has completed more than 300 hikes in Virginia. She is also the author of three hiking guidebooks from Falcon Guides. Need help finding a hike? Check out the Trail Finder feature or send Erin a message.