14 Spectacular Hikes in Virginia with Wildly Scenic 360-Degree Views
It's not hard to love a good hike with a view, even if a challenging uphill slog (er, ascent) is required in order to earn the rewards of the payoff panoramas.
Here in Virginia we are fortunate to have more than a few hikes with delicious 360-degree views that implore you to sit and stay awhile to take in every ounce of the majestic scenery.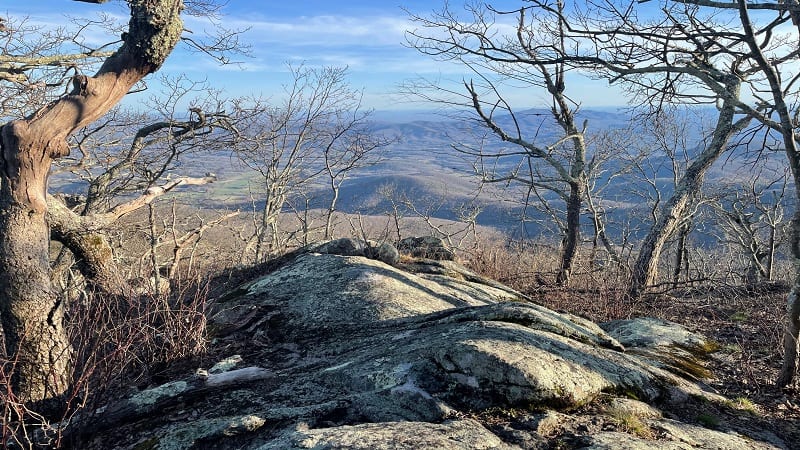 From Buffalo Mountain in Southwest Virginia to Kennedy Peak in the Shenandoah Valley, the vistas are plentiful and the landscapes are beyond eye-pleasing.
Here are 14 sensational hikes across Virginia with 360-degree views that go for miles and miles (and miles).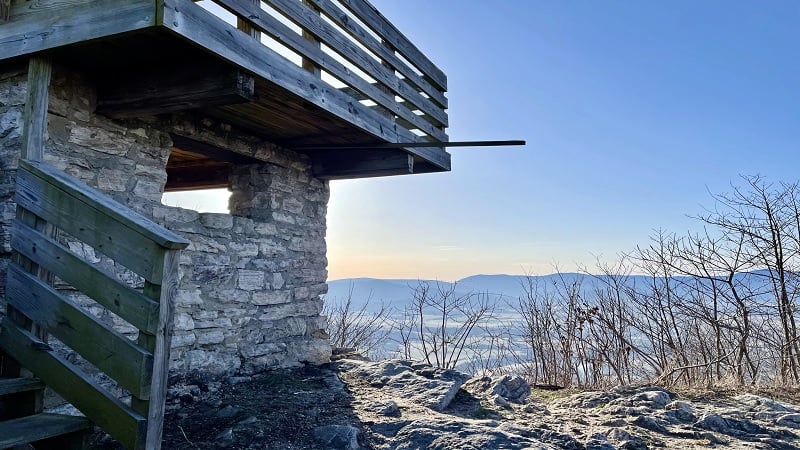 There are two primary routes to Kennedy Peak just north of Luray, including a 5.3-mile out-and-back hike to the overlook by way of the orange-blazed Massanutten Trail.
The hike is beautiful, particularly when you can see neighboring peaks through the trees. I'm eager to take on the longer loop hike another day for views from the overlook.
As in, wildly scenic 360-degree views from the two-story wooden overlook. Along the way, you'll pass by a half-dozen dispersed campsites with primitive fire rings, too.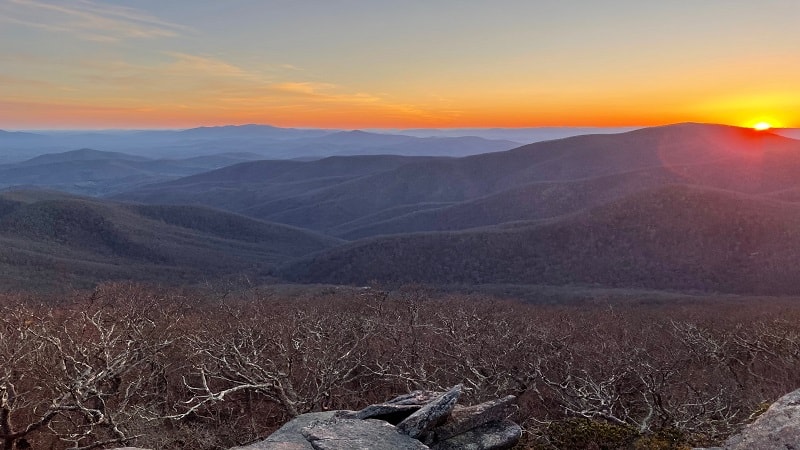 The rugged 6.5-mile Mount Pleasant hike in the George Washington National Forest near Buena Vista is a stunner. It's great for both hiking and backpacking, too.
As you near the top, you'll realize there are two summits, East and West. Take in views from both points, which are no more than .1-mile from the center.
Both have rocky summits that are just right for savoring all the views, but the west side definitely wows with the more incredible sunset.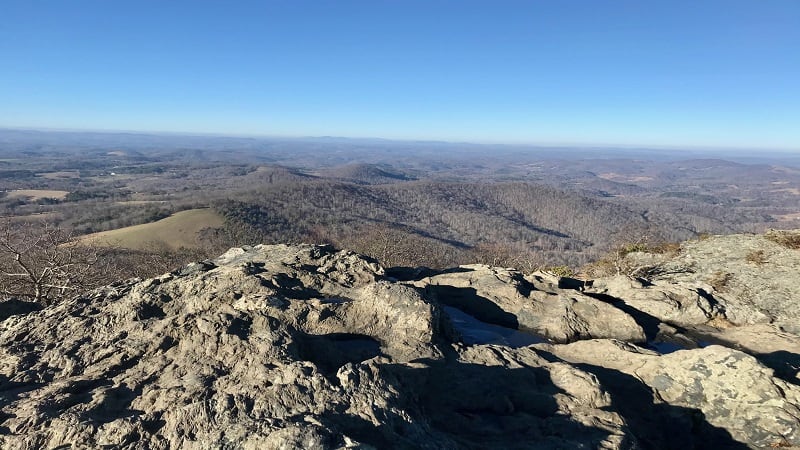 The easy 2.0-mile loop hike at Buffalo Mountain Natural Area Preserve in Floyd County includes three trails: Oak Trail (red), Ridge Trail (blue) and Barrens Loop (orange).
At the summit, you'll find a rocky path that's roped off to guide visitors and protect vegetation from being inadvertently trampled. You'll also find spectacular 360-views.
The rounded, treeless summit is home to rare and diverse plant species, even an insect found only atop Buffalo Mountain. It's aptly named the Buffalo Mountain mealybug.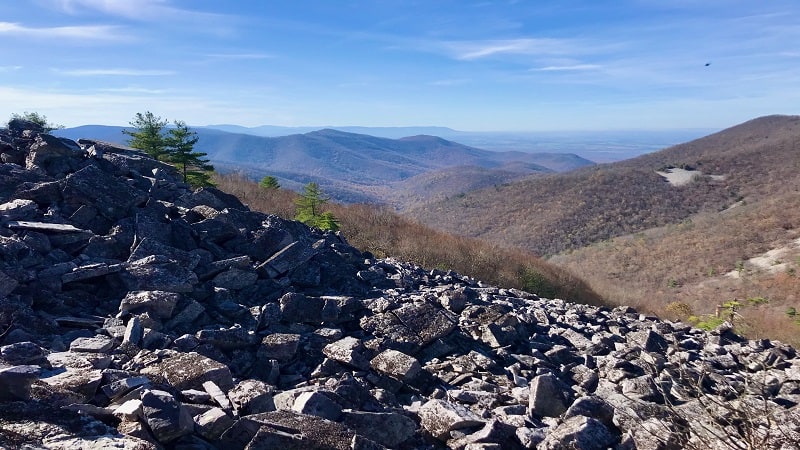 Blackrock Summit at Shenandoah National Park is an easy hike to love. It's also a plain easy hike, and one that wows with a massive field of – yes, black rocks.
Wide-open views across the Shenandoah Valley are another reason to complete this 1.8-mile hike, which includes a short stretch along the Trayfoot Mountain Trail.
A shorter 1.0-mile that does not include the Trayfoot Mountain Trail is also an option. For both hikes, get ready for seriously spectacular views at the .6-mile mark.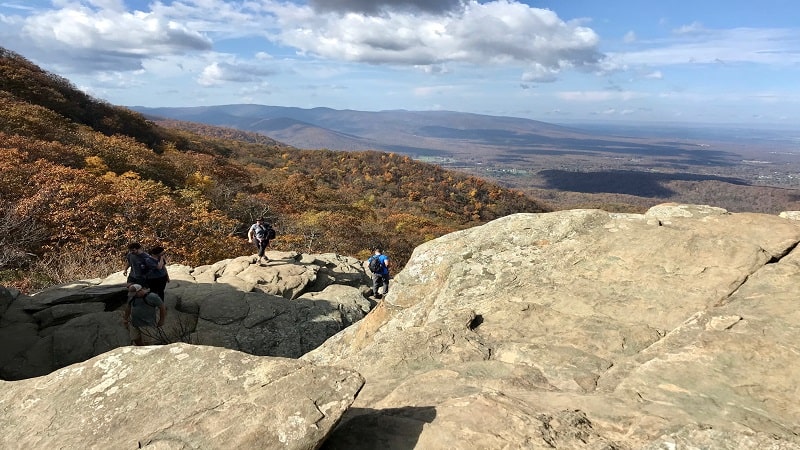 Whether you take on Humpback Rocks as a 4.3-mile loop or a 2.0-mile out-and-back hike, you're guaranteed to be stunned by 360-degree views at the jagged summit.
The ascent to the top is not for the faint of heart, but thankfully a handful of benches and a wooden staircase ease the trek to the very top where vistas are plentiful.
On the way down, re-trace your steps or follow along a leafy stretch of white-blazed Appalachian Trail to make your return to the Humpback Gap Overlook parking area.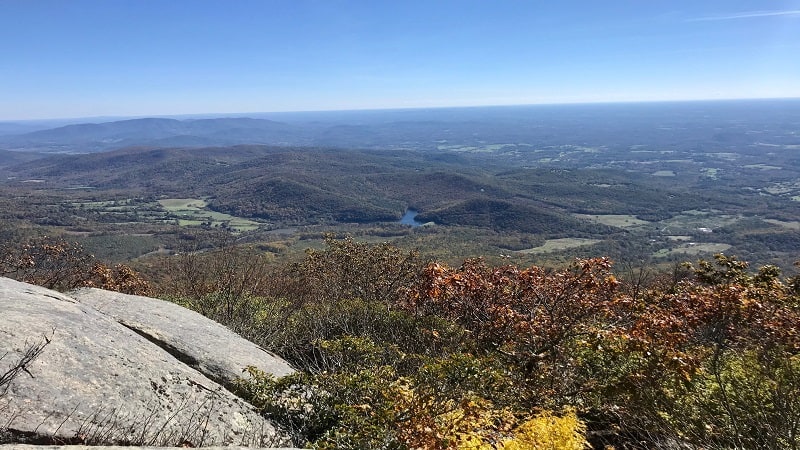 This strenuous 5.7-mile out-and-back hike sees an elevation gain of nearly 1,800 feet, but it's a small price to pay for outrageously beautiful views.
On the way up, break at the false summit at the 2.1-mile mark. This rocky outcrop wows with scenic vistas. Skip Cross Rock. The spur is steep and it's very meh.
There's not one single viewpoint at the very top, so hop around to different rocky outcrops to savor the panoramic views in various directions.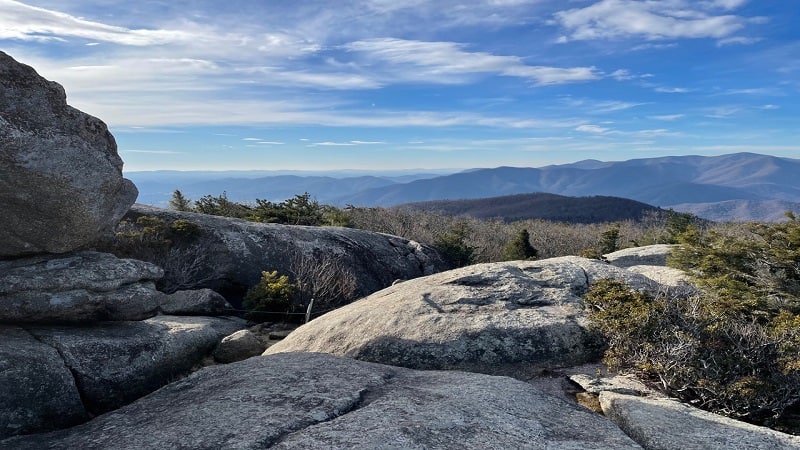 In 2019, Outside magazine named this 9.4-mile loop hike among the 25 best hikes in the world. Not even just in Virginia or in the United States. The whole world.
Meanwhile, Insider gave Old Rag top honors as the most scenic hike in Virginia. Honestly, the accolades for Old Rag go on and on.
The hike to the top of Old Rag is a magnet for hikers, so do this one mid-week or in winter (or both) if you can. Get there early, too. The parking lot fills very quickly.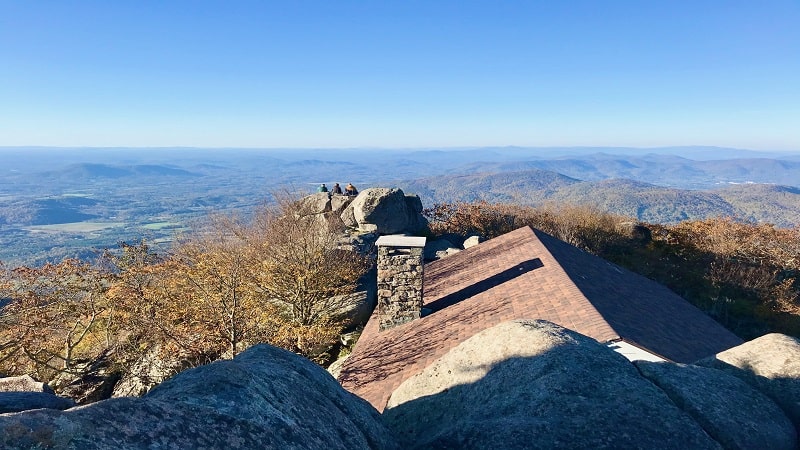 The 3.3-mile out-and-back hike wows with 360-degree panoramas from atop Sharp Top. Even better, there are stone walkways, stairs and terraces at the summit.
There's even a stone shelter that was once a restaurant in the 1950's and 1960's at the top of what was once thought to be Virginia's highest peak.
On the way down, make time for the short spur trail to check out Buzzard's Roost. Climb the massive rock for spectacular views across the Blue Ridge Mountains.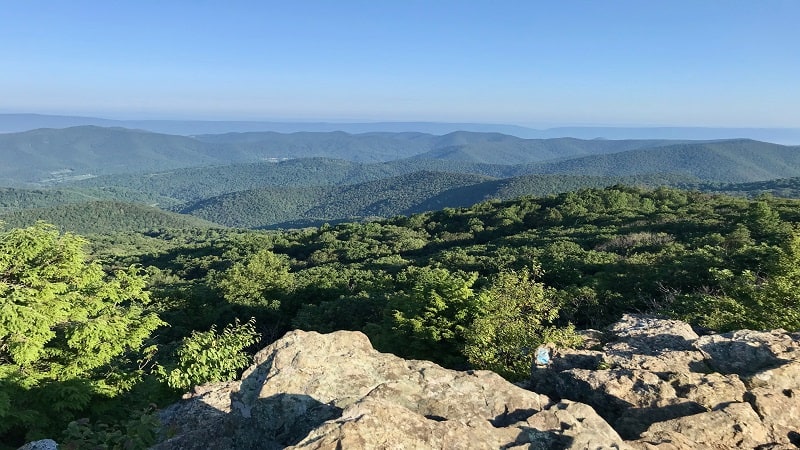 Reaching the summit of Bearfence Mountain (3,485 feet) by way of the Bearfence Loop Trail at Shenandoah National Park is a feat worthy of a spot on any hiker's bucket list.
On a clear day, the mountains seem to go on forever (and ever). The far-reaching 360-degree payoff views after a hike of less than .45-mile are beyond tremendous.
The short distance of this rocky hike can be deceptive. Prepare to use your hands, feet and arms, even knees to reach the top. However, it's well worth every ounce of effort.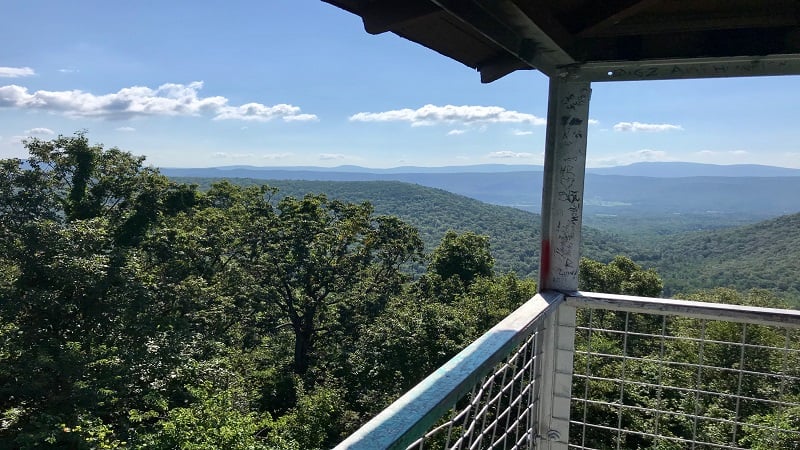 A short 1.7-mile out-and-back hike along the Wagon Road Trail at Little Fort Campground in the George Washington National Forest allows you to enjoy 40-foot-tall Woodstock Tower.
Woodstock Tower is not a fire tower. Rather it's a historical structure that was built in 1935 by the Civilian Conservation Corps as an observation tower.
Climb the stairs of this scenic lookout for far-reaching views, including the North Fork of the Shenandoah River as it gracefully winds through Shenandoah County.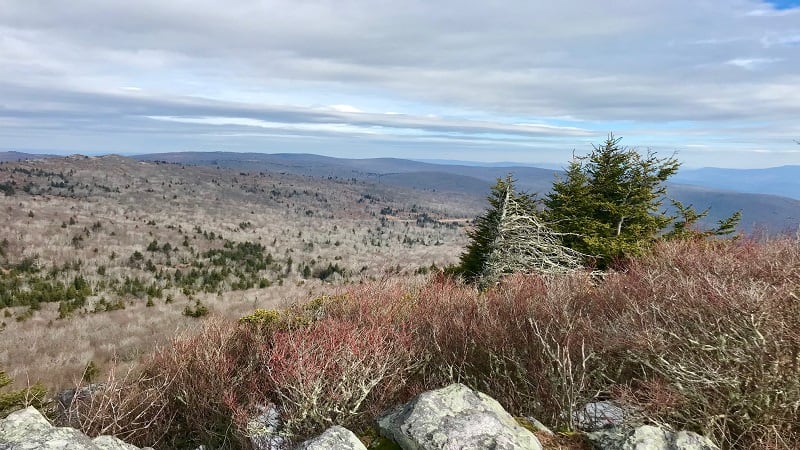 Of course, it's mandatory to seek out free-roaming ponies at Grayson Highlands State Park, but you can also hike to two of Virginia's tallest peaks while in the park.
Even better, you won't need to move your car to do so. The Big Pinnacle Trail, which connects with the Twin Pinnacles Trail, also sets off from the Massie Gap parking area.
On this fairly easy hike, take in all the far-reaching views from Big Pinnacle and Little Pinnacle. Interestingly, Little Pinnacle is 21 feet taller than Big Pinnacle. Go figure.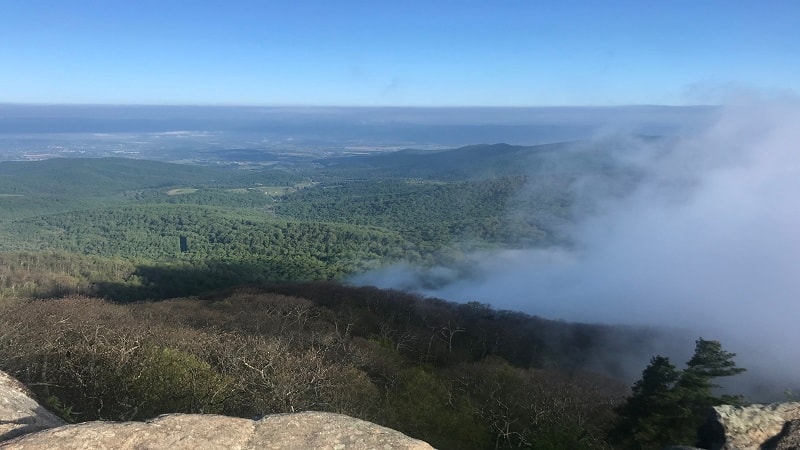 Whether you approach Mary's Rock from the northbound or southbound trail, get ready to be bowled over by the spectacular views across the Shenandoah Valley.
Hiking north, park at the Meadow Spring parking area at milepost 33.5. The leafy trail wows with the remains of an old stone chimney and a glistening stream.
Both routes to the top of this massive (and massively popular) rock are less than 3.5 miles. At the top, stay awhile to savor the outstanding panoramas across the valley.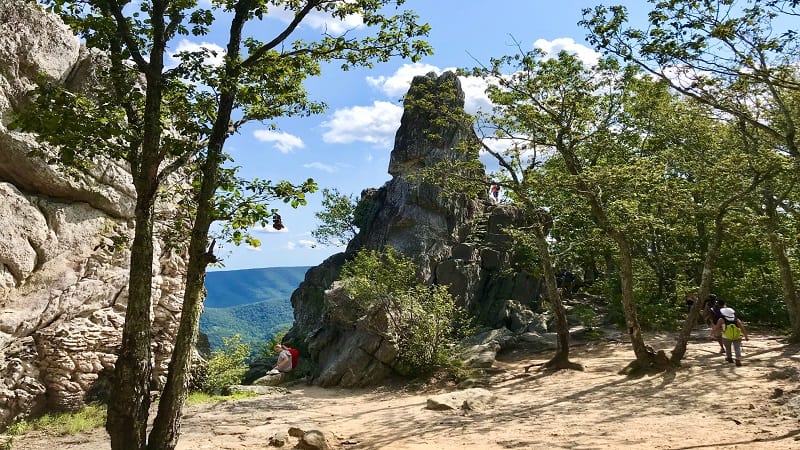 To slay Dragon's Tooth, you must complete a mild, forested hike on the Dragon's Tooth Trail, then manage a strenuous .8-mile section of the Appalachian Trail.
You will need full access to hands, feet, elbows, toes, fingers and knees to make it to the summit. From the summit, climb to the top of the 35-foot-tall rock spire for scenic views.
Embrace steep rocky steps and areas where you feel like you are scaling the side of a mountain, even iron bars to climb rock faces. Now imagine doing this on a thru-hike. Oof.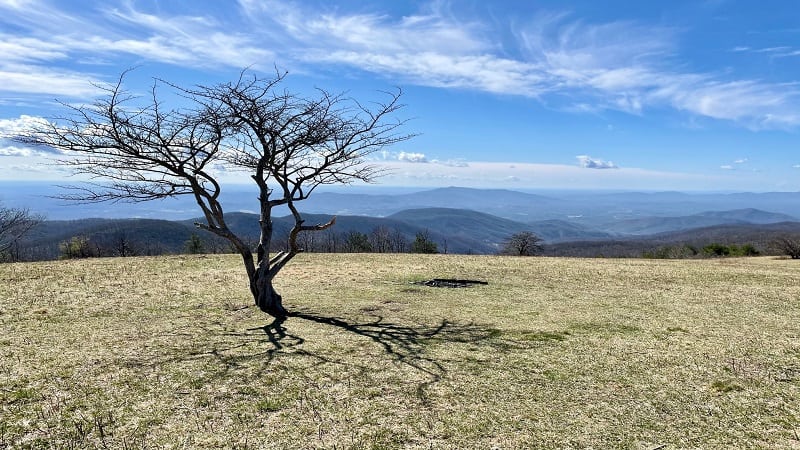 The 6.3-mile Cole Mountain hike begins on the Appalachian Trail, guiding you to 360-degree views and a cast bronze U.S. Geological Survey benchmark to boot.
What's notable about Cole Mountain (also known as Cold Mountain) is that there is no rocky summit. Rather, it's a wide-open field or meadow. A bald, really.
You will feel on top of the world. It's very Sound of Music. You'll also wish you had a soccer ball to kick around the massive open space with plentiful mountain views.