Blue Ridge Center: Enjoy Miles of Scenic Hiking Trails Near Purcellville, Virginia
For those eager to go hiking near Purcellville, Virginia, but not super eager to hike busy trails, like nearby Bears Den and Raven Rocks, I've got you covered.
The Blue Ridge Center for Environmental Stewardship is home to 10 miles of wooded hiking trails. There's even a nature play area for little ones.
As an Amazon Associate I earn from qualifying purchases. If you click and purchase, I receive a commission at no cost to you.
There are 14 short trails that range in length from .1 miles to 1.9 miles. It's a cinch to add or subtract steps to create-your-own hike, too.
The Blue Ridge Center highlights four suggested hikes, including Farmstead Loop, Legacy Loop, Butterfly Alley and Birds of the Ridge.
On my recent visit, I cobbled together the Farmstead Loop and Legacy Loop, then added on a few other trails here and there. It was a lovely hike.
| Trail Stats | |
| --- | --- |
| Length | 5.9 miles |
| Difficulty | Easy |
| Trail Type | Loop |
| Elevation Gain | 594 feet |
| Duration | 2.5-3.5 hours |
| Terrain | Mostly dirt & rock trails |
| Dog-Friendly | Yes |
| Fee | Free |
| Driving Directions | Click Here |
Farmstead Loop
On arrival at the Blue Ridge Center, proceed .3 miles on a gravel road to the parking area. You will see a large trail kiosk with a cheery "Welcome" sign.
You'll see paper trail maps as well as a color brochure with an overview of the Blue Ridge Center and how to support this non-profit nature organization.
The trail begins just past the kiosk. Look for a Little Free Nature Library on the left and a fantastic nature play area on the right. Oh, to be young again.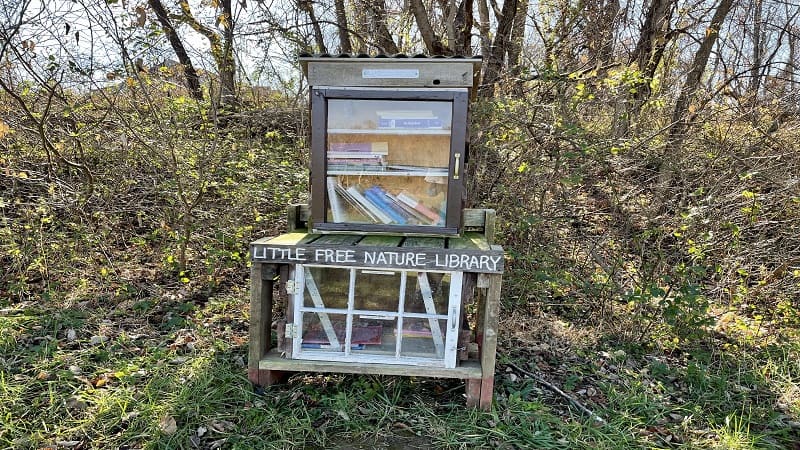 In a few more steps, you'll see Wortman Pond on your left. The trail is well-marked, so follow the signs for the red-blazed Farmstead Loop.
The quiet, forested trails are well-maintained, too. I was lucky to see that a little bit of colorful fall foliage had stuck around for my visit to these trails.
Piney Run
At the .5-mile mark, you will see the Old Bridge Trail on your left, as well as a wooden footbridge over gently-flowing Piney Run.
Kids will love stepping down on the banks of the stream and tossing in stones. The trail is .2 miles (one-way), but the bridge and stream are the highlights.
I walked to the end, but the trail just dead-ends into Arnold Lane. Re-trace your steps, then turn left to continue on the Farmstead Loop.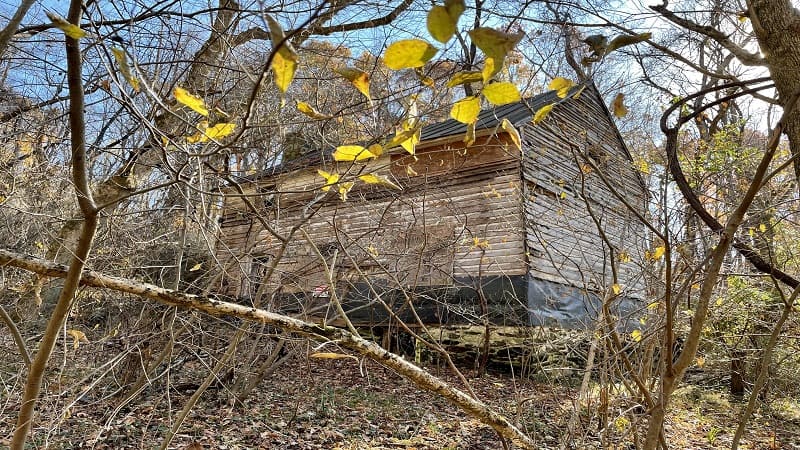 At the 1.1-mile mark, you'll see the historic ruins of an old cabin on the right. Then, the situation gets interesting.
You need to cross Piney Run (somehow). This is the only way to access Legacy Loop. AllTrails says to turn left. It looks like others before me had turned left.
Piney Run is impassable. It's way too deep. There is no signage. I didn't know whether to wade the waters or shorten my hike to just one loop.
I continued on the Farmstead Loop and soon spied a horse trail on the left. This is Little Turtle Trail (again, no real signage). This also leads to Piney Run.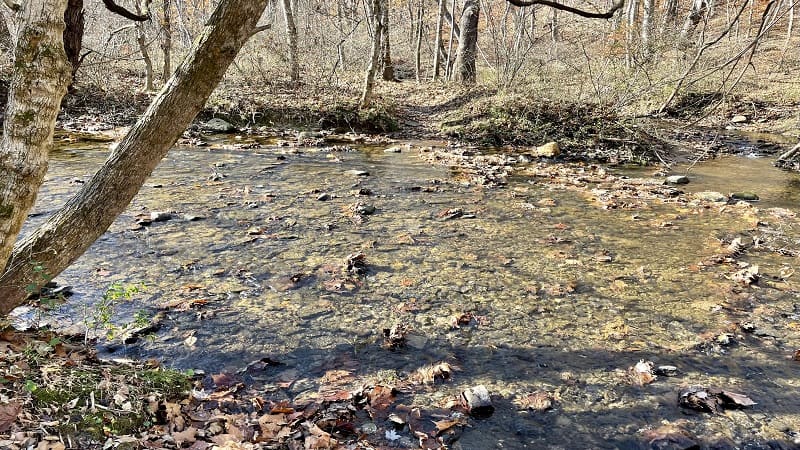 You can now safely cross Piney Run but a) you will still get wet and b) the water will be at your ankles. Thankfully, I had brought water shoes.
Near the 1.8-mile mark, turn you will reach a T-intersection. Turn right here onto the Arnold Trail. You'll soon reach a bridge to cross over Piney Run.
Legacy Loop
Turn right at the 2.1-mile mark (do not veer off onto the Wood Thrush Trail). This will lead you to scenic, view-filled Gordon Pond on the green-blazed Legacy Loop.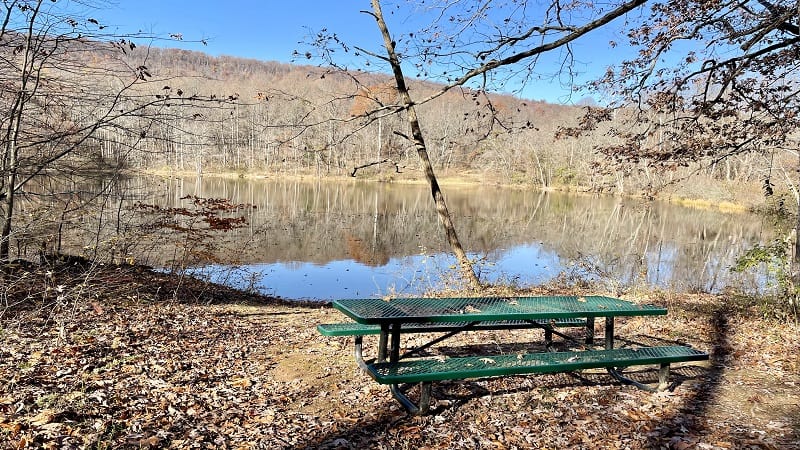 There is a picnic table, making this a great spot to stop for a drink of water or a snack while enjoying the views across the small pond.
Here you can hike a small loop, just around the pond. Or, you can hike the full Legacy Loop. I opted for the latter, closing the loop at the 3.6-mile mark.
From here, I re-traced my steps all the way back to the Piney Run water crossing (the one where you will get wet).
Farmstead Loop (Again)
Turn left on the Farmstead Loop. In a few more steps, you'll see old ruins of a second historic cabin on the right. Note the caution tape. Do not try to enter.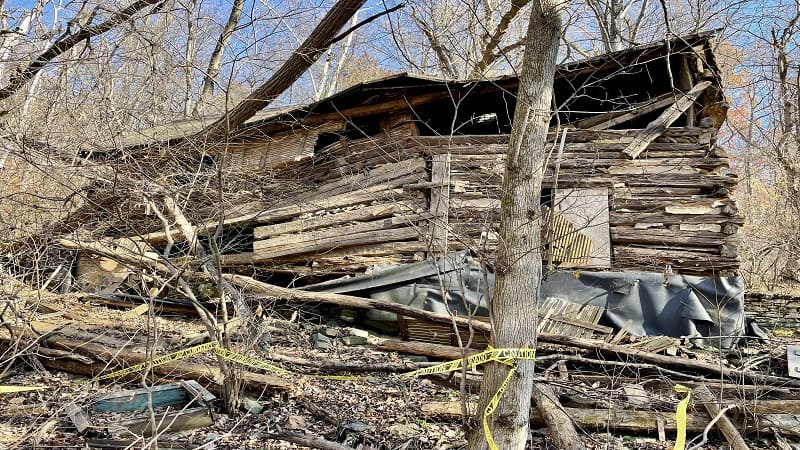 You can either walk past the cabin to remain on the Farmstead Loop or re-trace your steps and turn right onto Piney Run Spur (which is what I did).
The Piney Run Spur ends near the 5.1-mile mark when it re-connects with the Farmstead Loop. In a few more steps, stay left for Mountain View Vista.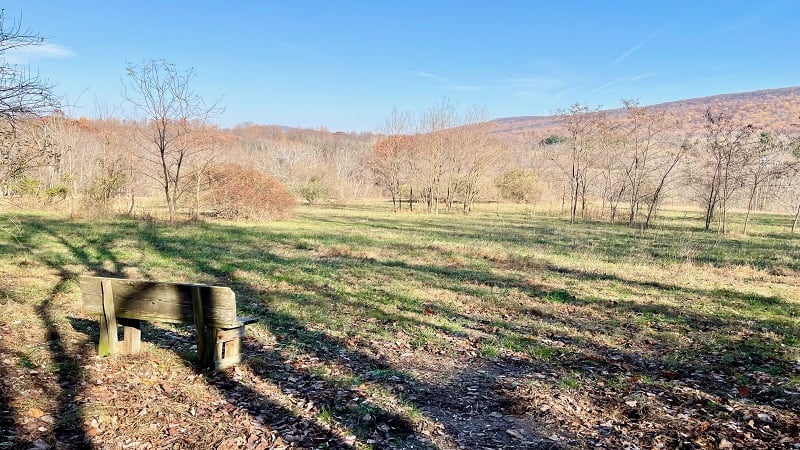 It's a short walk and you'll be wowed by some scenic mountain views. Re-trace your steps, then stay left for the Farmstead Loop until the parking area.
Nature Play Area
The nature play area near the trail kiosk is pure joy for small children. It's also such a fun way to get littles outside.
There is a teepee made of sticks, a mud kitchen, a kid kart for hauling sticks or play toys, an imagination station and nature's stage.
The nature play area is adjacent to a historic springhouse. There is also a picnic table so plan to bring lunch and let the kids play.
Wrap-Up Notes
This double loop hike took me nearly 2.5 hours. It was a really nice hike, even if I did need to get my feet wet while crossing Piney Run.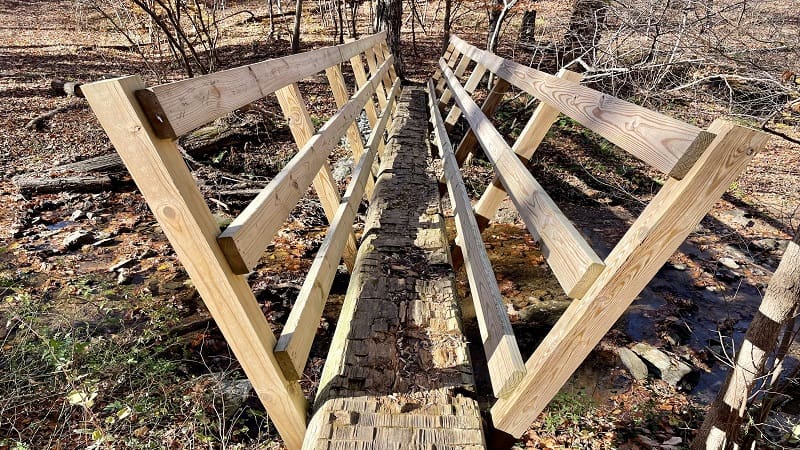 In examining the brochure for the Blue Ridge Center, I noticed that there are a lot of ways for locals and visitors to get involved.
You can help monitor a stream or maintain the monarch way-station. Alternatively, you could adopt a trail or volunteer in the garden.
All are great ways to care for the Blue Ridge Center, to help preserve this natural space for those who come after you for hiking, camping or birding.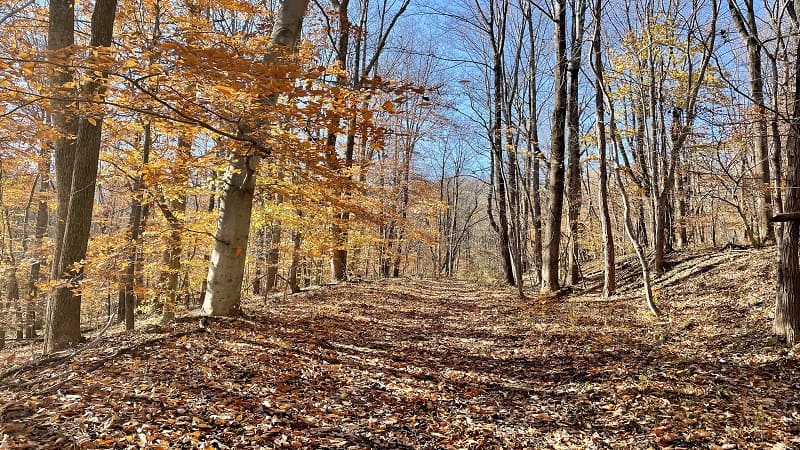 One final note, managed hunting does take place at Blue Ridge Center, which means that the trails may only be open for limited hours on certain days.
On these days, the trails are open to hikers and horses from 10 am to 3 pm. Check the events calendar before you go to the Blue Ridge Center.
Eager for more? Take a look at 15 of the best hikes near Bluemont, Virginia to find a few more hikes to add to your must-do hiking list.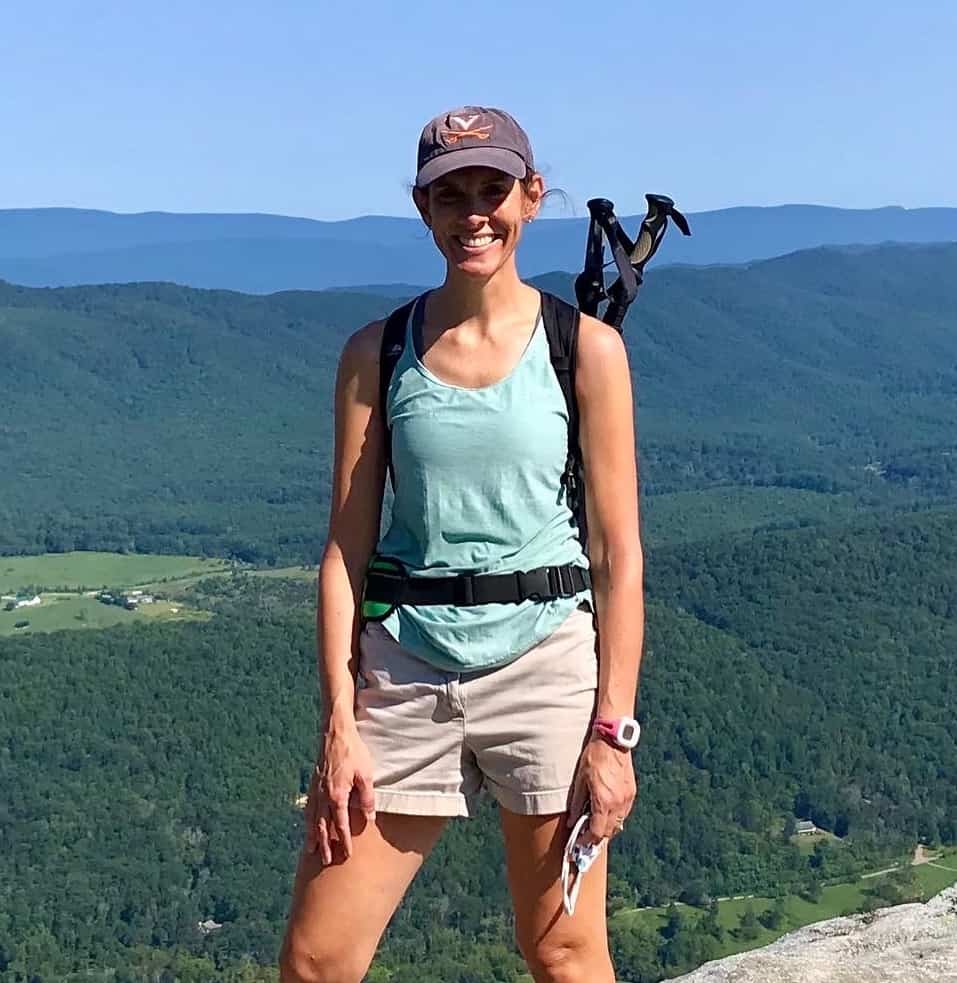 Erin Gifford is the editor of Go Hike Virginia. She has completed more than 300 hikes in Virginia. She is also the author of three hiking guidebooks from Falcon Guides. Need help finding a hike? Check out the Trail Finder feature or send Erin a message.