Ragged Mountain Natural Area: A Stunning Reservoir Hike in Charlottesville
A couple of weeks ago, the length of Skyline Drive was closed. In winter months, this scenic byway seems to be closed more often than open.
I was meeting up with a friend from Richmond for a hike. Since there's not much to love along I-95, Shenandoah National Park is a natural destination for us.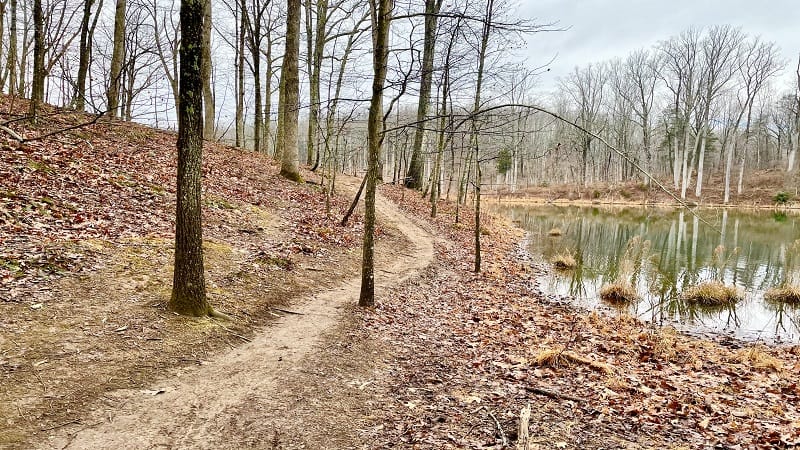 Stepping back, I do love Prince William Forest Park in Triangle, but we went there last time we met up for a hike. We wanted to go somewhere new, but where?
We settled on Ragged Mountain Natural Area in Charlottesville. Coming from Northern Virginia, I spent a bit more time in the car, but it was absolutely worth the drive.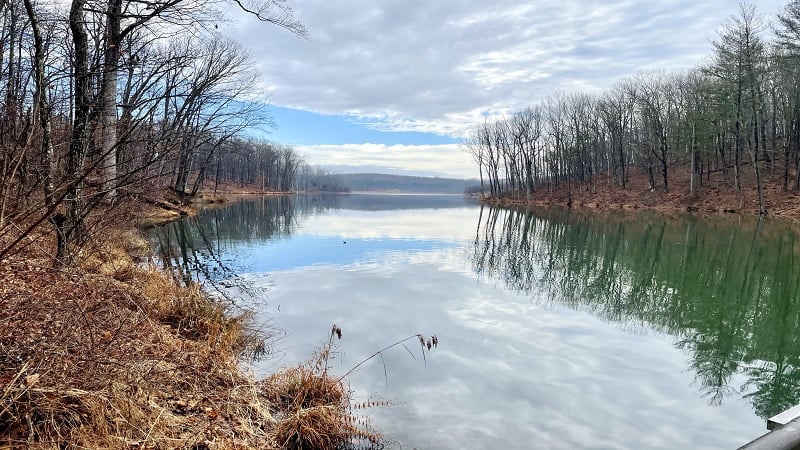 The centerpiece of Ragged Mountain Natural Area is Ragged Mountain Reservoir. The 7.0-mile Lake Front Trail circumnavigates the 170-acre reservoir.
I think our goal was to hike the Lake Front Trail, but there are so many different trails that jut off the main trail. Plus, there are fun wooden carvings along the way.
| Trail Stats | |
| --- | --- |
| Length | 7.5 miles |
| Difficulty | Moderate |
| Trail Type | Loop |
| Elevation Gain | 1,217 feet |
| Duration | 3.5-4.5 hours |
| Terrain | Mostly dirt trails |
| Dog-Friendly | No |
| Fee | Free |
| Driving Directions | Click Here |
Arriving at the Trailhead
There are two parking lots at Ragged Mountain Natural Area. There is Upper Parking and Lower Parking. We parked at Lower Parking, just off Reservoir Road.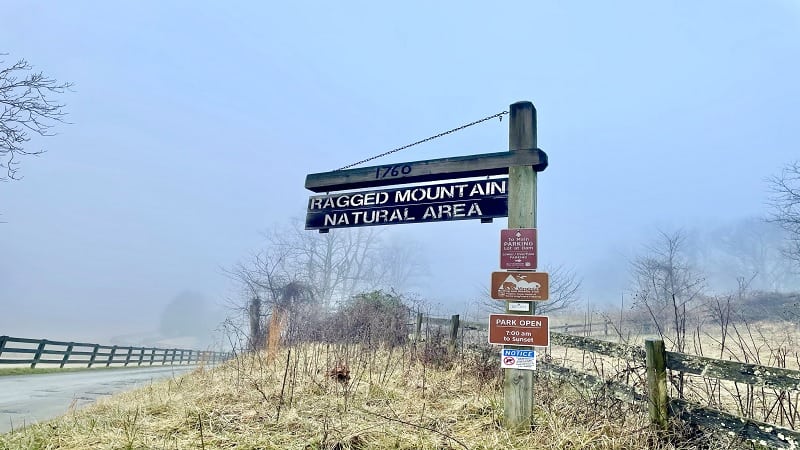 Honestly, both lots are situated on Reservoir Road, but Lower Parking is the first one you will reach. Here, you'll see a gravel lot that can fit maybe a couple dozen cars.
Apparently, Upper Parking is the main lot at Reservoir Mountain Dam. Lower Parking is the overflow lot. Still, I thought Lower Lot was perfect and not out of the way.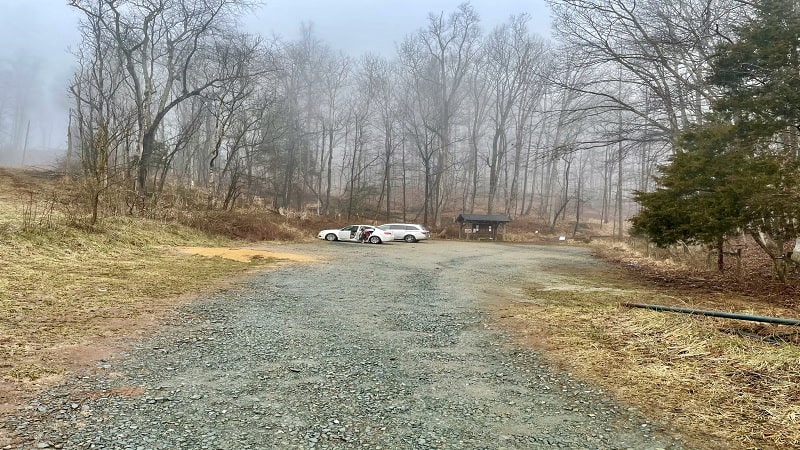 There's a large trail kiosk at the back of the lot. There's not a lot of information shared here, but the most important take-away is that dogs are not allowed on these trails.
The First Steps
This hike begins just past the trail kiosk. It's a touch confusing from the get-go since there are two unmarked trails. Fortunately, the two meet at the top of the hill.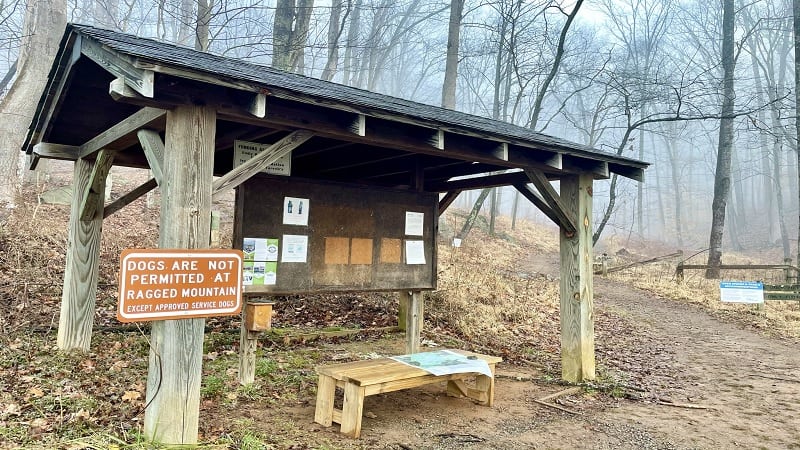 We opted to ascend the stairs on the left. I imagine this shortcut is new since it's not identified on the trail map. PS, print out this trail map. You will absolutely thank me.
Shortly, you'll reach an intersection. The paved road is Reservoir Road, leading to Upper Parking. Cross over to a gravel path. Walk around an iron gate (to keep cars out).
Ragged Mountain Dam is on the right, but the start of our hike was so foggy that we couldn't even see the reservoir, much less the dam. I trust it was there.
You're now on the Lake Front Trail. This is also known as Main Loop or Lake Front Loop. From here, you'll walk a mostly forested (sometimes muddy) trail around the reservoir.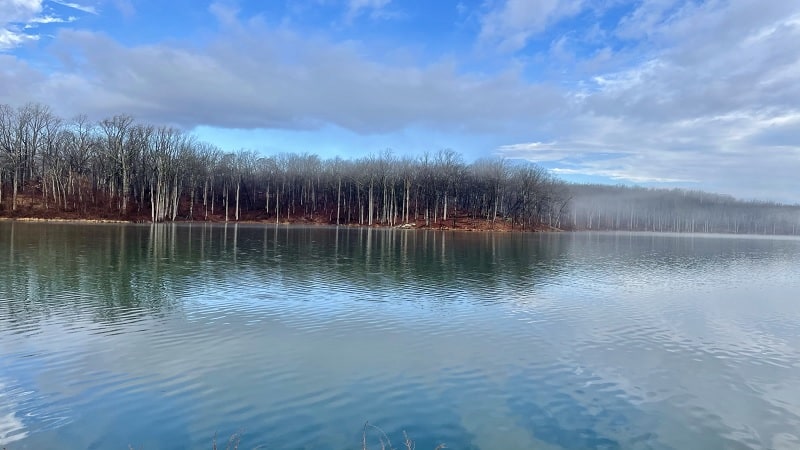 At the 1.2-mile mark, you will see a turn-off on the right for the Peninsula Trail. It's a .4-mile walk to the end of the peninsula. I assure you, it's worth the extra steps.
Savor the views at Rocky Peninsula, then re-trace your steps to the Lake Front Trail. Turn right to continue on this delightfully wooded path.
At the 2.2-mile mark, you will cross a floating bridge over the reservoir. The walk over the bridge is so peaceful and calming. On the other side, you'll see a bench.
Continue on and prepare for your first surprise at the 4.1-mile mark. As in, a wood carving of two owls. It was very fun to see more than trees and trail on this hike.
From the owl carving, there is a short spur trail to Owl Peninsula. We did not walk out to this peninsula, but it's a nice option to once more get close to the reservoir.
At the 5.0-mile mark, we ran into a bit of confusion. We sadly did not print out the trail map. Here you can follow the Upper Loop or stay on the Lake Front Loop.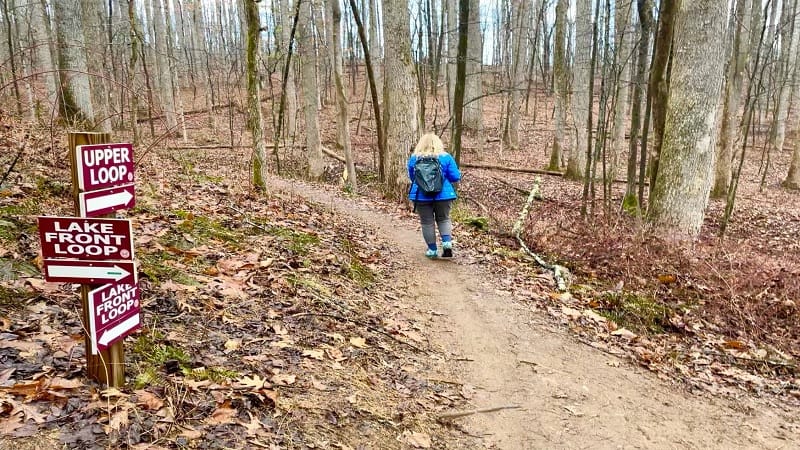 Honestly, it doesn't matter which path you choose since both trails come together at the Eagle Statue. For us, this was at the 5.8-mile mark. We chose the Upper Loop.
The Upper Loop is slightly longer so if you stay on the Lake Front Loop, you will reach the Eagle Statue near the 5.3-mile mark.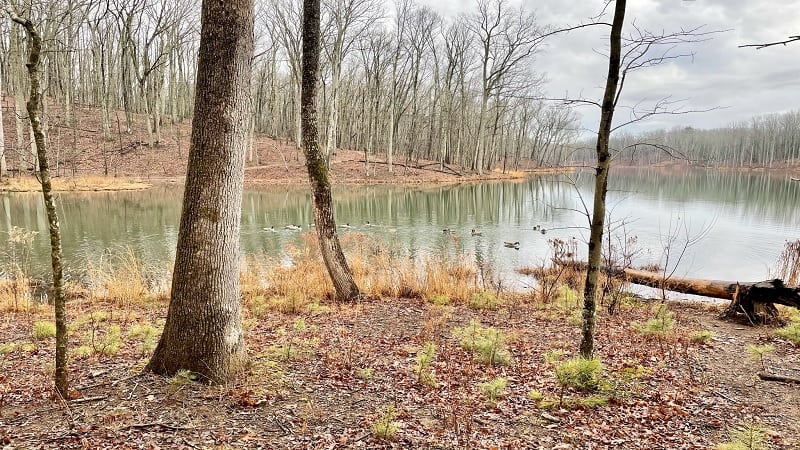 However, head's up. If you take the Upper Loop, you may miss the Eagle Statue. We did. I only read about it later in a post in a hiking group on Facebook. Boo.
At the 6.1-mile mark, we reached the wooden statue of the bears. Honestly, it's super cute. You'll want to snap a few photos.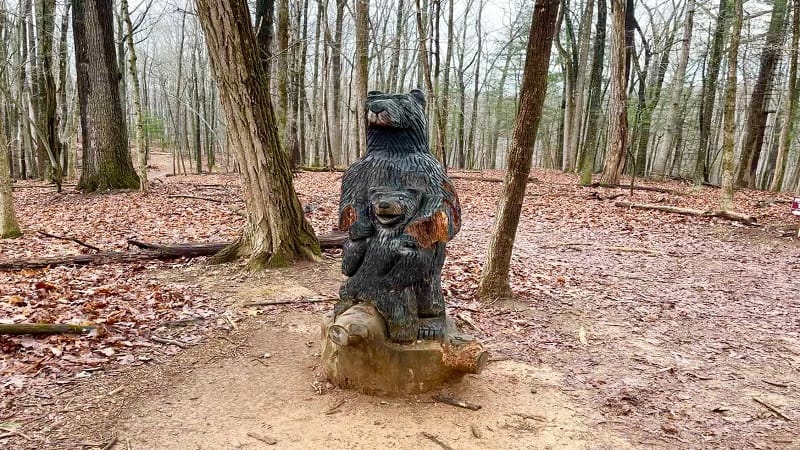 You'll reach a somewhat crazy trail junction at the bear statue. Continue straight ahead for the Lake Front Loop. Unless…. Unless you want to hike to Turtle Peninsula.
The Peninsula Trail to Turtle Peninsula will connect back with the Lake Front Trail. Honestly, if you haven't yet, print out the trail map.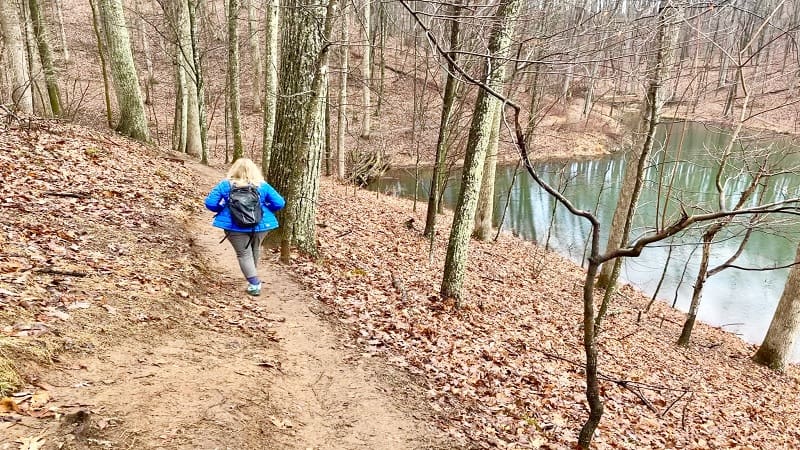 I mention this again because at Turtle Peninsula there's a wooden turtle statue. It's not marked on the map, but we learned of this cool statue post-hike too. Again, boo.
Hop back on the Lake Front Trail and you will shortly reach the Mountain Man statue. This is the last of the wooden statues along the Ragged Mountain hiking trails.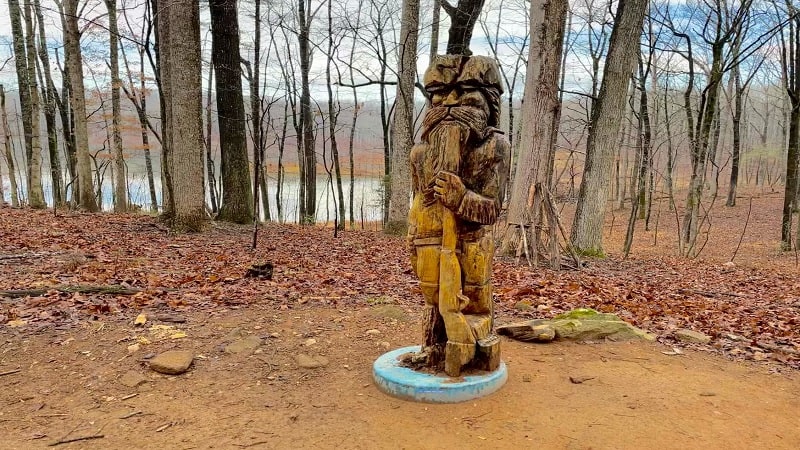 From here, you have two options. You can stay on the Lake Front Trail to reach and continue past Upper Parking. Turn left at the dam for the trail to Lower Parking.
Alternatively, take the Upper Loop to the Round Top Trail. There is no actual summit (or related views), but at the top, you will find a teepee-like structure made of sticks!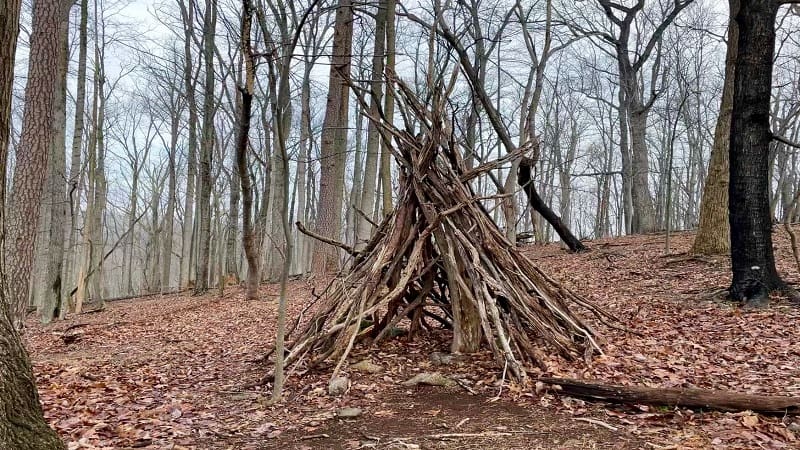 Keep following the Round Top Trail around and it will connect with the trail and steps to return to Lower Parking. You'll see the dam and know exactly where you are.
Apparently, the trail is the Heyward Trail, but I never saw any signage with this name. It was all good though since I made it back to Lower Parking. Easy-peasy.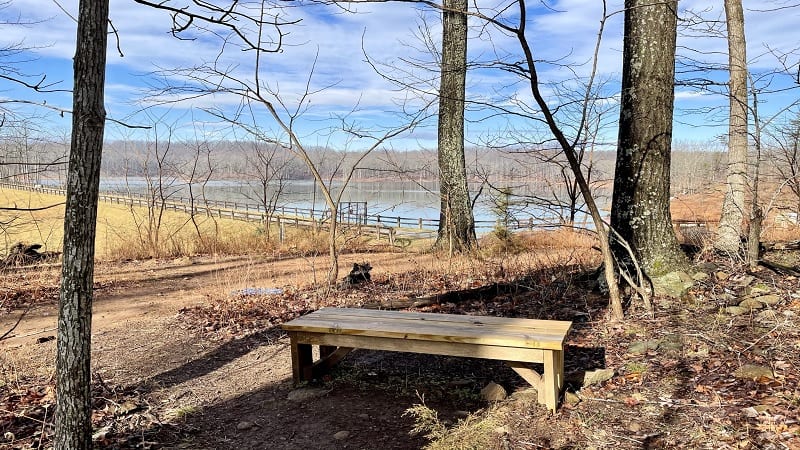 Hike Options
Oh my goodness, there are so many options. If you're looking for a shorter hike and don't mind an out-and-back hike, I would hike out to one of the peninsulas.
An out-and-back hike to Rocky Peninsula should clock in at around 3.2-miles. Meanwhile, an out-and-back hike to Turtle Peninsula would be near 2.0-miles.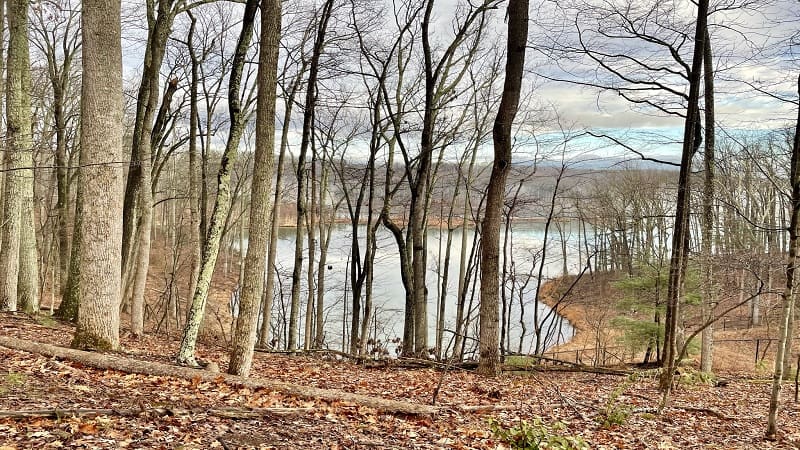 The downside to the Rocky Peninsula hike is that you won't see any wooden statues. On the Turtle Peninsula hike, you should see at least two statues.
Wrap-Up Notes
From the parking area, we hiked 7.7-miles in 3 hours, 15 minutes. However, this does include time spent going in the wrong direction at least once.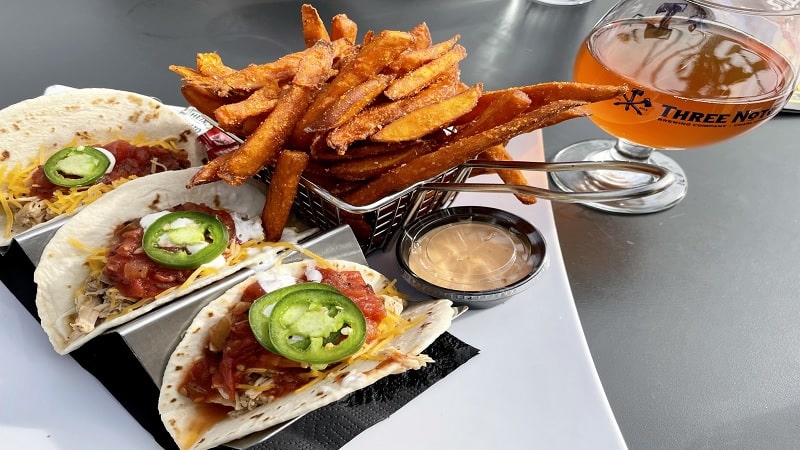 Even if you do go off in the wrong direction, it doesn't really matter. This is such a pleasant hike that we welcomed the extra steps across this natural area in Albemarle County.
For post-hike snacks and sips, consider Three Notch'd Brewing Company in Charlottesville. It's less than 15 minutes from Ragged Mountain Natural Area.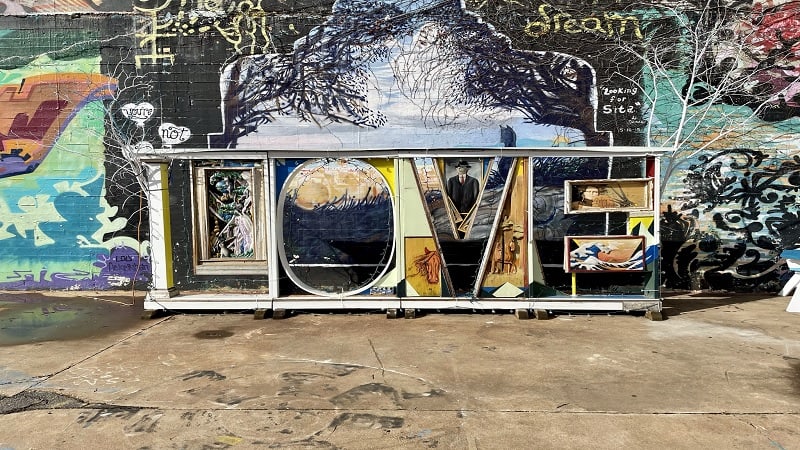 As a bonus, Three Notch'd is open on Wednesdays. Apparently, that's a tall order, at least in winter months. They have craft beers and a full lunch menu. Plus, outdoor seating.
Three Notch'd is adjacent to IX Art Park. You'll find a LOVE sign, as well as lots of quirky, colorful art works and sculptures. Be sure to wander the park before you leave.
Ready for another hike? Here are more of my favorite hikes in Charlottesville.