15 Shady Hikes in Virginia to Beat the Heat & Stay Cool this Summer
Not every hike is a winner on a hot summer day. Certainly, not every hike is a refreshingly cool waterfall hike either. Thankfully, well-shaded hikes step up for the win in Virginia.
All across the state, there are wonderful hikes that are just right for summer days with lake views, well-placed benches and plenty of lush tree-cover for keeping out the sun.
We waited months and months for the leaves and foliage to return (not so much the bugs) and now is the time to use this well-placed shade to our advantage.
Here are 15 of my favorite hikes that offer up plenty of shade, as well as watering holes, scenic vistas and caves, even a watering hole or two.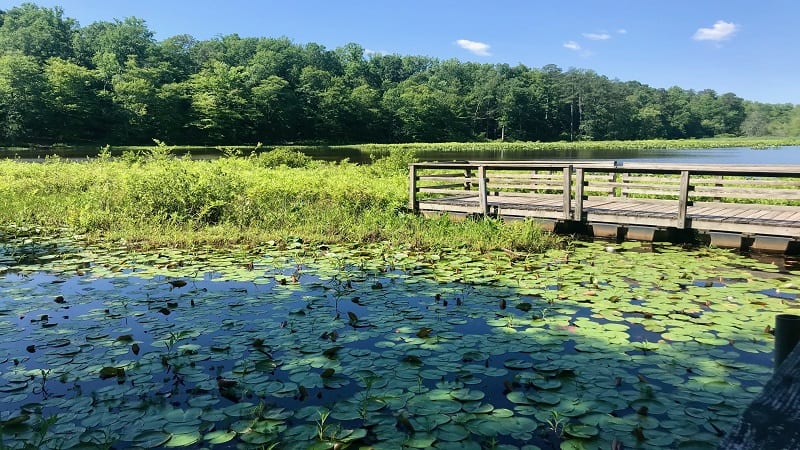 The shaded walk around Beaver Lake at Pocahontas State Park is a relatively secluded loop with mild terrain and evolving scenery, like bridges and wooden boardwalks.
The views across lily pad-strewn Beaver Lake are especially delightful. Even better, wooden benches turn up every .5-mile along this shaded hiking trail.
Late in the hike, look for a dam that gracefully cascades water onto a scenic spillway. This is an exceptionally popular spot to stop for a snack break or to re-hydrate.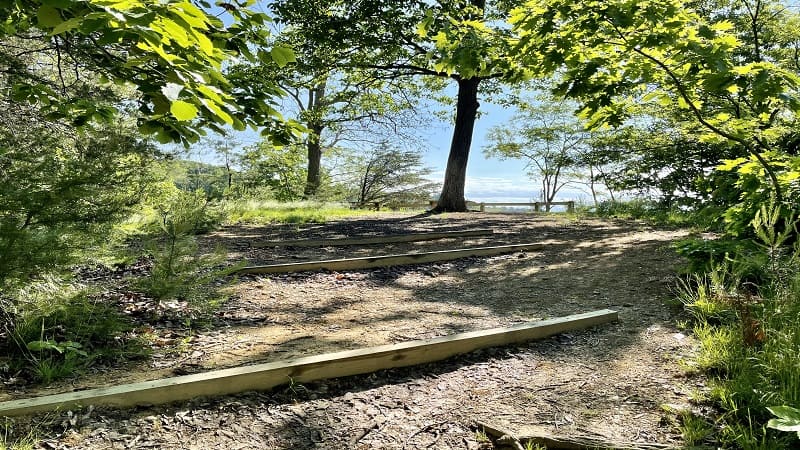 There's a hidden gem tucked away in Stafford County. It's called Crow's Nest Natural Area Preserve, and let me tell you, it's pretty fantastic.
You'll find five hiking trails on this 895-acre peninsula made up of tidal and non-tidal wetlands, including the Crow's Nest Point Trail to Boykin's Landing.
The hike begins under a lush canopy of bright-green leaves. The foliage can be so dense that the hike can feel quite dark, even on cloudless days. Now that's a shaded hike.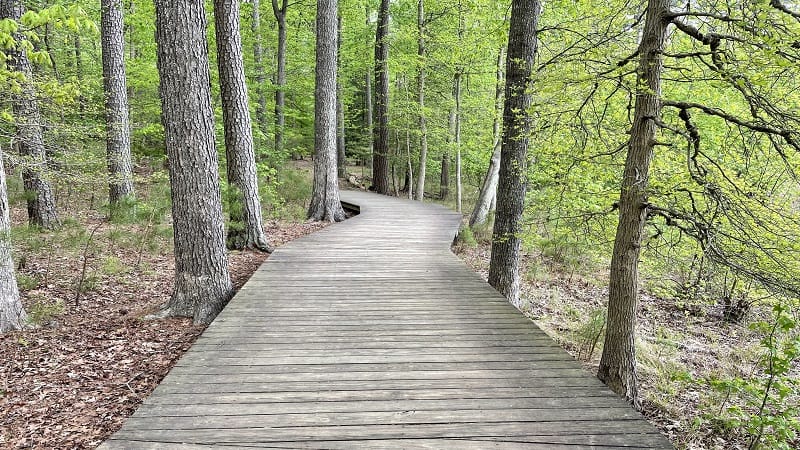 At Newport News Park, this delightful wooded nature trail crosses the Lee Hall Reservoir twice, offering views of coastal wetlands and cypress swamps.
It's well-shaded, too. In fact, the only time you may see much of the sun is when you cross over the reservoir on the wooden boardwalk.
Take in the views of the bald cypress trees and tidal wetlands as you hike along this trail. Keep your eyes open for swimming turtles that frequent the reservoir's waters.
The well-shaded hike along the Eagle Spur Trail and Kane's Creek Trail leads to a wooden observation blind on the Potomac River, as well as opportunities to see bald eagles.
Kane's Creek is a good place to see bald eagles year-round as many of them roost in this protected area. The park is home to at least 40 to 50 bald eagles.
Self-guided tour brochures feature an overview of the 1,825-acre state park, as well as a description of trail stops, like mountain laurel, fungi, cut logs and ferns.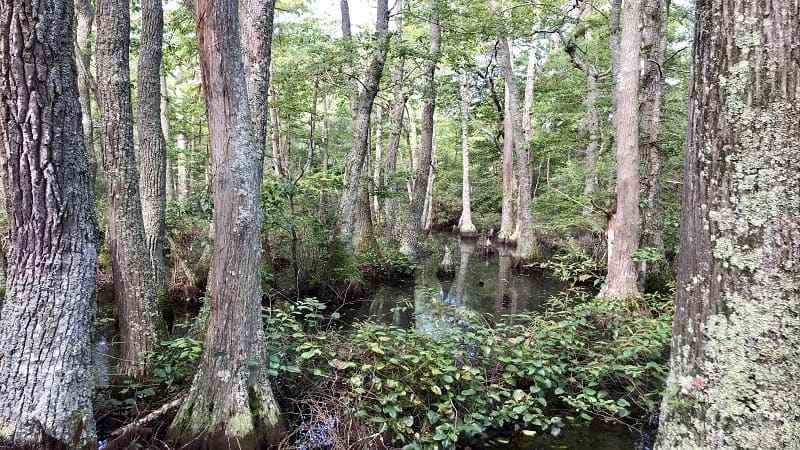 This easy 3.2-mile loop hike at First Landing State Park guides visitors over a freshwater cypress swamp that wows with quirky bald cypress trees.
The shady Osmanthus Trail shares a trailhead with the Bald Cypress Trail, a 1.8-mile loop hike, which inspires with similar views of bald cypress trees with knobby "knees."
A delightful hike at any time, this easy loop is not to be missed in late-fall and winter when the murky waters can transform into a rainbow of colors.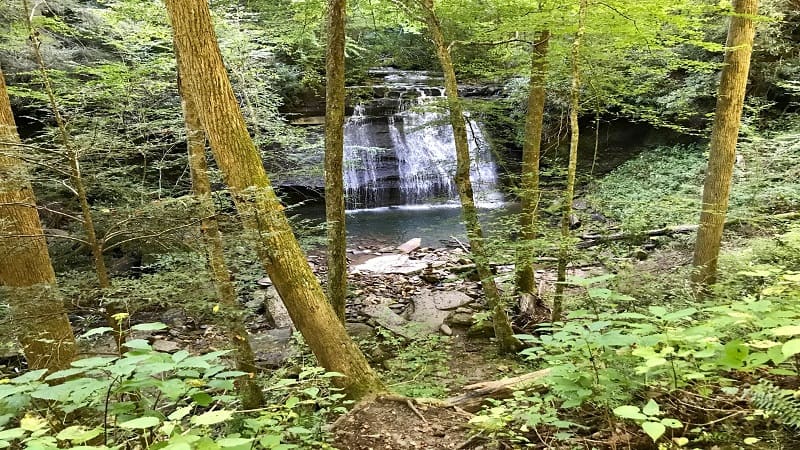 A peaceful 4.8-mile out-and-back hike rewards with burbling Little Stony Creek alongside the well-shaded trail as you make your way to the swimming hole at Little Stony Falls.
The trail follows Little Stony Creek through a 400-foot-deep and 1700-foot-wide gorge along an old railroad bed in Scott County, Virginia.
Allegedly, the falls you reach at the turn-around point of this hike is Middle Falls. You cannot continue hiking on to Upper Falls. However, this basin is plenty beautiful.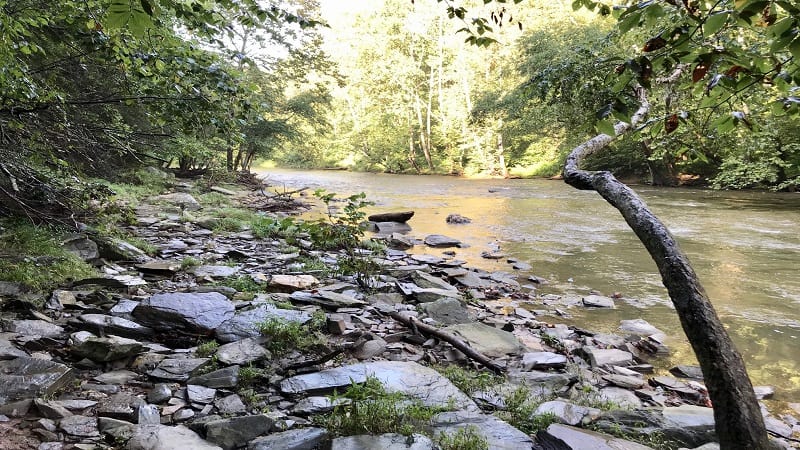 The 19.6-mile Bull Run Occoquan Trail snakes along Bull Run between Bull Run Regional Park in Centreville and Fountainhead Regional Park in Fairfax Station.
Few hikers take on the entire trail, at least not in one go, but the easy 3.0-mile loop that includes the Union Mill Trail and a section of the Bull Run Occoquan Trail is a keeper.
The well-shaded hike begins at Hemlock Overlook Regional Park in Clifton. The trail meanders along the banks of scenic Bull Run, even past Virginia's first hydroelectric dam.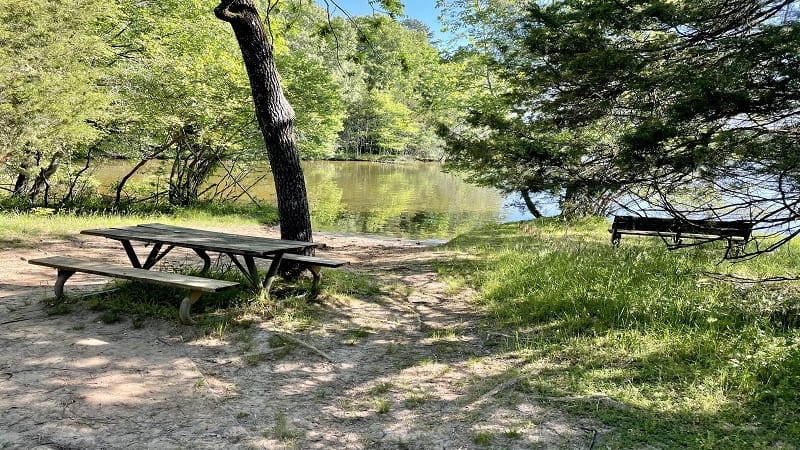 Lake Anna State Park is best known for its 13,000-acre freshwater reservoir with more than 200 miles of shoreline, as well as all the water sports you can enjoy.
Here you'll also find plenty of hiking trails, like this delightful forested loop that cobbles together five trails to guide visitors across the park and through the woods.
Along the way, take in a sprinkling of lake views and historic ruins, like a former smokehouse that was once a part of the Pigeon Plantation that dates back to 1832.
An array of forested hiking trails in the George Washington & Jefferson National Forests make up the Great North Mountain Trails network.
Among these trails is the blue-blazed Tuscarora Trail that leads to Kepler Overlook. This shaded hike meanders through the forest, up to the overlook on Tea Mountain.
Along his leafy, shaded hike, you'll pass a small overlook (separate from Kepler Overlook), a freshwater spring and several dispersed camping sites with fire rings.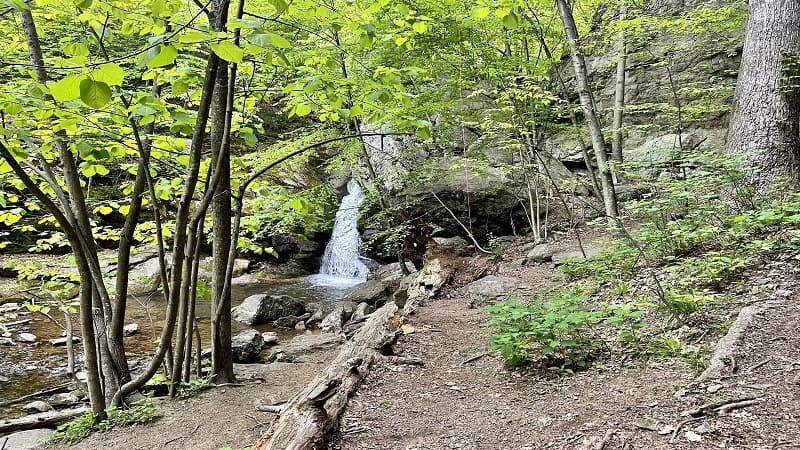 The hike to Cave Falls by way of the Hazel Mountain Trail at Shenandoah National Park (Central District) offers plenty of shade for casual day hikers.
This forested hike boasts lush leafy tree-cover as you make your way through a deciduous forest on your way to cascades, caves, falls and a watering hole.
Sit and stay awhile on one of the large rocks next to the falls. It's a nicely-shaded area that's perfect for enjoying lunch or a snack while listening to the relaxing waterfalls.
At Caledon State Park in King George, the Boyd's Hole Trail guides visitors along a well-shaded trail across old growth forest and on to a relaxing sandy beach.
Keep your eyes open. This state park is a National Natural Landmark known for its majestic bald eagles. The Boyd's Hole Trail is one of the best trails for spotting bald eagles.
Bring a hammock to set up in the shaded picnic area alongside the natural shoreline on the gently lapping Potomac River. It's easy to laze the day away here.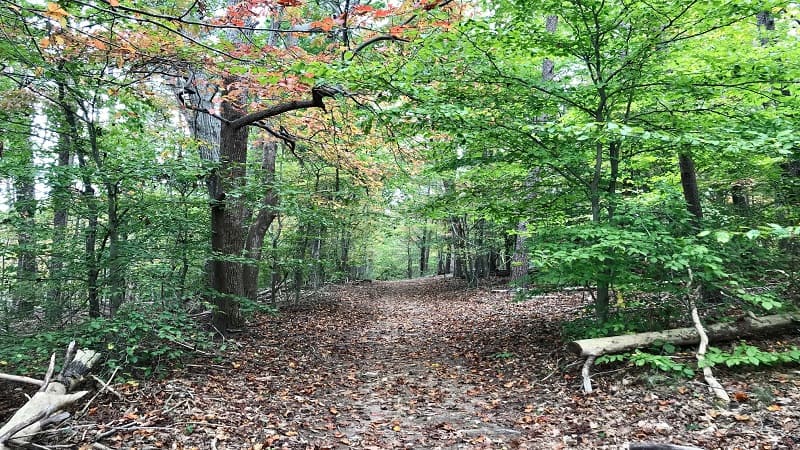 Smith Mountain Lake may be better known as a go-to destination for water sports, like kayaking, jet skiing and wake boarding, but there's a lot to love on dry land, too.
The leafy red-blazed Chestnut Ridge Trail guides visitors along a shady, forested hike on a peninsula that juts out into the 20,600-acre Smith Mountain Lake.
The tip of the peninsula wows with lake views, but also scenic vistas of the Blue Ridge Mountains to the south. Several benches along the trail allow you to sit and savor the views.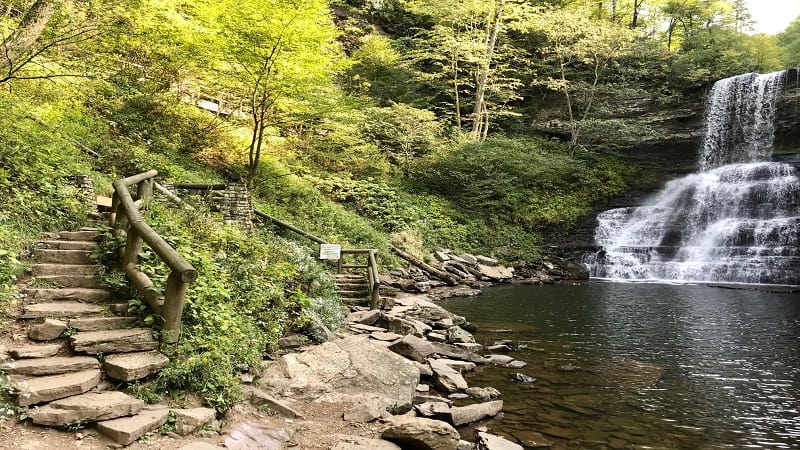 The shaded 4.0-mile out-and-back hike to 66-foot-tall Cascades Falls in Pembroke is one to put high on your list of must-do hikes. If time permits, continue on to Barney's Wall.
There is a wooden viewing platform a few steps above the waterfall basin. There's also a second-level viewing area that gets you very close to Cascades Falls.
The Cascades National Recreational Trail is a short drive from Mountain Lake Lodge (the stately lodge from Dirty Dancing). Here, take in a sunset from Bald Knob.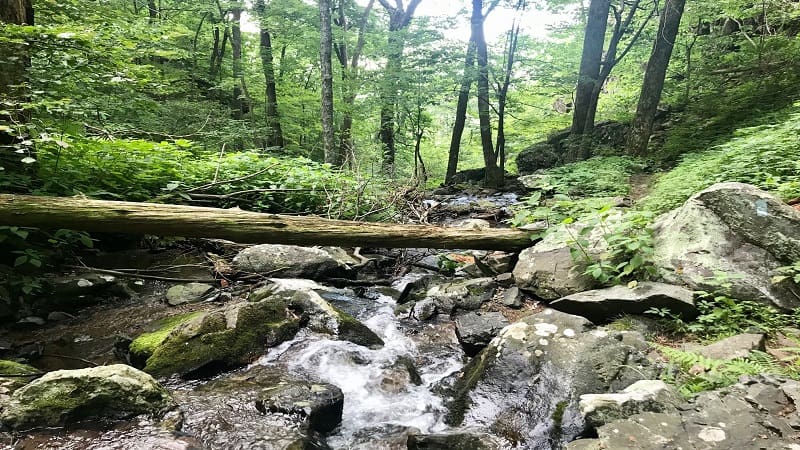 The 6.0-mile loop hike at Little Devils Stairs is located outside Shenandoah National Park, accessible only by way of a boundary trailhead.
To fully enjoy the stream crossings, rock scrambles and cascading falls, tackle this hike counter-clockwise. More than a half-dozen water crossings up the fun factor.
On the back-half of this well-shaded hike, look for an overlook that wows with wildly scenic views across the Shenandoah Valley, then a family cemetery with a wrought-iron gate.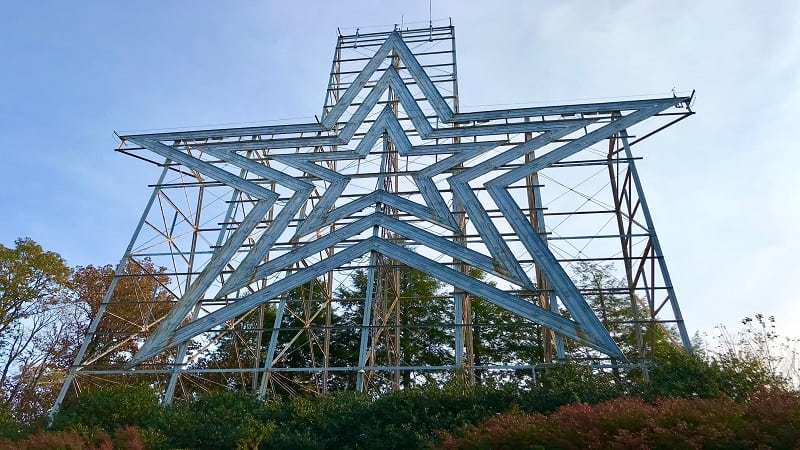 At 100 feet tall, the Roanoke Star earned the distinction of the largest man-made star. The iconic steel star has been welcoming visitors since late-1949.
This 3.3-mile out-and-back hike at Mill Mountain Park allows you to see the star up close in all its glory. Some call the Roanoke Star the Hollywood Sign of the East Coast.
This hike through the leafy forest at Mill Mountain Park keeps this hike well-shaded all the way until you reach the stunning overlook at the top of the mountain.