Patricia Ann Byrom Forest Preserve: An Underrated Hike to Big Mountain Views in Crozet, Virginia
I finally made time to drive two hours to hike the trails at Patricia Ann Byrom Forest Preserve Park in Crozet, Virginia. On a 22 degree morning, no less.
If you've not yet been to this 600-acre park, which is managed by Albemarle County Parks & Recreation, you'll quickly learn that it's a true gem.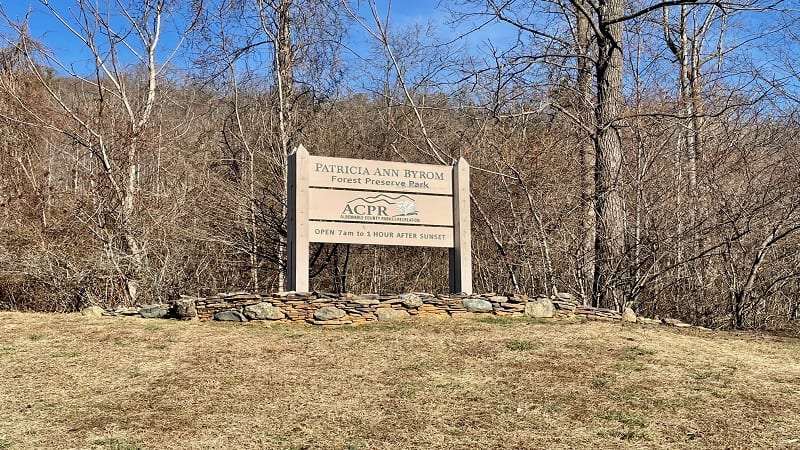 There are five hiking trails that vary in length from .7 miles to 3.0 miles. A scenic overlook, a gently-flowing stream and numerous benches greet hikers.
You'll also enjoy a good bit of elevation, too. I gained 1,237 feet on the ascent to Gibson Mountain Overlook. A bench allows you to sit to savor the vistas.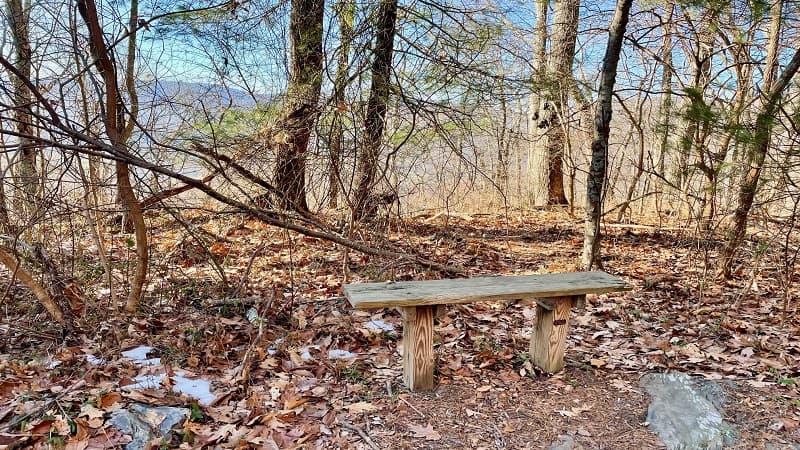 As you can see from the trail map, it's easy to create your own hike around Little Flat Mountain, but be sure to include Gibson Mountain Overlook.
I completed a 4.5-mile hike to incorporate all four of the must-sees on the trail map, including Gibson Mountain Overlook and Winter View.
| Trail Stats | |
| --- | --- |
| Length | 4.5 miles |
| Difficulty | Moderate |
| Trail Type | Lollipop |
| Elevation Gain | 1,237 feet |
| Duration | 2.5-4 hours |
| Terrain | Mostly dirt & rock trails |
| Dog-Friendly | Yes, on a six-foot leash |
| Fee | Free |
| Driving Directions | Click Here |
Patricia Ann Byrom Forest Preserve Park
The land used to establish this forest preserve was gifted to Albemarle County in 2004. It was farm land owned by Bob and Patricia Ann Byrom.
Tucked into Blackwell Hollow, Patricia Ann Byrom Forest Preserve Park is east of Shenandoah National Park. It's a 35-minute drive to the Swift Run Gap entrance.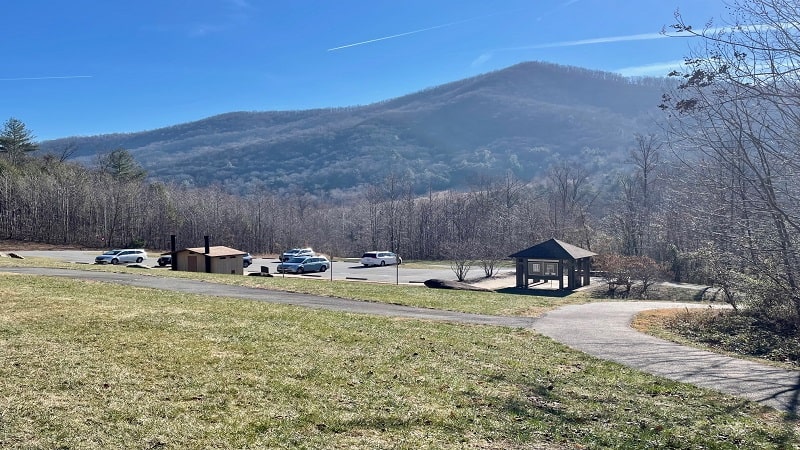 Patricia Ann Byrom Forest Preserve Park was created as a place for Albemarle County residents to come to enjoy the outdoors.
A large kiosk sits adjacent to the main parking area. Here you can pick up a paper trail map and learn about the Blue Ridge Heritage Project.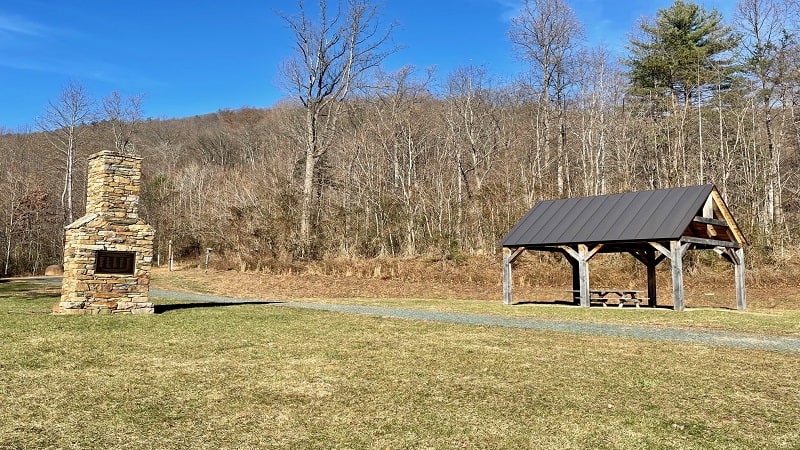 This non-profit organization works to recognize the sacrifices of residents displaced when land was acquired to create Shenandoah National Park.
Just behind the kiosk you'll see a large stone chimney with a plaque that honors more than 70 Albemarle County families who lost their farm land.
Great Mountains Trail
To access the hiking trails at this forest preserve park, walk past the large kiosk. You will see a paved path. Stay to the right to continue up the hill.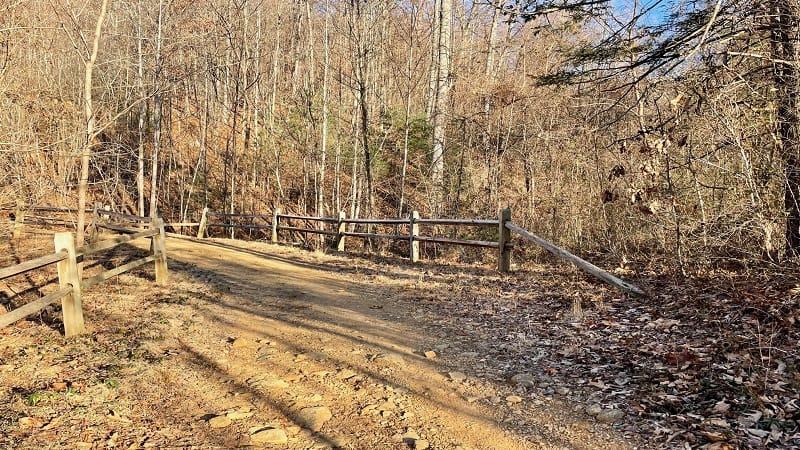 In .1-mile, the trail begins in earnest as you step foot on the Great Mountains Trail. This short trail leads to all other trails that snake around the mountain.
You'll encounter a few switchback as you ascend the trail, as well as a bench. At the .5-mile mark, you can turn right for the Crooked Tree Trail.
Crooked Tree Trail
I turned right because I was eager to see "The Crooked Tree" that was noted on the trail map. I did not see The Crooked Tree, at least I don't think I did.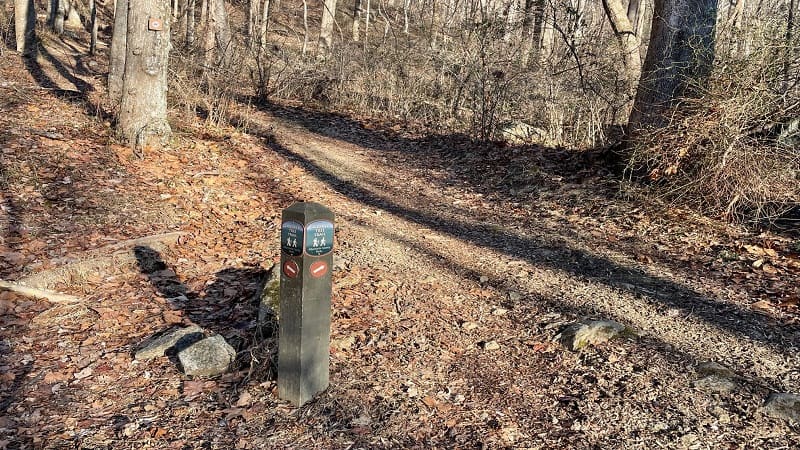 To be fair, I did see a Crooked Tree. However, I did not think this tree was so crooked that it deserved the honor of a trail name.
At the 1.3-mile mark, there is a small wooden bench. This looks to match up on the map with the location of The Crooked Tree.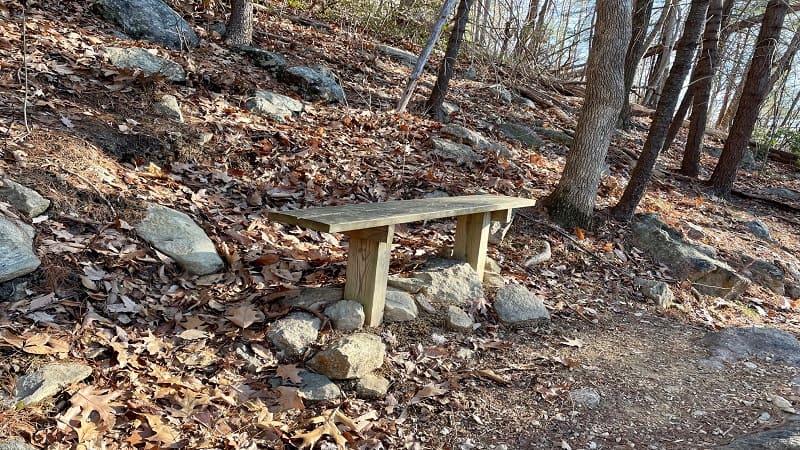 I sat on the bench and looked in all directions. I did not see The Crooked Tree. If you do this hike and see The Crooked Tree, please let me know.
Feel free to post a photo on Instagram and tag me at @gohikevirginia so I can see this twisted tree for myself. Thank you, most appreciated.
Little Flat Mountain Loop
At the 1.6-mile mark, the Crooked Tree Trail dead-ends into the Little Flat Mountain Loop. You'll also see a picnic table and nice winter views.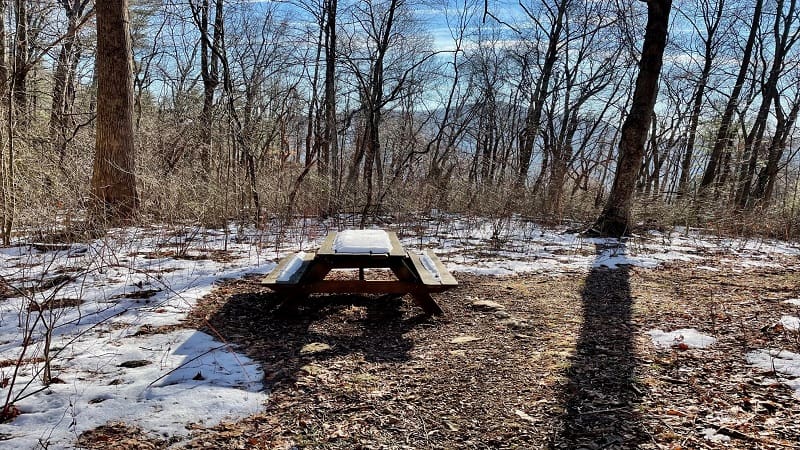 This would be a fantastic stop for a picnic lunch, maybe on a warmer day. I really enjoyed the far-reaching views through the leafless trees.
The Little Flat Mountain Loop goes in two directions at this junction. Stay to the right to continue the seemingly never-ending ascent to the overlook.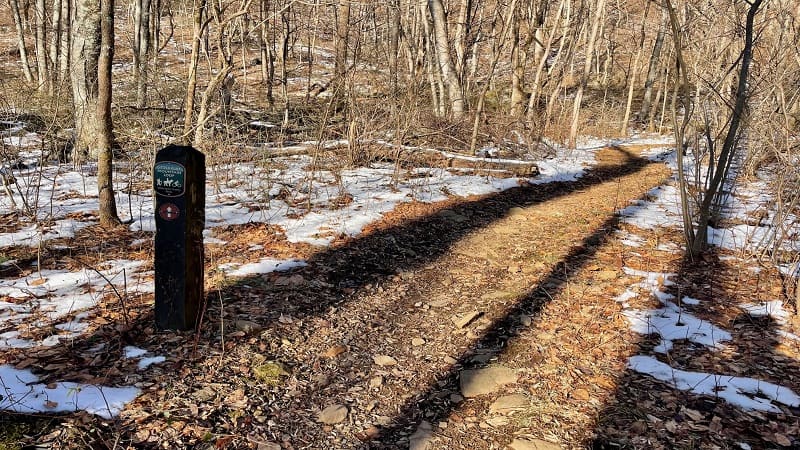 A small bench to enjoy the wide-open views at Gibson Mountain Overlook comes into view at the 2.2-mile mark. It was so quiet and peaceful.
I must have sat on that bench for a good 10 minutes. I was eager to catch my breath and savor every ounce of the majestic mountain vistas.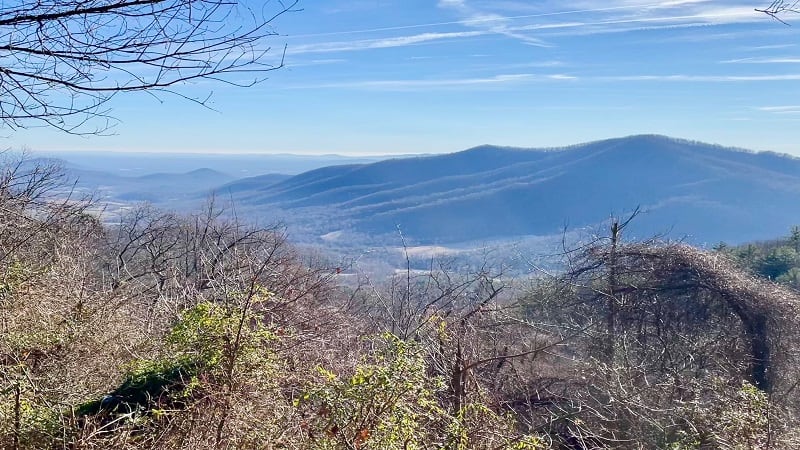 From here, it's all downhill to the parking area. In some sections of trail, it's quite steep, too. You may benefit greatly from a pair of trekking poles.
Blackwell's Trail
At the 2.5-mile mark, you will arrive at another trail junction. I turned left for Blackwell's Trail, but you can also continue on the Little Flat Mountain Loop.
Both trails meet again in less than one mile. I opted to stay on Blackwell's Trail for the "Winter View" that was (hopefully) a few more steps on the trail.
What I assumed to be Winter View appeared at the 2.7-mile mark. It's a very nice view through leafless trees that can only be seen in winter.
A very short path leads out to a rock to enjoy the views. You'll also take in more views through barren trees as you proceed along Blackwell's Trail.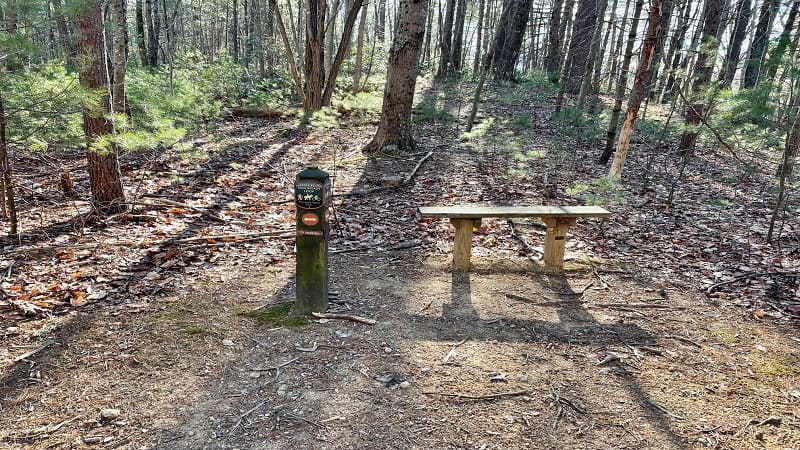 You'll re-connect with the Little Flat Mountain Loop at the 3.4-mile mark when you see a trail marker and a small wooden bench. Turn left at the marker.
From here, every trail marker also directs you to the parking area. At the 3.7-mile mark, stay right to re-connect with the Great Mountains Trail.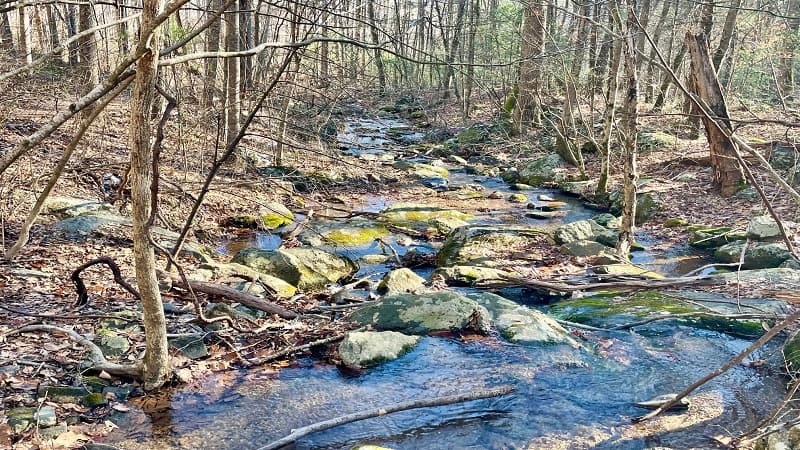 You'll then encounter a couple of easy water crossings before walking alongside a gently-cascading stream. Three benches soon welcome you.
Turn right at the 4.1-mile mark to stay on the Great Mountains Trail. This will take you to the parking area, which you'll reach at the 4.5-mile mark.
Wrap-Up Notes
From the parking area, this hike took me two hours, including time spent ogling the scenic mountain views.
A few quick items of importance. First, there is a vault toilet in the parking area. For me, this was a welcome sight after the long drive to this park.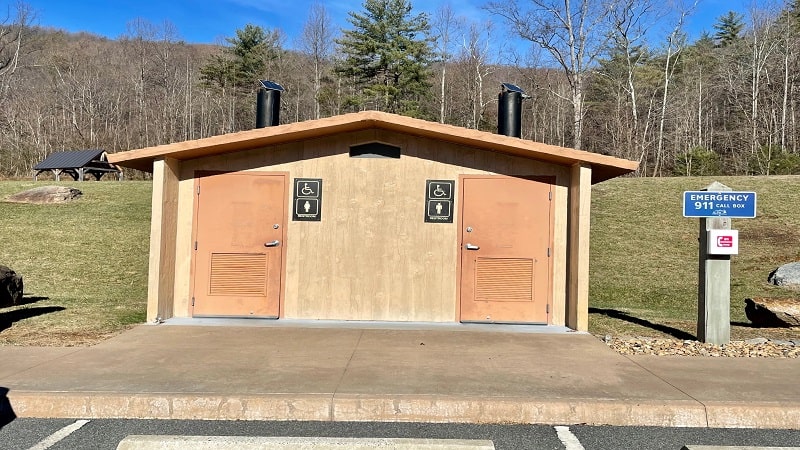 Second, there is a no cell signal (I have AT&T) in the parking area. This is really only a big deal if you don't know your way home.
As I was coming down the mountain – when I had one or two bars of cell signal – I used my iPhone to map my way home using Google Maps.
Once you start to get close to the park, there are a lot of turns onto small country roads. I'm not sure I would have been able to make the return drive on my own.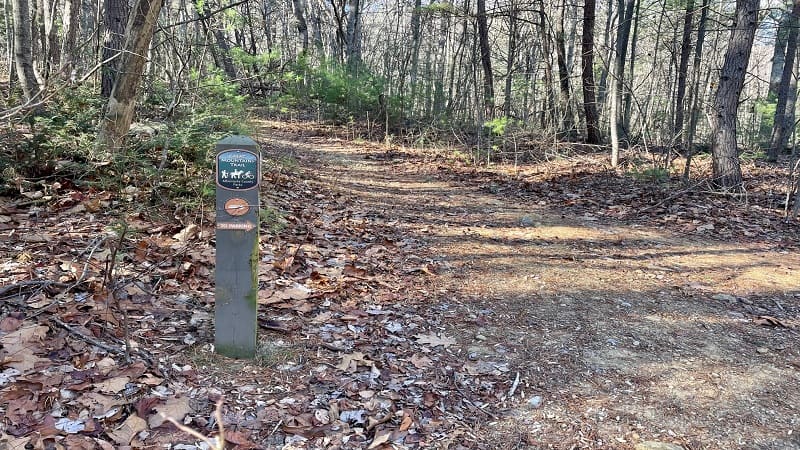 Third, there are no colored blazes to follow on any of these trails. However, the trail markers are easy to see and the trails are very well-maintained.
For more Albemarle County hikes near Charlottesville and Crozet, check out my recent compilation of 16 easy, moderate and strenuous area hikes.