Three Ridges: This Strenuous Loop Hike Rewards with Wide-Open Mountain Vistas
Over the weekend, I completed a hike that had been on my list for a while: Three Ridges Wilderness. With an elevation gain of nearly 4,000 feet, this hike was no joke.
I tackled the 15.0-mile Three Ridges loop hike over two days as part of an overnight backpacking trip. The first day clocked in at 8.5 miles, while the second day was 6.5 miles.
Of course, you can do this Central Virginia hike in one day, but by the time I reached Harpers Creek Shelter at the 8.5-mile mark, I was ready to call it a day.
This loop hike guides you along the Appalachian Trail, then returns you to the starting point by way of the Mau-Har Trail. The views are amazing, especially on the AT.
| Trail Stats | |
| --- | --- |
| Length | 15.0 miles |
| Difficulty | Strenuous |
| Trail Type | Lollipop |
| Elevation Gain | 3,940 feet |
| Duration | 9-10 hours |
| Terrain | Mostly dirt & rock trails, some stairs & scrambles |
| Dog-Friendly | Yes |
| Fee | Free |
| Driving Directions | Click Here |
Arriving at the Trailhead
For this hike, park at Reids Gap. Or, Reeds Gap. I've seen it written both ways. It's at the intersection of the Blue Ridge Parkway and State Route 664.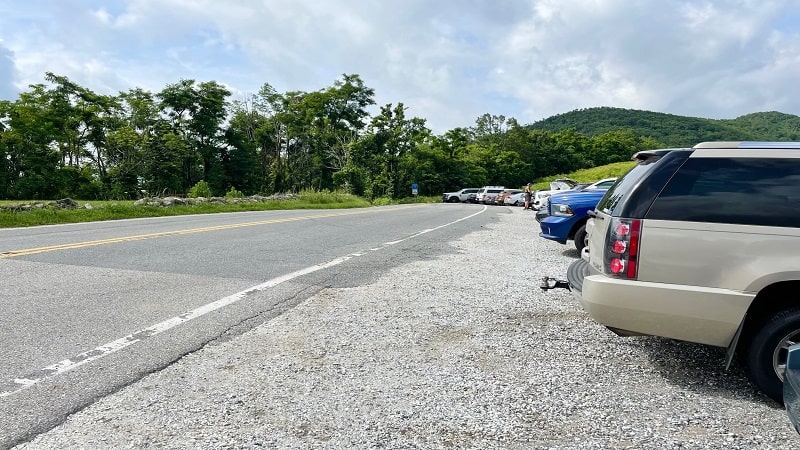 It's not a large parking area. There's room for maybe 15 or 20 cars. It fills up quickly too since this is a very popular hike.
The marker for the Appalachian Trail is just past the last car in the parking area. For mapping purposes, the address is 5832 Beech Grove Road, Roseland.
The First Steps
The hike begins with an ascent alongside a meadow on the white-blazed Appalachian Trail. You will soon enter the woods of the George Washington National Forest.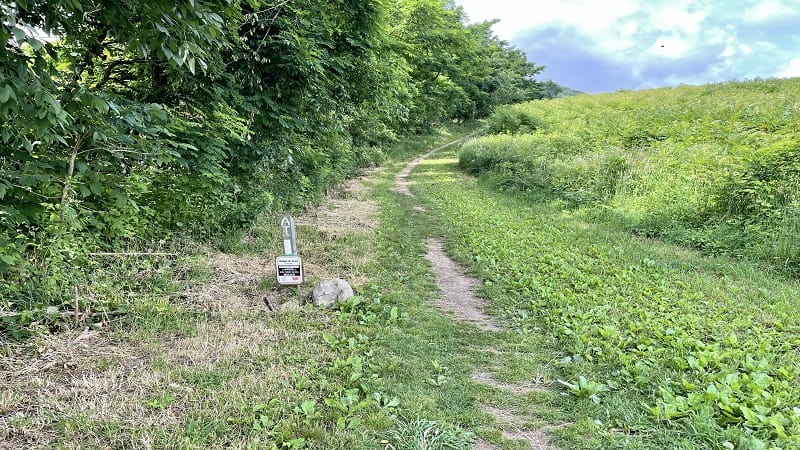 At the .8-mile mark, you will arrive at a vista that's easy to miss. You won't want to miss this reward for the initial climb on this hike.
Keep your eyes open. You'll first see a camp site with a fire ring on the left. On the right, a short spur trail leads to a rocky west-facing overlook.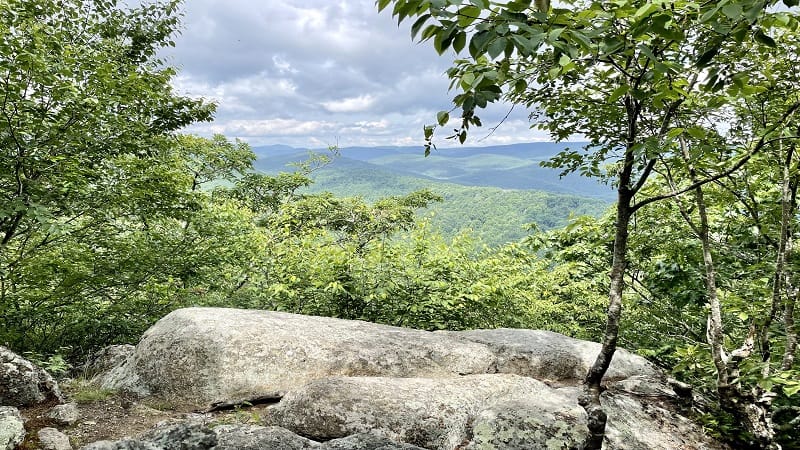 The far-reaching views are fantastic, but they are just a taste of what to expect from the rocky Three Ridges overlook later in the hike.
Once you've savored the views, re-trace your steps, then turn right to continue on the southbound Appalachian Trail. At the 1.7-mile mark, you'll reach an intersection.
There is a mileage-based trail sign, as well as a large trail kiosk. From here, the Three Ridges summit is 2.9 miles further down the Appalachian Trail.
Stay to the left for the AT. The trail to the right is the Mau-Har Trail, which is the trail to return on for this loop hike. It's a toughie, too. More on that down below.
The ascent now begins to Three Ridges. You'll first go up and over Bee Mountain at the 2.3-mile mark, though it's unremarkable. No vistas. Just keep climbing.
You'll reach a switchback and a set of stairs at the 3.7-mile mark. In a few more steps, you'll reach a rocky outcrop on the right with seriously booming views.
This is a fantastic place to stop for lunch. When we arrived (I went with a MeetUp group) there were already 6-8 people snacking, resting and re-hydrating.
For day hikers, this is a great turn-around point. As in, eat lunch, enjoy the views, then re-trace your steps for a 7.6-mile hike.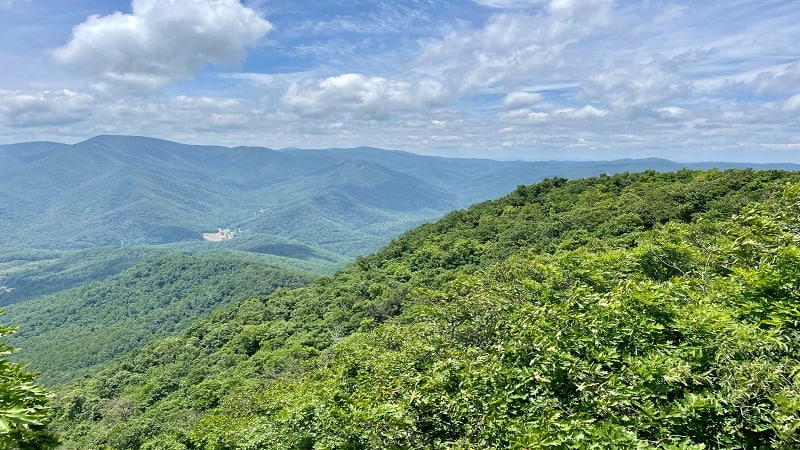 Once we ate lunch, we continued on the Appalachian Trail, passing a few more camp sites and fire rings along the way. Also, a few obscured mountain vistas.
If you're using AllTrails to follow the trail route, I can tell you that there is no vista at the "Three Ridges" mark on the map. Only a short spur trail to a camp site.
At this point, you've hiked 4.8 miles. You'll see a trail sign indicating that the Harpers Creek Shelter is 3.2 miles away. It's actually more like 3.7 miles. Boo.
From here, you will begin to descend all the way to Harpers Creek Shelter. A descent sounds good, but there are some rock scrambles. Hiking poles are useful.
At the 5.0-mile mark, there's a nice view on the right, though it was mostly obscured by dense summer foliage. You'll then descend along switchbacks for nearly a mile.
Take pause at the 6.2-mile mark. You'll see an opening on the left-hand side. Walk out to the rocks for views from the small overlook at Chimney Rock.
As you continue downhill, there's another nice view on the right at the 6.5-mile mark, then a wide-open vista at the 6.7-mile mark. Both are hard to miss.
From here, you'll encounter another switchback, which includes a wide-open view of the farms below at the 7.0-mile mark.
It's then a shaded walk that tests you with at least three rock scrambles (not easy with a backpack) before you arrive at Harpers Creek Shelter near the 8.5-mile mark.
You will reach a T-intersection. You can turn right for the shelter, the privy and several camp sites on both sides of Harpers Creek.
If you turn left, you will reach many more camp sites with fire rings. There are at least a dozen sites. We opted for a "two bedroom" site just right for seven people.
I say it was a "two bedroom" site since it was like two sites connected to each other, but just one had a fire ring. It was perfect for a backpacking group.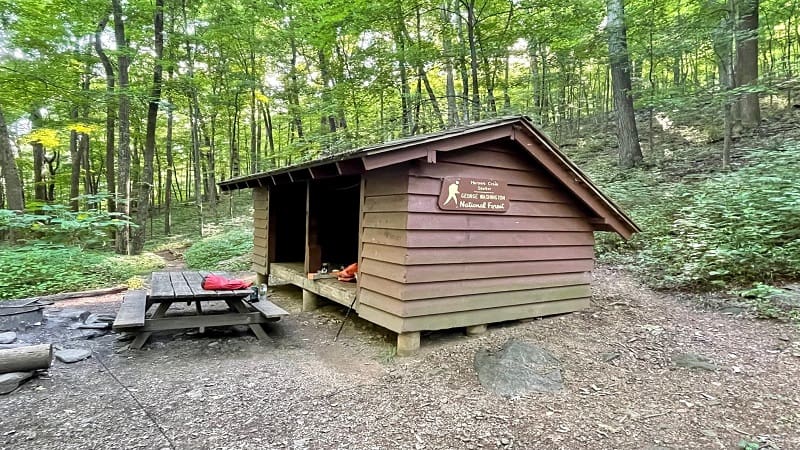 We set up our tents, ate our dinners, then settled in for the night. It was a long day and I was ready to replenish my energy with a good night's sleep.
The next morning, we broke camp and were on our way by 7:45 am. I didn't know what to expect from the day, but that was probably a good thing. It was very steep.
We continued along the Appalachian Trail. Once we passed the last of the camp sites, we crossed over Harpers Creek and the ascent quickly began.
At the 9.4-mile mark, you will reach the Mau-Har Trail. Alternatively, you can stay on the AT. From here, it's another 1.7 miles to the parking area at State Route 56.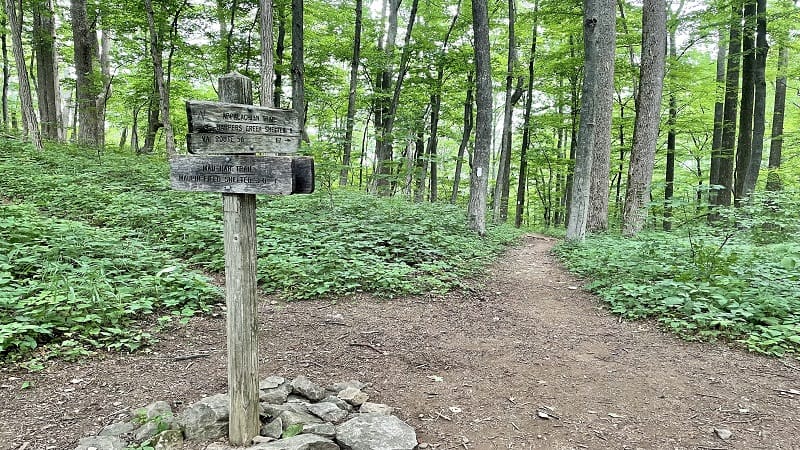 This is another great option if you want to do a point-to-point hike and arrange shuttle transportation back to Reeds Gap. This would be an 11.1-mile hike.
We turned right onto the blue-blazed Mau-Har Trail. From here, you'll ascend for nearly a mile, up a switchback section of trail. It's very steep in some places.
You'll then descend. At the 11.1-mile mark, you'll reach a sign for a waterfall on the left. There's talk of a yellow-blazed trail to a waterfall, but we did not see a waterfall.
We saw two yellow blazes, but nothing more. Honestly, I think it was the time of year. The water levels were low. There were some cascades, but it was just okay.
From here, it's nearly all uphill for the next 3.9-miles. The Mau-Har Trail parallels Campbell Creek for much of this mileage. There are some small falls here and there.
There are also a few places along the trail where you can step out to a small watering hole. You'll cross over Campbell Creek a couple of times, but there are no views.
In some spots, you'll need to dig deep to reach the Maupin Fields Shelter at the 13.0-mile mark. This area is similar to Harpers Creek with a shelter and lots of camp sites.
Honestly, I was exhausted by the time I arrived at Maupin Fields. I took off my backpack, drank the last few sips from my water bottle and prepared for the final steps.
From here, continue past the shelter. There are three trails through the camp sites that all re-connect at the Appalachian Trail at the large trail kiosk.
Turn left to continue on to Reeds Gap. In a few steps the trail splits and a fire road sets off to the left. Stay right for the white-blazed Appalachian Trail at the marker.
You are still climbing at this point, but you (finally) reach the end of the climb at the 14.2-mile mark. This is also the location of the very first vista and camp site.
The descent now begins and you will reach the parking area at the 15.0-mile mark. It's time to celebrate. This is one tough hike.
Hike Options
As I noted in the above overview, there are two good options for shorter day hike hikes, both of which skip the Mau-Har Trail.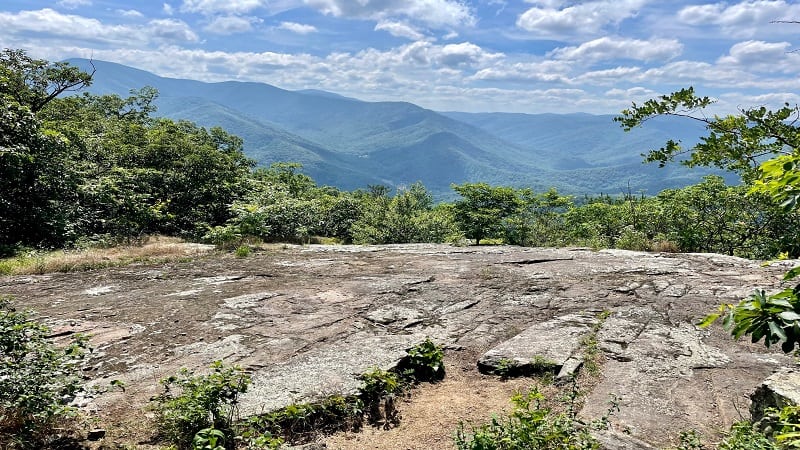 The first is an out-and-back hike to the primary vista at the 3.8-mile mark. Savor the views, then re-trace your steps for a 7.6-mile hike. Highly recommend.
The second is an 11.1-mile point-to-point hike from Reeds Gap to State Route 56 (Tye River). You'd need to arrange a shuttle to your car, but this is also a good option.
Wrap-Up Notes
From the Reeds Gap parking area, my total hiking time (moving time) was just under eight hours. The full loop hike could be done in one day, but it's a long day. Phew.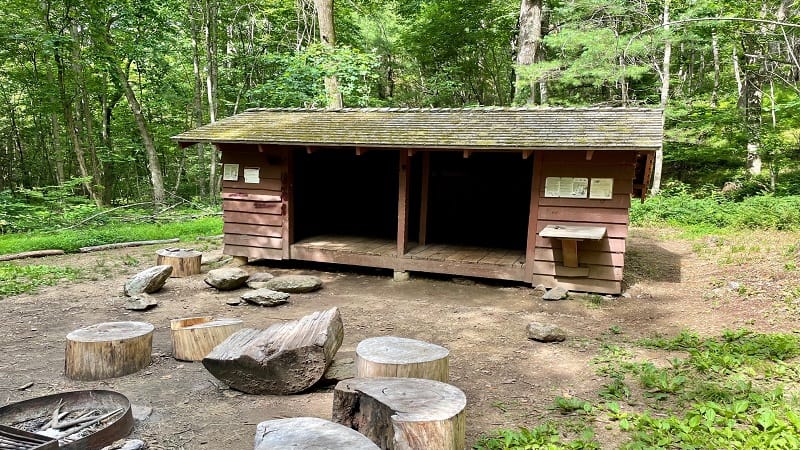 I loved doing this 15.0-mile loop hike as a two-day backpacking trip. However, at least this time of year, I felt like the Mau-Har Trail had little to offer.
There was nothing to see on the Mau-Har Trail, except for Campbell Creek, and it was hardly rushing so it was highly unremarkable. It was also very, very steep.
If I were to do the full loop again, I would only do it when the water levels were higher, like in early-spring. Alternatively, I would do the 7.6-mile out-and-back hike.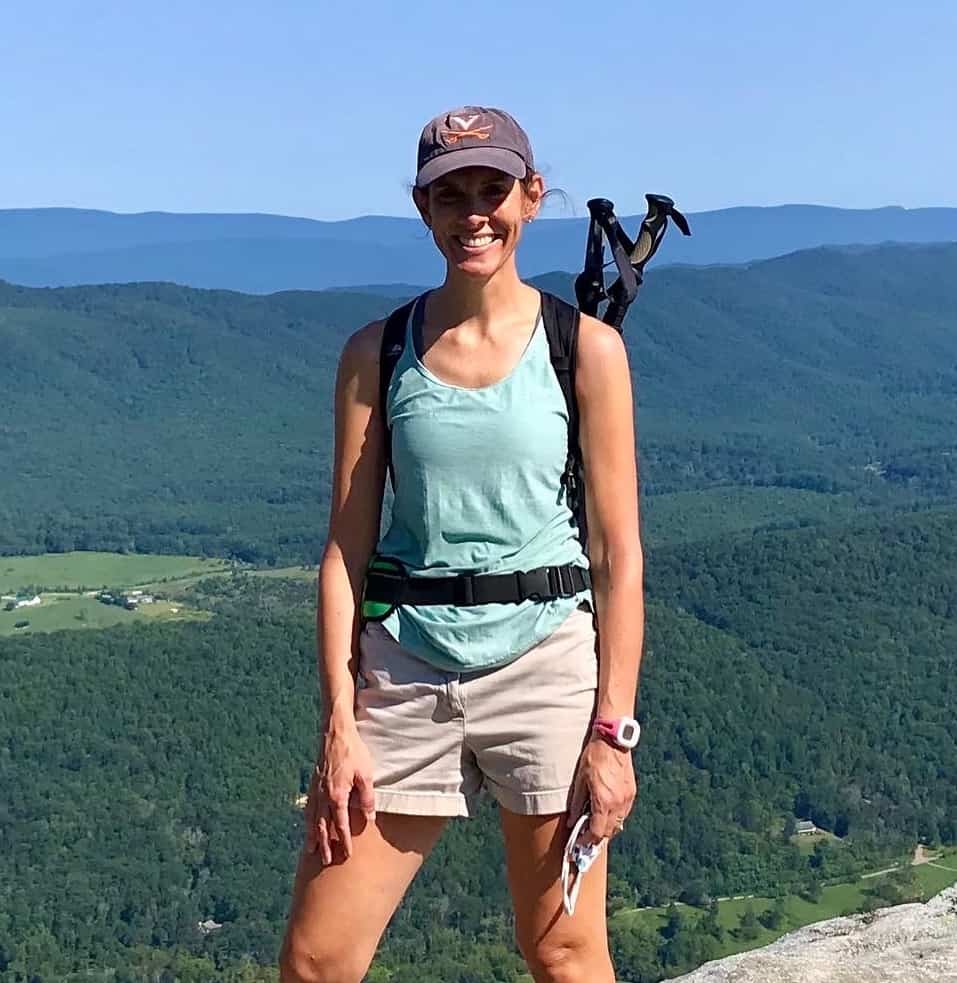 Erin Gifford is the editor of Go Hike Virginia. She has completed more than 300 hikes in Virginia. She is also the author of three hiking guidebooks from Falcon Guides. Need help finding a hike? Check out the Trail Finder feature or send Erin a message.