Terrapin Mountain: Hike to Cascading Falls & Scenic Views in Big Island, Virginia
There's no question, Terrapin Mountain in Big Island, Virginia is a challenging hike. It's also a hike that wows with a big views and cool water features.
You'll definitely need to dig deep at some points on this hike, especially in the first three miles until you top out on your elevation gain of 2,600+ feet.
* Before I go on, watch a short video I made when I hiked Terrapin Mountain. *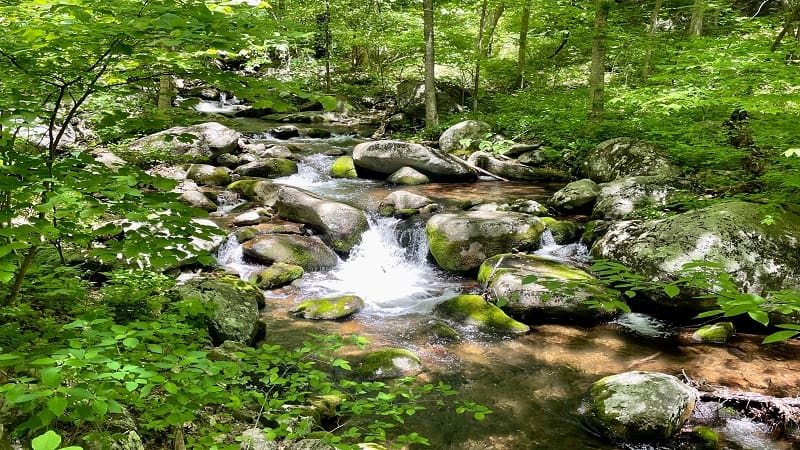 Thankfully, you are rewarded along this leafy loop hike as you climb the yellow-blazed Terrapin Mountain Trail in the Jefferson National Forest.
You'll reach three rocky outcrops with big views before you arrive at the summit. They can be easy to miss, so keep your eyes open. You'll be happy you did.
| Trail Stats | |
| --- | --- |
| Length | 10.3 miles |
| Difficulty | Strenuous |
| Trail Type | Loop |
| Elevation Gain | 2,638 feet |
| Duration | 5-6 hours |
| Terrain | Mostly dirt & rock trails |
| Dog-Friendly | Yes |
| Fee | Free |
| Driving Directions | Click Here |
Terrapin Mountain Trail
The hike begins at a small gravel parking area about 0.9 miles down Terrapin Mountain Lane. There's room for a half-dozen or so cars to park.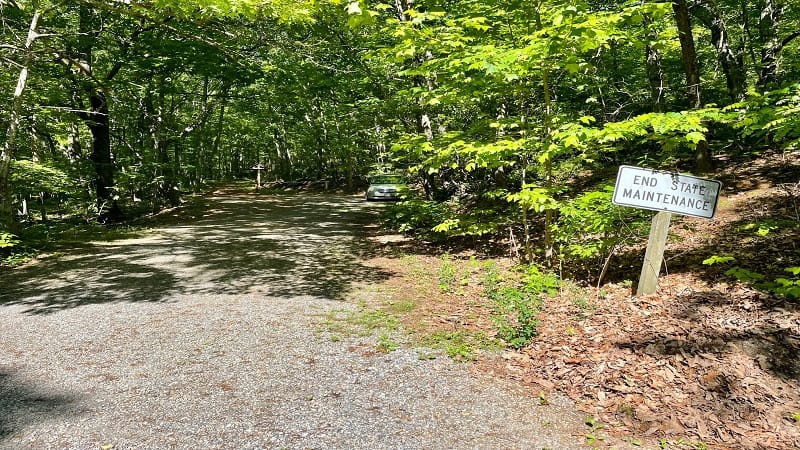 When the road forks and you see the "End State Maintenance" sign you'll know you have arrived. The lot is on the right. You'll also see the trail kiosk.
From the lot, walk around the iron gate prohibiting vehicular traffic onto the rocky spur trail that leads you to the Terrapin Mountain Trail.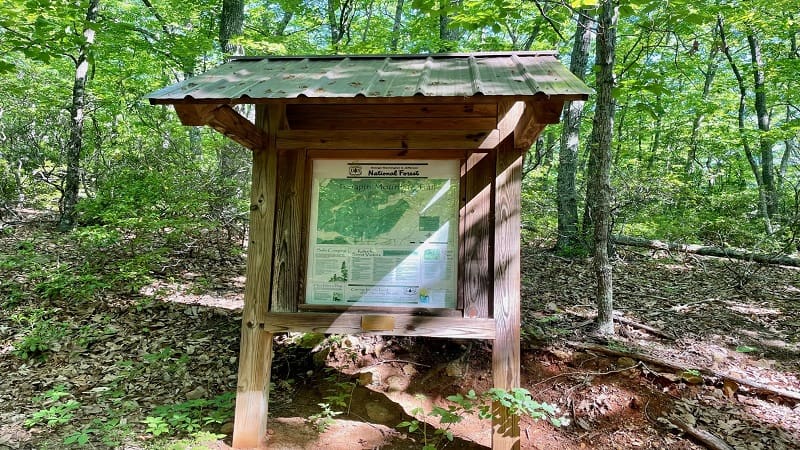 At the 0.3-mile mark, you'll see a trail sign as you reach the Terrapin Mountain Trail. It's a loop, but your best bet is to stay right for a counter-clockwise hike.
There are some sections that are very steep. I did not like them going up. I would have liked them less going down, with all the small rocks and roots.
In spring, colorful rhododendrons line the trail. I stopped many times to revel in their beauty on the way up this strenuous stretch of hiking trail.
Big Mountain Views
At the 1.4-mile mark, you'll reach the first of several overlooks. Settle in on the rocky outcrop to take in 180-degree mountain views. Take a breather, too.
You'll reach the second overlook at the 1.8-mile mark, but you really need to be alert for this one. There's a yellow arrow on the ground, pointing east.
The arrow (in yellow spray paint) is on the left side of the trail. It's confusing because you'll also see a yellow blaze on a tree straight ahead of you.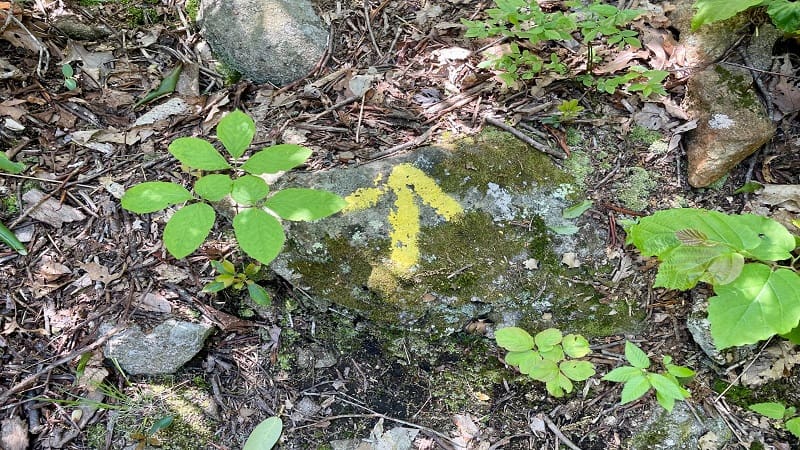 I was curious, and I felt I needed to do my due diligence, so I cautiously followed the arrow, unsure whether I should continue on at a few points.
Thankfully, it was only 0.1 mile to the rocky east-facing overlook for views across the valley, including many working farms down below.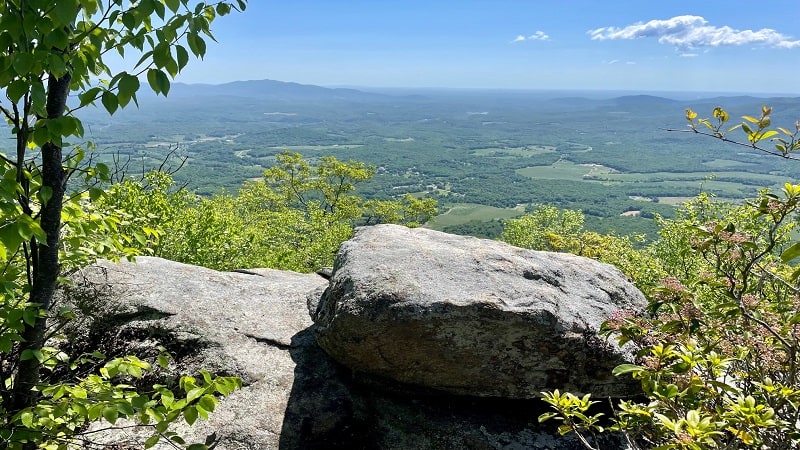 Re-trace your steps to the Terrapin Mountain Trail, then turn left to continue the climb. At the 2.6-mile mark, you'll see another yellow arrow.
This yellow arrow is pointing to the right. From here, it's a few steps to a rocky outcrop facing north (the views are largely the same as the first overlook).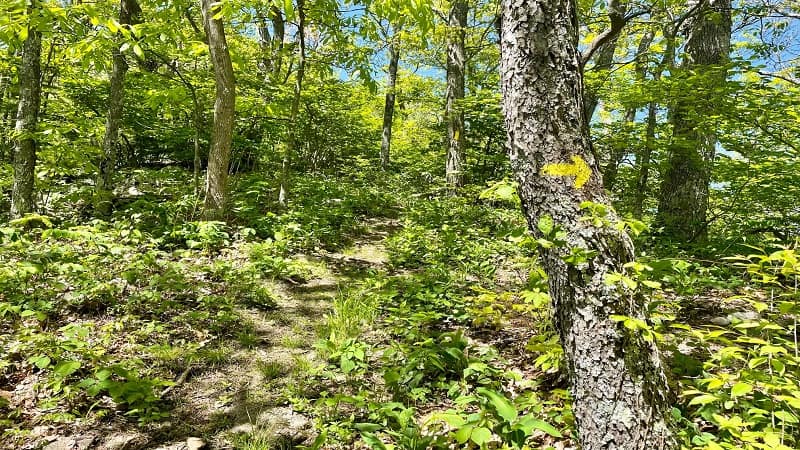 This is another nice spot to stop, re-hydrate and take a breather before continuing on to the summit of Terrapin Mountain.
You'll reach a trail sign at the 2.7-mile mark. Stay left for the path to the summit. At the 2.9-mile mark, stay left at the yellow arrows. You're so close.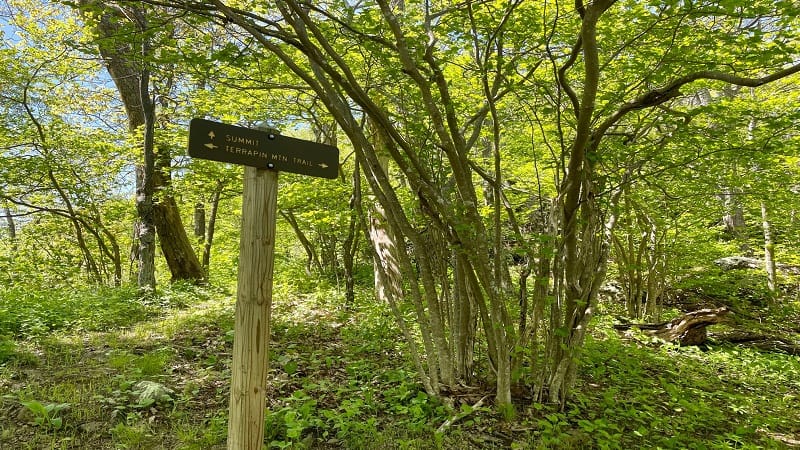 Rocky Overlook
You have arrived at the overlook at the 3.0-mile mark. Enjoy big south-facing views, including Sharp Top and Flat Top. Savor a job well done.
Re-trace your steps, then stay left to re-connect with the Terrapin Mountain Trail, which you'll be back on at the 3.2-mile mark.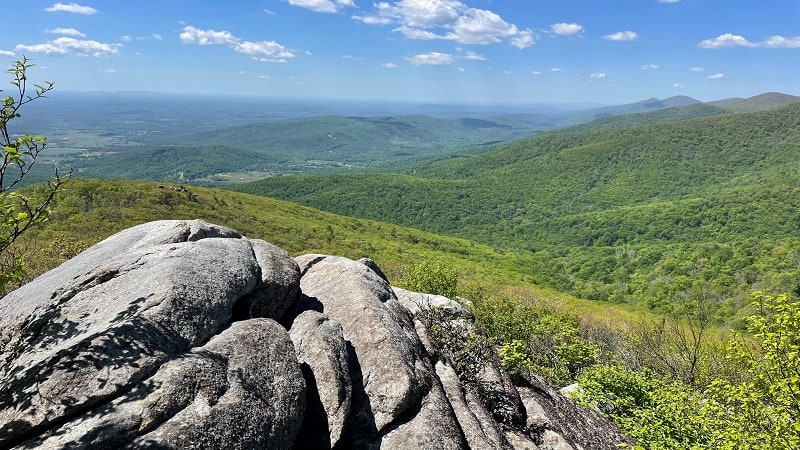 You'll exit the forest and find yourself in a clearing at the 3.7-mile mark. A gravel road is in front of you, but there is no obvious signage. I was confused.
Turn left on the gravel road, but then stay alert. After 50 yards or so (maybe less), there is a trail sign on the left and the trail descends into the forest.
Reed Creek
You'll soon be walking alongside gently-flowing Reed Creek. Lovely cascades come into view on the left at the 5.4-mile mark.
In a few more steps, you will arrive at a primitive camp site. Here, there is a large stone fire ring and room enough for a few backpacking tents.
You'll also need to cross over Reed Creek. Your best bet is to use the large fallen tree to the left to steady your passage across the flowing creek.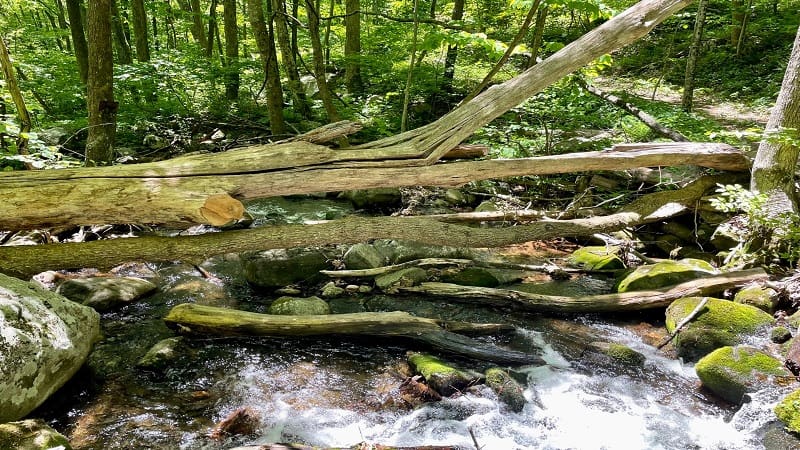 At the 5.8-mile mark, a path leads off the trail and descends toward Reed Creek. It's a short walk to a small waterfall and a refreshing watering hole.
Bring water shoes because honestly this is the perfect spot to wade in the creek and cool off at the small, cascading waterfall.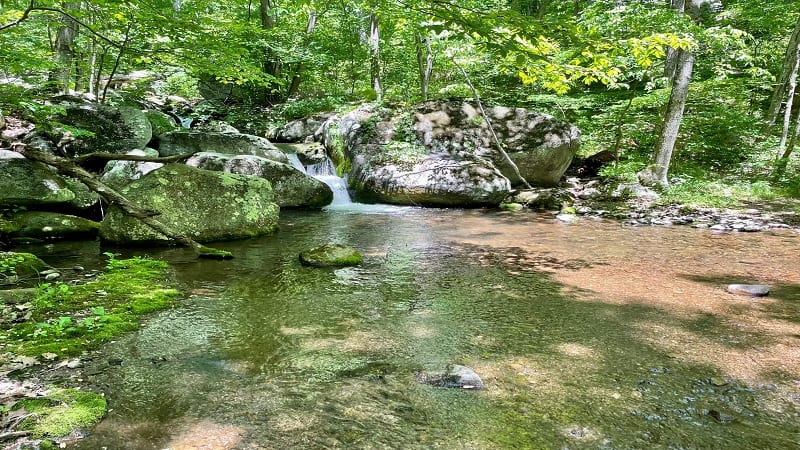 At the 6.3-mile mark, stay alert once more. You'll need to turn left when you see a large stone fire ring near the water. It can be easy to miss.
You'll cross back over Reed Creek in a few more steps. Again, your best bet is to use the large fallen tree across the creek to guide you across the water.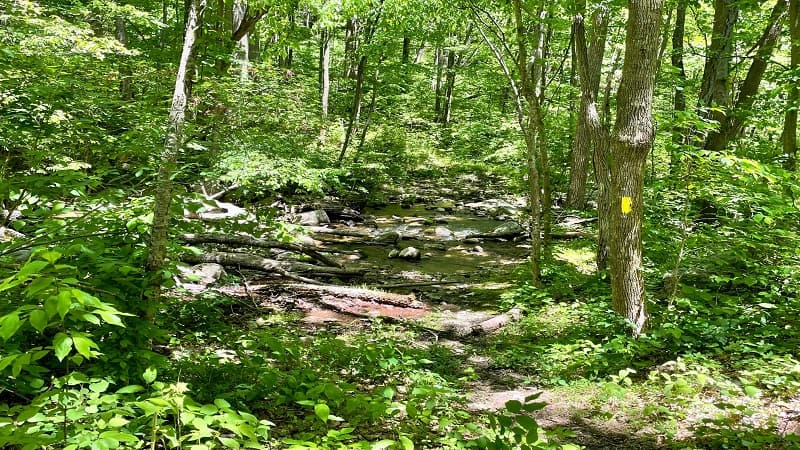 There are actually more than two water crossings on this hike, but the others are very small. You may not even get wet or need to step on stones to cross.
From here until the end, it's pretty much forest, forest, forest. It may feel like you are never going to make it back to the parking lot.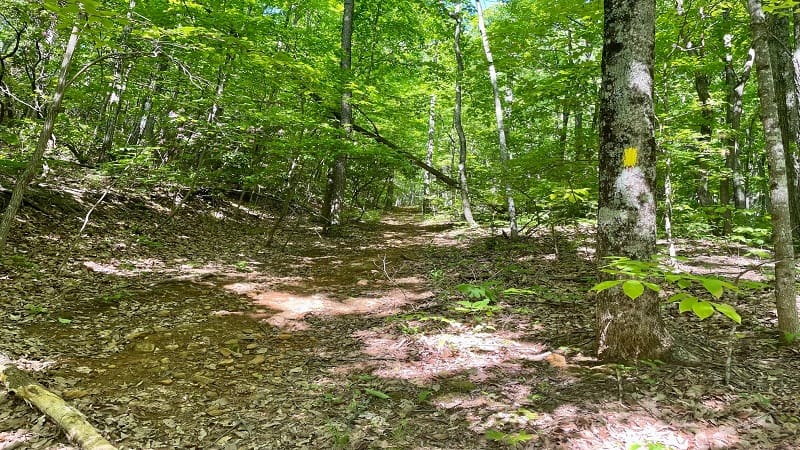 However, there is one final surprise on this loop hike. At the 7.8-mile mark, a faint spur trail leads to a small, shower-like waterfall.
It's the kind of waterfall where you just want to stand under it to get completely soaked and cool down on a hot, steamy day on the hiking trail.
At the 10.0-mile mark, you will close the loop on the Terrapin Mountain Trail. Turn right onto the spur trail. You'll reach the lot at the 10.3-mile mark.
Wrap-Up Notes
From the parking area, this hike took me more than 4.5 hours, including time spent stopping for all the overlooks and water features.
My tip to you is to wear long pants on this hike. There were more than a few overgrown sections of trail on this hike.
I found a tick trying to hitch a ride on my pants. Thankfully, I was wearing light khaki-colored pants, so he was easy to see, and I flicked him away.
This is not an easy hike, but it was very rewarding thanks to several overlooks, cascades, camp sites, a watering hole and a waterfall. Five stars, friends.