Emerald Pond: Hike to a Hidden Spring-Fed Swimming Hole Near New Market, Virginia
I was flipping through Backpacker magazine when I stumbled upon an article on the best lake hikes across the country, including Emerald Pond.
Emerald Pond is in the George Washington National Forest, near New Market, Virginia. This is not a lake. It's a spring-fed pond. I was eager to know more.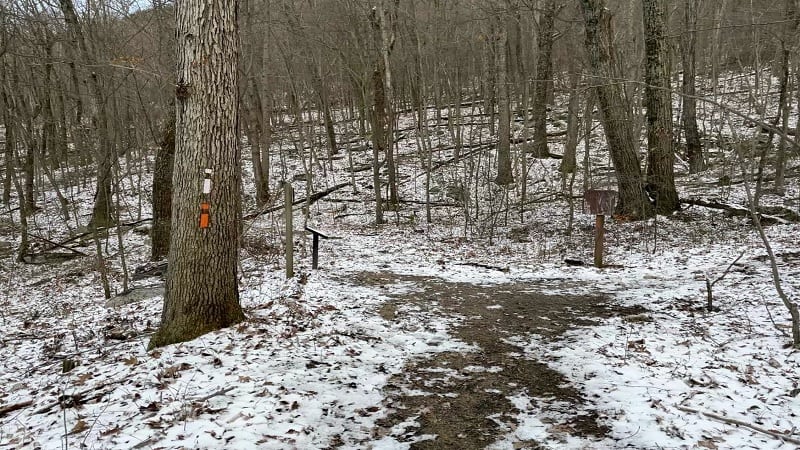 The article incorrectly references hiking an Emerald Pond Trail to reach this hidden gem. However, there is no such trail, at least not in Virginia.
Once you know how to reach Emerald Pond, it's sure to be a hike you will enjoy. Read on for what to know about this delightfully scenic 8.4-mile out-and-back hike.
| Trail Stats | |
| --- | --- |
| Length | 8.4 miles |
| Difficulty | Moderate |
| Trail Type | Lollipop |
| Elevation Gain | 1,601 feet |
| Duration | 3.5-4.5 hours |
| Terrain | Mostly dirt and rock trails, some rock scramble |
| Dog-Friendly | Yes |
| Fee | Free |
| Driving Directions | Click Here |
A short drive off Route 11 in New Market, plan to park in front of the Massanutten Visitor Center (permanently closed). Here you'll find a lot suited for at least 10 cars.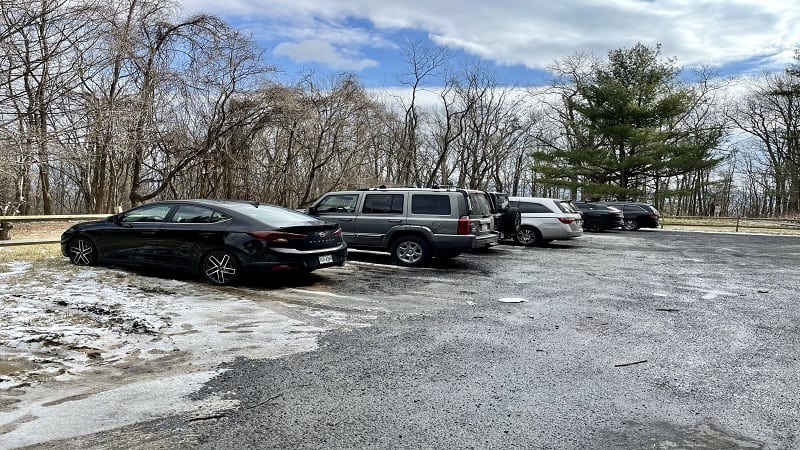 You'll see a picnic table, as well as trailhead signs for the Wildflower Trail and the Discovery Trail. Both are very short trails that lead into the national forest.
Wildflower Trail
This hike to Emerald Pond begins on the white-blazed Wildflower Trail. The trailhead is steps from the one-time Massanutten Visitor Center.
A sign for the Wildflower Trail guides you onto a narrow hiking trail. Interestingly, Stonewall Jackson marched his troops here during the Civil War.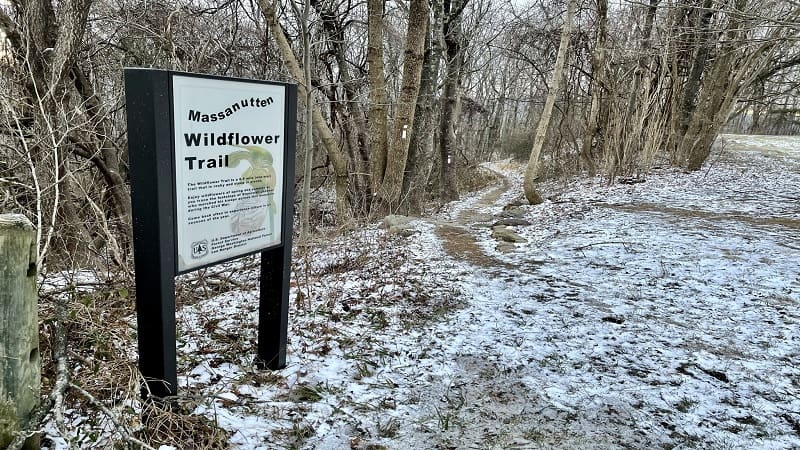 At the .3-mile mark, turn right for the orange-blazed Massanutten Trail. From here, it's a steep climb over the next mile with an elevation gain of 1,000 feet.
Get ready for two rock scrambles. The larger of the two scrambles appears at the .8-mile mark, while a smaller rock scramble is at the 1.2-mile mark.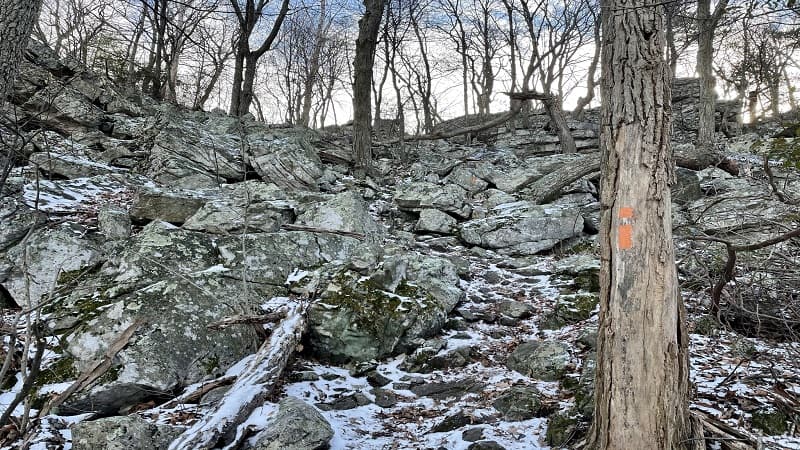 Press on. Your efforts will soon be rewarded. At the 1.3-mile mark, a short spur trail leads to a spectacular west-facing overlook. But wait, there's more.
A larger overlook area follows this first overlook. There are lots of flat rocks to take a much-deserved seat on to re-fuel and re-hydrate after the ascent.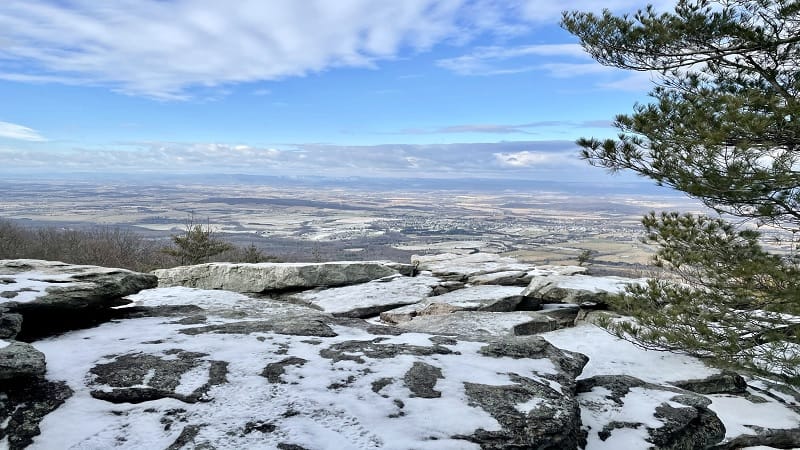 As you proceed, you'll find the trail narrows. There is more forest and more trees. At the 2.1-mile mark, you'll reach a wooden trail marker.
Bird Knob Trail
Stay right for the white-blazed Bird Knob Trail. You will arrive at a clearing at the 3.9-mile mark. Stay left to continue on a barely visible dirt trail.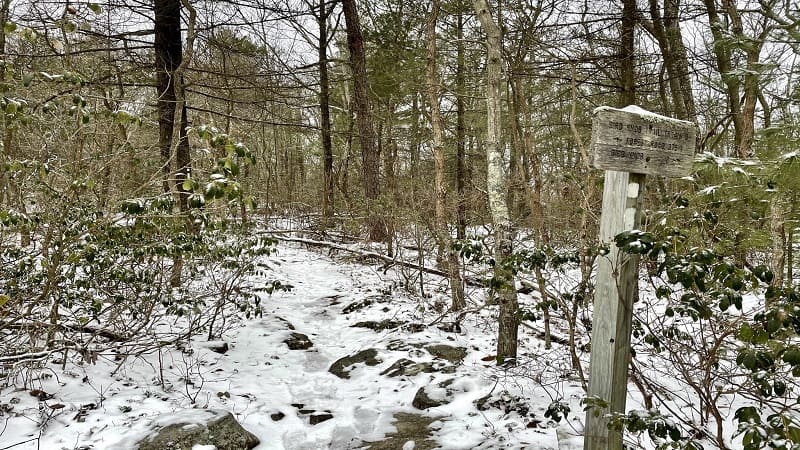 In a few more steps, you will connect with a wide, rocky trail (still Bird Knob Trail). Descend until you reach an unmarked trail on the left at the 4.2-mile mark.
Emerald Pond
It's very easy to walk right past this trail since it's not marked and not at all clear what's there, but if you were to do so, you'd miss the very best part of this hike.
A very short walk up this trail reveals spring-fed Emerald Pond. It's rather striking and you will want to stare out into the small pond for some time.
There is no Bird Knob overlook. With a knob hike, like Molly's Knob or McAfee Knob, I assume there must be a knob view. This hike is all about Emerald Pond.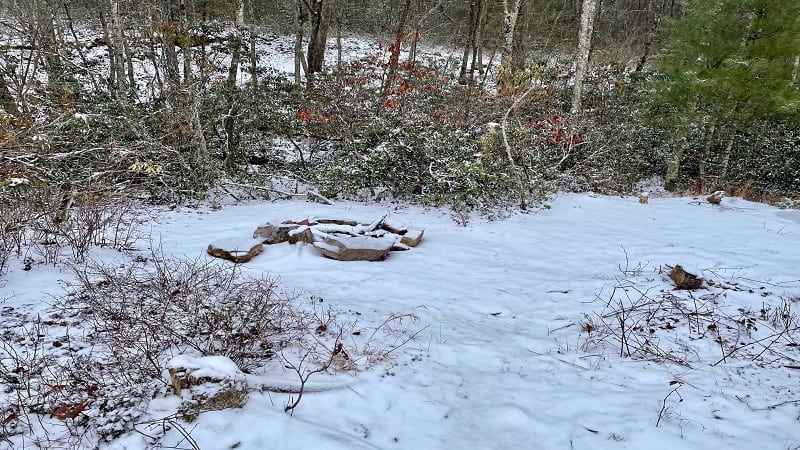 Stroll around the pond on either side and you'll see at least three primitive campsites with stone fire pits. I'm coming back for an overnight in the spring.
Re-trace your steps away from Emerald Pond, then turn left on the gravelly trail. At the 4.6-mile mark, turn left for a steep ascent along a forest access road.
Before you do, however, you'll walk around a "Road Closed" barrier. At this time, you'll note two or three parking spaces just to the right.
You can (somehow) drive to this point for a short quarter-mile walk to Emerald Pond. I spotted a family with small children parked there for a short winter walk.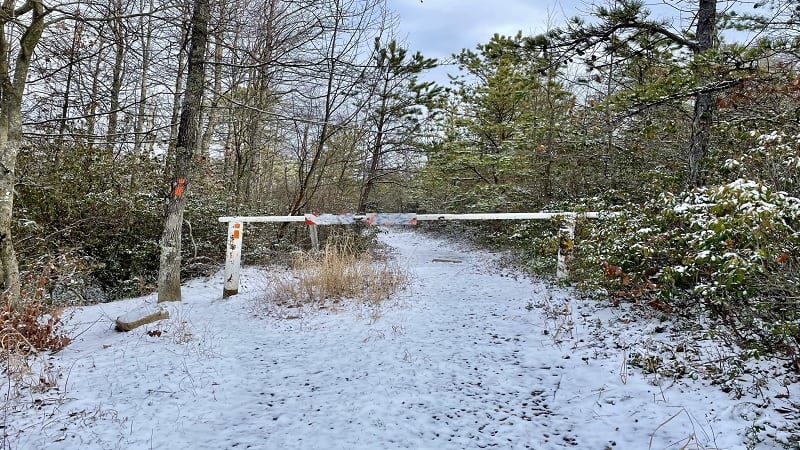 At the 5.1-mile mark, you'll reach a second "Road Closed" barrier. Walk around this one too to re-connect with the Massanutten South Trail.
You will reach a fork in the trail at the 5.4-mile mark. Stay to the right. Then, at the 6.3-mile mark, you'll once more reach the sign marking the Bird Knob Trail.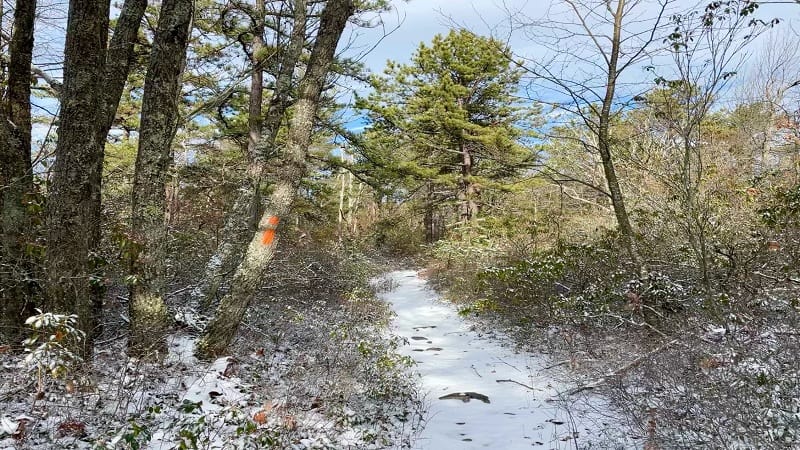 You've now formed and closed a loop. From here, turn right to re-trace your steps along the Massanutten South Trail to the parking area.
Hike Options
If you don't want to hike all the way to Emerald Pond, hike to the overlook at the 1.3-mile mark. Re-trace your steps for a 2.6-mile out-and-back hike.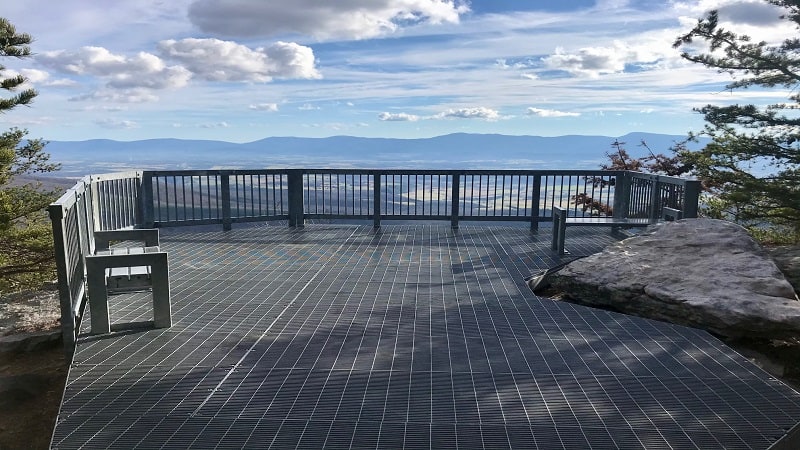 While in the area, don't miss the Storybook Trail. It's an easy .7-mile out-and-back hike on paved trail, but the views are beyond amazing. It's a short 4-minute drive.
Wrap-Up Notes
From the parking area, the Emerald Pond hike took me 3 hours, 15 minutes to complete, including time spent ogling overlook and pond views.
In summer, wear your swimsuit and bring a beach towel to this spring-fed swimming hole. The water is crystal-clear and just right for a refreshing splash.
On the return, it's worth noting that when you reach the Wildflower Trail, you can turn right for a picnic area with a shelter and picnic tables in .2-miles.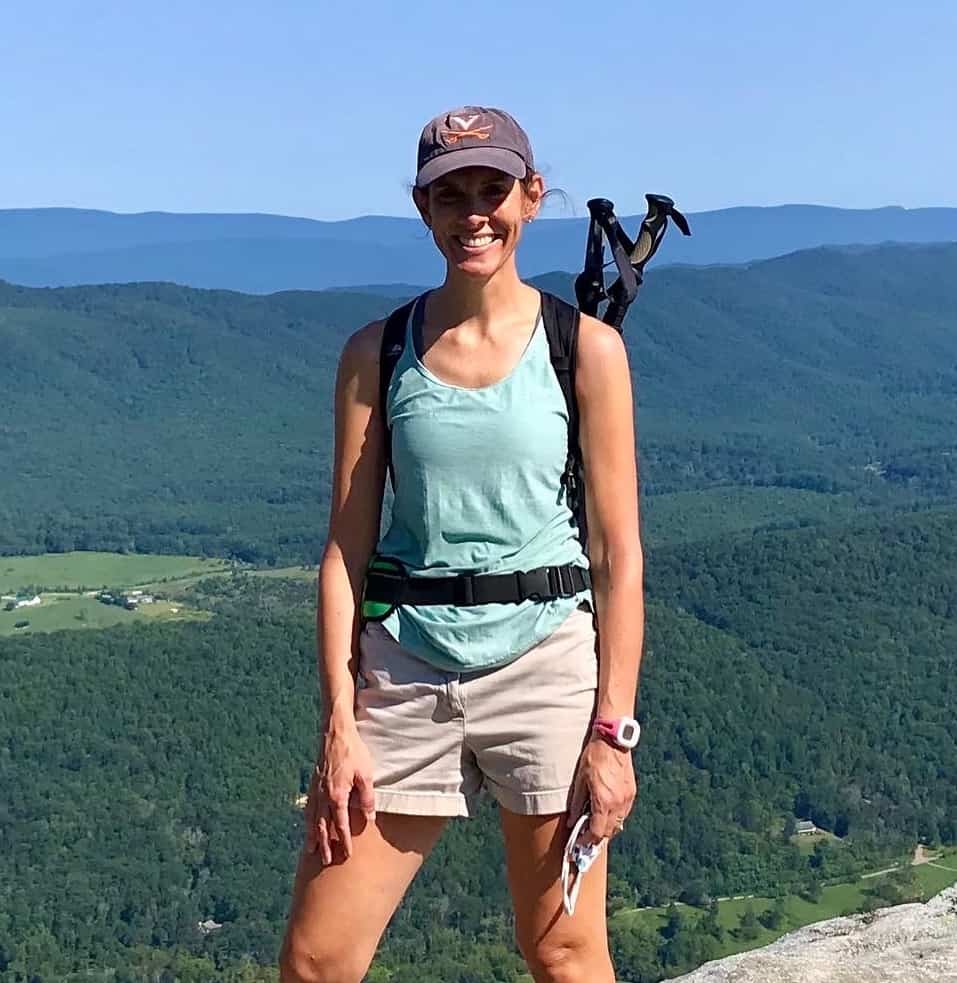 Erin Gifford is the editor of Go Hike Virginia. She has completed more than 300 hikes in Virginia. She is also the author of three hiking guidebooks from Falcon Guides. Need help finding a hike? Check out the Trail Finder feature or send Erin a message.