15 Best Hikes Near Staunton, Virginia
There's a lot of great hiking near Staunton, Virginia, including hikes at Shenandoah National Park and along the iconic Blue Ridge Parkway.
There are hikes for all levels too, from an easy hike around a calm lake to a challenging hike to the top of a historic fire tower.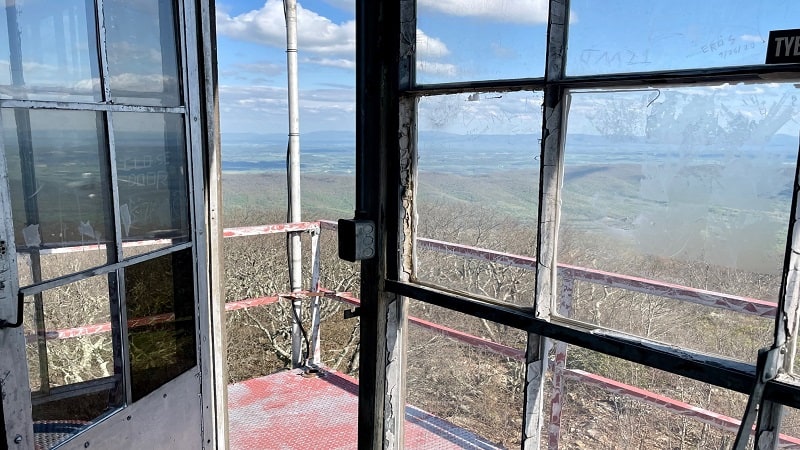 You can't go wrong with hiking trails near Staunton. Even better, there are hotels, breweries, museums and restaurants in Staunton, so stay the weekend.
Hiking Near Staunton, Virginia
To make it easy for you to navigate, I've organized hikes by difficulty level so you know what you're getting into before you step foot on the trails.
For each of the hikes below, I also share what's to love and how far each one is from historic New Street in Staunton. Get ready for some really good hiking.
Easy Hikes
Enjoy an easy-going walk to a scenic meadow or a flowing waterfall. Maybe hike through a historic train tunnel. These hikes near Staunton are for you.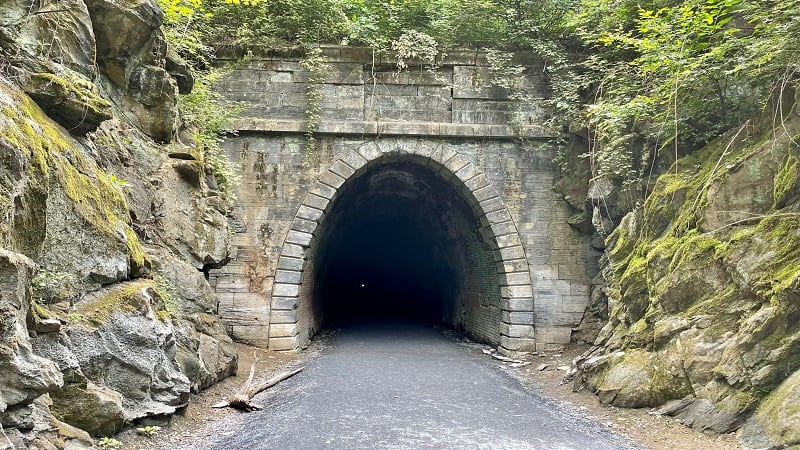 This 4.6-mile out-and-back tunnel hike guides visitors through a historic railroad tunnel from the 1850's. Wear a headlamp. It gets dark in the Blue Ridge Tunnel.
Start at the East Trailhead in Afton, which has a large parking area. This is your best bet. It's also the starting point for most hikers.
This popular trail located under Rockfish Gap opened up to visitors in November 2020. It's been seeing record numbers of trail-goers ever since.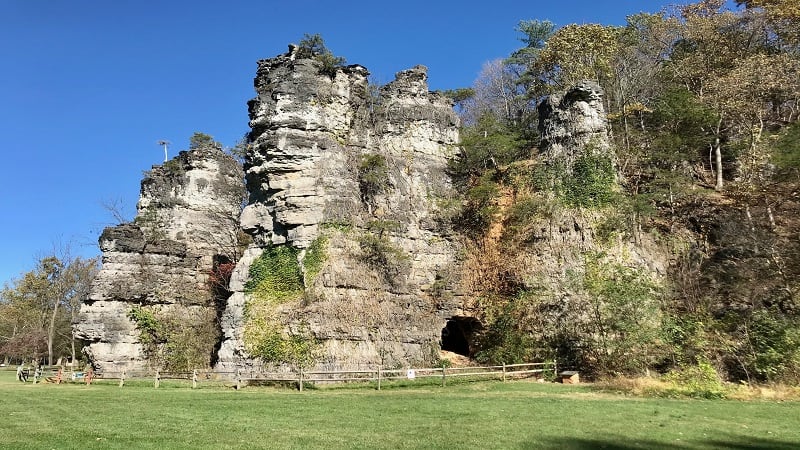 For a geologically-rich hike, look to Natural Chimneys Regional Park in Mount Solon. Imposing limestone formations inspire and awe. They're also really cool.
This 1.9-mile loop hike starts on the Overlook Trail, guiding visitors atop the natural chimneys before winding along the North River on the River's Edge Trail.
The towering chimneys are interesting to explore, but look low for caves, sinkholes and tunnels created by exposure and natural erosion over the years.
Lake Shenandoah is a 36-acre public fishing lake that is owned and managed by the Virginia Department of Wildlife Resources.
Around the lake is a 1.6-mile walking trail. Much of the trail is crushed gravel, but there is a short section that is rugged and not stroller-friendly.
At the start of the trail, eight interpretive signs educate visitors on wildlife and conservation, including pollinator-friendly practices and honey bees.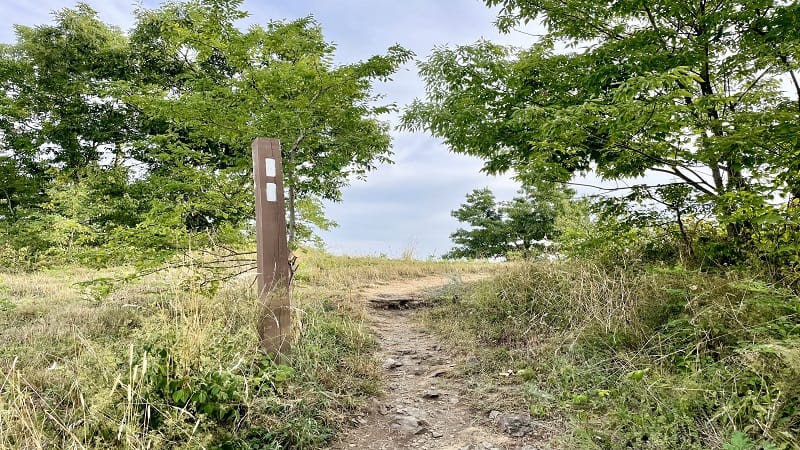 The out-and-back hike to the summit of Little Calf Mountain is short and sweet. It's a nice hike to end the day if you want to squeeze in one more.
This hike is a stone's throw from the Rockfish Gap entrance of Shenandoah National Park. It's an easy one to do if you're spending time at the park.
The summit of Little Calf Mountain is not a rocky outcrop. Instead, it's a lovely meadow. The scenic views are eye-pleasing, especially late in the day.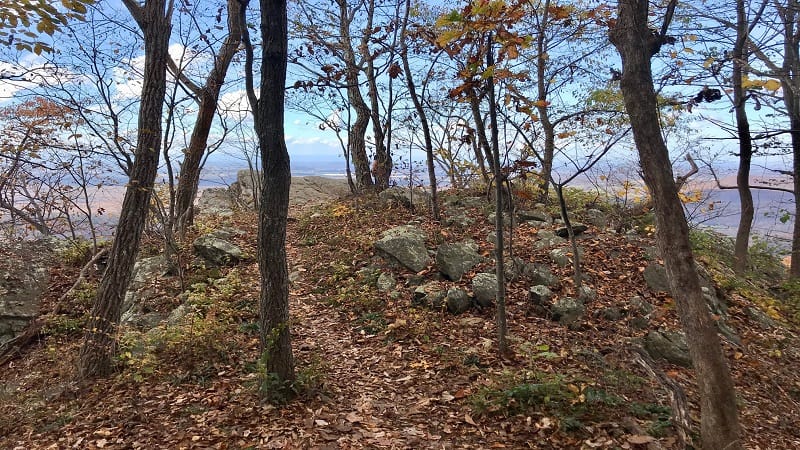 The Dripping Rock South hike starts across the Blue Ridge Parkway from the Dripping Rock parking area (more a pull-out than an actual parking lot).
The 2.8-mile out-and-back hike leads visitors along a wooded southbound section of the Appalachian Trail. Get ready for two wide-open overlooks.
The Cedar Cliffs overlook comes into view at the .5-mile mark. A second overlook is at the 1.4-mile mark. This is the turn-around point for this hike.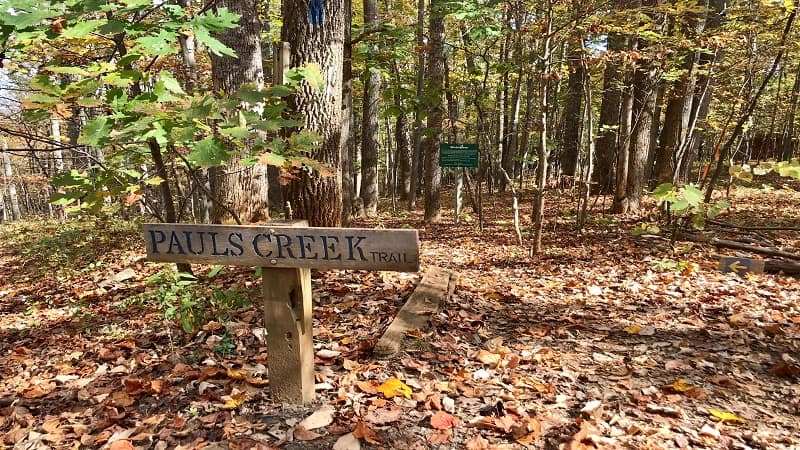 The Paul's Creek Trail is on the east end of Wintergreen Resort. It's so serene you may feel like you're the only one who knows about this 1.2-mile hike.
It's a peaceful walk through the forest before you need to skip on rocks over a gently-flowing creek. Then, a cascading waterfall. Serenity now, friends.
The trailhead for this hike is at the end of Paul's Creek Court. Revel in the natural water slides as they stream into the cold basin of creek water.
Moderate Hikes
These hikes near Staunton are between two and five miles. There's more elevation, but also more vistas, cascading waterfalls and fun rock scrambles.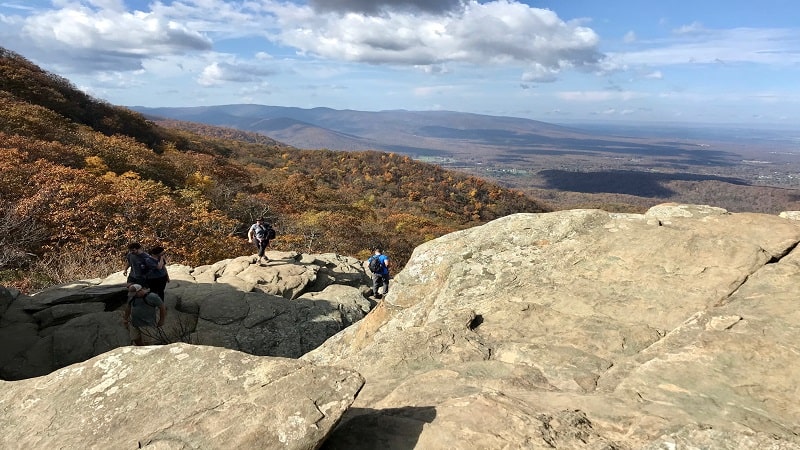 Whether you complete Humpback Rocks as a 4.3-mile loop or a 2.0-mile out-and-back hike, you will be awed by scenic 360-degree panoramas.
The climb is not for the faint of heart. Thankfully, a few benches and a wooden staircase on the way up ease the climb to the rocky summit.
On the way down, re-trace your steps or follow a wooded stretch of white-blazed Appalachian Trail to return to the Humpback Gap Overlook parking area.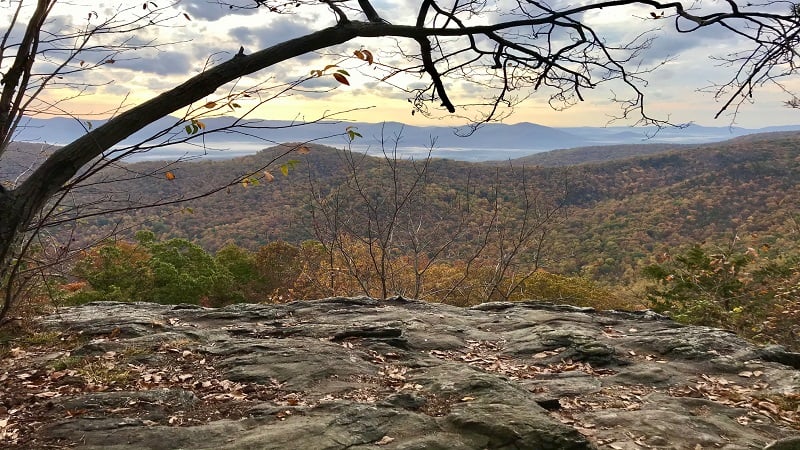 The 3.8-mile hike on the Jack Albright Loop shares a parking lot with the wildly popular Humpback Rocks hike. This means, plan to arrive early.
The Glass Hollow Overlook at the 1.0-mile mark (counter-clockwise) inspires with panoramas across the Blue Ridge Mountains and Rockfish Valley.
Look for the remains of a 1960's plane crash – a Beechcraft Bonanza. What's left of the wreckage is located up an unmarked spur trail at the 2.5-mile mark.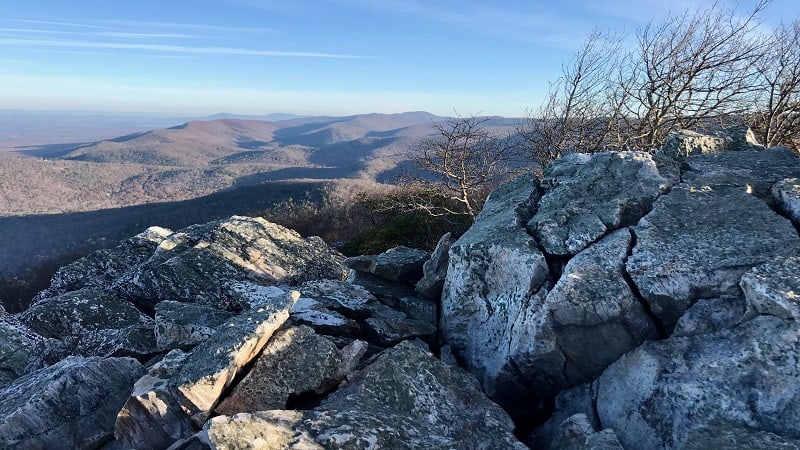 The Turk Mountain hike starts on the west side of Skyline Drive, across from the Turk Gap parking area at Shenandoah National Park.
This 2.5-mile out-and-back hike is not steep for a summit hike. Get ready to be wowed by rock scrambles, leafy trails and big mountain views.
Listen closely. You may hear a train whistle in the distance. The Amtrak train choo-choos through nearby Staunton in the Shenandoah Valley.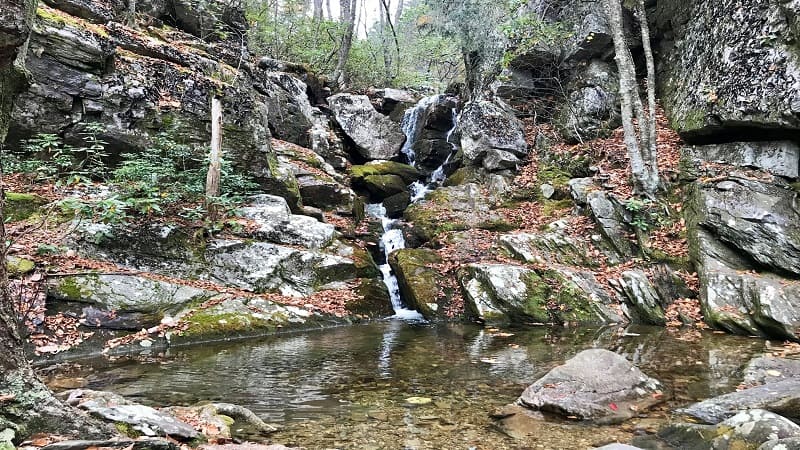 It's easy to love this 4.4-mile loop hike to and beyond White Rock Falls. Plan for water crossings, scrambles, a waterfall and scenic viewpoints.
Get up close to the 30-foot-tall tumbling falls, then take off your shoes to splash in the refreshing waterfall basin. It's seriously a delight.
Less than .5-mile past the falls, a rocky overlook wows with panoramas. At the 2.7-mile mark, the Slacks Overlook awaits with vistas and a picnic table.
In the Hone Quarry Recreation Area of George Washington National Forest, the 2.7-mile out-and-back hike to Hidden Rocks has more than large rocks.
Get ready to navigate water crossings, rhododendron thickets and small, refreshing falls that turn up here and there along the Hidden Rocks Trail.
Northwest-facing views from the top of Hidden Rocks are perfect for a colorful sunset. You'll find a fire pit and primitive camp site atop Hidden Rocks, too.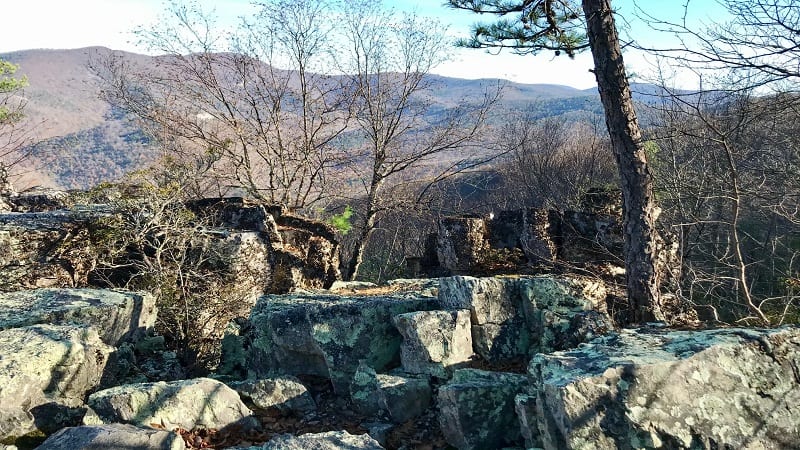 This 3.2-mile out-and-back hike is a two-for-one deal for rock hounds, introducing eager hikers to both Calvary and Chimney Rocks.
It's kind of a three-for-one deal given all the mid-size and large rocks you'll see as you pass through a talus slope at the mid-way point on this hike.
Calvary Rocks is a mystical wonderland of super-size rocks to scramble for wide-open vistas. Chimney Rock is a scenic overlook with plenty of flat top rocks.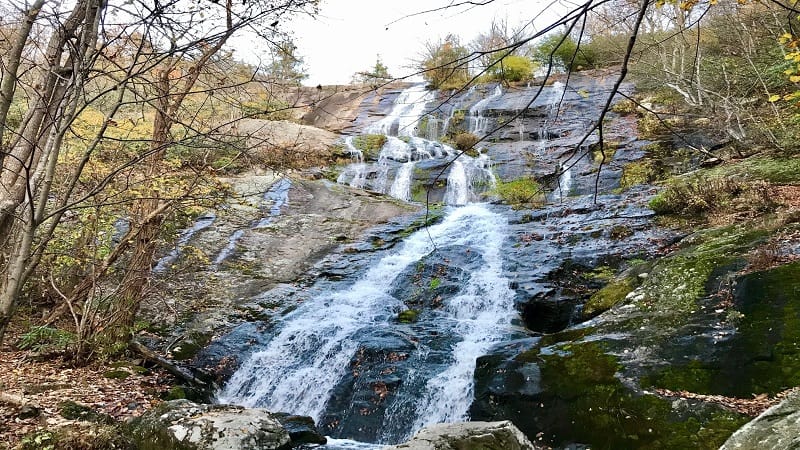 Crabtree Falls is brilliant thanks to its dramatic cascades and rewarding views across the Blue Ridge Mountains from the top of the 1,214-foot-tall falls.
Crabtree Falls is the "highest vertical drop cascading waterfall east of the Mississippi River." Believe it or not, it's taller than the Eiffel Tower (984 feet).
This show-stopping waterfall impresses hikers with five tumbling cascades that are within view all the way to the top along Crabtree Creek.
Strenuous Hikes
For a challenge, as well as plentiful views, these ambitious hikes near Staunton are for you. Bring snacks and plenty of water to stay hydrated on these hiking trails.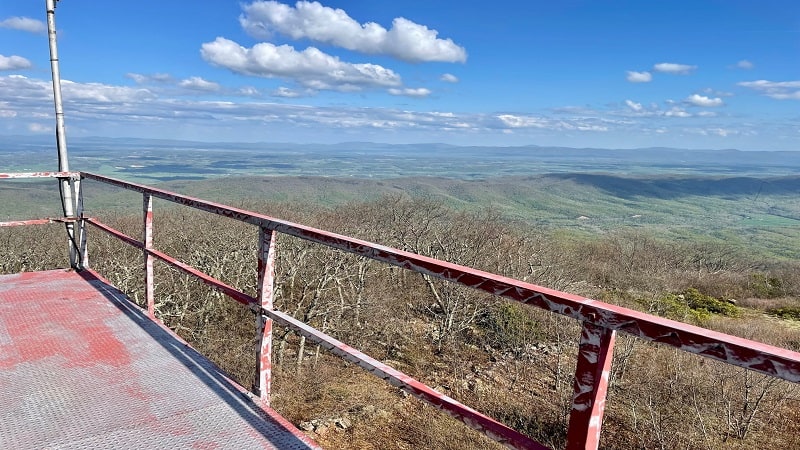 If you like a challenge, as well as big views from atop a three-story fire tower, then the 9.2-mile out-and-back hike to Elliott Knob is for you.
There's no question, this hike will torch calories, especially the fourth mile when the elevation gain tops 900 feet. You've got this. Just take it slow.
Elliott Knob is the highest point in Augusta County and forms the crest of the Great North Mountain. From the fire tower, take in scenic 360-degree views.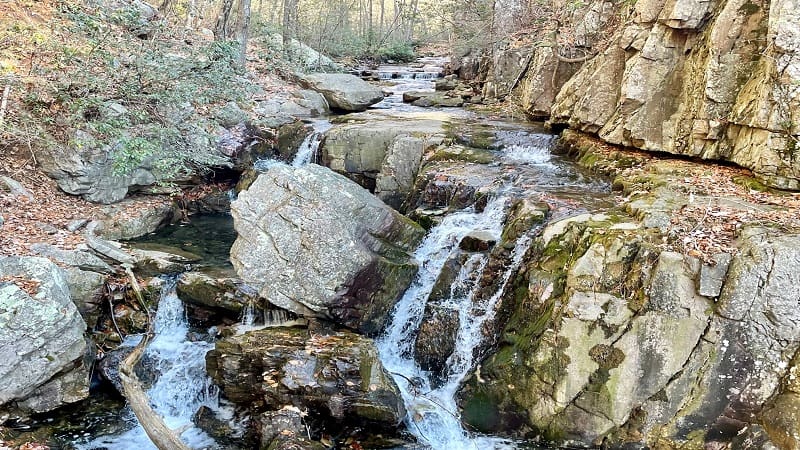 The 9.8-mile Riprap Loop shares a trailhead with Calvary and Chimney Rocks. The loop includes the Appalachian Trail, Riprap Trail and Wildcat Ridge Trail.
A clockwise loop saves the rewarding overlooks, water crossings and cascading falls, even a swimming hole, for the latter half of this hike.
You'll reach Chimney Rock at the 8.1-mile mark. Sit on a flat top rock to revel in mountain views. From here, it's less than two miles to the end of the hike.