Sugar Run Mountain: A Vista-Filled Appalachian Trail Hike Near Pearisburg, Virginia
The hike to the top of Sugar Run Mountain near Pearisburg, Virginia rewards with big views, but you've got to do this hike the right way. As in, counter-clockwise.
This 10.8-mile loop hike is not short. It's also not short on elevation thanks to a 2,000+ foot elevation gain. However, I think you will like this hike.
* Before I go on, watch a short video I made when I hiked Sugar Run Mountain. *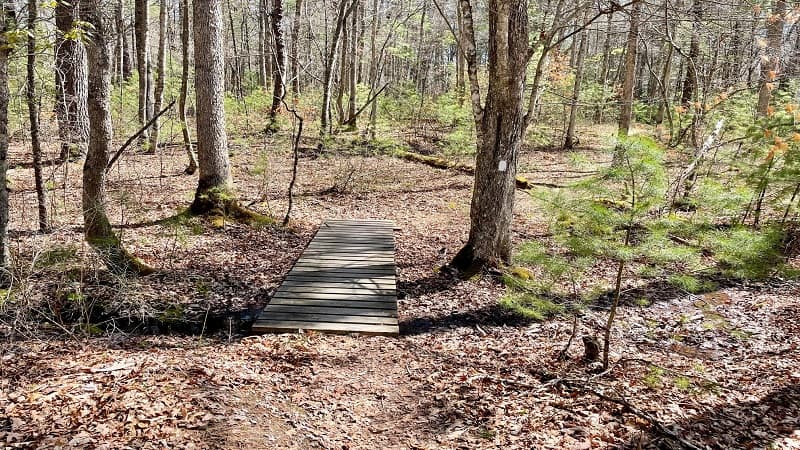 If you look at the map, you may wonder why you should do a 10.8-mile loop. I mean, you can also reach the top by way of a 6.2-mile out-and-back hike.
I'll explain, but for now, just trust me. I would not suggest clockwise or this hike as an out-and-back hike to anyone. Two words: Ribble Trail.
| Trail Stats | |
| --- | --- |
| Length | 10.8 miles |
| Difficulty | Strenuous |
| Trail Type | Loop |
| Elevation Gain | 2,008 feet |
| Duration | 5.5-6.5 hours |
| Terrain | Mostly dirt & gravel trails |
| Dog-Friendly | Yes |
| Fee | Free |
| Driving Directions | Click Here |
Finding the Trailhead
Somehow, finding the trailhead was among my biggest challenges on this hike after I parked in the small lot on U.S. Forestry Road.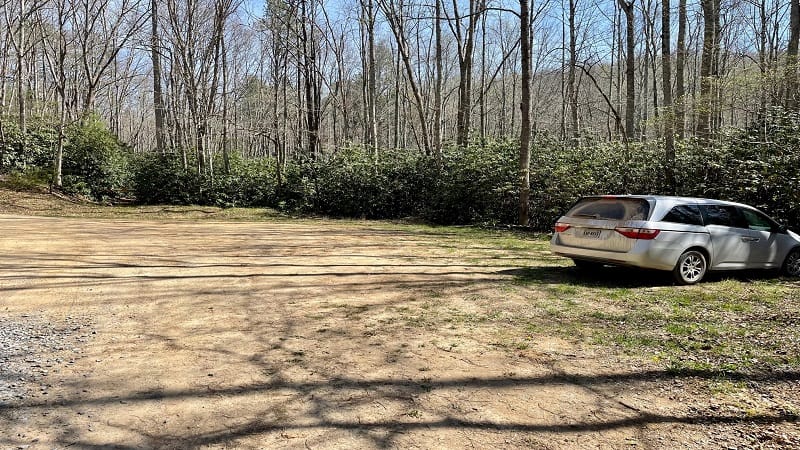 I literally started and stopped this hike three or four times before I actually got on my way to the top of Sugar Run Mountain.
From the dirt lot, there are three entrances into the rhododendron-dense forest. They are all so close to each other that's it hard to tell which is the right route.
To make this story short, enter by way of the middle entrance. You will see a blue blaze (a narrow spur trail) that leads to the Ribble Trail.
You will cross over Dismal Creek and you'll just have to trust that you are going on the right direction. At the .6-mile mark, you will reach the Appalachian Trail.
Appalachian Trail
You will see a sign for the Appalachian Trail nailed to a tree. Follow in the northbound direction to Sugar Run Mountain. From here, follow the white blazes.
One of my favorite parts about this hike is that the trail doesn't hit you with a steep ascent from the get-go. In fact, it's nearly flat for 3.0 miles.
That doesn't mean you shouldn't do some hiking stretches before you get moving, but it helps that the trail allows you a few warm-up miles.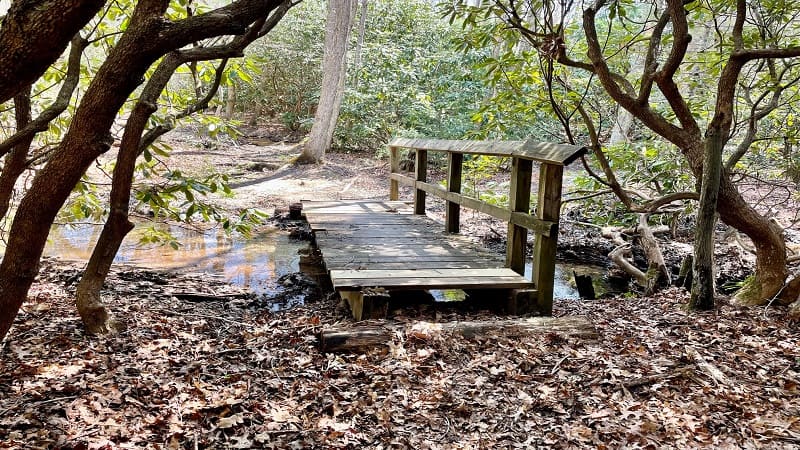 As you hike, you'll encounter sections of mixed forest and dense rhododendron tunnels. You'll also cross over at least nine small wooden bridges.
You may want to hike quickly across the flat section, but don't go too quickly or you will miss a gorgeous high elevation pond. It's a beautiful green, too.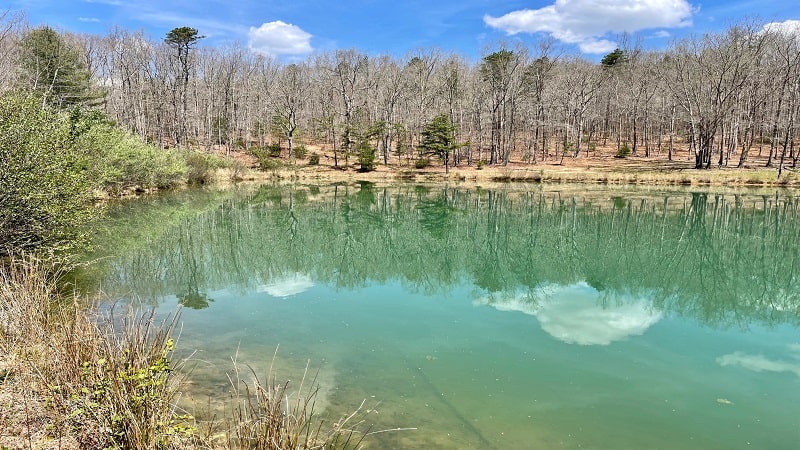 As I was hiking, I spotted a spur trail at the 2.4-mile mark. I did not know what to expect, but woah, the pond was completely breathtaking.
You'll see a couple of camp sites across the pond. Re-trace your steps to the Appalachian Trail and continue on, but you'll soon be next to the pond once more.
That's right, you don't need to hike up the spur trail to see the pond, but honestly, I thought the views were best from the pond's southwest edge.
Wapiti Shelter
At the 2.8-mile mark, turn right to wander down a short spur trail to Wapiti Shelter. This typical lean-to shelter is common on the Appalachian Trail.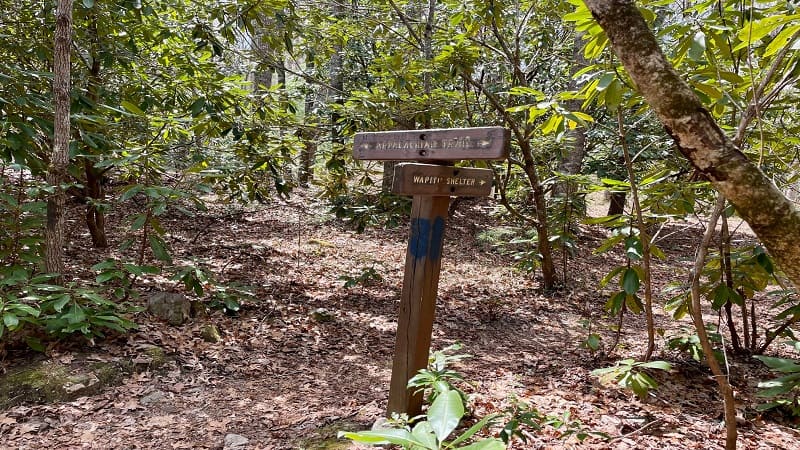 There is a picnic table and a fire ring, as well as a lot of open spaces for tents. I met a section hiker there, as well as a thru-hiker as I was leaving the shelter.
Wapiti Shelter is a nice place to stop for lunch, maybe mentally collect yourself as you prepare for the somewhat-ruthless climb to the top of Sugar Run Mountain.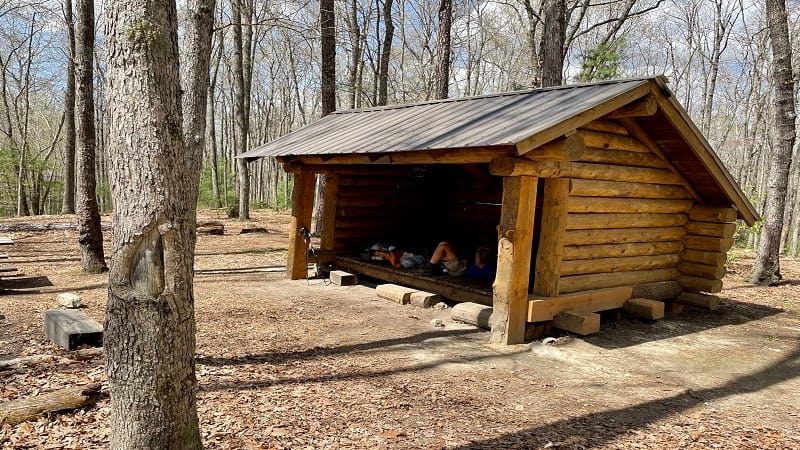 The Climb
Once you exit the shelter, and return to the Appalachian Trail, the climb begins. It's gradual at first, but then it starts to get steep with each step.
Before it does, you'll cross over Dismal Creek at the 3.4-mile mark. The gently cascading water is so beautiful and refreshing. So calming, too.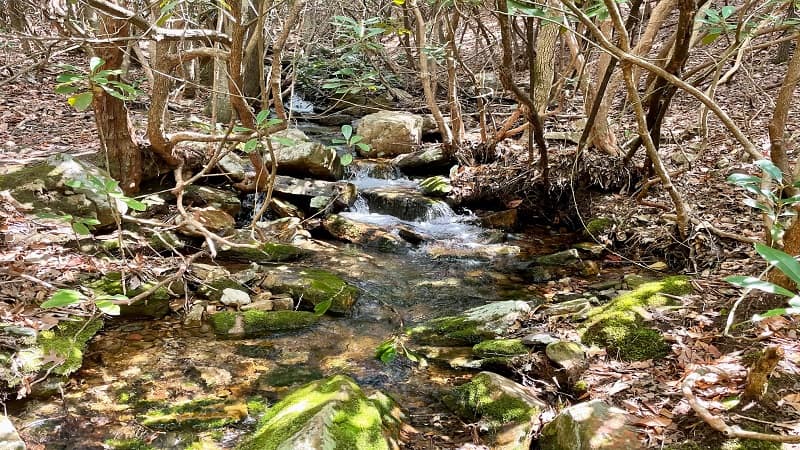 Near the 3.5-mile mark, the grade increases. I recall seeing a few southbound hikers coming down the mountain. They looked so fresh. I was envious.
All I can say is dig deep. You will reach the top. You'll definitely want to stop to take breaks here and there. Maybe at the camp site at the 5.2-mile mark.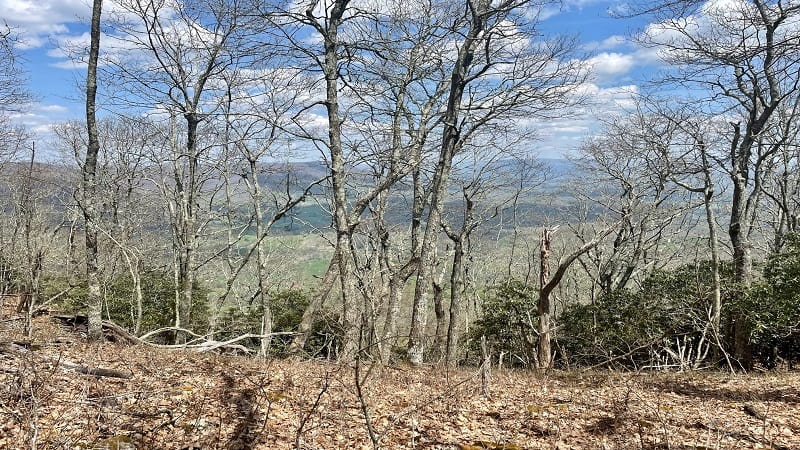 In a few more steps, you'll be rewarded with nice views to the north from a rocky outcrop that's just off the trail. It's a nice break from the climb.
Breathtaking Vistas
At the 7.6-mile mark, look for a spur trail that sets off to the right. It can be easy to miss, though there is a marker for the Appalachian Trail to the left.
From here, it's just .1 mile to the rocky overlook. You'll pass several radio towers, which may be why the spur trail is largely unmarked.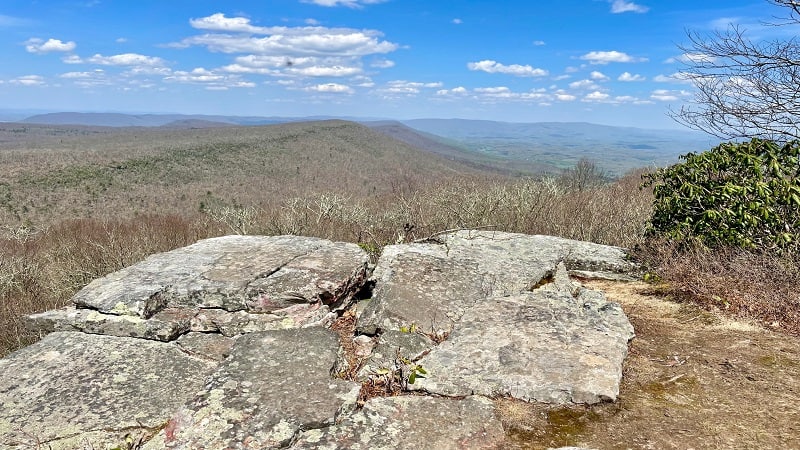 There is a large fire pit just steps from the overlook, which wows with northeast-facing vistas across the Wilburn Valley.
This rocky outcrop essentially looks across to Pearis Mountain, which has southwest-facing views across the Wilburn Valley.
Ribble Trail
After hiking 7.7 miles, you'll wish the hike was complete, but you still have another 3.1-miles ahead of you, largely on the blue-blazed Ribble Trail.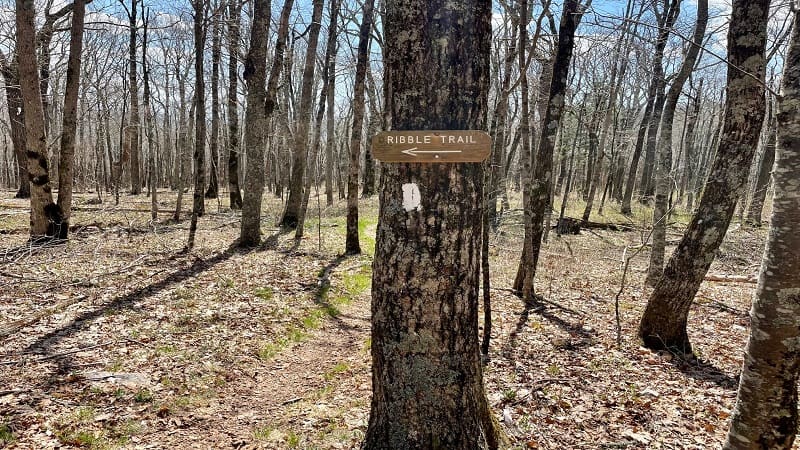 From the overlook, re-trace your steps, then continue on the northbound Appalachian Trail for another .7 miles.
At the 8.5-mile mark, you'll see a sign for the Ribble Trail. Turn left here and slowly begin your descent to the parking area.
You'll first pass by the remains of an old wooden home. Then, it starts to get very steep on a narrow path (more like a ditch) that's covered with leaves.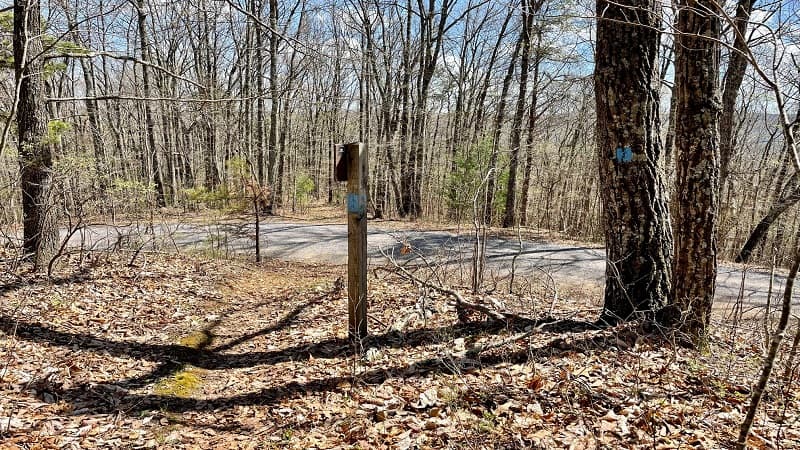 I did not like this section at all. At. All. It was narrow and the path was carved out, like a ditch, so it was a challenge. But, it would be more of a challenge to climb.
You'll then cross over a gravel road twice before reaching a beaver dam at the 9.9-mile mark. In a few steps, the trail flattens as you near the finish line.
At the 10.8-mile mark, you'll reach a gate. Jog left, then jog right, then you're back in the parking area. Hike complete. Celebrate.
Wrap-up Notes
From the parking area, this hike took me nearly five hours, including time spent chatting with a hiker at the shelter and ogling the overlook views.
If you're spending a few days in the Pearisburg or Blacksburg areas, there are a few hikes to check out, including Angel's Rest and Cascades Falls.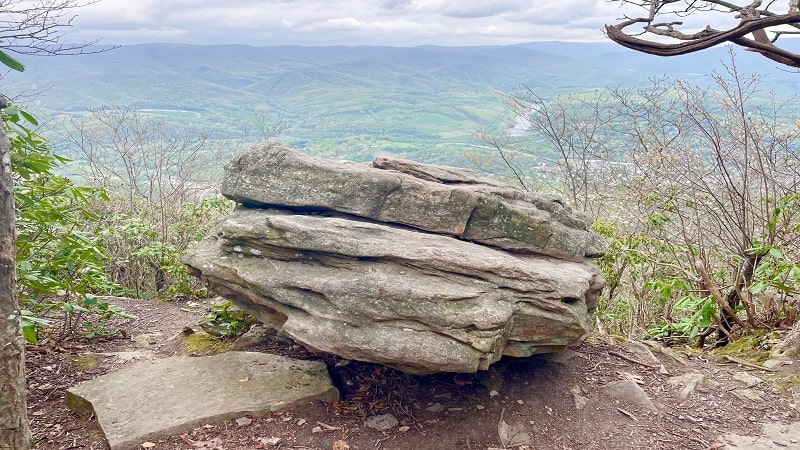 Both hikes are fantastic, and I'd do them both again. Unfortunately, I live more than a few hours from either one, but I'll be back one day.
Sugar Run Mountain is also very near to Wood's Hole Hostel, a popular stop with AT thru-hikers. If you can, drop off goodies for hikers, like apples or cold sodas.