Hughlett Point: A Hidden Coastal Gem on Virginia's Northern Neck
I recently found myself on Virginia's Northern Neck (again). It's quickly becoming one of my favorite sections in the state. It's so quiet and serene, so mellow.
This time, I was there for a coastal hike at Hughlett Point Natural Area Preserve in Kilmarnock. This was a "research hike" for my upcoming guidebook on coastal trails.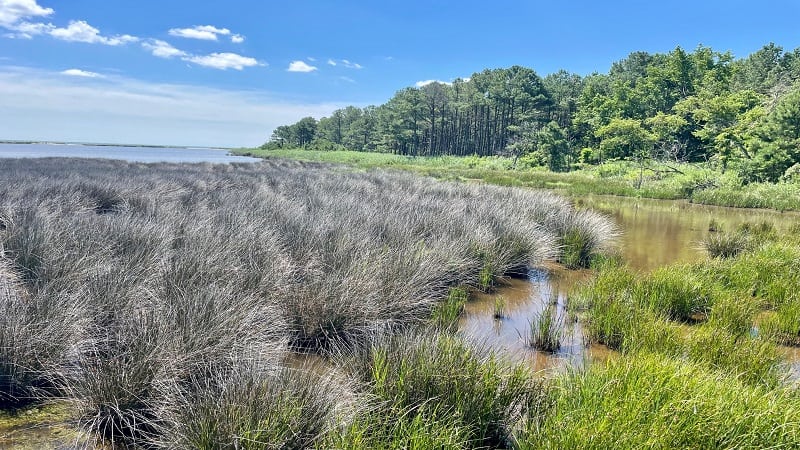 Situated on a small peninsula, this 204-acre nature preserve is a hidden gem in Northumberland County, a county that may be better known for farming and fishing.
As you drive to the parking area you'll pass acres upon acres of corn and soybean fields. You would have no idea this sandy shoreline and coastal hike in Virginia even existed.
| Trail Stats | |
| --- | --- |
| Length | 1.8 miles |
| Difficulty | Easy |
| Trail Type | Loop |
| Elevation Gain | 20 feet |
| Duration | 1 hour |
| Terrain | Mostly dirt, gravel & sand trails, some boardwalk |
| Dog-Friendly | Yes, on a leash |
| Fee | Free |
| Driving Directions | Click Here |
Arriving at the Trailhead
You will drive along small country roads, passing family farms all along the way, until at last, you see a sign for the Hughlett Point Natural Area Preserve.
The parking lot is small, with room for maybe a dozen cars. A sign adjacent to the trailhead notes that when the lot is full, it's full. As in, make plans to go elsewhere.
I arrived late-morning on a Wednesday, so thankfully there was still a space or two left for me. The trailhead is located in the northeast corner of the parking lot.
The First Steps
This easy-going 1.8-mile hike begins on a stretch of boardwalk trail across a wet coniferous forest. But first, make time to read up on Jessie Ball duPont.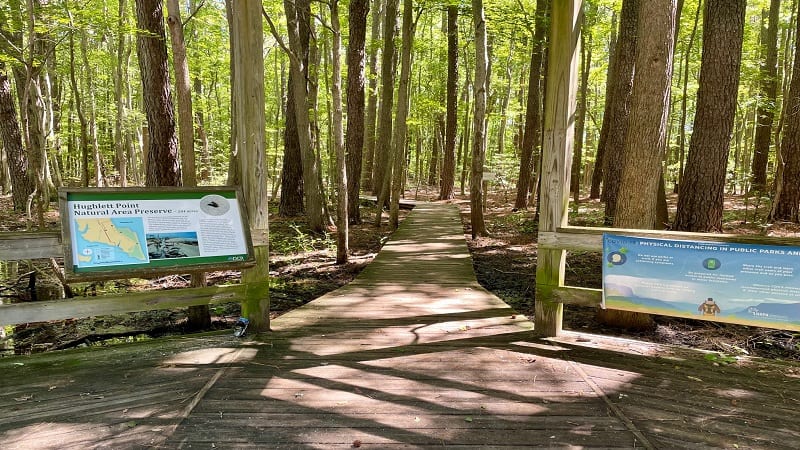 At the start of the trail, a placard educates visitors on Mrs. duPont's contributions to the area as a schoolteacher, philanthropist and historic preservationist.
Walk along the shaded boardwalk trail until you reach a large trail kiosk at the .1-mile mark. You'll also see a trail marker. Turn right here for the observation decks.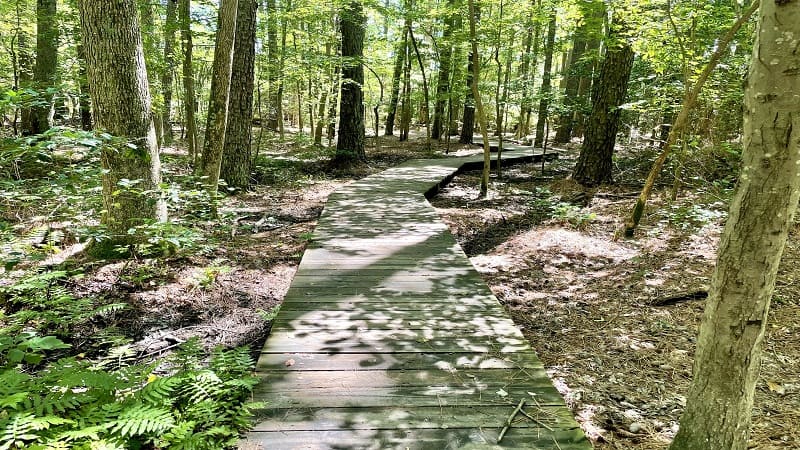 From here, the trail turns to dirt and gravel as it makes its way through a mostly shaded upland forest. You'll enjoy a mix of loblolly pines and hardwood varieties.
At the .4-mile mark, turn left for the north observation deck. It's a sunny walk along a boardwalk to a scenic platform with far-reaching views across the salt marsh.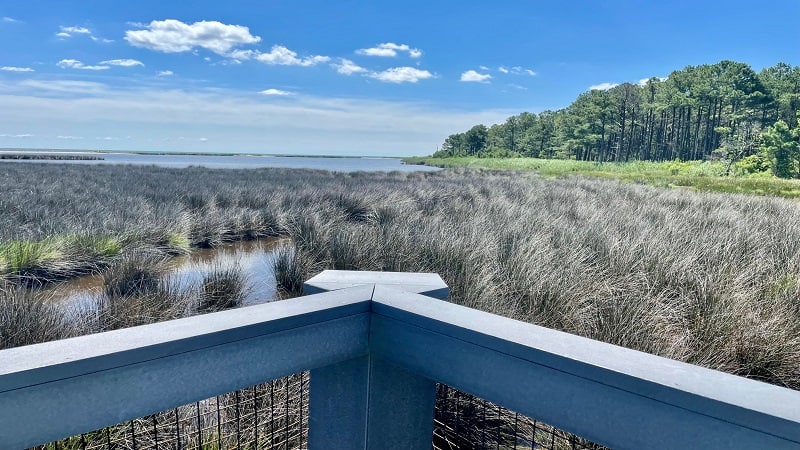 There are two benches so you can sit and savor the views. A placard educates on the challenges of the Chesapeake Bay to seafarers, like shifting winds and choppy seas.
Re-trace your steps, then turn left to continue on the main trail. At the .9-mile mark, you'll reach the octagon-shaped south observation deck for more sweeping views.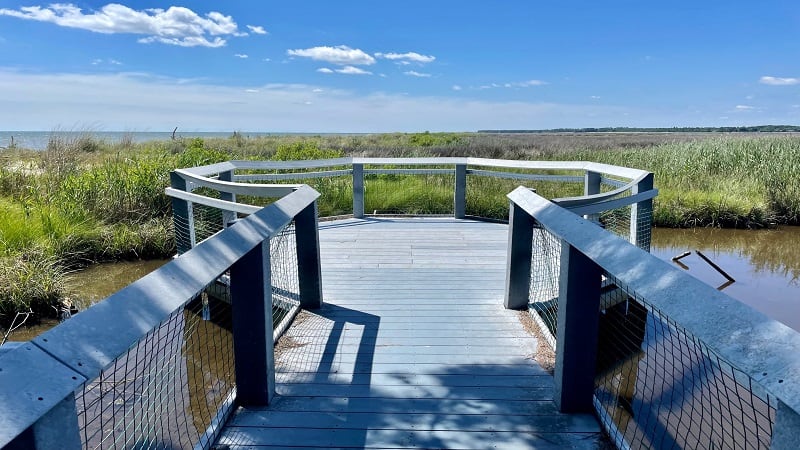 From the platform, turn left to walk out onto the sandy shoreline at Ingram Cove. As the waves gently lap along the soft sands, proceed north on the Shore Loop.
Take your shoes off to walk the sandy strip of beach in between lush wetlands on the left and the Chesapeake Bay on the right. You'll feel worlds away from farm fields.
Like Savage Neck Dunes Natural Area Preserve on Virginia's Eastern Shore, this nature preserve is also home to the threatened northeastern beach tiger beetle.
The tiger beetle is so rare that it can now only be found at two sites outside the Chesapeake Bay. These beetles are vulnerable to any kind of beach sand disruptions.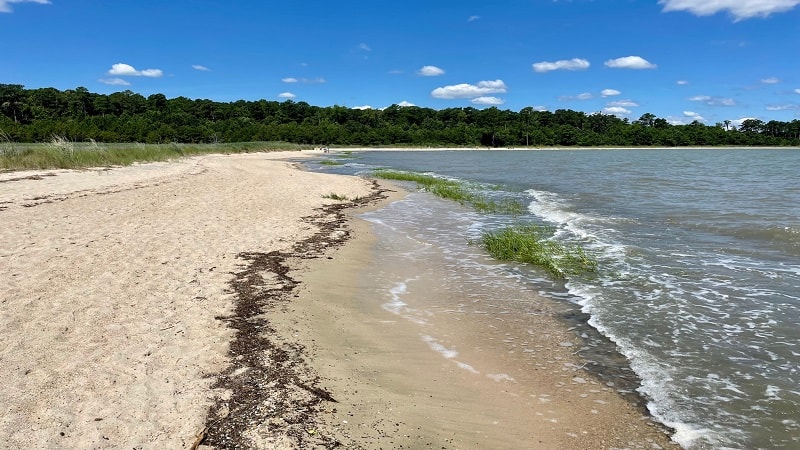 At the 1.6-mile mark, keep your eyes open. There is no trail marker to indicate where the Shore Loop re-connects with the shady, forested trail to the parking area.
The sandy trail on the left that leads into the forest is marked (as far as I can tell) by a large, full loblolly pine. At the base is a narrow trail leading into the shaded forest.
If you miss this exit, you'll end up walking another .1-mile down the beach until you reach a sign that notes you can go no further. Simply turn around and try again.
Once you reach the main trail, you'll note that it quickly veers to the left, at which point you will see the large trail kiosk. Turn right here and re-trace your steps to your car.
Wrap-Up Notes
From the parking area, this Coastal Virginia hike took me 45 minutes, including time spent snapping photos and savoring the views from the overlooks.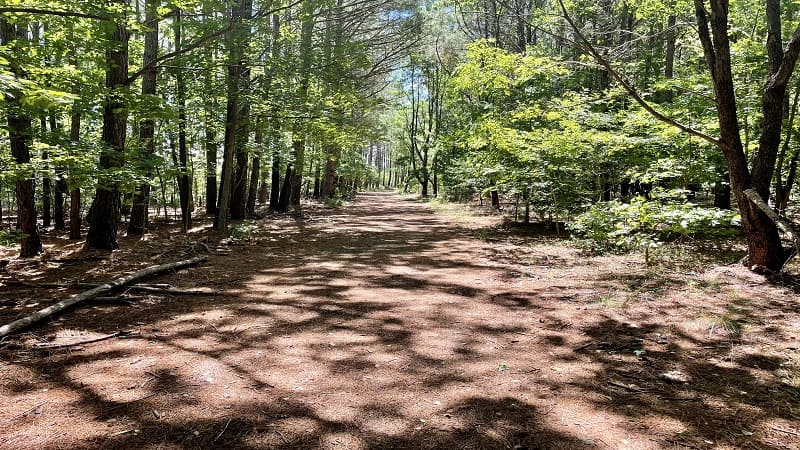 The waves here may not be surfing waves, but they are especially nice for an afternoon at the beach. Bring a picnic lunch to enjoy sunny days on the shoreline.
However, leave the sand toys at home in order to minimize impact to the sand and potential harm to the population of protected tiger beetles at Hughlett Point.
For a second hike in the area, look to Hickory Hollow Natural Area Preserve in Lancaster. Here, a 2.9-mile loop hike around a mixed pine-hardwood forest awaits visitors.