7 Spectacularly Scenic Knob Hikes in Virginia
I wasn't exactly sure what a "knob" was, though it seems Virginia has quite a few knob hikes that wow with far-reaching panoramas.
One definition describes a knob as a "prominent, rounded bump along a mountain ridge." That sounds about right, and we have some amazing ones in this state.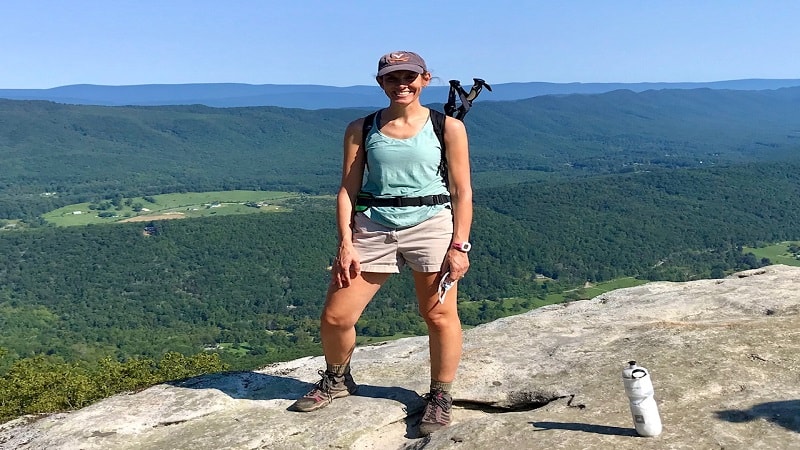 Not just McAfee Knob either, which is known by so many as part of the Virginia Triple Crown. Bald Knob in Pembroke is one of my faves for wildly colorful sunsets.
Here are seven fantastic knobs across the state that are absolutely incredible hikes. I'd complete every one of these hikes again a minute. Enjoy and savor the views, friends.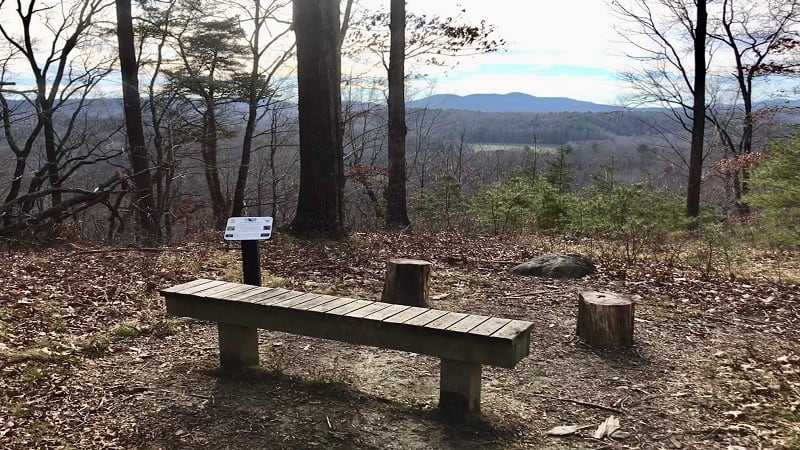 Little Mountain Falls may get all the love at Fairy Stone State Park, but the hike you really want to do is on the other side of Fairy Stone Lake, at Stuart's Knob.
Stuart's Knob was the site of an iron mining operation from the late-1700's to the early-1900's. Today, mine openings remain here and there across the mountain.
Plan to cobble together several trails at Stuart's Knob for surface mines, as well as scenic lake and mountain overlooks along the Upper and Lower Stuart's Knob Trails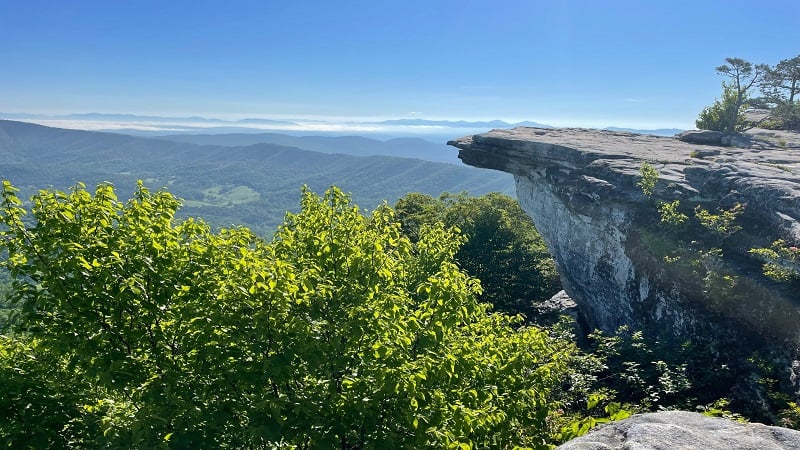 It's a steady climb over 4.0 miles to reach McAfee Knob. However, you will be beyond wowed by far-reaching views of Catawba Valley, Roanoke Valley and North Mountain.
With regard to the Appalachian Trail, there are two options. You can take the AT all the way to McAfee Knob. Or, you can start on the AT, then hook up with a fire road for 2.2 miles.
The wide fire road is a good option if you're hiking with a group or with kids. It's definitely the easier option. Once you reach McAfee Knob, take a seat and enjoy the views.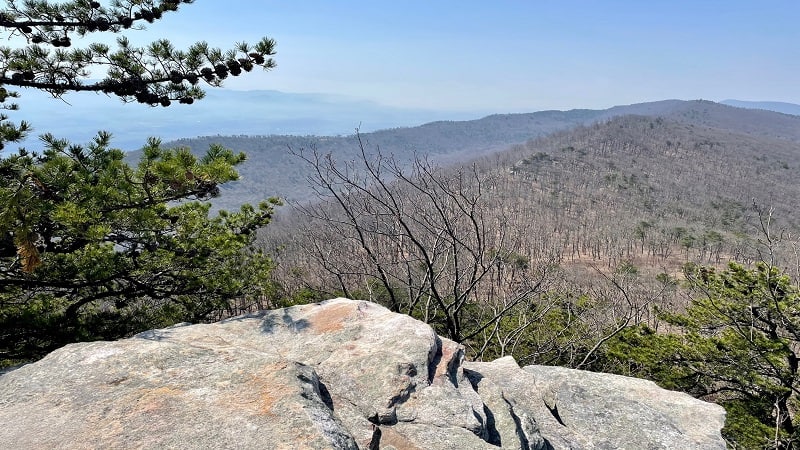 If you like rock scrambles, you will love Duncan Knob near New Market in Virginia's Shenandoah Valley. It's literally like a mini Devil's Marbleyard.
The hike zigzags upwards along the Gap Creek Trail until the 1.5-mile mark. At this point, turn left onto a white-blazed spur trail. The real fun begins in a few more steps.
At the 1.8-mile mark, you are all in at the rock scramble. Take your time and mind your footing. Far-reaching views across the George Washington National Forest await.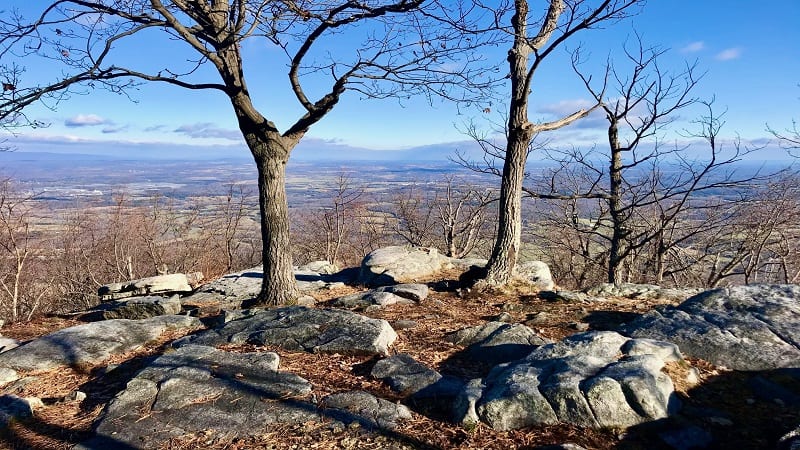 The forested 10.7-mile Signal Knob loop hike in the George Washington National Forest is a good choice when the trees are barren and you can savor the far-reaching views.
It's a good bet to complete this loop counter-clockwise to get the more rocky sections quickly out of the way. Several spectacular vistas wow on the way to Signal Knob.
As you proceed, you'll pass several primitive camp sites with fire rings. At the summit, you'll spy a radio tower and Signal Knob, a lookout point during the Civil War.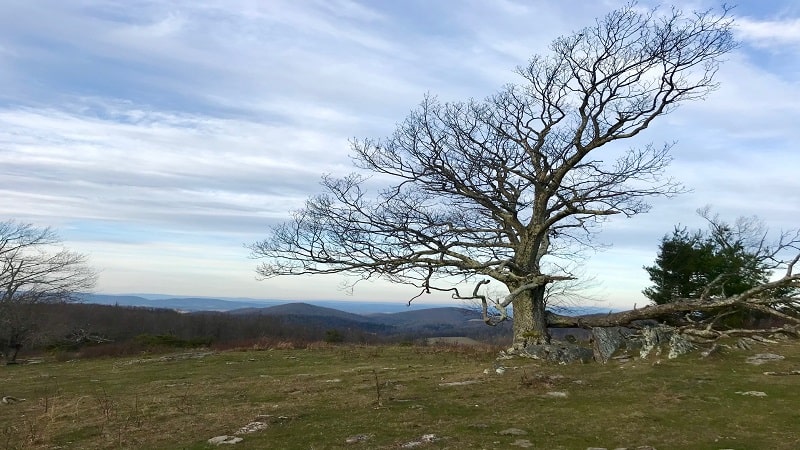 The Black Ridge Trail near Floyd sets off just behind the Rocky Knob Visitor Center at milepost 169 on the Blue Ridge Parkway. This is a scenic 3.0-mile loop hike.
This hike begins as hikes do. Walk through shady forest and cross over creeks. At the .5-mile mark, keep your eyes open or you may pass by the smiling rock monster.
It's simply a smile made of rocks on the left side of the trail. I'm sure it's frowned up – like rock cairns – but this smiling "creature" made me smile, too.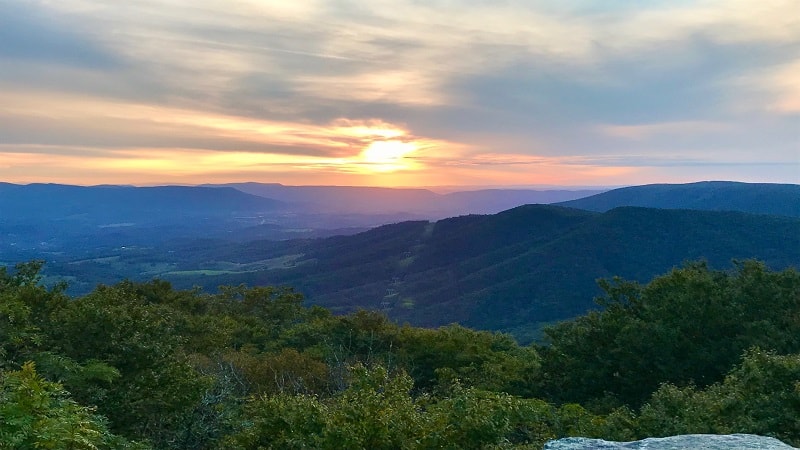 The one-mile out-and-back Bald Knob Trail is a fairly steep trail. There's a 400+ foot elevation gain over the span of just .5-mile. You'll need to dig deep friends.
Dirty Dancing fans, the Bald Knob hike begins just behind Kellerman's. Er, Mountain Lake Lodge. It's a fantastic choice for a vibrantly-hued sunset, too.
There are multiple rock outcrops atop Bald Knob (elevation 4,354 feet) to sit and savor perfect west-facing views. There's room for everyone.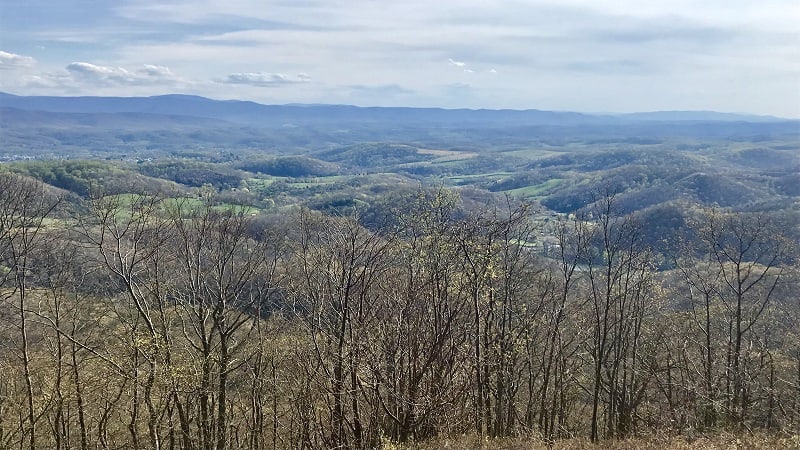 Hiking to Molly's Knob at Hungry Mother State Park is not for the faint of heart thanks to an elevation increase of 200+ feet in the last .2-mile.
This hike really makes you earn the payoff views. When you reach Molly's Knob, two wooden benches welcome worthy hikers who have made it to the top.
The mountain views to the south and west are outstanding. Plan to sit awhile to re-hydrate and re-fuel before the relatively easy descent back to the parking lot.