Kane's Creek: An Easy Hike in Search of Bald Eagles at Mason Neck State Park
My kids had the day off school last Friday and they needed to get out of the house. To be more accurate, I needed them to get out of the house, out into the fresh air.
These two (of four kids) are actually pretty good about getting outside, but they needed a change of scenery, so we made our way to Mason Neck State Park in Lorton.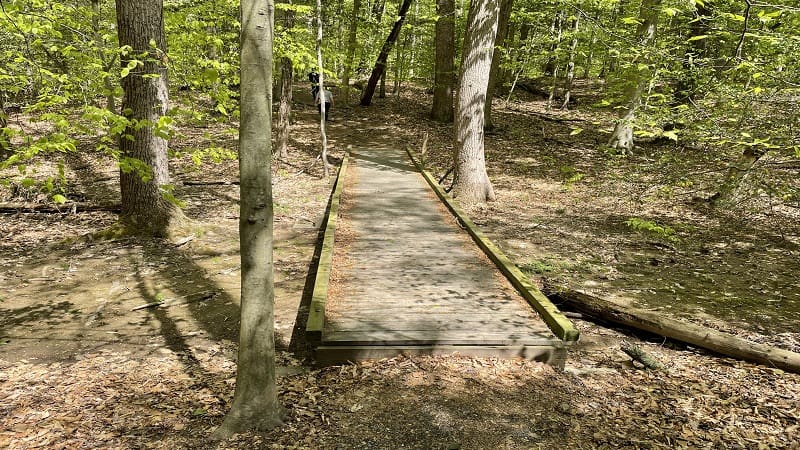 I knew that any hike needed to be relatively close (less than one hour by car) and relatively flat. The Kane's Creek Trail and Eagle Spur Trail fit the bill for my crew.
This shady, forested hike to Kane's Creek was the perfect way to spend the afternoon on a mostly sunny Friday. We largely had the trails to ourselves, too.
| Trail Stats | |
| --- | --- |
| Length | 3.7 miles |
| Difficulty | Easy |
| Trail Type | Out-and-Back |
| Elevation Gain | 85 feet |
| Duration | 1.5-2 hours |
| Terrain | Mostly dirt trails |
| Dog-Friendly | Yes |
| Fee | $10 per vehicle |
| Driving Directions | Click Here |
Arriving at the Trailhead
The trailhead for the blue-blazed Kane's Creek Trail begins just steps from the visitor center that sits on Belmont Bay. The parking area has room for plenty of vehicles.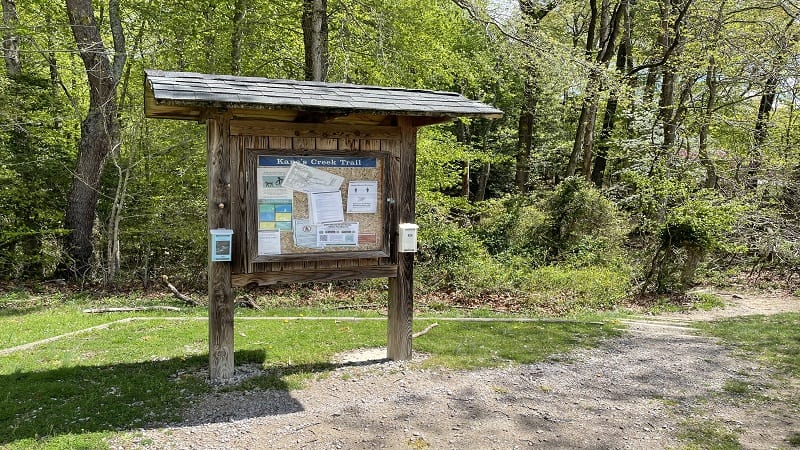 You will see a large trail kiosk to the left of the trailhead. Here you'll also find self-guided tour brochures for the Eagle Spur Trail (white) and Kane's Creek Trail (blue).
Each brochure includes a brief history of 1,825-acre Mason Neck State Park, as well as a description of four tour stops, like mountain laurel, fungi, cut logs and ferns.
The First Steps
Once you pass the trail kiosk, you will immediately descend into the forest by way of steps, then cross a bridge over a small creek and quickly make up this elevation.
From here, it's a leisurely wooded stroll along the Kane's Creek Trail. You'll see benches here and there too, like at the .3-mile mark.
Here, you'll also reach the first trail sign, which indicates that you should go straight ahead to the Eagle Spur Trail. However, this is a loop (in the middle of a larger trail).
You can go either way, but we opted to go straight ahead to tackle the loop clockwise. By the .6-mile mark, we passed two more benches and reached the Eagle Spur Trail.
Turn left here to continue on the Eagle Spur Trail to an observation blind. As you walk, you'll pass a few more benches and cross over a few small bridges.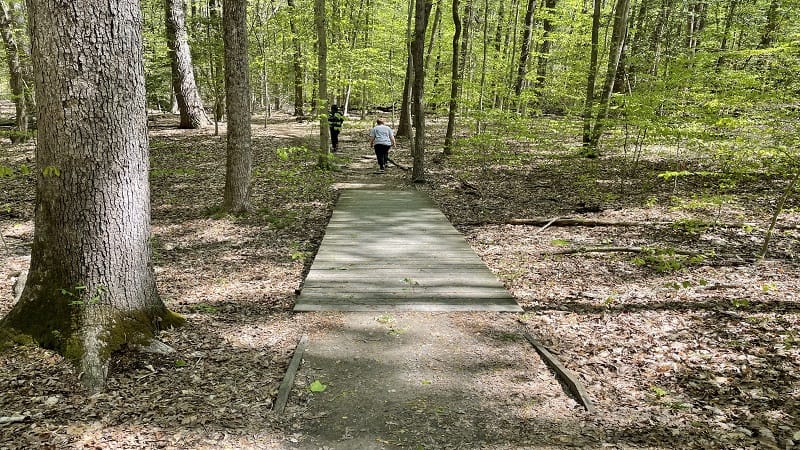 At the 1.9-mile mark, you will reach a wooden observation blind with benches inside that overlooks Kane's Creek. Now, keep your eyes open for bald eagles.
Much like Caledon State Park, Mason Neck State Park is also known for bald eagles, as well as hawks, white-tailed deer, foxes, beavers and more than 200 bird species.
Kane's Creek is a good place to see bald eagles year-round as many of them roost in this protected area. The park is home to at least 40 to 50 bald eagles.
Since bald eagles primarily eat fish, they like to spend time near bodies of water, like Kane's Creek. Kayakers have also seen a river otter or two in the creek.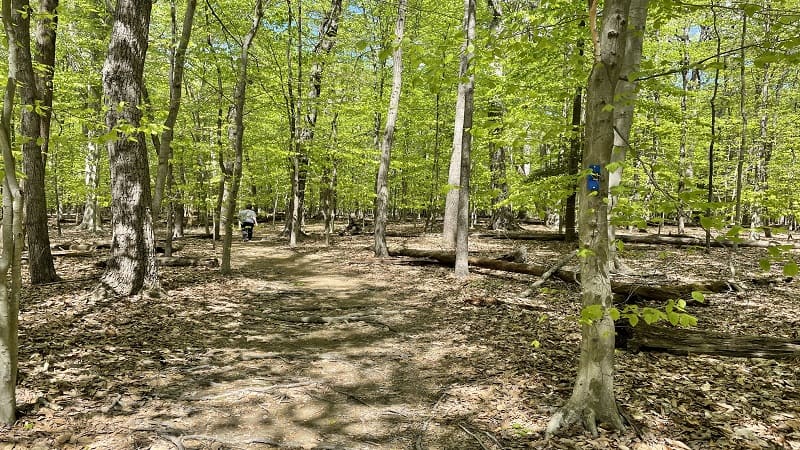 From here, re-trace your steps and return to the Kane's Creek Trail at the 3.1-mile mark. Since it's a loop, you can turn left or right to return to your vehicle.
We stayed to the left this time to complete the loop. At the 3.4-mile mark, turn left for the final steps to the parking area and visitor center.
Wrap-Up Notes
From the parking area, this hike took us nearly 90 minutes to complete, including time spent looking for bald eagles from the observation blind.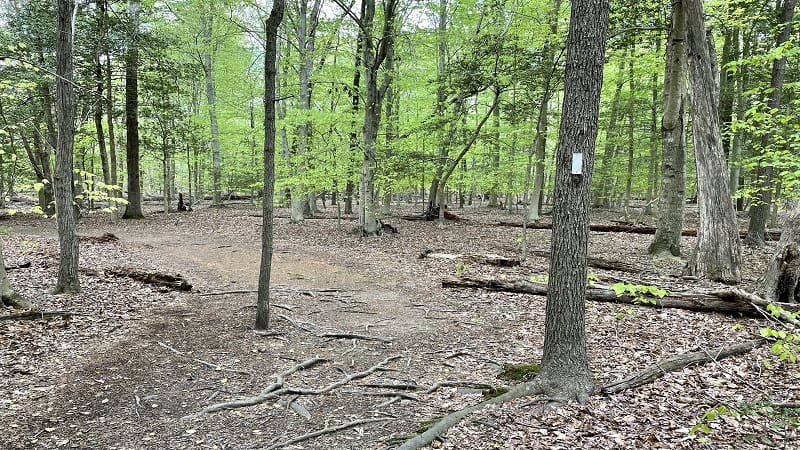 For a second hike at Mason Neck State Park, consider the Bay View Trail. This easy loop hike guides visitors across a freshwater marsh and alongside Belmont Bay.
The .3-mile paved Beach Trail is another winner. It begins to the right of the visitor center and leads to a small beach with large freshwater snails washed up on the shore.