Little Devils Stairs: A Scenic 6-Mile Hike at Shenandoah National Park
The Little Devils Stairs hike is special. I mean, there are lots of types of hikes. Some are historic hikes, like the First Battle of Manassas Trail in Manassas.
Other hikes, meanwhile, are all about the views, like the rugged hike to the summit of the Molly's Knob Trail at Hungry Mother State Park in Marion.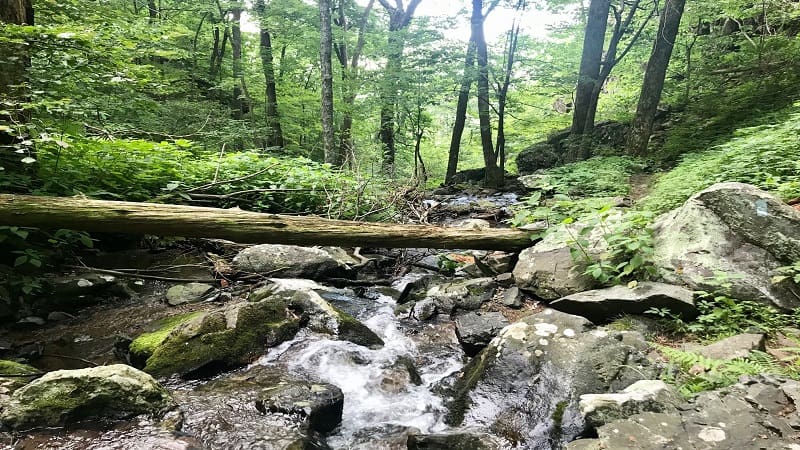 A couple of weeks ago, I tackled Little Devils Stairs (blue blazes) at Shenandoah National Park. This nearly 6-mile hike had been on my must-do list for some time.
I'd read about this hike but wasn't prepared to be as captivated by this hike as I was, largely because it is more than just a waterfall hike or just a scenic hike.
| Trail Stats | |
| --- | --- |
| Length | 6.0 miles |
| Difficulty | Moderate |
| Trail Type | Loop |
| Elevation Gain | 1,506 feet |
| Duration | 3-4 hours |
| Terrain | Rock scrambles, stream crossings, some dirt & gravel trails |
| Dog-Friendly | Yes |
| Fee | Free (trailhead is outside the national park) |
| Driving Directions | Click Here |
Little Devils Stairs
Interestingly, the Little Devils Stairs trailhead is located outside the national park.
Well, the trail is in the park, but you don't need to enter through an official park entrance. It's also not one of many scenic Skyline Drive hikes.
The last two miles of the road (Keyser Run Road) to reach the trailhead are almost entirely gravel.
As you bump and bounce along this gravel road, passing private homes on large swaths of land, you may wonder if you're going in the right direction.
Then, you will dead end into the trail parking area. You have arrived. There is room for no more than a dozen cars at Little Devils Stairs trail parking.
This means, of course, that you should plan to arrive early, especially since there is nowhere else to park beyond this lot.
Little Devils Stairs Trail
This hike is a loop, but I can't stress enough the need to start at the physical marker for Little Devils Stairs (as opposed to the Keyser Run Fire Road).
So, counter-clockwise, starting on the Little Devils Stairs Trail. You will thank me because doing this hike in reverse would not be nearly as enjoyable.
The first two miles of this hike is all about stream crossings, rock scrambles and waterfalls. This section of the trail is very leafy and shaded.
The forest is quite dense, so no need for sunglasses. I didn't see much of the sun, but did enjoy the water views all along the trail.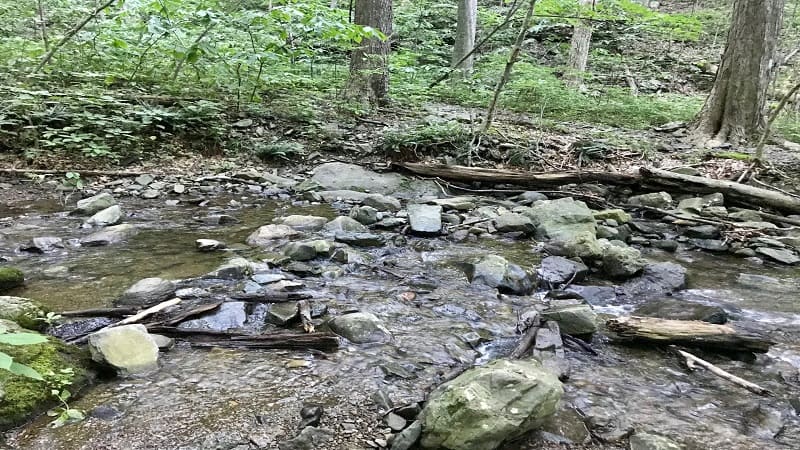 I started to count the water crossings on this trail, but I quit after a half-dozen. Many require well-placed steps on rocks to cross the stream.
The first two miles of this hike are largely a steady incline, though I will say that the second mile was most challenging thanks to fairly steep rock scrambles.
The first mile took me 25 minutes, but the second mile took me nearly 50 minutes. In some spots, I had to grab onto tree roots to help pull me up onto the boulders.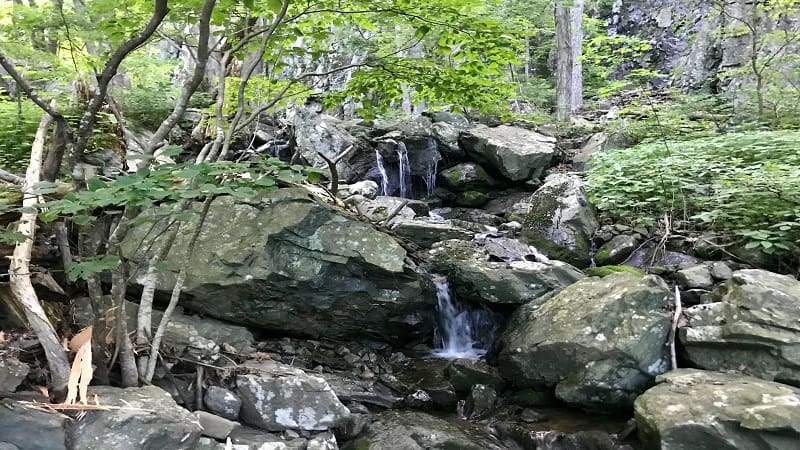 The waterfall views along Keyser Run are spectacular. You're constantly looking at rushing water plunging into a gorge as you climb the hiking trail.
Keyser Run
Near the top, you're treated to a trio of small flowing waterfalls. Between the falls views and rock scrambles, you'll quickly realize counter-clockwise is the way to go.
As in up, instead of down. I couldn't imagine taking on these two miles alongside the gorge as a descent. Yikes.
At the top of the gorge, the trail levels off and you will reach the fire road. From here, you may not know what to do since it's essentially a four-way stop.
Worse, there is no cell service (at least not with AT&T) so you cannot re-visit maps or trail descriptions to help guide you in the right direction.
Keyser Run Fire Road
I turned left and began to walk down the Keyser Run Fire Road (yellow blaze). From here, the trail is not nearly as interesting or challenging (it is a fire road.
Once I had hiked 2.7 miles, there was an opening on the left of the fire road that revealed fantastic wide-open, east-facing views across the Shenandoah Valley.
As you continue along, the trail changes from dirt to gravel to dirt. There's even a section of trail that runs through a pine forest.
The layer of soft pine needles on the trail is welcome. It's also unusual after spending so much time among rocks and water the first two miles.
Bolen Cemetery
Keep walking down the fire road back to the parking lot. After hiking 4.5 miles you'll spy a family cemetery with a wrought-iron gate on the left-hand side.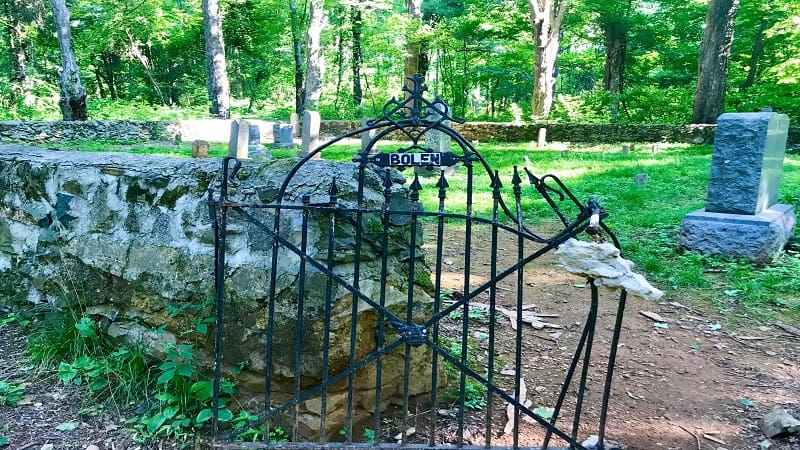 Those buried in this cemetery were no doubt among the 450 families that lived within the park boundaries in the 1930's and 1940's.
A plaque shares a poem called "Why the Mountains are Blue" that describes the sadness that lingers on account of the families forced to leave their homes.
In the last 1.5 miles, the trail veers left and takes a steep descent, but nothing overly challenging (though my shins did hurt later from the elevation gain).
You may feel unsure whether your car will appear, but shortly the parking lot does come into view.
Wrap-Up Notes
The Little Devils Stairs hike took me nearly 2 hours, 30 minutes to hike the six miles. There aren't any options to shorten this hike.
However, you can add on a few miles by tacking on the Piney Branch Trail or the Piney Ridge Trail, essentially making large hike loops.
You won't find a port-a-porty. There is just a parking lot and a trailhead. Be sure you have water and are ready to commit to nearly three hours on-trail.
I also can't recommend more highly the AllTrails PRO app if only because the app allows you to download the trail map to have in case you get lost.
Near the end of the first two miles where I lost the blue markers. As I noted, I had no cell service, so it would have been nice to have the map on my phone.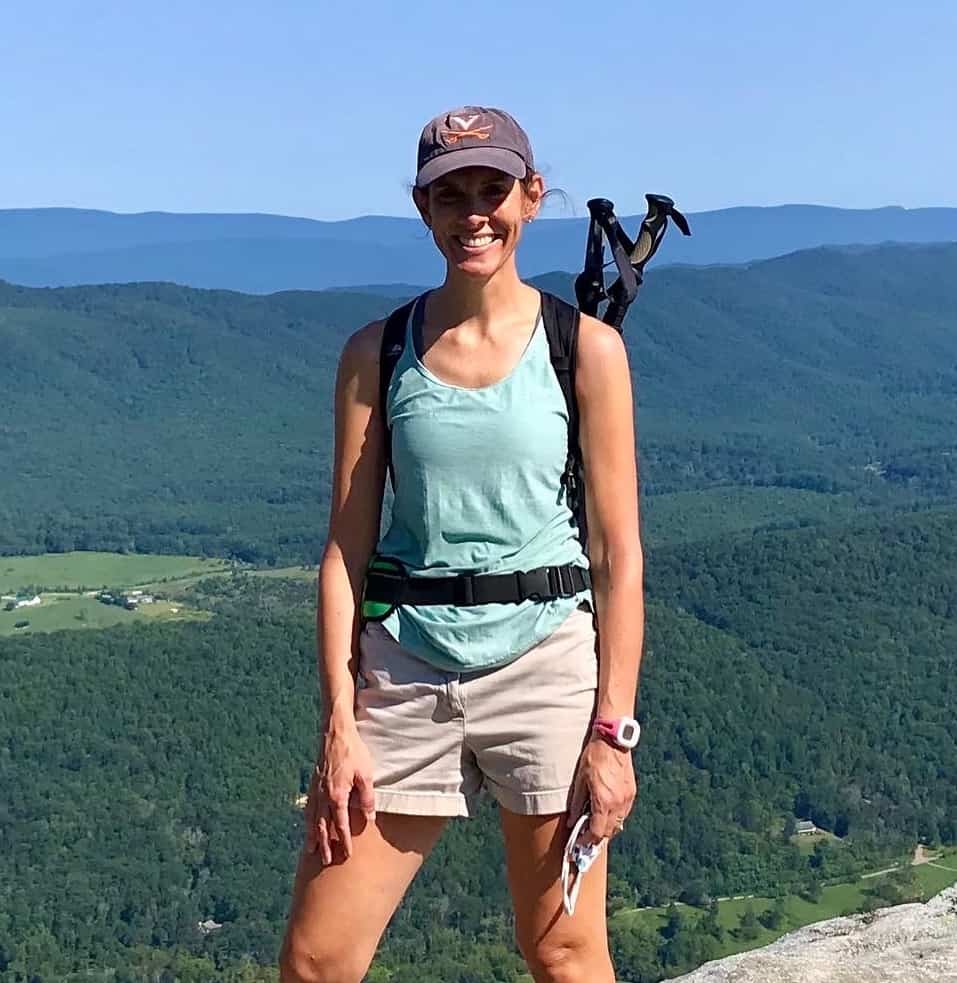 Erin Gifford is the editor of Go Hike Virginia. She has completed more than 300 hikes in Virginia. She is also the author of three hiking guidebooks from Falcon Guides. Need help finding a hike? Check out the Trail Finder feature or send Erin a message.