Lake Anna State Park: 3 Easy Hikes When You Need a Break from the Lake
Lake Anna in Spotsylvania County, Virginia may be better known for water sports, but there's a lot to love on dry land, like miles of hiking trails.
The 13,000-acre freshwater reservoir formed by the North Anna Dam has more than 200 miles of shoreline, some of which touches Lake Anna State Park.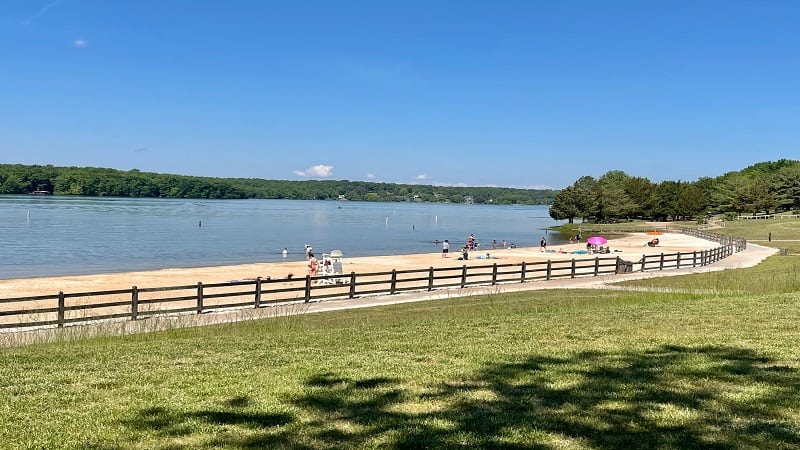 Lake Anna is divided into two sections. The public side has marinas, boat launches and a state park. The private side is largely home to North Anna Power Station.
Lake Anna State Park: Hiking Trails
At Lake Anna State Park, you'll find a dozen short trails, several of which expound on Lake Anna history, including the history of gold in Virginia.
One look at the Lake Anna State Park map and you'll note several hiking trails close to the swimming beach, like the Railroad Ford Trail and Old Pond Trail.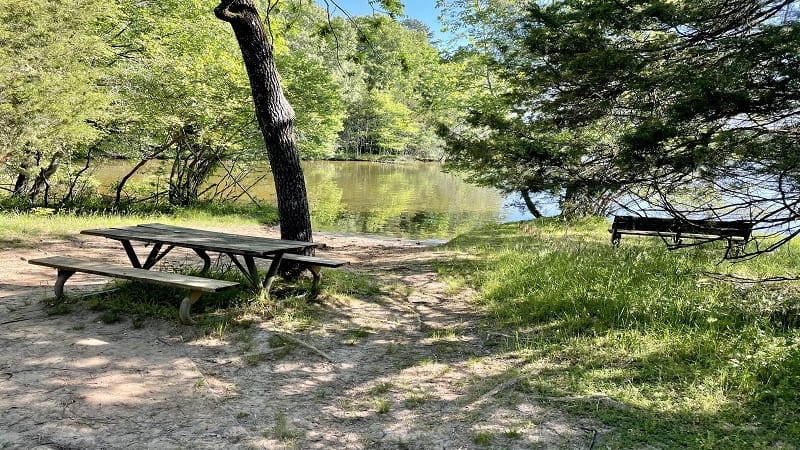 If you're considering a getaway to Lake Anna, here are three hikes to check off while at the state park. When you're not out on the water, of course.
This 5.4-mile loop hike cobbles together five hiking trails, including Sawtooth Trail, Glenora Trail, Big Woods Trail, Cedar Run Trail and Turkey Run Trail.
It's a walk in the woods, but there are a few lake views and stops for historic ruins. This is a nice shaded break from water activities and lazing on the beach.
The trail begins just east of the equestrian parking area. After a few steps, turn left for the tan-blazed Sawtooth Trail. You'll reach a trail junction at the .9-mile mark.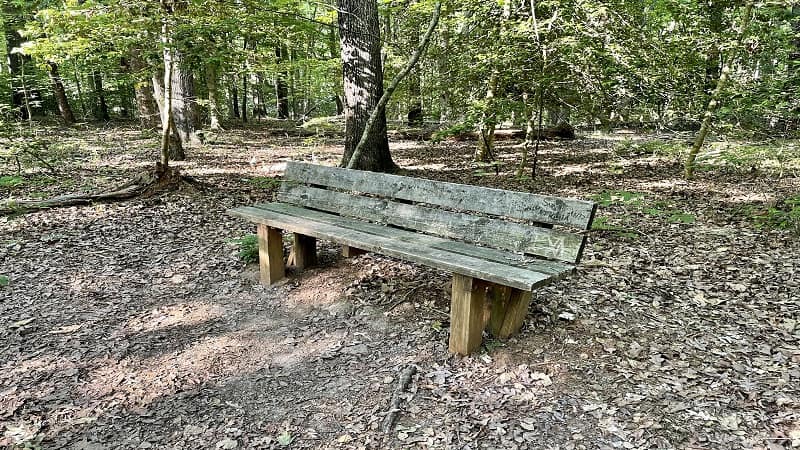 Turn left on the green-blazed Glenora Trail. You'll pass a wooden bench. At the 1.7-mile mark, you have a decision to make. A historical area is down a spur trail.
You never really know what to expect from a "historical area," but since it was less than .2-miles away, we decided to go for it. Thankfully, it was worth the side trip.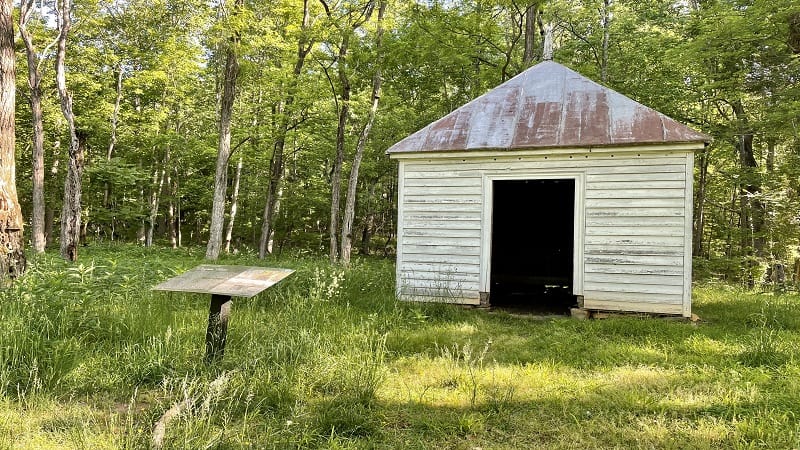 We soon arrived at a historic smokehouse from 1832 that was a part of the Pigeon Plantation. This smokehouse stored hams and other valuable meats.
A placard has a rendering of what Pigeon Plantation and what it may have looked like in its day, complete with a dairy, a privy, an ice house and a main house.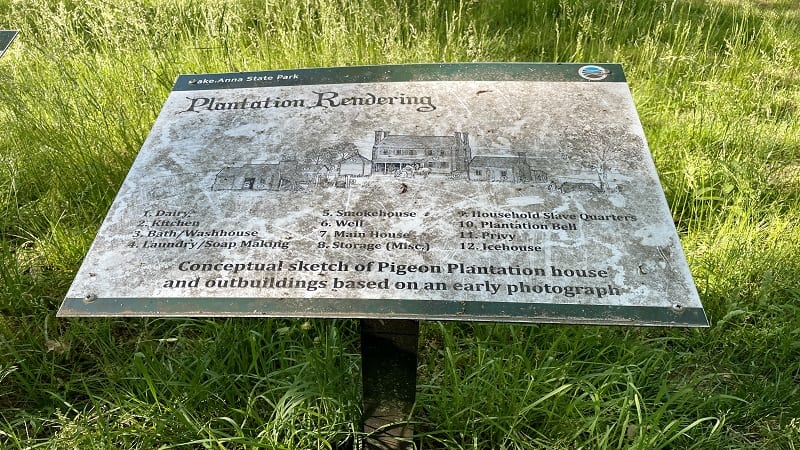 We re-traced our steps, then turned right onto the silver-blazed Big Woods Trail. At the 2.2-mile mark, we enjoyed our first glimpses of Lake Anna from the trail.
As we continued along, we passed a few more benches and walked over a wooden bridge or two before reaching a second opportunity to hike to a historical area.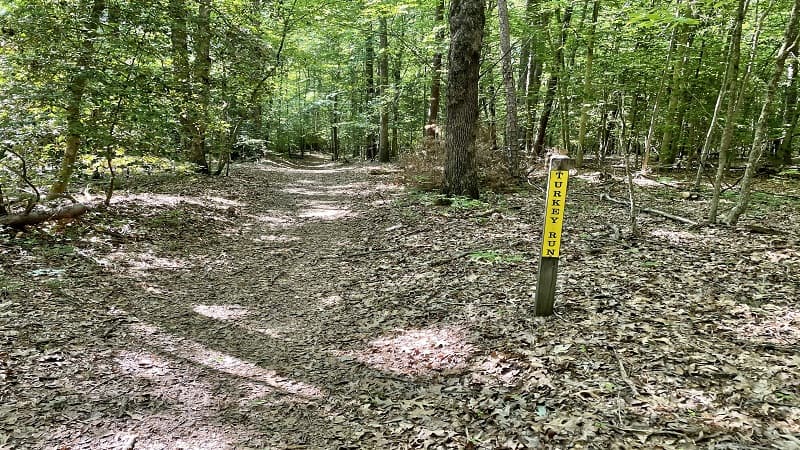 We stayed right for the yellow-blazed Turkey Run Trail. At the 3.4-mile mark, we reached the remains the family home of William Taylor.
In 1879, Taylor purchased 100 acres of land for $250. In the 1960's, the property was purchased to become the state park. All that remains today is a chimney.
We re-traced our steps and turned right onto the white-blazed Cedar Run Trail. At the 4.1-mile mark, there is a wooden picnic table with delightful lake views.
We met up with the Turkey Run Trail once more and turned right to nearly close the loop, but not before encountering one more historic site.
The final steps include the remains of a well that once supplied water to a steam-powered sawmill. Just past the sign, turn right to return to the parking area.
The 2.0-mile Railroad Ford Trail begins in front of the Visitor Center, which is steps from the main parking area. It's also steps from the beach at Lake Anna.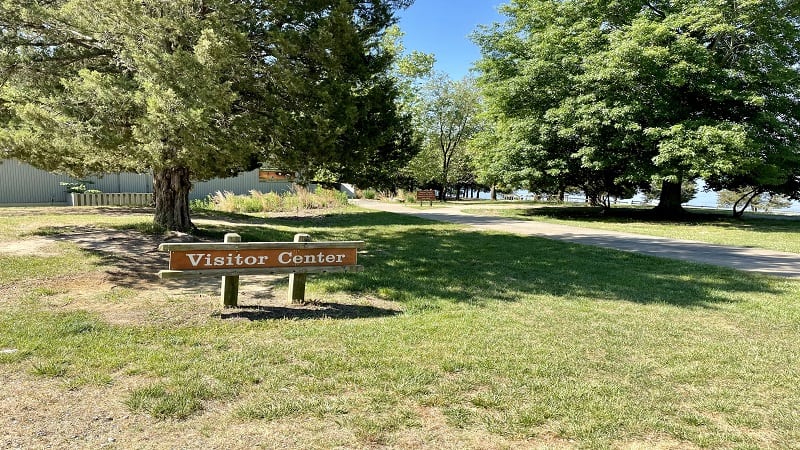 The loop trail begins as paved, guiding you past a wooden dock on the right. However, the hiking trail enters the woods to the right at the .1-mile mark.
From here, the trail leads you alongside Lake Anna. You'll pass comfy benches and cross over wooden bridges here and there. There are loads of nice water views.
At the 1.2-mile mark, you'll proceed back into the shaded woods for the final steps of the hike. At the 1.6-mile mark, turn left to walk back toward the Visitor Center.
Before you complete the hike, turn right to walk the perimeter of a small pond. This is a fishing pond for children and disabled anglers.
Once around the pond, turn right and you will see the Visitor Center. In a few more steps, your relaxing red-blazed loop hike is complete.
The 1.0-mile Fisherman's Trail is the shortest of these three hikes, but it's also the most loosey-goosey. As in, not super well marked, though still well-maintained.
Also, spider webs. Honestly, I don't think anyone ever hikes this trail. You begin just west of the beach and boat launch. There is a sign for Fisherman's Trail.
From here, you walk alongside the lake. At the .4-mile mark, you'll reach a nice, somewhat shaded area with picnic tables and steel park grills.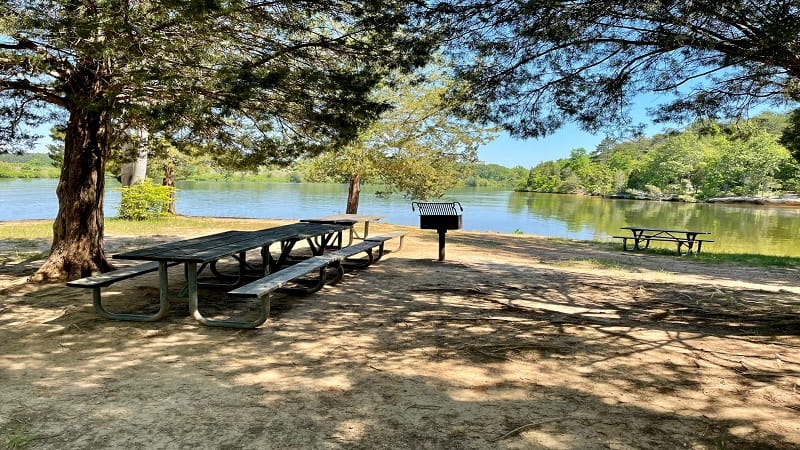 At the .5-mile mark, you'll be back in the woods in earnest. I was glad I had downloaded the map on AllTrails since it wasn't entirely clear which way to go.
In a few more steps, you'll re-emerge from the forest and see the boat launch again, so simply walk down the hill to complete this short loop hike.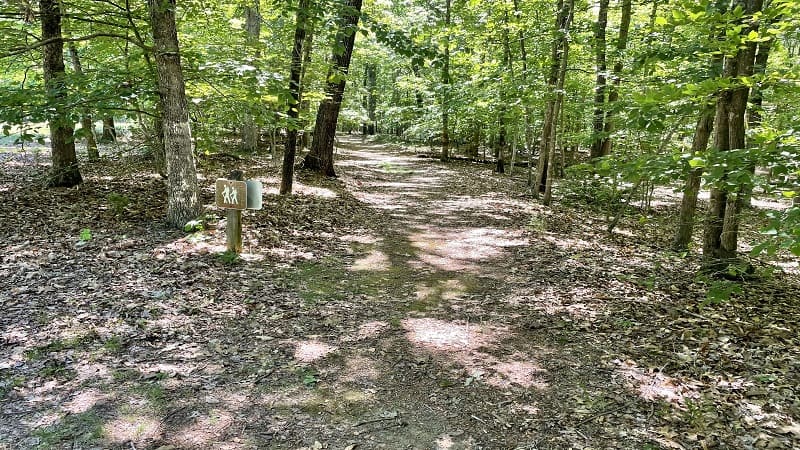 Wrap-Up Notes
The hikes at Lake Anna are short and sweet. The vast majority of hikes are under two miles, which are ideal for those eager for a lake break.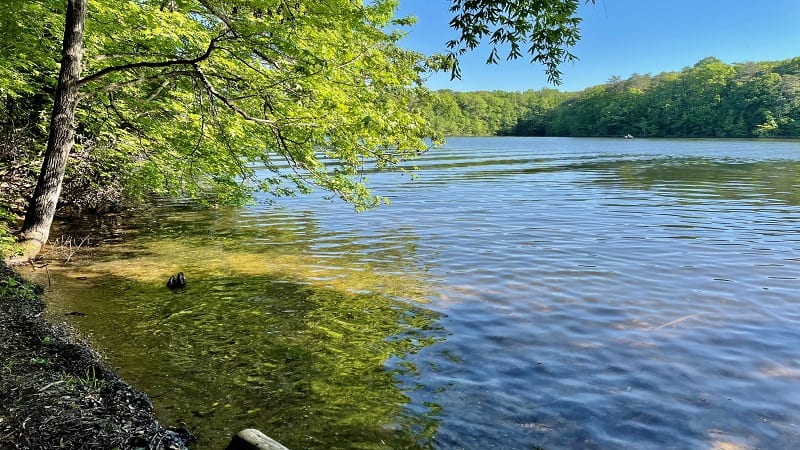 Since many of the hikes are inter-connected, it's easy to cobble together several hiking trails for a longer hike through the woods at this popular state park.
Note that there is a parking fee for Lake Anna State Park, which ranges from $7 to $10 depending on the season and day of the week.
Want more state park hikes? Here's a collection of my top picks among hikes at Virginia state parks.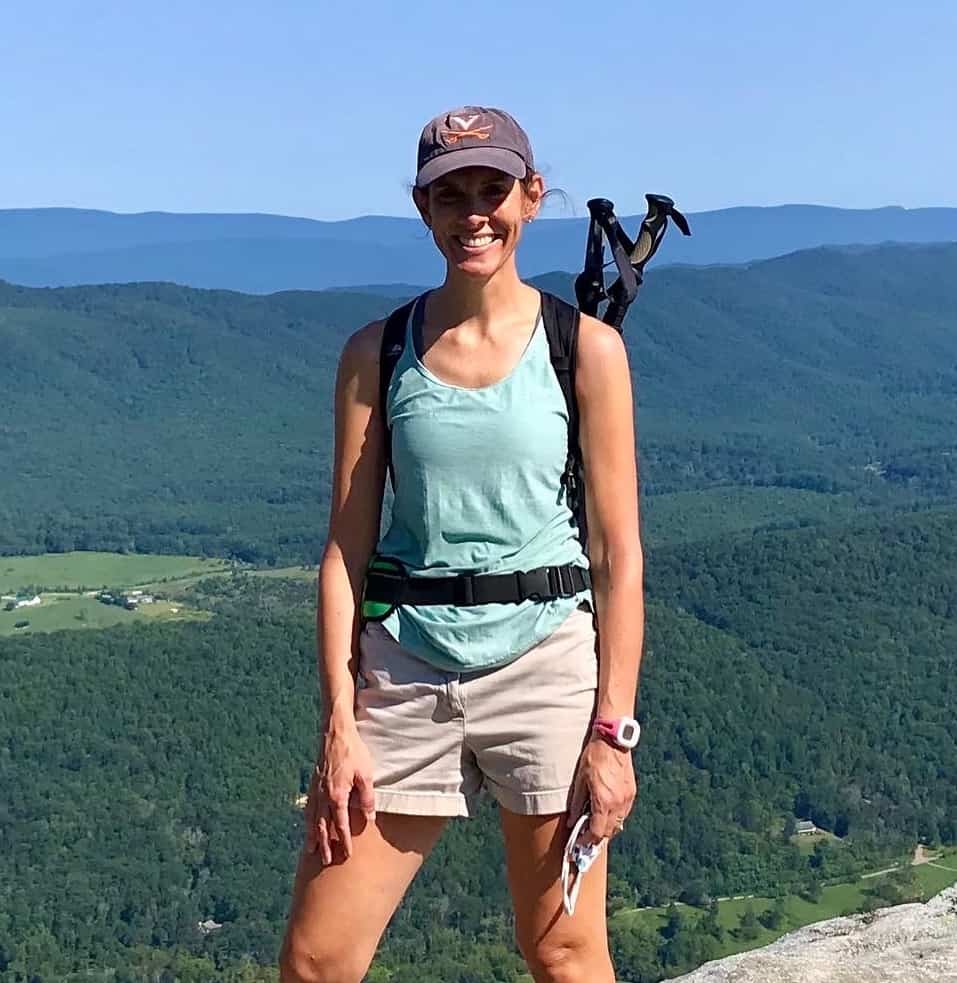 Erin Gifford is the editor of Go Hike Virginia. She has completed more than 300 hikes in Virginia. She is also the author of three hiking guidebooks from Falcon Guides. Need help finding a hike? Check out the Trail Finder feature or send Erin a message.