Kepler Overlook: Hike to Big Views in Shenandoah County, Virginia
I had never heard of Kepler Overlook or even the Great North Mountain Trails in Shenandoah County. To be honest, Google was confused, too.
Thankfully, I dug in to find out more about this network of criss-crossing hiking trails in the George Washington & Jefferson National Forests.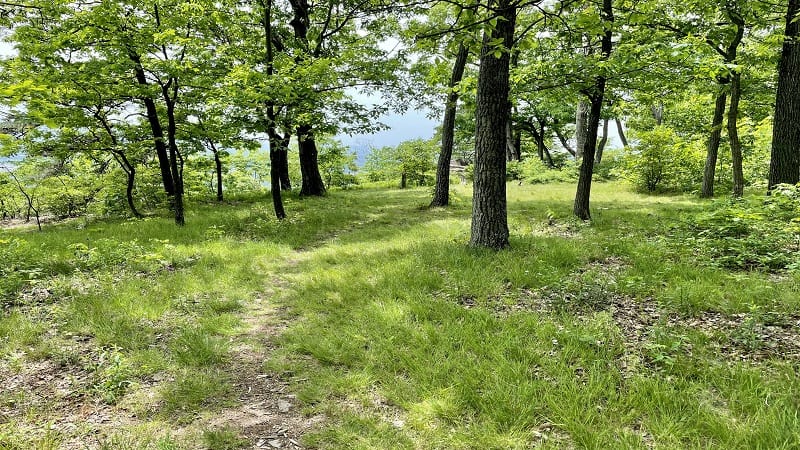 As an Amazon Associate I earn from qualifying purchases. If you click and purchase, I receive a commission at no cost to you.
The trails are in Shenandoah County, Virginia and Hardy County, West Virginia. My first hike in this network (unbeknownst to me) was the Little Schloss Trail.
Not long ago, I hiked to Kepler Overlook, mostly by way of the blue-blazed Tuscarora Trail. Yet, this overlook was not even on the map or marked on the trail.
| Trail Stats | |
| --- | --- |
| Length | 6.1 miles |
| Difficulty | Moderate |
| Trail Type | Out-and-Back |
| Elevation Gain | 1,040 feet |
| Duration | 3-4 hours |
| Terrain | Mostly dirt & rock trails |
| Dog-Friendly | Yes |
| Fee | Free |
| Driving Directions | Click Here |
Kepler Overlook Hike
The fun begins on the drive to the trailhead, which is at the end of the gravelly Van Buren Road near Strasburg. The AllTrails directions just kind of end.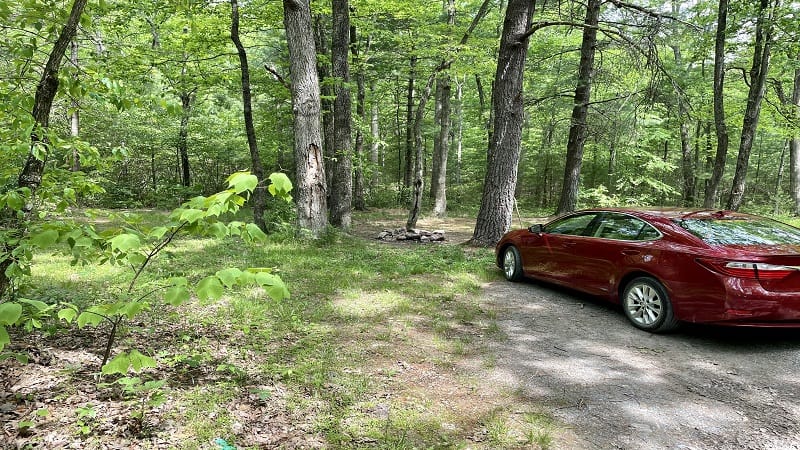 I parked at a primitive camp site just ahead of an open "Road Closed" barrier. If you keep driving, you will see a small parking area further along the road.
If you drive .2 miles up the gravel road, you will reach a closed "Road Closed" barrier. Turn left here to reach the small parking area for the hike.
Since I began this hike at the camp sites, I may have tacked an extra .4 miles on to this hike, but that's okay. It was fun to explore the dispersed camp sites.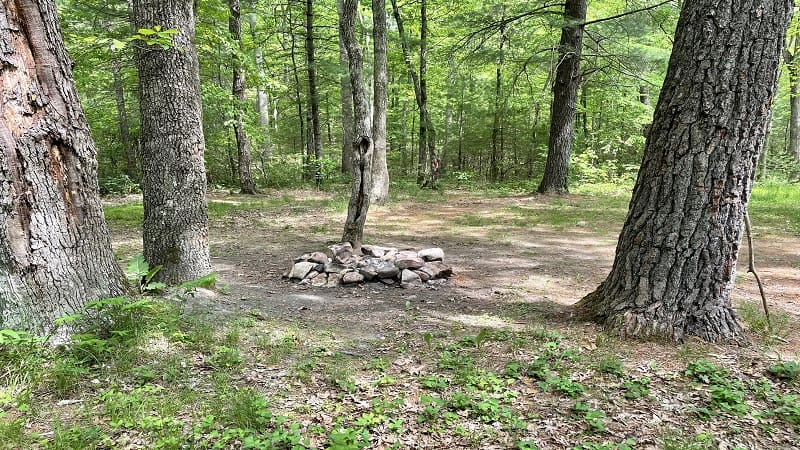 There are camp sites on both sides of Van Buren Road. The sites on the south side of the gravel road are adjacent to burbling Cedar Creek.
There's room for multiple tents, not just one or two. There are also stone fire rings at both camp sites. It's a great destination for car camping.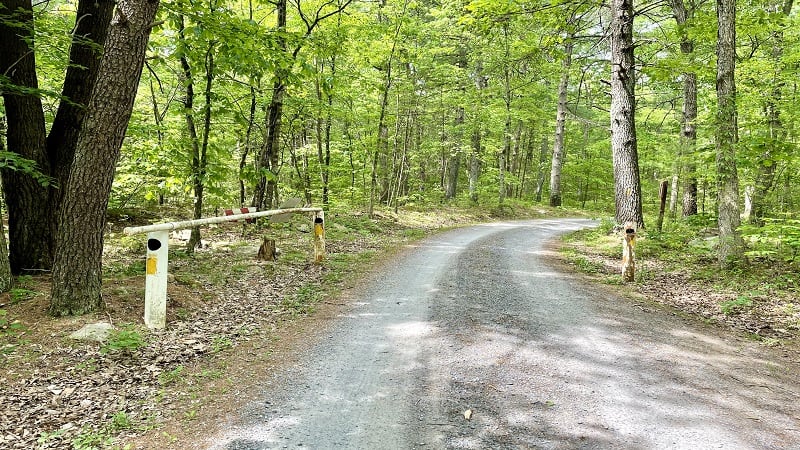 From here, proceed through the open barrier along Van Buren Road to the closed barrier at the end of the gravel road.
Cedar Creek Trail
In a few more steps, you'll see a wooden sign indicating that you are on the Cedar Creek Trail. It's more or less a yellow-blazed gravel service road, but it works.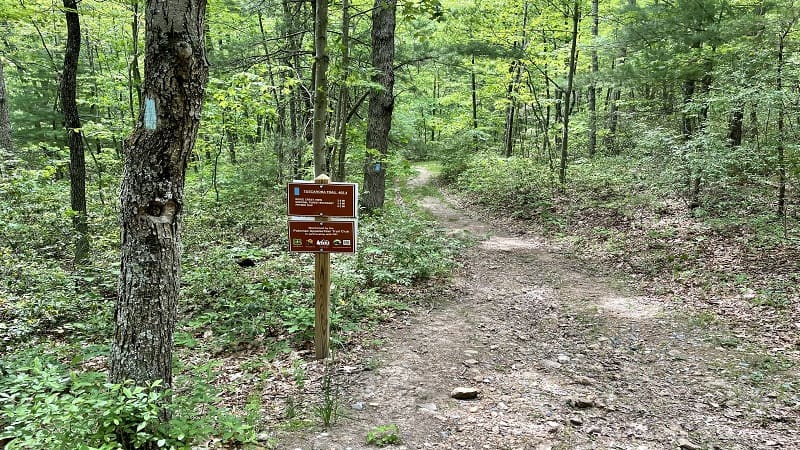 At the .5-mile mark, turn left onto the blue-blazed Tuscarora Trail. You will see a brown trail sign. Then, the trail becomes more a trail than a service road.
Continue ascending the hiking trail on Tea Mountain. You will climb all the way to Kepler Overlook, but it's a gradual incline, so honestly it's never terrible.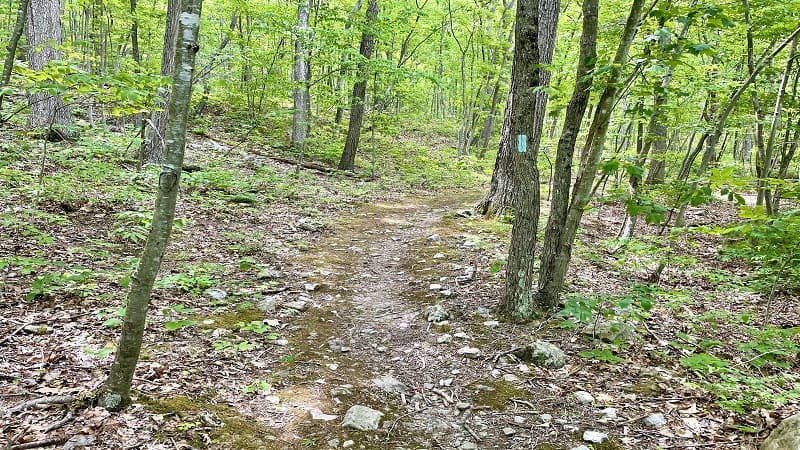 Along the way, keep your eyes open for camp sites. I spotted three or four dispersed camp sites with stone fire rings on my way to Kepler Overlook.
Tuscarora Trail
At the .6-mile mark, you'll reach another "Road Closed" barrier. Walk around the barrier to continue on the Tuscarora Trail.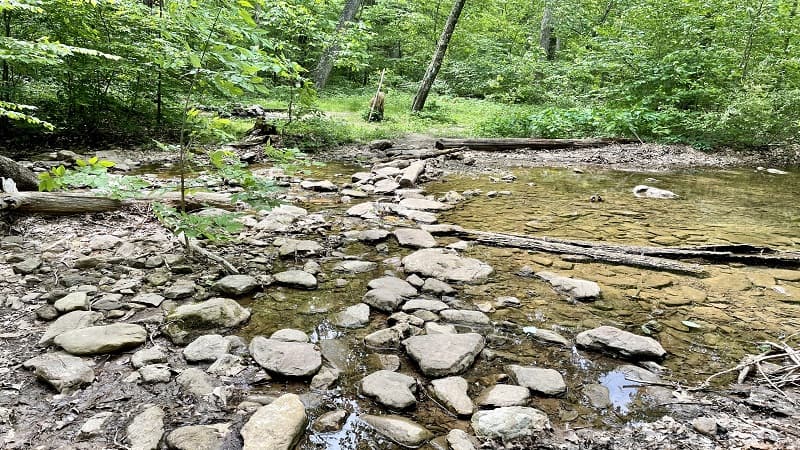 From here, continue ascending along this leafy, shaded trail. Skip across stones at an easy creek crossing at the .7-mile mark. There's a camp site, too.
Need water? Ignore the sign at the 1.9-mile mark, which indicates that a spring is 140 feet ahead. Instead, stay on the southbound Tuscarora Trail (a left turn).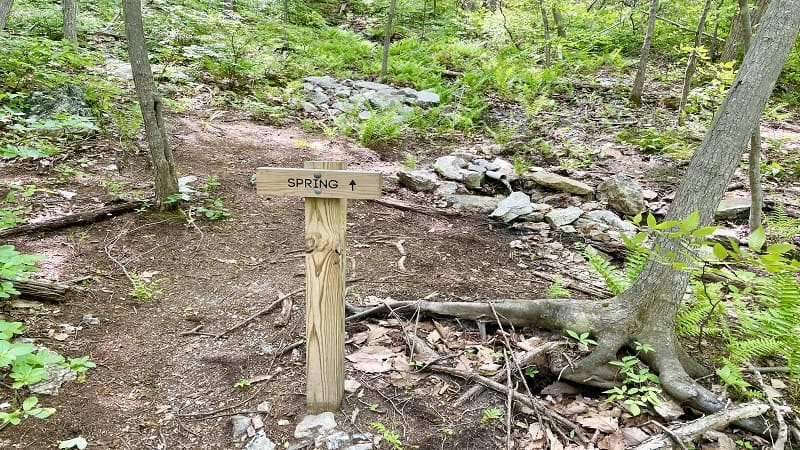 A fresh water spring turns up at the 2.0-mile mark. Fill up your water bottle at the spigot, but you'll still want to use a proper water filtration system.
Big Views
At the 2.2-mile mark, you will see a sign on the left indicating that a view is 150 feet ahead on a spur trail. Note that this is not Kepler Overlook.
This un-blazed spur trail leads to a small rocky outcrop with fantastic west-facing views of Little Schloss Mountain (aka Little Sluice Mountain).
It's a seriously small overlook, like with enough room for just one or two people. Still, the views were big and worth a quick stop along this rocky hike.
I sat, ate my lunch, then re-traced my steps to the Tuscarora Trail. Turn left to continue ascending Tea Mountain.
At the 2.8-mile mark, you will see a large camp site with a fire ring on the right. It's very nice and spacious. As you near the 3.0-mile mark, stay hyper-focused.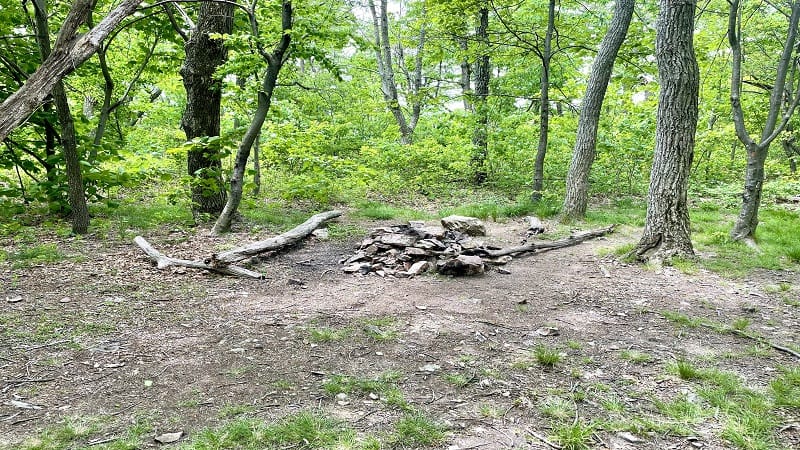 There is a spur trail on the right that leads to a clearing and panoramic Kepler Overlook, but it's easy to walk by with nary a glance. You don't want to do this.
Kepler Overlook
As I noted above, there are no signs, so you may not know it's there. However, it's a really nice south-facing overlook with views of working farms below.
It's a sizeable overlook with a fire ring and a camping area with plenty of room for tents. Savor the views, then re-trace your steps. It's all downhill from here.
Wrap-Up Notes
From my parking spot, this Shenandoah County hike took me 2.5 hours to complete, including stops to take in the views and explore dispersed camp sites.
I will definitely be back to hike more of the trails here. If you have yet to hike the Little Schloss Trail, it's a good one. I also like the Veach Gap Trail.
Note that if you have AT&T, you will have zero cell service from Van Buren Road (the entire way in to the parking area) to the first overlook.
You'll have cell service again at Kepler Overlook. I can always count on wide-open overlooks for cell reception.
Before you head home, explore the charming town of Orkney Springs. This nearby village wows with a historic hotel and scenic hiking trails.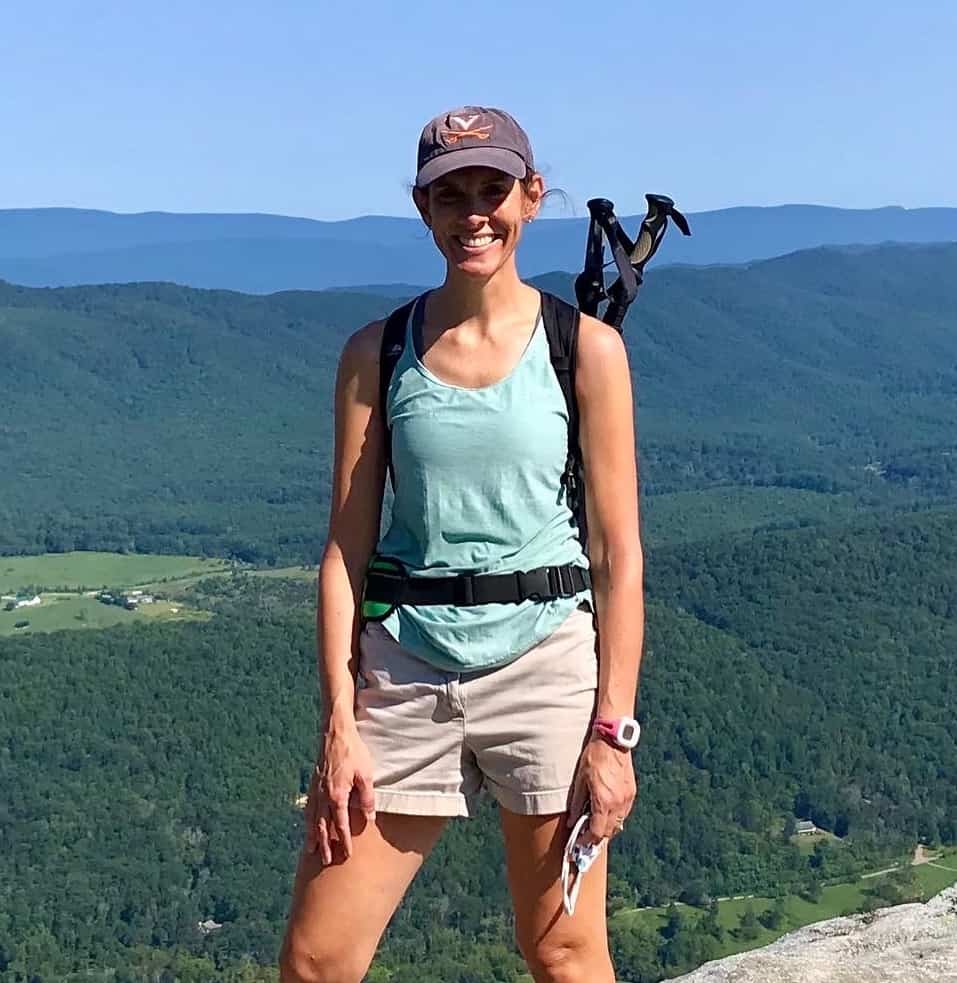 Erin Gifford is the editor of Go Hike Virginia. She has completed more than 300 hikes in Virginia. She is also the author of three hiking guidebooks from Falcon Guides. Need help finding a hike? Check out the Trail Finder feature or send Erin a message.