Shenandoah National Park in Winter: 13 Boundary Hikes to Love When Skyline Drive is Closed
Exploring Shenandoah National Park in winter is absolutely wonderful. The air is crisp and still. The park is quiet. It's a fine destination for peaceful solitude.
There is one challenge, however. That's getting into the park. In the winter months, it can seem as though Skyline Drive is closed more often than open.
Last January, two snowstorms within one week shut down all 105 miles of Skyline Drive for quite a few days so snow plow crews could clear the road.
Thankfully, boundary entrances to the park – those not on Skyline Drive – are always open to park-goers, regardless of weather conditions.
When you're eager for a winter hike at Shenandoah National Park, I've compiled 13 hikes that don't require vehicular access to Skyline Drive.
But first, a few questions about visiting Shenandoah National Park in winter, including whether it's a good idea, winter hiking safety and winter camping.
Is Shenandoah National Park Worth Visiting in Winter?
Yes. Given the popularity of Shenandoah National Park, winter is a perfect time to visit the park for quiet trails and empty parking lots.
Well, the parking lots won't be entirely empty, but you won't have trouble finding a parking space like you might in warm-weather months.
It's wise to note, however, that while Shenandoah National Park is open in the winter months, most services, including gift shops and restrooms, are closed.
When Skyline Drive is open, the Byrd Visitor Center at milepost 51 is open Thursday through Monday from 9 am to 4:30 pm during the winter months.
Get the status of Skyline Drive by visiting Shenandoah National Park on Facebook or Twitter, by checking the park website or by calling 540-999-3500.
There's also a new way to stay in the know, which is the new text alert. To subscribe, text SHENALERTS to 888777 for the scoop on winter road closures.
Even if you cannot drive into Shenandoah National Park for the Skyline Drive hiking trails, you can still hike, snowshoe or cross-country ski into the park.
Is it Safe to Hike in Winter at Shenandoah National Park?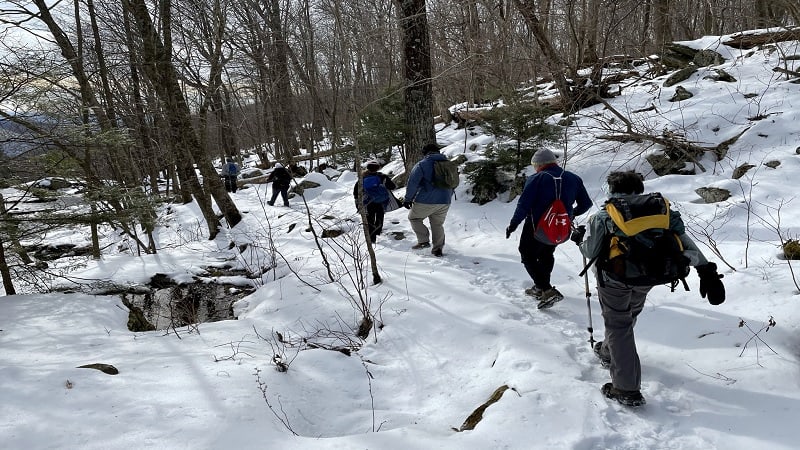 Cold weather and snow-covered trails should not keep you from visiting Shenandoah National Park in winter months.
Winter hiking is magical as I shared in my interview with the Shenandoah Valley Travel Association last year about winter hiking at the national park.
Winter hiking is a great way to get out of the house, but it also requires more planning than fair-weather hiking to stay warm and safe on the trails.
Dress in layers, be mindful of daylight hours, research trail conditions and wear microspikes for hiking in snowy and icy terrain for balance and stability.
For real-time weather and road conditions at Big Meadows (milepost 51), you can also check the webcam on the park's website for snow and ice.
Can You Go Camping at Shenandoah National Park in Winter?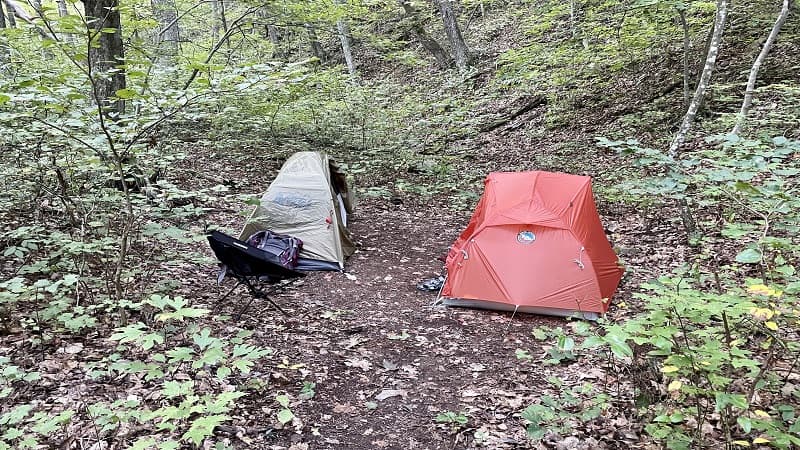 In winter months, all of the campgrounds at Shenandoah National Park are closed. However, it is possible to go backcountry camping in winter.
It's free to camp in the backcountry, but you will need a permit. To obtain a permit, you'll need to fill out an application online.
You will need to provide your contact and itinerary details, including where you plan to enter and exit the backcountry (as in, which trails).
Print out the reply email you receive with the details you provided. This will serve as your permit. You can also save the email to your cell phone.
There are quite a few backcountry regulations at Shenandoah National Park. Importantly, campfires are not permitted in the park's backcountry.
Hiking Shenandoah National Park in Winter
Here are 13 fantastic hikes at Shenandoah National Park that can be done on winter days when Skyline Drive is closed to vehicles due to ice and snow.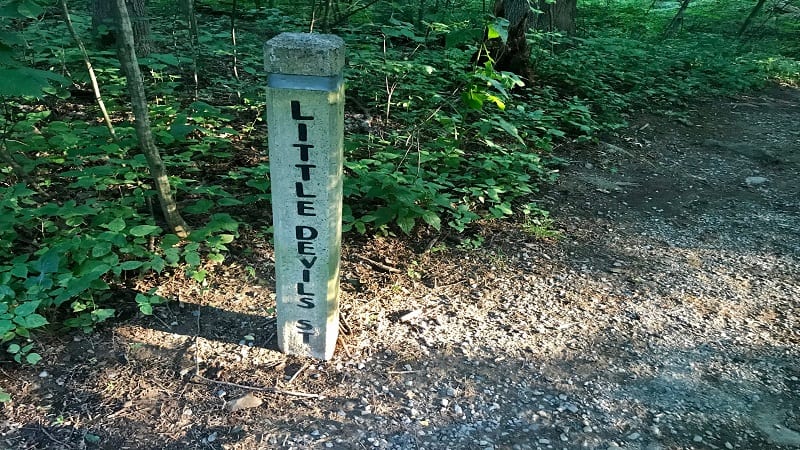 The trailhead for 6.0-mile Little Devils Stairs loop is located on the east side of the park, just north of Sperryville.
To fully enjoy the stream crossings, rock scrambles and cascading falls, hike counter-clockwise. More than a half-dozen water crossings up the fun factor.
On the back-half of this hike, an overlook wows with big views across the Shenandoah Valley. Then, there's a family cemetery with a wrought-iron gate.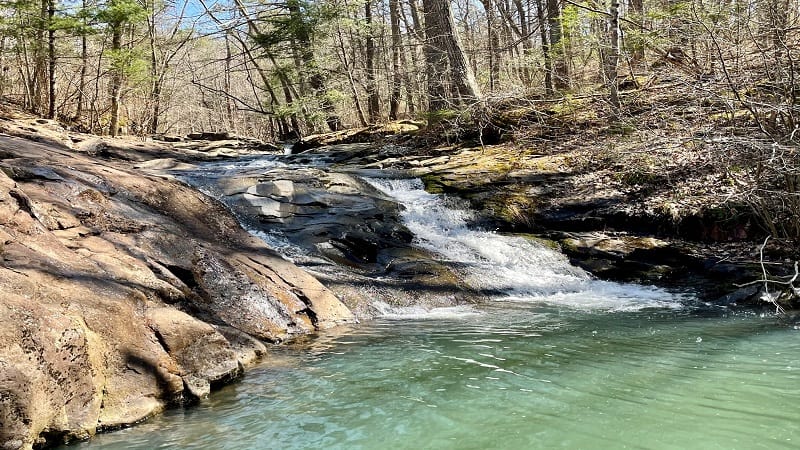 The Thompson Hollow Trail leads into the park from the end of Thompson Hollow Road in Bentonville. A gravel road guides visitors to the hiking trail.
At the 1.0-mile mark, this trail ends as it dead-ends into the Beecher-Overall Run Trail. Turn right at this junction. Then, within .1-mile, an oasis.
In .1-mile, turn left and you will reach large rocks to sit down on and some beautiful cascades and small waterfalls. As a bonus, a dreamy swimming hole.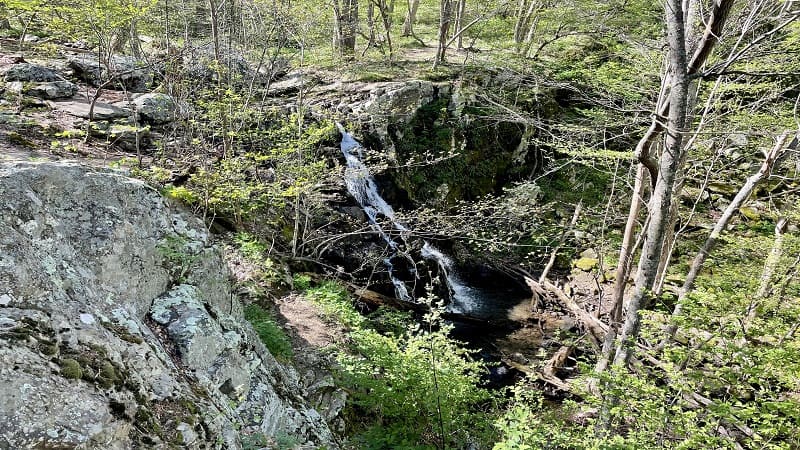 A second hike originates on the Thompson Hollow Trail in Bentonville, on the west side of the park. That's the 8.8-mile loop hike to Overall Run Falls.
Walk alongside gently-flowing Overall Run, then across a quiet forest, before you glimpse 93-foot-tall Overall Run Falls at the 5.7-mile mark on this hike.
In a few more steps, you'll reach the first of three wide-open mountain overlooks. You can also see Overall Run Falls from the first overlook.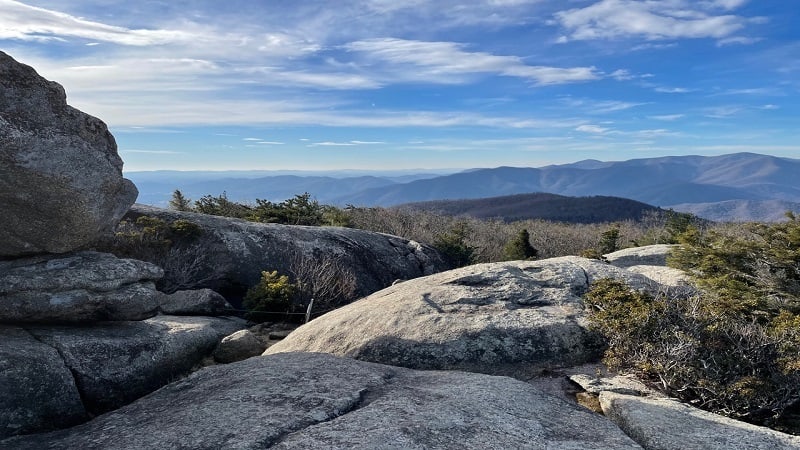 In 2019, Outside magazine named this 9.4-mile loop hike among the 25 best hikes in the world. Not even just in the United States. The whole world.
The hike to the top of Old Rag is a magnet for hikers, so do this one mid-week or in winter (or both) if you can. Get there early, too.
The parking lot fills very quickly. Note that the lot in Etlan is also for those hiking Robertson Mountain, Corbin Mountain and Catlett Mountain.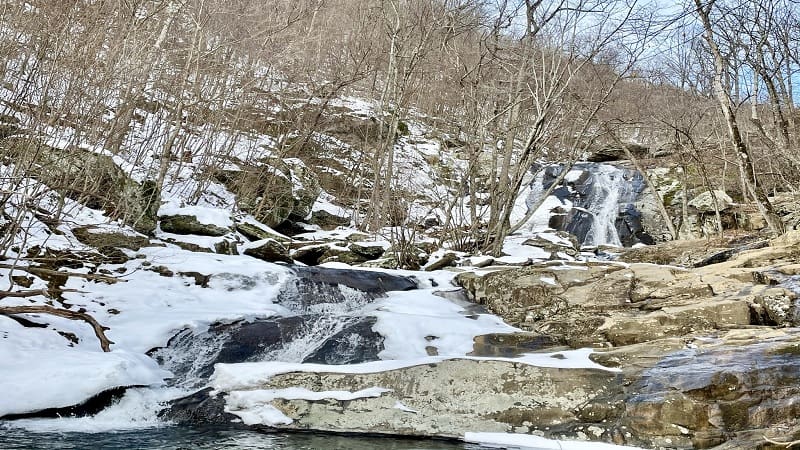 The refreshing 2.9-mile out-and-back hike to Lower Whiteoak Falls begins from a large parking lot just west of Etlan.
Cross creeks and stroll across bridges as you walk the trail alongside the Robinson River. Take in all the burbles and babbles of the flowing cascades.
Scramble rocks to the basin of Lower Whiteoak Falls. The swimming hole is dreamy, if a bit cold in winter at Shenandoah National Park.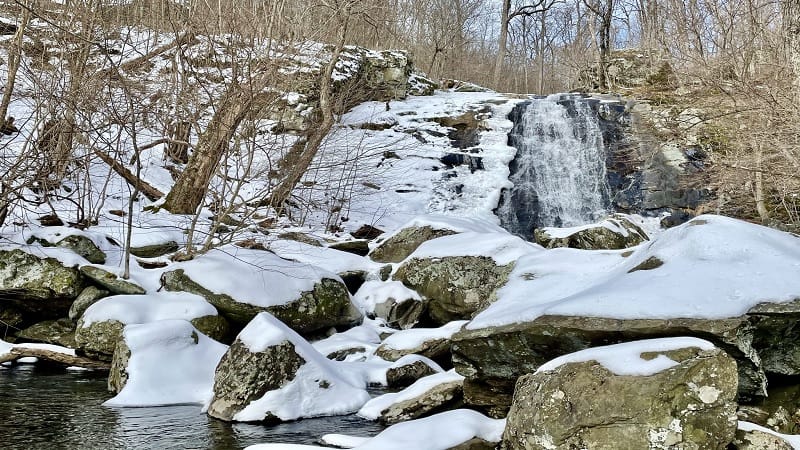 For a longer hike, which includes Lower Whiteoak Falls and Upper Whiteoak Falls, tackle the 8.8-mile loop hike that wows with oasis-like water views.
Once you pass Lower Whiteoak Falls at the 1.4-mile mark, continue ascending to Upper Whiteoak Falls, which comes into view at the 2.4-mile mark.
Press on to reach the Cedar Run Trail. You'll descend on mostly rocky terrain to close the loop and finish up this scenic wooded hike near Etlan.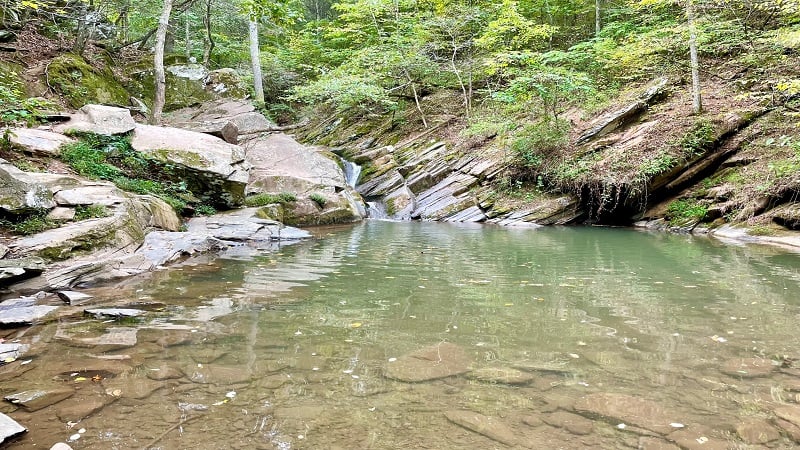 This 3.1-mile southbound out-and-back hike begins from the parking area for Sugar Hollow Reservoir in Crozet, on the east side of the national park.
A horse trail guides hikers into Shenandoah National Park, ascending alongside the South Fork Moormans River until you reach the Blue Hole.
This idyllic swimming hole is popular in summer. It's also the perfect spot for quiet contemplation in winter months. A rock scramble leads to water's edge.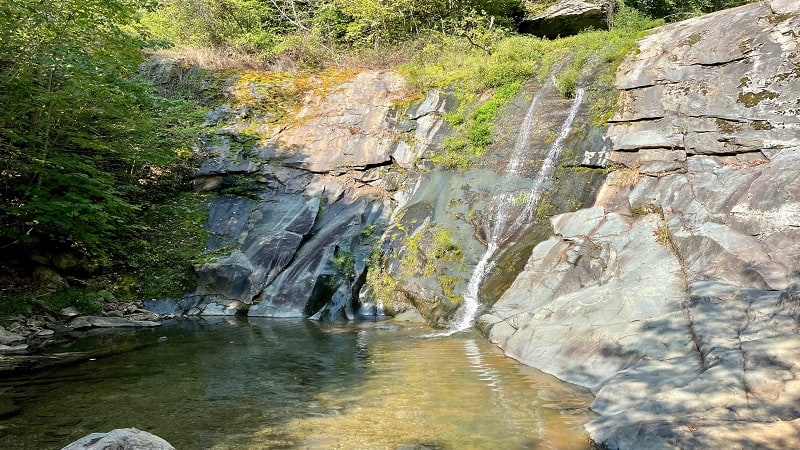 This 4.7-mile northbound out-and-back hike also begins from the parking area for the Sugar Hollow Reservoir in Crozet.
This pleasant hike to Big Branch Falls follows the North Fork Moormans River and features several easy river crossings along the way.
At the 2.2-mile mark, a blue-blazed spur trail leads to Big Branch Falls. There is a gently-flowing waterfall as well as a small yet refreshing swimming hole.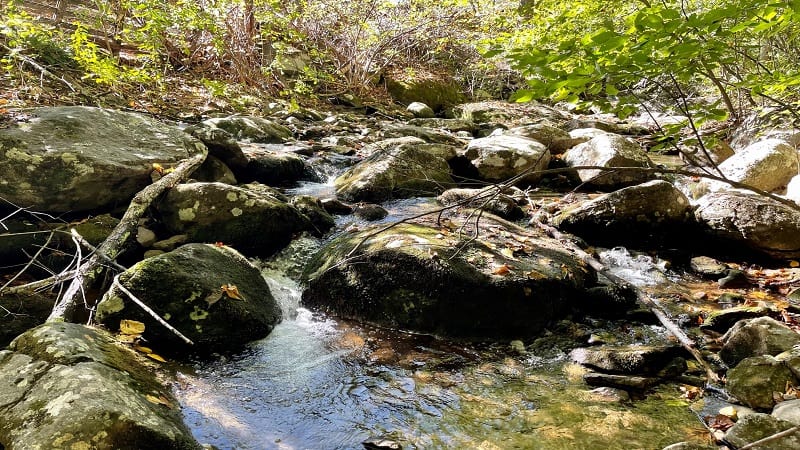 A quiet 6.2-mile loop hike, which includes the Broad Hollow Trail, Hazel Mountain Trail and Pine Gap Trail, begins at a boundary trailhead near Nethers.
Within the first few steps, you will cross over gently-cascading Broad Hollow Run. Then, at the 1.1-mile mark, you'll see remains of an old wooden cabin.
This hike is best in winter when you can be rewarded with scenic views through leafless trees. Late in the hike, look for old, dilapidated trailers.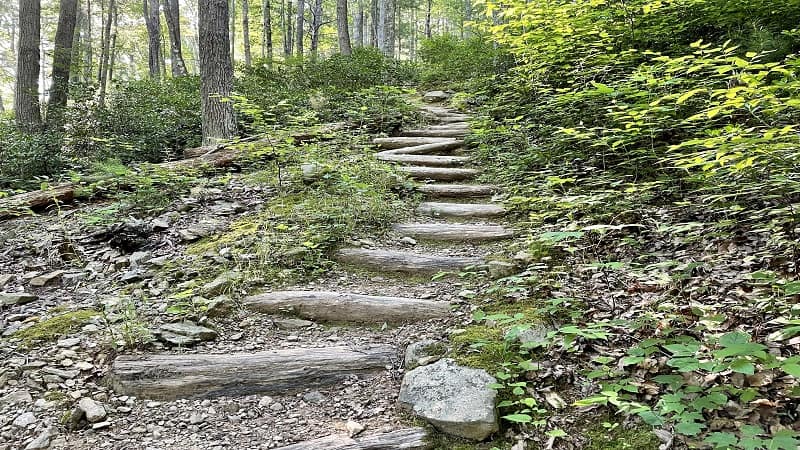 This 6.1-mile loop hike boasts flowing water views along the Buck Hollow Trail, but also more than 600 steps at the start of the Buck Ridge Trail.
This loop can be accessed from Skyline Drive, as well as from a boundary trailhead on State Route 211 near Sperryville.
Best tackled in late-fall or winter when the leaves have fallen, you'll enjoy plenty of spectacular views no longer obscured by dense foliage.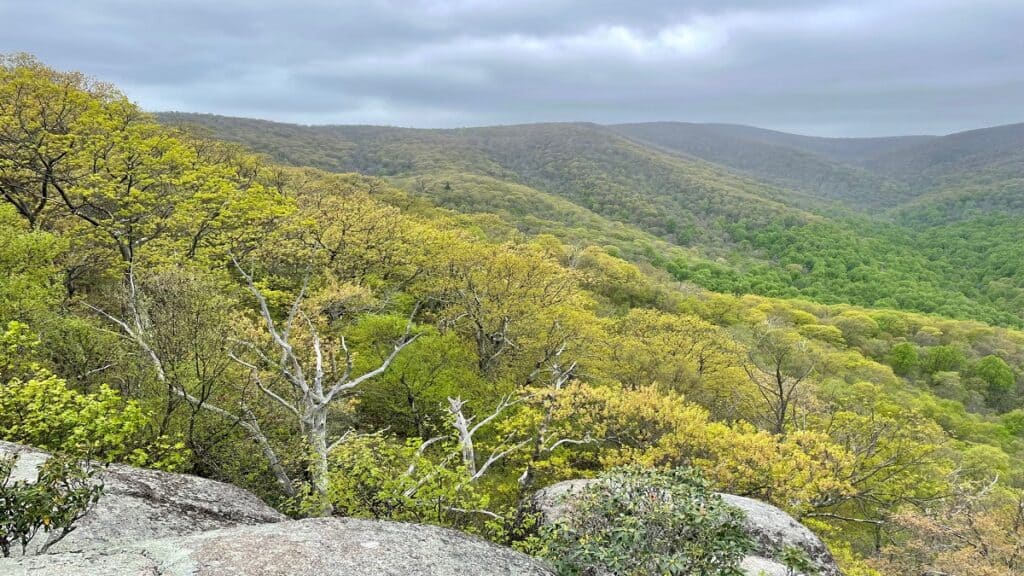 I love hikes that are more than a waterfall hike or a hike to big views. You know, hikes that check several boxes, with wide-open vistas, cascades and cabins.
The challenging 9.1-mile hike to Bear Church Rock has flowing rivers, a rock scramble, wide-open vistas and a small watering hole. Seriously, so much to offer.
Take your time and enjoy the quiet serenity of the forest on this strenuous, but less-trafficked boundary hike in Shenandoah National Park.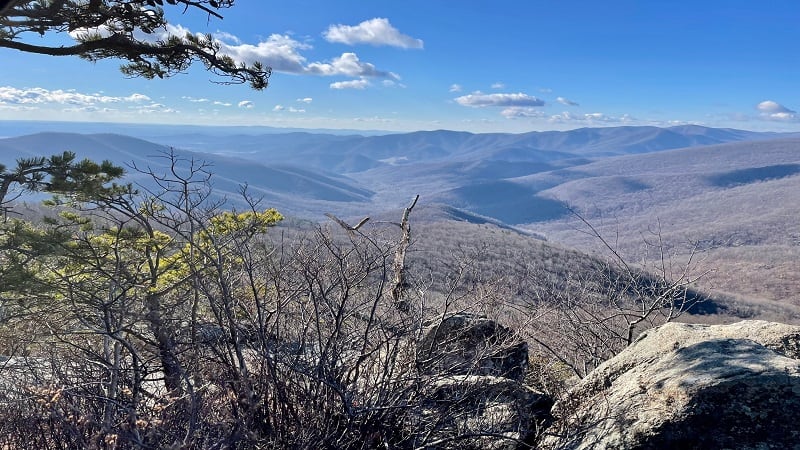 The 9.7-mile hike at Robertson Mountain starts from the same lot as Old Rag. There are no rock scrambles like Old Rag, but this is still a five-star hike.
It's a rugged, merciless climb to the summit, but you'll be glad you tackled this hike for the far-reaching panoramas. Just be sure not to miss them.
At the 3.6-mile mark (counter-clockwise), an unmarked spur trail leads to the left for spectacular vistas from an elevation of 3,297 feet.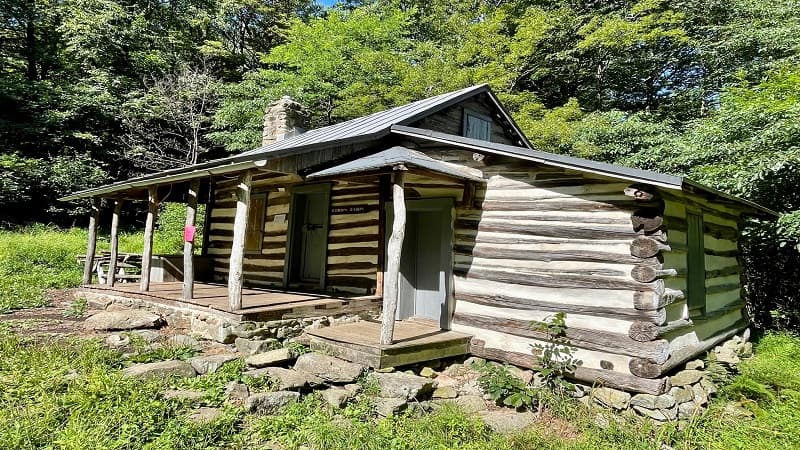 The 8.4-mile out-and-back hike to Corbin Cabin on the Nicholson Hollow Trail is one more hike that shares a parking lot with the Old Rag hike.
The trek to Corbin Cabin is a moderate ascent, mostly alongside the flowing Hughes River. There are cascades and swimming holes all along the hiking trail.
Corbin Cabin is one of six primitive cabins within Shenandoah National Park that are owned and managed by the Potomac Appalachian Trail Club (PATC).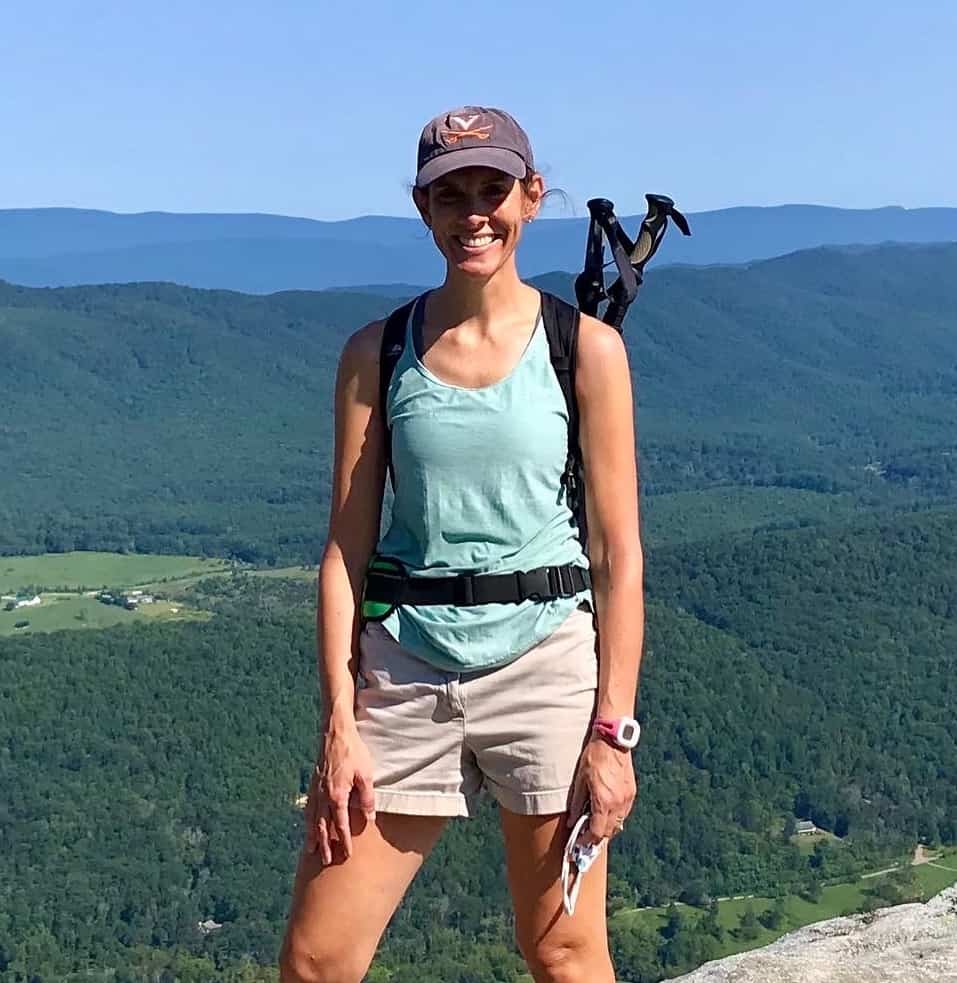 Erin Gifford is the editor of Go Hike Virginia. She has completed more than 300 hikes in Virginia. She is also the author of three hiking guidebooks from Falcon Guides. Need help finding a hike? Check out the Trail Finder feature or send Erin a message.