Molly's Knob: Hike to One of the Most Beautiful Overlooks in Virginia at Hungry Mother State Park
The Molly's Knob Trail is one of nearly a dozen hiking trails at Hungry Mother State Park in Marion, Virginia. It's a steep trail, but it's also hugely rewarding.
The far-reaching views across the mountains, including Mount Rogers and Whitetop Mountain, are hard to beat. They are very, very easy on the eyes.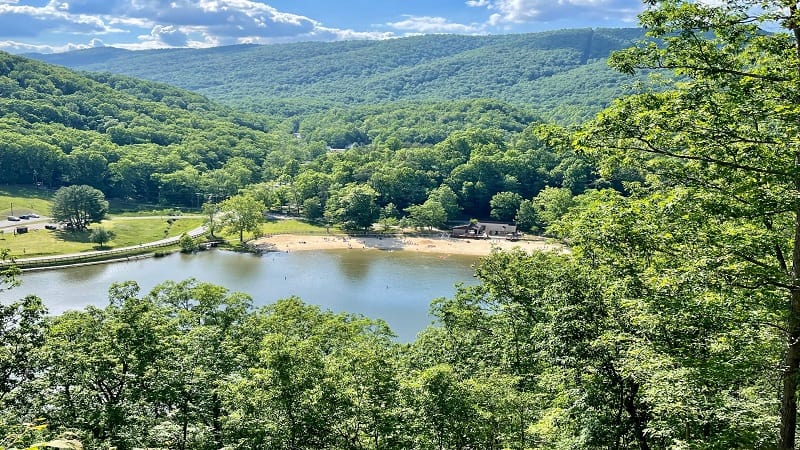 This short hike includes steps on both the Molly's Knob Trail and Molly's Vista Trail. On the way up, you'll thankfully pass a few benches, too.
Post-hike, stop off at the sandy beach on the shores of Hungry Mother Lake. It's the perfect spot to sit and revel in your hard-earned accomplishment.
| Trail Stats | |
| --- | --- |
| Length | 3.6 miles |
| Difficulty | Moderate |
| Trail Type | Out-and-Back |
| Elevation Gain | 994 feet |
| Duration | 2-3 hours |
| Terrain | Mostly dirt & rock trails |
| Dog-Friendly | Yes |
| Fee | $7 per vehicle |
| Driving Directions | Click Here |
Molly's Knob Trail
This hike begins on the northeast side of Hungry Mother Lake. There is a small parking area, with room for eight cars, close to the trailhead on Lake Drive.
Once you park your car, walk north (uphill) to a large trail kiosk that marks the start of this hike. There is also a white sign marking the start of the trail.
The ascent begins right away, but it's not terrible, though the park does mark this as a difficult hike with a black diamond rating on the park trail map.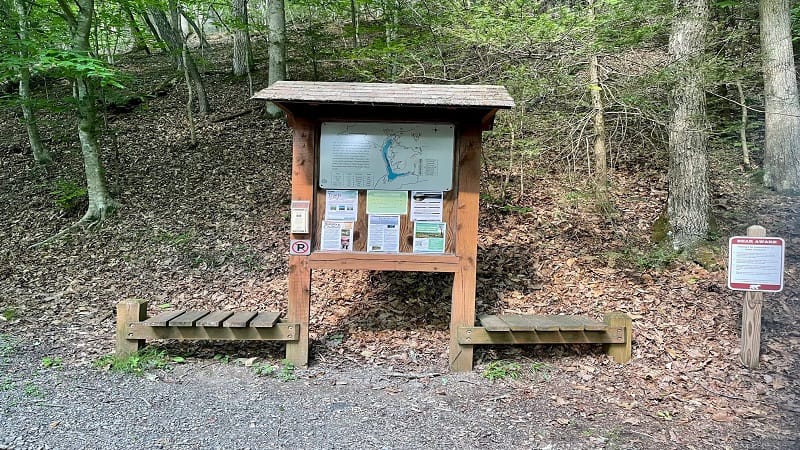 At the 0.3-mile mark, pause to enjoy west-facing views across Hungry Mother Lake. In-season, you'll see visitors splashing and paddling on the lake.
Continue up the path until you reach an observation deck at the 0.4-mile mark. To be honest, there's nothing to see, but it is a shady spot for a rest.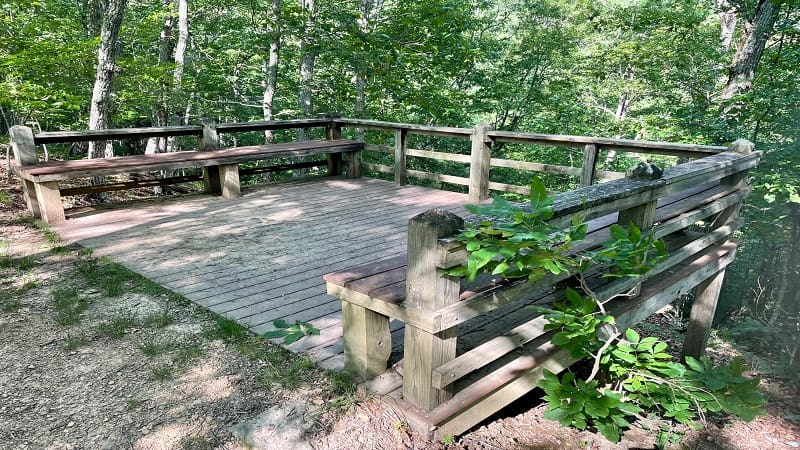 Here, the trail also splits into two trails. Turn left for the white-blazed Molly's Knob Trail. The trail to the right is the green-blazed Ridge Trail.
Keep climbing the forested Molly's Knob Trail. While steep, this hiking trail thankfully allows you to catch your breath now and again with benches.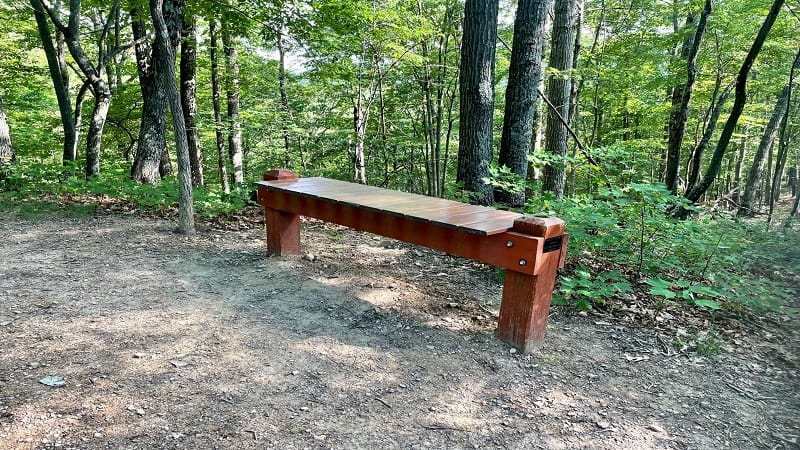 In fact, once you pass the observation deck, you'll reach three red benches, including at the 0.7- and 0.9-mile marks on the Molly's Knob Trail.
Molly's Vista Trail
Stay alert as you near the 1.4-mile mark. Here you'll want to stay left for the purple-blazed Molly's Vista Trail. It's very easy to just walk by the sign.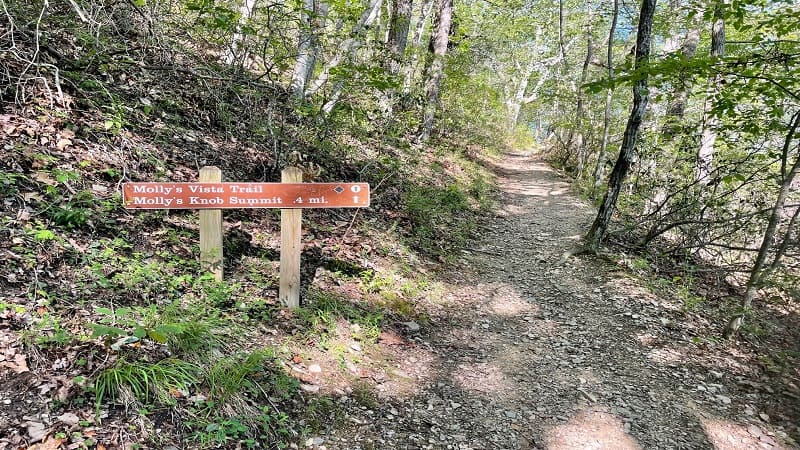 Now, let me tell you, if the Molly's Knob Trail is a black diamond, then the Molly's Vista Trail is a double black diamond. It is seriously so steep.
Fortunately, one more bench appears on the way up at the 1.5-mile mark. I definitely stopped to take a much-deserved break at this bench.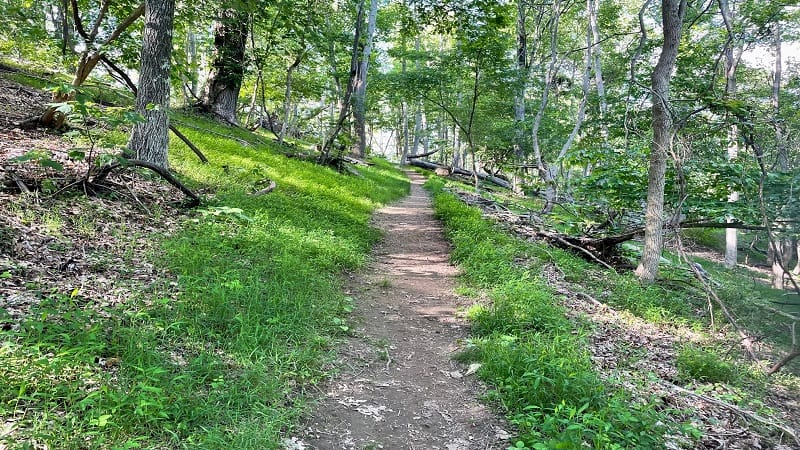 There are a few switchbacks on this trail to help manage the ascent, but still, it's rather steep. However, payoff views are mere steps away.
Molly's Knob
At the 1.8-mile mark, you will reach the summit of Molly's Knob (elevation 3,245 feet). You'll be totally blown away by the views, too.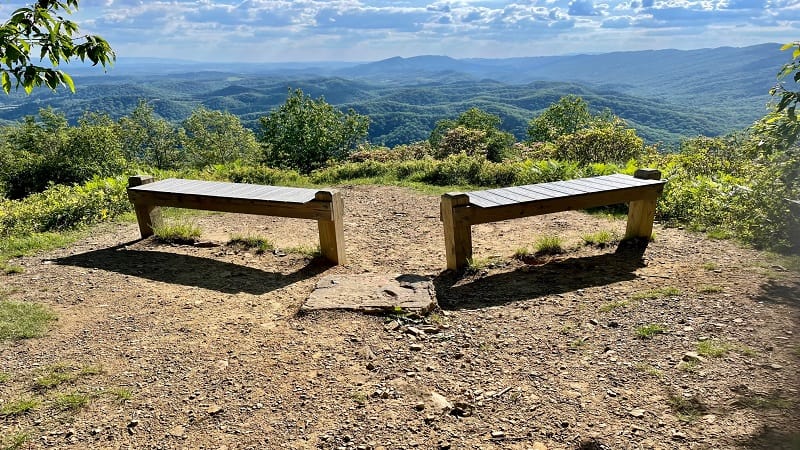 Two more benches greet hikers at the summit so you can sit and soak up all the views of mountains that just seem to go on and on and on. Gorgeous.
There's no question that this is one of the very best overlooks in all of Virginia. The views across to the Mount Rogers National Recreation Area are incredible.
Once you've taken it all in, simply re-trace your steps to the parking area. If you have time, check out another trail or get out on the 108-acre lake.
Wrap-Up Notes
From my car, this hike took me about 90 minutes including time spent taking in all the late-afternoon views from Molly's Knob.
Built by the Civilian Conservation Corps (CCC) in the 1930's, Hungry Mother State Park is one of the original six Virginia State Parks.
At this 3,000-acre state park, you'll find more than 18 miles of hiking trails and Hungry Mother Lake for swimming, sunning, kayaking and canoeing.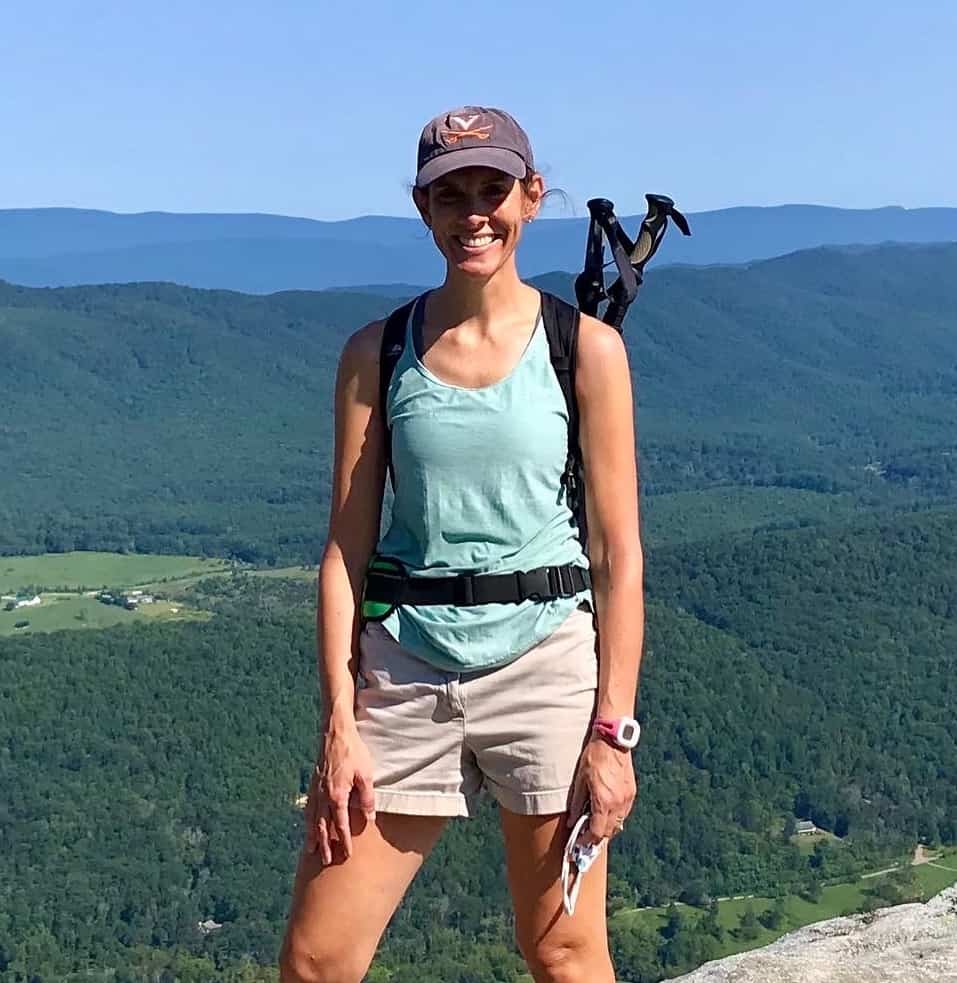 Erin Gifford is the editor of Go Hike Virginia. She has completed more than 300 hikes in Virginia. She is also the author of three hiking guidebooks from Falcon Guides. Need help finding a hike? Check out the Trail Finder feature or send Erin a message.