Belle Isle State Park: Easy Hiking Trails Wow with Coastal Views
A few weeks ago, I got my first overnight backpacking trip under my belt at Belle Isle State Park. Woo-hoo. Thankfully, it began on a near-60 degree Saturday in January.
I arrived early at this coastal state park in Lancaster to hike a large 5.8-mile loop that steps foot on nearly every trail in the park. Only two trails were not on this loop hike.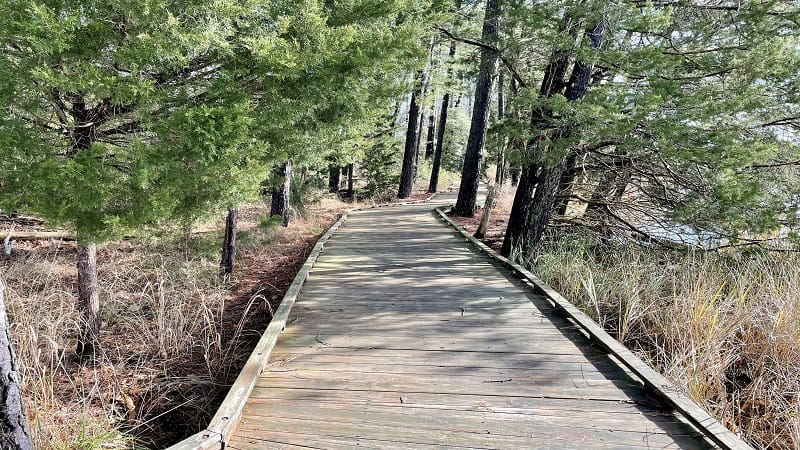 One was the Neck Fields Trail, which turned out to be the trail to Brewer's Point, the location of the primitive campsites. Perfect. The other was the .9-mile Bluebird Trail.
I saw this hike on AllTrails, listed simply as Belle Isle Park Trail. It's a generally good description, but if you go, make note that there is no actual Belle Isle Park Trail.
Instead, this trail cobbles together multiple trails to bring you the best of Belle Isle State Park. You won't be disappointed. Unless… More on that further down.
| Trail Stats | |
| --- | --- |
| Length | 5.8 miles |
| Difficulty | Easy |
| Trail Type | Loop |
| Elevation Gain | 56 feet |
| Duration | 2.5-3.5 hours |
| Terrain | Mostly dirt, gravel & sand trails, some boardwalk |
| Dog-Friendly | Yes |
| Fee | $7 per vehicle weekdays ($10 per vehicle weekends, Apr-Oct) |
| Driving Directions | Click Here |
Arriving at the Trailhead
This trail begins on the Mud Creek Trail, the longest hiking trail in the park at 1.9 miles. Take Creek Landing Road to the end and you will dead-end in the parking lot.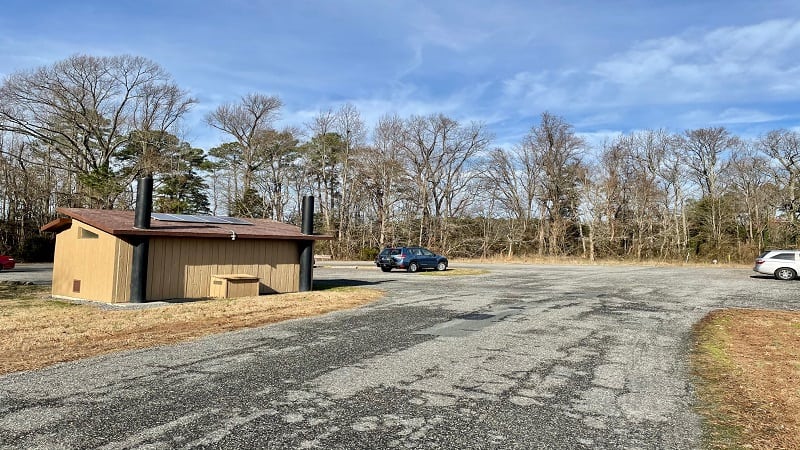 Here you'll find a couple dozen parking spaces, as well as the launch area for canoes and kayaks. You'll also find restrooms (vault toilets) and a picnic table.
Look for the large Canoe/Kayak Launch sign in the northwest corner of the parking lot. You'll also see a colorful trail marker heralding the start of this hike.
The First Steps
Walk past the trail marker on a gravel road. This is essentially the road used by vehicles looking to drop their canoes and kayaks into Mulberry Creek.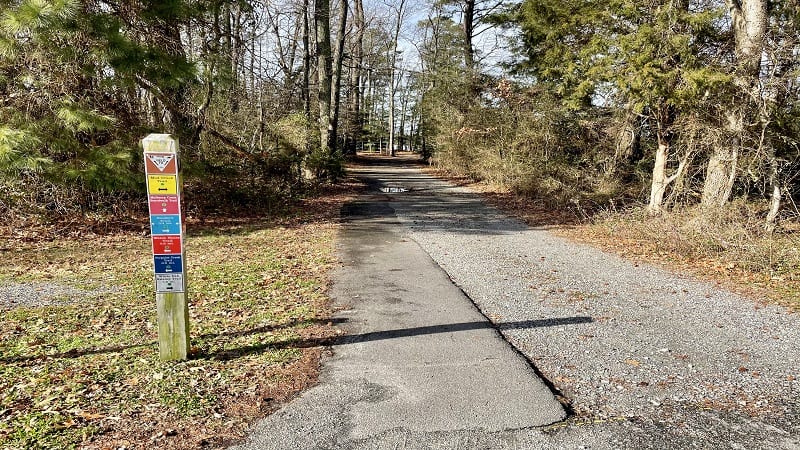 You are now on the burgundy-blazed Mulberry Creek Boardwalk Trail, though the actual boardwalk doesn't begin until after you pass the boat launch.
Stay to your left and you'll see a delightful stretch of fully-accessible boardwalk. Along this section, you'll encounter several walk-out overlooks for delightful water views.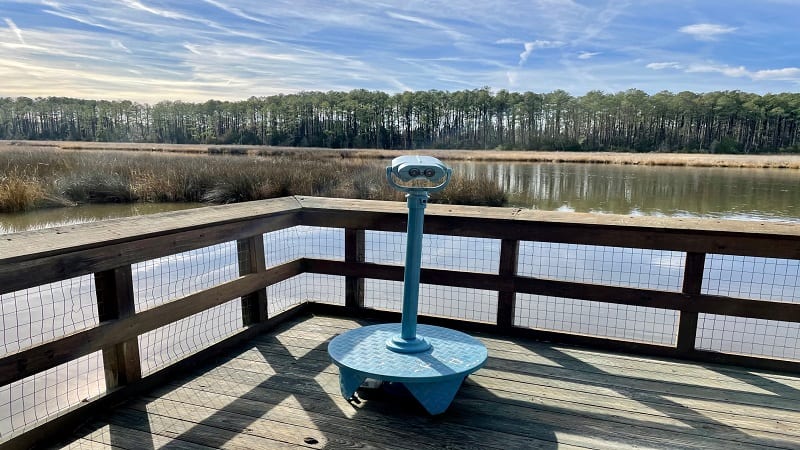 At one of the overlooks, near the .2-mile mark, there is a set of mounted binoculars just right for observing waterfowl, like osprey, blue herons and bald eagles.
In a few more steps, you'll see picnic tables to the left of the boardwalk trail, each with views across Mulberry Creek.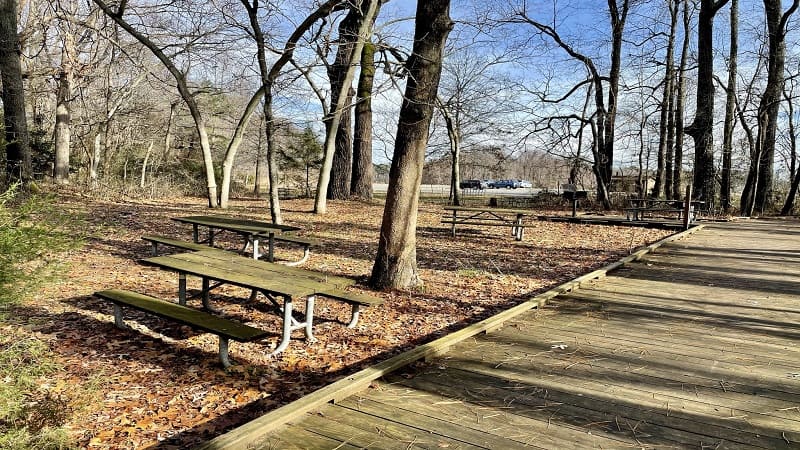 Ahead, you'll spy a trail marker and a gravel trail. Proceed straight ahead to re-connect with the yellow-blazed Mud Creek Trail. At the .6-mile mark, an open field.
I was confused at first, too. However, if you walk a few steps, you'll quickly see that the trail skirts around the open space on the right. Ah, relief.
At the .7-mile mark, you'll reach a trail marker and a dead-end. Turn right here for the Watch House Trail, which leads to a beautiful small beach on the Rappahannock River.
This red-blazed trail essentially feels like a gravel service road, but you will enjoy gorgeous views of coastal marshes on both sides of this trail (especially the right).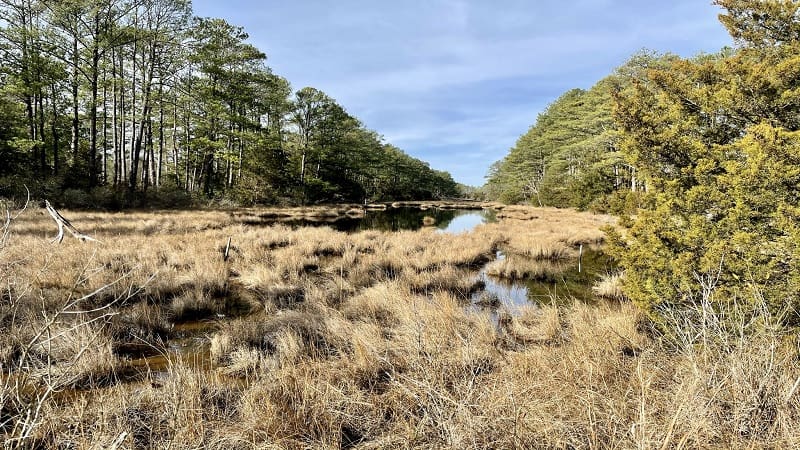 In a few more steps, you'll have the option to proceed straight ahead for a direct route to the small sandy beach. Or, you can turn right or left for Watch House Loop.
Watch House Loop will get you to the sandy beach, but you'll enjoy some extra mileage and water views, too. Unless…. Yes, unless. As in, unless it's mostly flooded.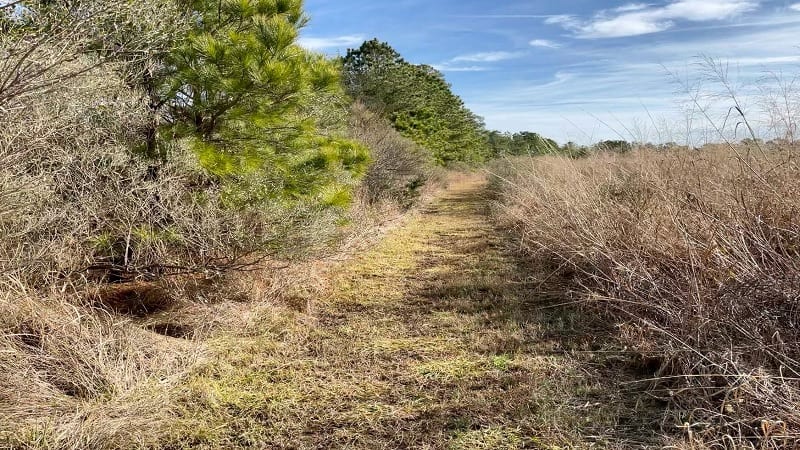 I've never hiked (maybe waded is a better word) across such a water-logged trail. I kept thinking I would quickly get through to the other side, but no such luck.
I was considering this trail for a guidebook I'm writing on family hikes in Virginia, so I kept going to ensure I was properly mapping the hike.
In some places, I was ankle-deep in water. The trail was beyond saturated in some sections. So, unless you're writing a guidebook too, turn back on this loop trail.
If the trail is dry enough to forge ahead, you'll reach the very small sandy beach at the 1.4-mile mark. The views across the Rappahannock River are quite delightful.
Once you exit the beach area, turn left to continue on the Watch House Loop. As an option, you can also walk straight ahead for the Watch House Trail. Both trails will meet.
As a side note, if the east section of Watch House Loop is saturated, the west section will be too, as I learned first-hand. I was so glad I had a second pair of shoes.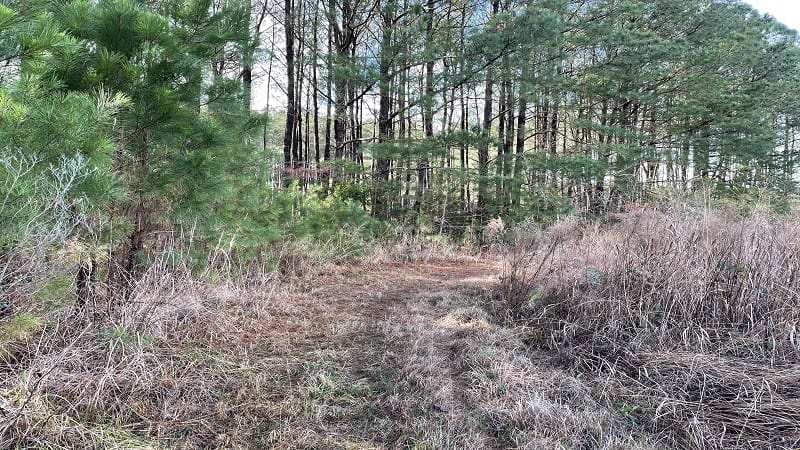 At the 2.0-mile mark, the trail re-connects with the Watch House Trail. Turn left here to re-trace your steps to and then past the Mud Creek Trail.
When you reach the Porpoise Creek Trail at the 2.3-mile mark, turn right. This trail continues on to dead-end at a picnic area with restrooms and a playground.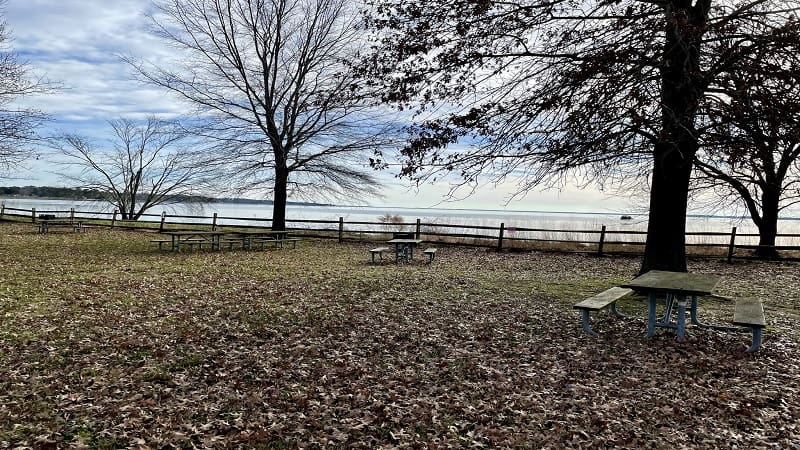 You'll enjoy more relaxing views across the Rappahannock River. From here, cut across the parking area and walk along Belle Isle Road.
At the 3.5-mile mark, turn left on the paved road that leads into the campground (even if it's closed). In a few more steps, you'll see a trail marker on the right.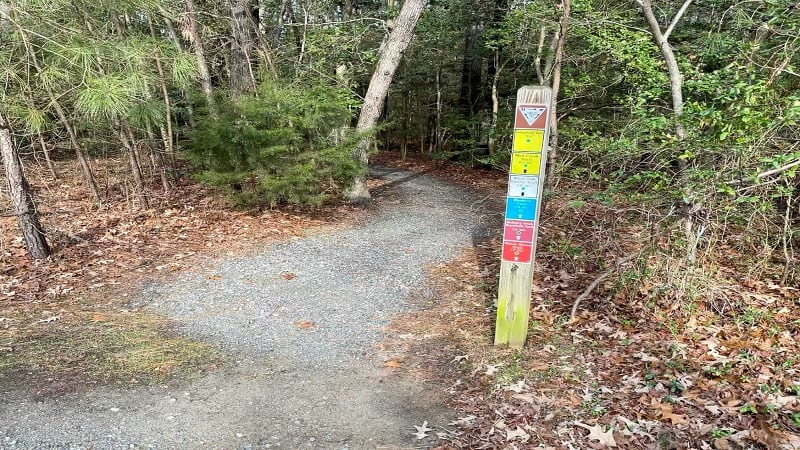 Turn right into the woods for the yellow-blazed Campground Spur Trail, then turn right again onto the Mud Creek Trail.
At the 3.8-mile mark, stay right for the white-blazed White Oak Swamp Loop. In late-fall or winter, you may be in for a surprise when you reach the short boardwalk.
In the murky waters to the right, you may spy a glorious rainbow of colors as sunlight magically transforms the water filled with decomposing leaves. It's truly amazing.
Close the loop at the 4.7-mile mark. In a few more steps, stay right to exit this section of the park by way of the Mud Creek Trail.
As you continue along, you'll see lots of nice lookouts across the grasses in Mulberry Creek. You'll also see a few benches along the way to settle in and enjoy the scenery.
At the 5.4-mile mark, a dead-end (on the far side of the open field). Turn left here for the final steps to the parking area.
Hike Options
The options are endless at Belle Isle State Park. There are so many different ways to connect hiking trails across this coastal state park.
It's not a large park, so it's easy to find your way. Pick up a park map, which is always my recommendation at state parks since they have so many short trails.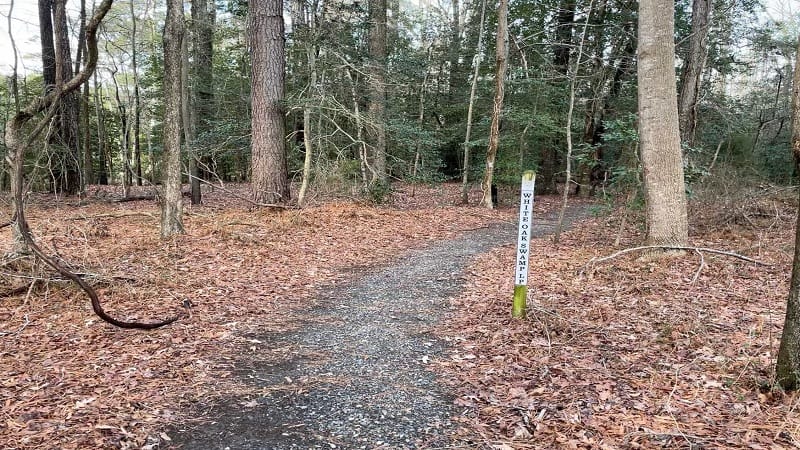 In winter months, the campground trails like White Oak Swamp Loop and the section of Mud Creek Trail that runs through are good picks for quiet and solitude.
Wrap-Up Notes
From the parking area, this state park hike on a peninsula took me nearly two hours to complete, including time spent snapping photos along the way.
It's worth noting that in winter the Camp Store and Visitor Center are both closed to visitors. However, restrooms across this state park are open.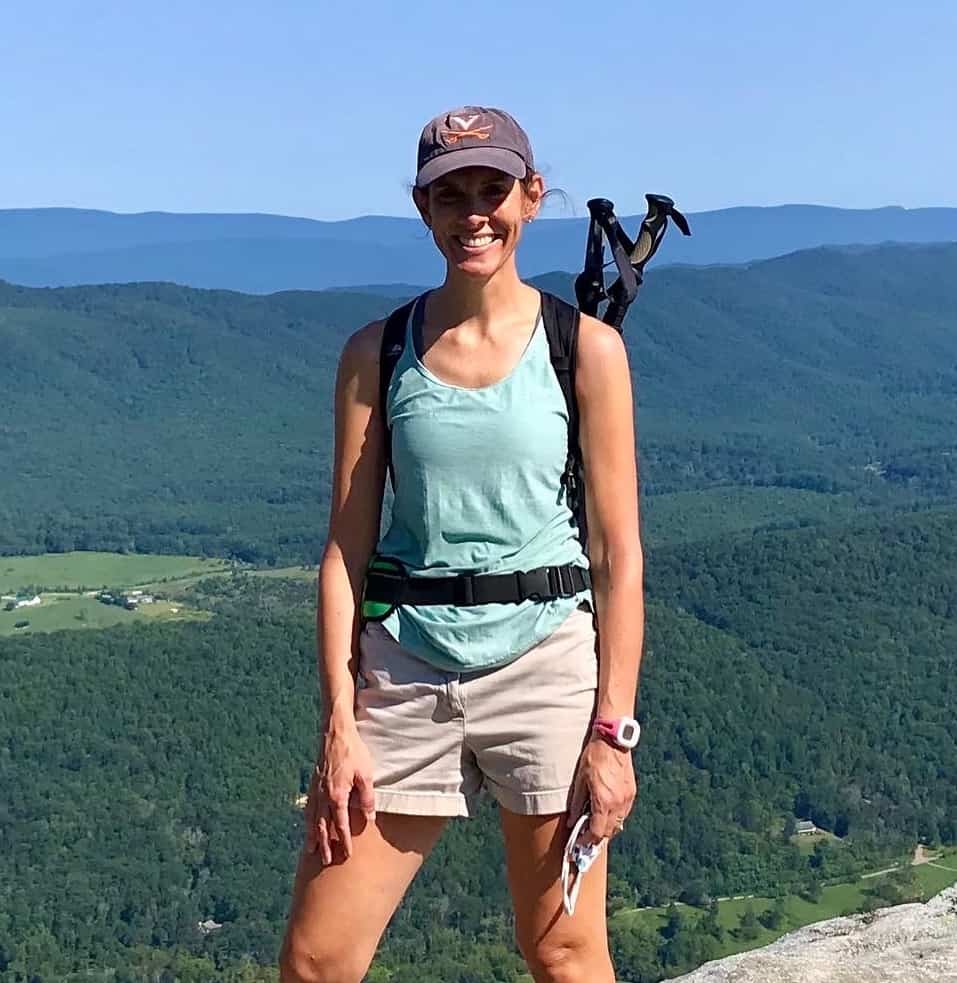 Erin Gifford is the editor of Go Hike Virginia. She has completed more than 300 hikes in Virginia. She is also the author of three hiking guidebooks from Falcon Guides. Need help finding a hike? Check out the Trail Finder feature or send Erin a message.