An Easy Loop Hike at Shenandoah River State Park
I visited Shenandoah River State Park near Front Royal last Saturday and I'm already eager to go back to hike more scenic and forested trails.
The 1,619-acre state park wows with more than 25 miles of wooded trails. However, with nearly 20 named hiking trails, it can be hard to zero in on one or two hikes.
There are a lot of trails that can easily be connected too if you'd like to create a scenic loop. I did just that, taking in the best of four different trails.
Going clockwise, I hiked the Hemlock Hollow Trail to the Overlook Trail to the Campground Trail to the Bluebell Trail to create a delightful 3.1-mile loop.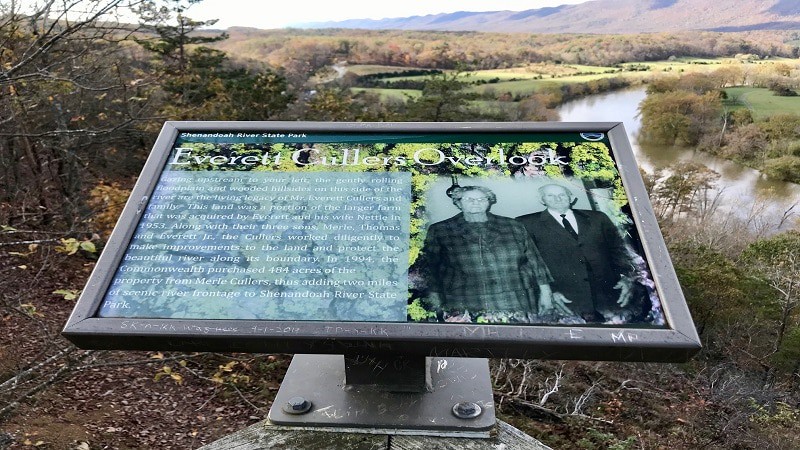 Technically, there were also a few steps on the River Trail – like, less than .1-mile – and a walk on an unnamed connector path, but I've got you covered below.
In spite of pea soup-level fog at the start of my hike, this route was a winner. It was an easy hike too that can be enjoyed by all levels.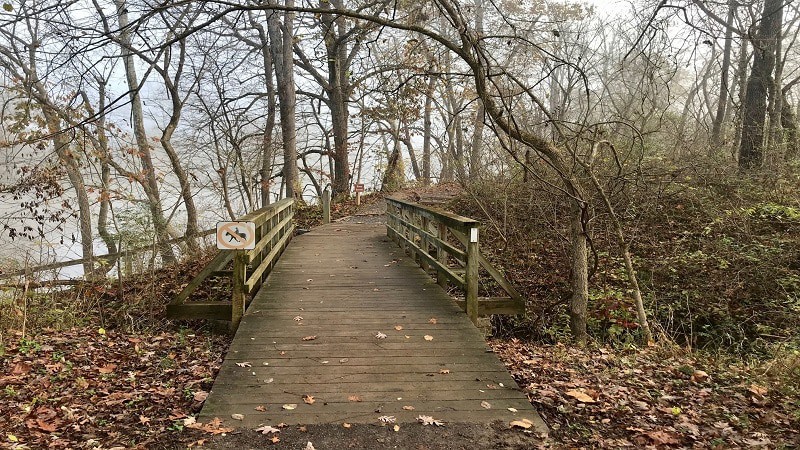 Even better, the park was quiet and uncrowded. Shenandoah National Park is less than 20 minutes away and lines were out of the park on this crisp fall weekend.
There were thankfully no such lines at Shenandoah River State Park, yet the colorful foliage and mountain landscapes were as or more beautiful.
| Trail Stats | |
| --- | --- |
| Length | 3.1 miles |
| Difficulty | Easy |
| Trail Type | Loop |
| Elevation Gain | 308 feet |
| Duration | 1.5-2 hours |
| Terrain | Mostly dirt & gravel trails, plus wooden bridges |
| Dog-Friendly | Yes |
| Fee | $10 per vehicle |
| Driving Directions | Click Here |
Arriving at the Trailhead
From the entrance, I drove along Daughter of Stars Drive to the back of the park.
As a side note, did you know that "Daughter of the Stars" is the English translation of "Shenandoah," a Native American word? The more you know.
At the dead-end, I turned left and drove all the way to the far parking area. The parking lot is huge. You'll also find a large picnic area and restrooms.
Look for a large trail kiosk at the back of the parking area. The wide, dirt trail is directly to the right of this sign and heads into the wooded forest.
The First Steps
A few steps past the trail kiosk you'll come to a trail marker. Turn left here for the green-blazed Hemlock Hollow Trail.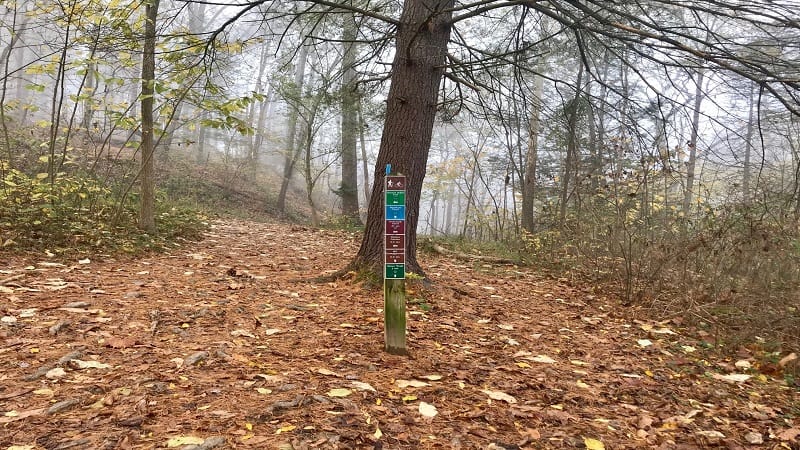 Immediately, you begin ascending this forested trail for .2-mile before the trail levels off and you reach two wooden bridges to cross over ravines at the .45-mile mark.
In a few more steps, you'll reach the park's visitor center on the left. There is a nice open-air deck and picnic tables here if you want to stop to re-fuel or re-hydrate.
Here also the hiking trail turns into the burgundy-blazed Overlook Trail as you continue straight ahead past the visitor center.
You'll begin to hear rippling sounds of the Shenandoah River. At the .9-mile mark, you'll reach a bench with breathtakingly scenic views of the Shenandoah River (once the fog clears).
In a few more steps, there is a spur trail on the left to reach Culler's Overlook. Enjoy the sweeping views across Massanutten Mountain, as well as the Shenandoah Valley.
Culler's Overlook has more or less the same views as the wooden bench. It's just 15 or 20 feet above the level of the hiking trail. This overlook is also accessible by car.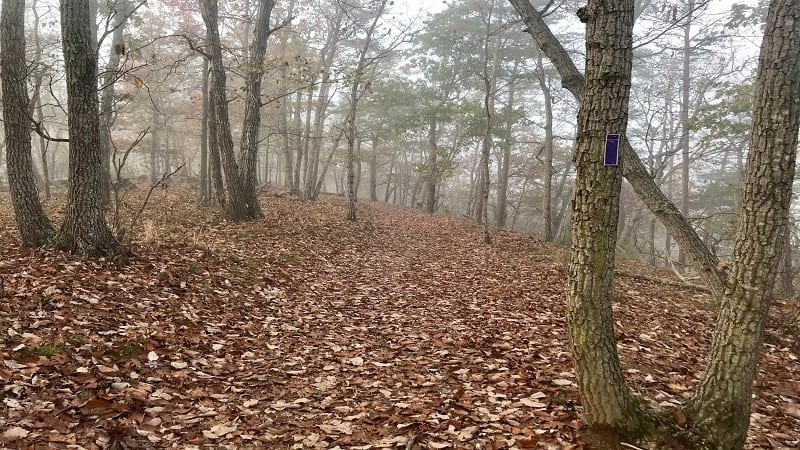 At the 1.0-mile mark, you'll reach another trail marker. Turn right here for the purple-blazed Campground Trail. At the 1.6-mile mark, you reach the 31-site campground.
There's a trail kiosk to your left and a paved road in front of you, but no signage to indicate which way to go. You won't even see any trail. Just RVs, tents and camping cabins.
Here's what you do. Turn left, but make a quick right, walking past a dumpster on your right. At the stop sign, turn right onto the main road.
You'll then see a trail sign on the left, but you instead want to turn right onto a gravel road with a sign that reads "Authorized Vehicles Only." I know, frustrating.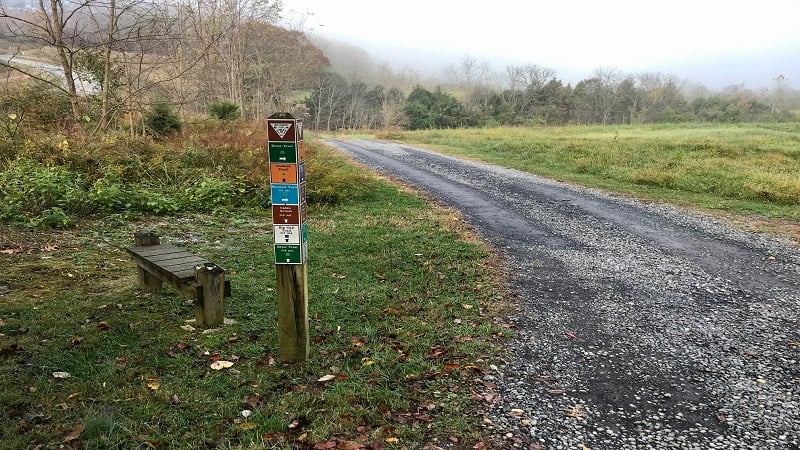 From here, you walk along an unnamed trail until you reach the river at the 2-mile mark. You'll see a fire pit, a picnic table and a bench. Turn right on the River Trail.
In .1-mile, the River Trail connects with the light blue-blazed Bluebell Trail for a refreshingly scenic final mile alongside the Shenandoah River to the parking area.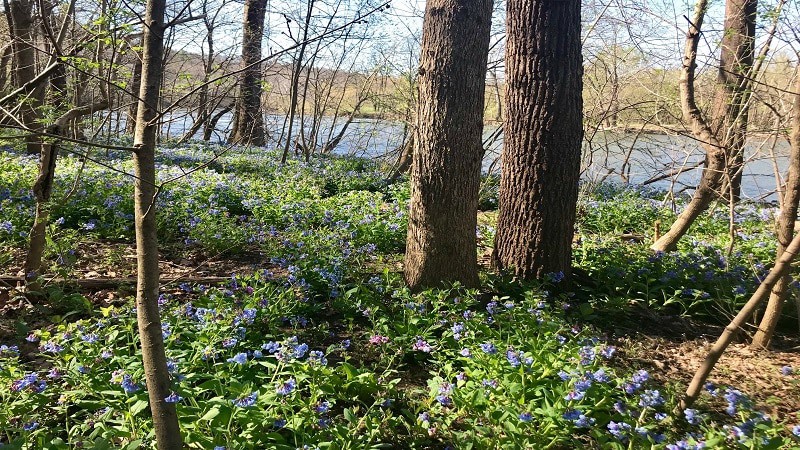 In early-spring, the Bluebell Trail is a fantastic walk for pale blue, lilac and cobalt colored bluebells gracefully lined all along this gravel trail.
Hike Options
With so many hiking trails at Shenandoah River State Park, it's not hard to add on extra steps. Be sure to bring along a trail map to keep from getting lost.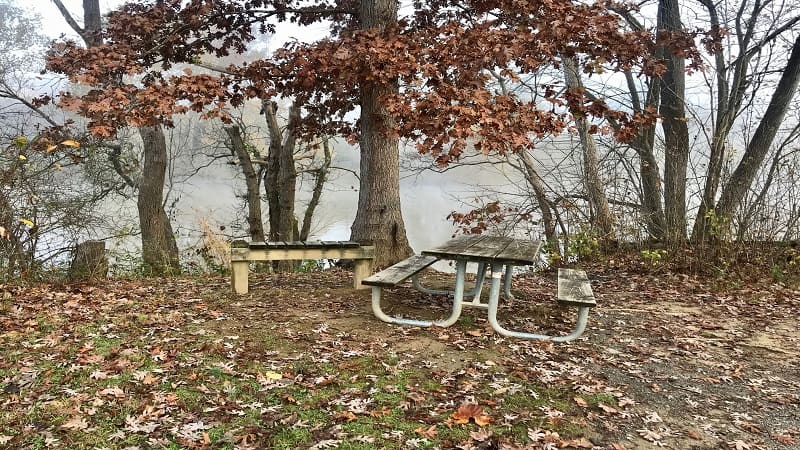 For example, once you reach the River Trail, you can turn left instead of right to enjoy even more views across the Shenandoah River. Honestly, the options are endless.
Wrap-Up Notes
From the parking area, this hike took me 1 hr, 15 mins to complete, including time spent at Culler's Overlook and finding my way back to the trail from the campground.
Front Royal is a 15-minute drive from Shenandoah River State Park. It's a quaint town with a historic Main Street and a village green with a gazebo. So worth a stop.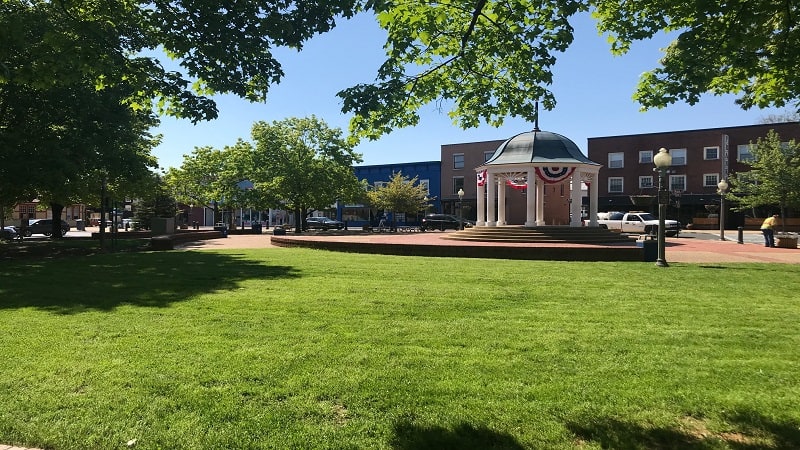 In town, there's an outdoor clothing and equipment shop called Mountain Trails. On the wall adjacent to the shop, look for the colorful Appalachian Trail mural.
If the mural inspires you, there are two nearby AT hikes to backcountry shelters, including Manassas Gap Shelter and Jim & Molly Denton Shelter.
For more hiking adventures in Virginia State Parks, there are several nearby options, including Seven Bends State Park (53 mins) and Sky Meadows State Park (43 mins).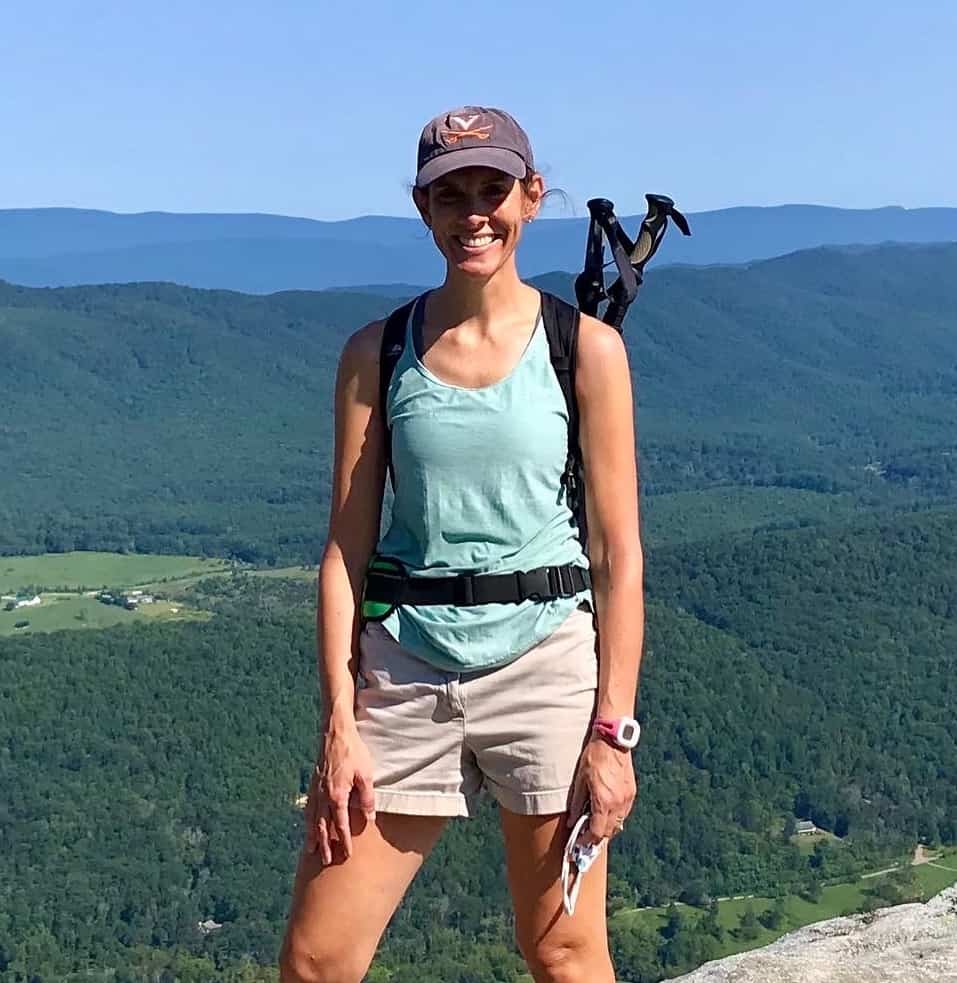 Erin Gifford is the editor of Go Hike Virginia. She has completed more than 300 hikes in Virginia. She is also the author of three hiking guidebooks from Falcon Guides. Need help finding a hike? Check out the Trail Finder feature or send Erin a message.