Douthat State Park: A Hiking Trail That Wows with Sweeping Lake Views
When you first arrive at Douthat State Park in Millboro and receive a trail guide at the park entrance, you may notice that there are a lot of hiking trails. Like, so many.
All told, more than 43 miles of hiking, biking and horse trails criss-cross this wooded state park. There is also a 50-acre stocked lake for fishing, boating and swimming.
With more than 25 trails, it can be hard to decide which one or ones to hike on a visit to this park. There are just so many. Seriously, so many.
I visited Douthat State Park a couple of weeks ago. This was my second visit. Oddly, I chose to hike the same trail this time that I did the first time (which I rarely ever do).
I don't usually repeat hike trails, but I knew that the Tobacco House Ridge Trail was a winner. I hiked this trail, but then added on, to see what other trails had to offer this day.
In total, I hiked 4.3 miles along several different trails. However, my recommendation is a 2.3-mile out-and-back hike mostly along the Tobacco House Ridge Trail.
In the trail guide, the Tobacco House Ridge Trail is listed as .79-mile one-way. I did this stretch (out-and-back) but also added more steps to see the state park lake and waterfall.
| Trail Stats | |
| --- | --- |
| Length | 2.3 miles |
| Difficulty | Moderate |
| Trail Type | Out-and-Back |
| Elevation Gain | 892 feet |
| Duration | 1.5-2 hours |
| Terrain | Mostly dirt & rock trails |
| Dog-Friendly | Yes |
| Fee | $7 per vehicle weekdays ($10 per vehicle weekends, Apr-Oct) |
| Driving Directions | Click Here |
Arriving at the Trailhead
The trailhead for the yellow-blazed Tobacco House Ridge Trail begins toward the back of the White Oak Campground. The restrooms are also just a few yards away.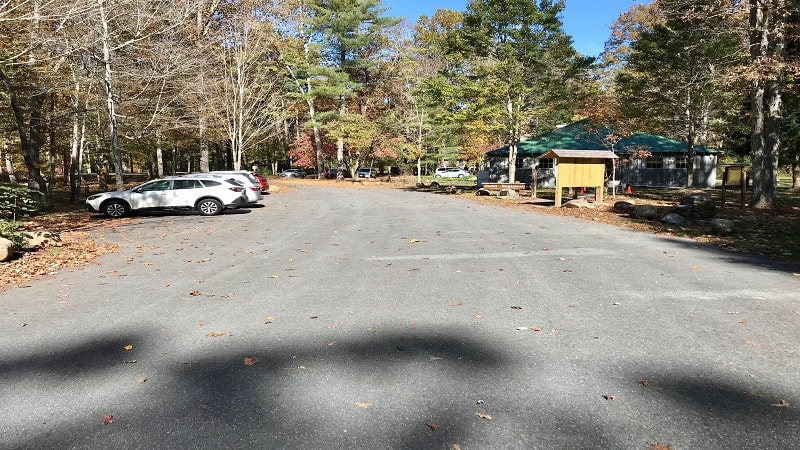 I parked my car at the Park Office, then walked across the street to the campground. It's a short walk, so it was really no trouble.
The First Steps
From the trailhead, the hike begins with a heart-pumping ascent for .45-mile, but then a quick reward when you reach two benches.
Even better, a lake overlook. From here, you can see Douthat Lake, as well as a scenic cascading waterfall created by the lake dam.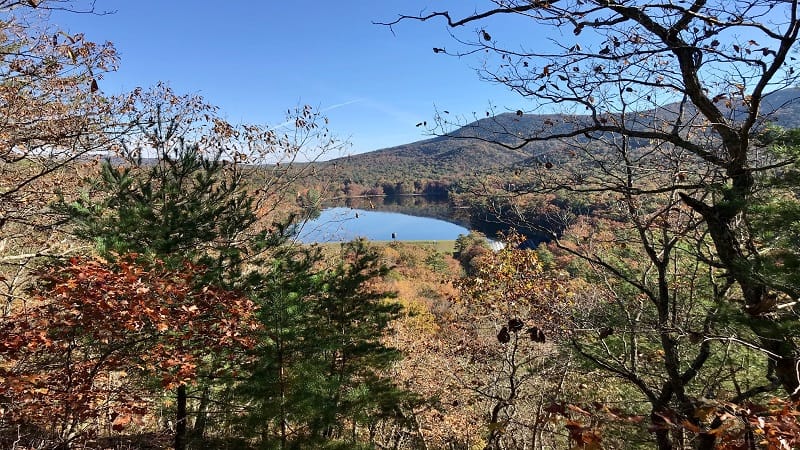 From here, it's nearly all downhill. At the .8-mile mark, you'll reach a dead-end. It's not especially well-marked, but trust me, turn right here onto a blue-blazed trail.
In a few more steps, you'll reach the Heron Run Trail, but just keep walking past this one. You'll soon reach a second dead-end. Turn left to cross over the wooden bridge.
Now you're off-trail, on more of a grassy and gravelly fire road. At the 1.1-mile mark, you will reach the tumbling waterfall on a section of Wilson Creek.
In the basin of the dam-created waterfall, children ages 12 and under can fish for trout. However, they must be with an adult holding a valid fishing permit.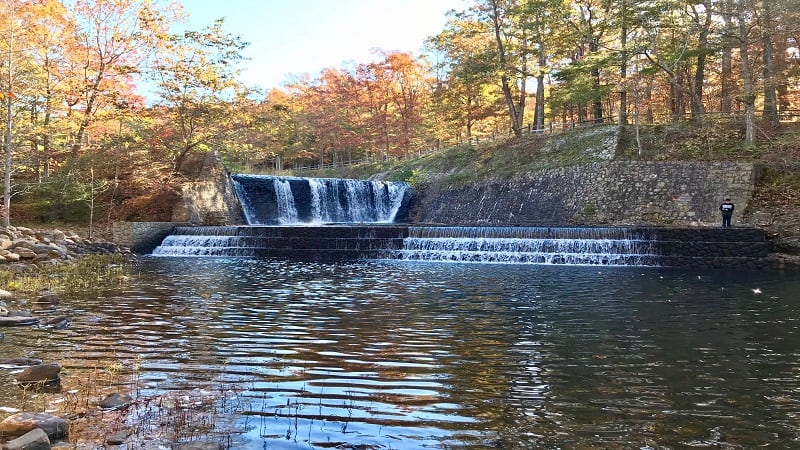 There are a few benches by the waterfall at Wilson Creek, as well as several large flat rocks to relax on. It's a great spot to re-fuel and re-hydrate.
Re-trace your steps from the waterfall, but before you cross the bridge, look for stairs to the right. Climb these stairs for sweeping views across Douthat Lake.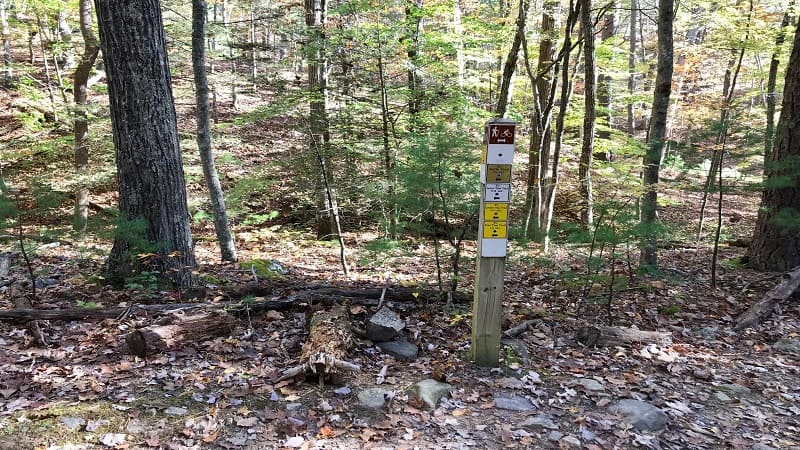 Once finished at the lake, cross the wooden bridge, then turn right to re-trace your steps on the blue-blazed trail.
In a few more steps, turn left onto the yellow-blazed Tobacco House Ridge Trail. This will return you to the trailhead in the campground.
Hike Options
For fewer steps, certainly you can hike to the lake overlook, then return to the trailhead. This lake hike is just under one mile and quite scenic to boot.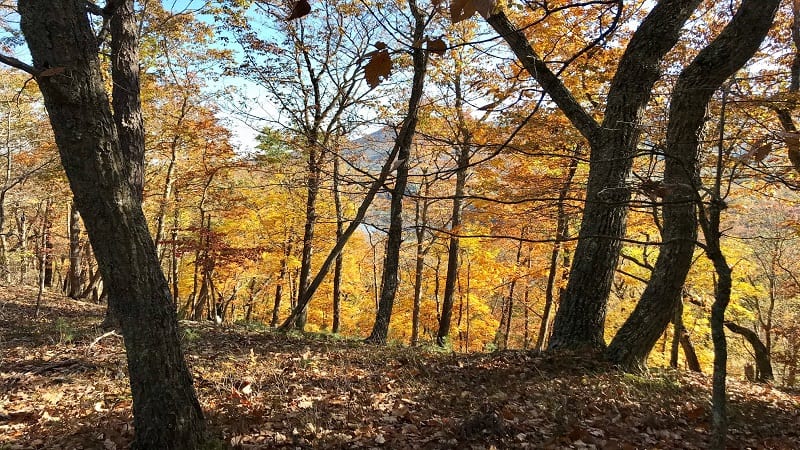 For a longer hike, I'll tell you what I did to reach 4.3 miles. Instead of turning left on the Tobacco House Ridge Trail to return to the campground, I forged straight ahead.
I don't know that this trail has a name. There's a trail marker indicating how far ahead the Locust Gap Trail and Laurel View Trails are, but nothing about this section.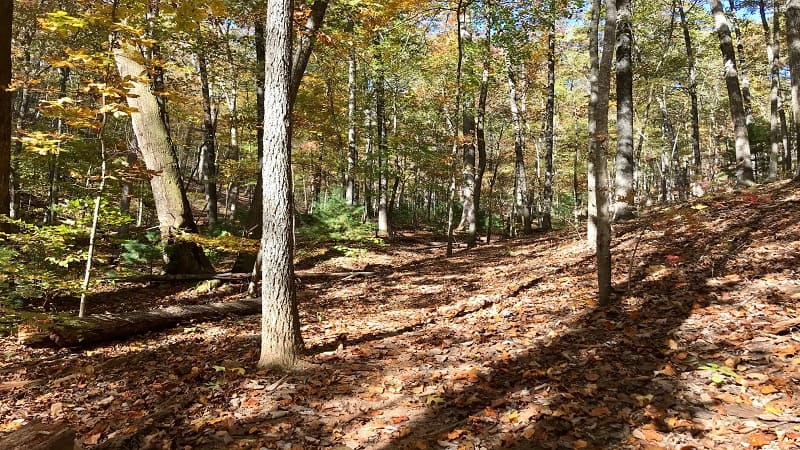 When you reach the Laurel View Trail at the 1.7-mile mark, turn left onto this white-blazed trail. At the 2.1-mile mark, there is a big decision to make.
As in, hike .3-mile to Blue Suck Falls (the sign says .5-mile) or turn left to continue on to the Locust Gap Trail.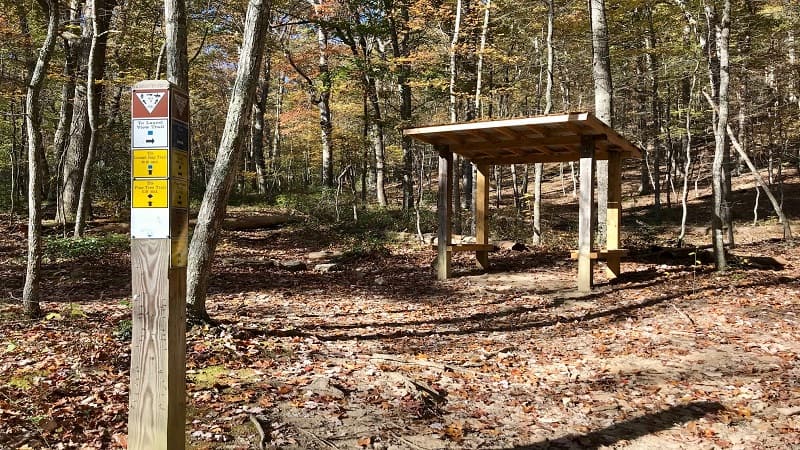 I'd seen a lot of raves about Blue Suck Falls, so I figured I had to proceed. It was a rocky segment to reach the falls, and then, a bit of a disappointment.
I clearly need to go back to Blue Suck Falls another day, like after a heavy rain. At the time of year I visited, it was dry and there was little more than a trickle. Sigh…
From Blue Suck Falls it's another 1-mile to Tuscarora Overlook (2 miles round-trip). I wish I had time this day, since by all accounts the views are quite beautiful.
I re-traced my steps from Blue Suck Falls, then continued on the yellow-blazed Locust Gap Trail. This connects with the white-blazed Beard's Gap Hollow Trail at the 3.4-mile mark.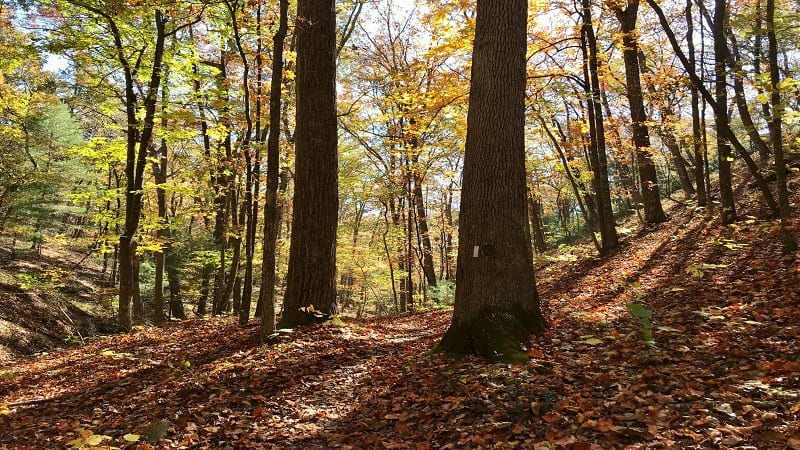 When you reach the Beard's Gap Hollow Trail, turn left until you reach the 4.2-mile mark where the trail intersects with a fire road.
There are no helpful signs. Just two arrow signs, each one pointing toward the other. Like I said, no helpful signs. From here, turn right and you're steps from the trailhead.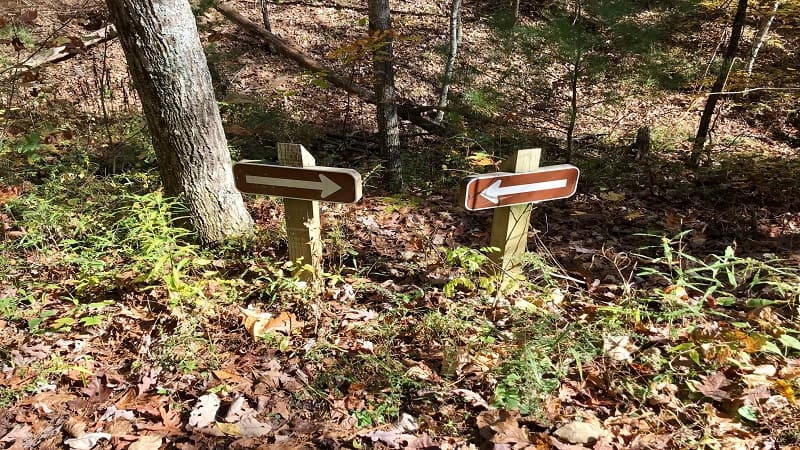 The trailhead for the Beard's Gap Hollow Trail is just south of the trailhead for the Tobacco House Ridge Trail, so you'll be even closer your car in the parking lot.
Wrap-Up Notes
There's so much to do at Douthat State Park. You could easily spend a weekend or more exploring one of the most beautiful Virginia State Parks.
Here you'll find a sandy swimming beach, picnic areas, playgrounds and boat rentals (canoes, hydrobikes, pedalboats, jon boats and stand-up paddleboards).
You'll also find cabins, lodges and campsites for both tents and RVs. There are four campgrounds, including Whispering Pines, Lakeside, Beaver Damp and White Oak.