Crystal Springs Loop: A Family-Friendly Hike in Wytheville
A few weeks ago, I set off for another adventure in Southwest Virginia to explore the area's hiking trails. This time, I set up my home base in Wytheville.
I was eager to hike the Hike Rocks Trail just south of town, as well as explore area trails, like the Black Ridge Trail just off the Blue Ridge Parkway in nearby Floyd.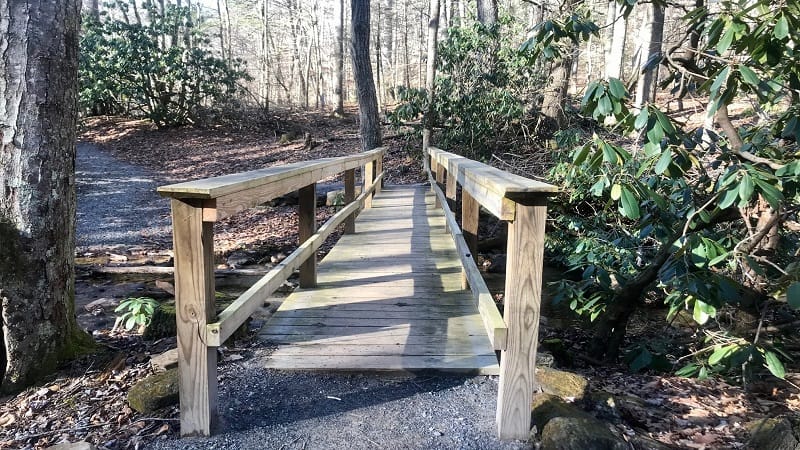 I planned to hike the 2.0-mile Crystal Springs Loop at Crystal Springs Recreation Area. Interestingly, that turned into a 9.9-mile hike (scroll to High Rocks Spur Trail).
I did hike the entire loop, just not as a loop. I hiked the first half, cut over to another trail, then finished the hike on the second half of the loop. It's a very nice trail, too.
| Trail Stats | |
| --- | --- |
| Length | 2.2 miles |
| Difficulty | Easy |
| Trail Type | Loop |
| Elevation Gain | 341 feet |
| Duration | 60-90 minutes |
| Terrain | Mostly dirt and gravel trails |
| Dog-Friendly | Yes |
| Fee | Free |
| Driving Directions | Click Here |
Arriving at the Trailhead
Navigate to the Crystal Springs Recreation Area where you'll find a sizeable parking lot with a good-size trail kiosk just ahead of a large green space.
As you walk past the trail kiosk, you'll notice a Kids in Parks sign for the Crystal Springs TRACK Trail. Honestly, it's a bit of a mess.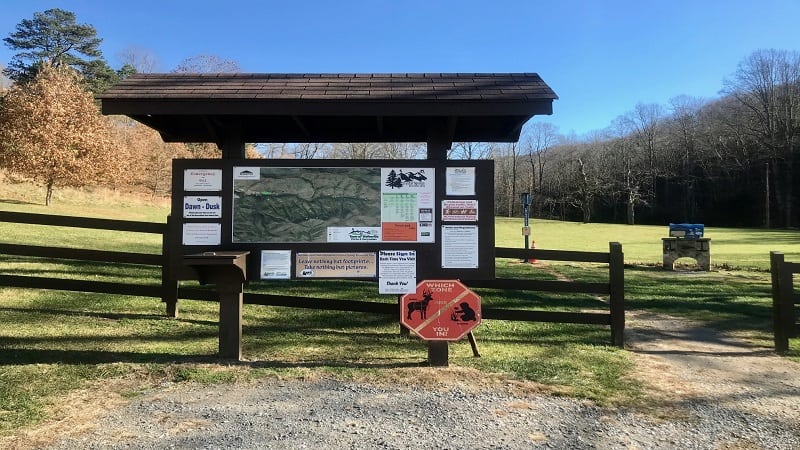 There is no clear trail like at other Kids in Parks locations. Worse, the map references a trail that's not in the park and suggests that High Rocks is much closer than it is.
The map includes the non-existent Rocky Road Trail. It also states that High Rocks is two miles away. It's actually four miles away – a huge difference for an out-and-back hike.
The First Steps
From the parking area, stay right to cross a small bridge for a counter-clockwise loop. Or, cross the green space to connect with the red-blazed trail for a clockwise loop.
I opted for the counter-clockwise loop. In doing so, plan to cross over two small creeks before you complete the first .1-mile of the hike on the Crystal Springs Loop.
At the .2-mile mark, you'll see a vault toilet, but continue following the red blazes through the peaceful, wooded forest setting.
At the 1.4-mile mark, you'll see loads of rhododendrons, then a small waterfall and a watering hole that's a perfect spot for a splash and a snack.
In a few more steps, you'll cross over a wooden bridge. You'll then see a second vault toilet on the right. There are a couple of picnic tables on the left along Venrick Run.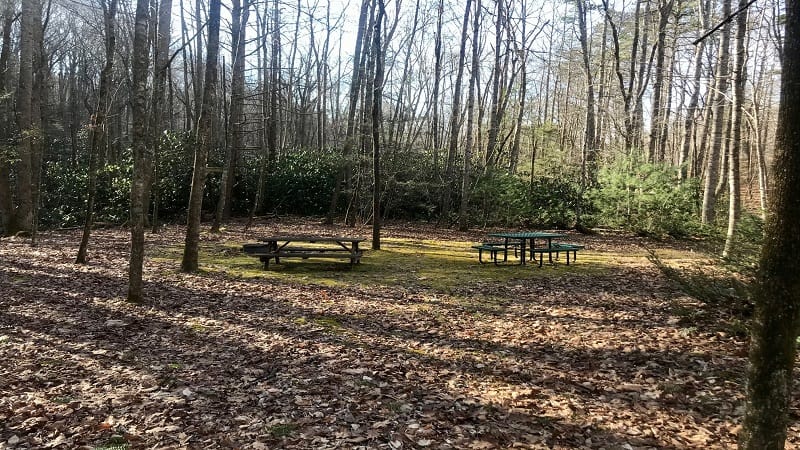 This isn't a long hike, but still it's nice to see more than one toilet after hiking less than two miles. With little ones, when they have to go, they have to go. Like, right now.
Continue on a gravel path. Cascading Venrick Run will be on your left as you make your way along this delightful forested trail.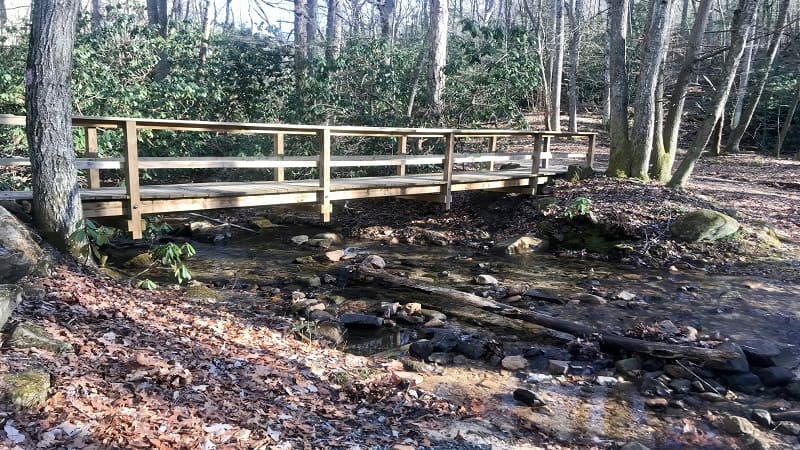 If I'm being honest, I started to get a little lost here as I was making my way back to my car. As long as you continue west along the stream, you will make it back.
Even if you end up on Waterline Trail or Woodpecker Run, you will still make it back to the parking area.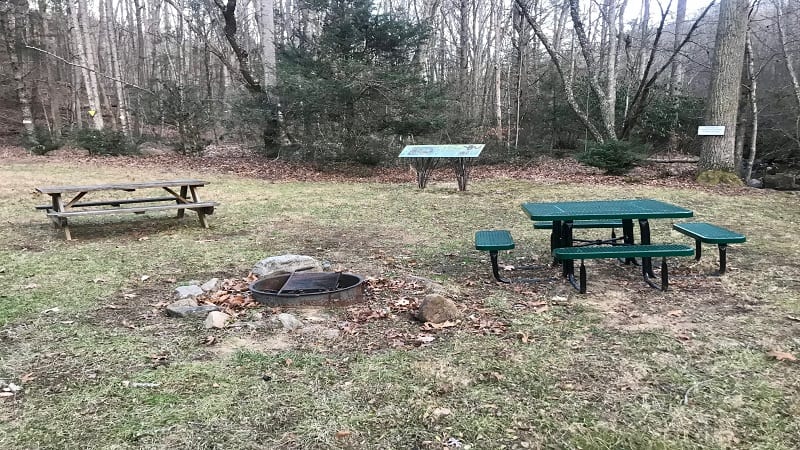 Along the way, you may cross a bridge and pass a delightful waterside picnic area. There is a small fire pit, too.
Continue west past the picnic area and you'll reach the open grassy area once more. Your vehicle is just a few steps further on the other side of the open space.
Hike Options
It's easy to mix and match hiking trails at Crystal Springs Recreation Area to create a longer or shorter hike. This 2.2-mile loop is the longest hike within the main area.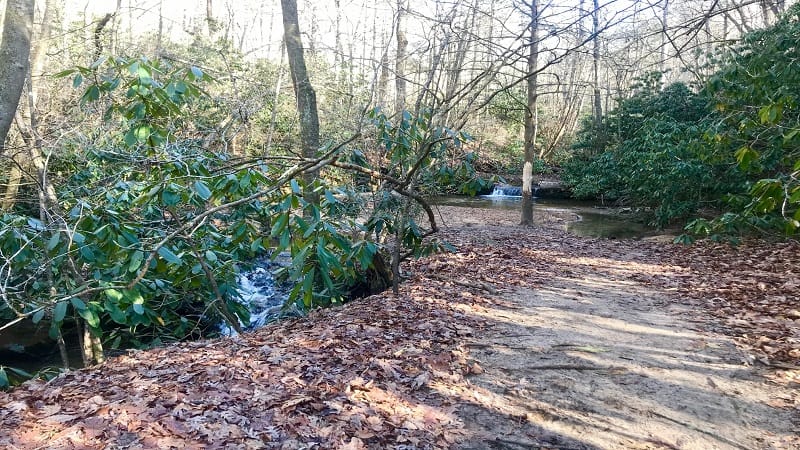 If you look at the park map, you'll see that there is also a 7.0-mile Boundary Trail, as well as the High Rocks Spur Trail on the far east side of the park.
The only way you can reach the High Rocks Spur Trail is by way of the Boundary Trail, which makes for a 9.9-mile out-and-back hike.
Wrap-Up Notes
Since I tackled this easy hike as two halves rather than a loop, I have no idea how long this took me. It was a nice, easy-going hike through the woods. Highly recommend.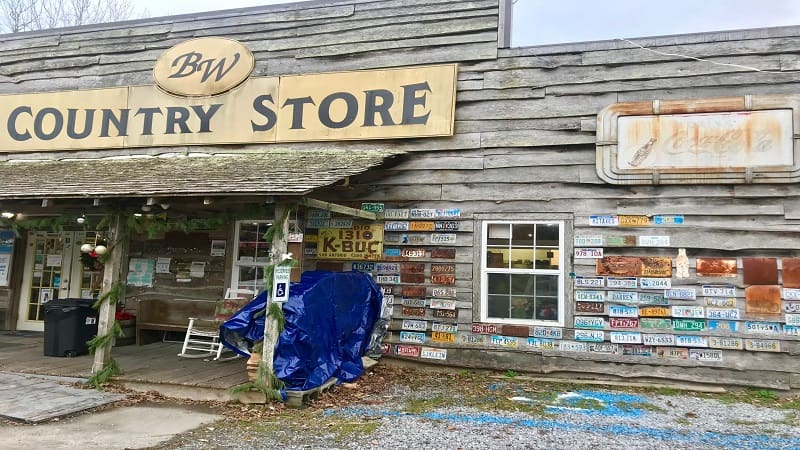 Post-hike, you may want to make the 30-minute drive to Big Walker Lookout. It's a 100-foot tall observation tower with spectacularly scenic 360-degree views.
Here you'll also find an old-time country store, as well as a swinging bridge. Hold onto your hat if you choose to climb the lookout tower. It can get windy up there.