Shenandoah River State Park: A Riverside Gem in Warren County, Virginia
Shenandoah River State Park is a scenic gem in Warren County, Virginia that hugs the shoreline of the meandering South Fork of the Shenandoah River.
This 1,600-acre state park opened in 1999 and is a go-to destination for hiking, camping, fishing, paddling and cooling off in the Shenandoah River.
This riverside state park in Bentonville is also an easy 10-minute drive from the Front Royal entrance to Shenandoah National Park.
If you're thinking about a visit to Shenandoah River State Park, here's what to know in order to make the most of your time in this beautiful state park.
Park Trails
There are over 24 miles of hiking, biking and equestrian trails that criss-cross Shenandoah River State Park. You can enjoy both river and mountain views.
Nearly 20 named hiking trails allow visitors to traipse all across the park. At 5.4 miles, the teal-blazed Bear Bottom Loop Trail is the longest park trail.
It's a cinch to cobble together a few trails to create a fantastic day hike. It's also easy to return again and again and not complete the same hike twice.
Here are five of my favorite hikes at Shenandoah River State Park. Every one of these hikes rewards with scenic river, mountain, even forest views.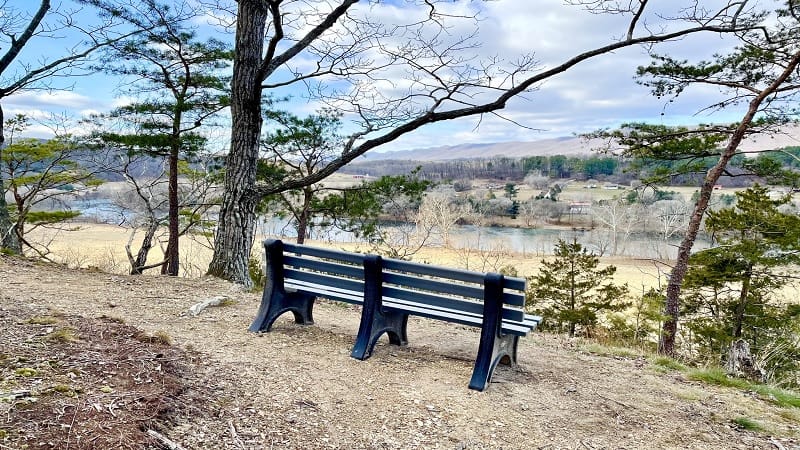 This scenic 3.7-mile loop cobbles together three park trails – Big Oak, Redtail Ridge and Tulip Poplar – plus a connector trail, to create a pleasing walk in the woods.
The red-blazed Redtail Ridge Trail is the most scenic of the four paths, wowing visitors with three west-facing river overlooks. There are comfy benches, too.
I completed this hike in winter. The leaves were on the ground and the views through the barren forest seemed to go on forever. Truly spectacular.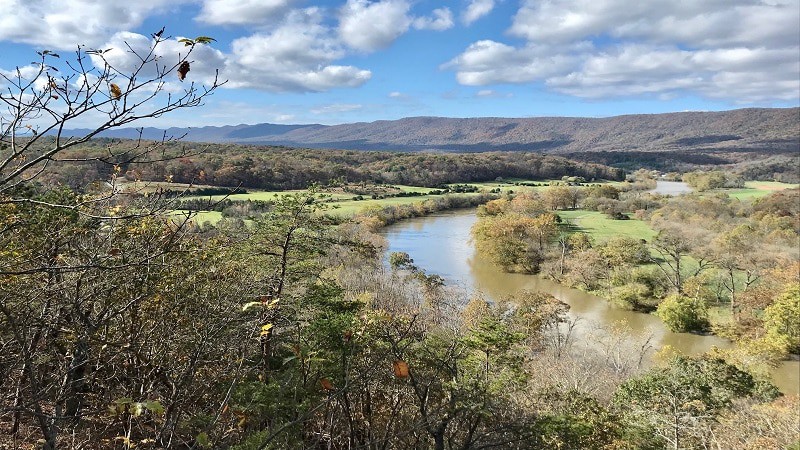 The hike to Culler's Overlook is a winner thanks to spectacular views across Massanutten Mountain, as well as the Shenandoah Valley.
You can drive to Culler's Overlook. But, what's the fun in that? Savor the vistas and read up on Everett Cullers and the role he played in creation of the park.
To reach Culler's Overlook, take the Hemlock Hollow Trail to the Overlook Trail. You'll pass the visitor center, then it's on to the wooden overlook. Take it all in.
The easy hike along the Cottonwood Trail leads to a delightful slice of boardwalk trail. There are open clearing views, as well as vistas of Massanutten Mountain.
As you close the boardwalk loop, look left for the Wildcat Ledge Trail. This narrow, rocky trail is short, but it's steep. It's also a good workout.
The Wildcat Ledge Trail ascends to a largely unobstructed view of the Shenandoah River and Shenandoah Valley. Settle in on a rocky outcrop for the vistas.
This scenic hike cobbles together the Bear Bottom Loop Trail, Shale Barrens Trail, Culler's Trail and River Trail for a 6.9-mile trek across Shenandoah River State Park.
This loop begins as a long walk in the woods. It's beautiful, quiet and shady thanks to an abundance of leafy trees. There are some nice elevation changes, too.
You'll walk alongside the Shenandoah River. Stop for river views or a rest on a wooden bench. Keep your eyes open for rafters, tubers and kayakers.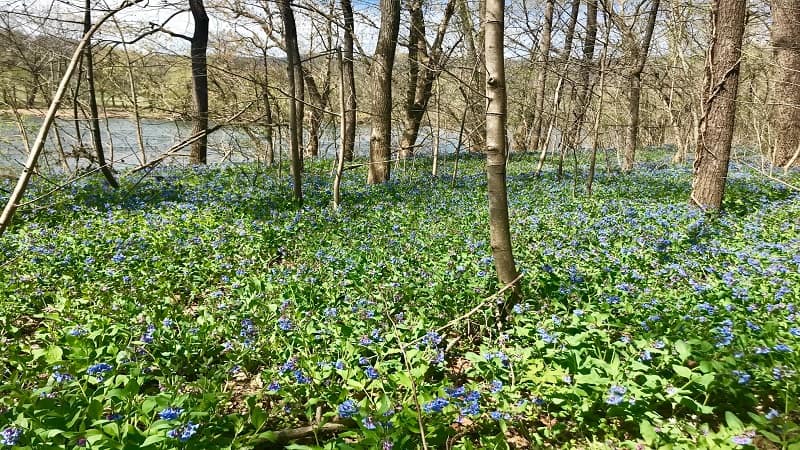 The forested one-mile Bluebell Trail is a must in late-March and early-April when visitors are wowed with a lush carpet of iconic bluebells.
The blooms last just three weeks, but by many accounts (including mine) they are very much worth the wait. Also, very much worth the drive.
This wooded point-to-point trail set along the Shenandoah River is mostly flat, making it a good pick for families with small children. It's dog-friendly, too.
Family Campground
Camping at Shenandoah River State Park is popular, thanks to 31 camp sites that can accommodate tents, travel trailers and RVs up to 60 feet in length.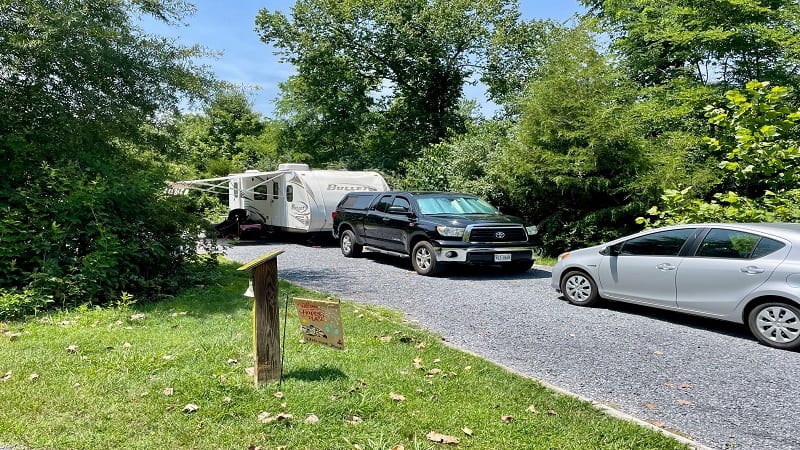 All camp sites have water and electric. All sites also have fire rings, lantern holders and picnic tables. Firewood can be purchased on-site for $6 per bundle.
More than half of the sites have shade. The shaded camp sites are 1-18, while sites 19-31 are in full sun.
The campground is open year-round. Sites can be reserved online for a rate of $40 to $46 per night. There is a bathhouse and a coin-operated laundry.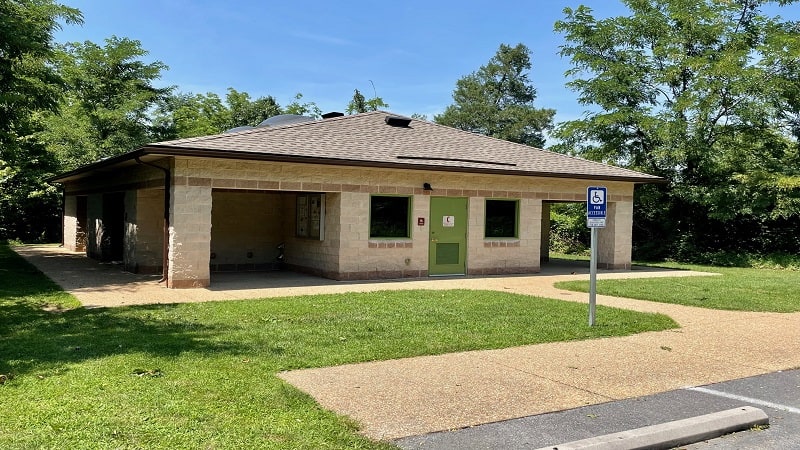 Four camping cabins and one yurt are also located at the family campground. There is no heat, air conditioning, electricity, kitchen, bathroom or water.
Camping cabins sleep four people by way of two sets of bunk beds. Yurts sleep up to four people by way of one queen-size bed and a twin-size trundle bed.
You will pay $47 or $55 per night for a camping cabin, depending on whether or not you are a state resident. Yurts cost between $75 and $88 per night.
Bring linens for camping cabin and yurt stays. Pets are not allowed in yurts. You can bring pets to camping cabins, but you will pay a $10 per night fee.
The family campground is a short walk from two river access points (for fishing, not for swimming or paddling), as well as the Campground Trail.
Primitive Camping
In addition to the family campground, there is a primitive campground for tents-only on the north side of the park that has 12 canoe-in or walk-in sites.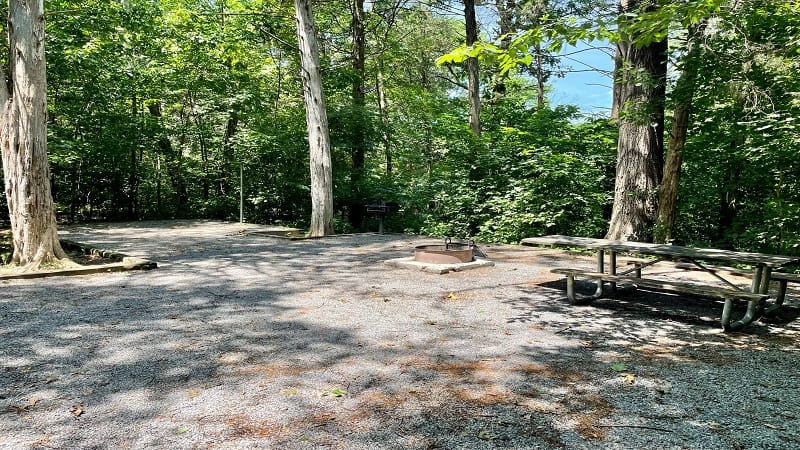 The River Right Campground also has two yurts, a bathhouse and two river access points, as well as two vault toilets and potable water spigots.
All camp sites offer shade and require a walk on gravel path from the parking lot. There are wagons at the entrance to help transport gear to your site.
Firewood is available for $6 per bundle. Tent sites are $20 (state residents) or $25 (non-residents) per night. There is no electric or at-site water spigots.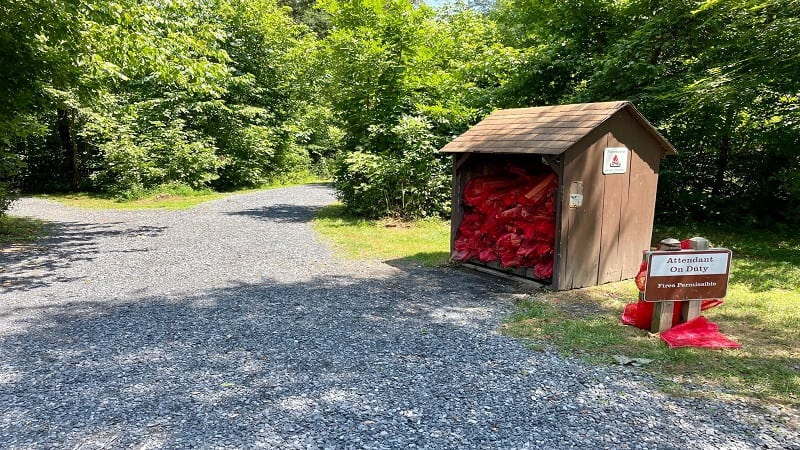 At the back of the Right River Campground is a group campground that can accommodate up to 30 people. The fee is $70 to $82 per night.
Cabins & Lodges
Between Memorial Day and Labor Day, park visitors can rent by the week a climate-controlled cabin or lodge at Shenandoah River State Park.
There are nine two-bedroom cabins, one three-bedroom cabin and one six-bedroom lodge. All have bathrooms, kitchens, heat and air conditioning.
Guest must bring their own linens. None of the cabins have a dishwasher, phone or television. Only the lodge has a washer and dryer. Pets are allowed.
In the off-season, cabins and lodges can be rented for a minimum two-night stay (instead of an entire week).
Nightly cabin rental rates are $129 for a two-bedroom cabin or $159 for a three-bedroom cabin during prime season (April through October).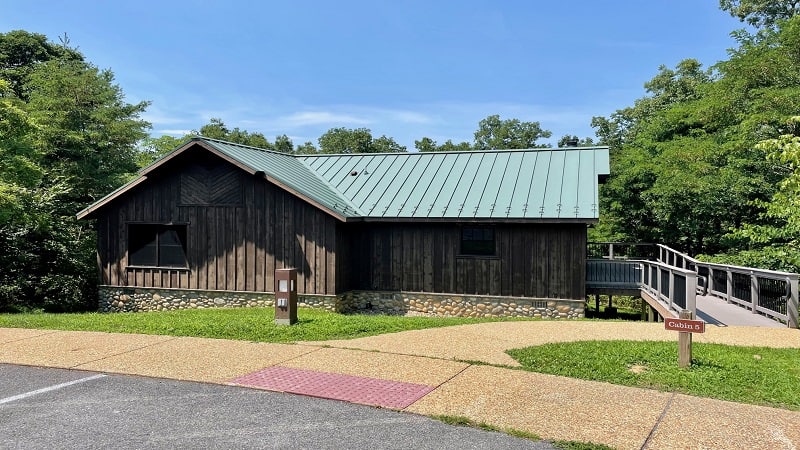 The in-season nightly rate for the six-bedroom lodge is $399 per night. Note that the cabins and lodge are separate from the family campground.
Visitor Programs
Shenandoah River State Park offers a variety of interpretive programs for park visitors. Most programs are offered on Fridays, Saturdays and Sundays.
Kid-friendly programs include Feeding Time, as well as Skulls, Tracks and Scats. Both ranger-led programs educate about animals found in the park.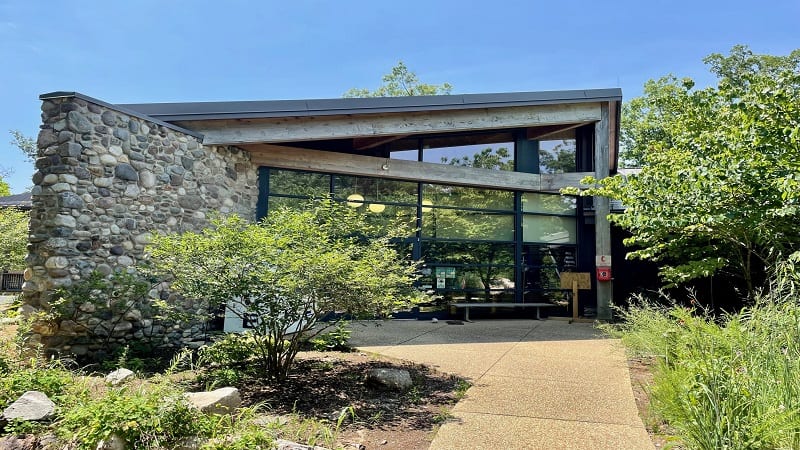 There are also programs that allow guests to enjoy the park's river access, including a three-hour tube float and a 1.5-hour fishing program.
A welcome campfire in summer months enables visitors to learn about black bears, park history and trail etiquette. Bring a camping chair or stool.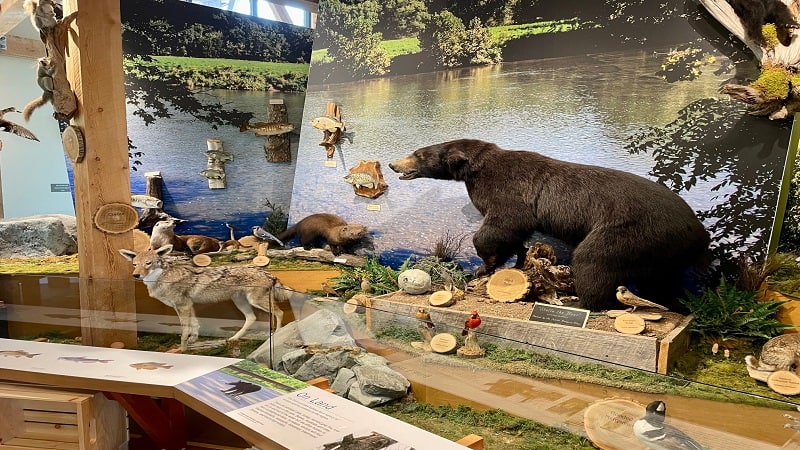 Some programs require a small fee or advance reservations, both of which you can take care of in the visitor center.
The visitor center features native wildlife and has touch-screens on display to educate about park history and local birds. There is also an aquarium.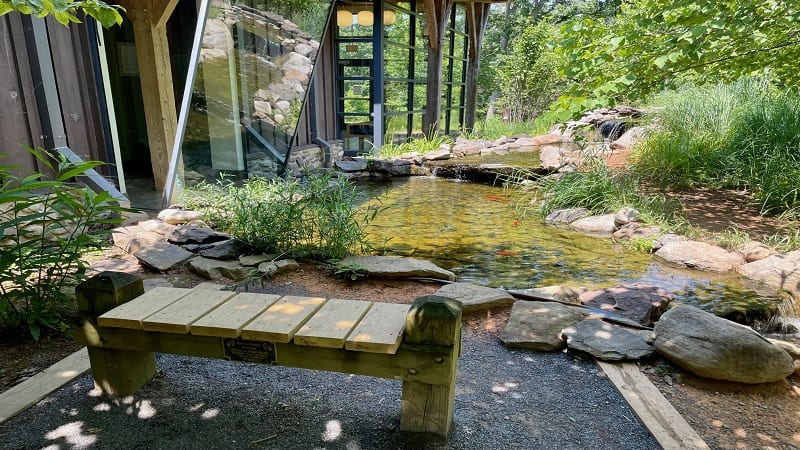 Outside the visitor center, there are several picnic tables, an overlook, a koi pond and a nature garden. The center's gift shop sells snacks and souvenirs.
River Access
There are nine river access points that enable visitors to reach the Shenandoah River. These are all good spots for fishing and tubing.
If you wish to swim or put a canoe or kayak on the water, there is a boat launch near the trailhead for the Hemlock Hollow Trail and the massive picnic area.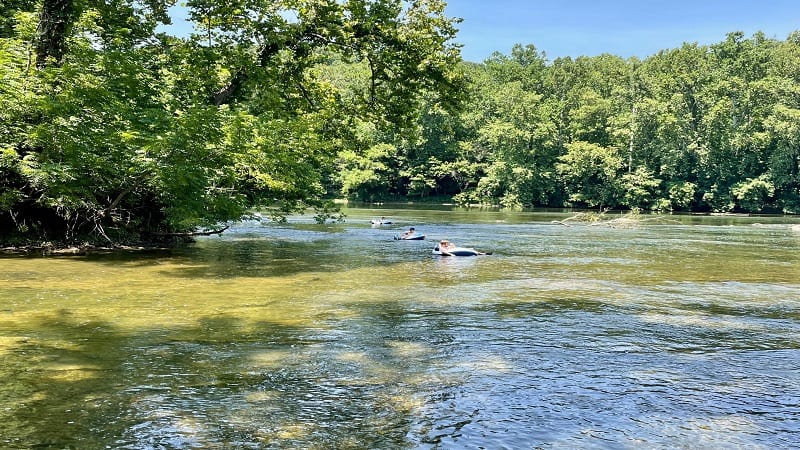 Many visitors also drop their inflatable tubes in at the boat launch. In the picnic area, there are three large picnic shelters and plenty of picnic tables.
All picnic shelters must be reserved by the day for $90. The Massanutten Shelter (a fourth shelter) is near the primitive camp sites and costs $130 per day.
Before You Go
The park entrance is located at 350 Daughters of the Stars Drive in Bentonville, Virginia. The park is open every day from 8 am until dusk.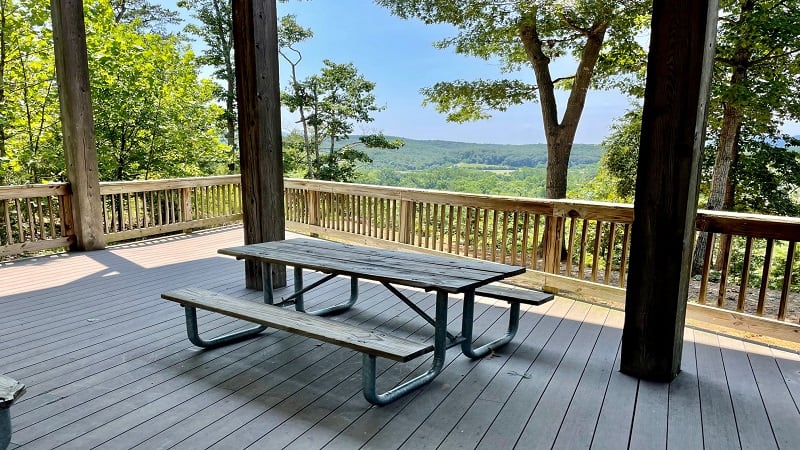 The visitor center is open daily from 8 am to 4 pm. Hours are reduced from November 1 through February 28. In these months, the hours are 9 am to 3 pm.
Freshwater fishing is allowed with a valid Virginia fishing license from the shore of the Shenandoah River.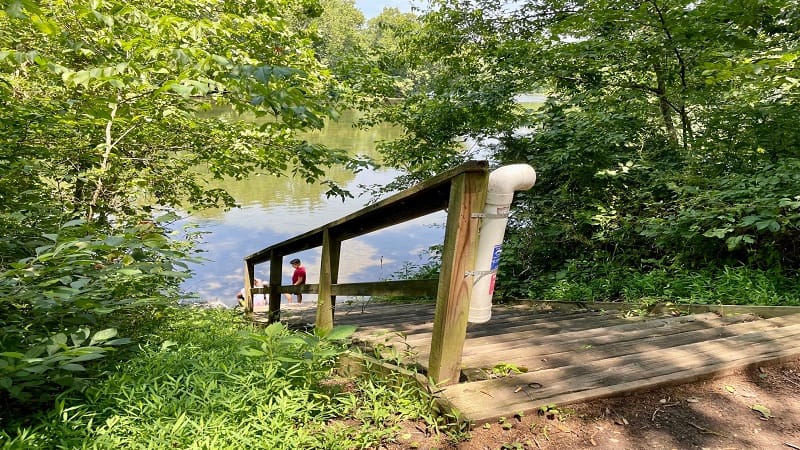 There are no boat rentals. The state park does not allow motorized boats. Pets are allowed at Shenandoah River State Park.
If you'd like to get involved with the state park, consider making a donation to or serving as a volunteer with Friends of Shenandoah River State Park.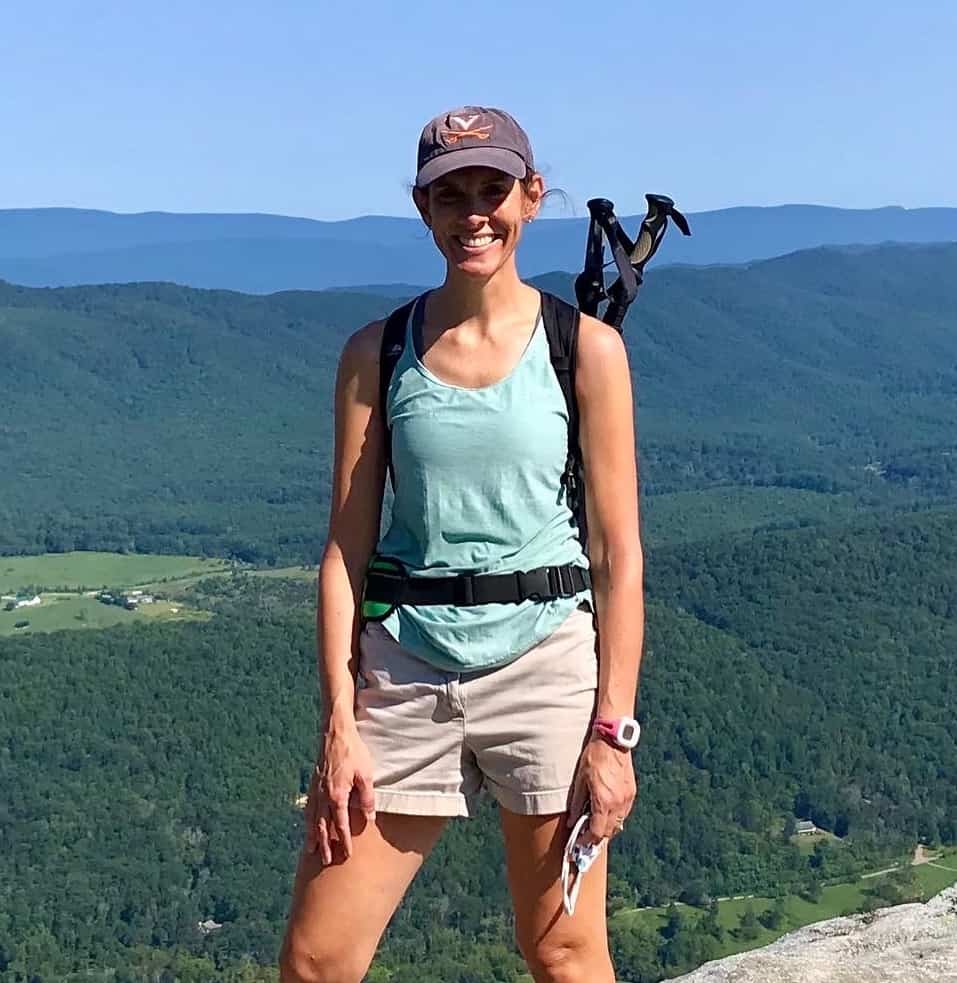 Erin Gifford is the editor of Go Hike Virginia. She has completed more than 300 hikes in Virginia. She is also the author of three hiking guidebooks from Falcon Guides. Need help finding a hike? Check out the Trail Finder feature or send Erin a message.