10 Fantastic State Park Hikes in Northern Virginia
Here in Northern Virginia we have six state parks. All are delightfully scenic and all have at least one hiking trail. Some have barely more than one hiking trail (Widewater State Park).
These state parks draw in visitors with flowing rivers, sandy beaches, mountain vistas and scenic overlooks. Even wooden boardwalks and freshwater marshes.
For those working toward earning a Master Hiker completion certificate by visiting every state park in Virginia, you're in for a real treat here in Northern Virginia.
Nearly all of the hikes below are at least two miles, though you can find shorter hikes at Widewater State Park and Seven Bend State Park. Enjoy, and happy hiking.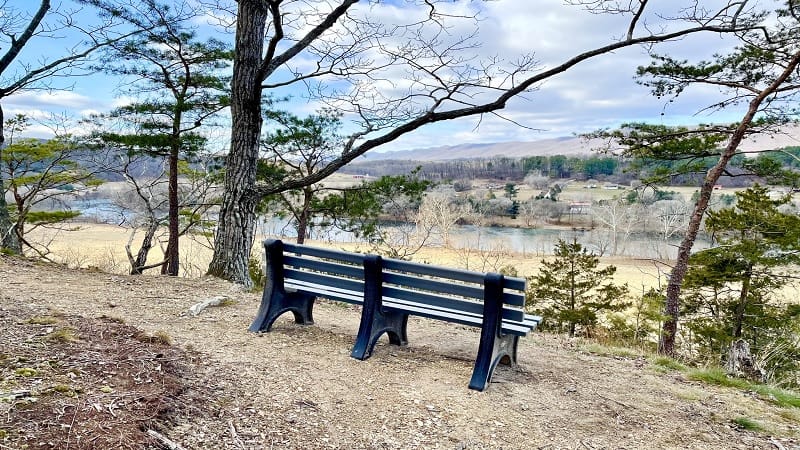 This scenic 3.7-mile loop cobbles together three park trails – Big Oak, Redtail Ridge and Tulip Poplar – plus a connector trail, to create a pleasing five-star walk in the woods.
The red-blazed Redtail Ridge Trail is the most scenic of the four distinct paths, wowing visitors with three west-facing river overlooks with comfy benches. Ah, relaxing.
I completed this hike in late-winter. The leaves were on the ground and the views through the barren forest seemed to go on forever. Truly spectacular.
#2: Kane's Creek (Mason Neck State Park)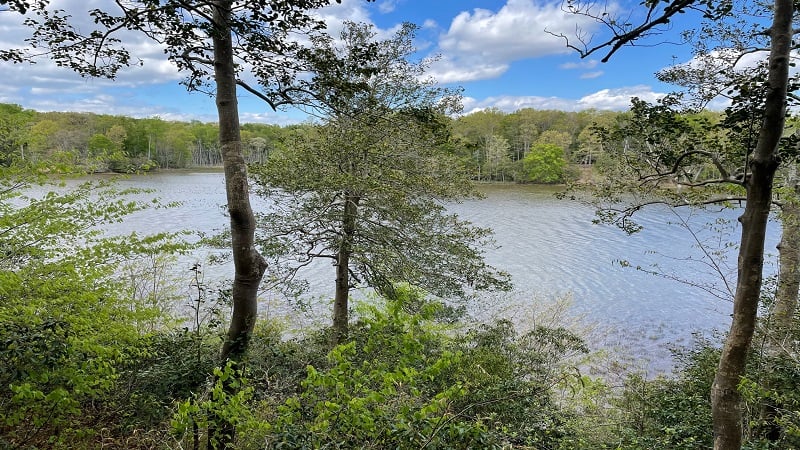 The easy hike along the Eagle Spur Trail and Kane's Creek Trail leads to a wooden observation blind on the Potomac River, as well as opportunities to see bald eagles.
Kane's Creek is a good place to see bald eagles year-round as many of them roost in this protected area. The park is home to at least 40 to 50 bald eagles.
Self-guided tour brochures feature an overview of the 1,825-acre state park, as well as a description of trail stops, like mountain laurel, fungi, cut logs and ferns.
#3: Lost Mountain (Sky Meadows State Park)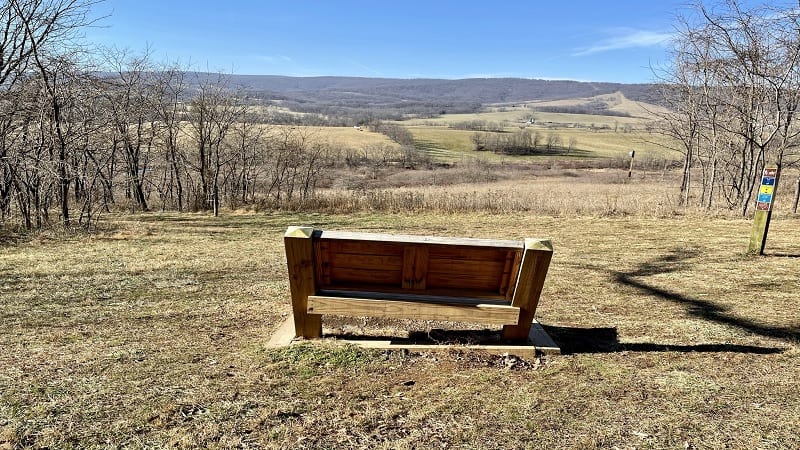 Set in far northwest Fauquier County, Sky Meadows State Park is a delightfully scenic state park split into two sections by U.S. Route 17 (Winchester Road).
The east section of the state park is home to the more pastoral Lost Mountain Trails. The Lost Mountain and Rolling Meadows Trails form a serene and relaxing loop.
It's a beautiful 4.0-mile hike, but also a quiet hike as most park visitors set off on trails in the west section, which boasts several overlooks and the Appalachian Trail.
#4: Bushey Point (Leesylvania State Park)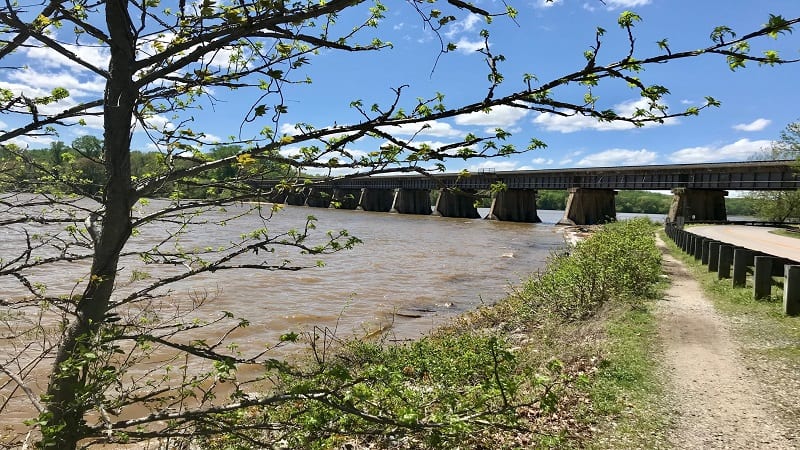 At Leesylvania State Park, follow the Bushey Point Trail along the Potomac River to Powell's Creek. Be sure to walk along the sandy beach for shell hunting.
Park in boat launch parking for easy access to the Bushey Point Trail. On a warm day, watch sailboats and motor boats set off from the tidal shores of the Potomac River.
Post-hike, settle in for lunch at the large picnic area or let the kids burn off some energy at the large playground adjacent to the water.
One of the most popular scenic overlooks at Sky Meadows State Park is actually divided in two – Lower Piedmont Overlook and Upper Piedmont Overlook.
Both can be reached quickly (but be ready for a healthy ascent) along the Piedmont Overlook Trail, which sets off near the Park Office.
Re-trace your steps once you've fully savored the overlooks or continue on to the Ambassador Whitehouse Trail for more far-reaching views from Whitehouse Overlook.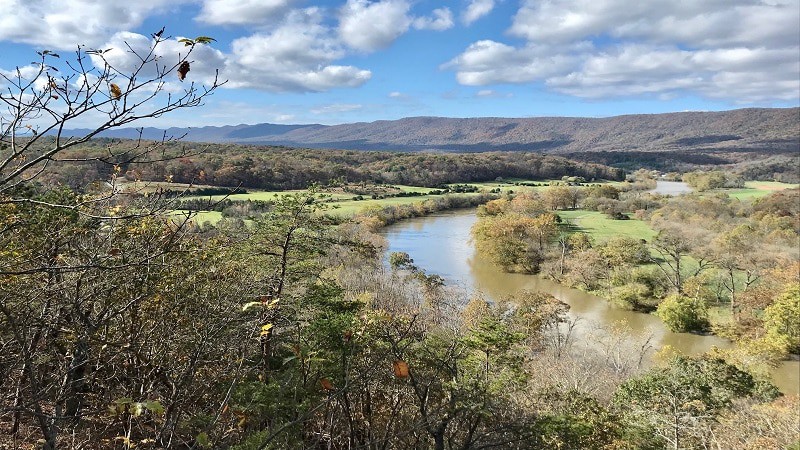 Shenandoah River State Park has more than 20 named hiking trails, making it hard to zero in on one or two hikes. However, a hike to Culler's Overlook is a must-do.
You can also drive to Culler's Overlook for sweeping views across Massanutten Mountain, as well as the Shenandoah Valley. But, what's the fun in that?
To reach Culler's Overlook, take the Hemlock Hollow Trail to the Overlook Trail. You'll first pass the visitor center, then it's on to the wooden overlook. Plan to take it all in.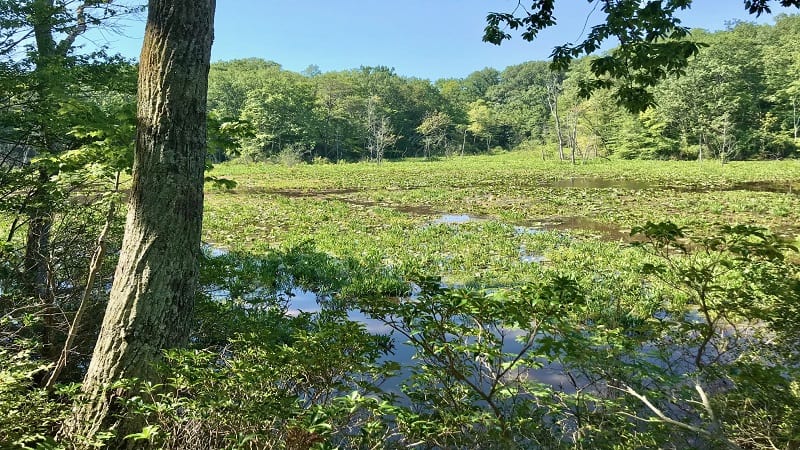 The flat, shady Bay View Trail at Mason Neck State Park may clock in at just 1.0-mile, but it's a nice loop hike that wows with dramatic views across Belmont Bay.
Take in the eclectic mix of wooded forest, sandy coastline and verdant wetlands. A wooden boardwalk guides visitors across a lily pad-strewn freshwater marsh.
Post-hike, enjoy lunch in the large picnic area, burn off energy on the playground or settle in under a shady tree on the small sandy beach at Belmont Bay.
#8: Cottonwood Trail (Shenandoah River State Park)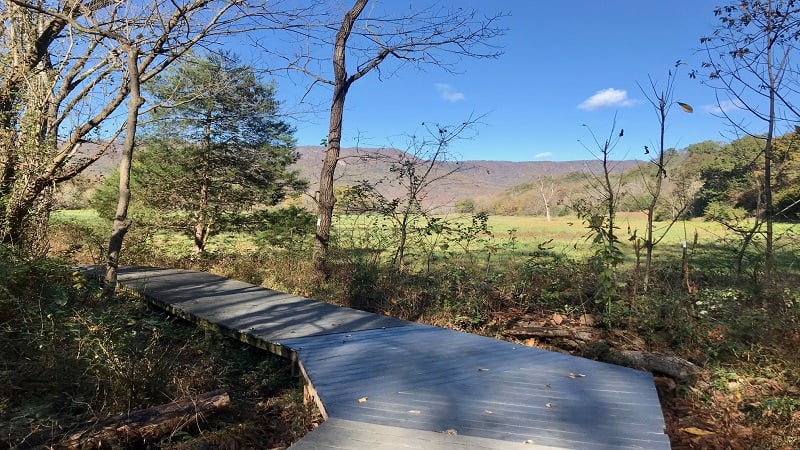 You really can't go wrong at Shenandoah River State Park. It's a beautiful state park set on the South Fork of the Shenandoah River.
The easy hike along the Cottonwood Trail leads to a delightful slice of boardwalk trail. There are open clearing views, as well as northwest-facing vistas of Massanutten Mountain.
The Wildcat Ledge Trail is just off the Cottonwood Trail, ascending to a largely unobstructed view of the Shenandoah River and Shenandoah Valley.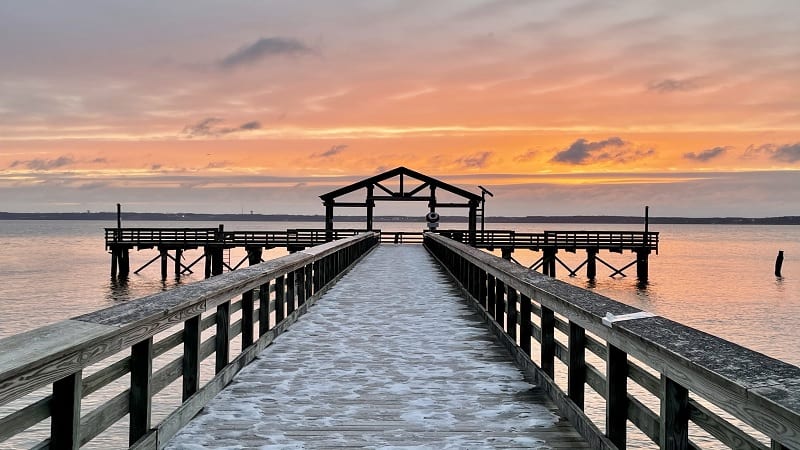 First things first, if you're able to do so, plan to arrive at Leesylvania State Park in Woodbridge in time for a delicious sunrise from the pier at Freestone Point. Gorgeous.
The trailhead for the Lee's Woods Trail is just steps from the sandy beach. Savor all of the coral-colored sunrise, then make your way to the start of the trail.
There's a lot of history to this hike, including Freestone Point, which was once used as a lookout point by rifle-toting soldiers in the Civil War.
#10: Old Trail Loop (Sky Meadows State Park)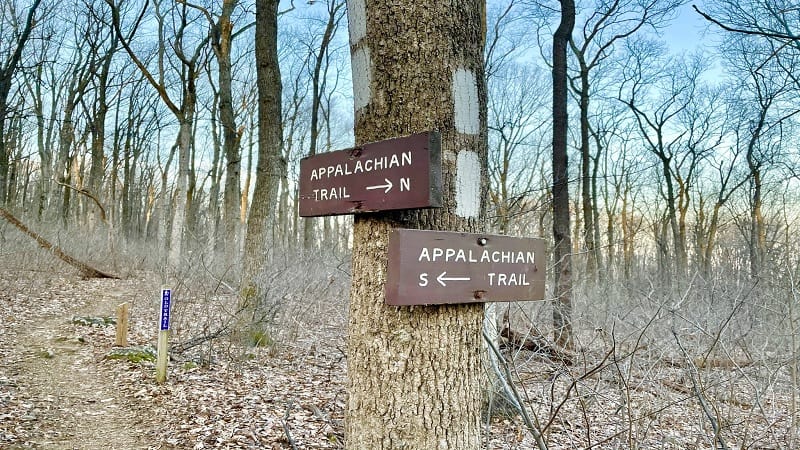 The quiet, wooded Old Trail Loop hike includes both the Appalachian Trail and Old Trail, a hiking trail that was a short section of the AT from 1983 to 2004.
In 2004, the Appalachian Trail was re-routed to its current route through Sky Meadows State Park. Old Trail was left to be a part of the state park trail system.
Since there are more than 20 miles of hiking trails at Sky Meadows State Park, it's easy to make this hike longer by adding on trails, like the North Ridge Trail.