20 Shenandoah Cabin Rentals to Book Right Now
It's hard to beat a long weekend in a beautiful cabin that's a stone's throw from Shenandoah National Park and miles of trails along Skyline Drive.
There are rental cabins all across the Shenandoah Valley with access to wineries, breweries, and of course, nature, wildlife and great hiking. Hot tubs, too.
Shenandoah Cabins
When in-park lodging options are closed for the season, including Big Meadows Lodge and Lewis Mountain cabins, private cabins are a great option.
Here are 20 comfy cabin rentals available on Airbnb. Ranging from rustic to luxurious, these cozy cabins are a fantastic way to revel in nature.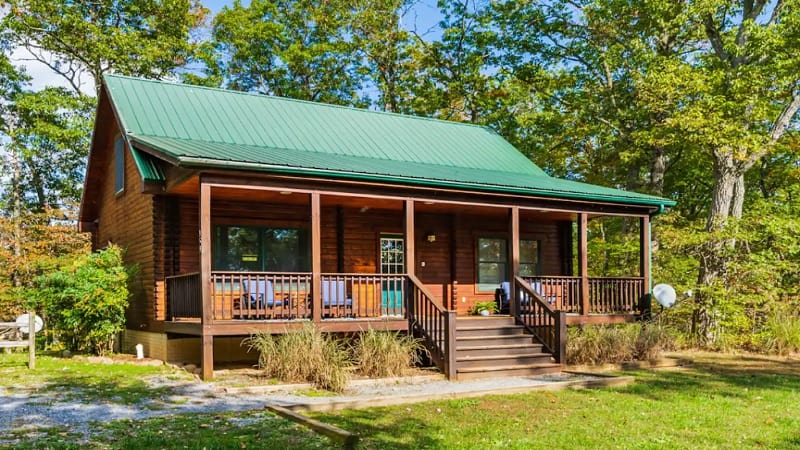 It's easy to relax at Blue Moon Log Cabin, which is located in the heart of the Shenandoah Valley. Watch the sun set or take a soak in the hot tub.
It's an easy walk to the Shenandoah River, as well as to outfitters in Luray if you want to rent a canoe or kayak, even inflatable tubes, to get out on the water.
This two-bedroom cabin sleeps up to six guests. It's also an easy drive to local attractions, like world famous Luray Caverns.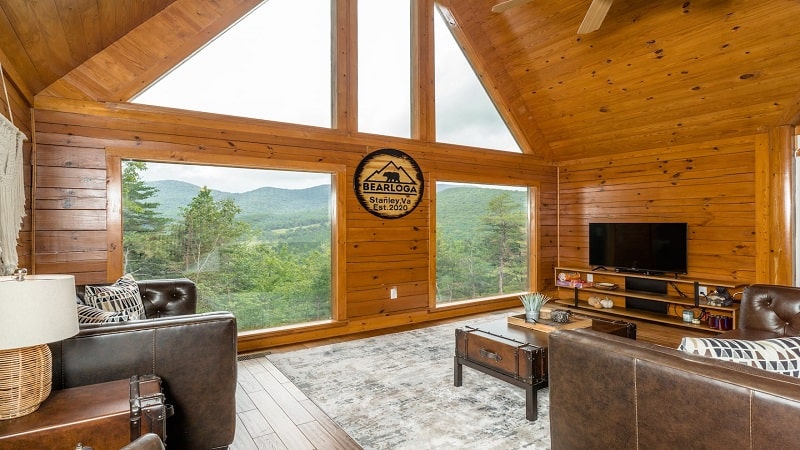 This mountain view cabin near Luray is a short drive from Shenandoah National Park, allowing easy access to Central District hikes, like Hawksbill Summit.
At an elevation of 2,500 feet, revel in incredible views from the great room with floor-to-ceiling windows or the outdoor hot tub on the lower-level deck.
The cabin sleeps up to 10 guests. You'll find this Shenandoah vacation rental on Instagram at @thewanderstay.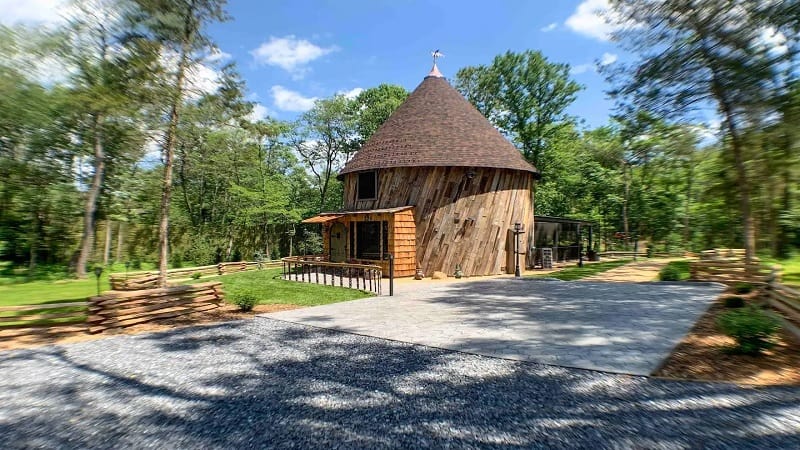 I had no idea this Hobbit House existed, but I'm so glad I found this whimsical stay on Airbnb. It's not exactly a cabin or a cottage, but it is so adorable.
According to the description, this is where the hobbits vacation when in the "Virginia Shire." Up to four hobbits (even human guests) can stay inside. OMG.
The Hobbit House boasts surround sound, a wood burning fireplace, an outdoor fire ring and a hot tub.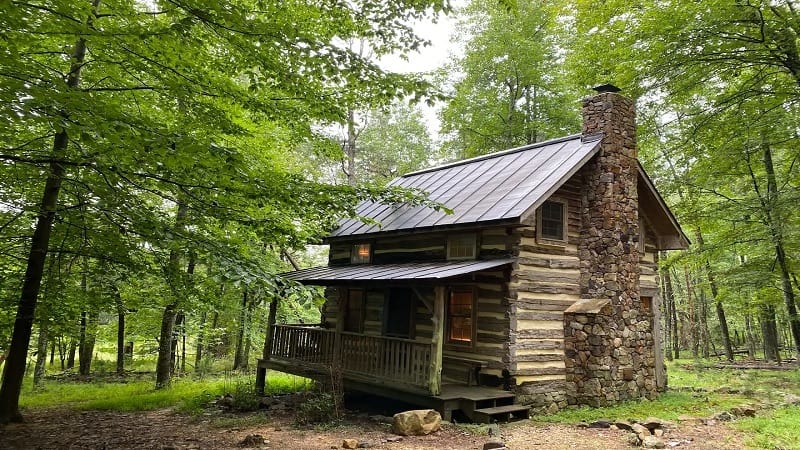 Situated in Rockbridge County, this historic log cabin sits on 21 acres and wows guests with two streams, forested trails and a small meadow.
The logs date back to the 1800s. Yet, the owners ensure guests can enjoy modern amenities, like organic bedding, a coffee maker and Internet access.
Savor the views of Jump Mountain or sit around the fire pit. This secluded cabin sleeps two guests in one bedroom.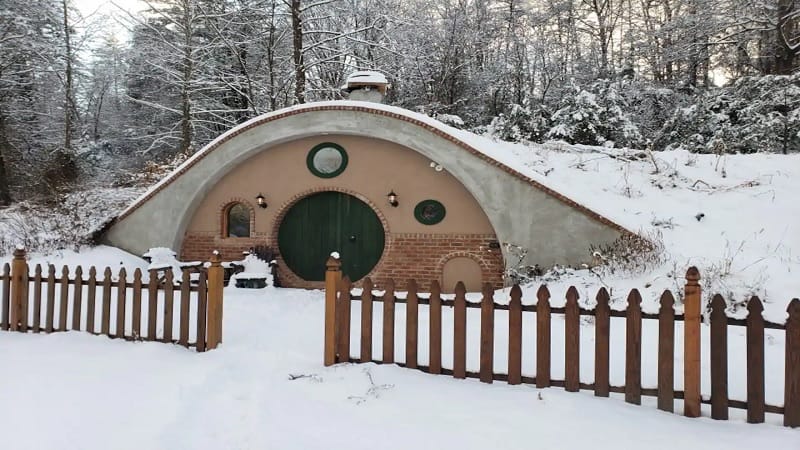 It's hard to believe that Virginia has not one, but two, hobbit cabins (maybe more). This one is mostly underground, so it's listed as an earth house.
Tucked away in the Blue Ridge Mountains, this one-bedroom cabin is a wildly unique getaway. Notably, this stay was also hand-crafted by the owners.
Look for first-rate amenities, like a waterfall shower and heated floors. As a bonus, you'll find waffle mix and maple syrup.

This secluded getaway sits on 3.5 acres and is 90 minutes from Washington, DC. Revel in mountain views while relaxing around the outdoor fire pit.
Inside, there are three guest bedrooms, a full kitchen and an airy living room. An outdoor deck, a hammock and a swing allow for peace and calm.
Get in a game of cornhole, grill up steaks on the charcoal grill and watch the stars from the hammock.
This quiet one-bedroom cabin sits on 1.5 acres at the confluence of Black Run and the Dry River in Rawley Springs. It's ideal for hiking, fishing or relaxing.
This Virginia cabin rental is secluded, but also close to amenities, like grocery stores, restaurants, shops, breweries and wineries, in nearby Harrisonburg.
All furnishings are new with the exception of a few antique pieces that add to the rustic charm of this cabin.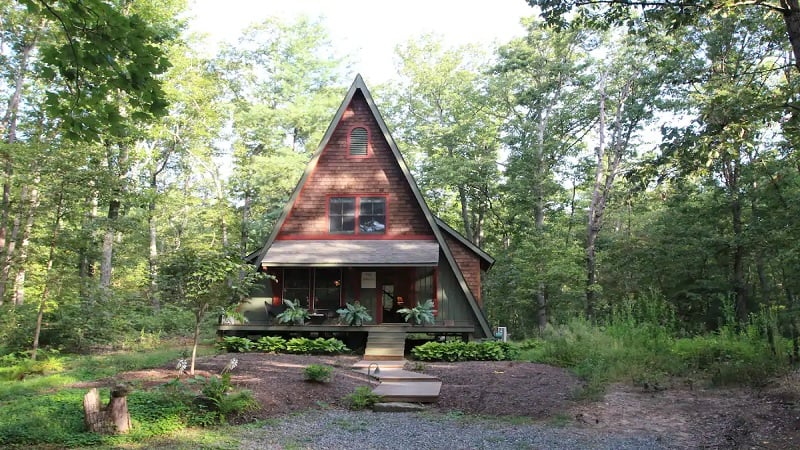 This A-frame cottage sits on 70 acres of bucolic countryside in Orange County. Forested trails allow for leisurely walks in the woods.
Inside Gum Tree Lodge, look for reclaimed and recycled wood flooring, doors, beams and siding. It's just the right space for eco-friendly travelers.
When the windows are open, listen for the faint sounds of a train whistle from this one-bedroom cottage.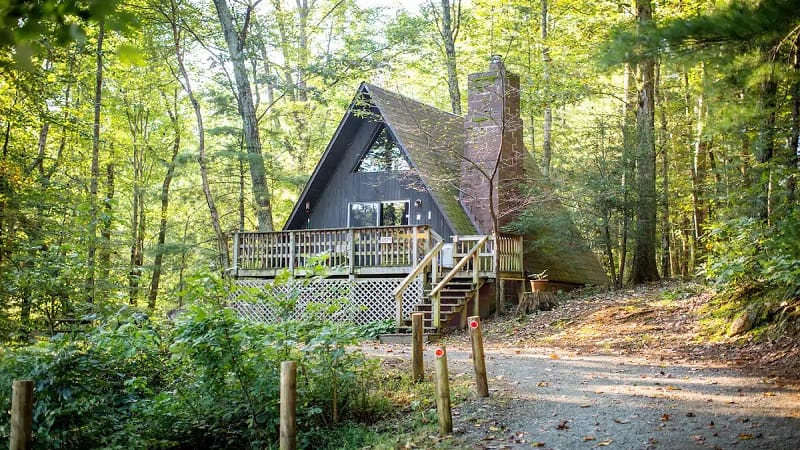 This eco-friendly one-bedroom A-frame cottage is so cute. It's actually one of several 1960s cedar cottages for rent at Montfair Resort Farm in Crozet.
The cottages are set in a wooded area that overlooks a small lake. There are on-site trails. The farm is also 15 minutes from Sugar Hollow Reservoir.
Six guests can comfortably sleep in this cozy cottage that is both family-friendly and dog-friendly.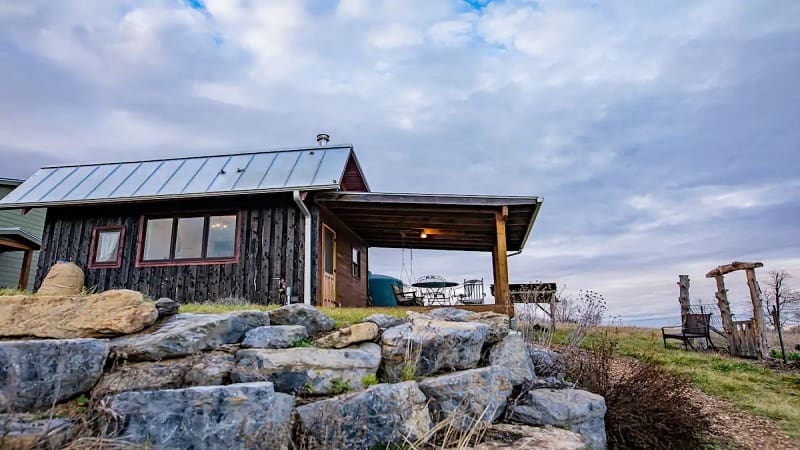 This tiny one-bedroom house is located on a peaceful six-acre farm in the Shenandoah Valley. Relax on the front porch to revel in the beautiful scenery.
A wood stove warms this tiny space as guests enjoy board games and books on hand inside this home. There is also a space heater for extra toastiness.
Ask the owners about the farm, especially if you'd like to help tend the animals or the gardens during your stay.
A stay at one-bedroom Breccia Cabin wows with spectacular vistas. This cabin is one of more than a dozen cabins located at Shenandoah Woods.
Inside, you'll find a vaulted open beam ceiling, a stone fireplace and a full kitchen. Outside, revel in the far-reaching views from the warm soothing hot tub.
This cabin affords easy access to Shenandoah National Park and popular hikes, like Dark Hollow Falls.
This two-bedroom cabin offers the perfect spot for total seclusion and relaxation thanks to its location, tucked away on six mountainous acres.
Chill out by the large brick fireplace or drink a glass of wine from the bed swing or lounge chairs on the sizeable screened-in porch.
A fire pit allows for long-range mountain views. Wood is included, but plan to bring your own marshmallows.
A short drive from Massanutten Resort, this is the perfect getaway when you want to ski or tube, but also want to escape the crowds at the end of the day.
This one-bedroom cabin sits on a hilltop, wowing with far-reaching mountain views. Speaking of views, one wall of the loft bedroom is all windows.
Savor panoramic mountain views from the wrap-around back deck, maybe with a cup of coffee from the drip coffee maker.
This remote two-bedroom cabin is situated in the Blue Ridge Mountains at an elevation of 3,000 feet. It's also a short drive from Shenandoah National Park.
As you drive to the cabin, you'll want to take it slow and make stops for gram-worthy overlooks along the way. You may even see a black bear or two.
At the end of the day, relax around the fire pit or from the comfort of the large screened-in porch. Maybe in the hot tub.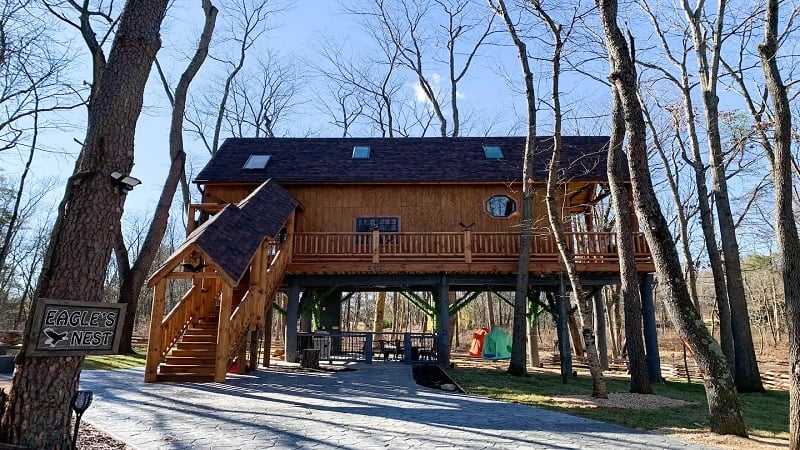 It's not hard to love this cabin up in the trees, especially when described as both rustic and luxurious. This is also one of my favorite treehouse rentals in Virginia.
This one-bedroom cabin is 17 feet above the ground. It has all the modern conveniences too, like a gas fireplace, wi-fi, a hot tub and surround sound.
Hanging rope chairs on the deck and swinging play forts under the treehouse at the lower patio area add to the fun.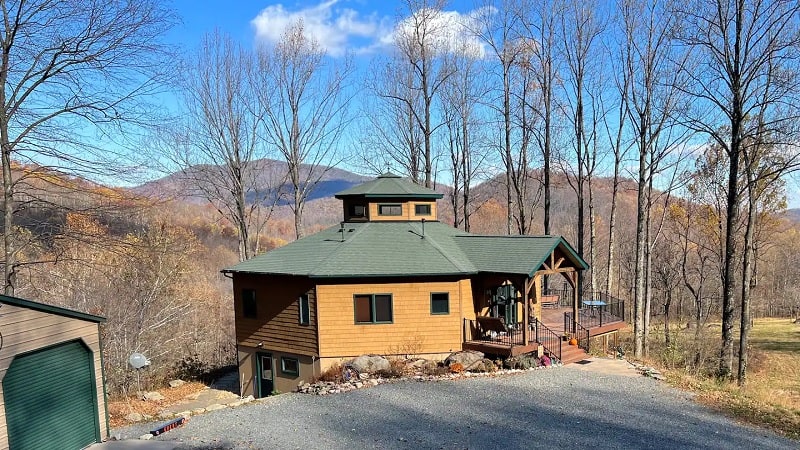 The one-bedroom suite inside this eight-sided Octagon House wows with serious views of Old Rag. Note that the owners are in residence (upstairs).
A separate entrance welcomes visitors to this mountain stay that boasts a large private patio, Adirondack chairs and a fire pit. Plus, firewood, of course.
There's plenty to do nearby, like hiking Old Rag. You'll also find wineries and breweries, as well as fishing streams.
Cinnamon Knoll is a gorgeous A-frame cabin that wins over guests with big windows and even bigger views across the Shenandoah Valley.
Settle in on the outdoor deck or in the hot tub as you celebrate the end of a fun-filled day. Bryce Resort is an easy 20-minute drive from this cabin.
This A-frame sleeps up to six people in three guest bedrooms. Upstairs, look for a mini arcade and a large bean bag.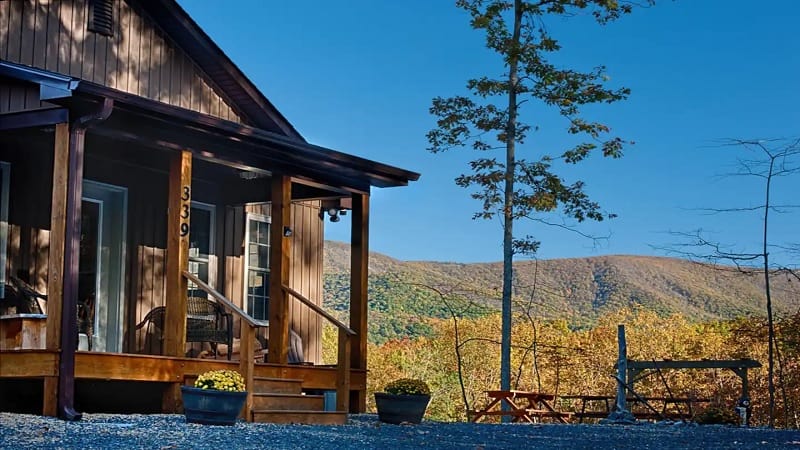 The newly-built Old Wagon Ridge is situated off an old fire road, one that was built by the Civilian Conservation Corps in the early-1930s.
This three-bedroom cabin sits on six acres of land and comfortably sleeps up to eight people. Miles of private roads allow easy access to nature and wildlife.
You'll find loads of amenities, like a hot tub, microwave and wi-fi, even a toaster, a blender and a slow cooker.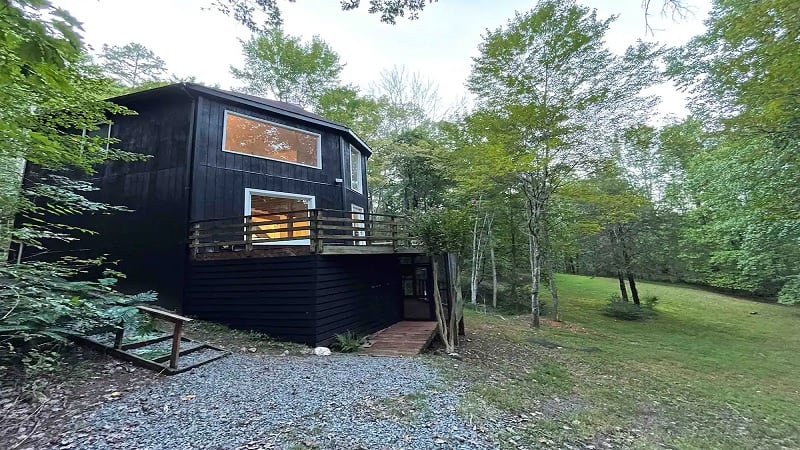 This two-bedroom Scandinavian-inspired cabin sits on five quiet acres, making it a peaceful getaway from the hustle and bustle of daily life.
This cabin is designed to allow guests to disconnect from technology and re-connect with nature. That noted, there is wi-fi, but there is no television.
You'll also find board games, children's books and toys, and a yoga mat. There's even a record player.
This two-bedroom cabin in the Blue Ridge Mountains is described as "rustic yet refined" by the owners. Think about that over an espresso by the fire pit.
This stunning mountain getaway wows with large picture windows, soaring ceilings, a full kitchen (as in, full-size appliances) and quartz countertops.
Outside, unwind in the hot tub or settle into an Adirondack chair around the fire pit. As a bonus, this cabin is pet-friendly.