Bear Church Rock: Hike to Big Views, Cascading Rivers & a Log Cabin at Shenandoah National Park
I love hikes that are more than just a waterfall hike or a hike to big views. You know, hikes that check several boxes, with wide-open vistas, cascades and cabins.
The hike to Bear Church Rock at Shenandoah National Park has so much to offer trail-seekers. It would be easy to spend much of the day on this hike, too.
* But first, watch a short video I made when I hiked to Bear Church Rock. *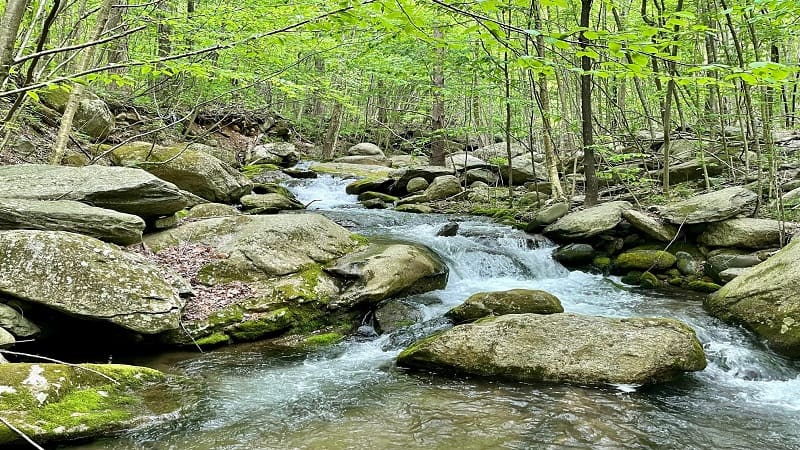 You'll want to settle in for vistas, splash in a watering hole and make time to check out Jones Mountain Cabin, one of six PATC cabins at this national park.
This 9.1-mile boundary hike is between moderate and strenuous, so take your time to enjoy the forest views and the sounds of two flowing rivers.
| Trail Stats | |
| --- | --- |
| Length | 9.1 miles |
| Difficulty | Strenuous |
| Trail Type | Out-and-Back |
| Elevation Gain | 2,539 feet |
| Duration | 4.5-6 hours |
| Terrain | Mostly dirt & rock trails |
| Dog-Friendly | Yes |
| Fee | Free (trailhead is outside the national park; no ranger station) |
| Driving Directions | Click Here |
Graves Mill Trail
The hike to Bear Church Rock begins on the Graves Mill Trail. The trailhead is at the very end of Graves Road, about 900 feet past Golden Paws Ranch.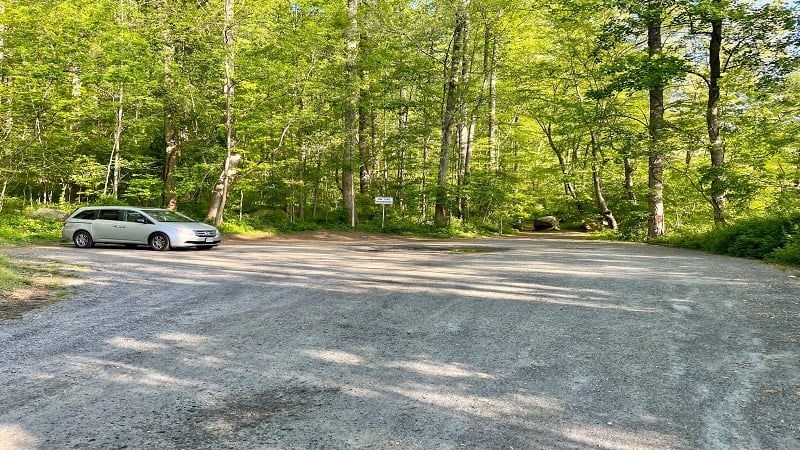 The road dead-ends at a circular parking area. When you see the "End State Maintenance" sign, you'll know that you have arrived at the start of the hike.
There's room for at least a dozen cars to park, though there are no marked spaces. You'll see the concrete marker for the Graves Mill Trail.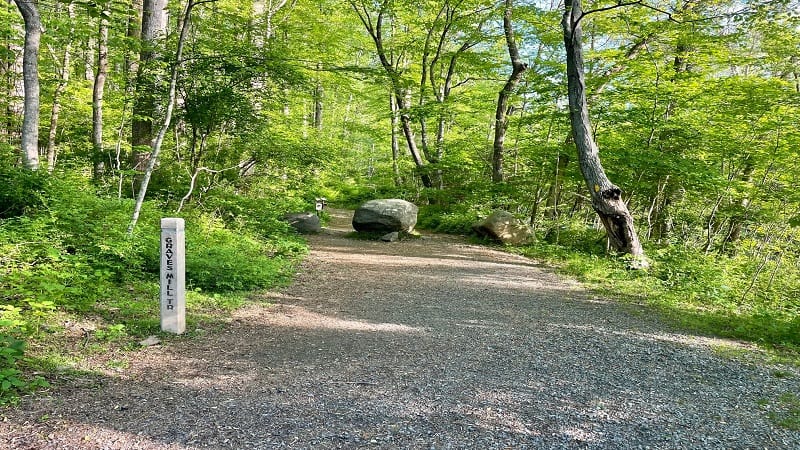 As you take your first steps, note that the blazes are yellow. This means that the trail accommodates horses. It also means it's less rocky than non-horse trails.
You're on the Graves Mill Trail for just 0.5 miles. The sounds of the cascading Rapidan River are quite intoxicating. You'll enjoy plenty of river views, too.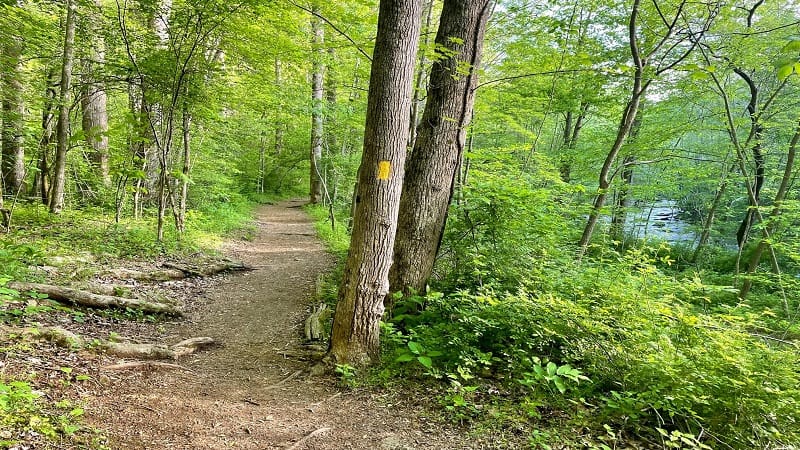 Staunton River Trail
At the 0.5-mile mark, turn left onto the blue-blazed Staunton River Trail. At this point, you'll be walking alongside the gently-flowing Staunton River.
As you ascend the hiking trail, you'll notice more than a few short spur trails that lead to the water. There are so many good stops to drop your feet in.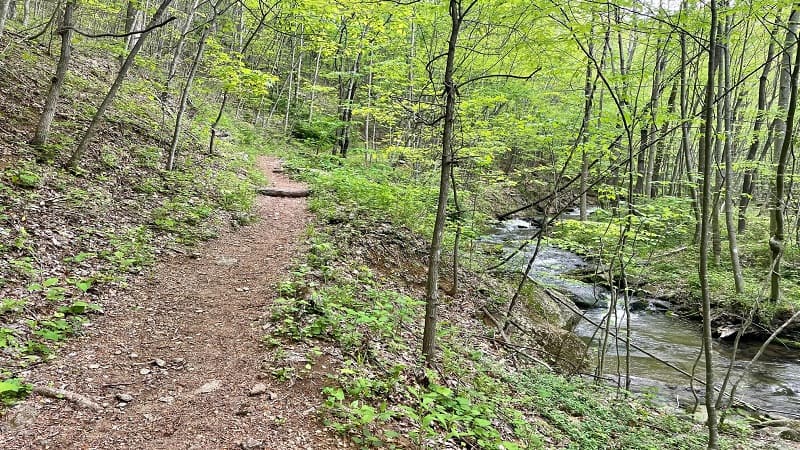 It's a good idea to bring a pair of water shoes that you can easily slip on to enter the water. River rocks can be slippery. Water shoes can help protect your feet.
One of my favorite stops is at the 1.1-mile mark. There is a small, gushing waterfall and a watering hole that's just right for a refreshing cool-down.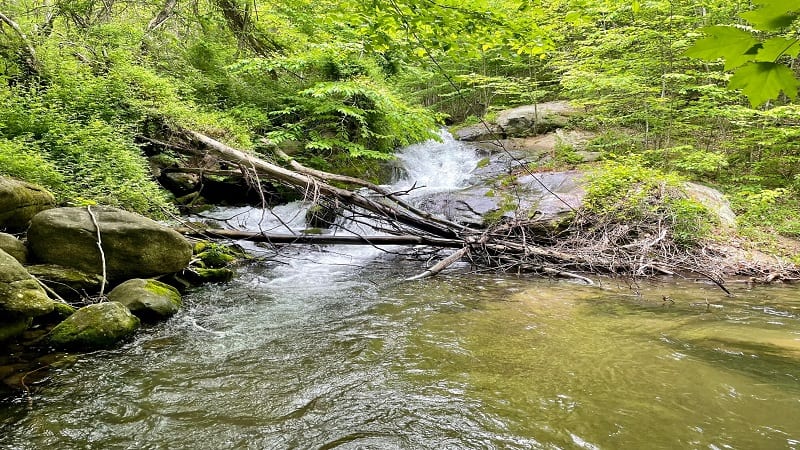 Before you reach this point, however, you will see some odd metal boxes and a small solar panel. This is a Water Quality Monitoring Station.
This station is part of the Shenandoah Watershed Study, a years-long research study to monitor atmospheric effects on the national park's sensitive streams.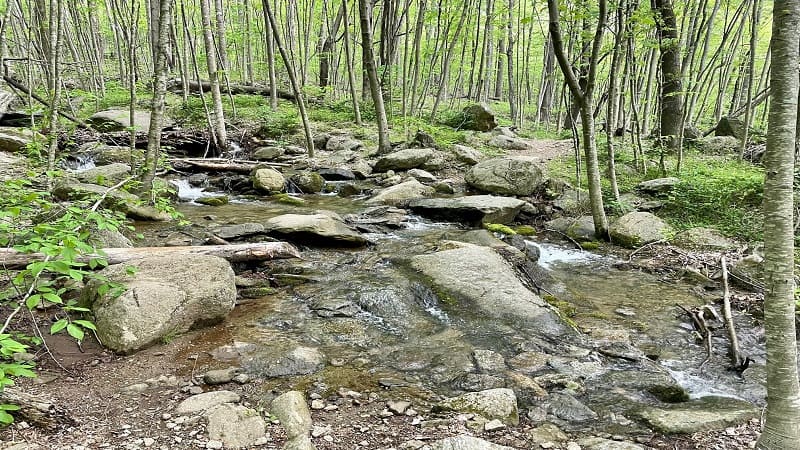 You'll also encounter a handful of water crossings, including one over Wilson Run, but none are a challenge. Just a few skips across exposed rocks.
Jones Mountain Trail
Your time listening to the babbling and burbling of the rivers comes to an end at the 2.7-mile mark. The hike is also about to get more steep and rocky.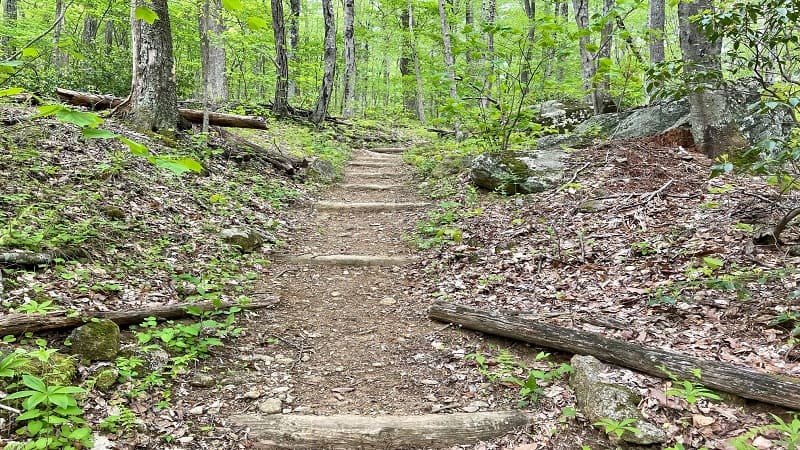 Turn left at the concrete trail marker to ascend a dozen wooden steps built into the trail. Turn left again for the Jones Mountain Trail at the 3.1-mile mark.
At the 3.4-mile mark, you'll reach a fork in the trail. Stay to the right and ascend the steps to continue on to Bear Church Rock.
The trail to the left leads to the Jones Mountain Cabin, but we'll check out the two-story chestnut log cabin on the way back from the scenic overlook.
You'll encounter one more set of wooden steps built into the trail at the 3.6-mile mark. At the 3.9-mile mark, you will reach another fork in the trail.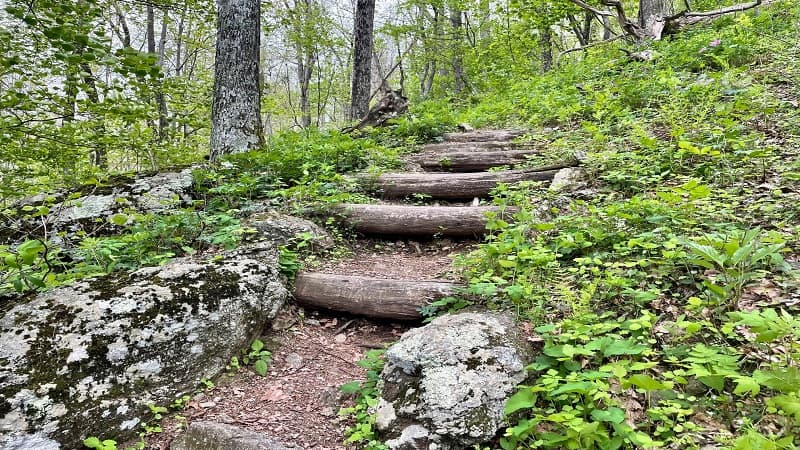 There is no signage, but I can tell you that the overlook is on the right. It's only another 20 or 25 steps further up the trail to reach wide-open mountain views.
Bear Church Rock
I wish I could have tackled this hike on a better day, but sometimes, it is what it is. The views were gray and cloudy, but it was still quite breathtaking.
From this rocky outcrop, you'll enjoy north- and northeast-facing views across Shenandoah National Park. It's a good size overlook, too.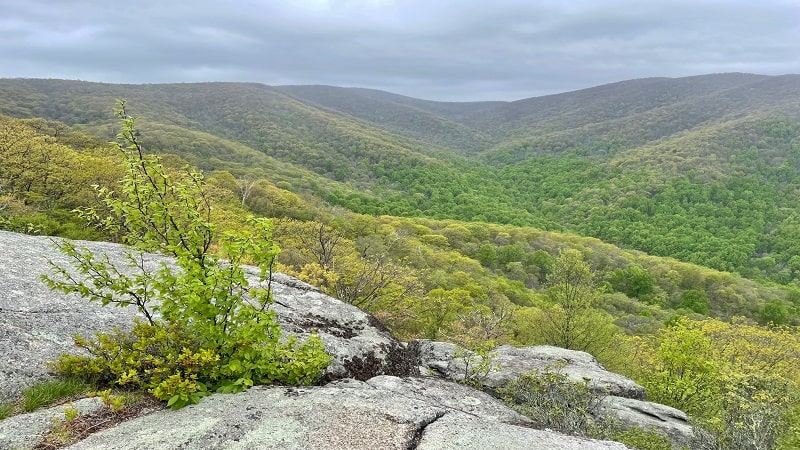 You've worked hard to get here, so sit and savor the gorgeous mountain views for a while. Re-hydrate and re-fuel before setting off again on this hike.
Note that this is technically not the summit of Bear Church Rock. The summit is another 0.2 miles further west along the Jones Mountain Trail.
There are no more views, but you will find several massive boulders at the top that are begging for a climb or a scramble if you're up for the challenge.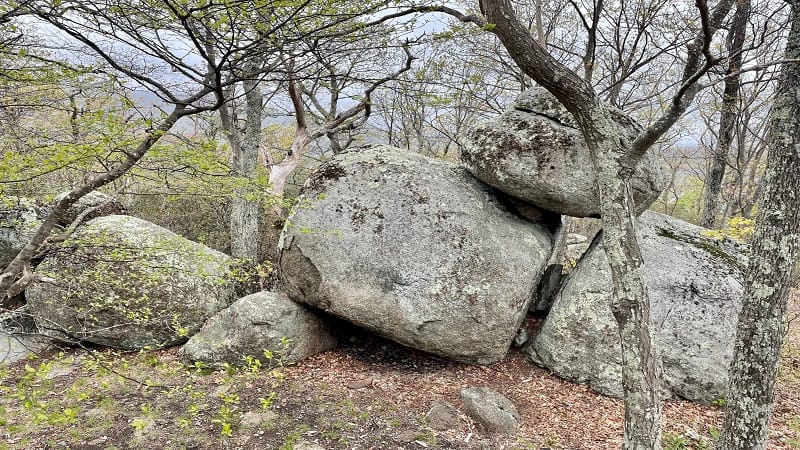 Note that it's rather steep to reach the boulders and the trail is not as well-maintained. There were a lot of leaves on the trail that were easy to slip on.
Once you've savored the vistas at the overlook and climbed on the boulders, carefully re-trace your steps along the Jones Mountain Trail.
Jones Mountain Cabin
At the 4.7-mile mark, turn right for the short walk to Jones Mountain Cabin, which is owned and managed by the Potomac Appalachian Trail Club (PATC).
It's a walk of 0.4 miles to reach the cabin, nearly all downhill. Of course, this means it's nearly all uphill on the way back to the Jones Mountain Trail.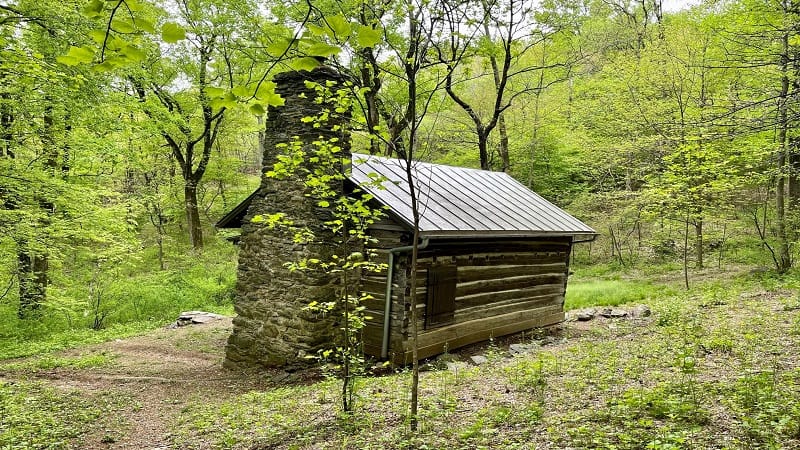 It was a longer walk than I would have liked, but I always like to check out the PATC cabins. I've now seen four of the six in Shenandoah National Park.
If interested, here are the hikes that reach the three other hike-in cabins I've seen in the park, including Range View, Pocosin and Doyles River.
At 3.8-miles (direct, one-way), this is the longest hike-in of all the PATC cabins. Note that all of cabins in the park are primitive and open to the public.
The fee to book Jones Mountain Cabin is $35/night on weekdays and $50/night on weekends. This cabin sleeps up to 10 people on bunks and a loft space.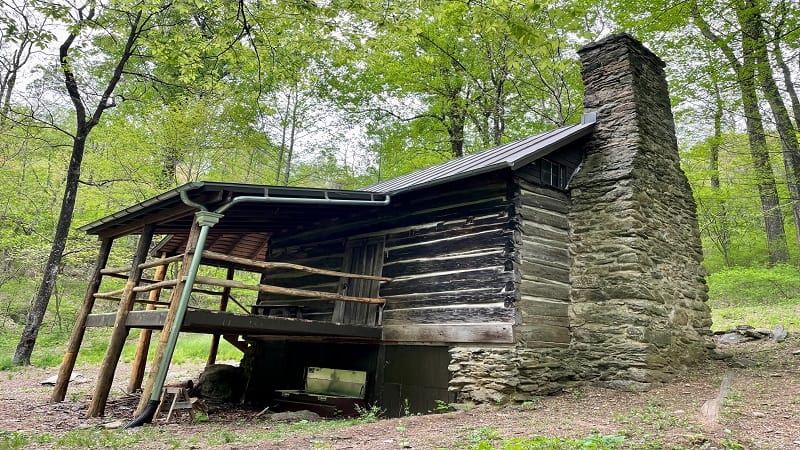 Inside, there is a wood stove, counter space and an eating area. All cabins are locked unless occupied by hikers who have booked the cabin for a stay.
Outside, you're steps from a privy and a spring. Note that outdoor campfires are not allowed on the grounds of this primitive cabin.
From here, re-trace your steps to the fork in the trail. Then, re-trace your steps all the way back to the trailhead at the end of Graves Road.
Wrap-Up Notes
From the Graves Mill parking area, this hike took me nearly four hours, including time spent enjoying the views and checking out the flowing rivers.
I will say that with one look at the elevation gain alone, this hike would look like a complete soul-crusher. It was challenging, but not at all unbearable.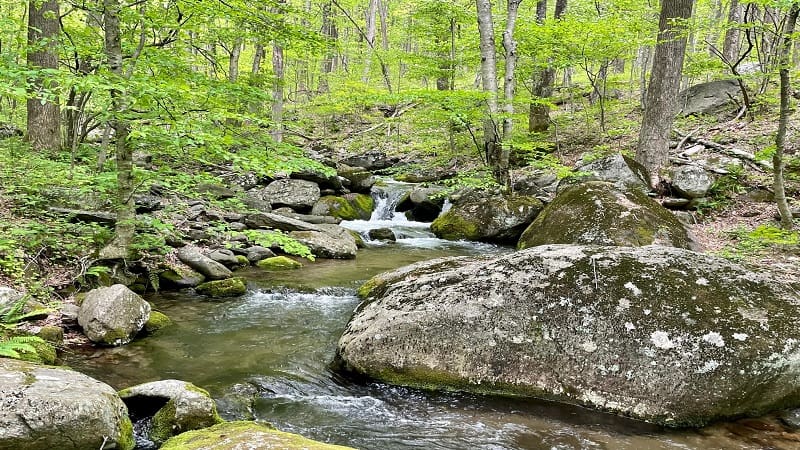 You will love following along the river for nearly three miles, if only because you can't hear yourself breathing heavily as you slowly ascend the hiking trail.
I wish I could have seen better views from the overlook, but not every day can be a blue-sky day. I would definitely do this one again. Beautiful.