Hike to the Top of Hidden Rocks at Hone Quarry Recreation Area
I recently hiked along the 2.7-mile Hidden Rocks Trail near Dayton. I may have chosen this hike based on name alone, but it was well-rated on AllTrails, too.
With a name like "Hidden Rocks," it's a must to find out more, so I set my GPS for the Hone Quarry Recreation Area of the George Washington National Forest.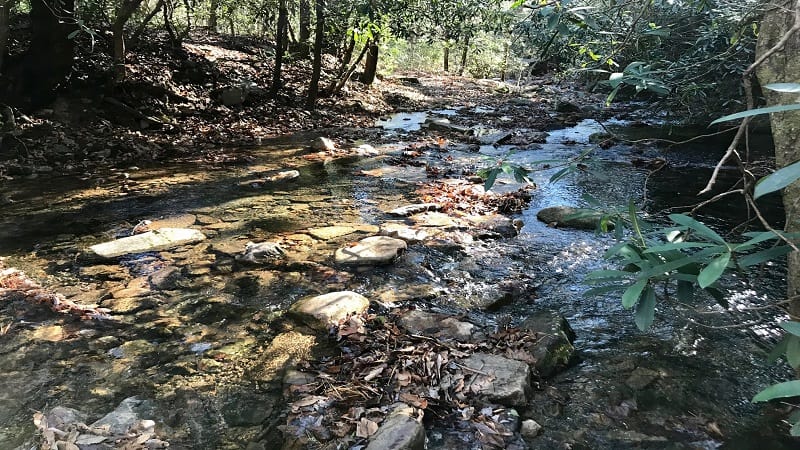 This hike was geologically engaging given the incredible rocks you will encounter at the half-way point on this hike. Yes, they were fairly well hidden, within a dense forest.
However, this hike wows with more than large rocks. Along the way, plan to navigate water crossings, rhododendron thickets and small, refreshing waterfalls.
| Trail Stats | |
| --- | --- |
| Length | 2.7 miles |
| Difficulty | Easy |
| Trail Type | Out-and-Back |
| Elevation Gain | 371 feet |
| Duration | 2-2.5 hours |
| Terrain | Mostly dirt & rock trails, creek crossings, some steps and rock scrambles |
| Dog-Friendly | Yes |
| Fee | Free |
| Driving Directions | Click Here |
Arriving at the Trailhead
As you enter Hone Quarry Recreation Area from Briery Branch Road, you'll find that the last .4-mile of your drive is a tight squeeze. The road is very narrow.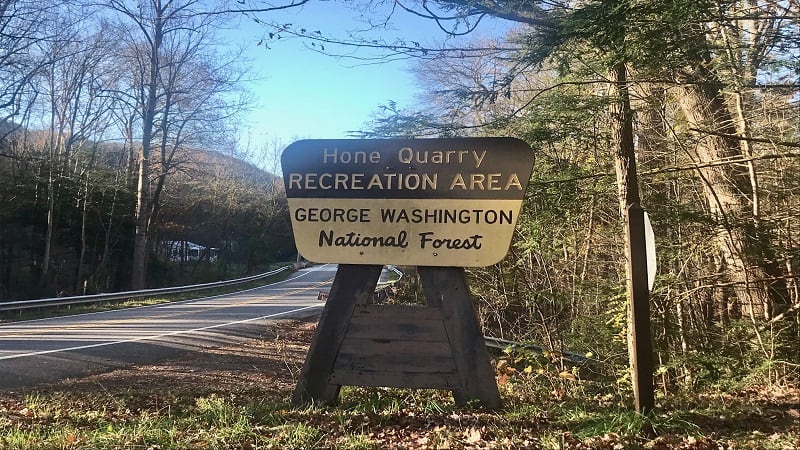 Fortunately, it's not long before you see the parking area on the right. It's a very small lot with room for only eight or 10 vehicles.
The trailhead is on the east side of the parking area. I arrived at 8:30 am on a Wednesday. There was just one car in the gravelly parking lot.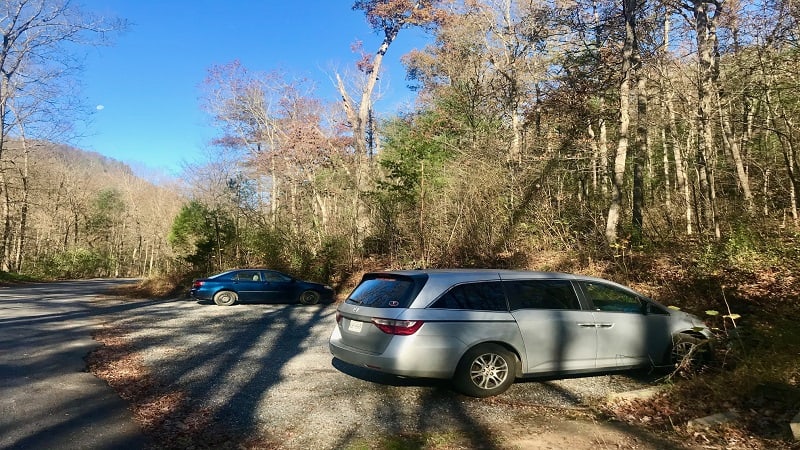 The First Steps
I felt like this trail started off a bit like a roller coaster. A little up, a little down, then repeat (and repeat again) on the yellow-blazed Hidden Rocks Trail.
For the duration of the hike, you'll hear the muffled sounds of gently flowing water, though you won't actually reach a water crossing until the .6-mile mark.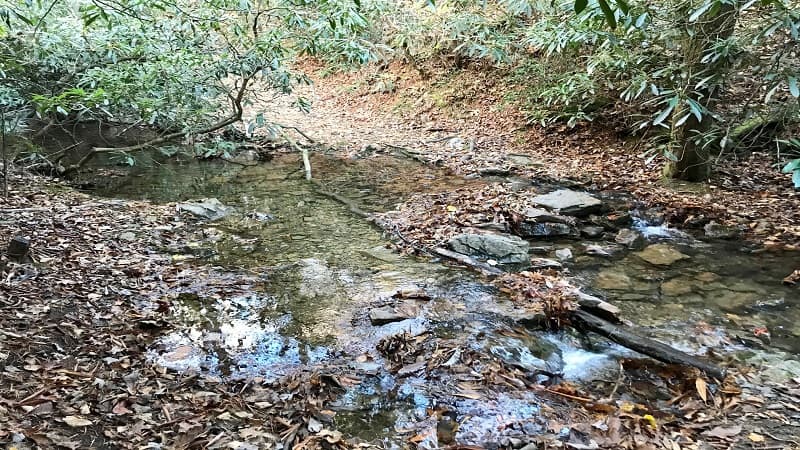 Here, you'll hopscotch across Rocky Run. Stay left for the Hidden Rocks Trail as you continue hiking upstream.
Over the next .5-mile you'll cross over Rocky Run a couple more times, including at the 1.0-mile mark when you can carefully walk across a large log.
In a few more steps, you'll walk uphill away from the water, then enter the loop at the 1.1-mile mark that takes you to Hidden Rocks.
From here, it's a steep climb, but it's less than 100 yards before you close in on the rock face. Continue left on the trail in front of Hidden Rocks.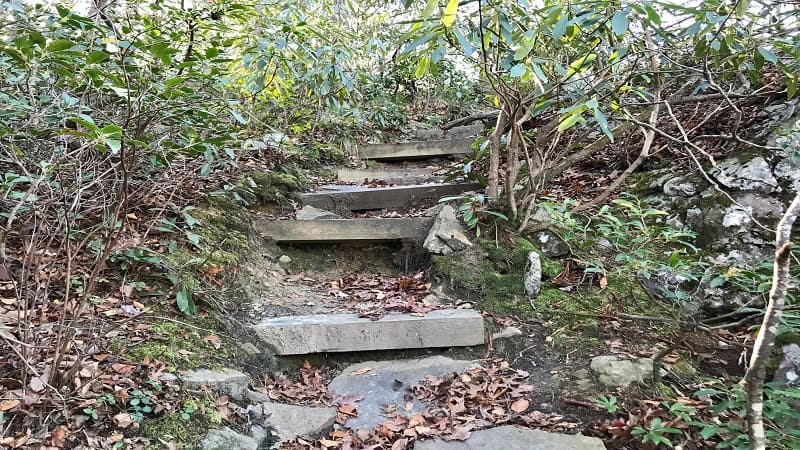 You'll encounter some rock scrambles, then four or five steps that lead you to the top of Hidden Rocks. Get ready for some awe-inspiring views across the valley.
The northwest-facing views are just right for a deliciously colorful sunset. Take time to explore at the top of Hidden Rocks, including the fire pit and primitive camp site.
There is only one way up, one way down, so you'll need to re-trace your steps back down the stairs. Stay alert since the trail continuation will appear on the right.
I honestly didn't even see a trail when I ascended the rock face. It's a spur trail that leads you back to the Hidden Rocks Trail, forming a loop.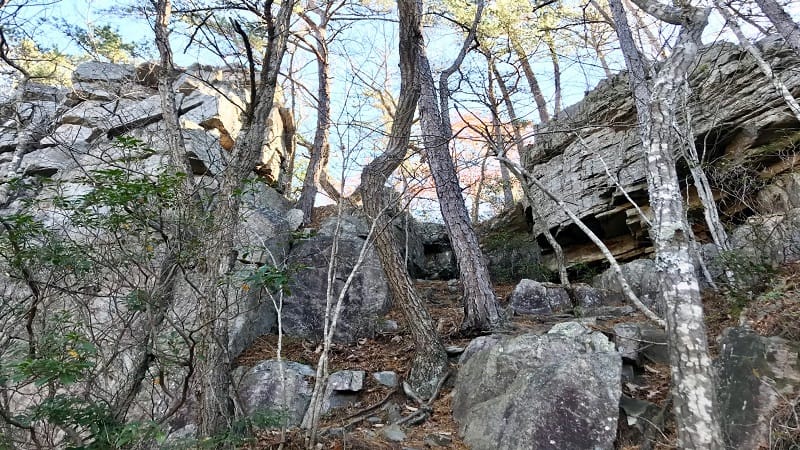 At the 1.4-mile mark, you'll see another large rock, this one called Hidden Cracks. You may even be able to climb this one too, but there is no designated trail.
As you reach the end of this rock formation, you'll see two trees marked with yellow blazes, wooden steps down, then a small rock scramble.
At the 1.5-mile mark, stay left to return to your car on the yellow-blazed trail. You can go right to stay on the Hidden Rocks Trail. But only with a machete.
It's a bit of a mess to the right. You can stay on trail, walking alongside a small stream, but after a cascade or two, the trail is impassable.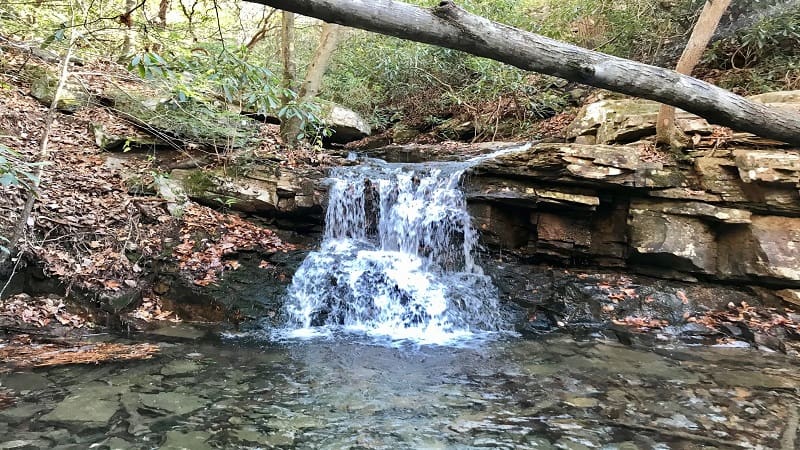 Instead, stay left and cross back over the stream at the 1.55-mile mark. At the 1.7-mile mark you'll be rewarded with a waterfall and a small splashy basin.
Here, you'll also close the loop you were on to reach Hidden Rocks. Simply continue south along the yellow-blazed Hidden Rocks Trail until you reach the parking area.
Wrap-Up Notes
From the parking area, this hike took me 1 hour, 45 minutes to complete, including time spent ogling the views from atop Hidden Rocks.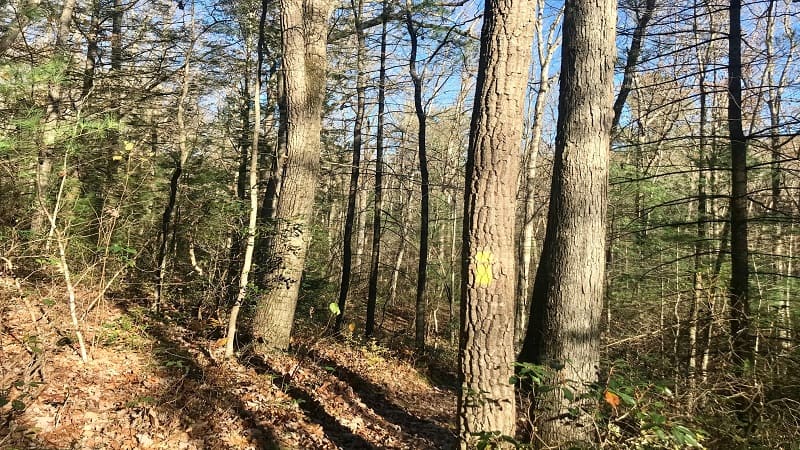 If I'm being honest, this was not my favorite hike. There were a couple of times where I lost the blazes. I also was not pleased by the impassable section of trail.
On the plus side, I thought Hidden Rocks as a rock formation was very cool and I would love to one day see the sunset and camp out under the stars at the top.
As a side note, there are at least two other hiking trails at Hone Quarry Recreation Area, including the Hone Quarry Loop (5.4 miles) and Oak Knob Loop (8 miles).
Hungry for more? Take a look at 15 of the best hikes near Staunton, Virginia to find a few more hikes to add to your must-do hiking list.