Best Cold Weather Leggings for Hiking on Chilly Winter Days (2023)
Leggings are a top pick for hiking in snow and cold weather. The best cold weather leggings can be surprisingly warm, even when worn as a single layer!
The key to selecting the right winter hiking leggings comes down to materials. You don't need super thick leggings to stay warm on a chilly day.
Winter hiking in warm leggings is easy and comfortable. The stretch allows you to have freedom of movement on the snow-covered hiking trails.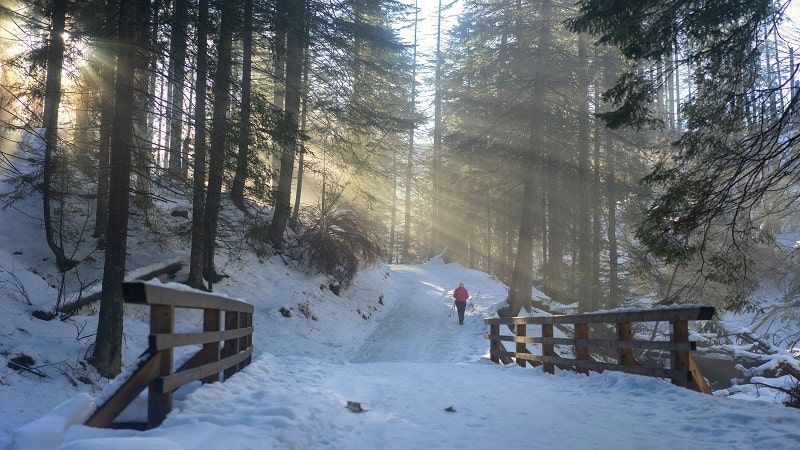 As an Amazon Associate I earn from qualifying purchases. If you click and purchase, I receive a commission at no cost to you.
You never need to worry about your hiking leggings catching on branches. They can be worn on their own or as a base layer. They're incredibly versatile.
Some of the best leggings for cold weather even come with plenty of pockets for stashing your snacks and cell phone. What's not to love about pockets?
Get ready for a deep dive into winter hiking leggings. I'll answer some of the top questions about hiking in leggings. Meantime, here are my three top picks.
Quick Picks: Warmest Leggings for Hiking
Are Leggings Warm Enough for Hiking?
Yes, you can absolutely wear leggings for winter hikes. The best warm leggings are different from typical leggings – they're thermal.
Thermal leggings are great to hike in during cold weather on their own. As a bonus, toasty thermal hiking leggings create a base layer for added warmth.
Cold weather leggings help pull sweat away from your skin to keep you dry and warm. They also help keep snow and rain away from your skin.
Leggings for winter hiking have an insulated and moisture-wicking inner layer, like fleece, to help keep you warm in cold weather.
The outer layer of the outdoor leggings is typically made of a durable wind-and-water-resistant material. This helps to repel rain and snow.
What Leggings are Best for Hiking in Winter?
The best winter hiking tights for cold weather hiking should tick off a few boxes:
● Warmth and insulation
● Breathability
● Durable and moisture-wicking fabrics
● Comfortable and not bulky
● Functional (pockets, reinforcement panels, etc.)
When selecting a pair of warm leggings for winter, look for a few key things. First, your hiking leggings or trail tights should be warm and insulated, but not bulky.
Bulky leggings are hard to move around in, which can cause early fatigue while hiking. They're also just not as comfortable as form-fitting leggings.
Layering is also more difficult with bulky leggings. A thinner material is preferred. This also allows you to retain your freedom of movement.
It might seem like the thicker the leggings, the warmer they will be. But that's not always the case, especially if you choose the right materials.
The best leggings for winter hiking have inner materials made of fleece or Merino wool, which are are insulating and warm, moisture-wicking and quick-drying.
Breathability is important when it comes to thermal hiking leggings, no matter the weather. Cold weather leggings should be breathable, warm and functional.
Thermal winter leggings with pockets are one of the best inventions on the planet, and perfect for carrying your cell phone.
Lastly, hiking leggings need reinforcements. Hiking involves a lot of movement, so look for leggings with reinforcement panels.
Is it Better to Hike in Pants or Leggings?
It's up to you whether you opt for regular hiking pants or hiking leggings. It's a very personal choice, but here are the pros and cons to both.
Hiking in Pants: Pros and Cons
Wearing traditional fleece-lined hiking pants on the trails comes with a few benefits that leggings can't claim. For one, hiking pants are a great exterior layer.
Pants have more pockets and belt loops and come in more material varieties than leggings. You can choose from tight pants or loose pants, too.
There are also cons to hiking in pants. They can be bulkier and more restrictive in movement. In addition, pants typically aren't as stretchy as leggings.
Hiking in Leggings: Pros and Cons
Hiking in leggings is a great choice for many reasons. Leggings are super comfortable and easy to move in, no matter what trail you're tackling.
Leggings come in different material types that are great for both cold weather hiking and warm weather hiking.
Hiking leggings also have reinforcement panels and pockets, making them super functional, too.
The only real downsides to hiking in leggings is that they typically don't have as many pockets as pants.
Additionally, they're form fitting, and form fitting clothing isn't for everyone!
Best Winter Hiking Leggings
Hiking in the winter is great if you don't mind the cold. The leaves are off the trees and you can see so much more than in the summer!
If you're planning to hit the trails this winter, check out my top three best fleece-lined leggings for hiking in cold weather.
The BALEAF fleece-lined winter hiking leggings are a top choice on Amazon. With over 1,700 five-star reviews, these leggings speak for themselves.
This brand is all about activewear and outdoor activity. From thermal leggings and tops to fleece leggings and pullovers, activewear is what they do.
These cold weather leggings are made of polyester, spandex and a fleece inner layer. The polyester and spandex provides a comfortable, water-resistant fit.
The fleece inner lining keeps you warm. These leggings come in a variety of colors and a wide range of sizes (including plus size), and they're all high rise.
That means they won't be rolling down on your stomach no matter how much you move around.
Each leg comes with deep side pockets that are perfect for carrying your cell phone and other items you need to have handy on the hiking trails.
There's also a zipper pocket on the top back of the waistband for keeping items like keys or other valuables, like a credit card, cash or driver's license.
Reviewers rave about warmth without the bulk for a fraction of the price of other name-brand hiking leggings with a soft fleece lining.
Icebreaker makes activewear from natural materials instead of synthetic to help facilitate a more sustainable future for the planet. Nice.
Icebreaker is a leading name in Merino wool outdoor gear and creates technical-wear that's comfortable, functional and lasts a really long time.
These 260 Tech Merino Wool base layer leggings are perfect for layering. They're made of 100% responsibly sourced super-fine fiber Merino wool.
Merino wool helps regulate your body temperature and provides excellent insulation in cold weather. It's soft, naturally odor-free and moisture-wicking.
These leggings have a gusseted crotch and inner thigh area for durability and range of motion. Flatlock stitching helps eliminate fabric rubbing and chafing.
With 4.7 stars on Amazon, customers are raving about the warmth and breathability. They make the perfect addition to your winter wardrobe.
This brand is known for longevity, too. One customer reported that she's had her pair of leggings for 15 years and it is still going strong.
Since these leggings are made to be a base layer, they don't come with pockets. They can be worn by themselves, but work best as a base.
The Duofold by Champion double-layer thermal leggings are another great choice for a base layer legging that is perfect for cold weather hiking.
With multiple layers of fabric, they make a good choice for a single layer, too. The Duofold leggings come in black and in four sizes from small to extra large.
A drawstring closure helps them stay snug around your waist for the duration of your hike. Flatlock seams help control rubbing and chafing while you're moving.
Reviewers love the warmth and fit of the Duofold leggings. These hiking leggings are true to size and perfect for both hiking and everyday wear.
Customers love wearing these leggings while hiking, as a base layer for camping pajamas, around the house and working outdoors in cold weather.
An exterior layer of polyester and spandex is designed to dry quickly to help prevent moisture from snow and ice from getting in.
The inner layers of these leggings are comprised of two layers of ringspun polyester to help insulate and keep sweat away from your skin.
Multiple layers increase the insulation. Dual fabrics create a thermal barrier against cold weather and wind to keep you warm no matter the conditions.
Final Notes: Cold Weather Leggings
Warm, technical clothing is essential for hiking in cold weather. Not all leggings are great for hiking, and not all hiking leggings are great for a cold climate!
Now you know what makes the best winter hiking leggings. From material to construction and functionality, there are many factors!
Choosing the warmest hiking leggings for winter comes down to selecting insulating and moisture-wicking materials and avoiding bulky options.
When shopping for warm leggings for hiking, stick to fabrics like polyester exterior and fleece or Merino wool, which are good fabrics for hiking bras, too.
For more winter gear picks (which by the way, are great gift ideas for hikers), check out my Gear Guides.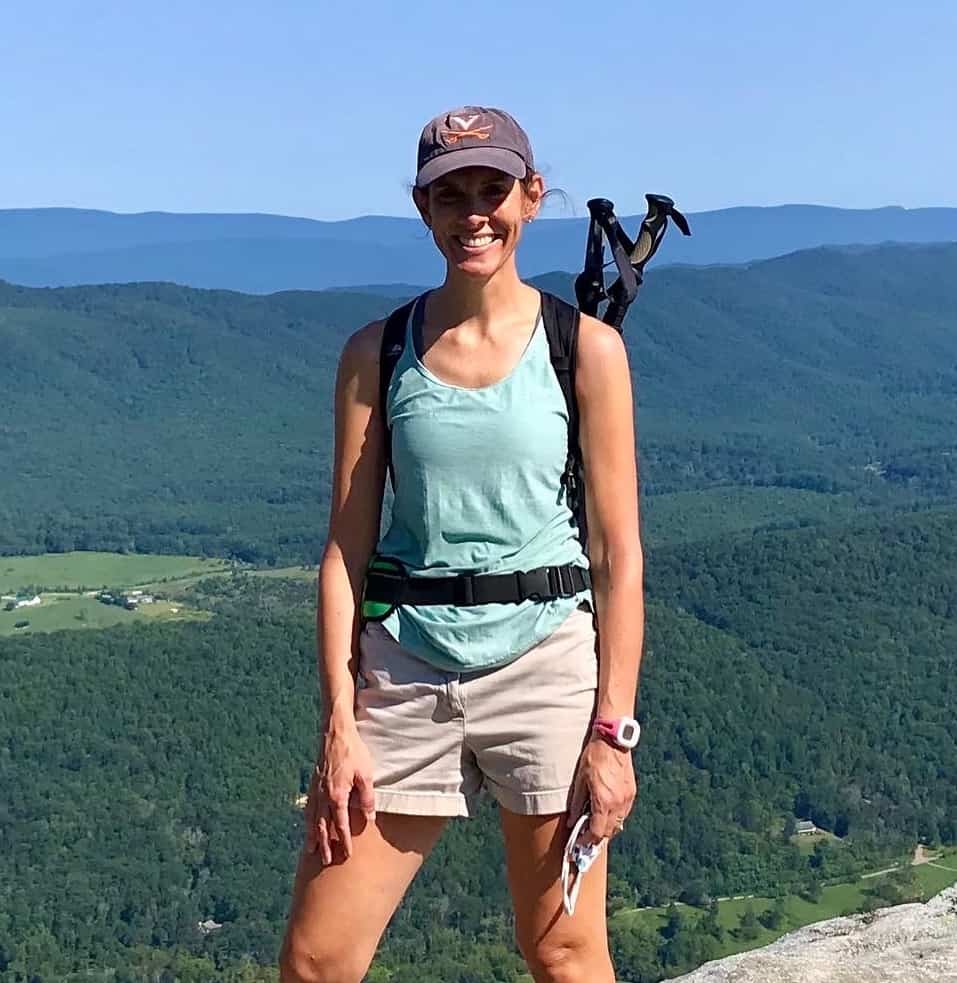 Erin Gifford is the editor of Go Hike Virginia. She has completed more than 300 hikes in Virginia. She is also the author of three hiking guidebooks from Falcon Guides. Need help finding a hike? Check out the Trail Finder feature or send Erin a message.