15 Best Hikes Near Winchester, Virginia
There are some fabulous hikes near Winchester, Virginia. Even in Winchester, on the manicured grounds of the Museum of the Shenandoah Valley.
Winchester is a short drive from access points to the Appalachian Trail, Massanutten Trail and Tuscarora Trail, even trails at Sky Meadows State Park.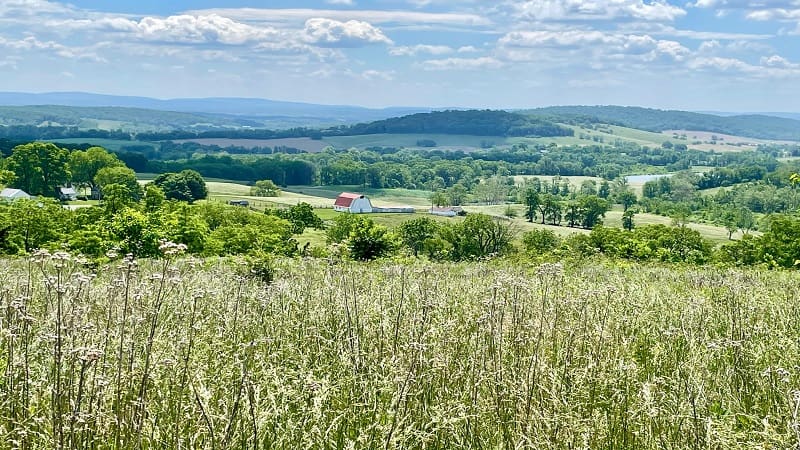 It's hard to go wrong with any of the hikes in and near Winchester. As a bonus, there are in-town hotels, breweries and restaurants, so stay the weekend.
Hikes Near Winchester, Virginia
To make it easy for you to navigate, I've organized hikes by difficulty level so you know what you're getting into before you set off on these hiking trails.
For each of the hikes below, I also share what's to love and how far each one is from Old Town Winchester. Get ready for some really good hiking.
Easy Hikes
Whether you want a relaxing walk across an art park or steps on the Appalachian Trail to an overlook, these hikes near Winchester are just for you.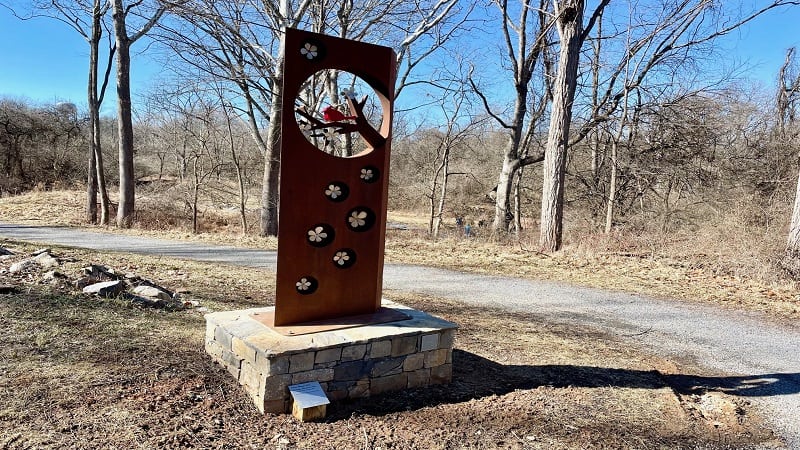 The Trails at the MSV, as this network of short, kid-friendly trails is called, opened in late-November 2020 after eight years of planning and construction.
Nearly three miles of hiking trails, including the Oak Trail and Green Circle Trail, cross a 90-acre green space at the Museum of the Shenandoah Valley.
This outdoor space is also an art park, so you'll find engaging art installations and landscape features all across the meadows, wetlands and forest areas.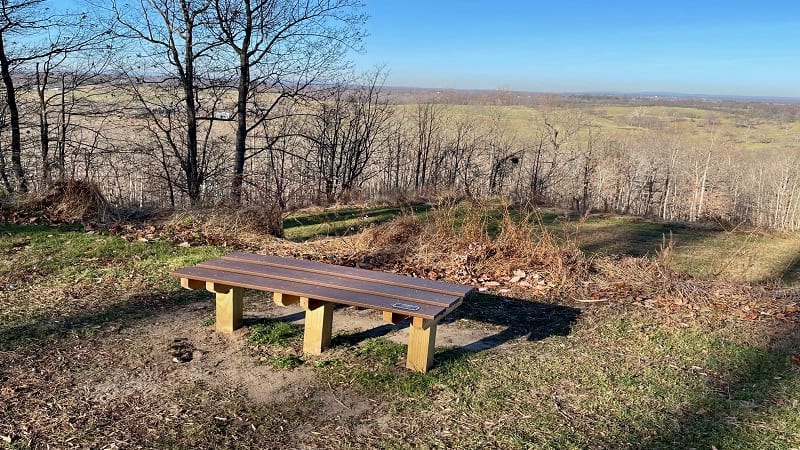 It's not often you can hike across land that was once a golf course and a Civil War battlefield. To boot, you'll even encounter a small waterfall on this hike.
At Shenandoah University's Shenandoah River Campus at Cool Spring Battlefield in Bluemont, two paved loops lure in visitors for quiet reflection.
The loops are actually golf cart paths from the one-time Virginia National Golf Course. The scenic 18-hole golf course shuttered and was abandoned in 2012.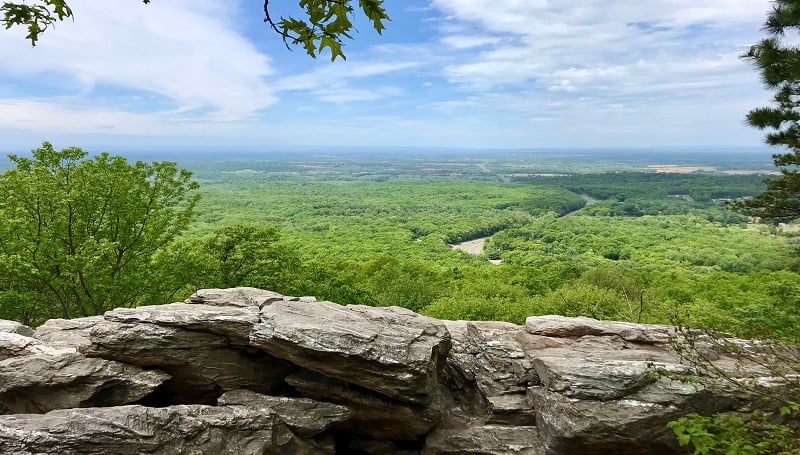 The easy-going hike to Bears Den Overlook takes hikers along a delightful, shady stretch of the white-blazed Appalachian Trail in Bluemont.
But first, hike along a .3-mile blue-blazed spur trail from the large parking area to connect with the Appalachian Trail for the Bears Den hike.
From here, it's a short walk to the wildly scenic Bears Den Overlook. Be ready to navigate tree roots, boulders, wildflowers and rocky terrain on this hike.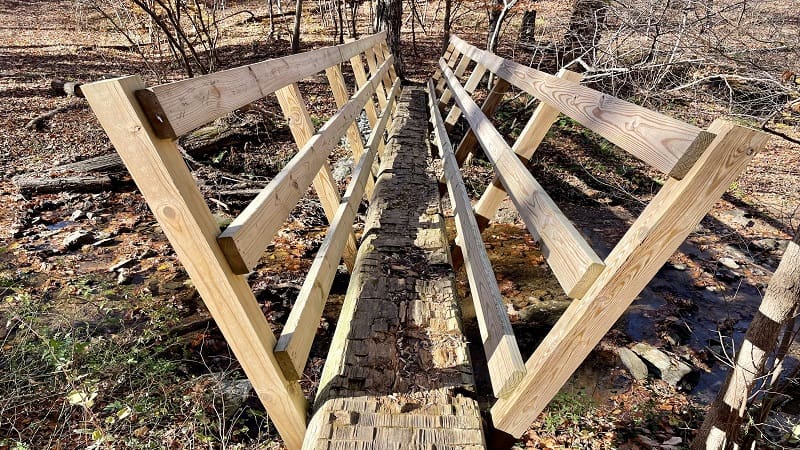 The Blue Ridge Center for Environmental Stewardship is home to 10 miles of wooded hiking trails. There's also a nature play area for little ones.
At the Blue Ridge Center, 14 short trails range in length from .1 miles to 1.9 miles. It's easy to add or subtract steps to create-your-own hike, too.
The Blue Ridge Center's website highlights four suggested hikes, including Farmstead Loop, Legacy Loop, Butterfly Alley and Birds of the Ridge.
Moderate Hikes
These hikes near Winchester are between two and six miles. There's added elevation, but also added views, scrambles, shelters and waterfalls.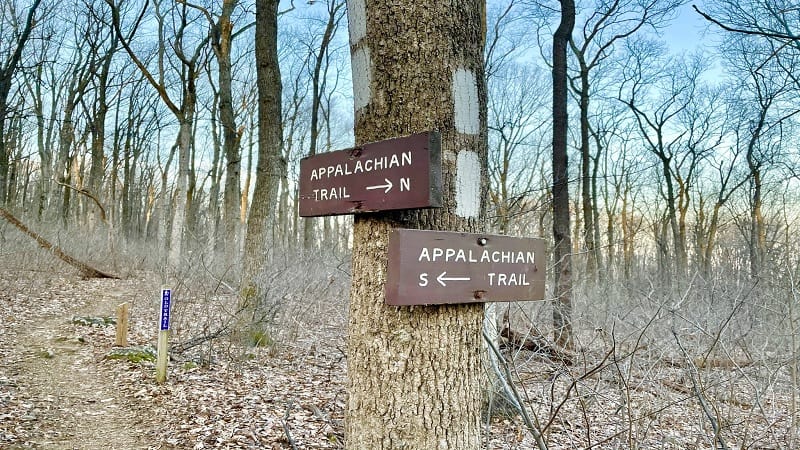 The quiet, wooded Old Trail Loop hike includes both the Appalachian Trail and Old Trail, a hiking trail that was a short section of the AT from 1983 to 2004.
In 2004, the Appalachian Trail was re-routed to its current route through Sky Meadows State Park. Old Trail became a part of the state park trail system.
Thanks to more than 20 miles of hiking trails at Sky Meadows State Park, it's easy to make this hike longer by adding on trails, like the North Ridge Trail.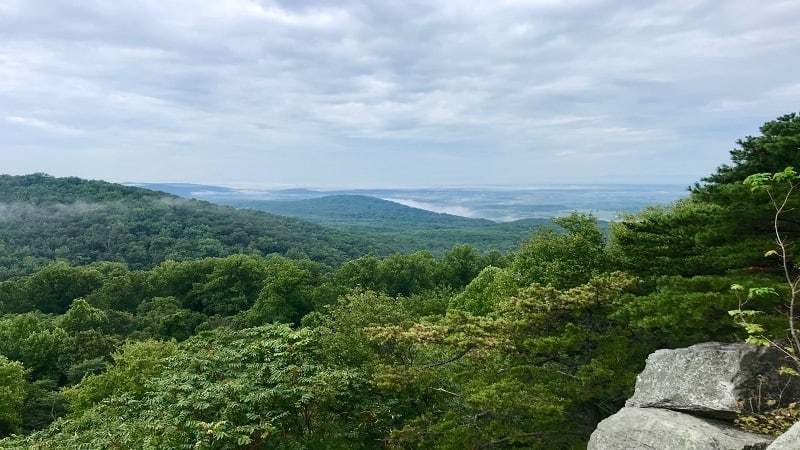 One of the most popular hikes near Winchester is the 5.1-mile out-and-back trek to Raven Rocks along the white-blazed Appalachian Trail.
It's a rocky climb with an elevation gain of more than 1,500 feet that generously rewards your efforts with sweeping valley and mountain views.
The Raven Rocks hike winds along a rock-laden section of trail. You may bump into a thru-hiker or two, depending on the time of year you hike the trail.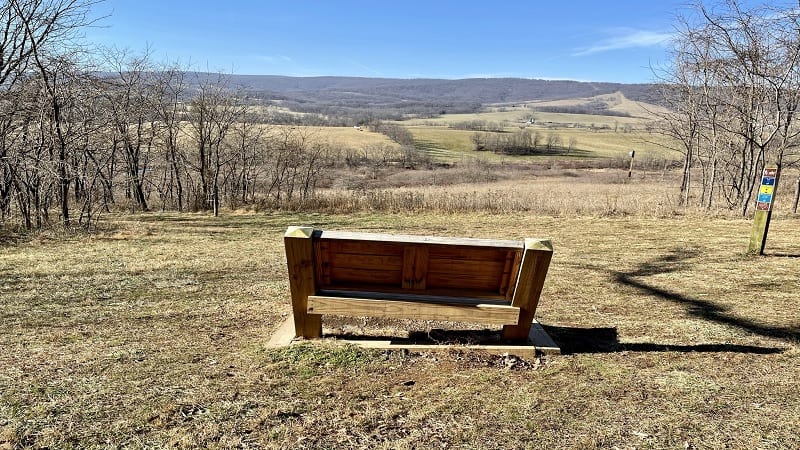 Set in northwest Fauquier County, Sky Meadows State Park is a wonderfully scenic state park split into two sections by U.S. Route 17 (Winchester Road).
The east section is home to the more pastoral Lost Mountain Trails. The Lost Mountain and Rolling Meadows Trails form a relaxing and serene hiking loop.
It's a beautiful 4.0-mile hike, but also a quiet hike. Most visitors set off on west section trails for wide-open scenic overlooks and the Appalachian Trail.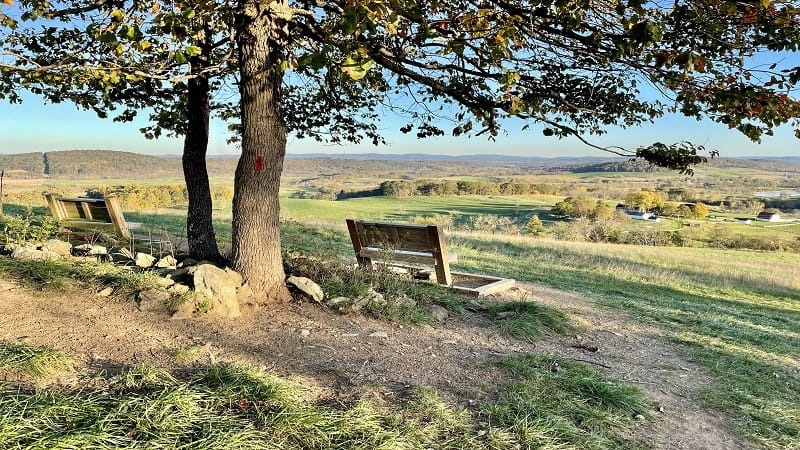 One of the most popular scenic overlooks at Sky Meadows State Park is divided into two: Lower Piedmont Overlook and Upper Piedmont Overlook.
Both can be reached quickly (but be ready for a healthy ascent) along the Piedmont Overlook Trail, which sets off near the Park Office.
Re-trace your steps or continue on to the Ambassador Whitehouse Trail for more far-reaching vistas from Whitehouse Overlook.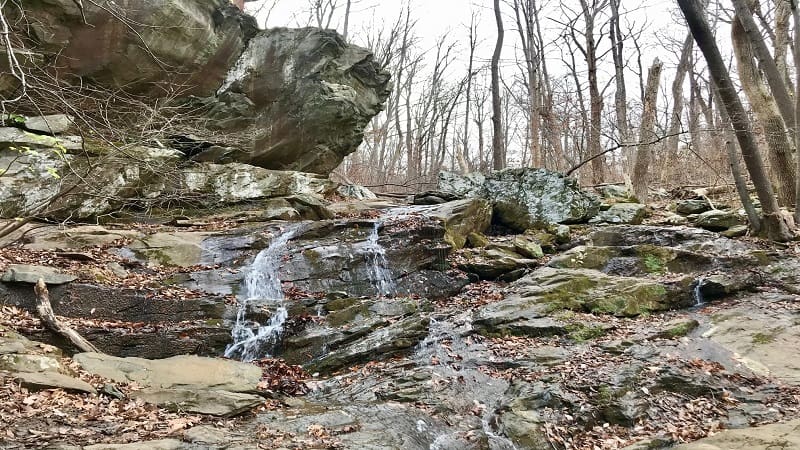 The wooded 3.5-mile out-and-back hike to Buzzard Hill wows hikers with a creek crossing, a small waterfall and west-facing views from Buzzard Hill.
Near the top, you will see a primitive campsite with a fire ring, but press on. The far-reaching views are only a few more steps further up the trail.
At the 1.7-mile mark, keep your eyes open for a short spur trail on the left. This will swiftly guide you to the west-facing overlook at Buzzard Hill.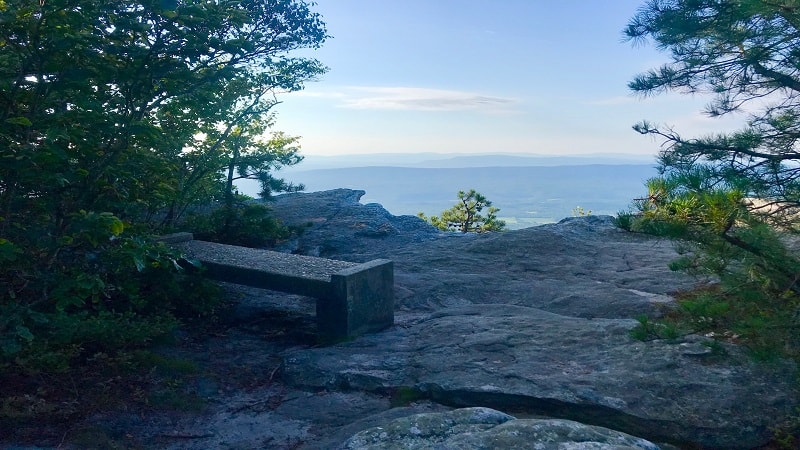 It's a moderate 2.0-mile out-and-back hike along on the Tuscarora Trail to gram-worthy views from high atop Eagle Rock in Frederick County.
A comfy bench from Capon Springs & Farms allows you to settle in for south-facing views. But seriously, how did they get that heavy-looking bench there?
There are a several overlooks, but the best views are from the bench, so make a beeline for this spot when you arrive (assuming it's unoccupied, of course).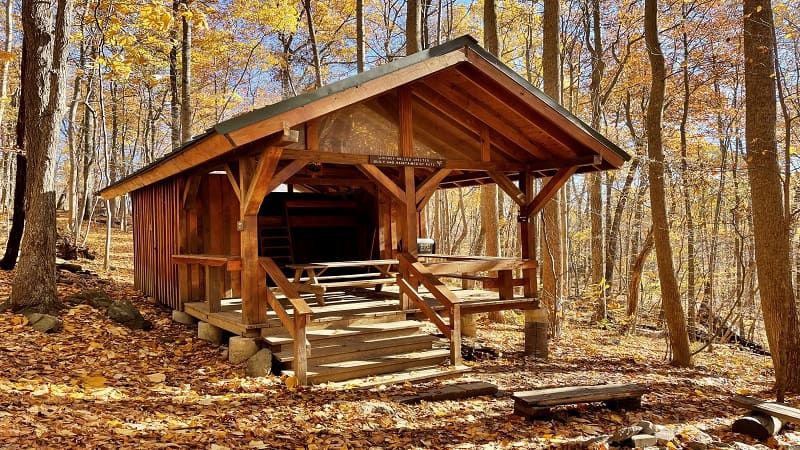 The 3.8-mile hike to Whiskey Hollow Shelter – mostly along the Appalachian Trail – starts at the Lake Thompson parking area in Markham.
This hike begins at Thompson Wildlife Management Area, but the hiker shelter itself is just north of the WMA's north boundary.
A short spur trail leads to this lean-to shelter with two sleeping levels, a covered porch, picnic tables, a bear pole, a fire pit and a moldering privy.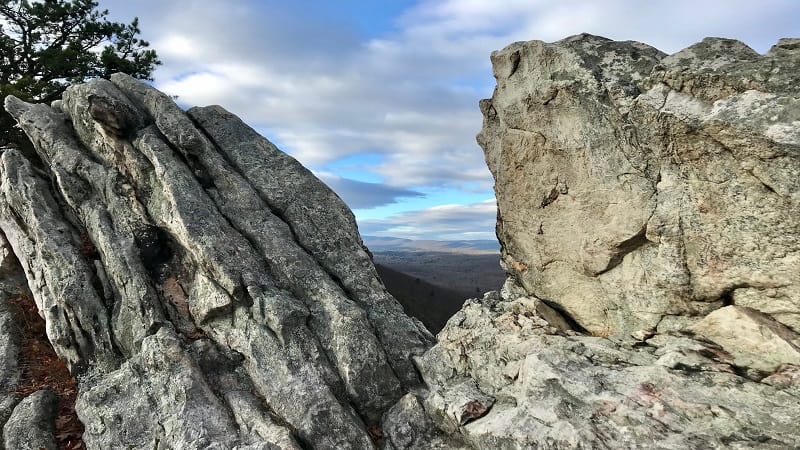 The 6.2-mile hike on the Buzzard Rock Trail in the George Washington National Forest is a stunner thanks to kid-friendly rock scrambles and ridgeline views.
There are lots of rocky outcrops with far-reaching vistas, as well as stone fire rings and cleared camp sites all along the hiking trail.
For a shorter hike, take the Buzzard Rock Trail to the first overlook for scenic views across the valley. This shorter hike clocks in at just 2.9-miles.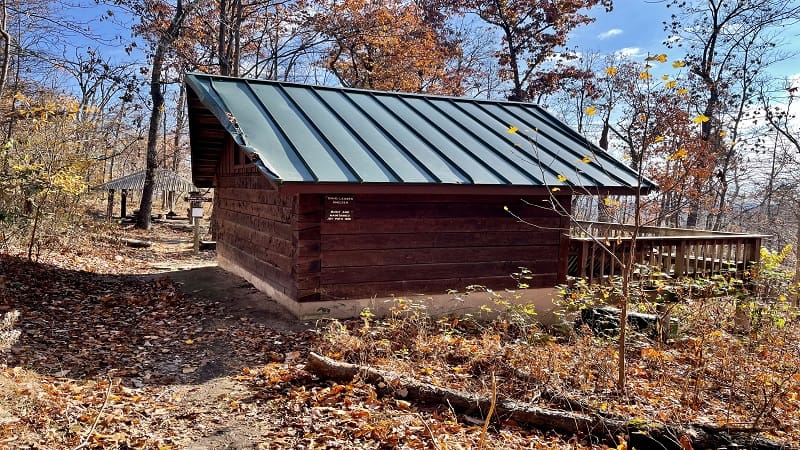 The hike to the David Lesser Shelter on the Appalachian Trail begins at Keys Gap, which straddles the border between Virginia and West Virginia.
There are scenic views on this hike, but they are best viewed from late-fall to early-spring when there are no leaves. You can see working farms in Hillsboro.
The star of this hike is the sizeable David Lesser Shelter, which even has a small campground. Continue past the shelter to Buzzard Rocks View.
Strenuous Hikes
For a real challenge, there are a couple of hikes near Winchester that are tops for far-reaching views that are just right for a lunch or snack break.
This hike along the blue-blazed Tuscarora Trail leads to Pinnacle Shelter and Pinnacle Overlook. But first, a steep descent along the Biby Wilderness Trail.
In fact, over the first mile, you'll descend more than 550 feet. Thankfully, more than a dozen switchbacks make this mile more manageable.
Take time to explore the Pinnacle Shelter, as well as the far-reaching mountain views from Pinnacle Overlook. There are several overlooks, so see them all.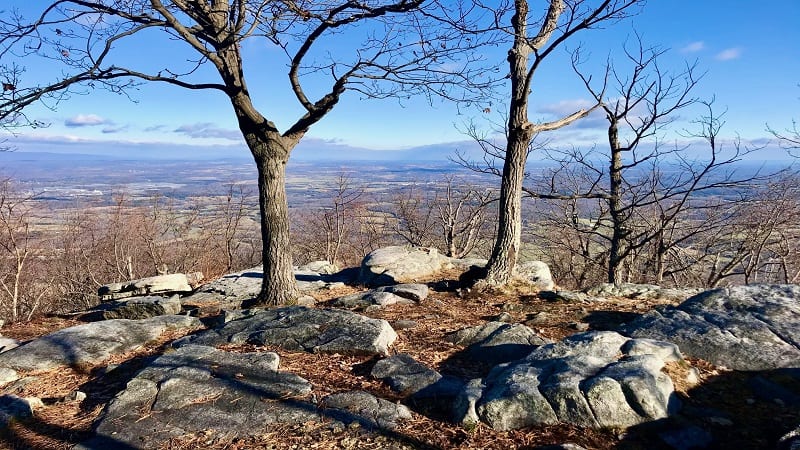 This 10.7-mile Signal Knob hike in the George Washington National Forest is tops with backpackers. Keep your eyes open for camp sites with fire rings.
Going counter-clockwise, your first steps are on the Massanutten Trail. Pass an old stone home. You'll reach Buzzard Rock Overlook at the 1.5-mile mark.
At the 4.6-mile mark, you will arrive at Signal Knob Overlook, which was once a lookout for Confederate officers during the Battle of Cedar Creek in 1864.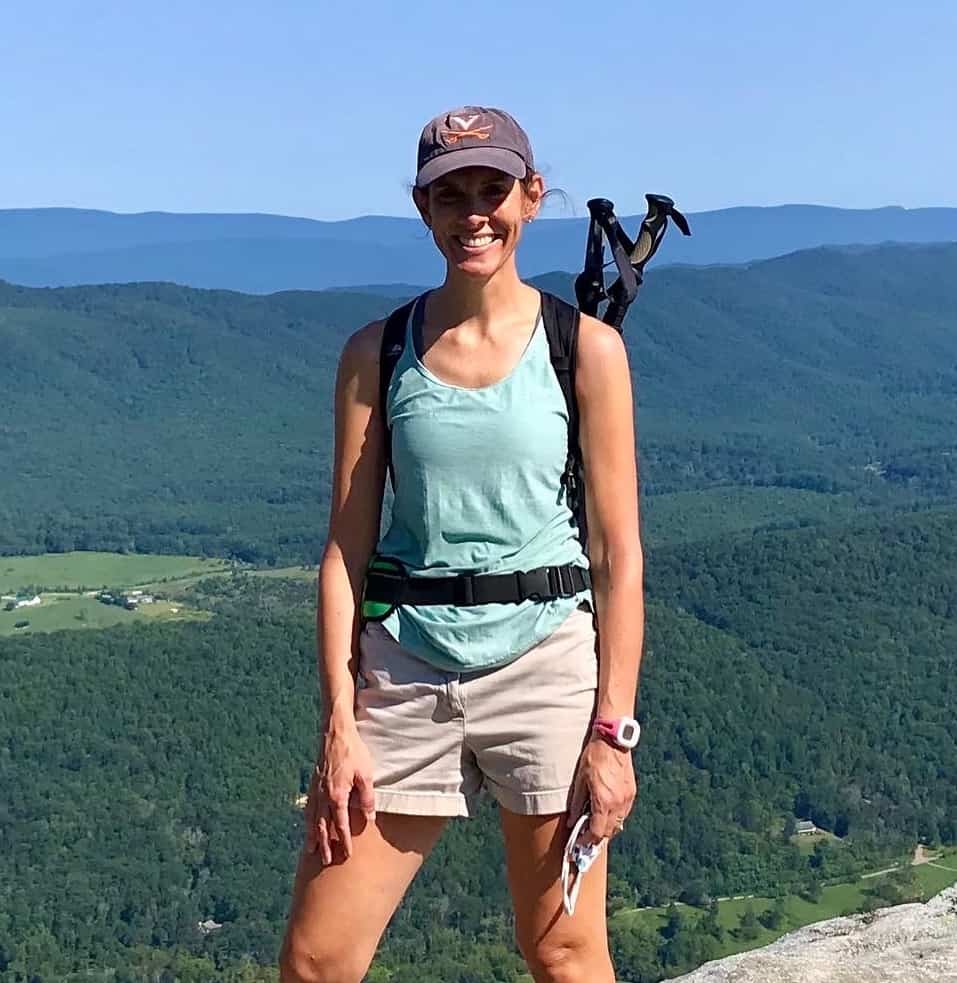 Erin Gifford is the editor of Go Hike Virginia. She has completed more than 300 hikes in Virginia. She is also the author of three hiking guidebooks from Falcon Guides. Need help finding a hike? Check out the Trail Finder feature or send Erin a message.