10 Hiking Trails In and Near Williamsburg, Virginia
You may not find tumbling waterfalls and mountain summits when hiking near Williamsburg, Virginia. However, that's not to say there are no fantastic hikes.
In fact, Williamsburg is a stone's throw from two state parks, as well as several city and regional parks, all boasting easy-going and scenic hiking trails.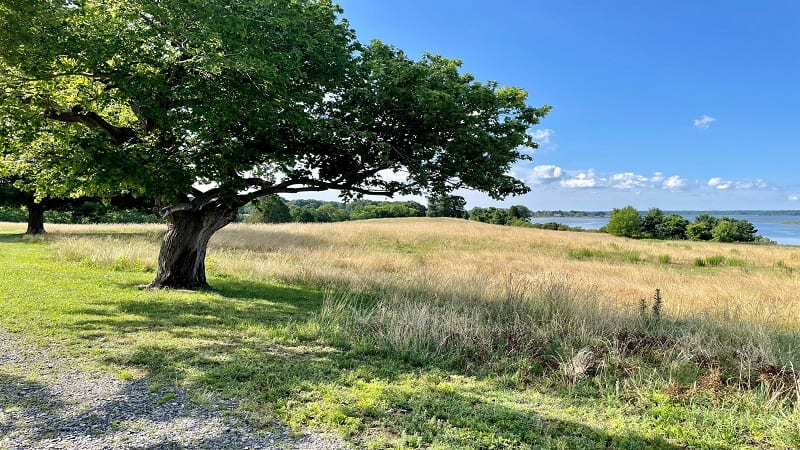 Williamsburg is located in the Coastal Plain region. This is on the east side of the Fall Line, a 43-mile north-south spine that runs through Central Virginia.
Essentially, everything on the east side is very, very flat. There are no peaks or high elevation hikes. All the hikes here are considered to be easy.
Hiking Near Williamsburg, Virginia
Ordinarily, I would separate out hikes by difficulty, then by distance from town. In this case, Williamsburg. However, all 10 hikes here are easy.
So, I'll simply sort them by distance, starting with those that are closest to town. Get ready to hit the hiking trails, friends.
One final note, every hike guides across mixed terrain, like dirt and rocks. For paved trails, consider the Virginia Capital Trail or Powhatan Creek Trail.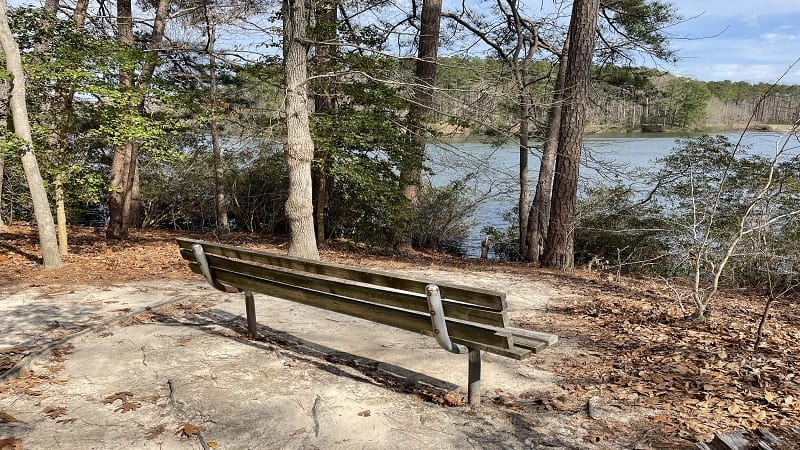 Waller Mill Park is a town park adjacent to the 360-acre Waller Mill Reservoir. There is a dog park, boat rentals, disc golf, and of course, hiking trails.
There are several short trails, including the 2.7-mile Lookout Tower Trail and 1.0-mile Bayberry Nature Trail. Both are peaceful and relaxing.
The Lookout Tower Trail snakes along the perimeter of a forested peninsula. As you can imagine, there are loads of refreshing water views.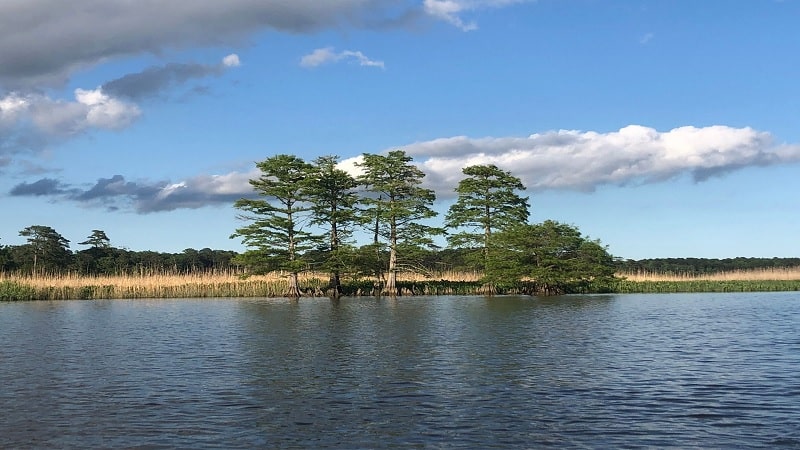 There are two walking trails at Jamestown. It's kind of confusing. A 1.5-mile hike at Historic Jamestowne is listed on AllTrails as the Jamestown Island Trail.
This path meanders across the property to see ruins and artifacts. It's archaeologically fascinating. There is also a $25 entry fee (ages 16 and up).
For free, visitors can drive, walk or bike along Island Drive on Jamestown Island. There is a 3-mile and 5-mile loop, plus the .4-mile Black Point Trail.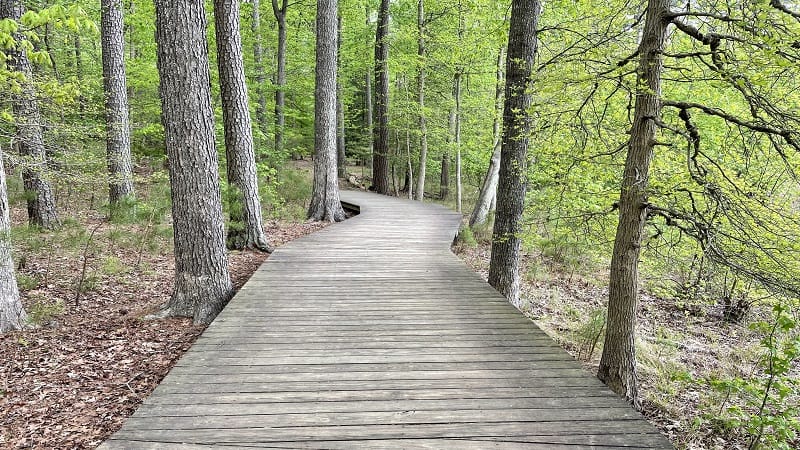 At Newport News Park, the wooded White Oak Nature Trail crosses the Lee Hall Reservoir twice, offering views of coastal wetlands and cypress swamps.
It's well-shaded, too. In fact, the only time you may see much of the sun is when you cross over the reservoir on the wooden boardwalk.
Revel in the views of the bald cypress trees and tidal wetlands as you hike along this trail. Swimming turtles are known to frequently swim the reservoir.

Hike the Taskinas Creek Trail at York River State Park in Williamsburg for sweeping views across this small tributary of the flowing York River.
This hike includes forested views, wooden bridges, boardwalk sections and several overlooks for dramatic views of the Taskinas Creek watershed.
The wetlands were still fairly brown when I visited the park at the end of March, but by summer, the entire state park greens up quite nicely.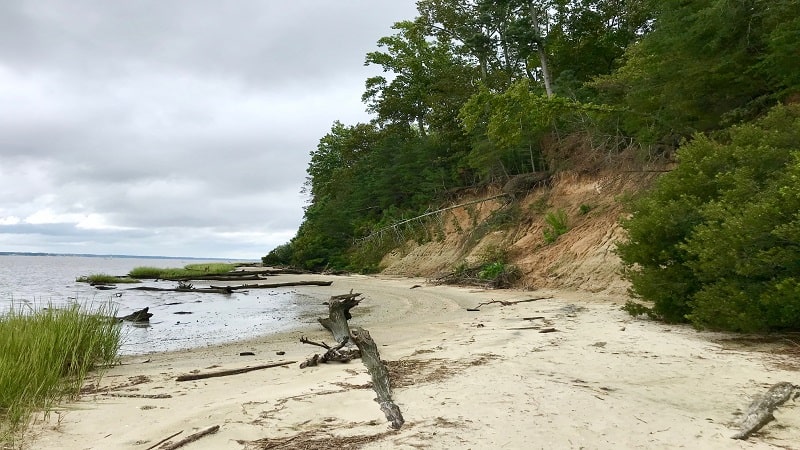 The hike to Fossil Beach at York River State Park guides park-goers along the Woodstock Pond Trail and Mattaponi Trail to reach sandy Fossil Beach.
Treasure-hunting fiddler crabs scurry in the tall beach grasses. Hunt for sharks' teeth and fossilized mollusk shells, like the Chesapecten Middlesex.
Sign up for the ranger guided Fossil Frenzy Hike to hunt for fossils along the shoreline, which was stabilized in 2022 to help combat the impact of erosion.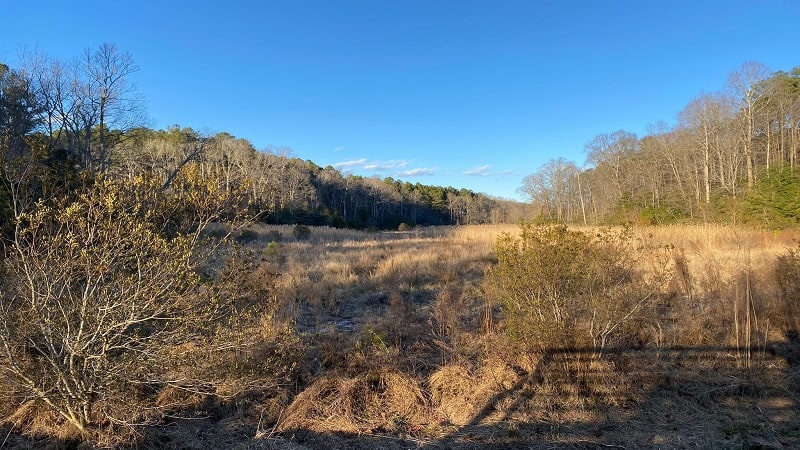 At 600-acre Freedom Park in James City County, you'll find miles of forested multi-use and bike trails for use by hikers and mountain bikers.
The multi-use trails are listed as #1, #2 and #3, while mountain bike trails are listed as C, D and E. A good bet is the 5.9-mile D Trail.
Trails wind through forests, open meadows, historic sites and creeks. Within Freedom Park, you'll also find more outdoor activities, like a treetops course.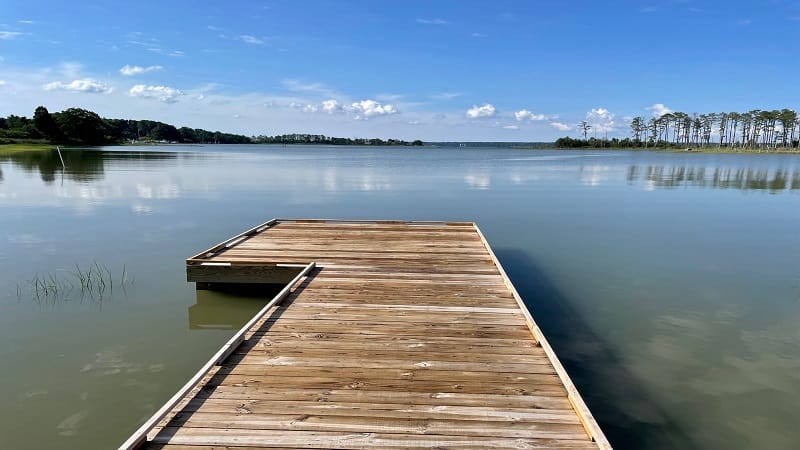 Our 40th state park, Machicomoco State Park, is located on Virginia's Middle Peninsula. The park has a campground, three hiking trails and a boat launch.
Just 10 miles down the York River from Werowocomoco, a village that was once home to Chief Powhatan, this new park is rich in Native American history.
A celebration of this Native American heritage can be seen across Machicomoco State Park, most notably on the .9-mile Interpretive Trail.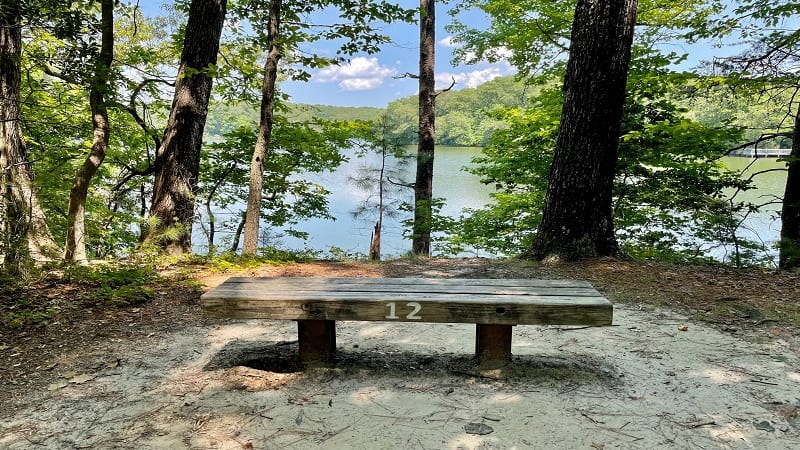 The Noland Trail is a forested 5.6-mile loop that gently circumnavigates The Mariners' Lake at Mariners' Museum and Park in Newport News.
Along the well-shaded trail, there are lots of benches, overlooks and bridges. You will also catch views of the James River here and there.
Late in the hike, you will cross over the famed Lions Bridge, which looks over the mighty James. You'll also see a small grove of longleaf pine trees.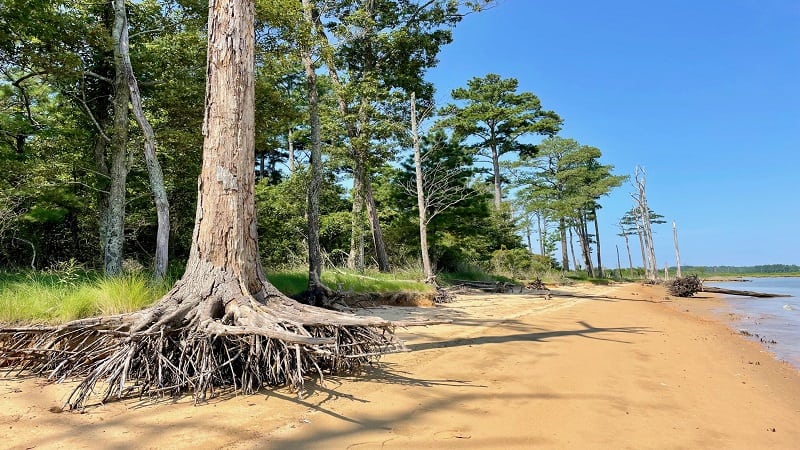 Ragged Island Wildlife Management Area in Carrollton is most definitely a hidden gem. This 1,537-acre coastal refuge sits against the lower James River.
You'll find unspoiled wetlands, coastal pines and reeds, wooden boardwalk, even small sandy beaches. It's truly a paradise in Isle of Wight County.
Your best bet is to tackle this easy hike at low tide. Some sections of trail closest to the water can become hard to travel when the tide rolls in.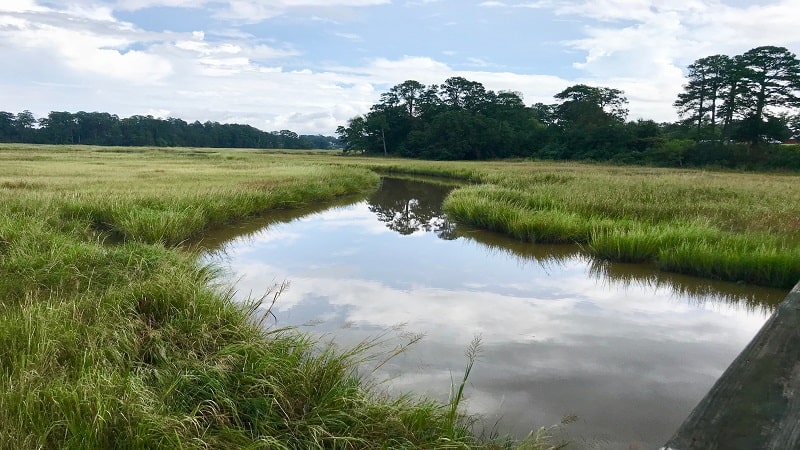 There's just something about a town park called Windsor Castle Park. The name alone begs a visit to this idyllic 208-acre riverside park in Smithfield.
The Windsor Castle Park Trail encircles this scenic green space, forming two connected loops. Along the way, cross over dramatic tidal marshes.
If time allows, step off the path and continue on to reach a fishing pier, a kayak launch and a wooden overlook that juts out over the wetlands.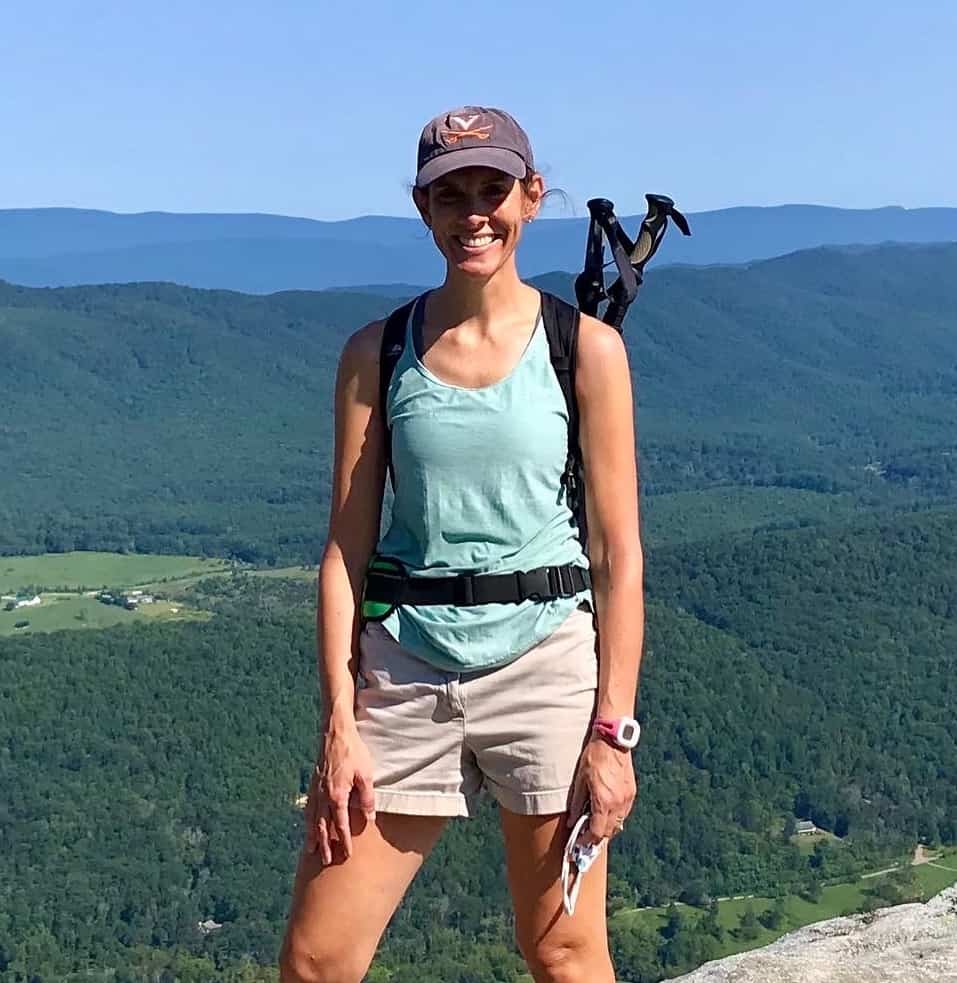 Erin Gifford is the editor of Go Hike Virginia. She has completed more than 300 hikes in Virginia. She is also the author of three hiking guidebooks from Falcon Guides. Need help finding a hike? Check out the Trail Finder feature or send Erin a message.