How To: Snowshoeing in Virginia's Shenandoah Valley at Bryce Resort in Basye
I got my first taste of snowshoeing eight years ago on a trip for travel writers to Michigan's Upper Peninsula. It was seriously ah-mazing.
Unfortunately, there's not much snowshoeing in Virginia. Okay, almost none. We just don't get enough snow and no consistent snowfall from year to year.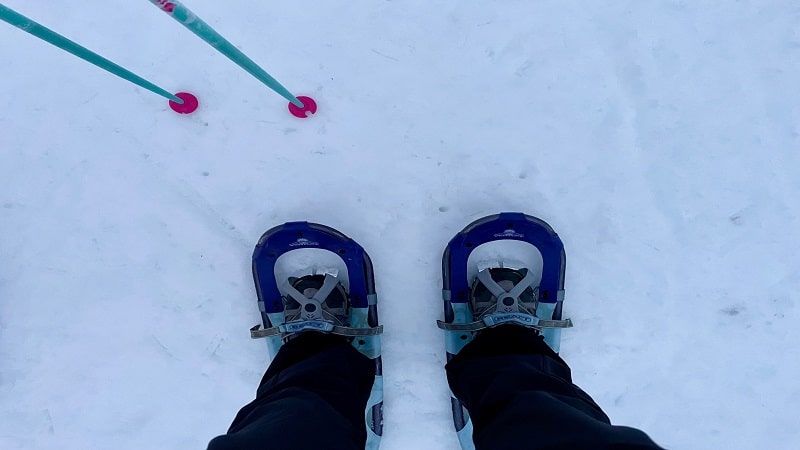 A search for snowshoeing in Virginia yields little more than opportunities to snowshoe in West Virginia or at Snowshoe Mountain. Also, in West Virginia.
There is hope, friends. If you know where to look, and that's at Bryce Resort in Basye. But you may not find snowshoeing listed on the resort's website.
That's because snowshoeing is offered only a handful of times each year by a third-party company called Rev3Endurance.
Where to Go Snowshoeing in Virginia
Rev3Endurance, an outdoor adventure company that specializes in adventure races, organizes snowshoe tours at Bryce Resort.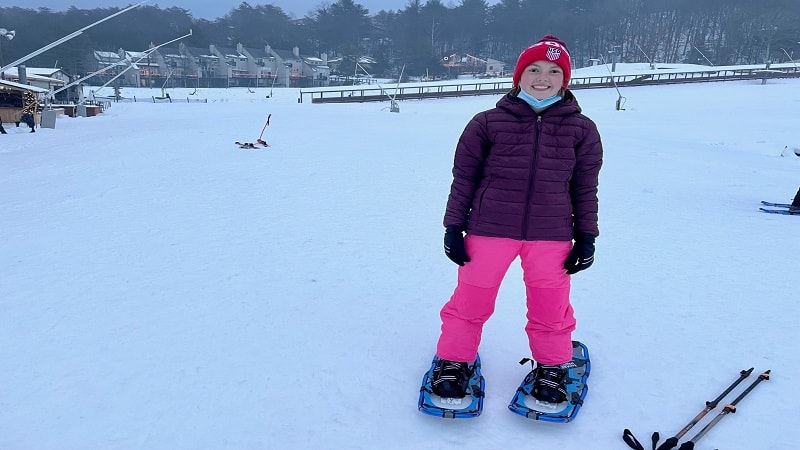 I love winter hiking, but this year I also wanted to hit the trails on snowshoes if I had the opportunity. I signed up for a one-hour sunset snowshoeing tour.
It was not exactly what I expected, but it was still a lot of fun. It's also much more of a calorie burner given you snowshoe uphill, then downhill.
When I went snowshoeing in Michigan, we snowshoed through a snow-covered forest to a frozen waterfall. There was hardly any elevation change.
On this snowshoe tour at Bryce Resort in Virginia's Shenandoah Valley, plan for an elevation change of more than 1,000 feet over the course of the tour.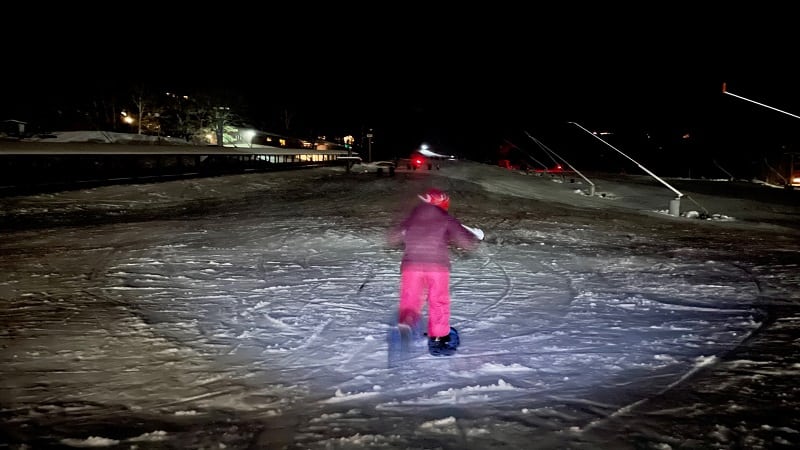 I didn't think much of the elevation change, so I asked my 14-year-old daughter, Molly, to come with me. It was definitely more work, but there was hot chocolate.
Snowshoeing at a Ski Resort
If I had to guess, I'd say that Molly and I were among 30 people who had signed up for this sunset snowshoeing tour. The tour was completely sold out.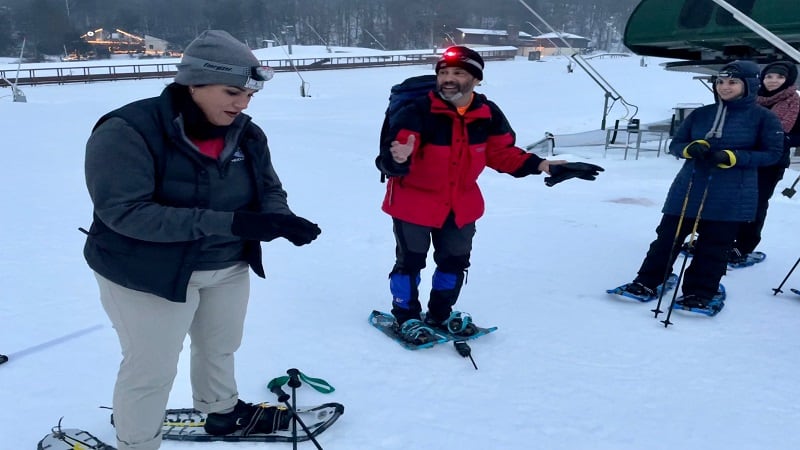 On arrival, we were fitted with snowshoes and poles, then herded over to the base of the mountain for a pre-excursion meeting with Mike.
Mike is a co-owner of Rev3Endurance, an adventure racer and a community college teacher. He's busy, but clearly enjoying life. I want to be like Mike.
In a few more minutes, we were let loose to snowshoe up Redeye, the longest of the handful of green ski slopes at Bryce Resort.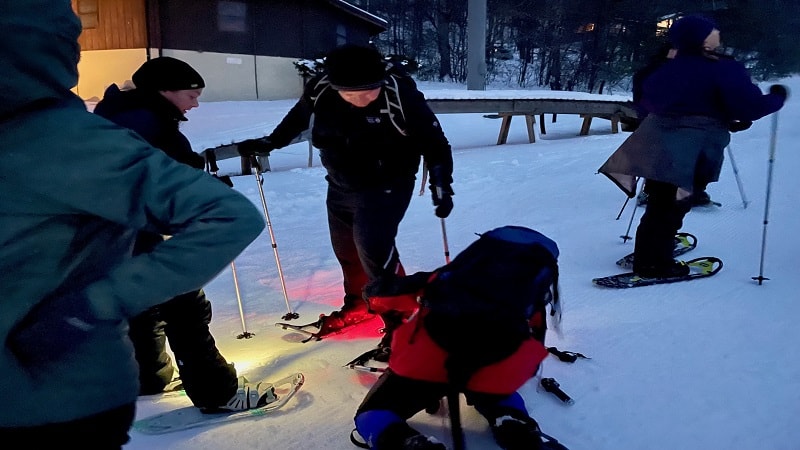 It wasn't until this moment that I realized we'd be snowshoeing up a ski slope. Once we reached a church adjacent to Redeye, we all paused to catch our breath.
If your snowshoes weren't fitting right, now was the time to raise your hand so Mike could make a few adjustments before we proceeded on up the hill.
As a quick side note, this was to be a sunset snowshoe tour, but it had been raining all day. Thankfully, the rain stopped in time for us to snowshoe.
Ascending Redeye on Snowshoes
Once everyone was ready to go, we set off once more, following Mike who was wielding something like a red light saber so could see him in the dark.
Yes, by this point, it was just dark. There was no sunset, but also no rain. There were at least three guides, all with red lights to see them.
We made our next stop and were regaled with stories about adventure races. It was also a stop so that slower snowshoers could catch up to the group.
I'm certain that I was not the only who did not know we'd be snowshoeing up a ski slope. No matter your endurance level, this activity can get tiring.
In a few more minutes, we continued on, ascending Redeye to nearly the top. We snowshoed all the way to a property owner's holiday lights display.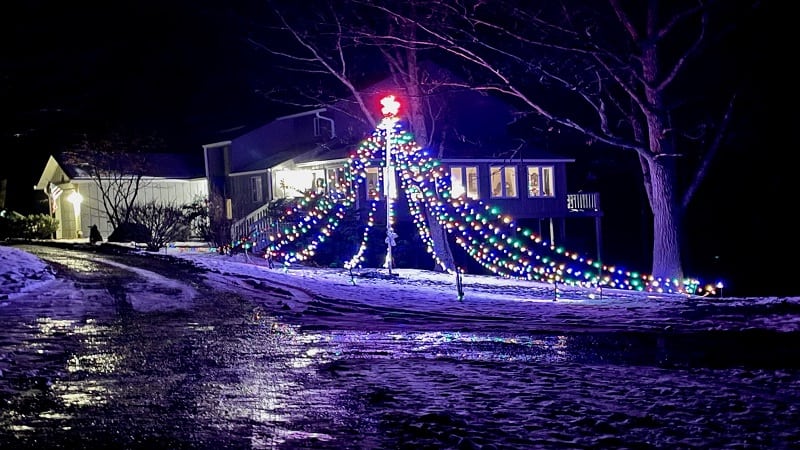 It was a nice reward. It was also a pretty sweet ski-in, ski-out property. I'm not much of a skier, but that definitely looks like the way to go.
At this point, we took a group photo in front of the holiday lights, then were presented with two options.
We could proceed up Redeye to the top, then take the blue Bootlegger ski slope down. This route would have been more challenging on ungroomed trails.
Or, we could simply turn around and descend Redeye (less steep). Molly and I opted for the latter for a less arduous trek to the bottom of the hill.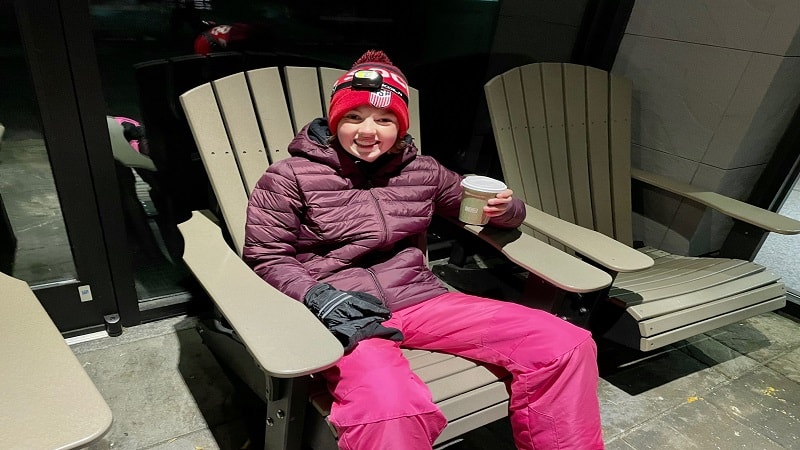 As you can imagine, going down Redeye was pretty much a breeze. We got to the bottom in no time and were ready for our hot chocolate.
Wrap-Up Notes
Was this snowshoe tour what I expected? No. Would I do it again? Absolutely. I only wish I lived closer to Bryce Resort and that more tours were available.
For 2023-24, sunset snowshoeing tours will run from December to February. Dates are TBD, but they will start at 5:30 pm. Get on the wait list if sold out.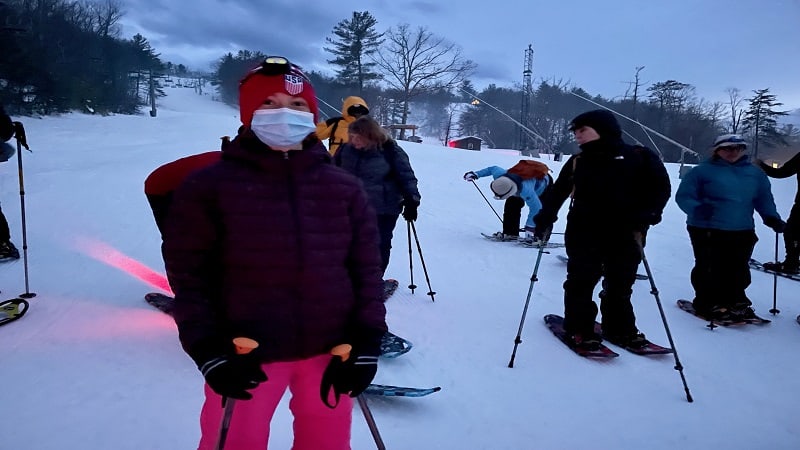 In West Virginia, you can rent snowshoes and cross country skis at Canaan Valley Resort, which is three hours from the Northern Virginia hiking trails.
Of course, if you have your own snowshoes, which can cost $80 per pair, you can snowshoe on any number of hiking trails in Virginia with the right snow.
However, there's something about a guided tour, especially when you're not totally sure where to go and what to do. It was fun and we'll be back next year!