Angel's Rest: Hike the Appalachian Trail to Big Views in Pearisburg, Virginia
I was beyond excited to motor south along I-81, on my way to hike new sections of the Appalachian Trail in Virginia. I had my sights set on the Angel's Rest hike.
The southbound (you know, SOBO) hike to Angel's Rest, and further to the Wilburn Valley overlook, is one of several AT hikes that start in or near Pearisburg.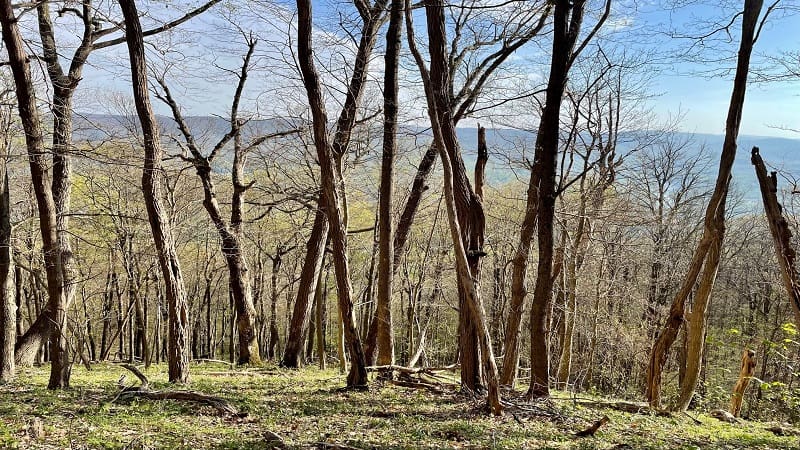 This 5.0-mile hike is far from easy, but the double dose of far-reaching views makes this hike an absolute must-do when in mountainous Giles County.
I got this hike in just before an afternoon of rain. It was my third hike during my stay in Pearisburg, and of the three AT hikes, this was my favorite.
| Trail Stats | |
| --- | --- |
| Length | 5.0 miles |
| Difficulty | Strenuous |
| Trail Type | Out-and-Back |
| Elevation Gain | 1,709 feet |
| Duration | 3-4 hours |
| Terrain | Mostly dirt & rock trails, some stairs |
| Dog-Friendly | Yes |
| Fee | Free |
| Driving Directions | Click Here |
Angel's Rest Trailhead
The hike begins from a trailhead on Cross Avenue. It's about one-mile from Main Street. During thru-hiking season, you'll see hikers here and there.
Near Main Street, there's a Dairy Queen, a Hardee's and a Food Lion, as well as a small hotel and Angel's Rest Hiker's Haven, a popular hostel with AT hikers.
If I was thru-hiking, this would be pure heaven. No pun intended. The only downside is that it's all uphill back to the Appalachian Trail from Main Street.
Just past the trailhead – about 100 steps – there's room for a half-dozen cars to park parallel. Get in some hiking stretches. The ascent begins now.
Angel's Rest Hike
You'll see a sign to mark the trailhead on the south side of Cross Avenue, as well as six or seven steps to boost you up onto the Appalachian Trail.
In researching this hike, I was moderately intimidated by the elevation gain – more than 1,700 feet over 2.5 miles (one-way).
There are some very steep stretches. Thankfully, these sections are mostly free of slippery leaves and small rocks, minimizing potential to take a tumble.
You'll also find well over a dozen switchbacks. Steps built into the trail at some of the switchbacks are a welcome sight on this climb up Pearis Mountain.
In all, however, the ascent was not as terrible as I expected, but it was still a good, heart-pumping climb. Lots of calories burned on this day hike.
Early in the hike, you'll be welcomed by cheery purple wildflowers. That definitely helped keep me moving. So beautiful.
At the .6-mile mark, you'll see a large rock that's well-suited as a bench. You will have ascended 450 feet at this point, so take a seat and catch your breath.
As you continue on, you'll reach a mini rock scramble at the 1.5-mile mark. From late-fall to early-spring, enjoy mountain views through leafless trees.
On this hike, you'll also note that the steep stretches are offset with nearly flat stretches. It's not a totally unrelenting climb to Angel's Rest (and beyond).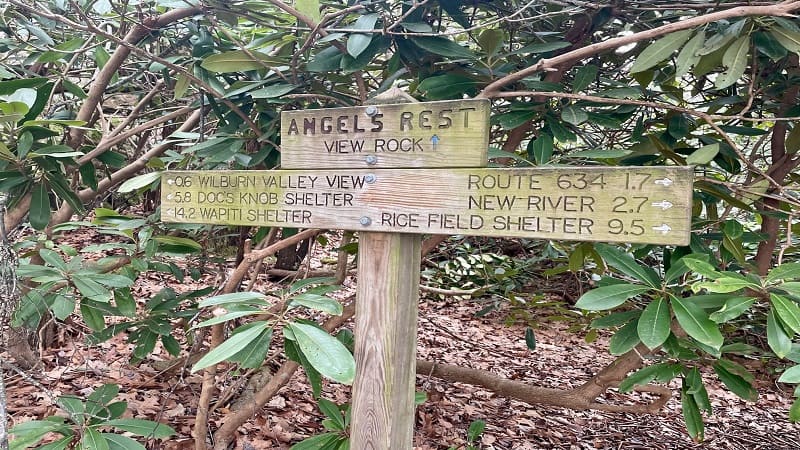 At the 1.8-mile mark, you'll reach a small maze-like area of massive rocks. Then, a sign urging hikers to turn right for Angel's Rest View Rock.
From here, it's a very short walk to a perfect boulder that angels – or hikers – can sit or stand on to watch over the New River and Pearisburg. It's fantastic.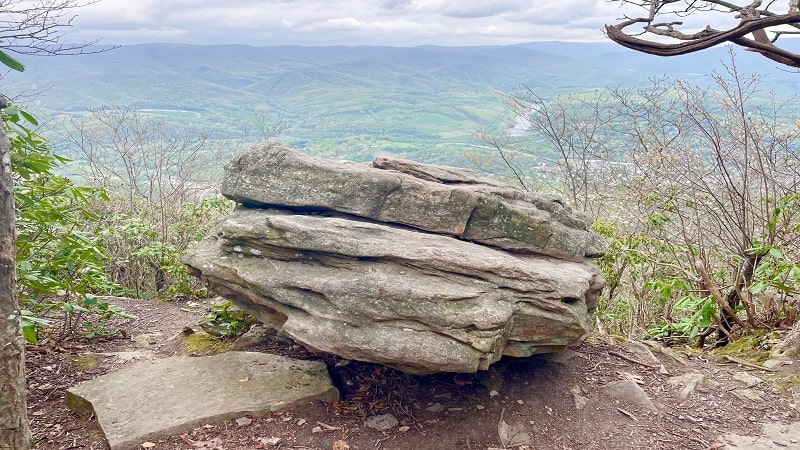 Savor the views, then continue southbound on this hike. Even more amazing views are just up the trail. Trust me, they're so worth it, too.
You'll see a primitive camp site on the right at the 1.9-mile mark, then a partially obstructed overlook on the left at the 2.1-mile mark. Keep climbing.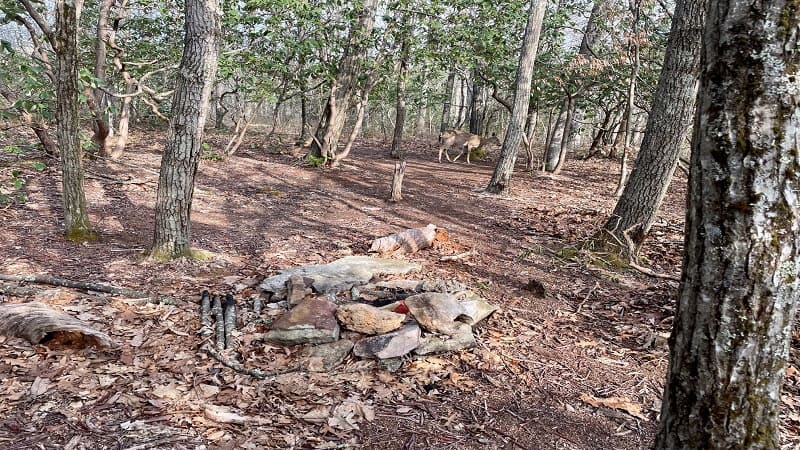 At the 2.3-mile mark, a blue-blazed trail sets off to the right for a spring, but continue on the white-blazed Appalachian Trail.
You have arrived at the most gorgeous overlook, looking out across the Wilburn Valley, at the 2.5-mile mark. Sit and stay awhile. The views. WOW.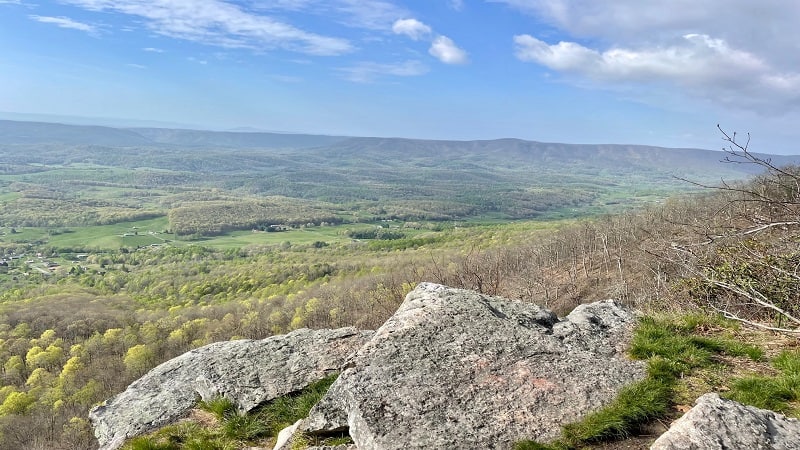 From here, re-trace your steps to return to your vehicle. Watch your footing given the incline. No need to take a spill in the final steps of your hike.
Wrap-Up Notes
From my car, this hike took me nearly 2.5 hours to complete, including time spent ogling the views at the two spectacular overlooks.
According to Roanoke Outside, the climb to Angel's Rest is "notorious among Appalachian Trail hikers for its punishing incline."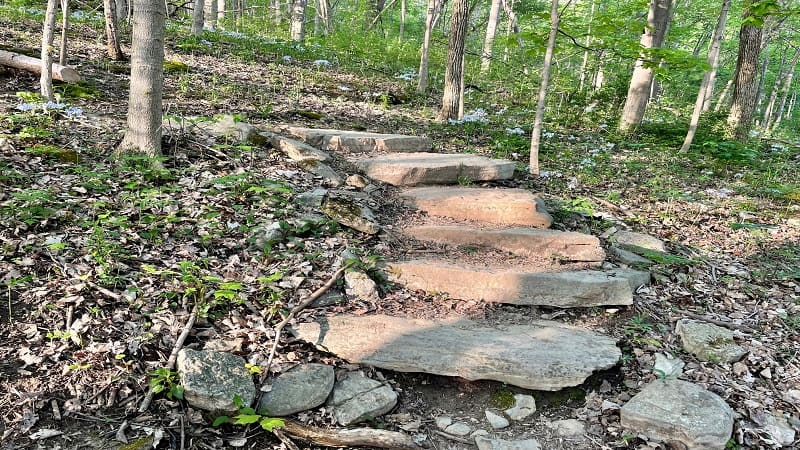 I wouldn't describe it as punishing, but it was a good workout. Most thru-hikers encounter Angel's Rest as part of a northbound hike, so it's all downhill.
It's mostly day hikers that get to take on such an ascent. I did, however, spy a couple of section hikers on the way up as I was on the way down.
All in all, an awesome hike. While in the area, you should also check out hikes to Cascades Falls and Bald Knob. Both are equally fantastic.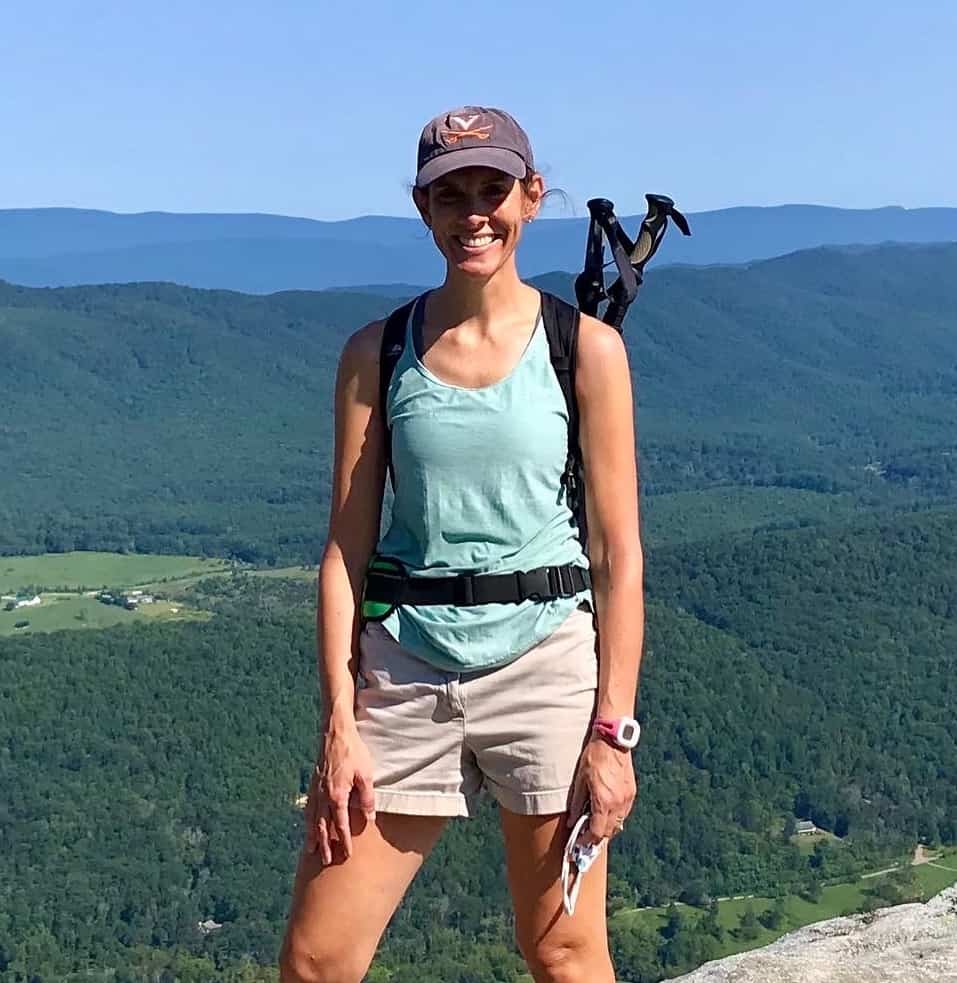 Erin Gifford is the editor of Go Hike Virginia. She has completed more than 300 hikes in Virginia. She is also the author of three hiking guidebooks from Falcon Guides. Need help finding a hike? Check out the Trail Finder feature or send Erin a message.