Museum of the Shenandoah Valley Trails: A Kid-Friendly Art Park Hike in Winchester, Virginia
The Museum of the Shenandoah Valley trails in Winchester, Virginia are a delight, guiding visitors across a kid-friendly outdoor art park.
This 90-acre green space features engaging art installations and landscape features that can be seen as you walk nearly three miles of hiking trails.
* Before I go on, watch a short video I made when I hiked the MSV trails. *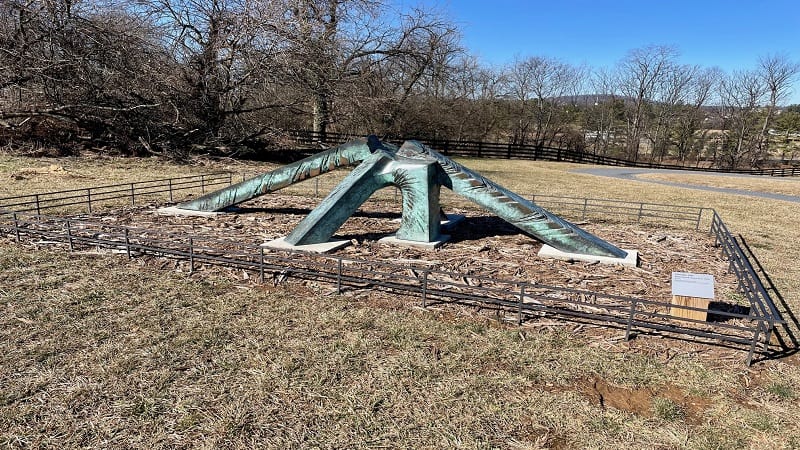 I didn't realize there were art pieces along this Shenandoah trail until my daughter and I arrived, though they are noted on this printable trail map.
Eleven named trails make up this trails network, including two miles of accessible, gravel trail and one mile of rustic trail made of turf or mulch.
The trails form a loop around the Museum of the Shenandoah Valley. You can pick up the trail on Jefferson Street or at two spots on Amherst Street.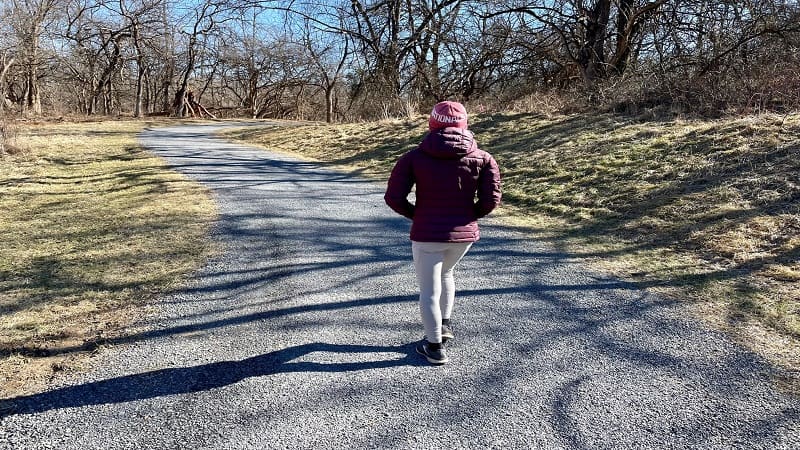 Alternatively, you can start on the Overlook Trail, which begins in the main parking area. We did this to create a 2.3-mile loop hike.
As you can imagine, there are lots of ways to mix and match trails to create a longer or a shorter hike across these Shenandoah trails.
The Trails at the MSV
The Trails at the MSV, as this network of short, kid-friendly trails is called, opened in late-November 2020 after eight years of planning and construction.
The longest trail is the Sycamore Trail (.54 miles) and the shortest trail is the White Oak Turf Trail (.09 miles).
Trail names can change quickly, but there is a lot of signage along the trails. You'll also see trail maps every so often. Snap a photo to save to your phone.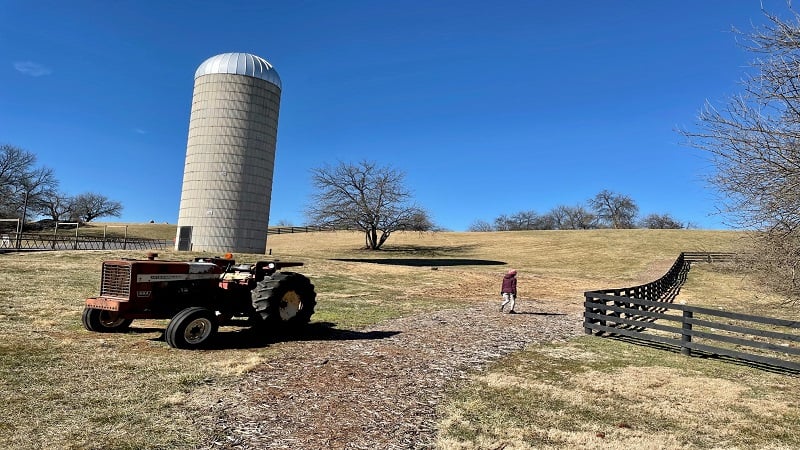 The Overlook Trail sets off behind the trail map in the main parking area. This mulch path runs along a slatted fence and next to a silo and tractor (as art).
From here, we walked up the hill to the Paterson Overlook for far-reaching views across the museum property. Here you'll also see Compa Rojo.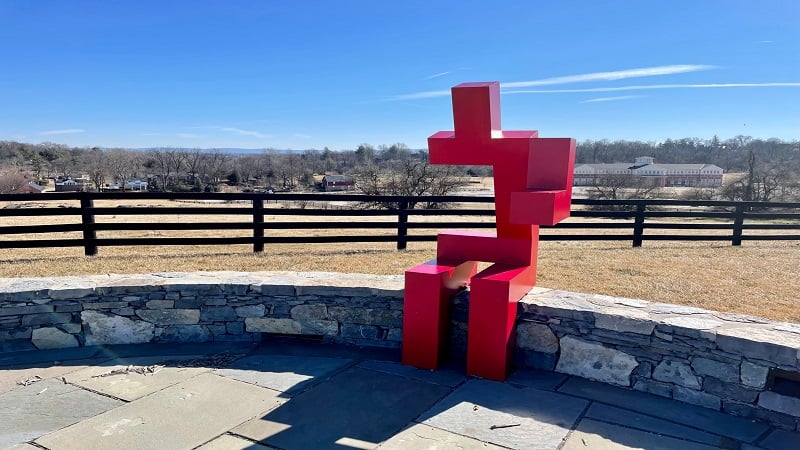 Compa Rojo means "My Friend Red." It's a cool stainless steel sculpture painted with a bright-red ceramic coating (certified ceramic automotive paint).
From here, we crossed over the park road to see Pentangle, a five-legged sculpture that came from the Museum of Fine Arts in Richmond.
Landscape Features
We proceeded north past Pentangle to reach two "landscape features" on the Ridge Trail, including a standing stone circle and a group of picnic mounds.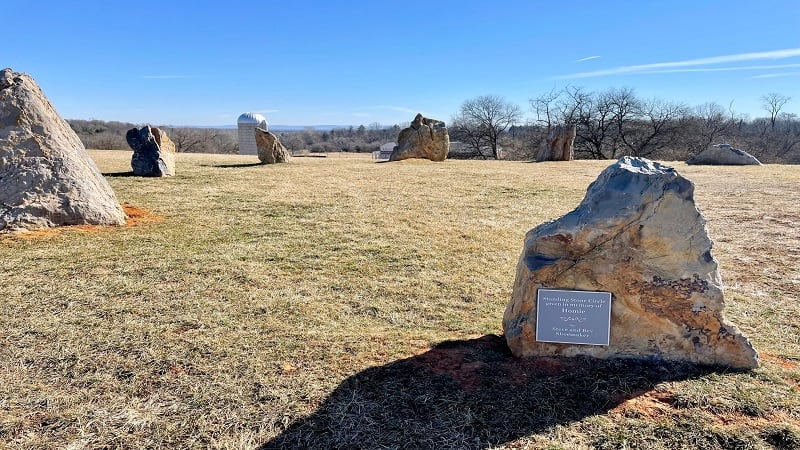 Standing Stone Circle is exactly what it sounds like. It's a group of 10 very large stones positioned in a circle. I'm sure kids will love this one.
There's also a wooden bench under a tree if you want to let your kids run around the standing stones while you take a break.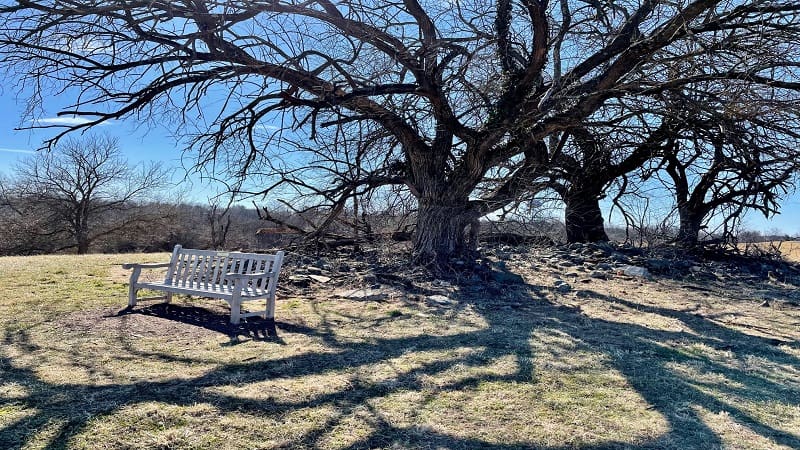 Continue on and you will reach Picnic Mounds. Kids will for sure love this one, too. It's literally 10 hills that are between 10 and 15 feet tall.
Even my daughter and I climbed to the top of one to revel in the views from the .5-mile mark of this hike. Walk up, down, around these hills. It's fun.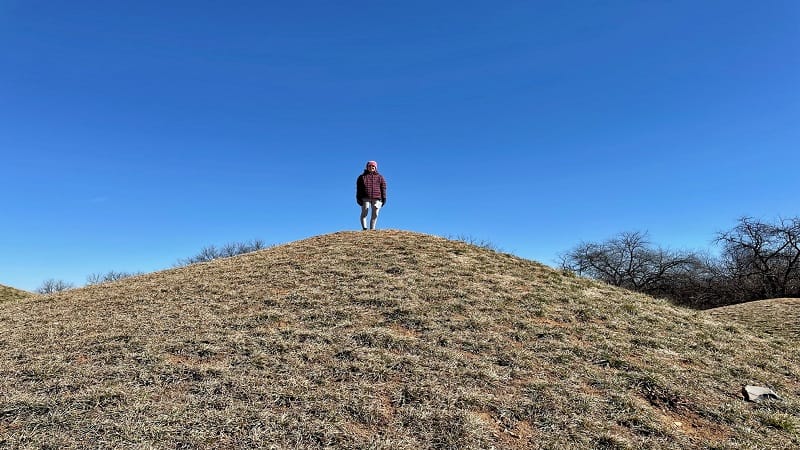 There were also a couple of other features that we missed, including a sunken stone fence. Maybe we needed to look down, instead of up and around.
Forested Trails
In a few more steps, we entered a circle with shade trees and benches on the Forest Loop Trail. At the .8-mile mark, there's a cool gateway arch sculpture.
It's called Crinoid and it heralds the start of the Valley Trail. This .2-mile mulch trail is a shortcut that leads directly to the museum.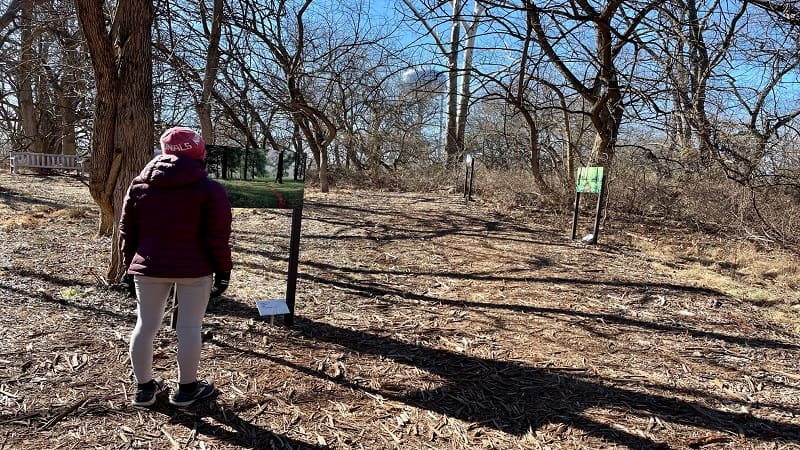 We did not take this trail, but instead continued on the Forest Loop Trail until we reached Give Me Shelter: Scenic Views of the Appalachian Trail.
This is a cool outdoor exhibit that features photographs taken by Sarah Jones Decker from her days trekking the iconic white-blazed Appalachian Trail.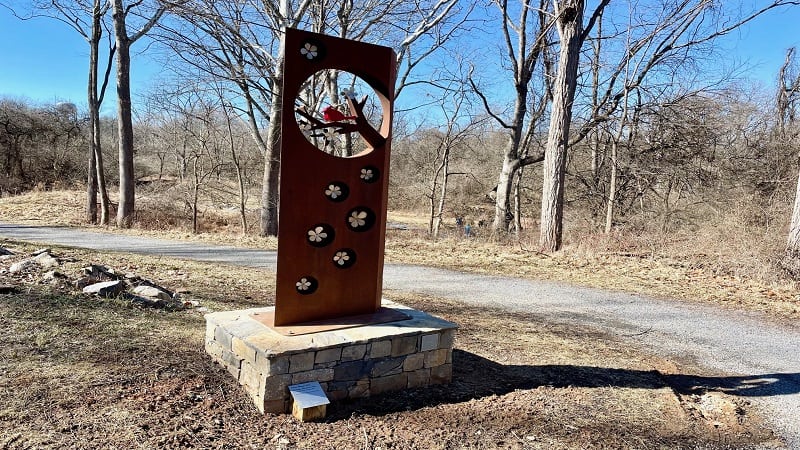 At the 1.4-mile mark, we arrived at Cherry Blossoms, a fun stainless steel sculpture with a bright-red cardinal in the center. This is on the Sycamore Trail.
Meadows & Wetlands
In a few more steps, the trail name changes again, this time to the Meadow Trail as you leave the forest and the path crosses an open space.
At the 1.8-mile mark, you will reach the Wetlands Boardwalk Trail. The boardwalk encircles a small wetlands area with friendly ducks.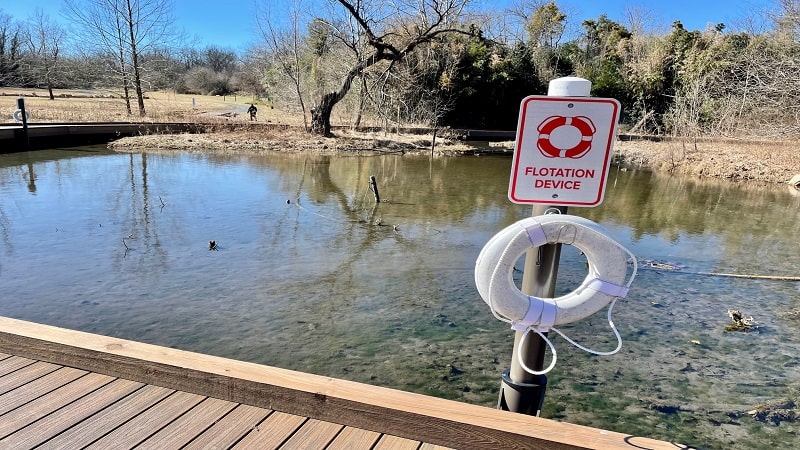 The water is no more than a foot deep, but you'll find a rack on either side of the loop with a flotation device. As they say, better safe than sorry.
We soon exited the park and turned left onto Amherst Street. This is essentially a sidewalk, but it's also called the Green Circle Trail.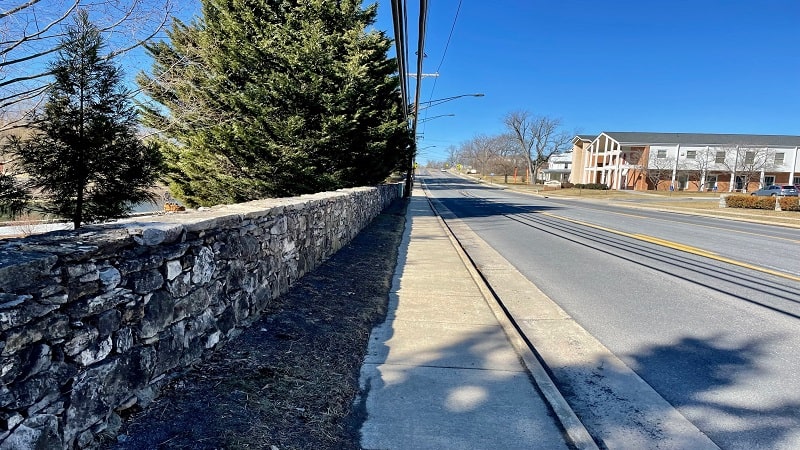 At the 2.1-mile mark, we turned left at the entrance to the museum and within a few minutes we had arrived at the parking area.
Wrap-Up Notes
This Winchester hike took us less than an hour, including time spent checking out the sculptures, as well as outdoor exhibits and features.
The hiking trails are open daily from 7 am to dusk. If you have time, visit the Museum of the Shenandoah Valley (open 10 am to 5 pm; closed Mondays).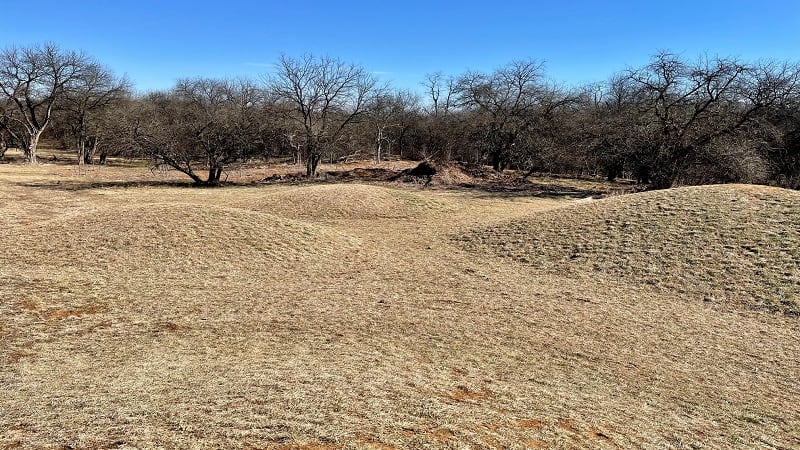 The museum features rotating indoor art galleries, including a collection of furnished miniature houses. Outside, look for seven acres of colorful gardens.
Entry to the galleries and Glen Burnie Gardens is $15/adult, $10/teens and seniors. Kids 12 and under are free. On Wednesdays, everyone receives free admission.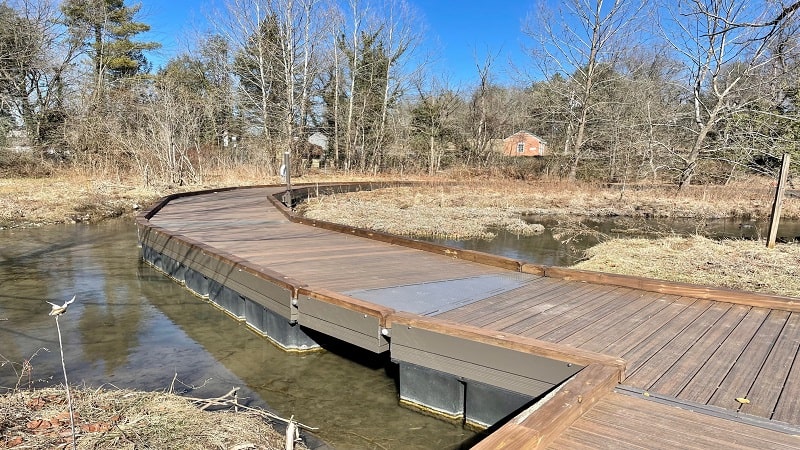 If you buy your tickets online, you will save 20% on the price of admission. This includes entry to the gardens, galleries and Glen Burnie House
The Museum of the Shenandoah Valley is open year-round to visitors. It is located at 901 Amherst Street in Winchester, Virginia.
It's worth noting too that this trails park is less than a 10-minute drive from Old Town Winchester, which makes a perfect stop for lunch.