Whiskey Hollow Shelter: A Scenic Appalachian Trail Day Hike in Markham, Virginia
I've been on a kick lately to hike to Appalachian Trail shelters. My most recent hike led me to the Whiskey Hollow Shelter in Markham, Virginia. It's a beauty, too.
The Whiskey Hollow Shelter is 4.9 miles north of the Manassas Gap Shelter, which I hiked to last week.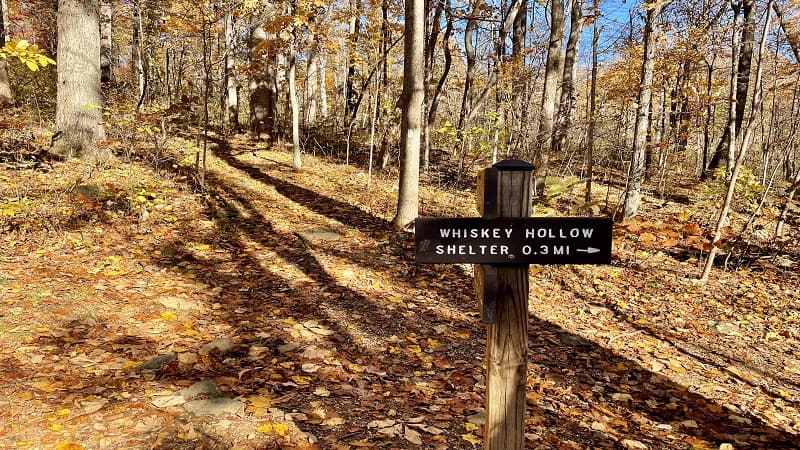 As an Amazon Associate I earn from qualifying purchases. If you click and purchase, I receive a commission at no cost to you.
Both shelters are in the vicinity of the G.R. Thompson Wildlife Management Area (WMA). The Whiskey Hollow Shelter is past the northern boundary.
There are several hikes that will lead you to this shelter. I opted for a 3.8-mile out-and-back hike that begins at a parking area adjacent to 10-acre Lake Thompson.
| Trail Stats | |
| --- | --- |
| Length | 3.8 miles |
| Difficulty | Moderate |
| Trail Type | Out-and-Back |
| Elevation Gain | 814 feet |
| Duration | 2-3 hours |
| Terrain | Mostly dirt & rock trails |
| Dog-Friendly | Yes |
| Fee | $4 per adult, per day |
| Driving Directions | Click Here |
Whiskey Hollow Shelter
I did not sleep there, but the Whiskey Hollow Shelter gets five stars from me. It's a lovely lean-to shelter with two sleeping levels, a covered porch and picnic tables.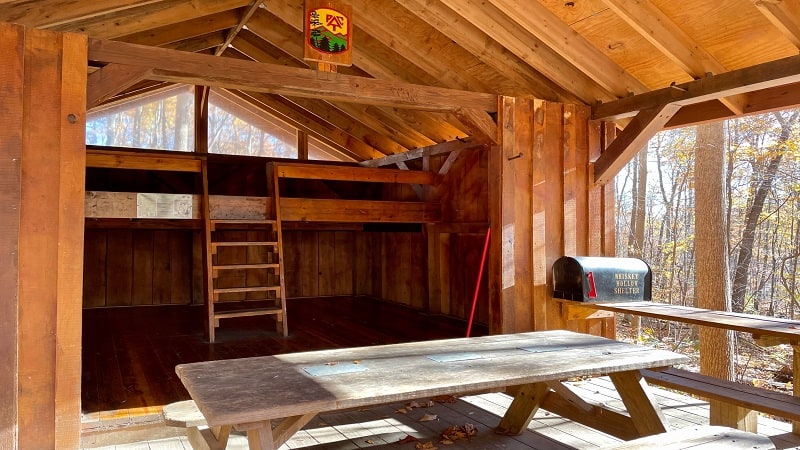 A moldering privy (a type of composting toilet) is just past the Whiskey Hollow Shelter. Gently-flowing Whiskey Creek is also a short walk from the trail shelter.
A large stone fire pit in front of the shelter welcomes backpackers and day hikers, as do two wooden benches adjacent to the fire pit. There is a bear pole, too.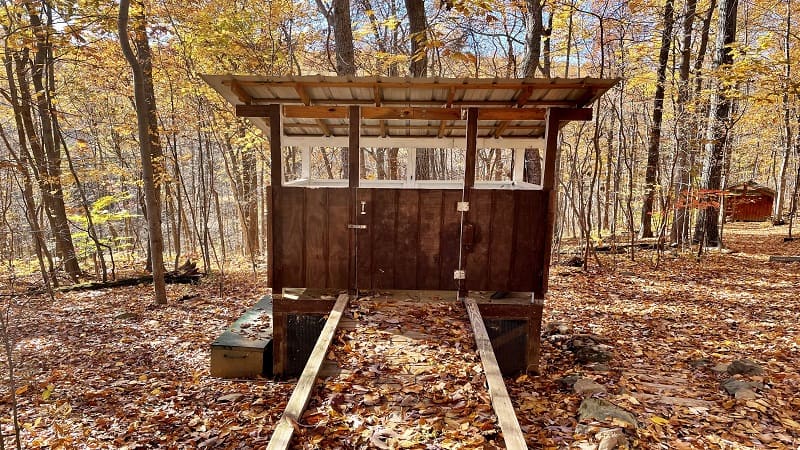 This shelter was built in 2017 by the Potomac Appalachian Trail Club. The non-profit maintains the shelter, along with 44 other shelters on a 240-mile AT section.
I was eager to see both the Whiskey Hollow Shelter and Dick's Dome, which I'd read was a shelter built like a geodesic dome (think Epcot). Very unusual.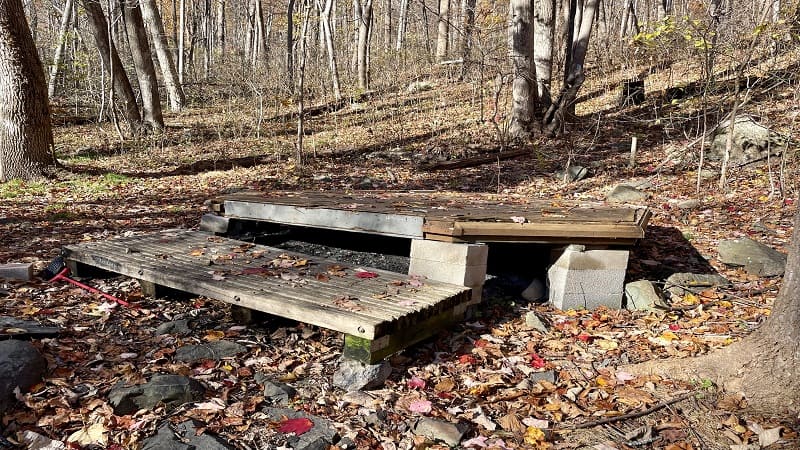 I didn't see Dick's Dome on my way to the Whiskey Hollow Shelter, though it was supposed to be just 100 yards east of the PATC-managed trail shelter.
Eventually, I found a vacant wooden platform. The shelter was no longer there. I could also see a platform where a privy once was. Oh well.
Hike to Whiskey Hollow Shelter
This hike to Whiskey Hollow Shelter began at the parking area for Lake Thompson. For driving directions, map to 2283 Leeds Manor Road in Markham.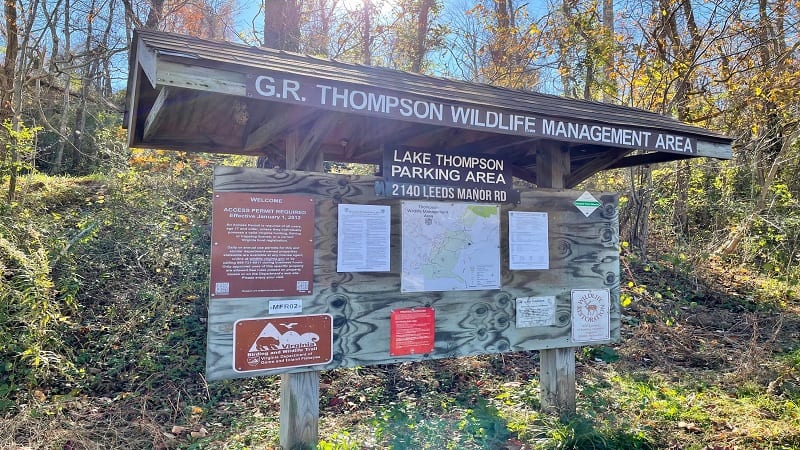 A large trail kiosk informs visitors that a daily access permit is required (even for hikers). This is the case for all Wildlife Management Areas in Virginia.
The cost is $4 per person for visitors ages 17 and up. There are a lot of waivers, however, like for those with fishing, hunting, trapping and boating licenses.
I bought a permit online before I left the house at Go Outdoors Virginia. You can also purchase a license by way of the free Go Outdoors Virginia mobile app.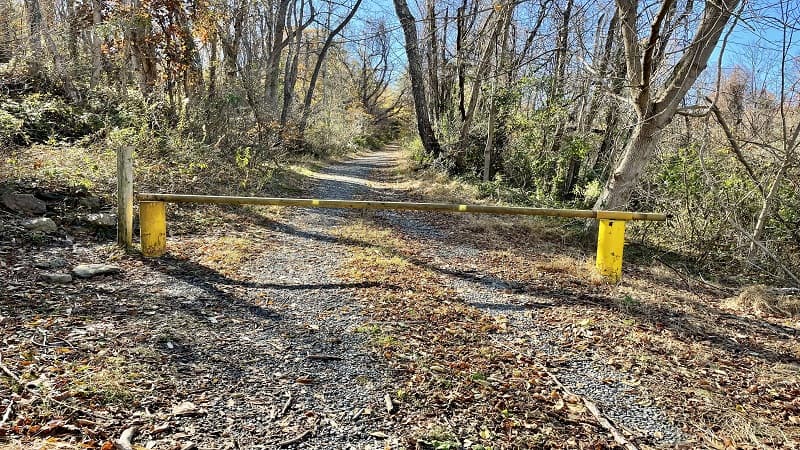 From the parking area, walk up the gravel service road and around the yellow vehicle barrier to reach the southeast corner of Lake Thompson.
The lake has been leaking since 2008, so there's not much to see since it appears a faulty emergency drain feature has not yet been fixed.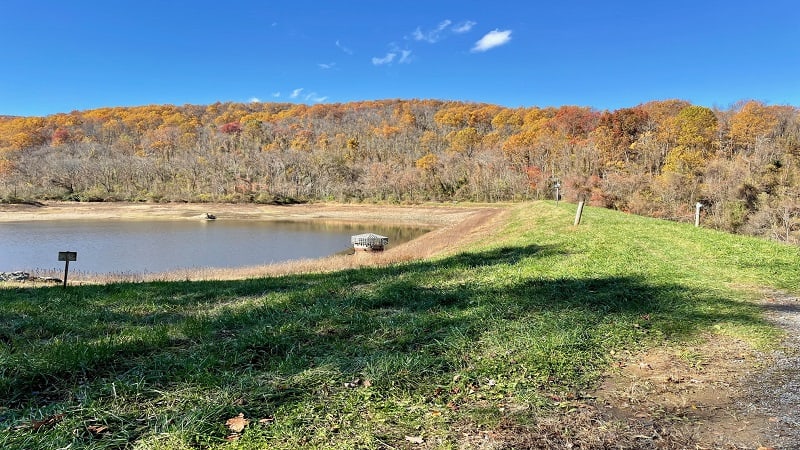 Walk alongside the lake and you will see a path go off into the woods at the .2-mile mark. The path goes away from the lake. Do not continue around Lake Thompson.
From here, a gradual ascent begins. The trail is not marked, but it's easy to follow. It could use some love though, and a trim to pare back the overgrown sections.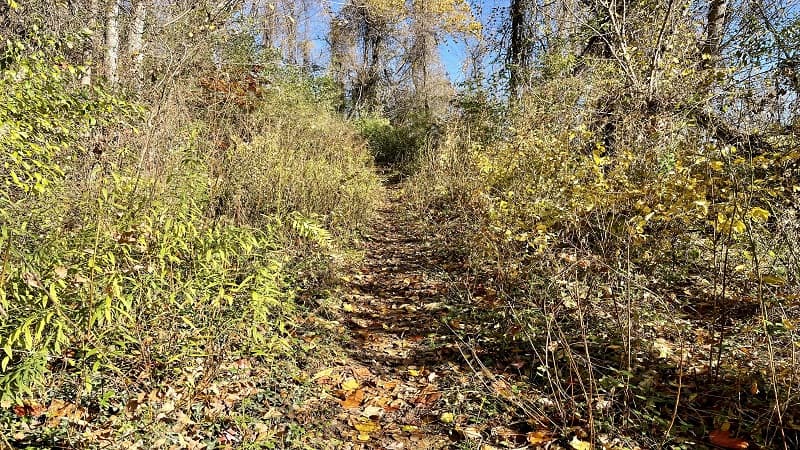 This is a good hike to do in fall and winter when you're wearing long pants so the overgrown areas aren't as noticeable or annoying at times.
The trail splits in two at the .9-mile mark. Bear right when it does (do not continue left, which goes uphill). Note that this is very easy to miss.
At last the trail connects with the Appalachian Trail at the 1.3-mile mark, basically at an elbow so the AT goes left and right. Here, stay to the right (north).
Appalachian Trail
On the return, keep your eyes open (or better, keep track of your hike with the AllTrails app). It can be very easy to miss the left turn off of the Appalachian Trail.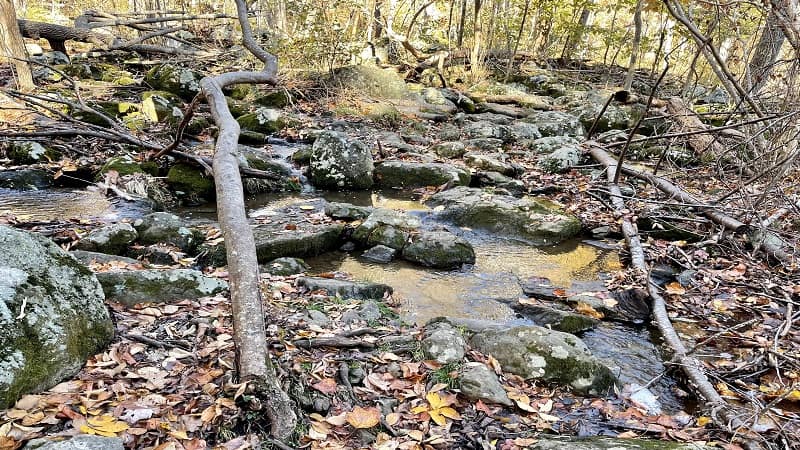 From here, the trail is much more clean, not overgrown at all. Cross over a rocky Whiskey Creek at the 1.5-mile mark.
You'll see a sign for the Whiskey Hollow Shelter at the 1.6-mile mark. Turn right onto a blue-blazed trail. It's an easy .3-mile descent on a wide path to the shelter.
Take time to explore, eat lunch at the picnic table, walk out to the creek and check out what's left of Dick's Dome. From here, re-trace your steps to the parking area.
Hunting Season
As a reminder, it's good practice to wear bright orange on public use lands during hunting season. Here's a helpful calendar with dates for Virginia Hunting Seasons.
On the day of my hike to Whiskey Hollow Shelter, there was a camo-clad hunter in the parking lot. I had arrived on the last day of early muzzleloader season.
This hunter let me know that as long as I stayed on-trail (I had no plans to go off-trail) that I would be fine. I was wearing a brightly-colored jacket, too.
A second hunter said that there would need to be a horrific accident for a hunter to confuse me for a deer. Still, I bought a bright-orange knit hat that day.
In Virginia, hunting is allowed at Wildlife Management Areas and other public lands, including state and national forests, state parks and wildlife refuges.
Hunting is prohibited at all national parks in Virginia, including Shenandoah National Park, Prince William Forest Park and Great Falls Park.
Wrap-Up Notes
From the parking area, this hike took me less than two hours, including time spent poking around the shelter area.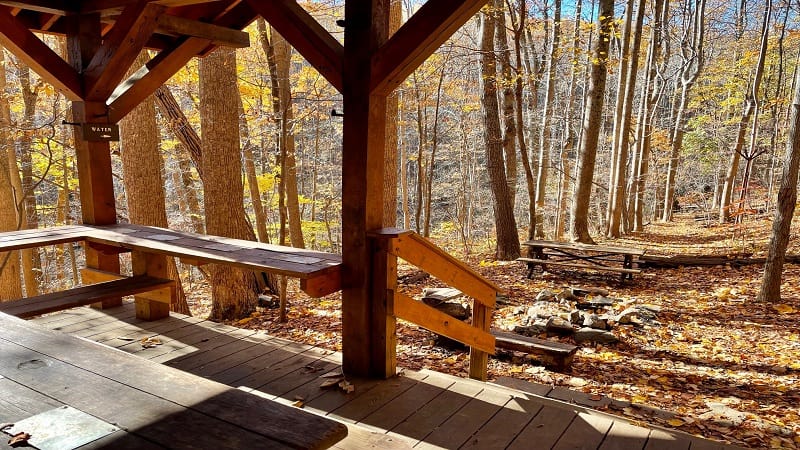 After seeing the two hunters (one in the parking area, one near the lake), I didn't see or hear any other hunters on my hike. It really was a non-issue.
For more area shelter and cabin hikes along the Appalachian Trail, check out my posts on Myron Glaser Cabin, and the Jim & Molly Denton Shelter.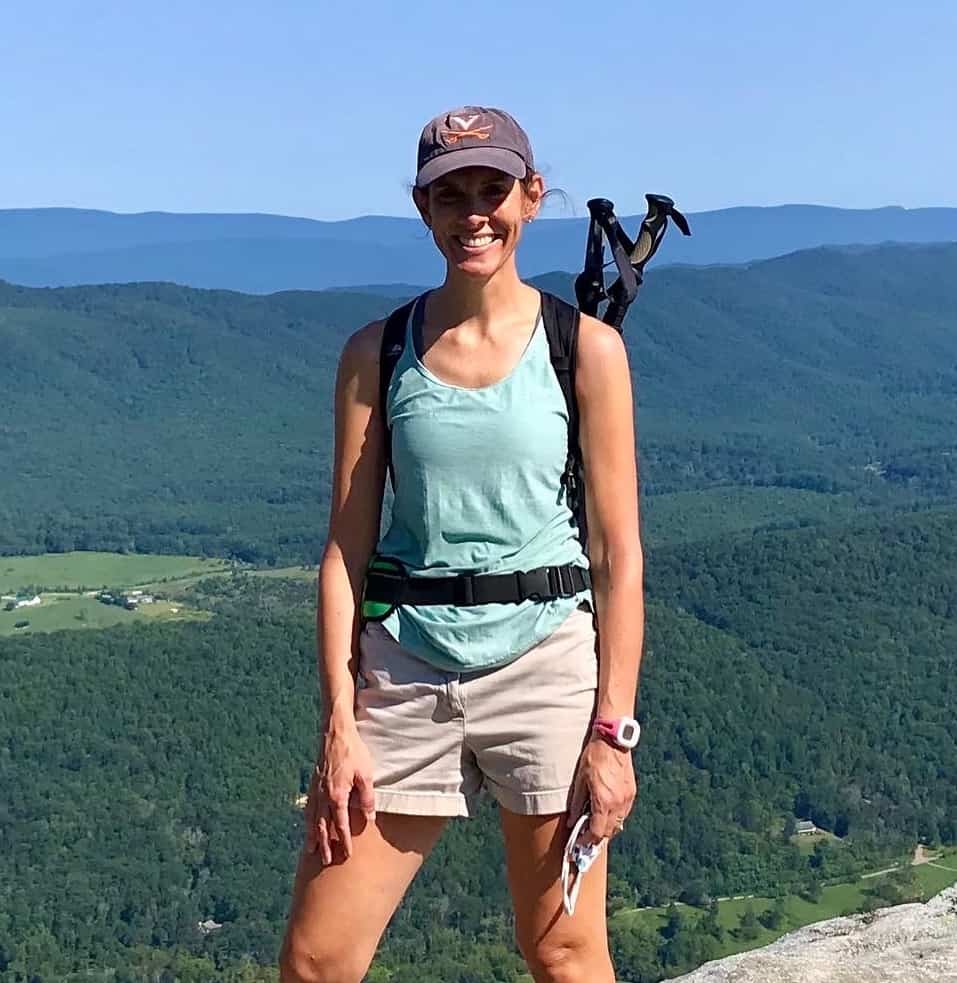 Erin Gifford is the editor of Go Hike Virginia. She has completed more than 300 hikes in Virginia. She is also the author of three hiking guidebooks from Falcon Guides. Need help finding a hike? Check out the Trail Finder feature or send Erin a message.