Hiking to Buzzard Rock Overlook in Front Royal
A mere 15-minute drive from the Front Royal (North) Entrance Station of Shenandoah National Park, the Buzzard Rock Trail is a gem on its own.
Whether you simply hike to the overlook (2.9 miles) or complete the entire trail (6.2 miles), you are in for a terrain-rich adventure in the George Washington National Forest.
| Trail Stats | |
| --- | --- |
| Length | 2.9 miles |
| Difficulty | Easy |
| Trail Type | Out-and-Back |
| Elevation Gain | 479 feet |
| Duration | 1.5-2 hours |
| Terrain | Gravel, tree roots, stream crossings & rock scrambles |
| Dog-Friendly | Yes |
| Fee | Free |
| Driving Directions | Click Here |
Arriving at the Trailhead 
An eye-pleasing drive along country roads leads you to the gravel parking lot for the Buzzard Rock Trail. Thankfully, a fairly large sign welcomes you in.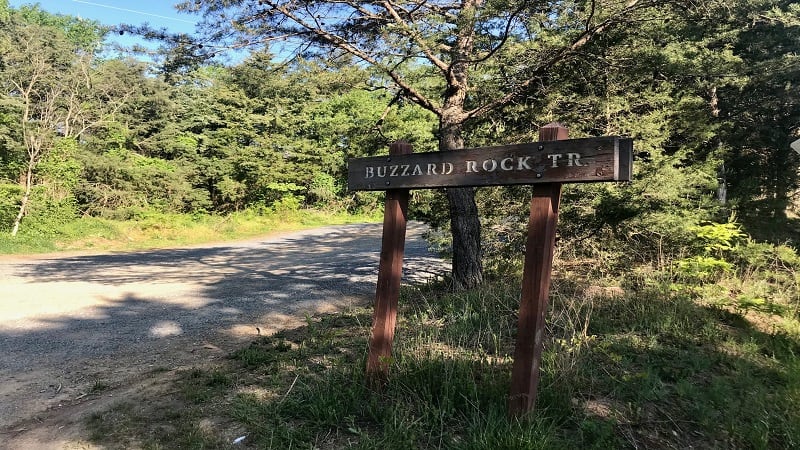 Plan to arrive early in the day as the lot is made for no more than 15 cars and there are no other (legal) parking options for this trail.
I arrived by 8:30 am on a Wednesday and there was only one other car besides mine in the lot. By 10:30 am, the lot was nearly full.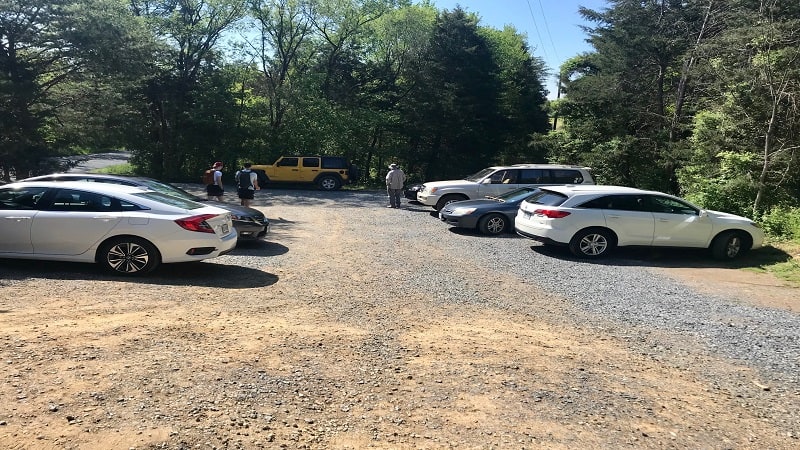 The First Steps
As you begin the hike, you may hear cars driving along two-lane roads, maybe even a rooster crowing in the distance (I did).
Some say you feel as if you're on private property, but after about one-third mile, all you'll hear are melodious birds chirping and curious squirrels scampering across the trail.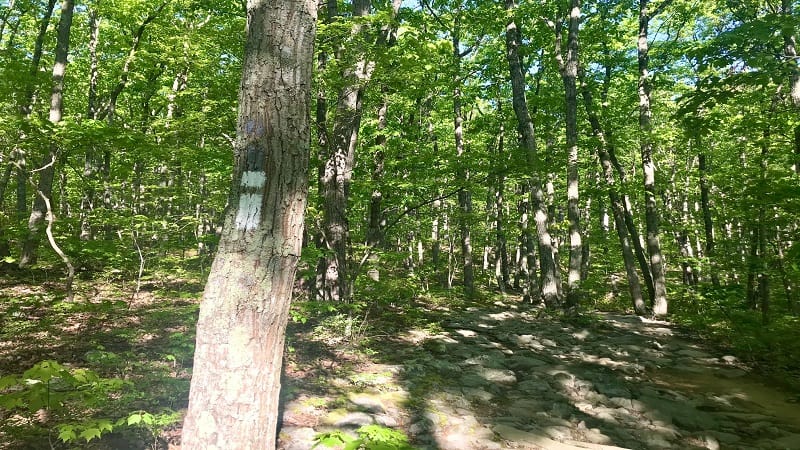 Follow the white blazes and you will encounter a variety of terrain on this family-friendly trail in Virginia, including gravel, tree roots, creek crossings and rock scrambles.
At the .5-mile mark, you may find rock cairns (stacked rocks), as well as various large rocks for a seat. It's best to leave rock cairns alone and not build new ones.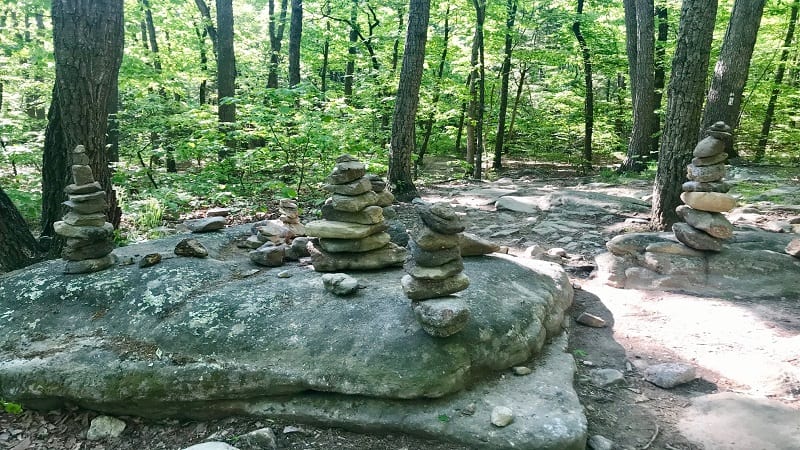 Shade dominates this easy-going trail to Buzzard Rock Overlook. It keeps hikers, especially little ones, cool and hidden from sun's rays.
On the flip side, the shade contributes to muddy patches that can't fully dry up on sunny days. Wear comfortable shoes you don't mind mucking up on this hike.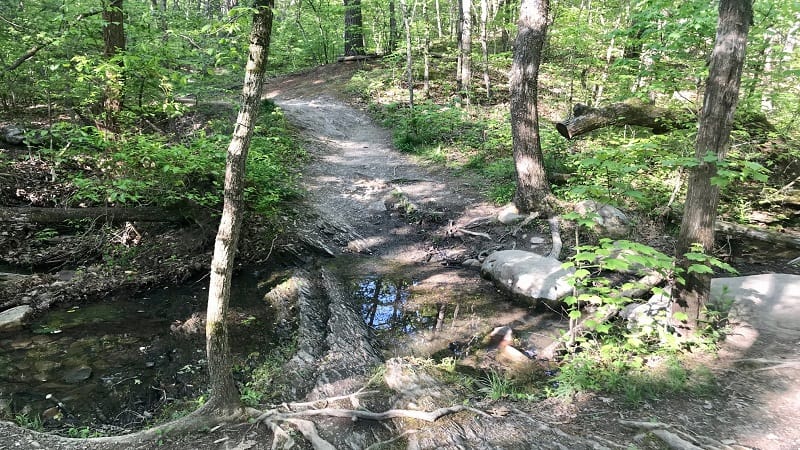 This wooded trail has a lot of ups and downs. It's something to expect on a hike to a scenic overlook, but the elevation changes are not intense.
According to AllTrails, the elevation gain is just 449 feet. In some spots, there are some fairly large rocks that beckon hikers to sit and rest for a few moments.
The Overlook
As you approach the overlook, be prepared to be awed by spectacular views of the Massanutten Mountains.
Buzzard Rock Overlook is mostly flat, though there are a few rocks to sit down on. The overlook makes a great spot to stop for a snack or lunch.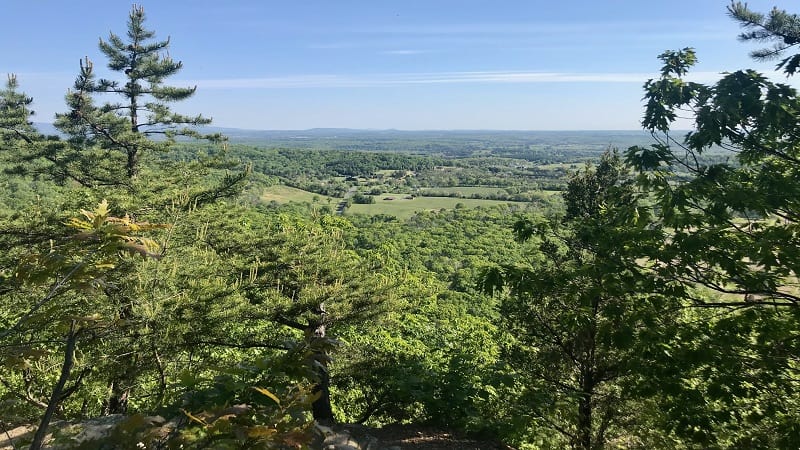 If you choose to continue on the Buzzard Rock Trail, you'll encounter two more overlooks that are said to be as spectacular if not more so than the primary overlook.
I only had time to hike to the primary overlook, but I plan to come back to hike the full trail in the near future.
Wrap-Up Notes 
From the parking area, it took me 75 minutes to complete this hike, including time spent savoring the views. I was alone, so it was quite peaceful.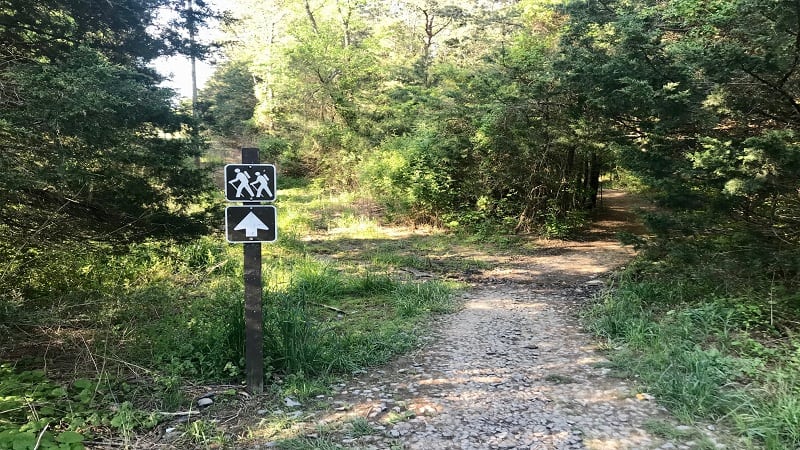 I didn't see anyone on the hike up, but saw a couple of small groups going up as I was on my way back to the parking lot.
In the lot, I saw a couple with a pup and I can agree that this is a dog-friendly trail (for leashed doggos).
Eager to grab a sip or a bite post-hike? Just 10 minutes from the trailhead is 619 Market, an easy one-stop-shop for snacks and drinks, as well as deli sandwiches and grill faves.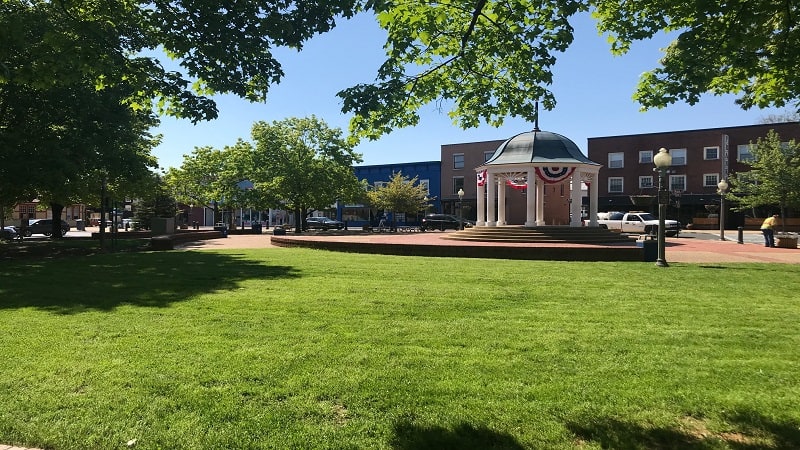 Drive a few minutes more to reach historic downtown Front Royal. Enjoy a stroll and re-fuel at a number of restaurants, like Front Royal Brewing Co. and L'Dees Pancake House.
Sit awhile in the gazebo in the town square or let the kids run around on the green space.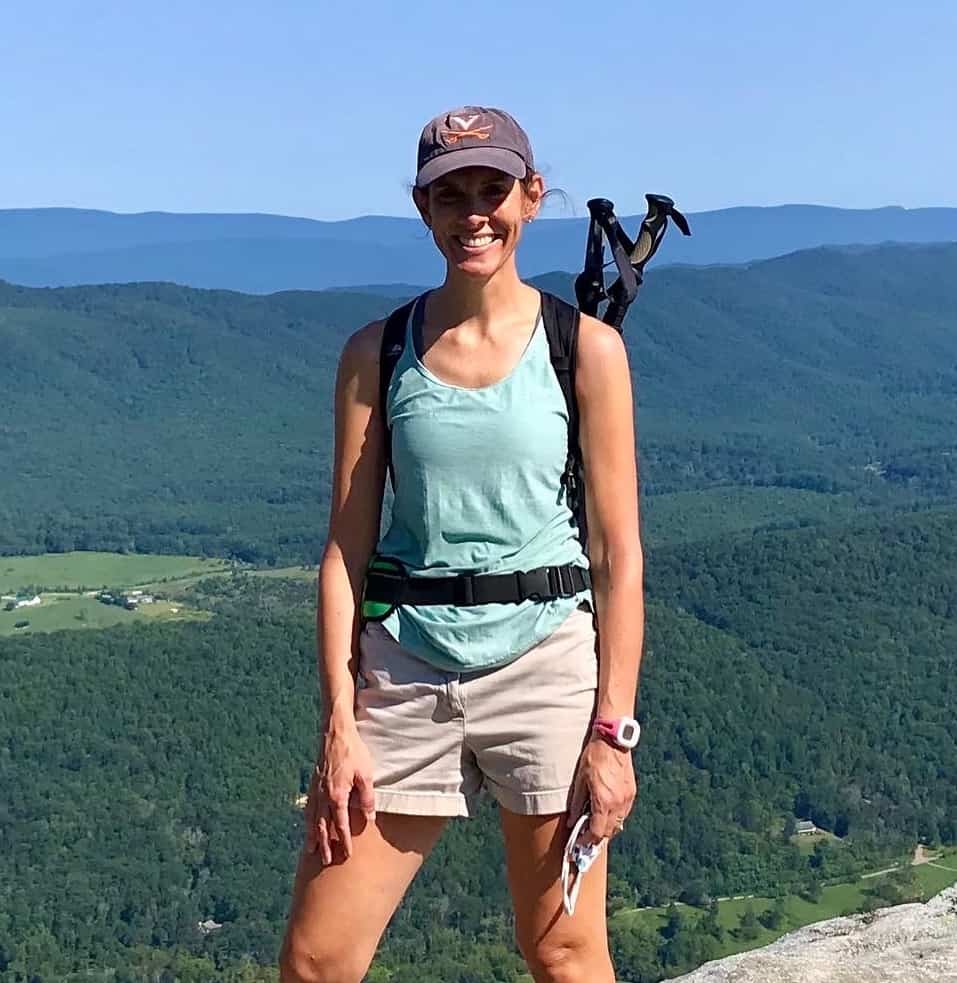 Erin Gifford is the editor of Go Hike Virginia. She has completed more than 300 hikes in Virginia. She is also the author of three hiking guidebooks from Falcon Guides. Need help finding a hike? Check out the Trail Finder feature or send Erin a message.