Cool Spring Battlefield: An Easy Loop Hike to a Small Waterfall in Bluemont, Virginia
It's not often you can hike across land that was once a Civil War battlefield and a golf course. To boot, you'll even see a small waterfall on this hike.
At Shenandoah University's Shenandoah River Campus at Cool Spring Battlefield in Bluemont, two paved loops draw in visitors for quiet reflection.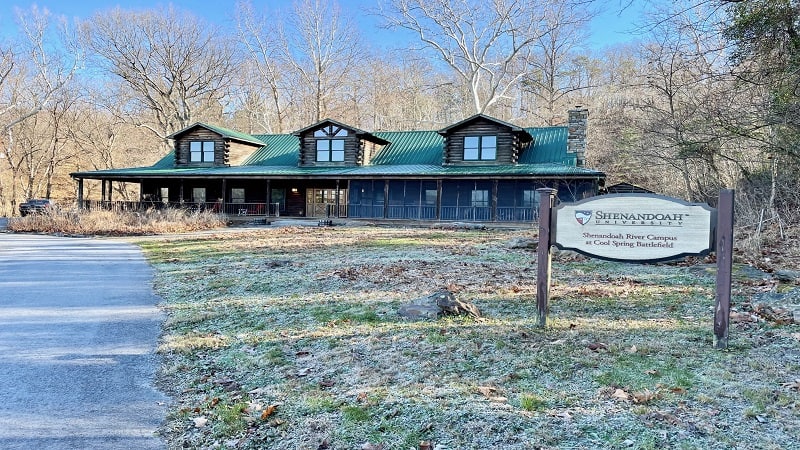 The loops are actually golf cart paths from the one-time Virginia National Golf Course. The scenic 18-hole golf course closed and was abandoned in 2012.
The following year, the Civil War Battlefield Trust purchased the golf course, which sits on the site of the Battle of Cool Spring (July 18, 1864).
Shenandoah University was given the property through an easement and today manages the land, including an outdoor classroom and walking trails.
| Trail Stats | |
| --- | --- |
| Length | 3.4 miles |
| Difficulty | Easy |
| Trail Type | Loop |
| Elevation Gain | 282 feet |
| Duration | 2-3 hours |
| Terrain | Mostly paved, some dirt trails |
| Dog-Friendly | Yes |
| Fee | Free |
| Driving Directions | Click Here |
Cool Spring Self-Guided Walks
There are two paved loops at Cool Spring Battlefield, a north loop (Northern Loop Trail) and a south loop (Southern Loop Trail).
Each loop is less than three miles, but the north loop is more popular thanks to a self-guided family walk and a self-guided battlefield walking tour.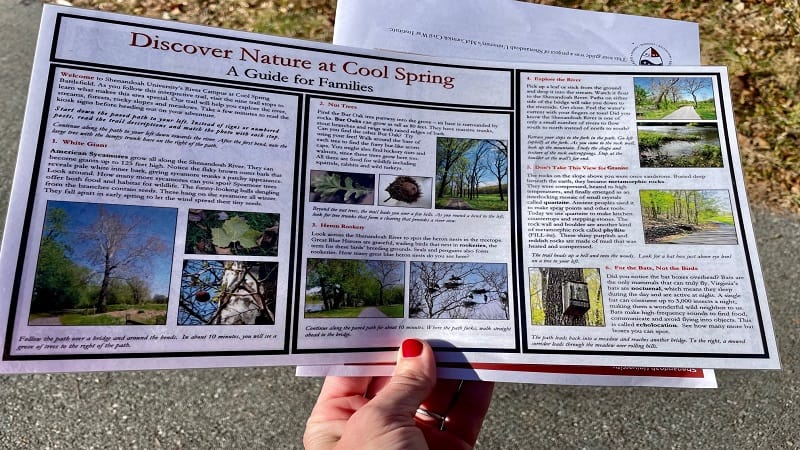 At the trail kiosk, which serves as the starting point for both loops, there are laminated nature walk guides for families and printed battlefield guides.
Both self-guided walks feature nine trail stops. The nature walk educates visitors on sycamore trees, grassy meadows, nut trees and a heron rookery.
The self-guided battlefield tour crosses the 195-acre battlefield that played a key role in the largest and bloodiest Civil War battle fought in Clarke County.
Northern Loop Trail
From the large trail kiosk near the end of Parker Lane, you will see paved paths set off on either side. I began on the path on the right side.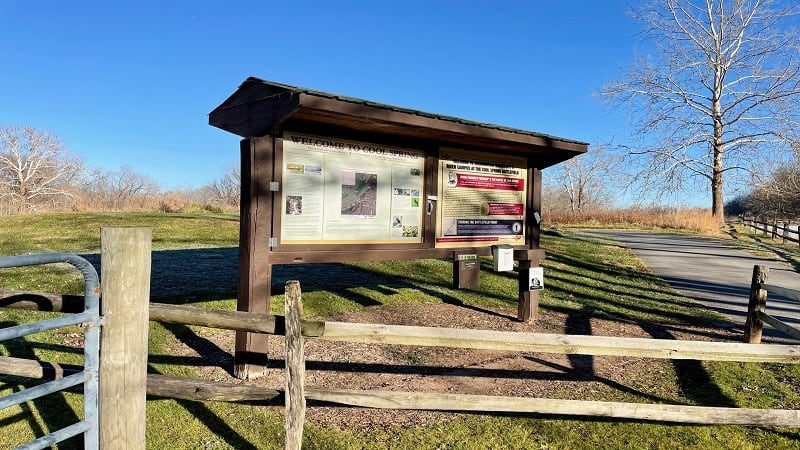 The hike begins as fairly easy-going. You will pass a small pond on the left, then cross a footbridge over a small creek.
Look left and right to see how nature has largely taken back the land over the last 10 years since the golf course was closed to players and visitors.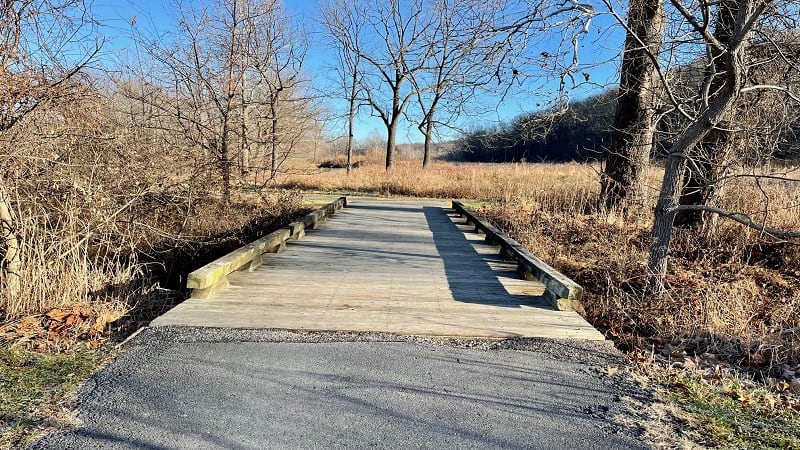 Continue walking on the flat path and in late-fall and winter you can see the gently-flowing Shenandoah River to the left through the leafless trees.
You'll cross a second footbridge at the .5-mile mark. You'll then reach a T-intersection at the .8-mile mark. Turn right at this junction.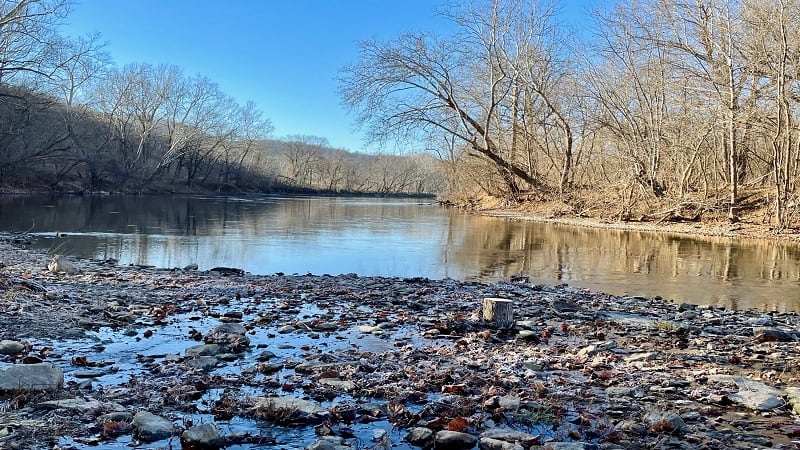 In a few more steps, cross a third footbridge over Raven Rocks Hollow Run. Slow down for a short spur trail on the left that leads to the banks of the river.
This is a great spot to enjoy the views of the Shenandoah River and toss in a few stones. Re-trace your steps then turn left to continue on the paved path.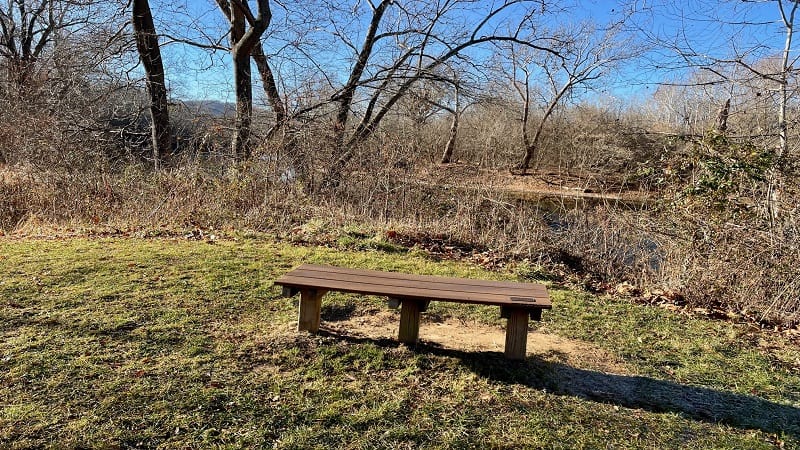 On the left, you'll see a bench sitting on a former tee box. Here you can enjoy southwest-facing views across the Shenandoah River.
Gorgeous Overlook Views
At the 1.0-mile mark, you'll reach a fork in the trail. I highly recommend that you turn right for gorgeous overlooks views, but be warned, it is very steep.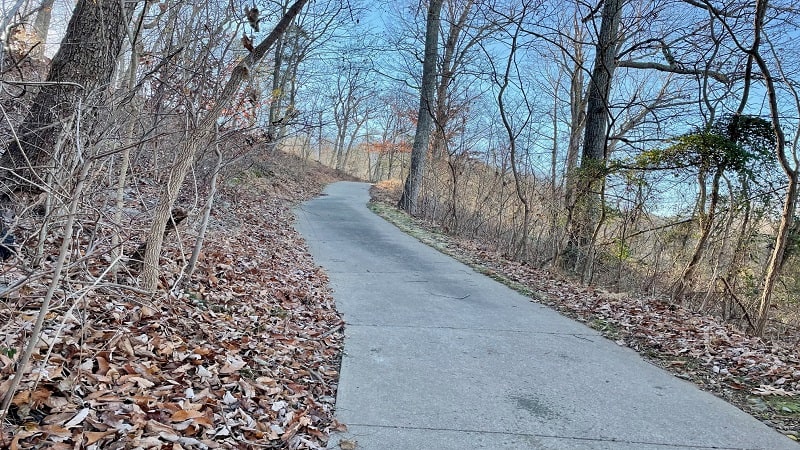 While you can take bikes or strollers on this trail, I can't say it's a good idea. Going up and going down will not be fun to navigate with wheels.
You'll see an educational placard about one-third way up this hill. It's a nice stop to catch your breath and read up on the Battle of Cool Spring.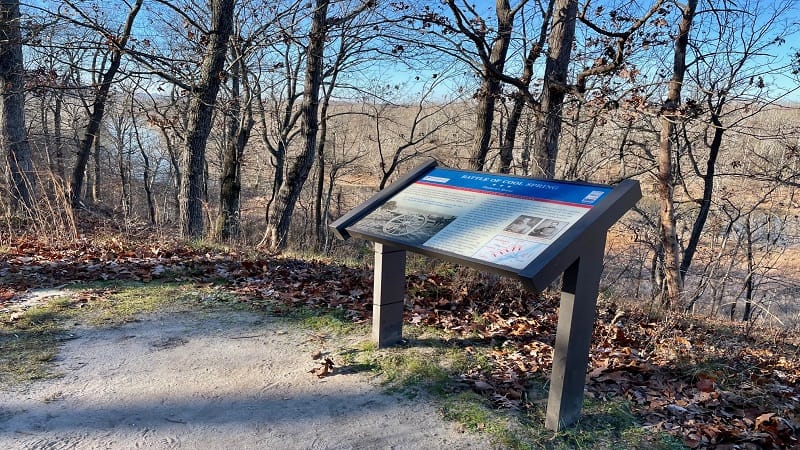 At the 1.4-mile mark, you'll reach a bench with far-reaching views across the Shenandoah River and the Blue Ridge Mountains way off in the distance.
You'll then have the option to turn right to continue up the hill. This leads to two former tee boxes for the same hole at higher elevations.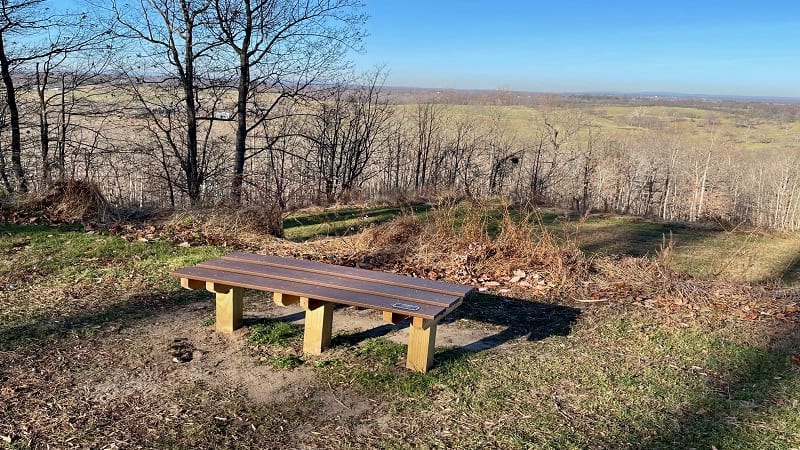 Re-trace your steps, then turn right to continue down the hill (again, steep). You'll see one more bench on your way down, at the 1.5-mile mark.
Rolling Ridge Conservancy
Turn right at the sign for the Ridge to River Trail at the 1.8-mile mark. This dirt trail leads to a trail kiosk for the Rolling Ridge Conservancy.
The Rolling Ridge Conservancy is a 1,500-acre wilderness preserve that is just north of Cool Spring Battlefield. There are miles of publicly-accessible trails.
For this hike, I barely dipped my toes into the wilderness preserve. I walked just .3-miles to the small cascading waterfall.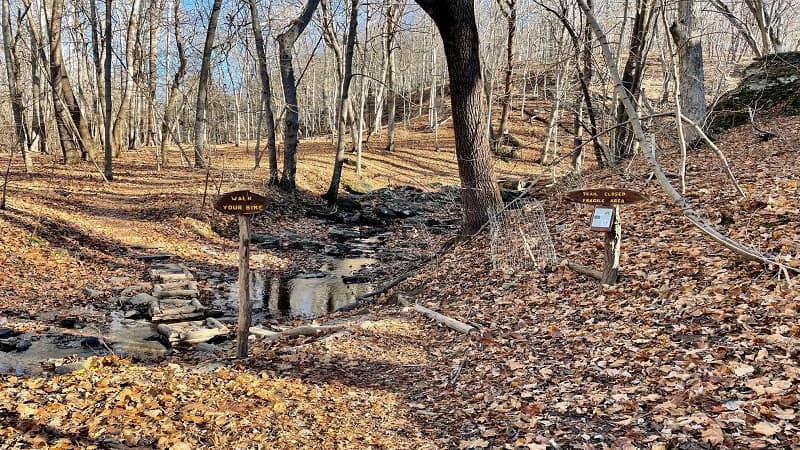 It's a beautiful waterfall but erosion due to over-visitation has lead to trail closures alongside the gently cascading falls.
To access the waterfall, walk past the "Trail Closed / Fragile Area" sign on the right and tip-toe across the four small wooden platforms over Rocky Branch.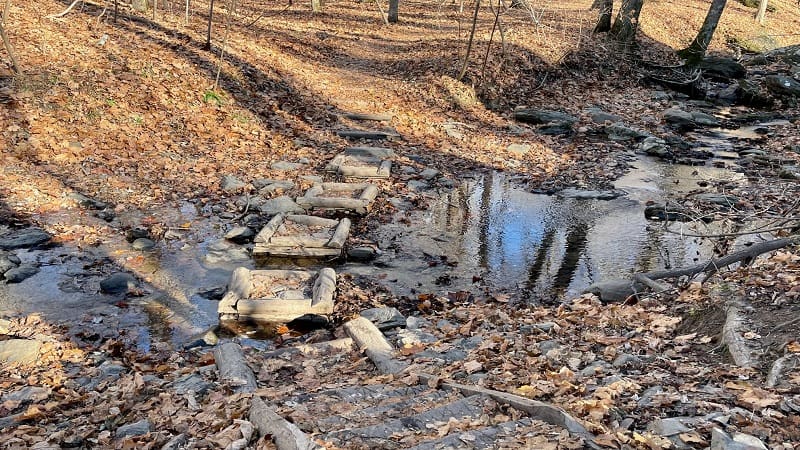 Once you cross over, you'll see some ropes that keep visitors from treading into revegetation areas. Walk only as far as the "Not a Trail" signs.
Revel in the refreshing views, then re-trace your steps to the paved Northern Loop Trail. Turn right to proceed on to the end of the trail.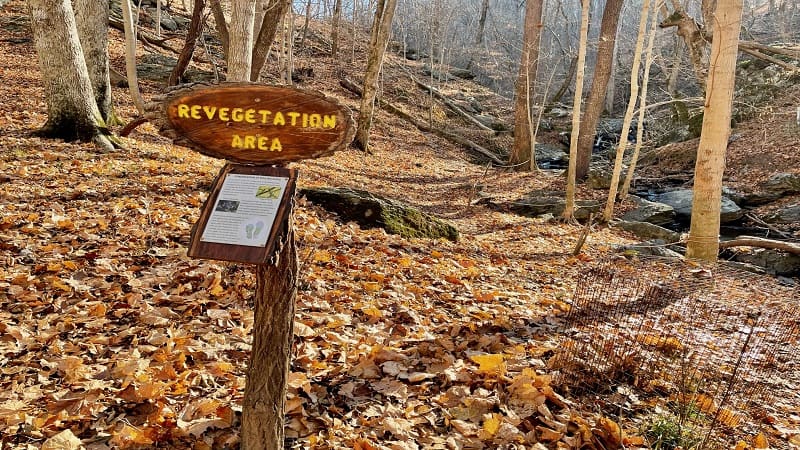 It's important to note that fall hunting is allowed at Rolling Ridge Conservancy. During this time, the trails are temporarily closed.
It's wise to check the website for trail closure dates. In 2021, the trails were closed to hikers October 21-24 and November 22 to December 12.
Shenandoah River Views
As you continue along the cart path, you'll walk alongside the Shenandoah River.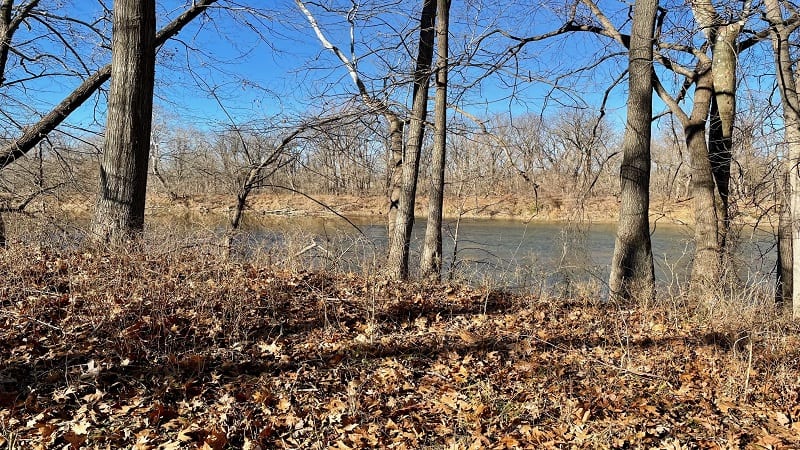 At the 2.5-mile mark, you'll reach a fork in the trail. Keep right to continue next to the flowing river.
As you walk, you'll cross over another two or three footbridges, as well as one or two placards on the Battle of Cool Spring.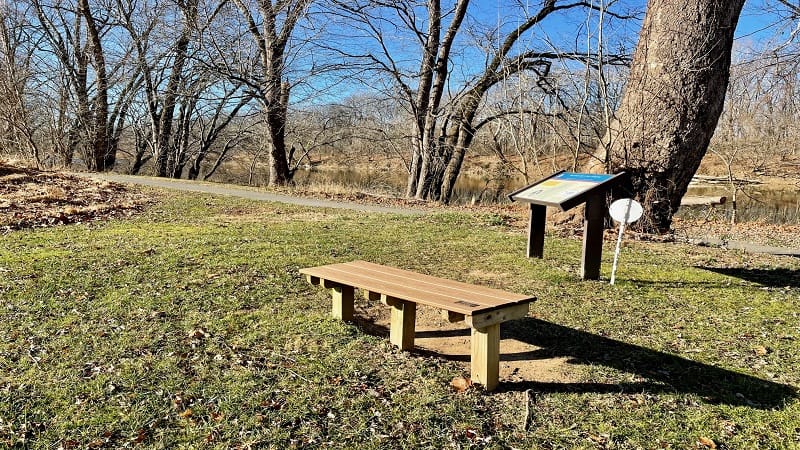 You will return to the large trail kiosk at the 3.4-mile mark. Your delightfully scenic hike in Bluemont is complete.
Cool Spring Hike Options
As noted above, there is the option to tackle the Southern Loop Trail. This trail begins to the right of the large picnic pavilion in the parking area.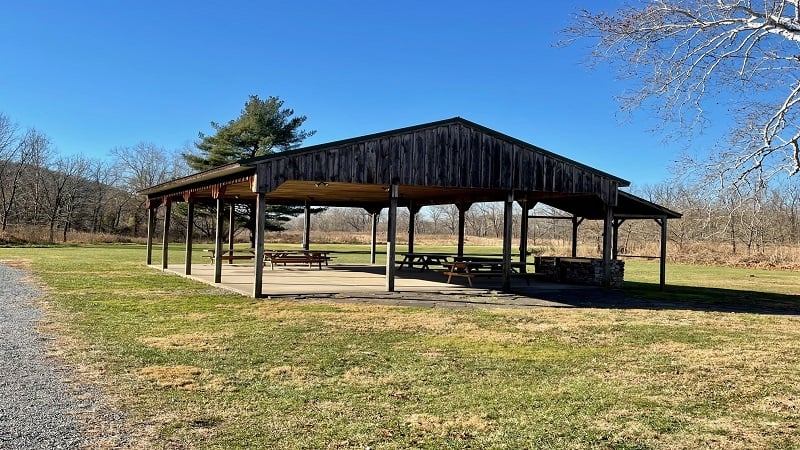 This loop also runs alongside the Shenandoah River, but does not feature any scenic overlooks. Or steep stretches of path, thankfully.
Interestingly, the trail kiosk is an alternate starting point for a longer hike to Raven Rocks. It's 5.5-miles each way to this rocky viewpoint in Bluemont.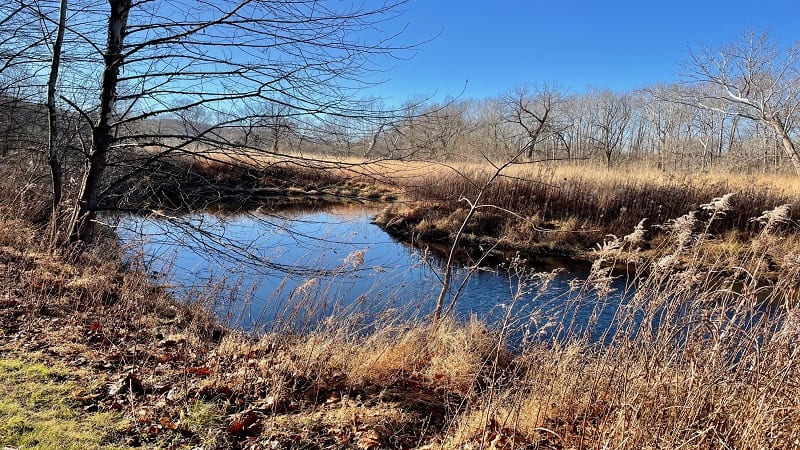 For this hike, walk the Northern Loop Trail in reverse, then exit left onto the Ridge to River Trail.
From here, you'll jump onto two trails – Mission Road and Powerline Trail – that will lead you to Appalachian Trail.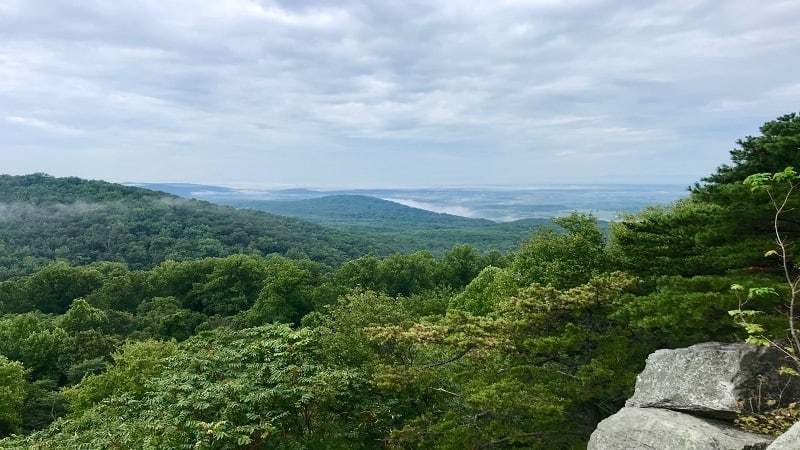 Once on the white-blazed Appalachian Trail (southbound), it's a .8-mile hike to reach Raven Rocks.
Wrap-Up Notes
From the parking area, this hike took me just under 90 minutes, including time spent reading educational placards and taking in the views.
This is an enjoyable family hike. It's also a great hike for beginners, especially when you're looking for solitude on a cold winter day.
If you have a second hike in you, the popular Bears Den hike is just 10 minutes away by car, as is the more challenging Raven Rocks hike.
Eager for more? Take a look at 15 of the best hikes near Bluemont, Virginia to find a few more hikes to add to your must-do hiking list.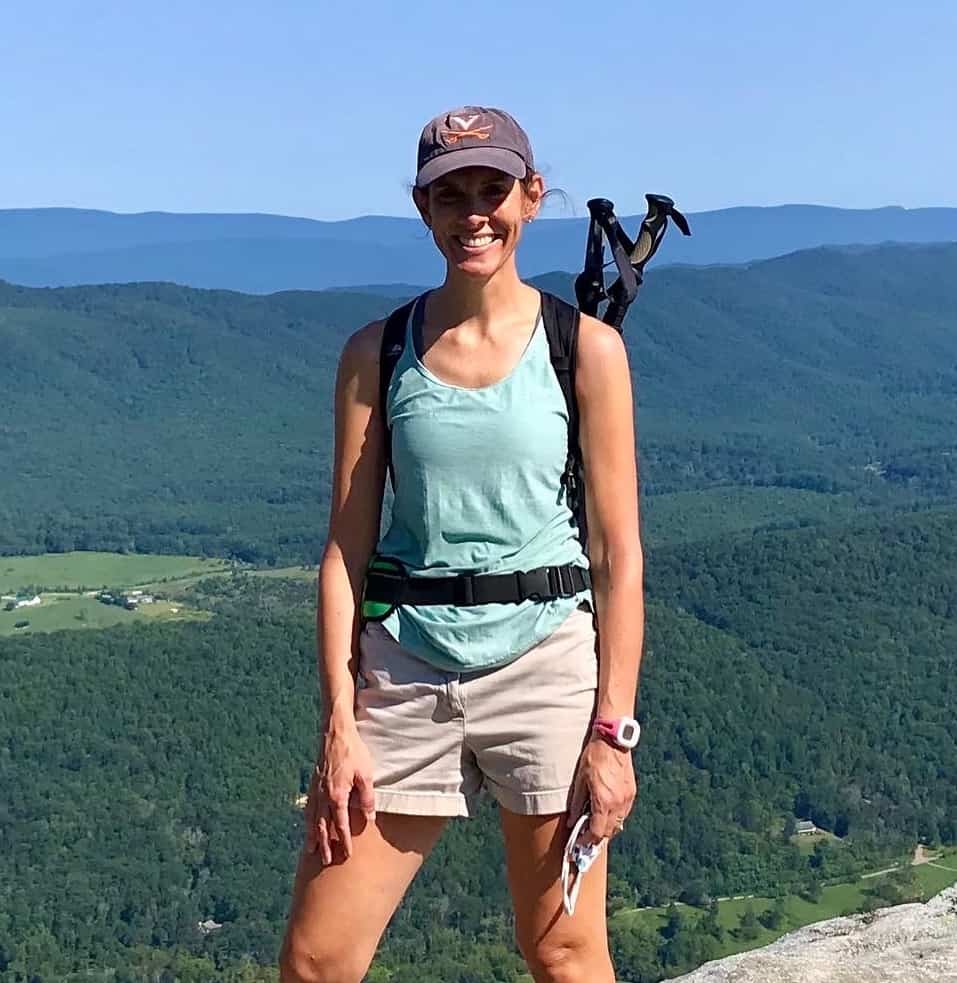 Erin Gifford is the editor of Go Hike Virginia. She has completed more than 300 hikes in Virginia. She is also the author of three hiking guidebooks from Falcon Guides. Need help finding a hike? Check out the Trail Finder feature or send Erin a message.