Hike to 12 Must-See Natural Wonders in Virginia
There's no question that there is plenty of breathtaking natural beauty in Virginia, but the state is also home to more than a few natural wonders worthy of exploration.
From curious sandstone slot canyons to a massive eight-acre field of car-size boulders created by frost wedging, there are so many wonders to see all across Virginia.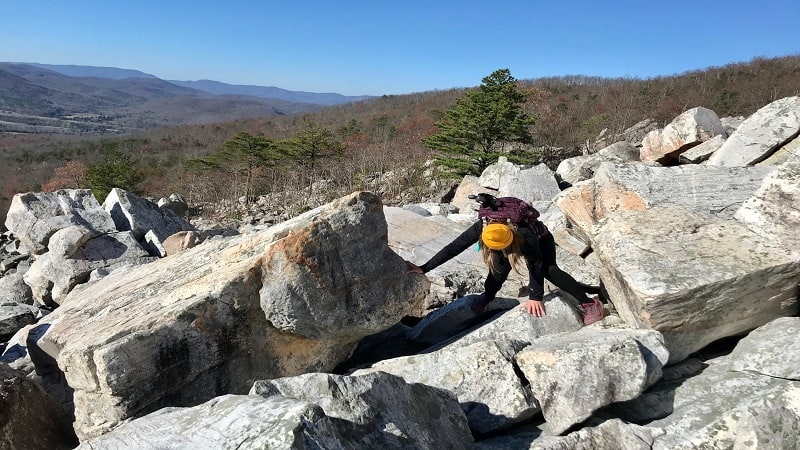 Forget about the Grand Canyon. We've got the "Grand Canyon of the South" at Breaks Interstate Park in Southwest Virginia. That just scratches the surface, too.
Here are 12 natural wonders in Virginia you've absolutely got to see to believe. Even better, all of them can be paired with a hike. Add these to your outdoor bucket list.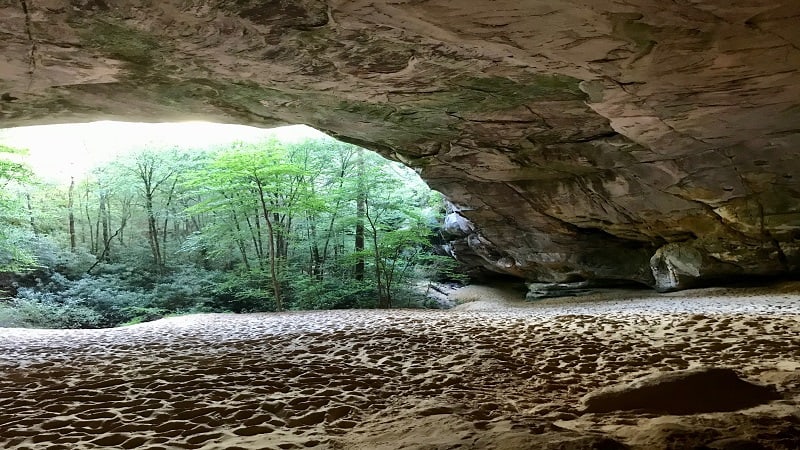 Sand Cave had simple beginnings. Once a massive rock in Southwest Virginia, wind eroded the sandstone over many years to create 250-foot-wide half-dome Sand Cave.
Inside, an acre of soft, beach-like sand awaits the driven few that choose to hike 4.0-miles along the Ewing Trail and Ridge Trail to reach the awe-inspiring natural cave.
The hiking trail is almost entirely in Virginia, but Sand Cave is barely (like inches) over the Kentucky border. So, both states claim this geological wonder as their own.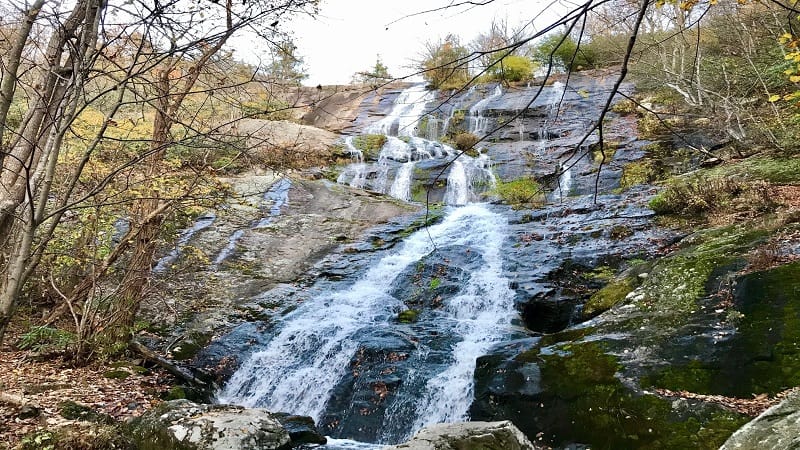 In Montebello, Crabtree Falls is a stunner for its dramatic cascades and rewarding views across the Blue Ridge Mountains from the top of the 1,214-foot-tall falls.
Crabtree Falls is the "highest vertical drop cascading waterfall east of the Mississippi River." It's taller than the Statue of Liberty (305 feet) and the Eiffel Tower (984 feet).
This show-stopping waterfall wows with five tumbling cascades that are within view nearly every step of a 1.7-mile hike (one-way) to the top along Crabtree Creek.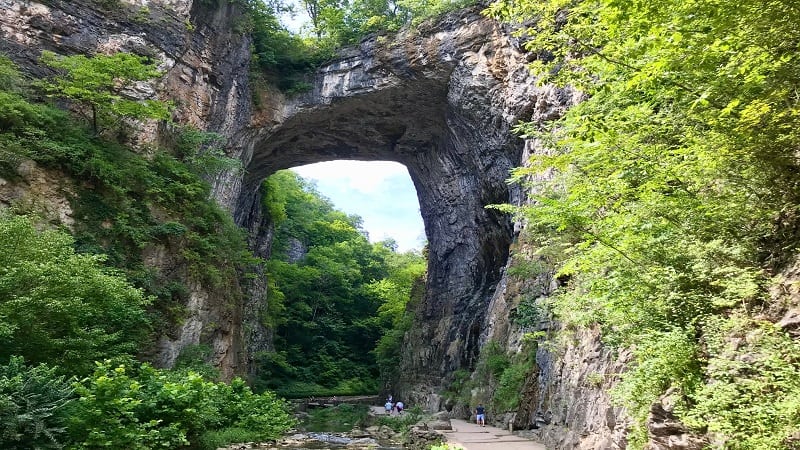 In Virginia's Shenandoah Valley you'll find a 215-foot-tall natural limestone arch that wows from the moment it comes into view. This is the awe-inspiring Natural Bridge.
Natural Bridge has held a spot on the National Register of Historic Places since 1997. The Cedar Creek Trail guides visitors under this geological wonder, then on to Lace Falls.
A few steps along the Cedar Creek Trail you'll see Natural Bridge in all its glory. As you stroll under the bridge, look up and to the left to see George Washington's initials.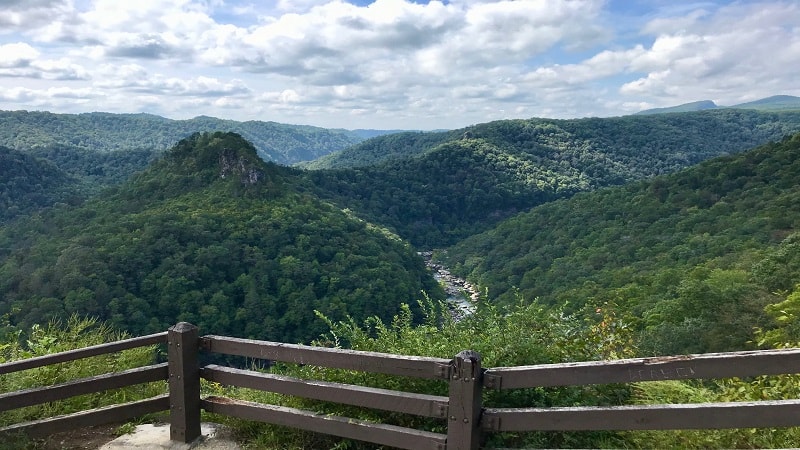 Breaks Interstate Park in Dickenson County is home to Breaks Gorge, a five-mile gorge cut into Pine Mountain by the Russell Fork River that is more than 1,650 deep.
Known as the "Grand Canyon of the South," take in Breaks Gorge from afar by way of short trails to Towers Overlook or Tower Tunnel for postcard-perfect views.
Alternatively, get down into the gorge by way of the Camp Branch Trail. This 1.4-mile out-and-back hike leads visitors to the Russell Fork River.
Slot canyons may seem out of place on the east coast, but a hike to the top of rugged Clinch Mountain near Abingdon delivers visitors to a 20-acre labyrinth of slot canyons.
This curious sandstone maze in Channels State Forest was purportedly created by ice wedging and permafrost 10,000 years ago, much to the delight of present-day visitors.
Inside this other-worldly maze, plan to climb, duck, squeeze and crawl as you navigate the gigantic sandstone formations with child-like wonder and amazement.
Better known as the lake from Dirty Dancing, Mountain Lake is located at Mountain Lake Lodge in Pembroke and is one of only two natural lakes in Virginia.
The 1.5-mile Mountain Lake Loop circumnavigates the mysterious lake that seemingly fills and drains at random. The freshwater lake was last full in 2005.
Scientists have learned that Mountain Lake hits a low every 400 years. It rises and falls in a cycle all its own and is the only lake of its kind on the planet.
#7: Natural Tunnel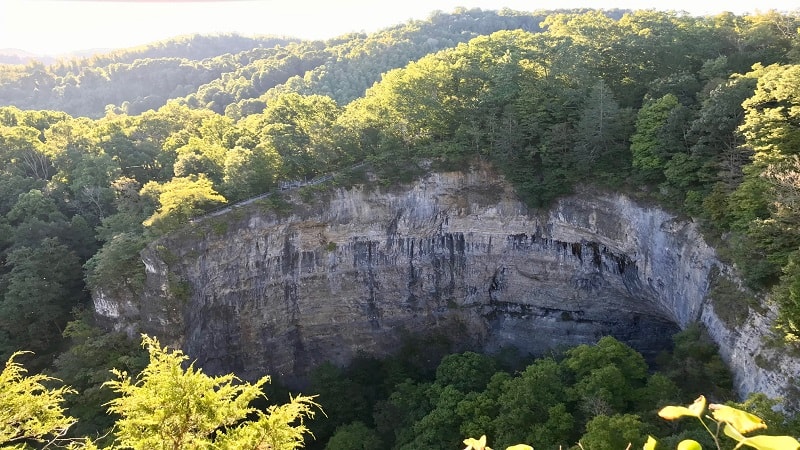 Natural Tunnel State Park in Duffield is home to a massive 100-foot-tall limestone cave that began to form more than one million years ago.
This naturally-formed cave has since been converted to a train tunnel, which today is used by Norfolk Southern to carry coal.
Ride the chairlift to the base to walk to the mouth of the tunnel, then walk a trail to Lover's Leap Overlook for bird's eye views of Natural Tunnel and the surrounding area.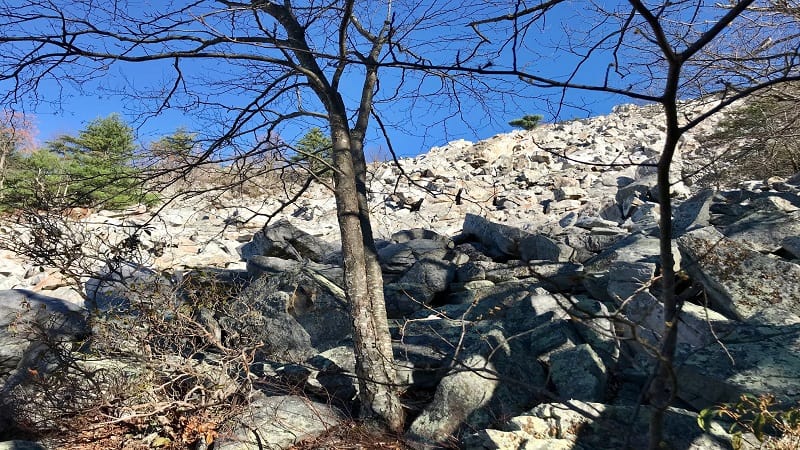 Devil's Marbleyard in Natural Bridge Station is a massive eight-acre field of boulders you must climb up, over and around to conquer this 4.0-mile out-and-back hike.
This naturally-formed super-size rock scramble was most likely created many, many years ago by frost wedging, when water froze and broke large rocks down over time.
A forested hike along the Belfast Trail leads to what feels like a never-ending field of quartzite boulders – some the size of cars – that leaves visitors in awe of this wonder.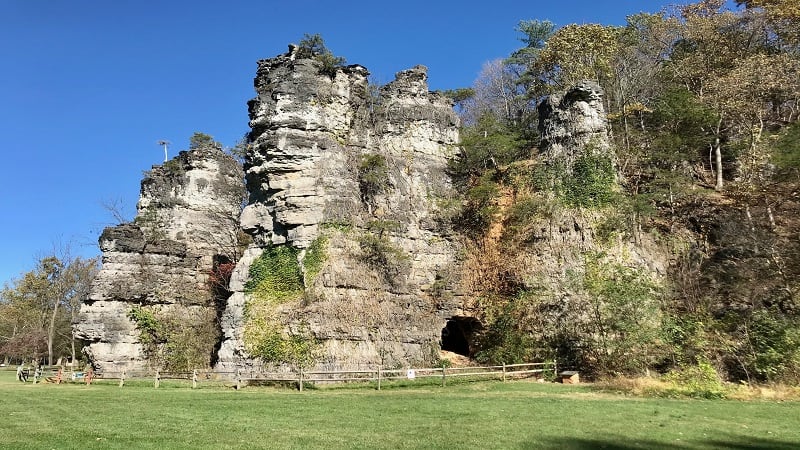 At Natural Chimneys Regional Park in Mount Solon, imposing limestone formations inspire and awe. More than that, these natural chimneys are really, really cool.
The seven natural limestone towers began to take shape some 500 million years ago, in the Paleozoic Era. At the time, the area was completely underwater.
A 1.9-mile loop circles the park, allowing visitors to take in views from atop the geologically-curious formations, as well as from just a few yards in front of them.
#10: Mount Rogers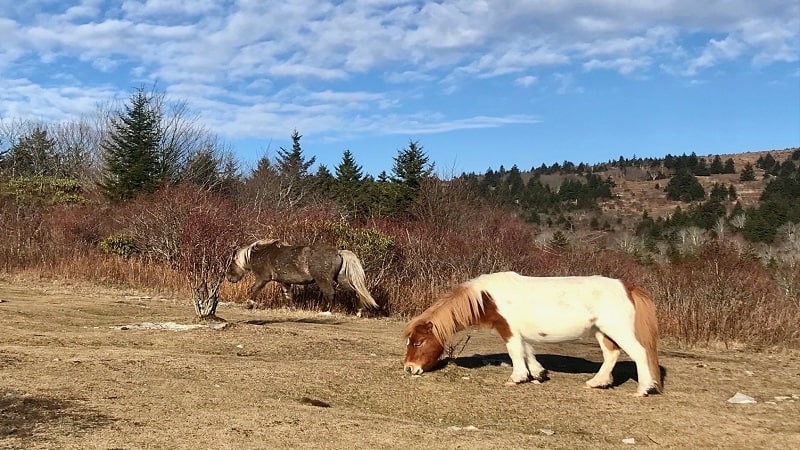 A 5.2-mile hike (one-way) that begins at Massie Gap in Grayson Highlands State Park leads to Mount Rogers, the highest natural point in Virginia at 5,728-feet-tall.
The trek largely follows the white-blazed Appalachian Trail, passing through Wilburn Ridge. Here you'll find plenty of free-roaming wild ponies.
For those eager to enjoy this natural wonder by way of a backpacking adventure, there are shelters and backcountry camping spots along the way to set up your tent.
Go below the surface in underground caverns filled with awe-inspiring stalactites and stalagmites with names like Totem Poles and Titania's Veil at Luray Caverns in Luray.
Luray Caverns is the largest and most popular cavern on the east coast. More than one-mile of paved walkway leads visitors to geological wonders and natural formations.
Great Stalacpipe Organ is a must-see while underground. Invented in 1954, this organ is the largest musical instrument in the world and directs stalactites to sing.
#12: Great Dismal Swamp
Suffolk's Great Dismal Swamp National Wildlife Refuge is home to the largest intact remnant of a marshy habitat that once spanned more than one million acres.
It's also home to Lake Drummond, one of two natural lakes in Virginia. Set in the heart of the Great Dismal Swamp, the lake is known for its curious bald cypress trees.
Hike or bike along the Washington Ditch Trail to reach the pier at Lake Drummond by way of a dirt road and a short boardwalk trail. Keep your eyes open for waterfowl.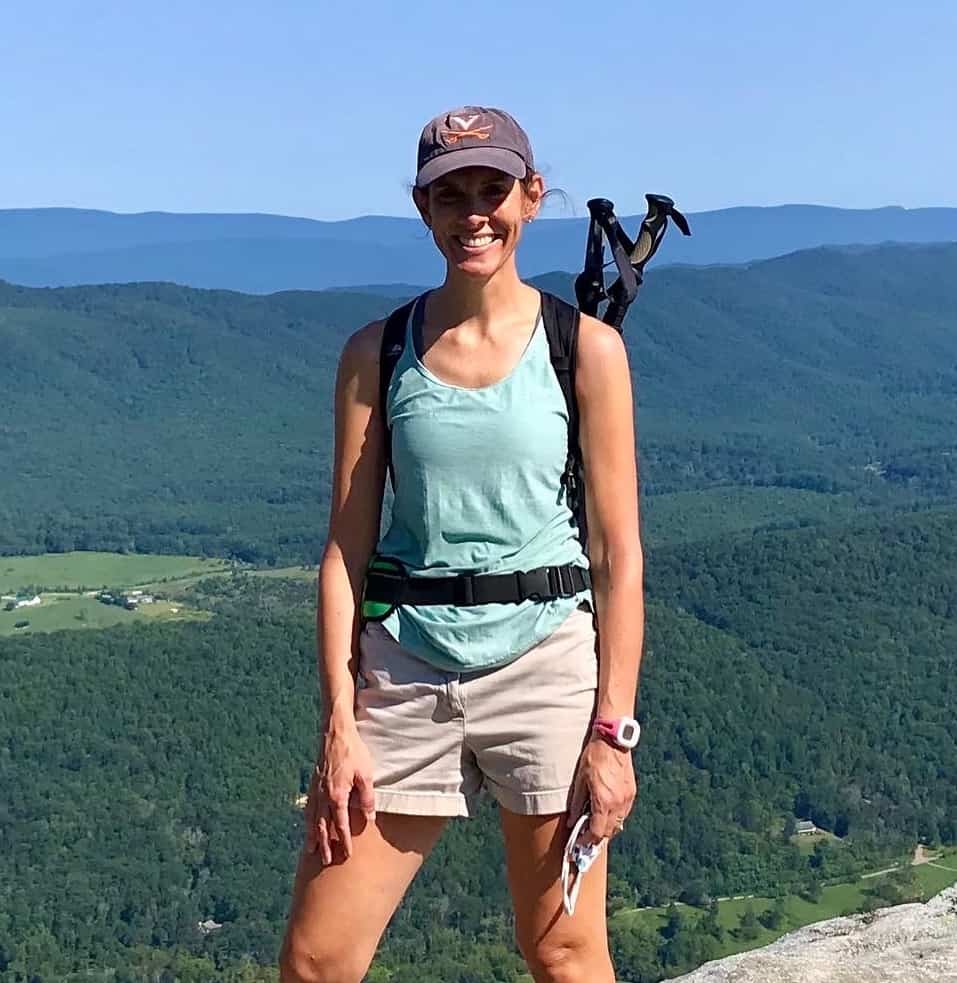 Erin Gifford is the editor of Go Hike Virginia. She has completed more than 300 hikes in Virginia. She is also the author of three hiking guidebooks from Falcon Guides. Need help finding a hike? Check out the Trail Finder feature or send Erin a message.