25 Best Beach Camping Tips (+ Beach Camping Checklistlist)
Thinking about a beach camping trip for this spring or summer? If so, you don't want to miss out on these must-know beach camping tips.
In this article, you'll find 25 beach camping tips and must-have beach camping essentials. You'll also find a beach camping checklist you won't want to lose.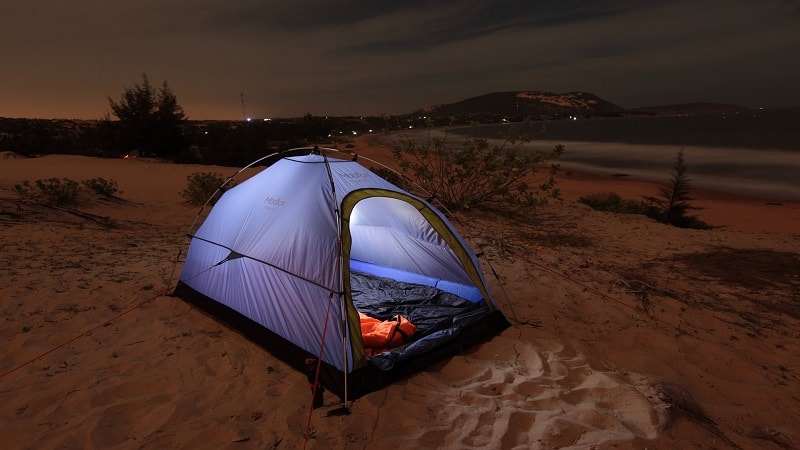 This list has the top tips and beach camping ideas to help you have a comfortable, safe, and enjoyable beach camping experience.
You'll learn how and where to set up camp, what to bring on a beach camping trip, and much more. Let's dive in.
Beach Camping Tips
These 25 tips for camping at the beach will help you prepare for your trip and get the most enjoyment possible, especially if this is your first time.
The tips are arranged in order from what to do before your trip, how to set up camp, cleaning up and how to have the best beach camping trip ever.
1. Ask Questions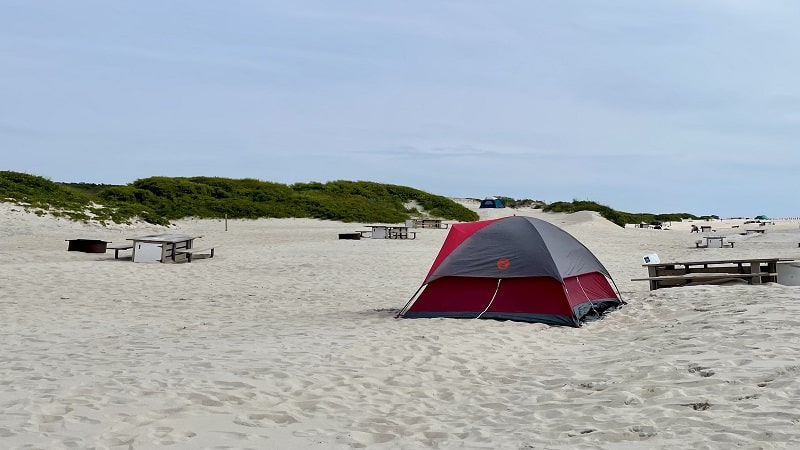 Way before you leave the house, you'll want to research the campground and the beach sites that you are considering. No two campgrounds are alike.
Ask about special rules, whether campfires are permitted and if you should bring your own wood. Also, check in on water sources, restrooms and showers.
2. Check The Weather
Weather can take a turn quickly, especially at the beach. Since the beach is a wide open space, storms can be windy and dangerous, especially if there is lightning.
Check the weather before your trip, and frequently during your camp-out. Doing so will hopefully allow you plenty of time to leave or seek shelter, if needed.
3. Watch the Tides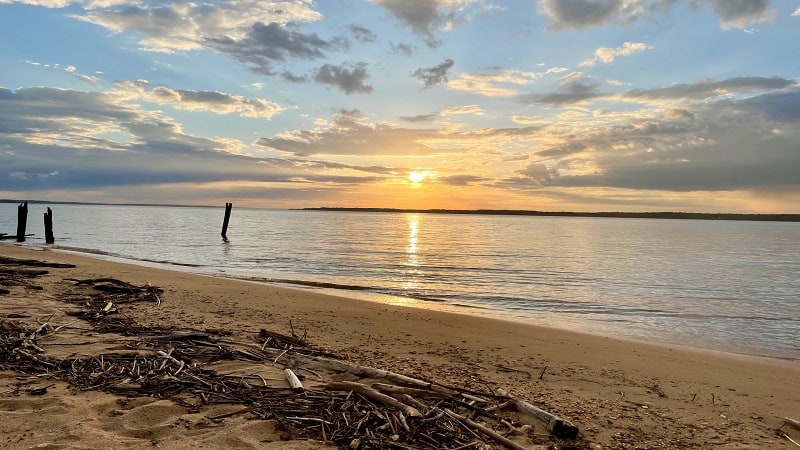 Download a free tide tracker app like My Tide Times or NOAA Tide Alert. Check the app often to keep track of the tides while beach camping.
If you set up camp at low tide, stay far away from the water's edge to be sure the next high tide won't reach you. Each high tide can vary.
4. Use a Plastic Sled or Beach Cart
Trudging through sand isn't the most fun activity in the world. Add in a heaping load of camping gear and it can be even less fun for all campers.
Use a beach wagon with large wheels or a plastic sled to haul your camping gear. You'll accomplish more in less trips and save your arms in the process.
5. Stay Off the Dunes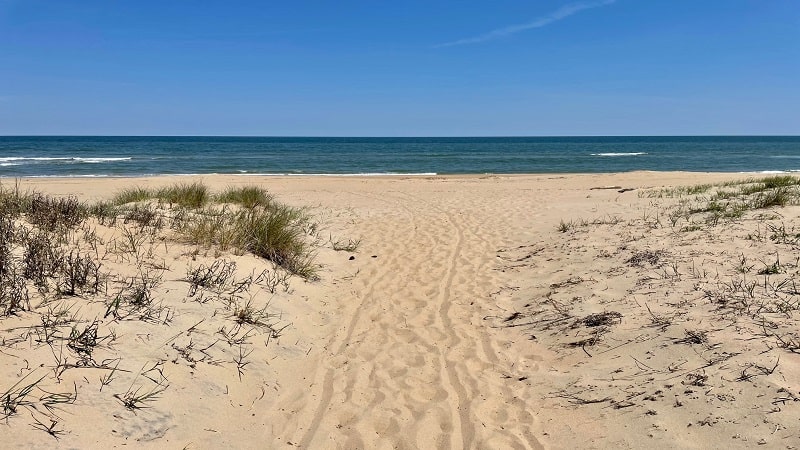 Never set up camp or allow kids to play on sand dunes. Sand dunes are a natural ecological barrier and are home to sensitive vegetation and wildlife.
Not only that, ticks and other bugs live in sand dunes. Other creatures you might find in dunes include snakes, spiders, wasps, lizards, and more.
6. Smooth Out the Sand
Once you pick out the perfect camp site, smooth out the sand before you set up your tent. Use your hands or your feet to create a smoother surface.
Flatten it out and be sure the surface isn't sloped. Smoothing out the sand under your tent makes a much more comfortable sleeping area.
7. Anchor Your Tent in the Sand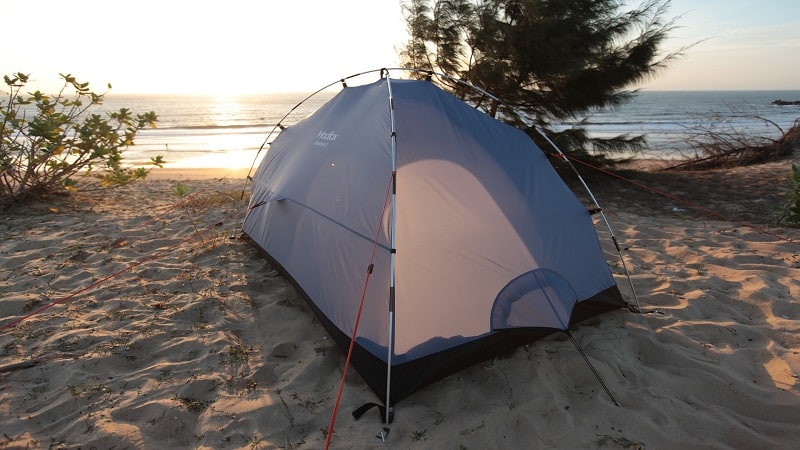 You can't use traditional tent stakes to anchor your tent at the beach. However, anchoring it is incredibly important. The beach can be a very windy place.
There are a few ways you can anchor your tent in sand. You can purchase sand stakes, buy tent weights or bring bags to fill up with sand.
8. Use an Oversized Tarp as an Entryway
When camping at the beach, it's a given that sand is going to get everywhere. However, there are steps you can take to help keep sand at bay.
Use an oversized tarp to create an entryway where you can de-sand your feet. This will reduce the amount of sand inside your tent.
9. Bring a Sun Shade Canopy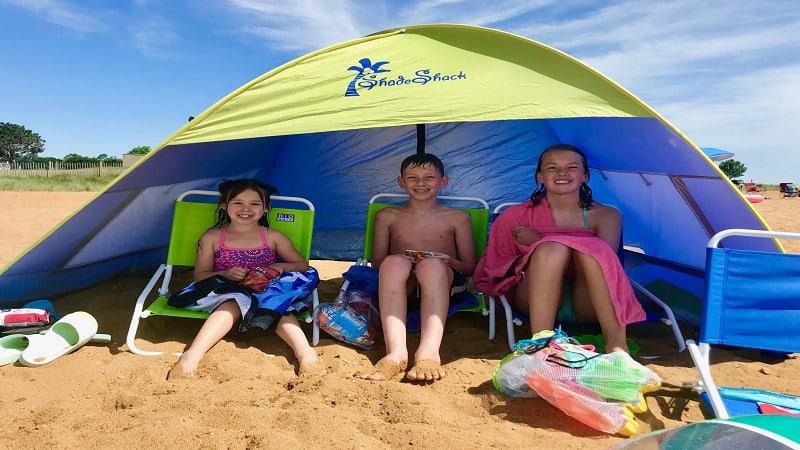 Even if the forecast isn't especially hot, being in full sun at the beach can drain your energy and give you a sunburn. It's a good idea to bring your own shade.
A pop-up shelter is a great shade option for sunny beach days. It's a good idea to get one with removable screens for protection from bugs, too.
10. Place a Water Bucket at the Entry
A tarp is key to have at the tent entry, but so is a bucket of water and towel near the exterior of the tent flap. You can use fresh or salt water.
Use this bucket and towel to rinse off and dry your feet before entering your tent. This helps keep the interior of your tent as sand-free as it can be.
11. Bring Camp Site Reflectors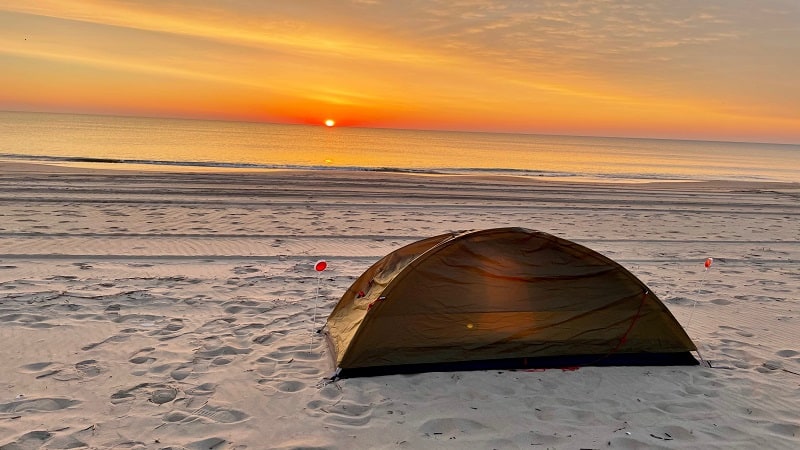 Beaches are very dark at night, so you will want camp site reflectors to mark your camp site. Some beach camping areas require this for your personal safety.
False Cape, in fact, provides reflectors to mark each corner of your site. This will help you find your way back at night and alert passers-by of your spot.
12. Bring High SPF Sunscreen, Apply Often
Since you'll be at the beach, there will be little shade other than your tent or canopy. Bring a waterproof high SPF sunscreen and apply it often.
You'll need sunscreen even on cloudy days. It's also a great idea to bring along some ale vera just in case of sunburn.
13. Bring Beach Camping Chairs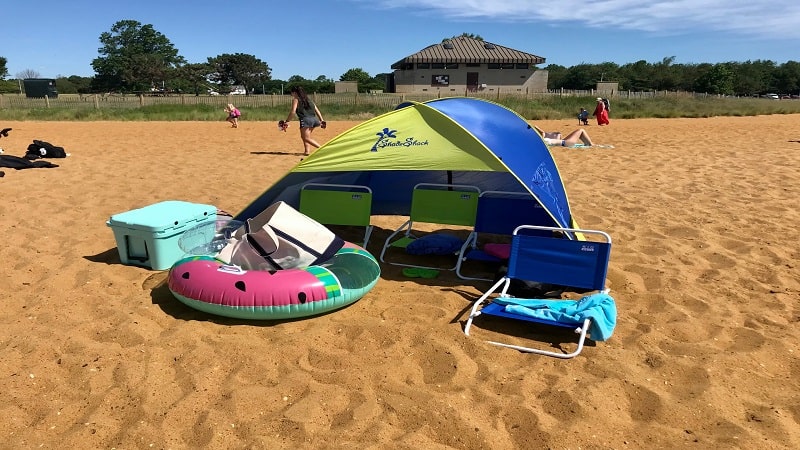 Hanging out on the sand is fun for only so long. Eventually, you're going to wish you had a chair to sit or recline in.
Stay comfortable on your camping trip with beach camping chairs. Lightweight camping chairs are a great option for beach camping.
14. Don't Forget Bug Spray
Yes, there are bugs at the beach. From flying insects to other pests like ticks and sand fleas, make sure you have bug spray to keep them at bay.
Not into chemical sprays? Consider non-toxic options like lemongrass bug spray or picaridin-based bug repellent.
15. Know the Campfire Rules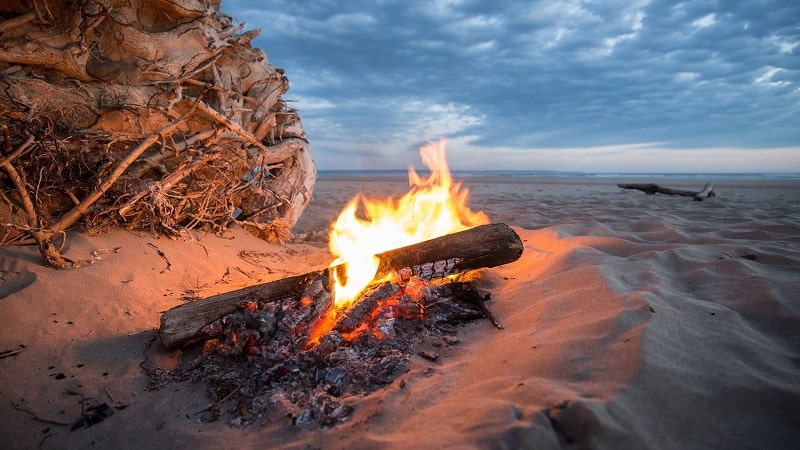 Check the campfire rules for your camping location. Fires aren't always allowed. Also, find out if you need to bring wood or if you can get wood on-site.
If you plan to cook over your fire, have a backup plan in case it's too windy or too wet. Campfire cooking is great, but it doesn't always work out.
16. Have an Extra Cooler Just For Ice
In addition to your food cooler, consider bringing along an extra cooler that's just full of ice. An ice-filled cooler is great for many reasons.
For one, you'll always have fresh ice for ice-cold drinks. You can even use it to replenish your food cooler when that ice melts.
17. Bring Sun Hats and Sunglasses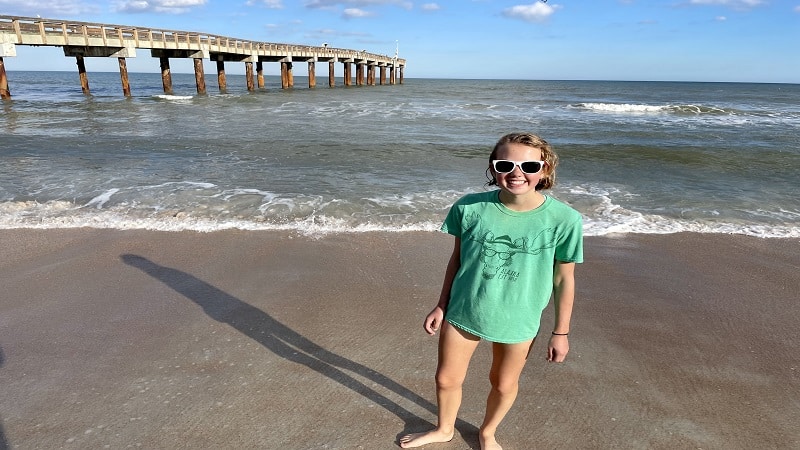 You can't go too far when protecting yourself from the sun. Bring along sun hats or baseball caps to shield your face and neck from the sun.
Additionally, bring a great pair of sunglasses to protect your eyes. The sun seems brighter at the beach when it reflects off the light-colored sand.
18. Tote Along Extra Fresh Water
Being in the sun and exposed to the salty air means you need to drink more water than usual. Always bring more fresh water than you think you'll need.
You'll use it for cooking, drinking, rinsing off, washing dishes, and so much more. You won't regret bringing extra, but you might regret it if you don't.
19. Eating While Beach Camping
The best foods to bring for beach camping depend on how much you like to cook outdoors. Cut and prepare fruits, snacks, and meats before your trip.
For simple meal ideas, foil pack recipes can't be beat. Sandwich items are great too. It's best to plan your meals ahead of time and pack accordingly.
20. Create A Sand-Free Hangout Spot
You can create a sand-free hangout spot on the beach for you or the kids with a sand mat or a fitted sheet, held up with heavy items in the corners.
This sand-free beach blanket is made of a multi-layered material so sand slips right through. It's spacious enough for the whole family to spread out, too.
21. Extra Towels Are A Must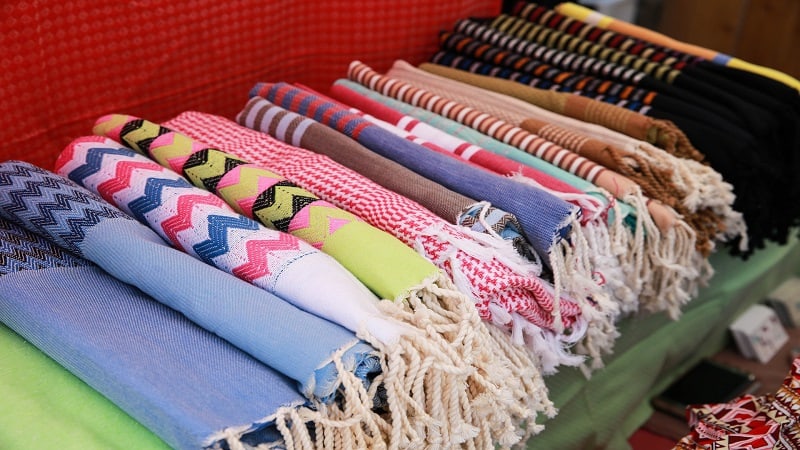 Trust me on this one: you won't regret bringing along extra towels. You'll want towels for swimming, towels for showering, and for cleaning.
Regular towels are like a sand-magnet. Consider grabbing a few super-absorbent Turkish towels for your trip. They don't hold onto sand like regular towels.
22. Bring a Handheld Broom and Dust Pan
A handheld broom and dustpan will come in handy inside your tent and on your entryway. Despite your best efforts, sand will get inside your tent.
However, if you have a handheld broom and dust pan, you'll be prepared. You may never want to camp without one again.
23. Bring Beach Games and Toys
Sun, sand, and water might be all you need to relax and have fun. However, the kids may get bored pretty quickly without distractions.
Consider bringing lightweight beach toys in a mesh bag. A sand castle kit (yes, this exists) is also a good idea. Maybe even a beach-themed scavenger hunt.
24. Secure Camp Before Bed
The weather can change often on the beach and wind can seem to pick up out of nowhere. Put away all loose items before bed.
Also, you should pack up anything that you don't want to get wet. Even if it doesn't rain, marine fog can roll in, causing items to get damp or wet.
25. Manage Your Trash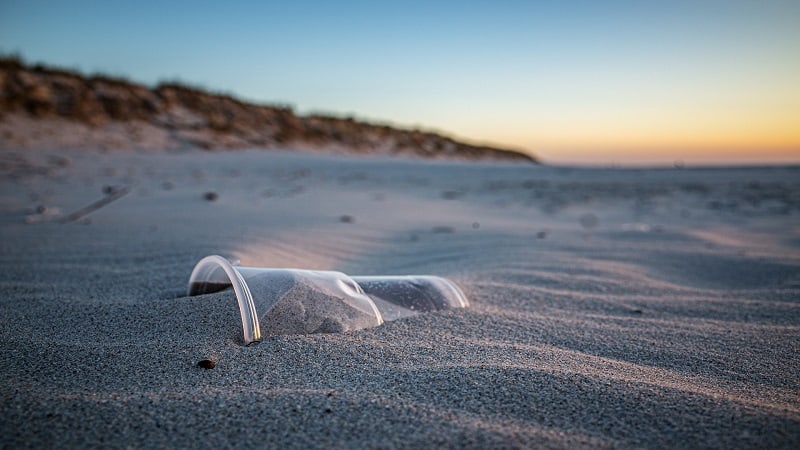 Be sure to have a plan to manage your trash while beach camping. Beaches can be windy and your trash can blow around if you don't secure it properly.
Also, not all beach camp sites have trash receptacles. Responsibly dispose of your trash after your camping trip, don't leave it behind when you leave.
Beach Camping Checklist
Now that you know the best tips and tricks for camping on the beach, here's a handy beach camping packing list.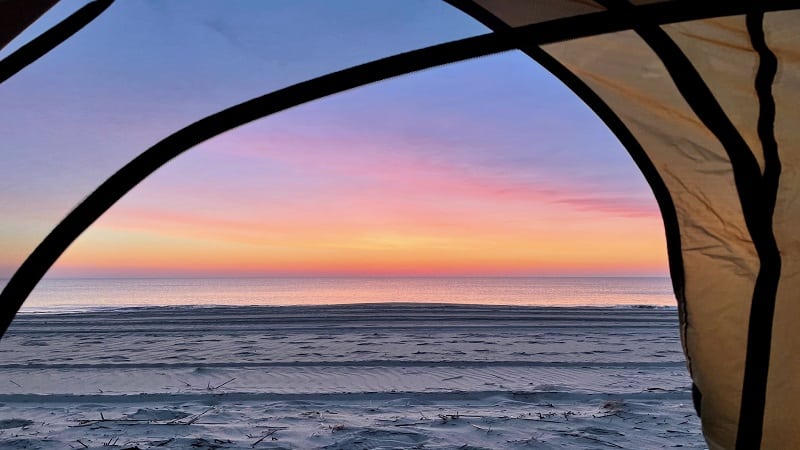 These beach camping essentials will help you get the most out of your trip. You don't want to forget these.
* Tent: Any tent will do, but an instant-set up option with lots of windows is ideal.
* Oversized Tarp: Use this under your tent and extend it in the front to create a 'de-sanding' area.
* Shade Canopy: If possible, bring a pop-up canopy with optional screen walls for bug protection too.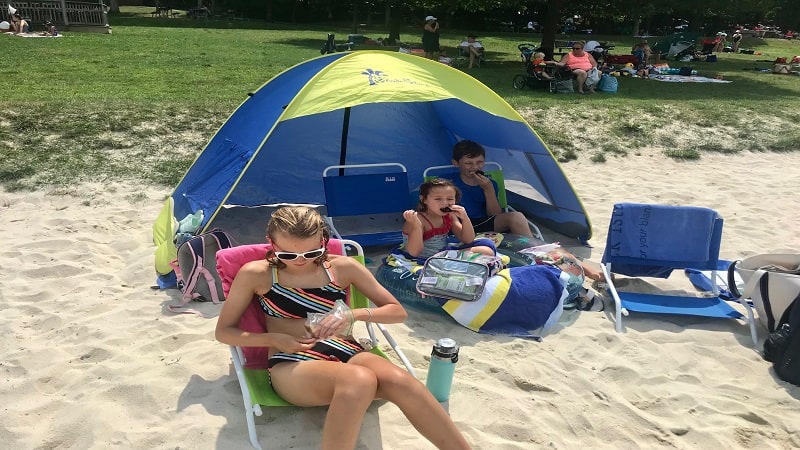 * Sunscreen: Bring a high SPF reef-safe sunscreen option and apply often.
* Bug Spray: Bring bug spray to repel ticks, mosquitos and sand fleas.
* Handheld Broom and Dustpan: This will come in handy when you want to get sand out of your tent.
* Plenty of Water: You'll need fresh water for cooking, drinking, cleaning, rinsing off, and more.
* Sunglasses and Sun Hat: Bring along these items for the whole family.
* Extra Towels: You'll want towels for swimming, rinsing off and cleaning.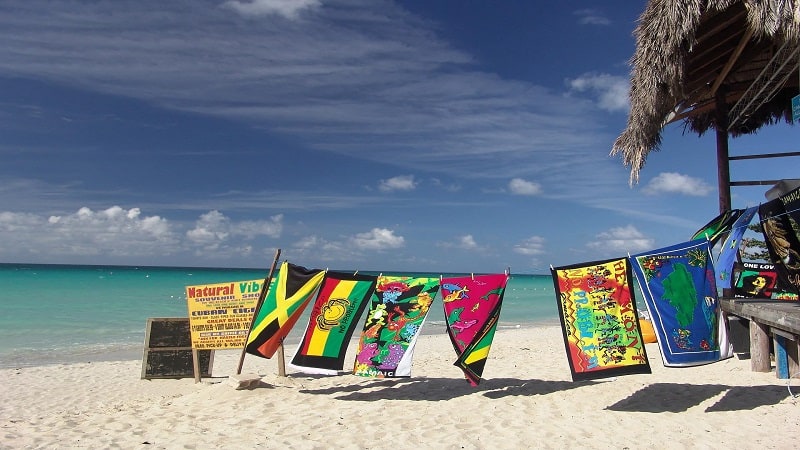 * Beach Mat: You can bring a sand-free beach mat or a fitted sheet.
* Camp Site Reflectors: Bring at least 4 reflective camp site markers to mark your camp site.
* Meals and Snacks: Plan and prep your meals ahead of time for easy options.
* Extra Ice: An extra cooler is perfect for bringing along a lot of extra ice.
* Camping Chairs: Beach camping chairs are a must for camp site comfort.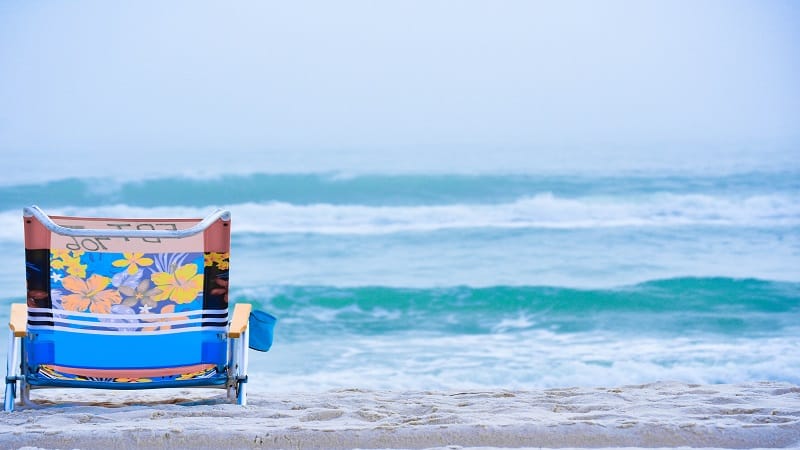 * Toiletries: Include things like deodorant, medications, lip balm, extra toilet paper, a Kula Cloth, etc.
* First Aid Kit: Bring a basic first aid kit with bandages, alcohol wipes and Benadryl.
* Cooking Items: Think stove, pots and pans, dishes, utensils, etc.
* Clothing: Pack extra clothes and be prepared for all types of weather and temperatures.
* Relaxation and Play Items: Bring along your favorite book or Kindle and beach toys for the kids.