15 Absolute Best Hikes In and Near Luray, Virginia
Luray may be best known for Luray Caverns, the largest caverns on the east coast, but there are so many fantastic hikes near Luray, Virginia.
Crisman Hollow Road, for example, affords access to several of the very best hikes, including Strickler Knob and Duncan Knob, as well as the Storybook Trail.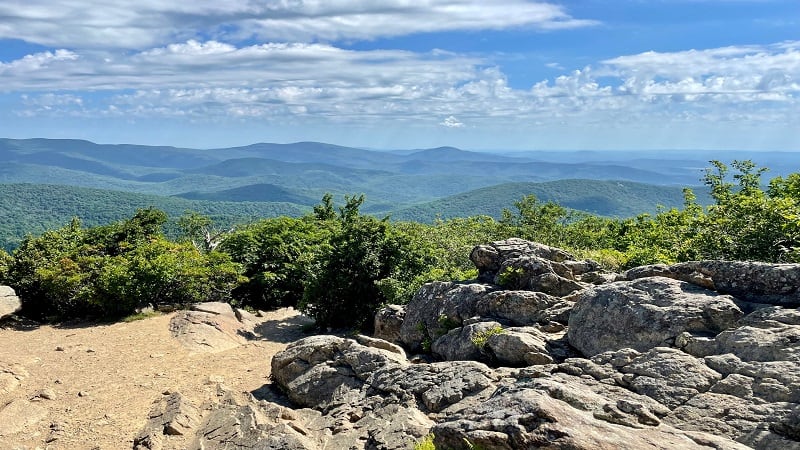 Luray is also a stone's throw from the Thornton Gap entrance to Shenandoah National Park, allowing for quick access to hikes like Mary's Rock.
Hiking Near Luray
To make it easy to navigate, I've organized Luray hiking trails by difficulty level so you have a good idea what to expect before stepping foot on the trails.
For the hikes below, I share what's to love and how far each trailhead is from Luray (from Luray Caverns, to be precise). Get ready for some fantastic hiking.
Easy Hikes
It's not hard to love an easy-going hike that leads to big views. These hikes near Luray fit the bill. Enjoy wide-open vistas and quiet reflection.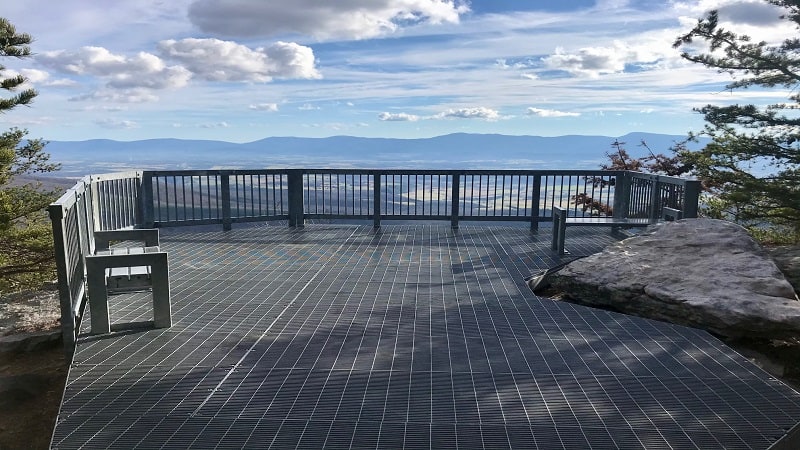 The paved Storybook Trail is an accessible, easy-going hike within the George Washington and Jefferson National Forests.
The out-and-back hike is just .7-miles, but this trail wows with off-trail rock scrambles and breathtaking vistas from the sizeable observation deck.
A whimsical curving wooden footbridge welcomes visitors to the trail, while a large overlook at the end of the trail awes with far-reaching east-facing views.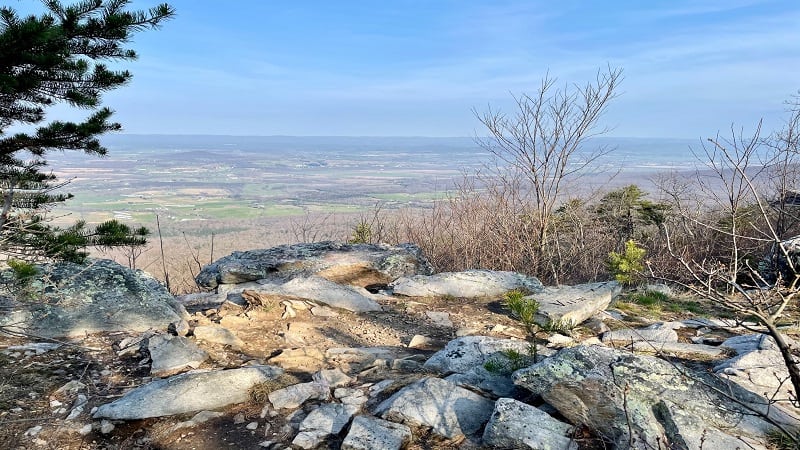 This Kerns Mountain hike begins on a west-bound section of the orange-blazed Massanutten Trail that sets off from Crisman Hollow Road.
This road is closed from February 1 to the Friday before Youth Spring Turkey Season in April. This cuts off access to several trails, including this stretch.
If you time it right, however, you're in for a real treat. The elevation gain is minimal and you will arrive at a sensational overlook at the 1.1-mile mark.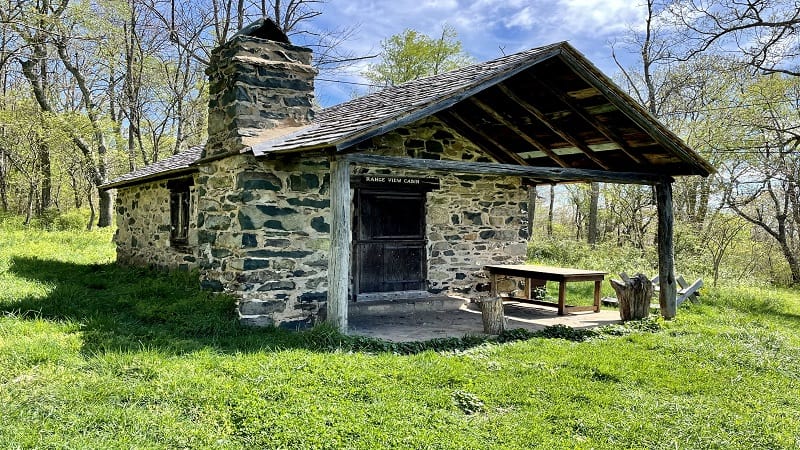 This easy hike leads to Range View Cabin, one of six primitive Potomac Appalachian Trail Club (PATC) cabins at Shenandoah National Park.
Range View Cabin was built almost entirely by PATC volunteers in 1932. For the stonework, the club hired local stonemason, Charlie Sisk.
You can't enter the cabin, but it's fun to explore the grounds. Outside the cabin, there is an open fireplace and a wooden picnic table.
Moderate Hikes
For more of a challenge, as well as more mileage, here are hikes near Luray that wow with mountain vistas, swimming holes and tumbling waterfalls.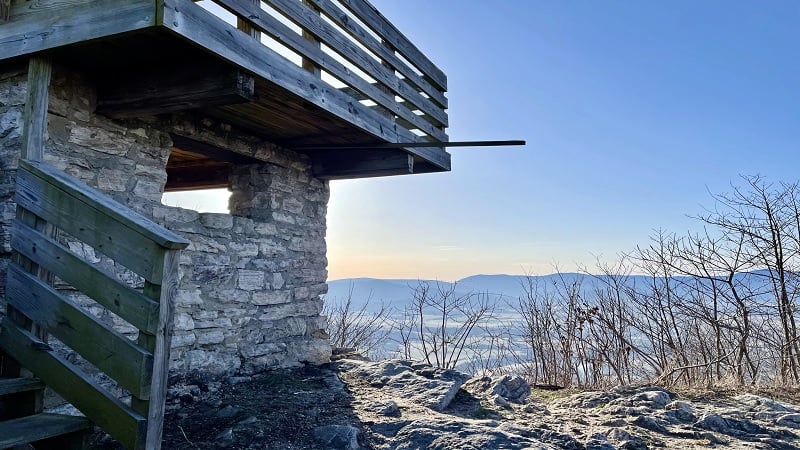 There are two primary routes to Kennedy Peak, including a 5.3-mile out-and-back hike to the overlook by way of the orange-blazed Massanutten Trail.
The hike is beautiful, particularly when you take in the neighboring peaks. Overlook views reward those eager to tackle the 889-foot elevation gain.
At the top, savor wildly scenic 360-degree views from the two-story wooden overlook. Along the way, you'll pass by a half-dozen primitive camp sites.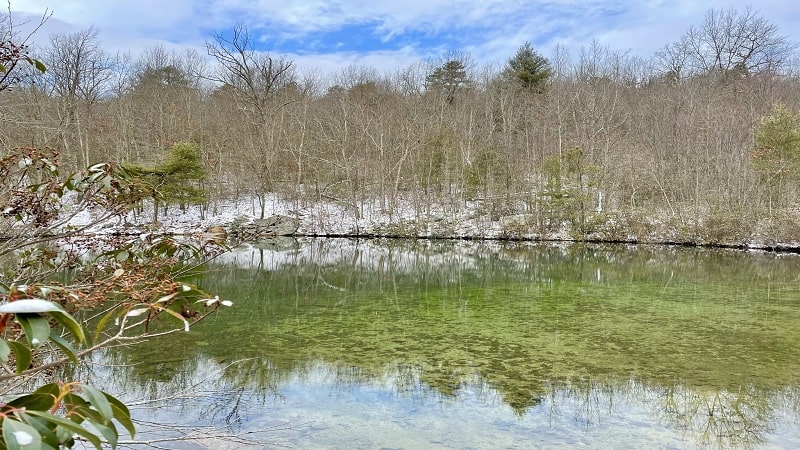 The 8.4-mile out-and-back hike to spring-fed Emerald Pond by way of the Massanutten Trail and Bird Knob Trail is fantastic. Oh, the magnificent views.
When you arrive at Emerald Pond, prepare to be awed. If not by the pond, then by the primitive camp sites with fire rings set up around the pond.
The area was snow-covered when I completed this hike, but I noticed at least three camp sites with stone fire pits. This is an awesome swimming hole, too.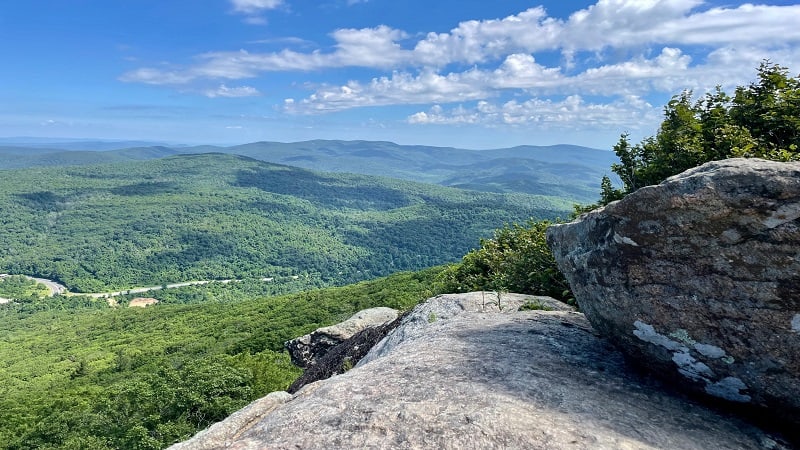 Mary's Rock can be reached from a northbound or southbound section of trail. Both wow hikers with sensational views across the Shenandoah Valley.
Hiking north, park at the Meadow Spring parking lot at milepost 33.5. The leafy trail awes with remains of an old stone chimney and a sparkling stream.
Alternatively, park in the large Panorama parking area at milepost 31.6. You'll find plenty of parking spaces, as well as flush toilets.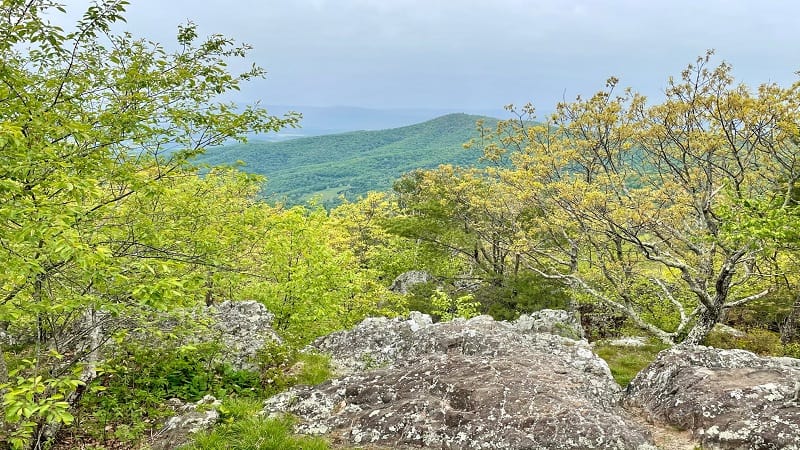 There are three "Pass Mountain" hikes at Shenandoah National Park, but this 1.5-mile round-trip hike leads hikers along the Appalachian Trail.
There's a heart-pumping elevation gain on this section of trail. A short spur trail at the .7-mile mark is frustratingly easy to walk by without much notice.
However, this short trail leads to a rocky overlook with gorgeous mountain views. This is the highlight of one of the best short hikes on Skyline Drive.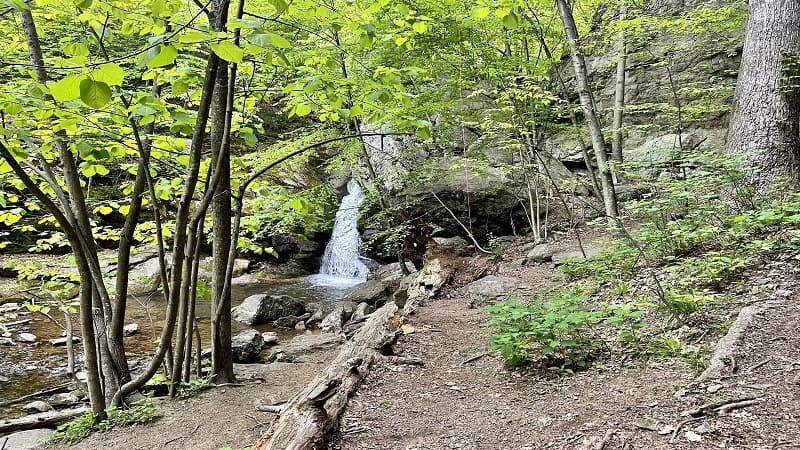 The hike to tumbling Hazel Falls (aka Cave Falls) at Shenandoah National Park sets off from the Meadow Spring parking area.
This 5.2-mile out-and-back hike begins with a descent along the leafy yellow-blazed Hazel Mountain Trail. Enjoy the peaceful burbling of the Hazel River.
Cave Falls boasts a small waterfall, as well as a watering hole. There are cascades and caves, too. This well-shaded area is just right for a lunch break.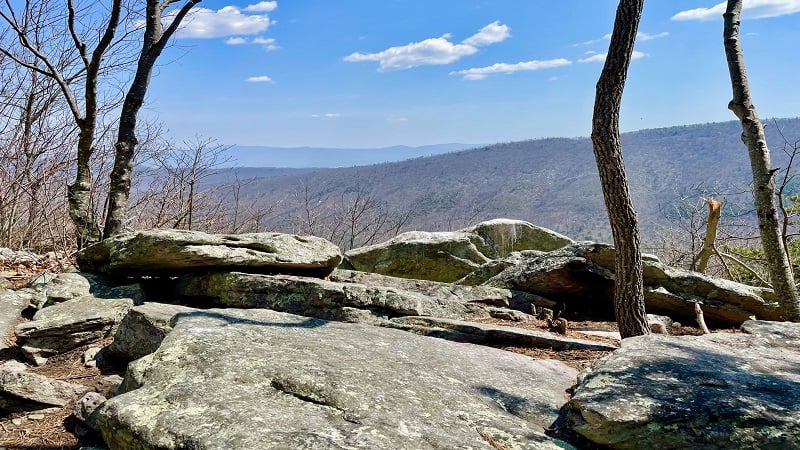 The 2.6-mile out-and-back hike to Jawbone Overlook sets off just across Crisman Hollow Road from the rock scramble hike to Duncan Knob.
A healthy ascent leads to a beautiful rocky overlook with far-reaching views of neighboring mountains. This is a great spot to sit and savor the vistas.
This is one of those hikes where you would have no idea it was there. There is no signage, at least not until you've hiked on faith for over one mile.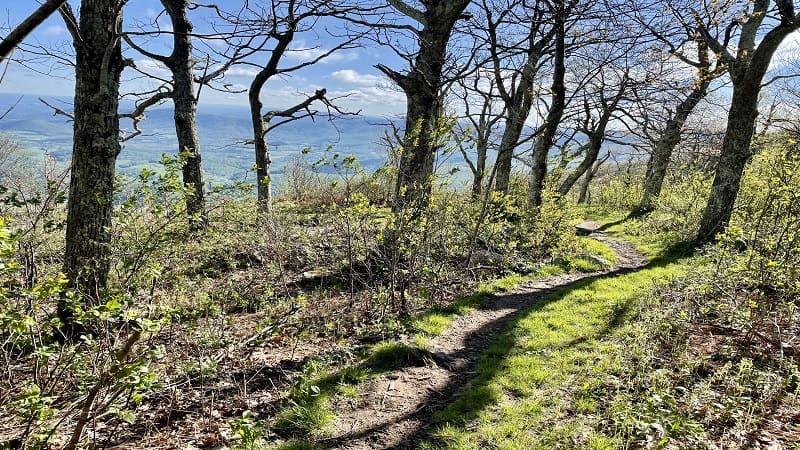 On the 5.1-mile Sugarloaf Loop hike, plan to cross through leafy forest, take in majestic mountain views and hopscotch across streams.
This is a less popular trail, so it's quite serene. A rocky outcrop at the .6-mile mark quickly rewards with spectacular mountain vistas.
Continue on and you'll reach a second outcrop at the 1.6-mile mark. The views are equally fantastic. You'll also spend some time on the Appalachian Trail.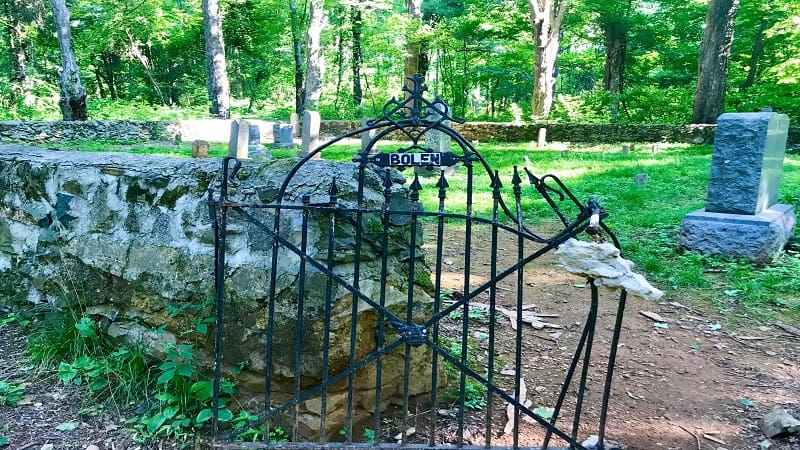 The 6.0-mile loop hike at Little Devils Stairs is located outside Shenandoah National Park, accessible only by way of a boundary trailhead.
Tackle this hike counter-clockwise in order to fully enjoy more than a half-dozen stream crossings, rock scrambles and cascading falls.
On the back-half of this hike, an overlook wows with scenic views across the Shenandoah Valley. Look for the family cemetery with a wrought-iron gate.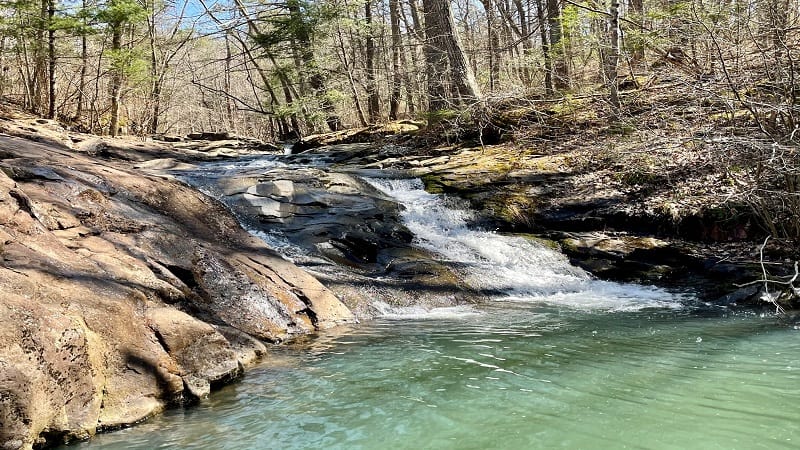 This 8.8-mile hike begins on the Thompson Hollow Trail. At the 1.0-mile mark, turn right on the Beecher-Overall Run Trail. Don't miss the swimming hole.
Continue on to catch your first glimpse of 93-foot-tall Overall Run Falls from a rocky overlook at the 5.7-mile mark.
In a few more steps, you'll reach the first of three wide-open overlooks with gram-worthy mountain views across Shenandoah National Park.
Strenuous Hikes
For a real challenge, as well as wildly scenic views, these strenuous hikes near Luray are in order. Don't forget to bring plenty of water, too.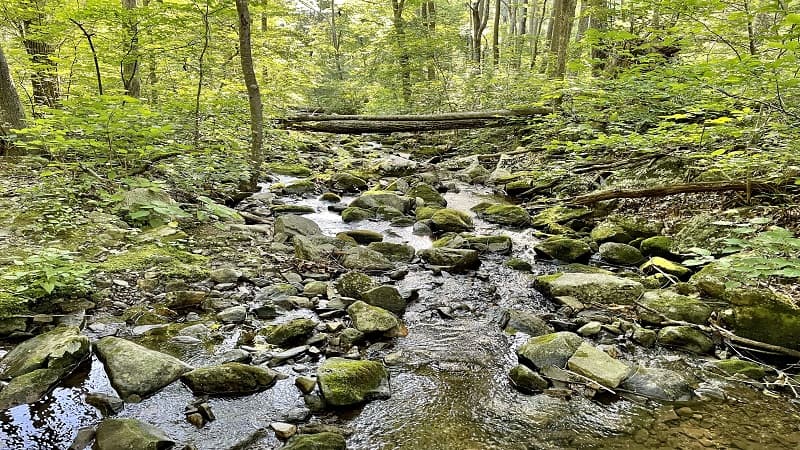 This 6.1-mile loop hike boasts flowing water views along the Buck Hollow Trail, but also more than 600 steps at the start of the Buck Ridge Trail.
Yes, more than 600 steps (I counted). It was a bit intimidating, but in summer, refreshing breezes that were absent in the hollow reward hikers.
Hike this loop at Shenandoah National Park in late-fall or winter when the leaves have fallen. You'll enjoy fantastic views no longer obscured by foliage.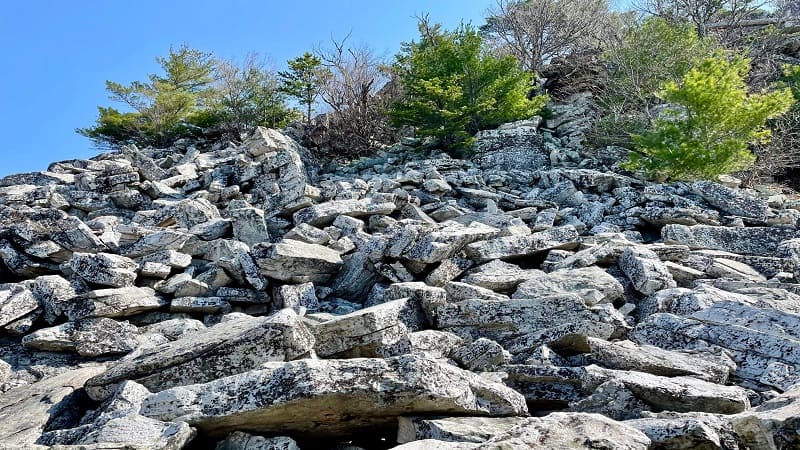 If you like rock scrambles, you will love Duncan Knob in Virginia's Shenandoah Valley. It's literally like a mini Devil's Marbleyard.
This hike zigzags along the Gap Creek Trail until the 1.5-mile mark. At this point, turn left onto a white-blazed spur trail. The real fun is about to begin.
At the 1.8-mile mark, you are all in at the rock scramble. Take your time and mind your footing. Far-reaching mountain views await the worthy.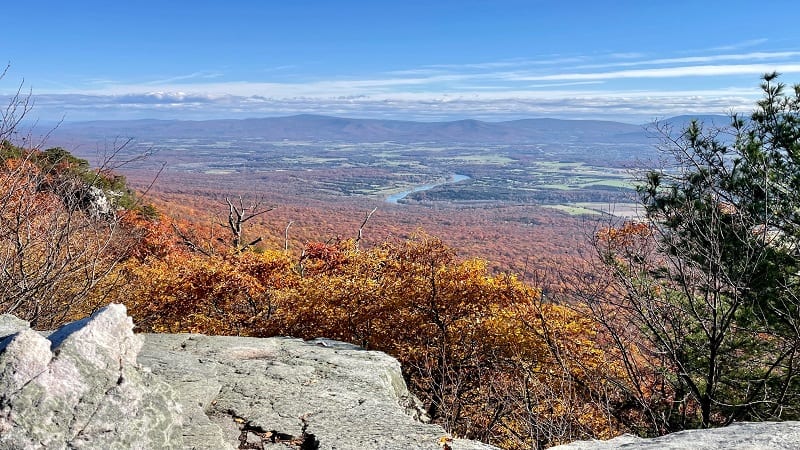 The hike to Strickler Knob may be strenuous, but it's worth every ounce of effort for the scenic ridgeline vistas and views from atop Strickler Knob.
Begin on the Scothorn Gap Trail, but be prepared for an early water crossing. You may get wet after an overnight rain shower if you arrive unprepared.
The last mile of this hike along the Strickler Knob Trail is rocky, so mind your footing and keep your eyes open for bright pink blazes on the rocks.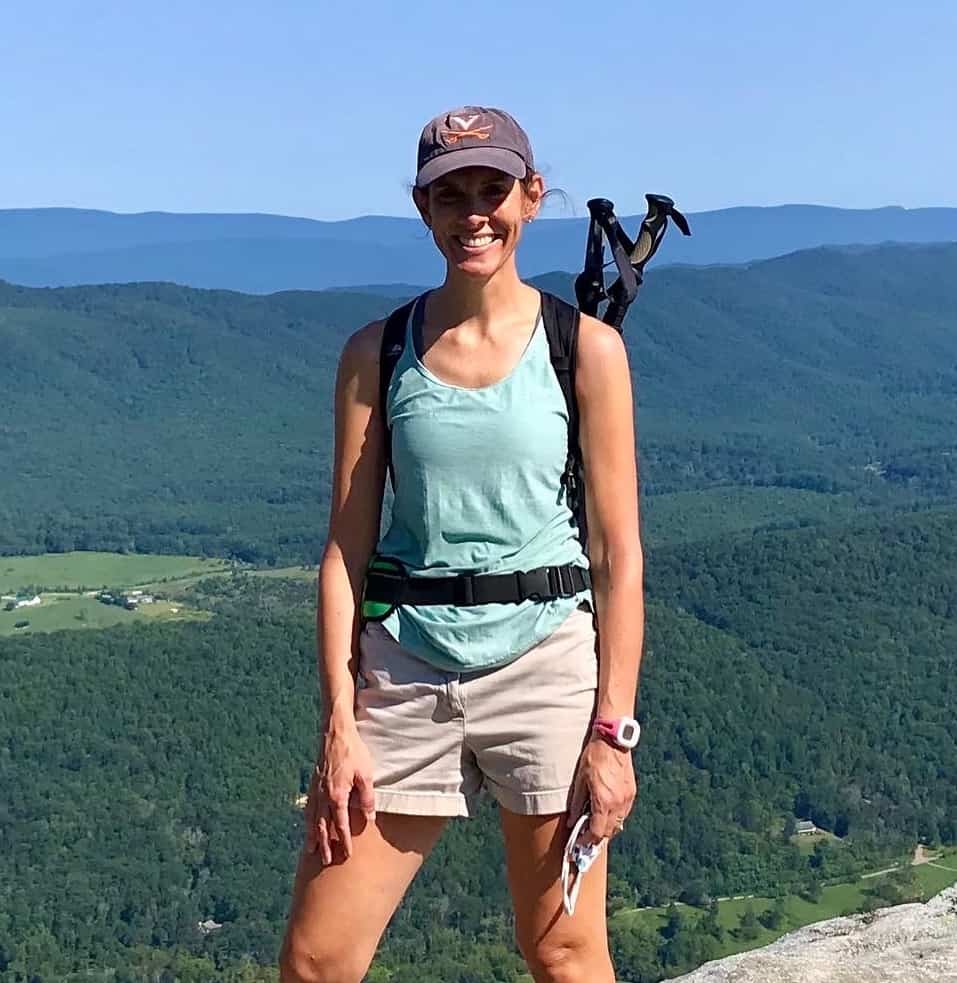 Erin Gifford is the editor of Go Hike Virginia. She has completed more than 300 hikes in Virginia. She is also the author of three hiking guidebooks from Falcon Guides. Need help finding a hike? Check out the Trail Finder feature or send Erin a message.