Massanutten Trail: Hike to Yellow Cliffs Mountain Overlook in New Market, Virginia
Recently, I set off to hike the Massanutten Trail. This time I hiked south from one of several parking areas on State Route 211, east of New Market.
There are at least three parking lots on State Route 211 (Lee Hwy) that offer access to the orange-blazed Massanutten Trail.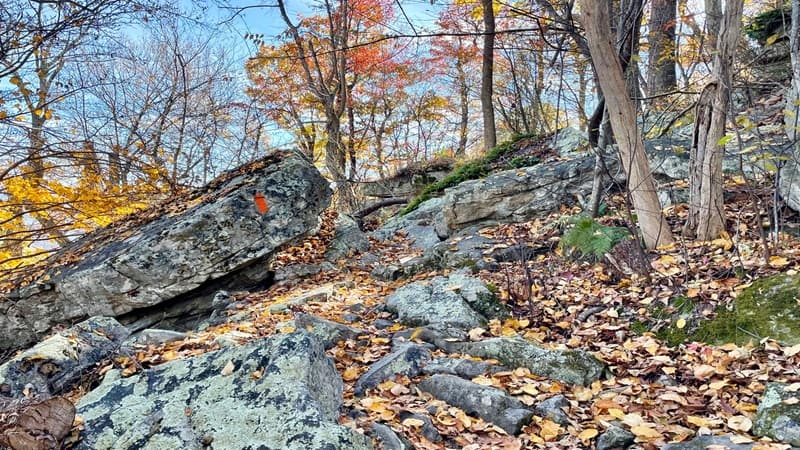 The last time I was in this area I hiked to Emerald Pond, a beautiful spring-fed pond that boasts several camping spots along the water's edge.
This time, I re-traced some of the same steps, landing at what some refer to as Yellow Cliffs Mountain Overlook. At least, that's what AllTrails tells me.
To be honest, I couldn't find a topo map identifying the rocky overlook as Yellow Cliffs Mountain Overlook. However, it's got amazing views.
| Trail Stats | |
| --- | --- |
| Length | 6.1 miles |
| Difficulty | Moderate |
| Trail Type | Out-and-Back |
| Elevation Gain | 1,660 feet |
| Duration | 4-5 hours |
| Terrain | Mostly dirt & rock trails, some rock scramble |
| Dog-Friendly | Yes |
| Fee | Free |
| Driving Directions | Click Here |
Massanutten Trail Parking Area
For this hike, park at a large parking lot adjacent to State Route 211. There are no signs, but if you click the Driving Directions above, you'll get there.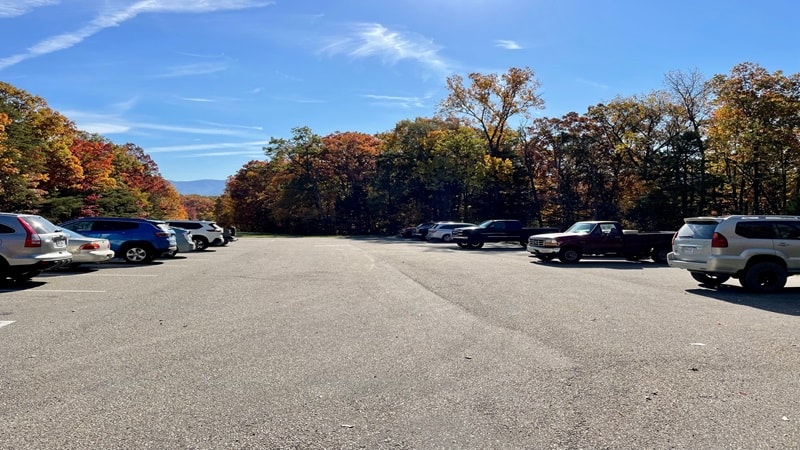 The trailhead is on the north end of the lot. Look for the orange blaze that marks the trail, which descends into the George Washington National Forest.
The first few steps are quite steep. They can also be slippery with fallen leaves, so mind your footing as you begin this hike.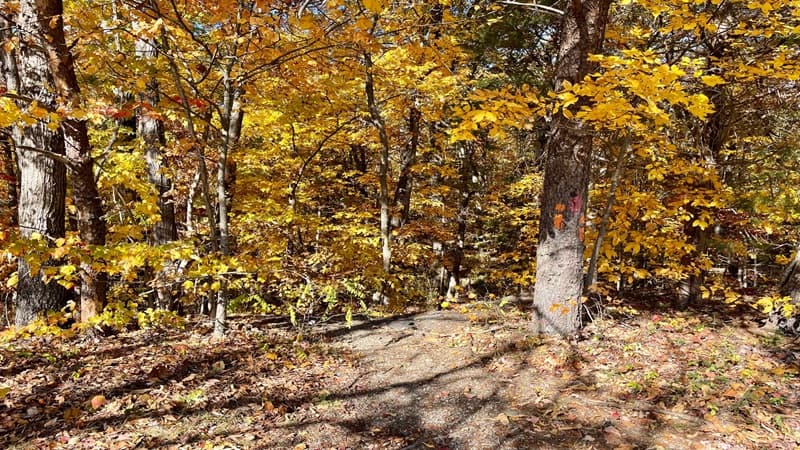 If you are able to do so, bring along a trash bag as there was quite a bit of trash in the parking lot. I imagine it got blown over to the lot from the road.
Massanutten Trail
The Massanutten Trail goes by several names, including Massanutten South Trail and Massanutten Mountain Trail. I have no idea why this is the case.
Generally, if you just follow the orange blazes, you should be fine. It's a very well-marked hiking trail, in my opinion.
The first 1.6 miles is a breezy walk in the forest. There's a mild ascent and the trail is somewhat rocky, but it's an enjoyable walk through the woods.
At the 1.6-mile mark, the trail merges with the salmon-blazed Browns Hollow Trail. This is more important to note on the return, as it can be easy to miss.
It's odd the blaze colors are so similar, but veer right and you'll continue to be going in the right direction. The trail also widens here to more of a fire road.
You'll then pass a service road on the right, which leads to another parking lot on State Route 211. At the 1.8-mile mark, there is a small picnic shelter.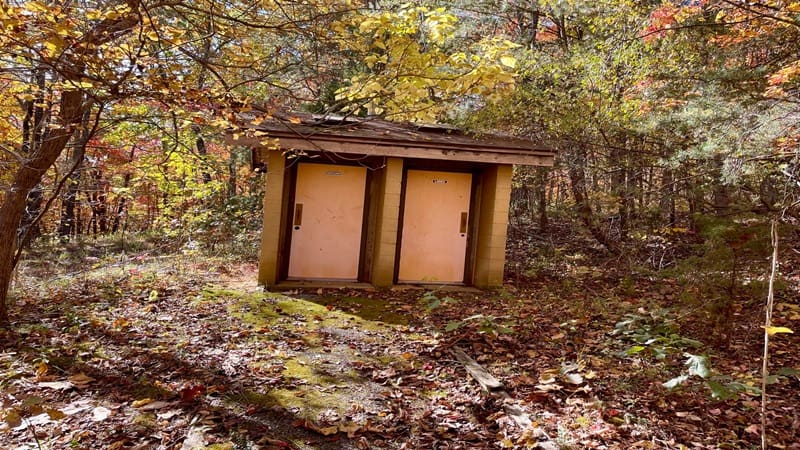 Just steps from the trail there are also vault toilets. You can see them through the trees. Even better, the forest service continues to re-stock the toilet paper.
Wildflower Trail
At this point, turn left onto the Wildflower Trail. If you were to keep straight ahead, you'd walk 0.3 miles on this white-blazed hiking trail.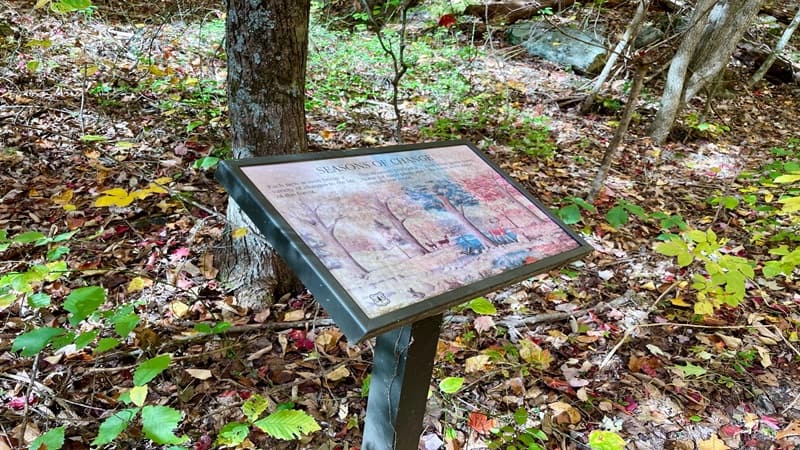 The Wildflower Trail dead ends at the parking lot for a one-time Massanutten Visitor Center. There are several educational placards along this nature trail.
So, turn left at the big "Wildflower Trail" sign. From here, it's 0.2 miles until you turn left and you're back on the orange-blazed Massanutten Trail.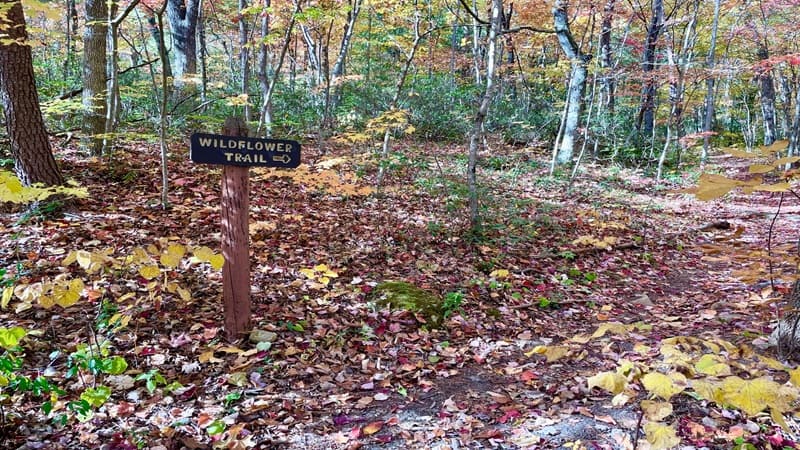 From here, it's a fairly steep climb. It's about a 900 foot elevation gain over the next mile to the first overlook across the Shenandoah Valley.
But first, you'll encounter some mild rock scrambles. To be honest, they look daunting, like nearby Duncan Knob, but they are quite manageable.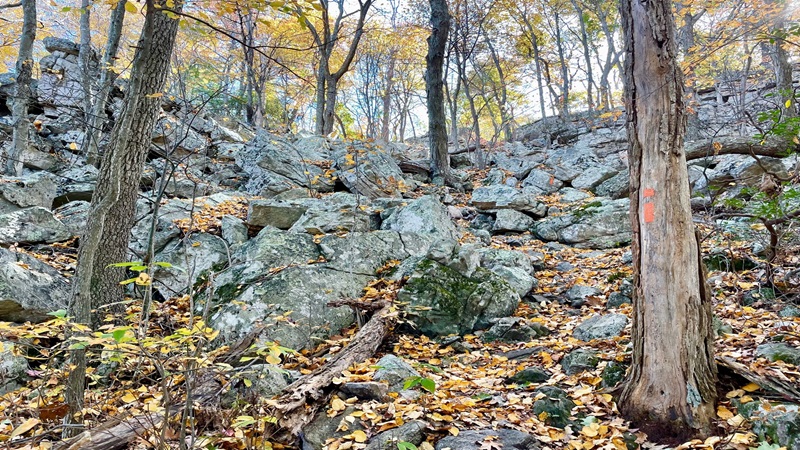 The hiking trail weaves through the rock scramble. You can't see that from the bottom, but once you do, you'll realize it's a cinch to navigate to the top.
Yellow Cliffs Mountain Overlook
At the 3.0-mile mark, you'll see a narrow spur trail on the right. This leads to west-facing vistas across the valley, affording views of the working farms.
A larger overlook is just a few steps further up the trail. You'll see lots of flat rocks to take a much-deserved break. Plan to re-fuel and re-hydrate here.
At this point, re-trace your steps to the parking area on State Route 211 for a 6.1-mile out-and-back hike to Yellow Cliffs Mountain Overlook.
If you were to continue on, it's a 0.8-mile walk to connect with the Bird Knob Trail. From there, it's another 2.1 miles to reach Emerald Pond.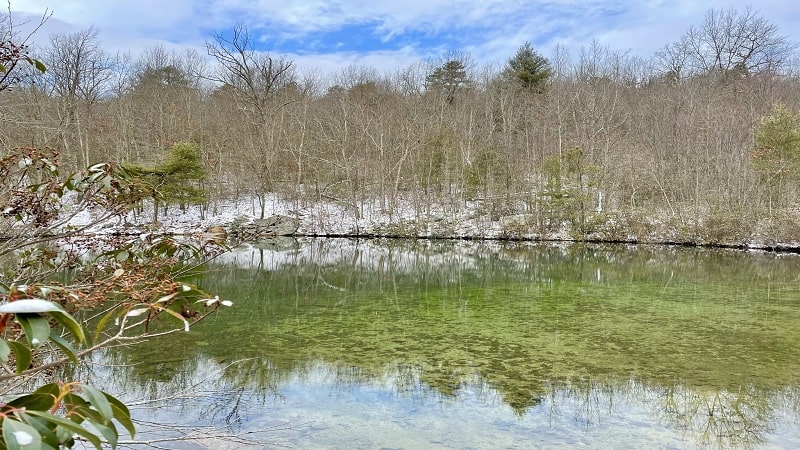 At 11.9 miles, that would be a fairly long hike to Emerald Pond. However, if you start at the Massanutten Visitor Center, it's an 8.4-mile out-and-back hike.
Wrap-Up Notes
From the parking area, this hike took me nearly three hours, including time spent ogling the views and chatting with a fellow hiker on the way to the cliffs.
Aside from this one hiker, I didn't see any other hikers, despite a rather full parking lot when I arrived for my hike to Yellow Cliffs Mountain Overlook.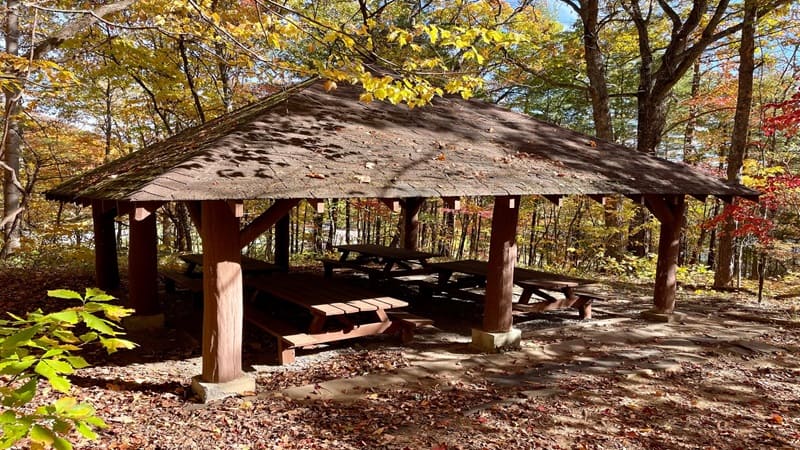 This is a great lesser-known hike on the Massanutten Trail. I imagine many leaf peepers were at Shenandoah National Park when I saw just one other person.
There are lots of other great hikes in this area too, including Strickler Knob, Massanutten Storybook Trail, Kerns Mountain and Copernicus Ridge.