Duncan Knob: A Rock Scramble Hike with Rewarding Views Near Luray, Virginia
If you like rock scrambling, you will love Duncan Knob hike near Luray in Virginia's Shenandoah Valley. At the top, it's like a mini Devil's Marbleyard.
I'll be honest, though I'd read up on the hike (a little bit), I was not prepared for the rock scramble. I actually started up, then turned back, unsure what to do. Eek.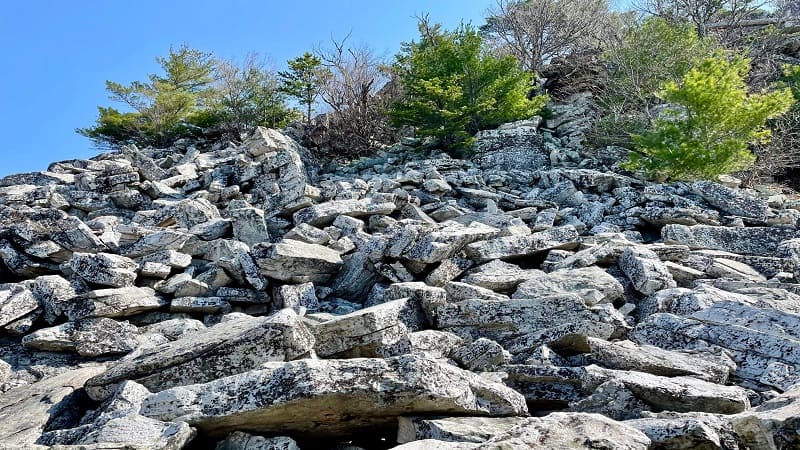 There were just so many rocks. Worse, I was nervous about snakes. Thankfully, none opted to make themselves known on my way up or down the rock scramble.
I was so glad I ended up swallowing my fears and slowly making my way to the top because the wide-open views were outstanding. They were five stars, my friends.
| Trail Stats | |
| --- | --- |
| Length | 3.8 miles |
| Difficulty | Strenuous |
| Trail Type | Out-and-Back |
| Elevation Gain | 1,122 feet |
| Duration | 2-3 hours |
| Terrain | Mostly dirt & rock trails, rock scramble |
| Dog-Friendly | Dogs are allowed, but the final rock scramble will be a real challenge with a dog. |
| Fee | Free |
| Driving Directions | Click Here |
Gap Creek Trail
Like the hike to the scenic overlook near Kerns Mountain, you can only access the trailhead for this hike on the Gap Creek Trail by way of Crisman Hollow Road.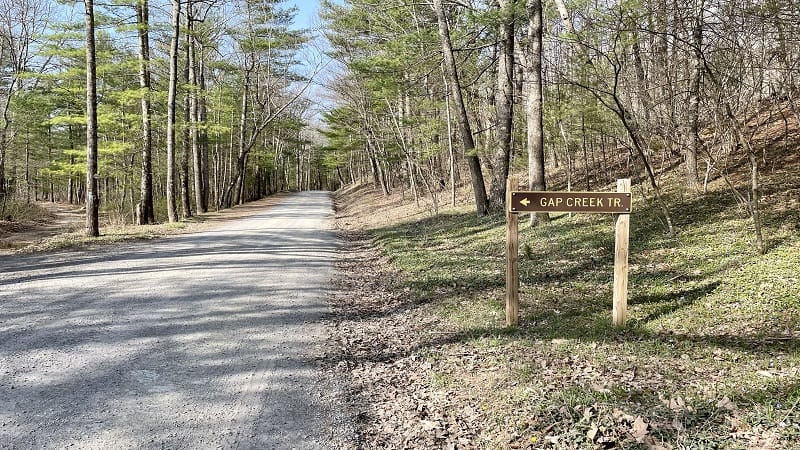 I first attempted this hike when the road was closed. Crisman Hollow Road is closed February 1 to the Friday before Youth Spring Turkey Season in April.
This time, the "Road Closed" barrier was open and I was free to drive in and park parallel alongside the Gap Creek Trail sign. There is no real parking lot for this hike.
You will take the Gap Creek Trail to Duncan Knob. Note the trail looks more like a service road. Cars can pull in as there is a camping site in a few steps.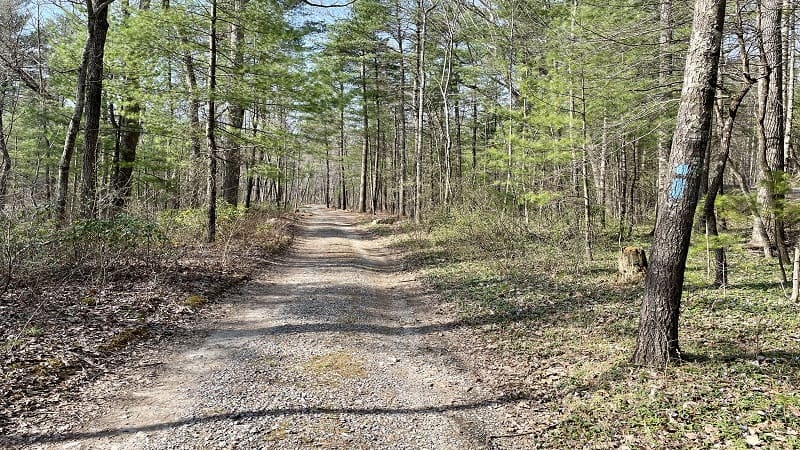 At the .1-mile mark, you will reach a dispersed campsite with a stone fire ring set alongside Passage Creek. It's open with enough room for two or three tents.
There is enough room for a car or two to park, making this a nice site for a car camping adventure. In a few more steps, you will cross over a wooden bridge.
From here, the Gap Creek Trail ascends in earnest along a rugged switchback-laden trail. Keep your eyes open. You may see more than just hikers on this trail.
In fact, both horseback riders and mountain bikers can use this trail. For mountain bikers, this trail is very challenging since it's both rather rocky and quite steep.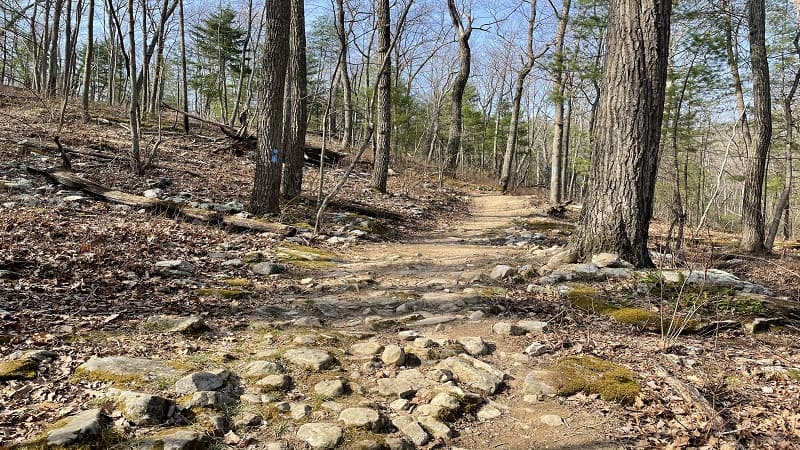 Continue climbing this light blue-blazed trail. It's definitely a slog and you (like me) may need to stop to take a break here and there on the way up to Duncan Knob.
At the 1.3-mile mark, the Gap Creek Trail meets the yellow-blazed Scothorn Gap Trail. This trail comes up from the south. Turn left for the Gap Creek Trail.
A stone fire ring appears on the right-hand side at the 1.5-mile mark. Here you'll turn left to follow the white-blazed spur trail to Duncan Knob.
But first, you'll reach another dispersed campsite with a stone fire ring at the 1.6-mile mark. This is just steps from the rock scramble.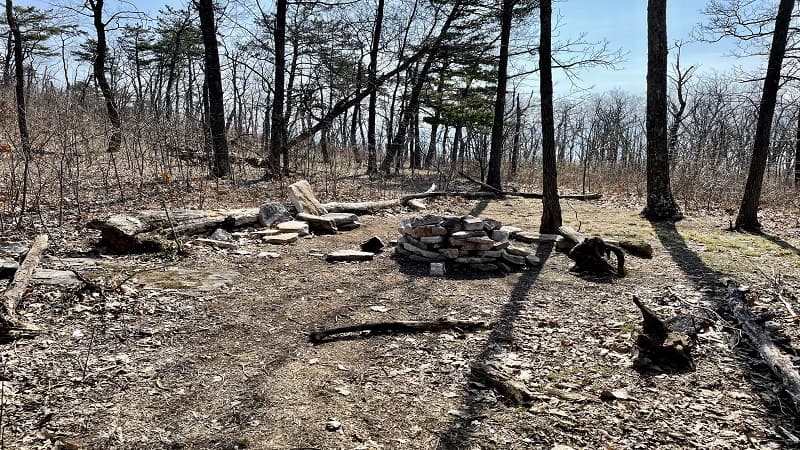 Duncan Knob
The trail begins to get much more rocky. Then, at the 1.8-mile mark, you are all in at the massive Duncan Knob rock scramble.
Take your time and mind your footing. As I ascended the rock pile, I stepped on more than a few large rocks that moved when I placed my foot on them. Eek.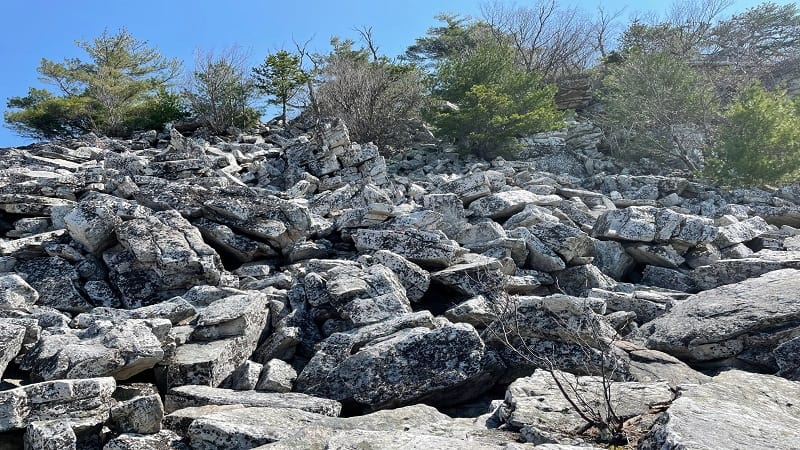 I started up once or twice, turning back with a feeling of self-doubt. You'll wonder whether you're going the right way, but really, there is no right way to the top.
When I eventually made it to the top, I breathed a huge sigh of relief and then began to explore at the top. There is a fantastic stone fire ring and a campsite.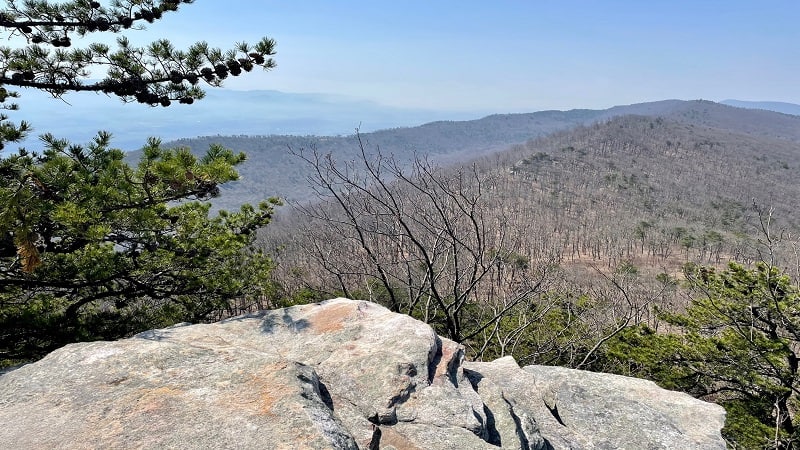 You'll also be wowed by the far-reaching mountain views across the George Washington National Forest. I could have sat on top of Duncan Knob for hours.
However, that may have been because I was not super eager to climb back down the massive field of rocks. Thankfully, it was not as challenging as I expected.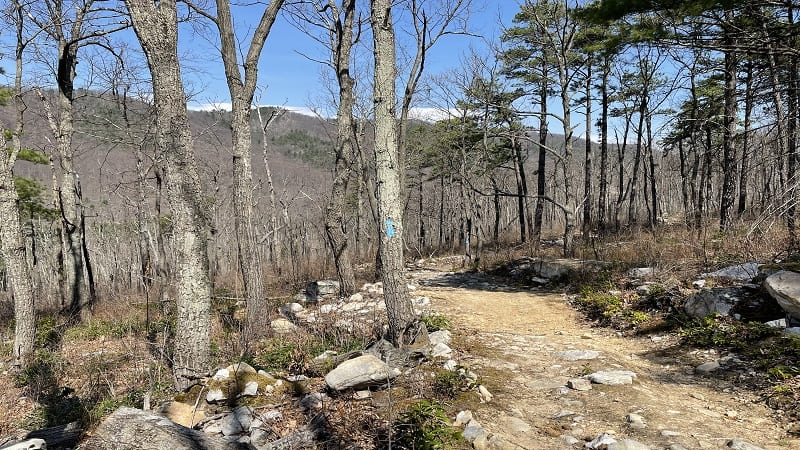 Once you reach the bottom, simply re-trace your steps to your vehicle. It will be all downhill to the end. Thank goodness.
Wrap-Up Notes
From the parking area, this hike took me two hours to complete, including time spent pondering whether I could climb to the top of Duncan Knob.
There are several other hikes on Crisman Hollow Road, including Storybook Trail (.7 miles), Strickler Knob (5.8 miles) and Jawbone Overlook (2.6 miles).
The scenic Kerns Mountain hike (2.2 miles) runs along the orange-blazed Massanutten Trail. One more first-rate hike near Luray is Kennedy Peak.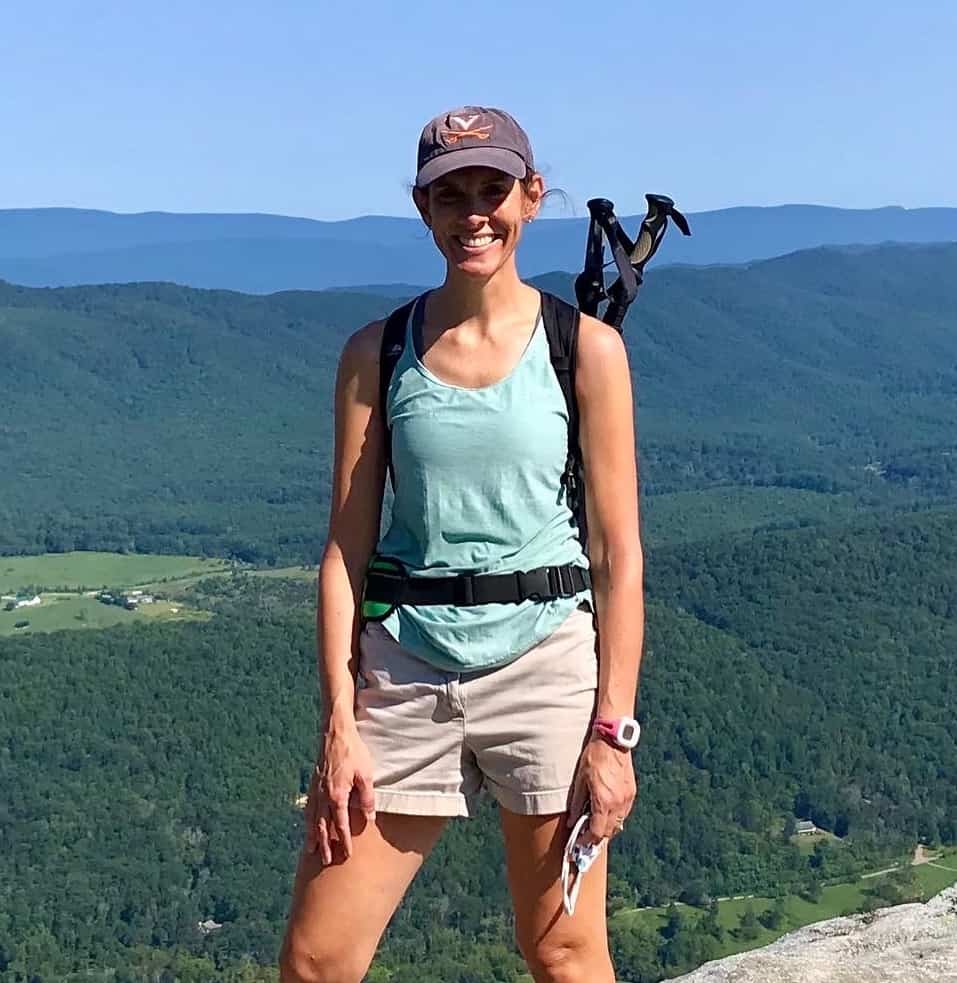 Erin Gifford is the editor of Go Hike Virginia. She has completed more than 300 hikes in Virginia. She is also the author of three hiking guidebooks from Falcon Guides. Need help finding a hike? Check out the Trail Finder feature or send Erin a message.