Devil's Marbleyard: A Massive 8-Acre Rock Scramble for the Ages
The 4.0-mile out-and-back hike to Devil's Marbleyard via the Belfast Trail near Natural Bridge does not disappoint. But, be prepared to give this hike your all.
I tackled this hike with RVA Hiker Girl (click through to subscribe to her hiking videos on YouTube). This rock scramble hike is one for the record books.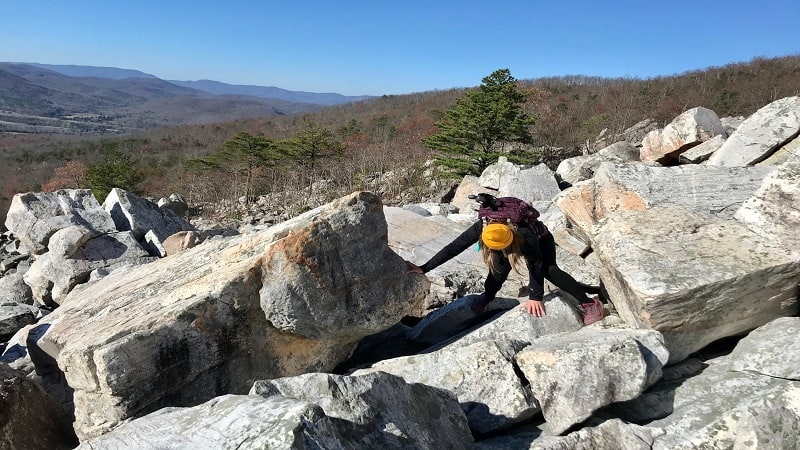 I knew there would be a lot of rocks to climb up, over, around – many as large as cars. However, I underestimated how many boulders there would be.
I hike at a pretty good clip – not too fast, not too slow – but this scramble still took me 90 minutes to reach the top. And, we didn't even start at the very bottom.
Those who like rock scrambles will love this hike, but what I was most enamored with was that Devil's Marbleyard is like one gigantic puzzle. Maybe a chess match.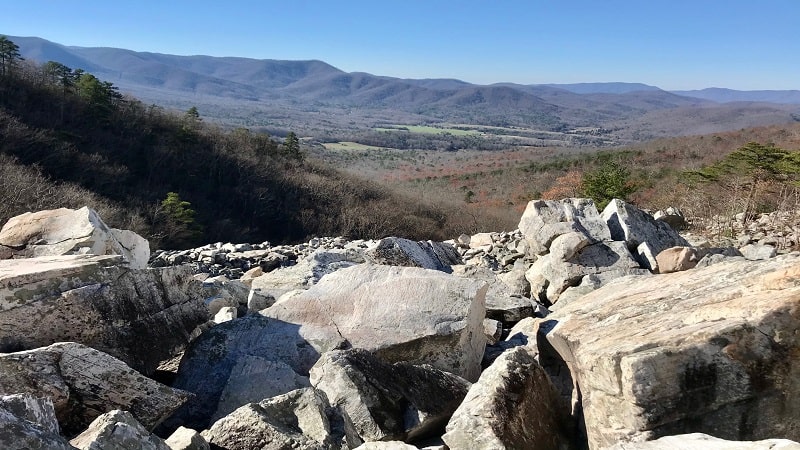 This hike demands focus, strategy, resilience. Each move requires that you know the next two or three moves as you ascend the fairly steep, rocky slope.
It was a super-size scramble. One that may have been created many years ago by frost wedging, when water froze and broke large rocks down over time.
This hike is bucket list-worthy, though I do have a few caveats to keep in mind before you tackle one of the hardest hikes in Virginia. More on this below.
| Trail Stats | |
| --- | --- |
| Length | 4.0 miles |
| Difficulty | Strenuous |
| Trail Type | Out-and-Back |
| Elevation Gain | 1,345 feet |
| Duration | 5-6 hours |
| Terrain | Mostly dirt & rock trails, rock scrambles |
| Dog-Friendly | No |
| Fee | Free |
| Driving Directions | Click Here |
Devil's Marbleyard
For such a popular hike in the George Washington and Jefferson National Forest, I was surprised by how few parking spaces are available. Just eight, I'd say.
That noted, get there early if you want to hike this one. Jacqueline (RVA Hiker Girl) and I completed this mid-week. It was quiet, but we did see two other couples.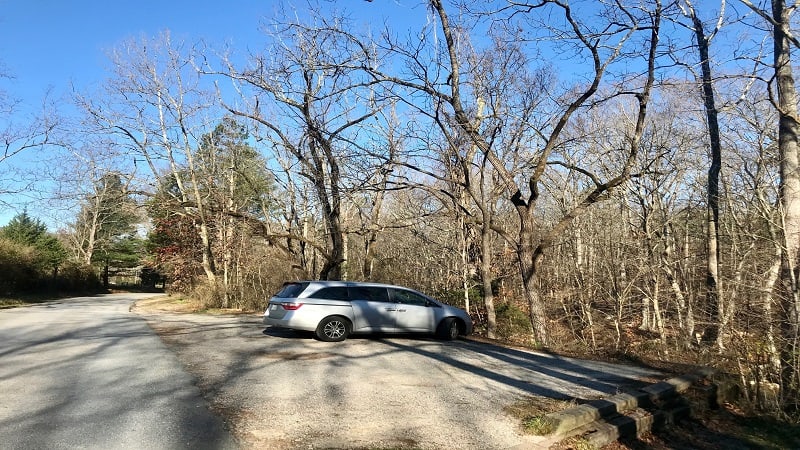 Speaking of couples, bring a buddy on this hike. I was planning to go alone, but was glad that Jacqueline was eager to tag along to create a video of this hike.
With so many rocks, I can see how easy it would be to sprain an ankle or twist a knee with one false move. Rescue crews have been called in for hikers before.
Along these lines, be smart when it comes to rain. I'm certain these massive rocks get slippery with even the lightest rain. Save this hike for precipitation-free days.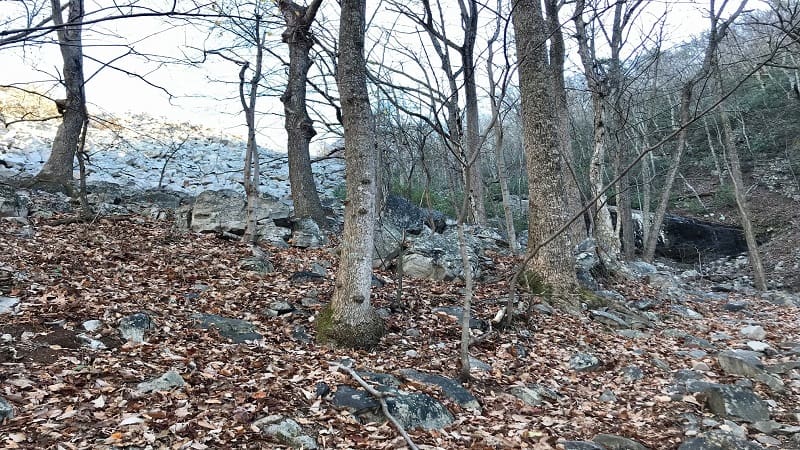 Also, wear appropriate footwear. No sandals or flip-flops. Think about shoes or boots with solid ankle support and good traction for this hike in Virginia.
Belfast Trail
This geology-oriented hike begins along the blue-blazed Belfast Trail with a short walk across a wooden bridge over gently flowing Elk Creek.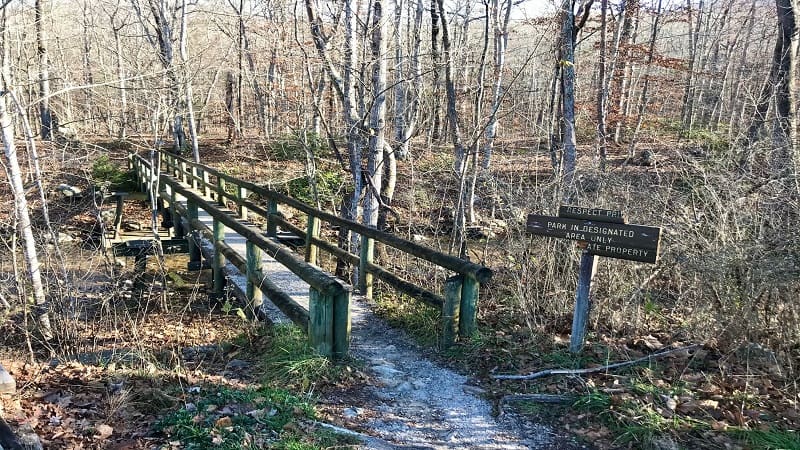 In a few steps, you'll pass through what was once the gateway to Camp Powhatan, a Boy Scout camp that operated here from 1921 to 1949.
The camp relocated to Pulaski County in 1960, but a large camping area remains. Some say you can hear the laughter of scouts in the breeze and burbling creek.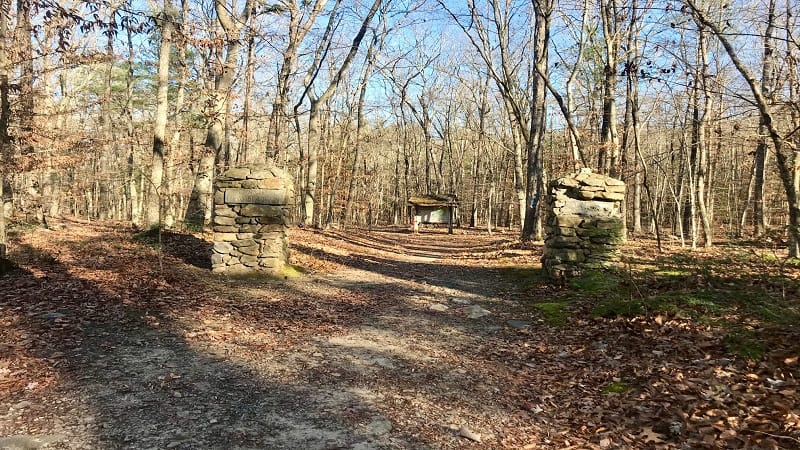 Following the blue blazes, cross Belfast Creek into the James River Face Wilderness at the .2-mile mark. Then, a fork in the trail. Stay right for the Belfast Trail.
Cross a second – slightly more challenging – creek at the .9-mile mark as you slowly ascend the trail on the way to the rocky slope that is Devil's Marbleyard.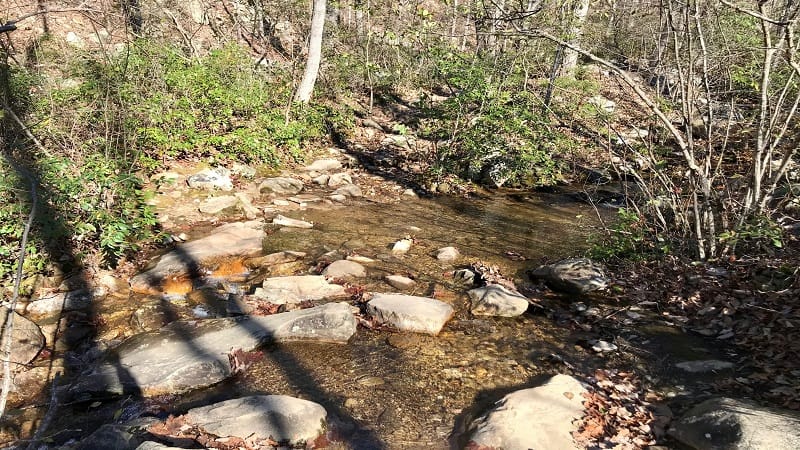 At the 1.3-mile mark, the trail veers to the right. You may think you're passing the field of rocks. Then, a scrubby entrance on the left at the 1.5-mile mark.
You have two options. You can continue up the Belfast Trail to the top of Devil's Marbleyard. Or, step out onto the rocks for the climb across a boulder field.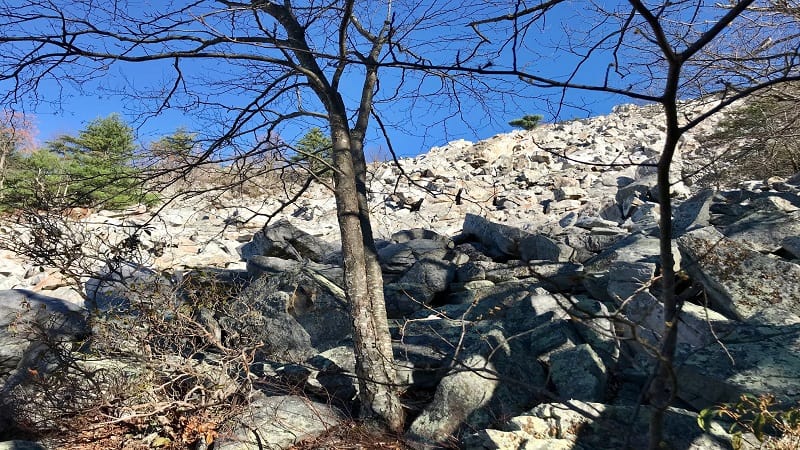 The drive for each of us was three hours to reach Devil's Marbleyard. So, of course, we were both up for this rock scramble challenge for the ages.
As I noted, it took 90 minutes to climb the rocks to the top, always weighing pros and cons of routes to take on the way to the top. Step on this rock or that rock?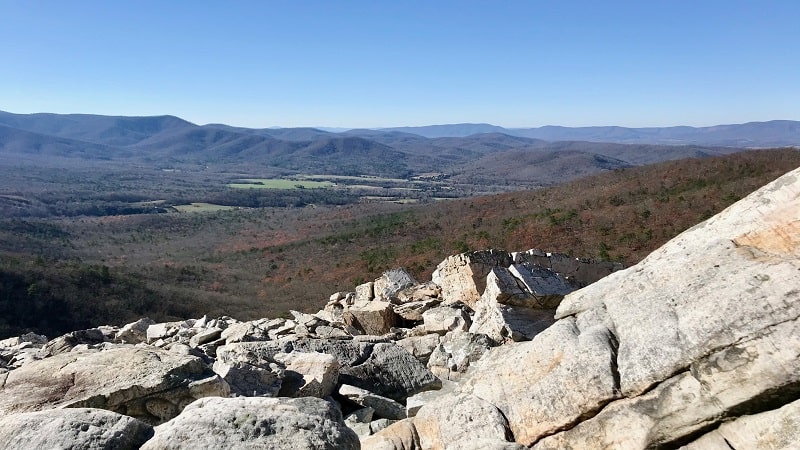 Before I forget, the views. On the way up, safely swivel around every so often to savor the most fantastic panoramas of the Arnold Valley. Gorgeous.
You will eventually reach the top of Devil's Marbleyard. However, along the way, you will feel several times as though you will never scramble the final boulder.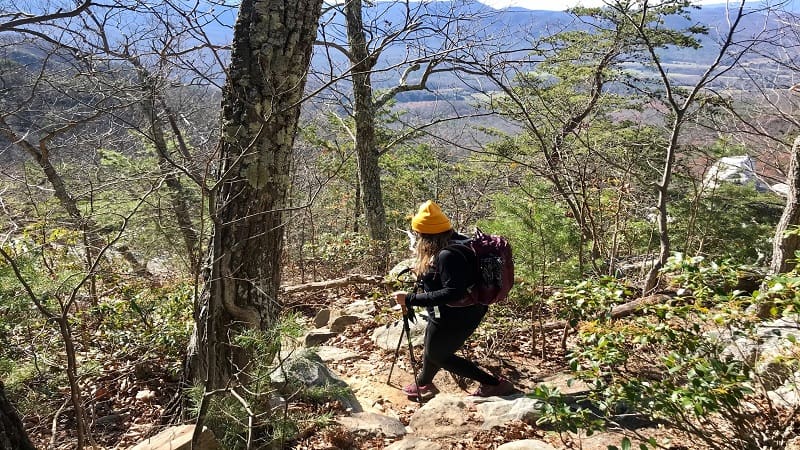 We reached the top at the 2.0-mile mark and rewarded ourselves with a well-deserved snack. Now, you have a choice to make (once re-fueled, of course).
You can scramble back down the rocks (no, no, no). Or, you can carefully hike back down a leaf-laden ravine that follows alongside Devil's Marbleyard.
There is a third option. If you want to get in more steps, you can continue north on the Belfast Trail. In less than 1.0-mile, the trail bisects the Gunter Ridge Trail.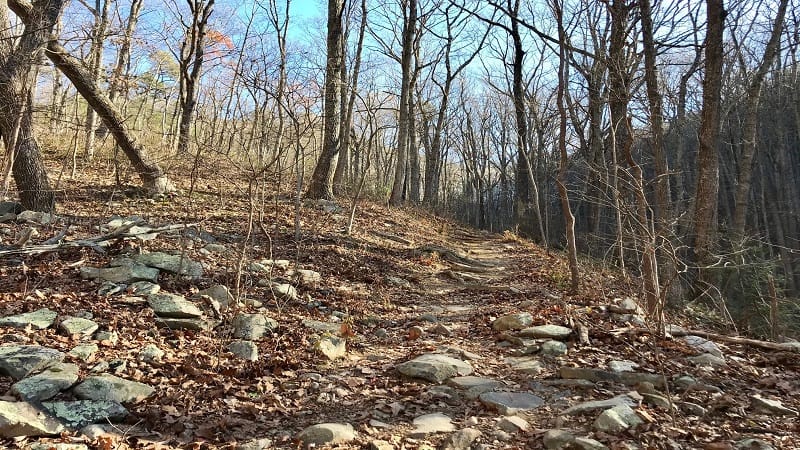 If you were to turn right, the trail would eventually connect with the Appalachian Trail to Petites Gap and Thunder Ridge Wilderness in the Blue Ridge Mountains.
However, there is no loop option. You will need to hike back down the ravine (or scramble rocks) to return to the parking area in Natural Bridge Station.
Wrap-Up Notes
From the parking area, this hike took us nearly five hours to complete, though that does include a minor accidental detour down the wrong path (my bad).
Devil's Marbleyard is located on Petites Gap Road in Natural Bridge Station. Once you pass the Natural Bridge Country Store, turn right on Arnold Valley Road.
This is also known as State Route 759. In three miles, turn left on Petites Gap Road (State Route 781) and the parking lot appears on the left in one mile.
Be sure to bring trail mix, granola bars, water, even lunch on this hike. There's nothing especially close by, at least not for post-hike snacks and sips.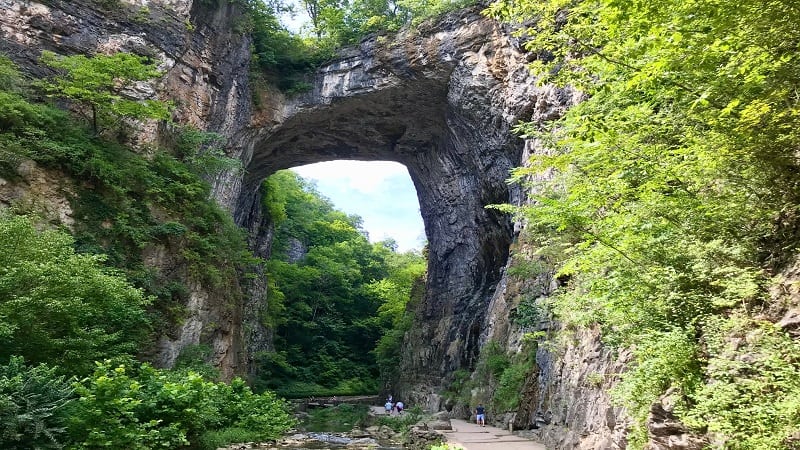 If you have time, stop by Natural Bridge State Park. It's less than a 15-minute drive to pop by for a glimpse of the park's namesake 215-foot-tall limestone arch.
The entrance fee is $9 per adult (ages 13 and up) and $6 per child (ages 3-12). The fee is higher than all other state parks, but the views are beyond rewarding.
Make it a weekend by camping at the Cave Mountain Lake Recreation Area. It's a short 6-minute drive from the trailhead for the Devil's Marbleyard hike.
Note that the recreation area and family campground are open from April 1 to October 31. There are 40 rustic sites for tents and travel trailers (up to 36 feet).
Eager for more hikes in Virginia? Check out my favorite hikes near Roanoke and hikes near Lexington.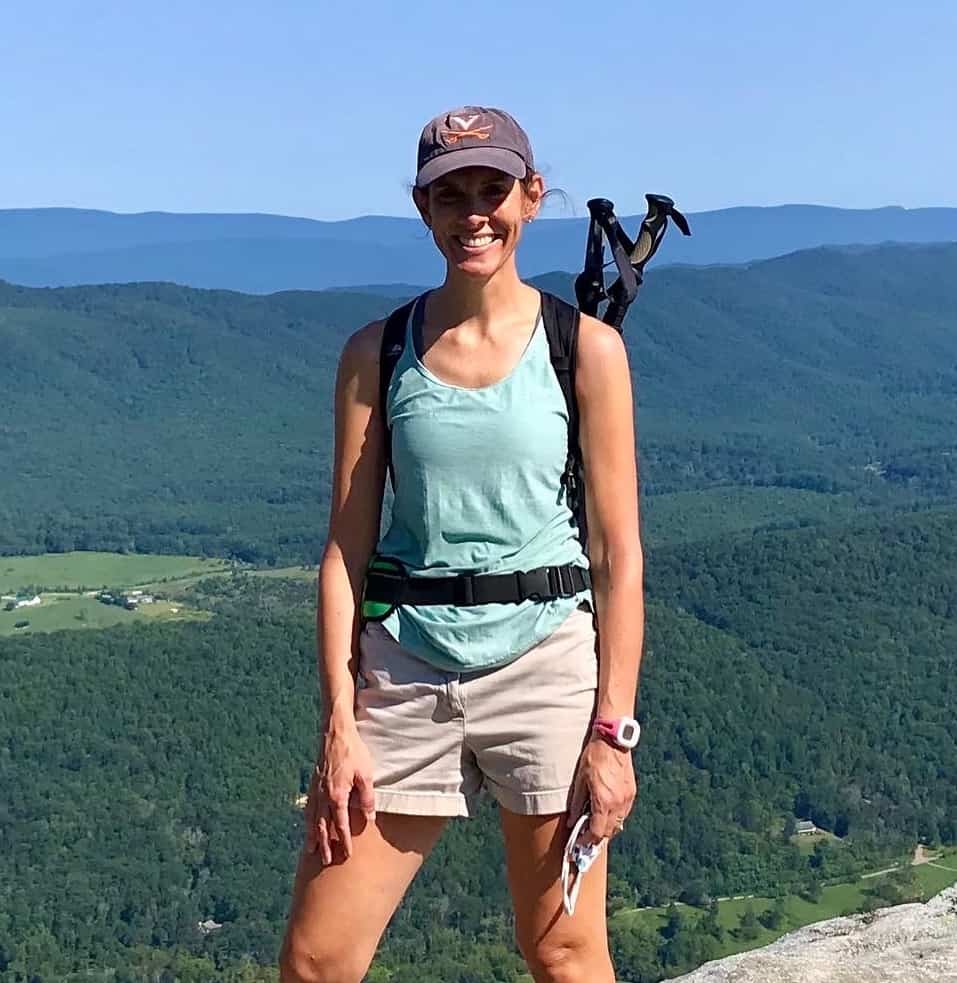 Erin Gifford is the editor of Go Hike Virginia. She has completed more than 300 hikes in Virginia. She is also the author of three hiking guidebooks from Falcon Guides. Need help finding a hike? Check out the Trail Finder feature or send Erin a message.