Strickler Knob: An Eye-Pleasing Rock Scramble Hike Near Luray, Virginia
The Strickler Knob hike near Luray, Virginia is incredible. I couldn't believe I waited so long for such views of the Shenandoah Valley and Massanutten Mountain.
However, it was definitely worth the wait. The rock scrambles are fun, the ridgeline vistas are fantastic and the final overlook at Strickler Knob is spectacular.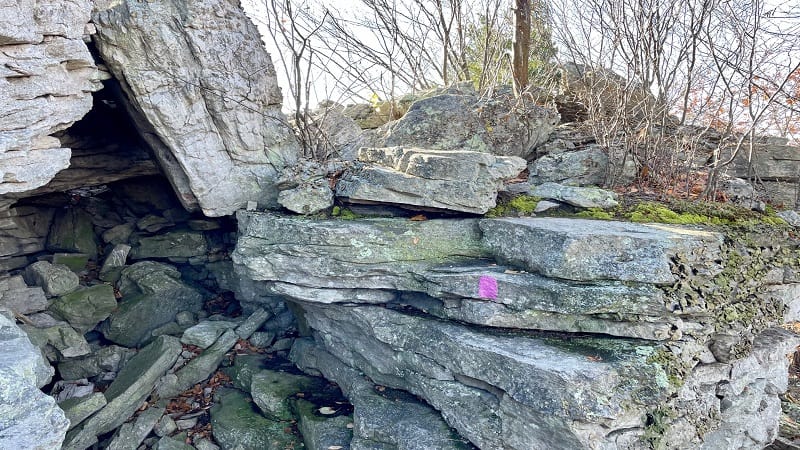 This hike in the Lee Ranger District of George Washington National Forest is one of several hikes near Luray that begin just off gravelly Crisman Hollow Road.
The other wildly scenic hikes include Duncan Knob (3.8 miles), Jawbone Overlook (2.6 miles), Kerns Mountain (2.2 miles) and Storybook Trail (.7 miles).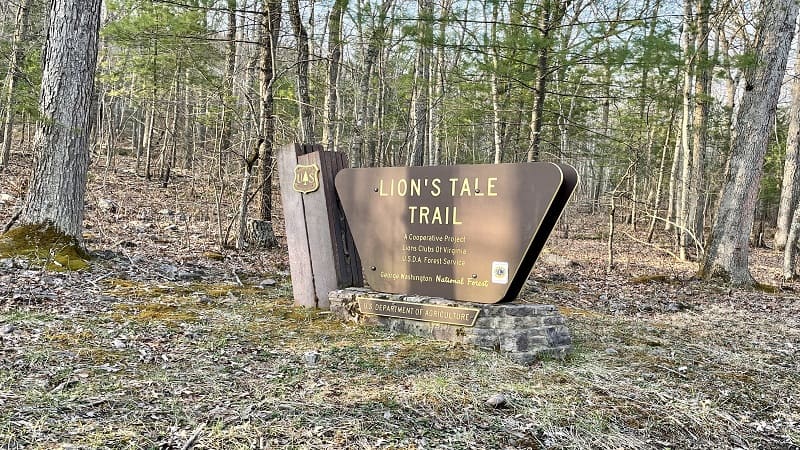 There is one more hike geared toward children, Lion's Tale Trail, which is a .5-mile loop guided (on placards) by Lop Ears the Mountain Lion.
At the trailhead for the Lion's Tale Trail, there is a sizeable parking area, as well as vault toilets. There are no other restrooms along Crisman Hollow Road.
| Trail Stats | |
| --- | --- |
| Length | 5.8 miles |
| Difficulty | Strenuous |
| Trail Type | Out-and-Back |
| Elevation Gain | 1,001 feet |
| Duration | 3-4 hours |
| Terrain | Mostly dirt & rock trails, some rock scrambles |
| Dog-Friendly | Yes |
| Fee | Free |
| Driving Directions | Click Here |
Crisman Hollow Road
Note that Crisman Hollow Road is not open year-round. The road is closed from February 1 to the Friday prior to the start of Youth Spring Turkey Season in April.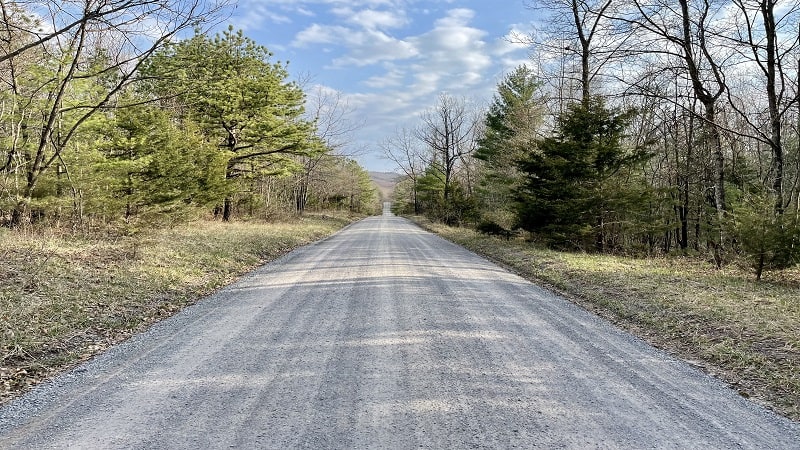 During this period, a "Road Closed" barrier blocks vehicles from proceeding along an 8-mile stretch on the gravel portion of the road.
The Storybook Trail is located just outside the gravel section of Crisman Hollow Road, on the south end of the road. This short paved trail is accessible year-round.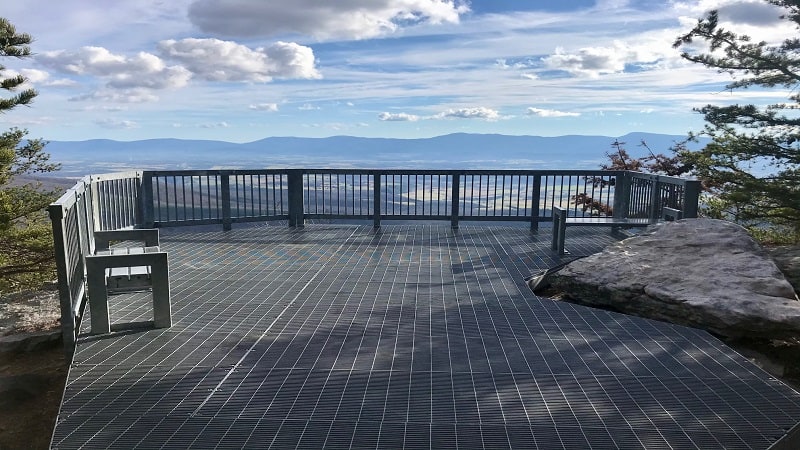 Along Crisman Hollow Road, note the primitive camp sites on either side of the road. There is no charge to camp and all sites are first-come, first-served.
The car camping sites are close to the road and can accommodate both cars and travel trailers. I even saw a mid-size Class C motorhome at one of the sites.
Scothorn Gap Trail
The Strickler Knob trailhead is on the east side of Crisman Hollow Road. Turn left at the sign for the Scothorn Gap Trail. You will see a camp site and parking spaces.
Note that the hike does not begin on the "Strickler Knob Trail" as AllTrails would lead you to believe. The yellow-blazed Scothorn Gap Trail is the place to start.
But first, you will need to cross over Passage Creek. I completed this hike the morning after a rain, so the water levels were higher than I expected them to be.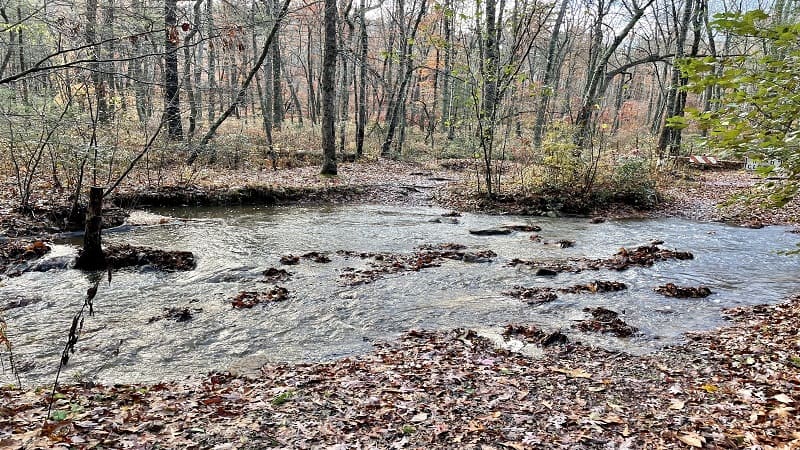 Usually, I can hopscotch across creeks and streams by way of exposed stones, but not this time. Thankfully, I had brought a pair of flip-flops with me.
I stepped on some stones, but both feet ended up in the ankle deep waters before I made it all the way across. This first stretch of trail was once a service road.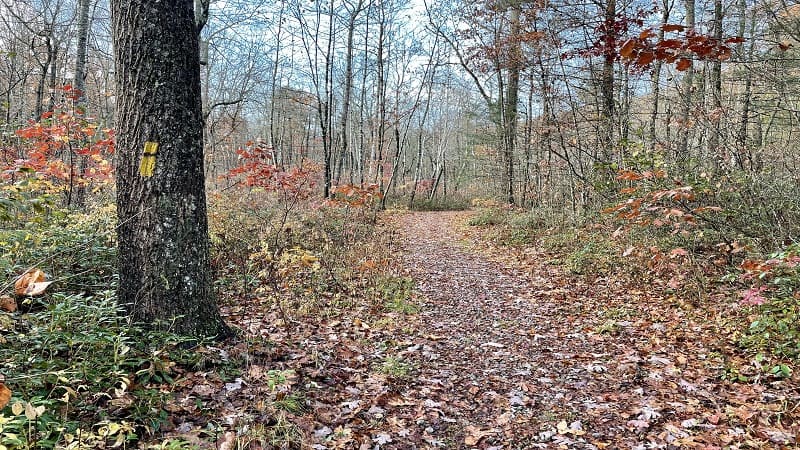 Interestingly, as I was in the final steps of my hike, the water had receded. I was able to re-cross easily without getting my feet wet from Passage Creek.
You will be on the Scothorn Gap Trail for 1.4 miles. The first mile is nearly all uphill with lots of small rocks, so stay fleet of feet on the way up and down.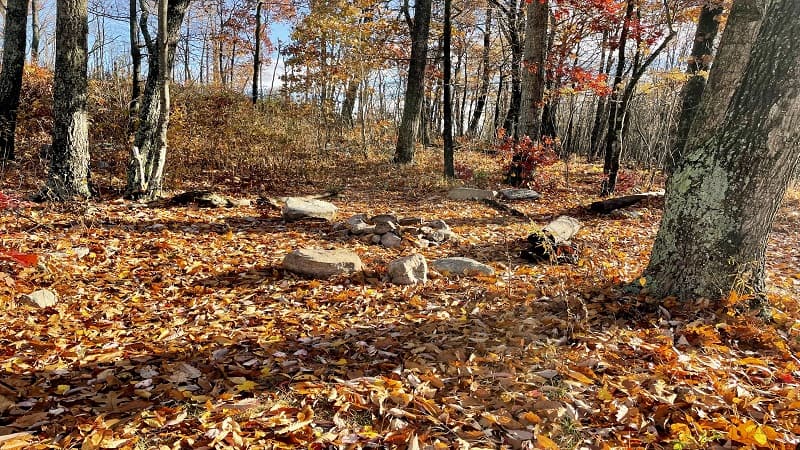 Once the leaves have fallen, you can enjoy east- and north-facing views of nearby mountains through the barren deciduous trees.
Note the primitive camp site on the left-hand side of the hiking trail at the 1.1-mile mark. You'll see a stone fire ring, a log bench and a few rocks as seats.
Massanutten Trail
A large trail sign turns up at a four-way intersection at the 1.4-mile mark. Continue straight ahead for the orange-blazed Massanutten Trail.
You aren't on the Massanutten Trail for very long – just .7 miles. It's a rather rocky trail, but there is a reward at the end of this section of trail.
At the 2.1-mile mark, get ready for big mountain views. There is a small rock-laden area that's just right for taking a water or snack break.
The Massanutten Trail continues east past this overlook and down a hill. However, this overlook marks the end of your steps on the Massanutten Trail (for now).
It's worth noting here that if you're nervous about the rock scramble to Strickler Knob, this viewpoint offers incredible views that are well worth the hike.
Strickler Knob Trail
Back-track a few steps from the overlook to connect with the pink-blazed Strickler Knob Trail. Note the sign that makes it clear that the next mile will be rocky.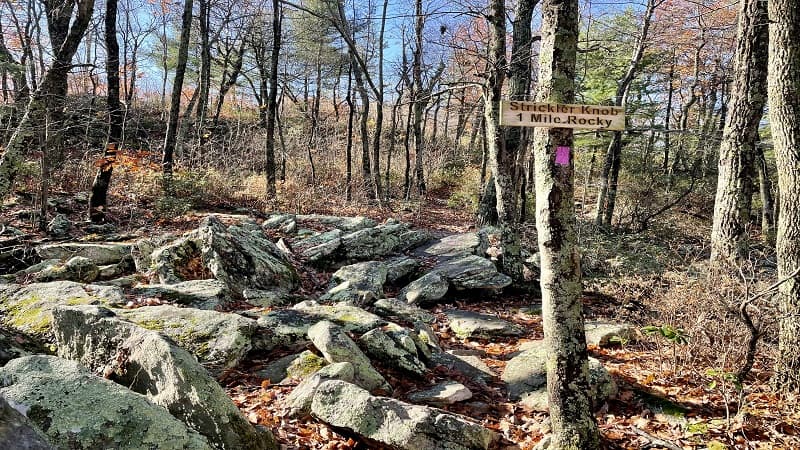 Eesh, this sign is no joke. There are lots of rocks, but there are sections of flat trail, too. You'll also walk along a scenic ridgeline with sensational views on both sides.
Bright pink blazes make this trail fairly easy to follow. Many are painted on rocks at your feet, so keep your eyes open when hiking Strickler Knob.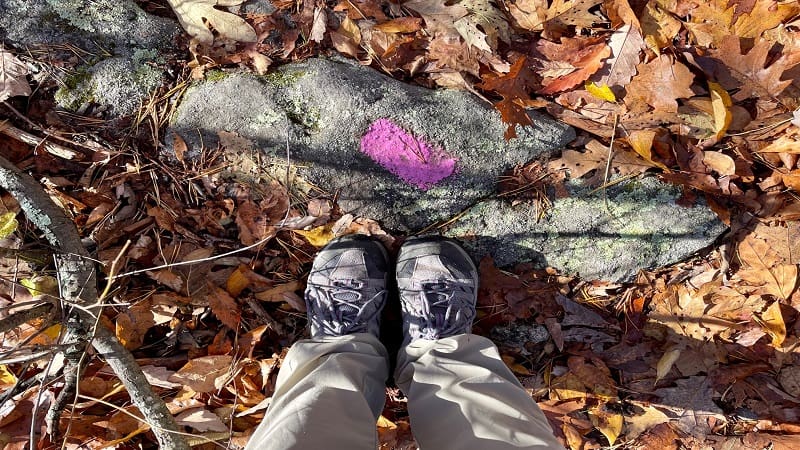 I noticed that some blazes were obscured by fallen leaves, so I did my best to brush the leaves away to make the blazes more visible to those behind me.
As you proceed, you'll enjoy stellar views well before you reach Strickler Knob. But first, a primitive camp site turns up on the left at the 2.6-mile mark.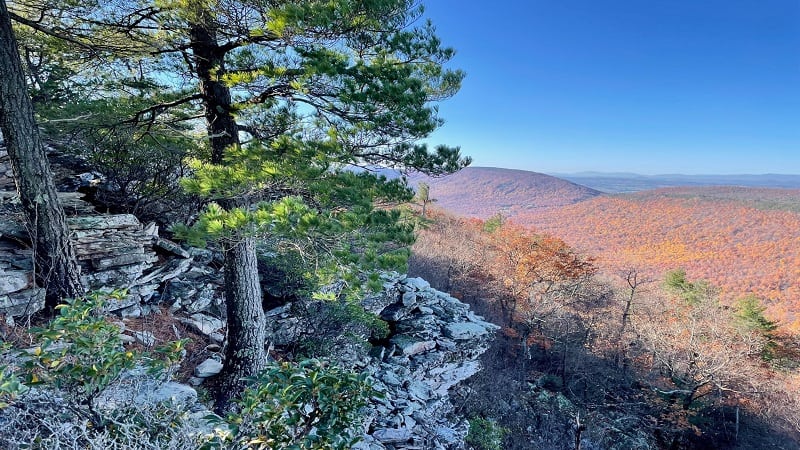 In a few more steps, a rocky outcrop on the right rewards with west-facing vistas. It's an ideal spot to enjoy a colorful sunset across the Appalachian Mountains.
There's another small camp site with a fire ring at the 2.8-mile mark. This one wows with views of working farms in the valley down below.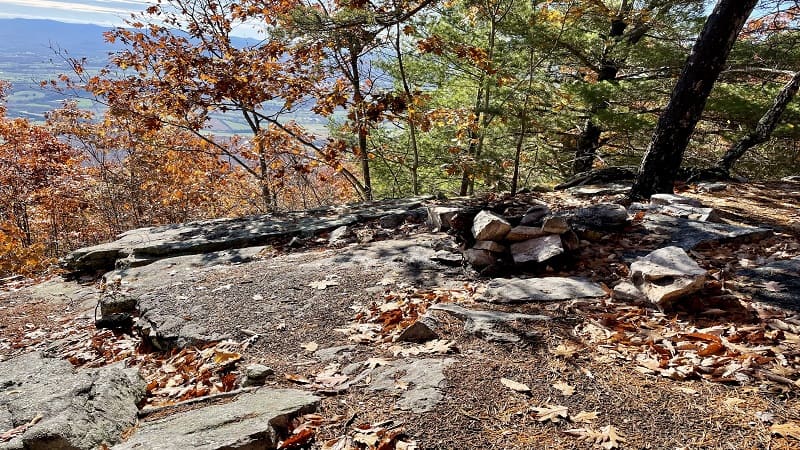 One more fantastic east-facing view turns up at the 2.85-mile mark. Then, the short rock scramble begins in earnest. Plan to use hands, arms, knees and legs.
When you reach the last pink blaze, you may be filled with disappointment. The views here are somewhat obscured by rocks and trees. Hmmm…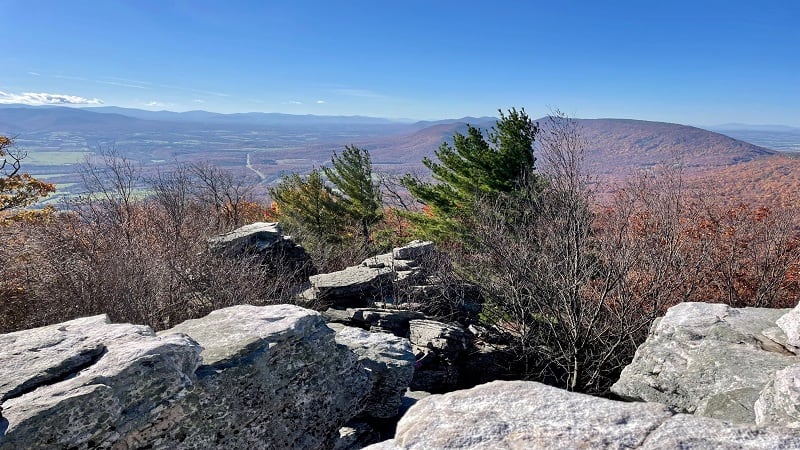 Thankfully, I recalled the words of a fellow AllTrails user, which was to "shoot the gap." Once you turn to face away from the last pink blaze, you will understand.
At this point, you will see two large rocks with a sizeable gap in between. Walk through for the best views of the hike. It's a scramble, but it's not difficult.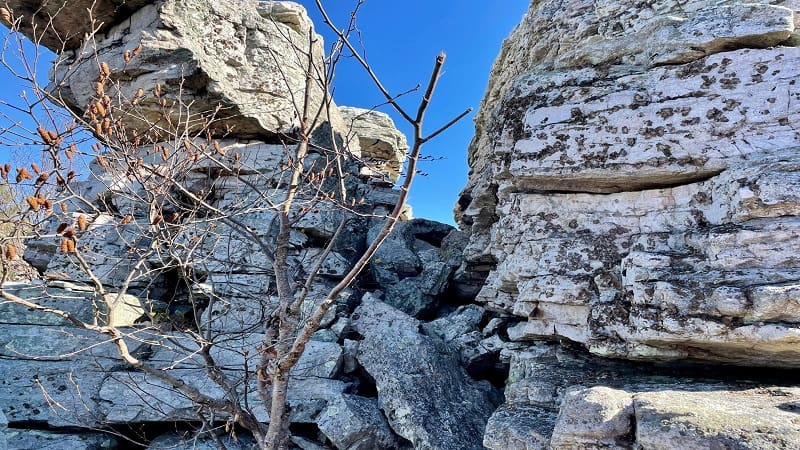 On the other side is a flat rock area and views across the Blue Ridge Mountains. East-facing views reveal the town of Luray and the undulating Shenandoah River.
To the west, you can see the Appalachian Mountains, as well as the town of New Market. Take time to savor the 360-degree views from Strickler Knob.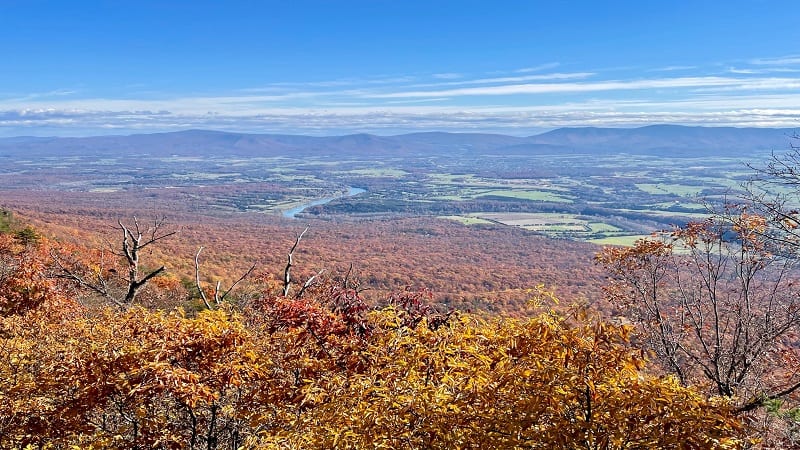 Once you've taken in all the views, re-trace your steps to return to your vehicle. Watch your step on the way down as some sections are quite steep.
Wrap-Up Notes
From the parking area, this hike took me three hours, including time spent scrambling rocks and enjoying the views from atop Strickler Knob. Truly incredible.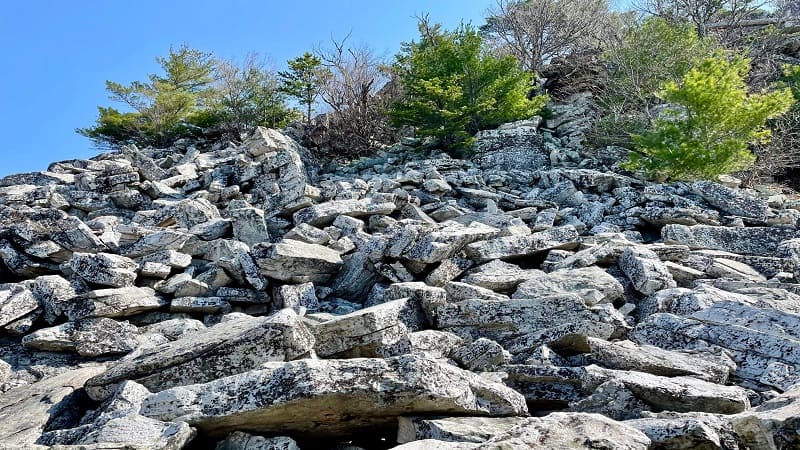 For a double rock scramble challenge, tack on Duncan Knob, which has more scrambles. It's like a mini Devil's Marbleyard in terms of number of rocks.
This double knob hike starts on the Gap Creek Trail (the trailhead for Duncan Knob). The 9.5-mile loop hike proceeds to Strickler Knob, then Duncan Knob.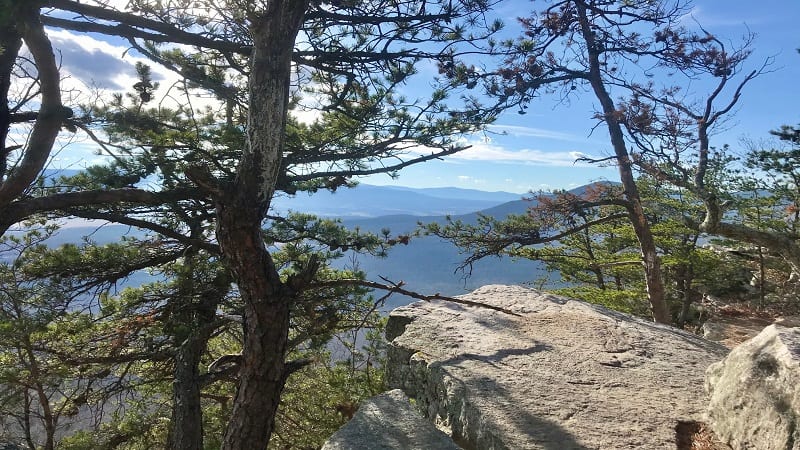 For less elevation (the double knob hike has a challenging 2,000+ foot elevation gain), I encourage you to finish your day with the Storybook Trail.
This paved trail begins with a crossing over a whimsical curving footbridge. From here, it's a .35-mile walk to the overlook with east-facing views. Simply gorgeous.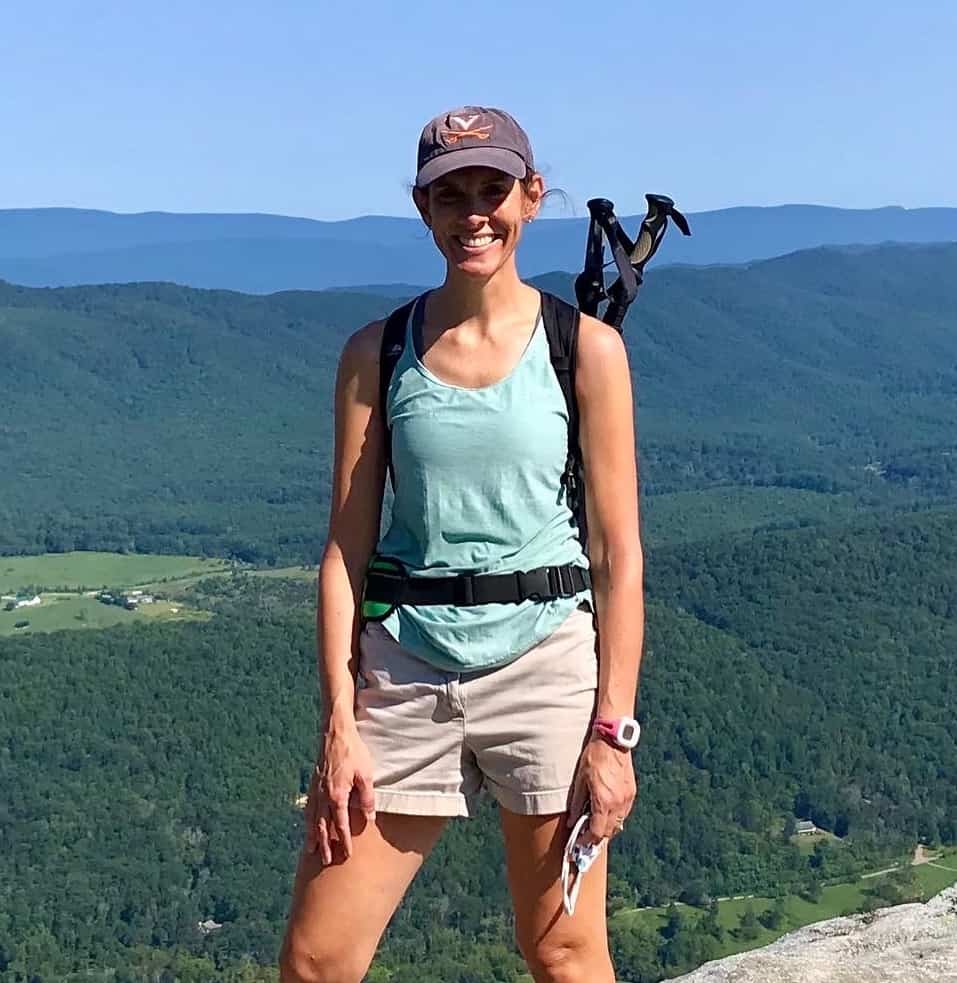 Erin Gifford is the editor of Go Hike Virginia. She has completed more than 300 hikes in Virginia. She is also the author of three hiking guidebooks from Falcon Guides. Need help finding a hike? Check out the Trail Finder feature or send Erin a message.